What a Typical Day of Keto Eating Looks Like (Our Team & Keto Nutritionist Share Their Meals)
Feeling hungry and not sure what to eat?
If you're new to this low carb lifestyle, you may be wondering what exactly a typical day of eating looks like on the keto diet. Sure, we have a ton of amazing recipes here on Hip2Keto, but sometimes life happens and you get busy and don't have time to meal prep and you just need something quick and easy. It's all about balance and making keto work for your lifestyle on a daily basis.
So if you want some clarity on what a typical day of eating looks like on the keto diet, read on…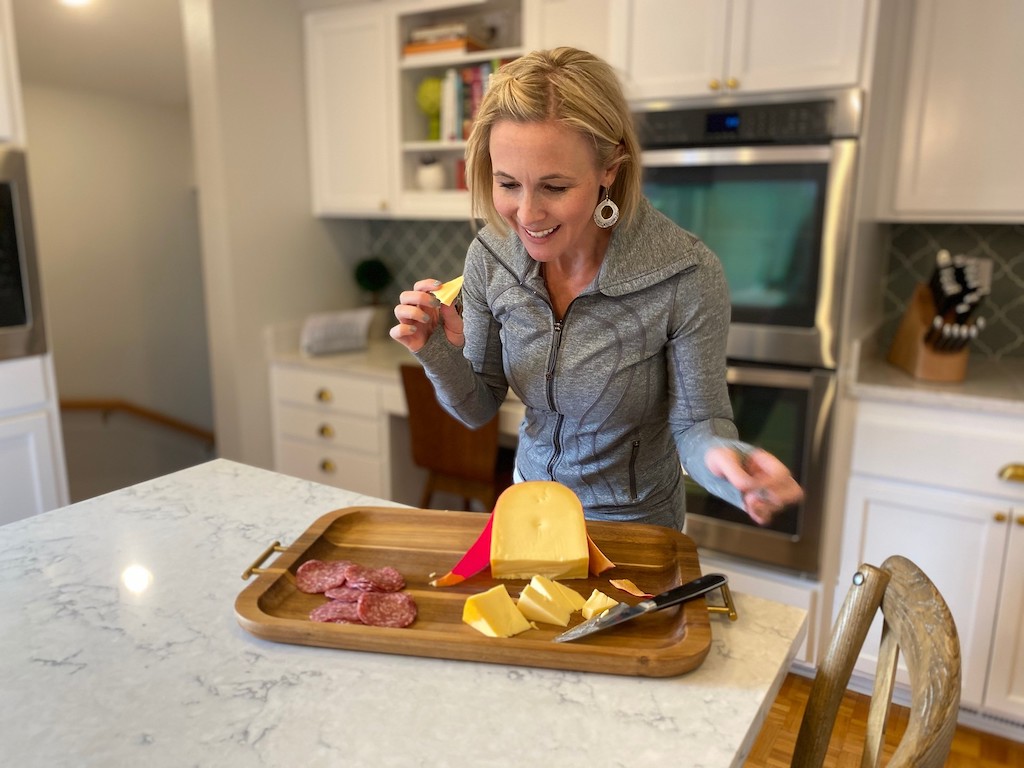 We polled our keto nutritionist and some of our Hip2Keto team members to find out what a regular day of keto looks like for them. Their meals might help you grab a few new ideas on what to eat to keep it keto all day long!
Keep in mind that many team members and lots of people who follow a ketogenic way of eating, will often skip meals and do intermittent fasting regularly. When fat-adapted, going long periods between meals is a cinch and often feels natural.
---
What does our team eat for breakfast?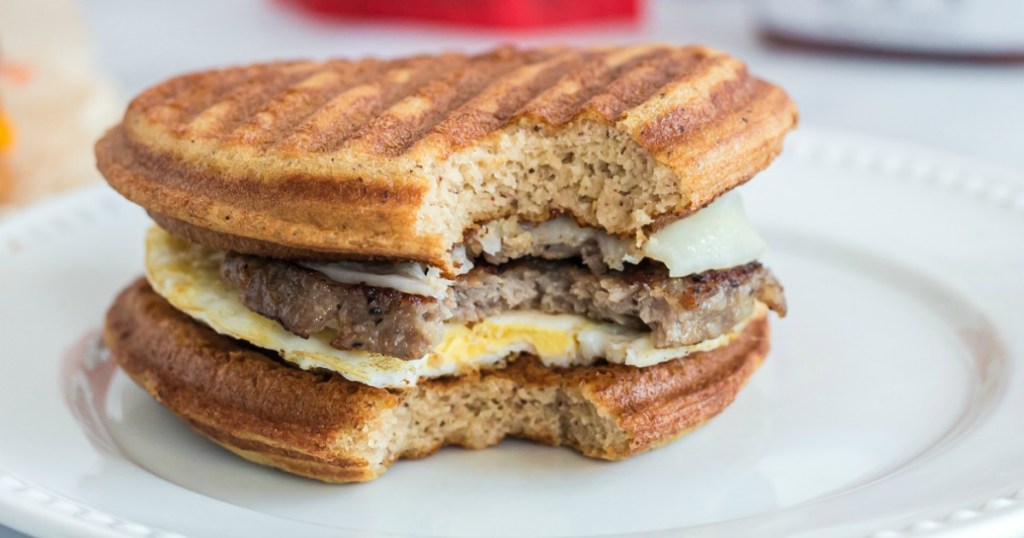 Pictured above - Keto McGriddle Breakfast Sandwich Copycat Recipe.
---
"I usually have a Breve Latte or if I feel I need something more substantial my fat-fueled Latte." – Tara, our keto nutritionist

---
"My go to breakfast is typically two eggs with a slice of cheddar cheese, a strip of bacon, half of an avocado topped with Everything But the Bagel seasoning. I sometimes make a keto chaffle breakfast sandwich and will have a cup of coffee with MCT Oil." – Angie

---
"I typically grab low-carb yogurt and throw in a few berries for breakfast, then mid-morning I'll have an iced coffee with heavy cream. I'll sometimes have sausage and eggs to mix it up and give myself a little bit of variety." – Stacy

---
"I try and last until noon before I eat, but sometimes I'll go to QDOBA and order their breakfast bowl with eggs, bacon, steak, lettuce, onions, ranch, red salsa, and pico. It's delicious. When I want to treat myself, I'll occasionally grab a Starbucks Grande Americano with heavy cream and sugar-free vanilla." – Stetson
---
"I usually don't eat breakfast, but do drink a really strong Americano with steamed heavy cream (using my beloved Breville Espresso Machine). If I do wake up hungry (which isn't often), I'll have nut butter on a spoon." – Collin
---
---
What does our team eat for lunch?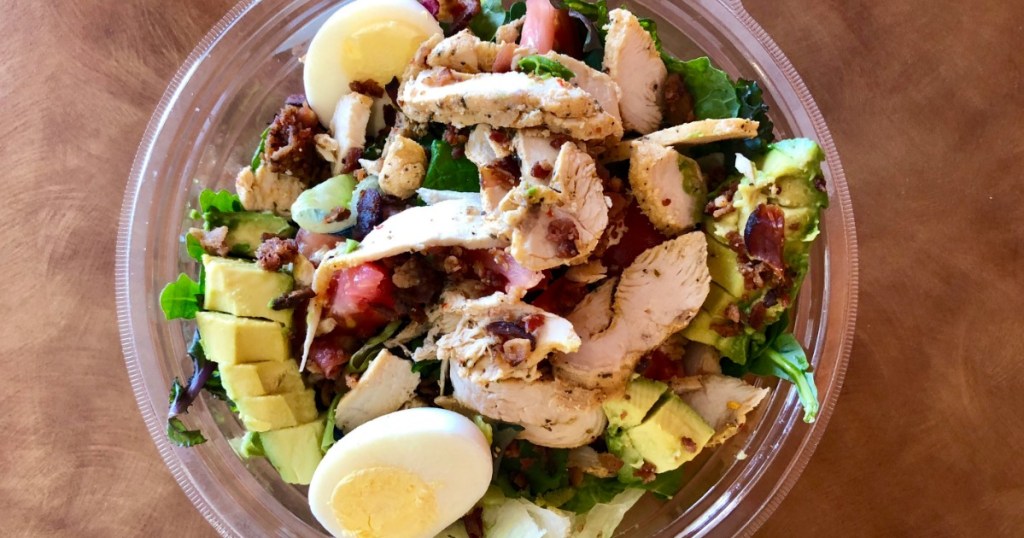 Pictured above - salad from Panea Bread.
---
"I usually have a big lunch or just have dinner. If I'm doing lunch, I'll have a big mixed green salad with a good protein like wild salmon, chicken, or eggs. In addition, I'll add some type of nuts sprinkled on top, sometimes berries, avocado, cucumber, and other misc. salad toppings. A salad is an easy vehicle for healthy fats like olive oil, avocado, eggs, nuts, and salad dressings." – Tara, our keto nutritionist
---
"For lunch, I usually have leftovers from dinner or a sandwich using low carb bread, with pork rinds or Quest chips and a pickle." – Angie
---
"I like to have a big salad with meat like a Chef Salad or Cobb Salad. If I'm on the go and need to make a quick decision about what to eat on keto, I'll order a bunless burger or grilled nuggets from Chick-Fil-A." – Stacy
---
"I typically only eat twice a day and skip a meal… unless I'm having to do taste tests for Hip2Save or Hip2Keto. If I am hungry for lunch and on the go, I often will grab an inexpensive Costco Hot Dog without the bun." – Stetson
---
"I rarely ever eat lunch as I'm truly not hungry and typically do intermittent fasting until dinner. I will, however, drink beverages throughout the day – sparkling water, hot tea, coffee, and our refreshing citrus water!" – Collin
---
---
What does our team eat for dinner?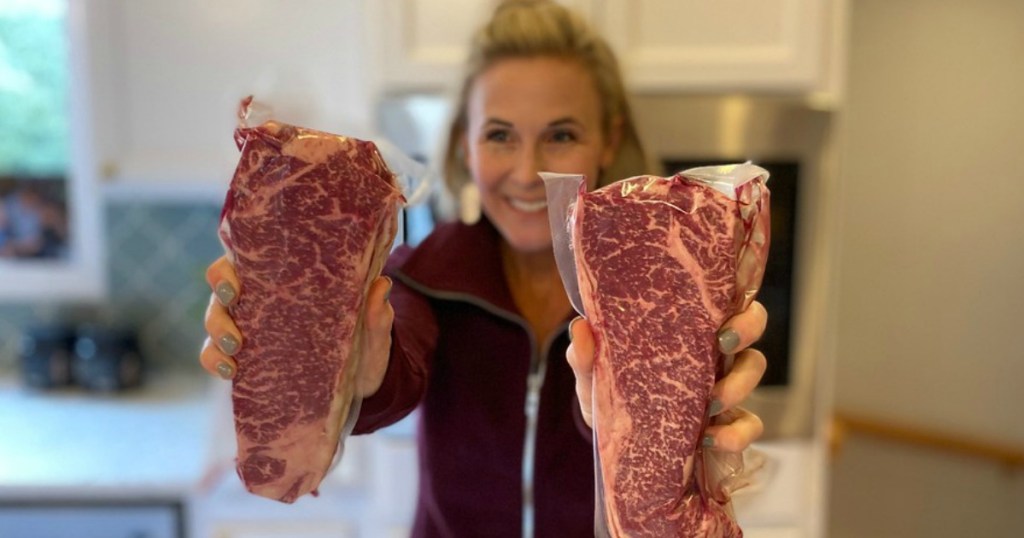 Pictured above - well marbled steaks - click to see Collin's tips on picking out the best cuts.
---
"For dinner, I like to keep things simple. I will pick a protein, a non-starchy vegetable (sometimes I will even add a small amount of roasted sweet potato mixed with other low-carb veggies – yep, that's right, sweet potato, and I'm still keto 😋). I'm pretty generous with that fat I cook with or adding melted grass-fed butter or olive oil on top of whatever I am cooking." – Tara, our keto nutritionist
---
"We cook sometimes according to a food holiday just for fun, but it's always meat and a veggie. Sometimes Chicken Cordon Blue with a salad, Alice Springs Chicken with green beans, or even a Keto Burrito in a bowl. I like to plan all of my meals ahead of time." – Angie
---
"I like to have some kind of meat and low carb vegetable. Lemon herb chicken and sautéed veggies are always a favorite in our home. We usually add a starch for the kids, but we always make meat and low-carb veggies for the entire family." – Stacy
---
"In the evenings, I usually workout, and on those nights I'll often end up eating three burger patties with cheese, mustard, and veggies. I also regularly take advantage of the $9.99 meal from Texas Roadhouse so I can have steak, green beans, and a side salad with ranch. And nope, I rarely ever cook at home. 😬" – Stetson

---
"I so look forward to my high-fat keto dinners – they are always so filling and delicious! I've tried so many of the dinner recipes that we've post on Hip2Keto. Some of my absolute faves that I've made time and time again – Chicken and broccoli casserole (this is a must-try!!), Italian sausage and spaghetti squash casserole, Crock-pot keto taco soup, homemade cauliflower pizza, steak with veggies, AND I love Trader Joe's Pork Carnitas when I need to put together a last-minute dinner!
Oh and if we're going out to eat, we keep it casual and often hit up Five Guys! My order is usually a NO bun bowl burger with 3 patties – with cheese, bacon, and jalapenos." – Collin
---
---
What does our team snack on and do they enjoy desserts?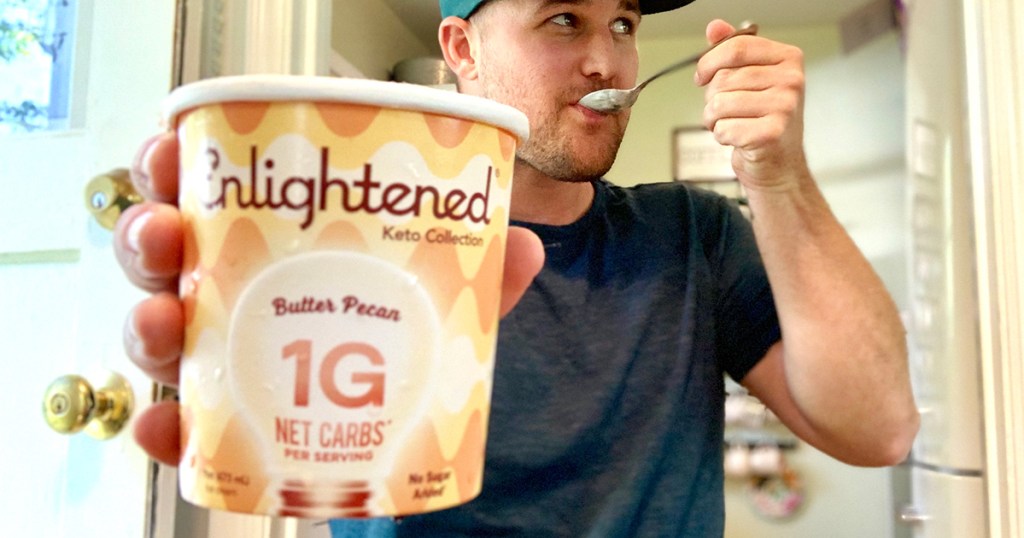 Pictured above - Enlightened ice cream keto collection .
---
"I don't always snack, but if I do then it's usually macadamia nuts, olives, or brie cheese. Trader Joe's has awesome individually wrapped brie! Sometimes I will indulge in Rebel or Enlightened Keto Ice Cream with a little bit of my homemade keto chocolate sauce on top! I usually only prefer to drink water and my favorite is Topochico sparkling water with fresh lime. I also like the La Croix and San Pellegrino Essenza sparkling waters as well." – Tara, our keto nutritionist
---
"If I snack, I'll choose from Two Good Yogurt with grain-free granola or keto trail mix, Enlightened keto ice cream, berries with homemade whipped cream, dip with cucumbers, ALDI low carb bars, or a beef stick with cheese." – Angie
---
"I like to snack on beef sticks and cheese and drink sparkling beverages – the carbonation seems to keep me filled up." – Stacy
---
"I don't really snack, and I prefer to just eat twice a day. If I do get hungry in between, I'll grab a handful of almonds, Quest chips, or Enlightened Keto ice cream." – Stetson
---
"I'm not much of a snacker anymore! However, that wasn't always the case. Back when I was a carb loving eater, I felt like I was constantly hungry and always snacking. It's crazy how that quickly changes when you're in ketosis and filling up on high fat foods. I do occasionally treat myself with a keto dessert. Some of my faves – Enlightened Keto collection ice cream (Love the mint chocolate chip, butter pecan, and coffee flavors), keto cheesecake, and keto peanut butter pie (it's rich, but oh so good!)." – Collin
---
---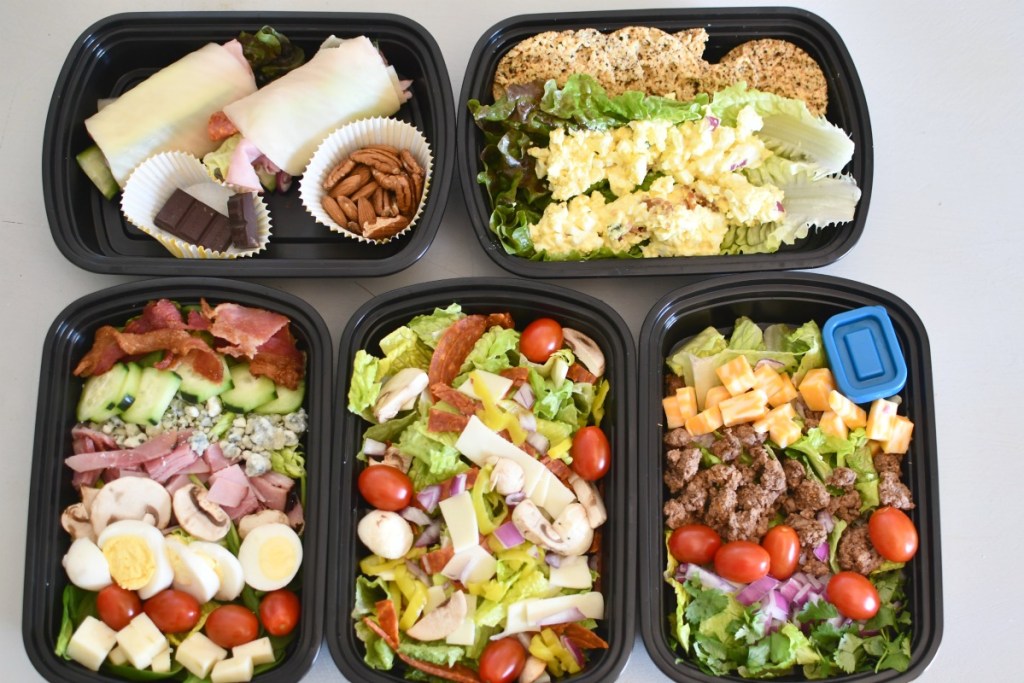 As you can see, being successful while living the ketogenic life doesn't have to take a ton of planning. There are always easy meal options and ideas of what to eat each day on the keto diet to keep you on track!
Be sure to also browse our keto meal prep section for so many great ideas to get you prepared for the week ahead!
---
Check out our keto restaurant dining guides and take the night off from cooking and cleaning!