Keto Alice Springs Chicken | Outback Steakhouse Copycat Recipe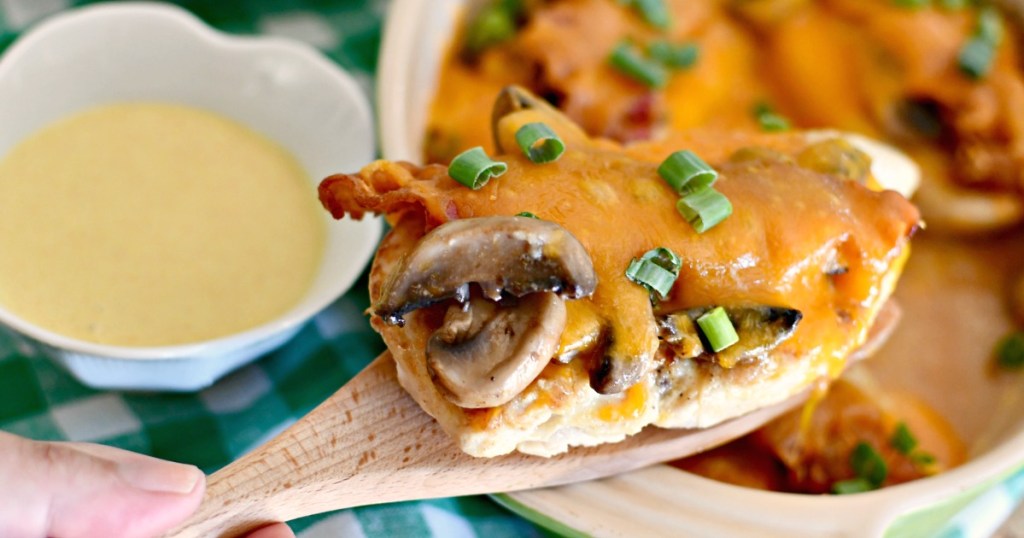 Anyone else love this popular honey mustard chicken served at Outback steakhouse?
Skip the steakhouse and make a yummy copycat KETO version of Alice Springs chicken at home! It's a hearty and delicious crowd pleasing keto chicken recipe all will love!
Chicken breasts are first marinated in a homemade honey mustard sauce and then baked with crispy bacon, sauteed mushrooms, and melted with lots of cheese. Serve it up with some of the honey mustard sauce on the side for a mouthwatering keto-friendly idea that'll become a regular on your keto meal rotation.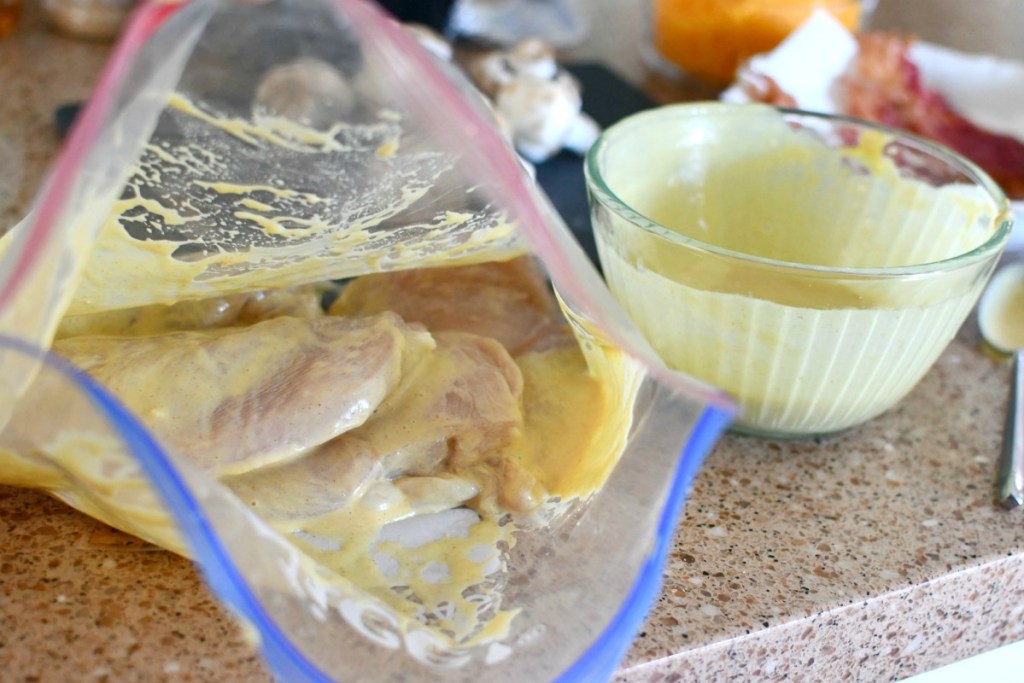 Hip Tips:
Use a sugar-free sweetener of choice instead of honey to keep things keto! I mixed in a tablespoon of Swerve confectioners to my sauce, and it turned out yummy! You could use about 10 drops of liquid stevia instead, or another keto sweetener to taste. Check out our Keto Sweetener Guide for more info on our favorite sweeteners!
Try to marinate chicken for a couple hours. This will yield such a delicious honey mustard flavor!
Meal Prep Idea: Make this recipe on Sunday for weekday lunches! This reheats very well, and you could take one to work for a mouth-watering lunch!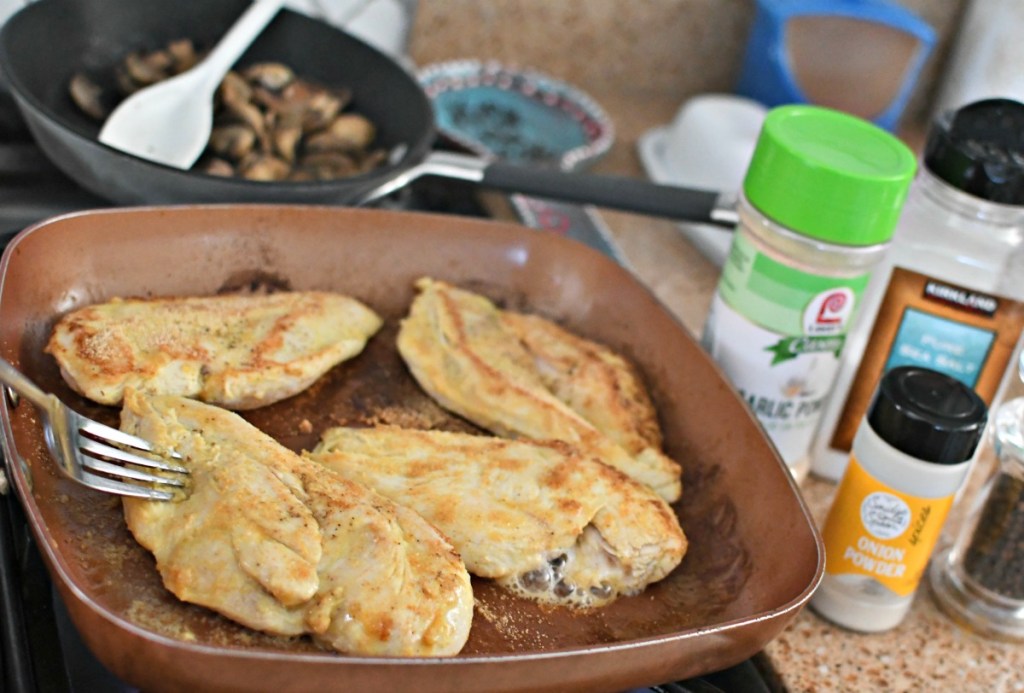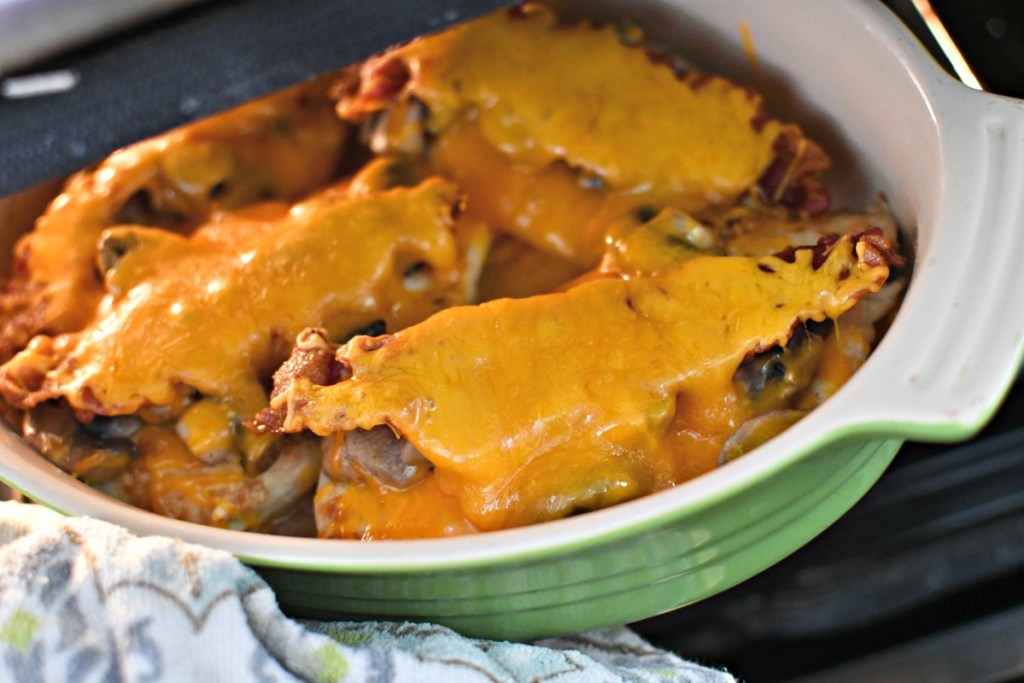 ---
Print
Copycat Keto Alice Springs Chicken
yield: 4 SERVINGS
prep time: 15 MINUTES
cook time: 30 MINUTES
total time: 45 MINUTES
Honey mustard marinated chicken breasts with sauteed mushrooms, crispy bacon, and melted cheddar cheese.
Ingredients
For the honey mustard sauce:
2 tablespoons yellow mustard
2 tablespoons dijon mustard
1/2 cup mayonnaise
2 teaspoons apple cider vinegar
1 tablespoon Swerve, confectioners
1/2 teaspoon garlic powder
1/4 teaspoon paprika
For the chicken:
4 thin chicken breasts, about 1.5 pounds
1/4 teaspoon salt
1/4 teaspoon pepper
1/4 teaspoon onion powder
1/2 teaspoon garlic powder
8 oz. button mushrooms, sliced
1 tablespoon butter
4 slices of bacon, cooked
1 1/2 cups cheddar cheese, shredded
optional garnish: scallions
Directions
1
Whisk all the honey mustard ingredients together in a small bowl until smooth.
2
Place raw chicken breasts and half of the honey mustard sauce in a freezer bag, and seal bag. Reserve the other half of sauce for dipping. Marinade the chicken breasts in the fridge for 2 hours.
3
In a medium skillet, melt butter and saute mushrooms for about 5-7 minutes until tender. Remove from heat and set aside.  Preheat oven to 400 degrees.
4
Heat a large skillet to medium heat on the stove, and transfer the chicken breasts to the skillet. Discard the remaining marinade in the bag. Season the chicken with salt, pepper, garlic powder, and onion powder. Cook for about 5-7 minutes on each side until browned.
5
Transfer the chicken to a casserole dish. Spoon mushrooms over the chicken. Place a piece of bacon over each chicken breast, and top each with shredded cheese.
6
Place the chicken into the oven for about 10 minutes until cheese is melted and chicken is cooked internally to 165 degrees.
Nutrition Information
Yield: 4 chicken breasts, Serving Size: 1 chicken breast
Amount Per Serving: 498 Calories | 32g Fat | 5g Total Carbs | 1g Fiber | >1g Sugar Alcohol | 65g Protein | 4g Net Carbs
---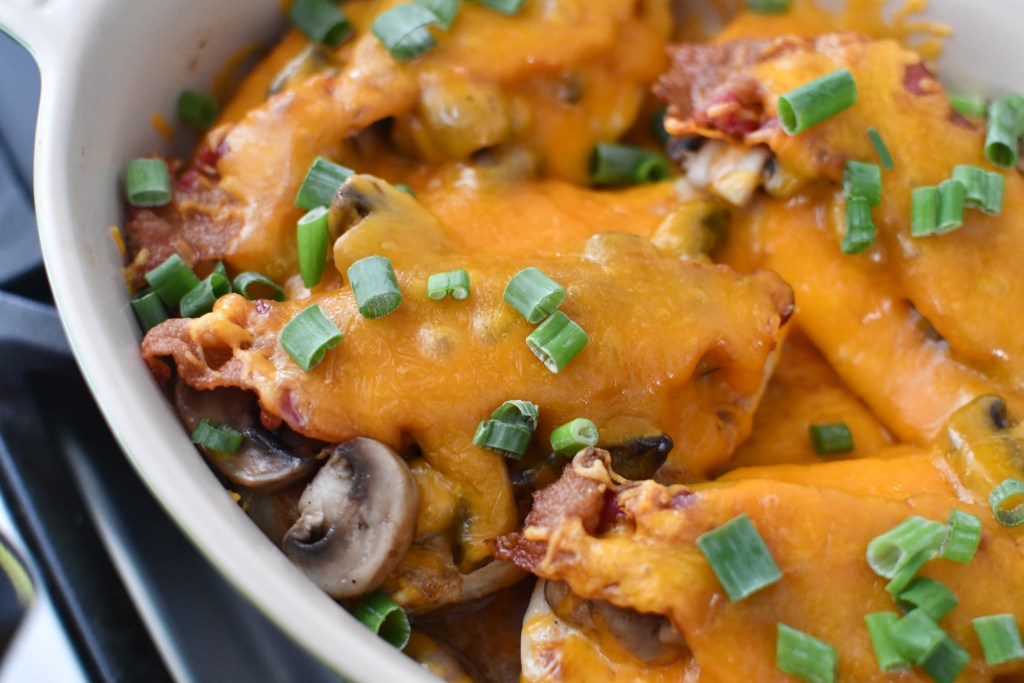 We love this flavorful meal so much!
The chicken tastes so great with the buttery mushrooms, bacon, and the sauce. The flavors and textures are such a winning combination. In fact, my family LOVED this so much and have already asked for it again. It's something that keto eaters and non-keto eaters alike will enjoy for sure.
---
Check out 12 KETO copycat recipes for these iconic restaurant favorites!