Here's the Best Way to Cook a Steak… Just Season, Sear, and Broil!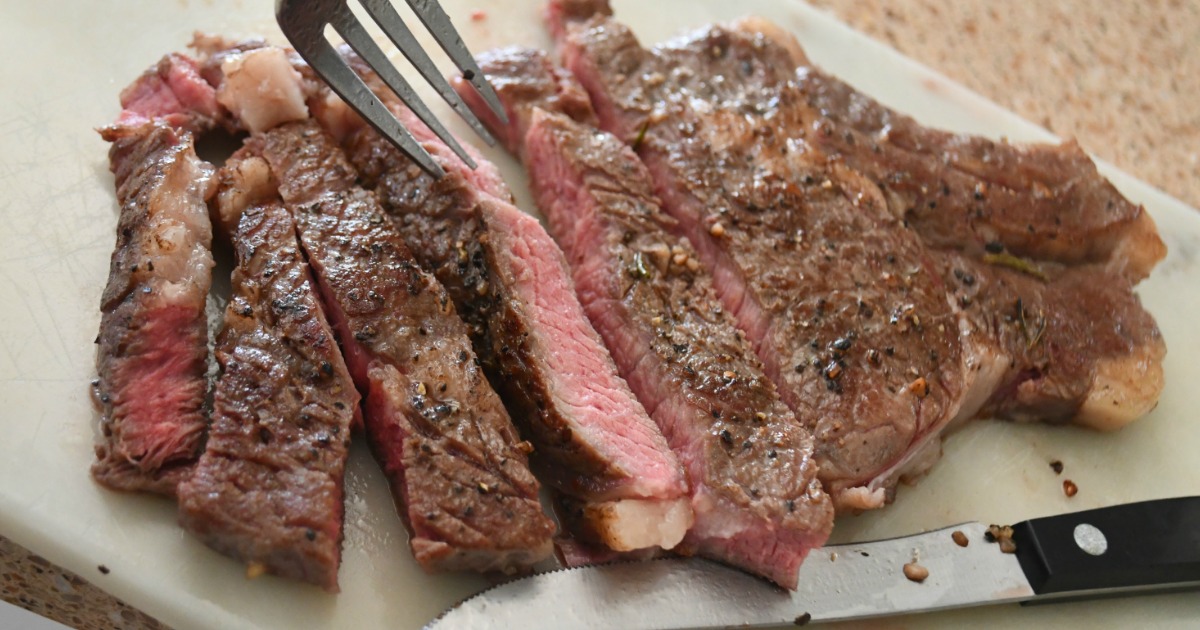 Wish your steak came out perfect every time?
Prepare to be VERY pleased! Steak is definitely a keto staple, and I'm lucky it's something I can enjoy often because of this lifestyle. My family also loves it, and there are never any complaints when we have steak for dinner.
I've tried cooking my steak a few different ways, but this pan frying to oven method is my tried and true favorite and is basically life changing!
---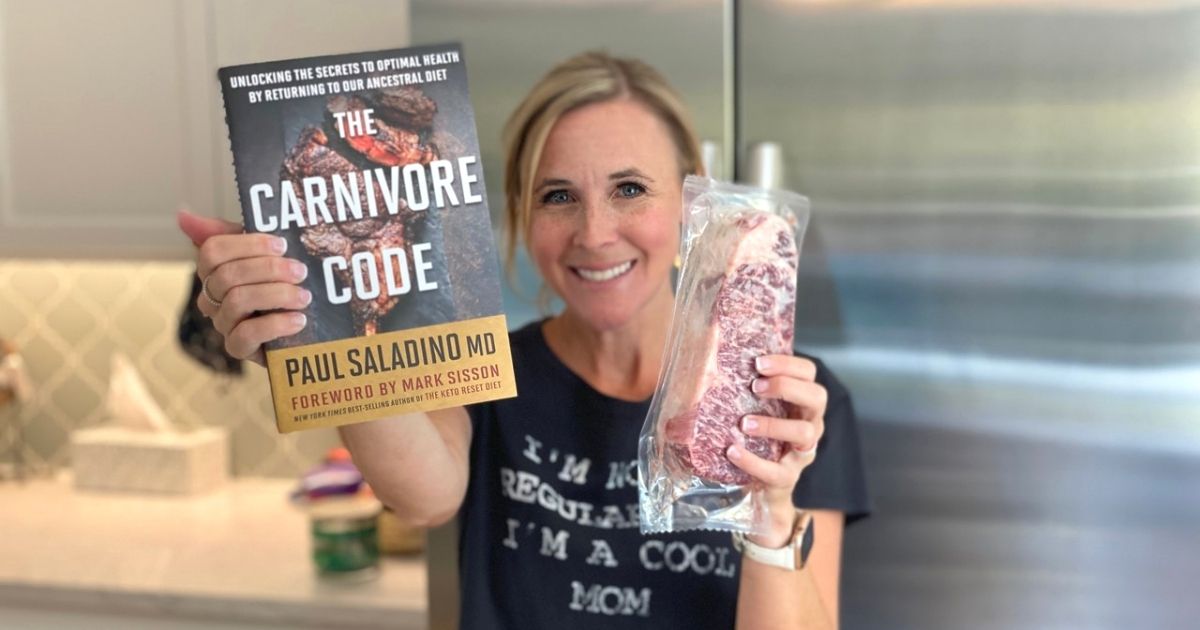 Speaking of yummy steak…
Have you joined our keto book club yet? Our selection is currently The Carnivore Code, which explores the idea of returning to our ancestral diet. You'll be deep-diving into the healing benefits of eating meat and all the myths surrounding eating whole grains and plants.
Go HERE to join our keto book club and read along with us!
---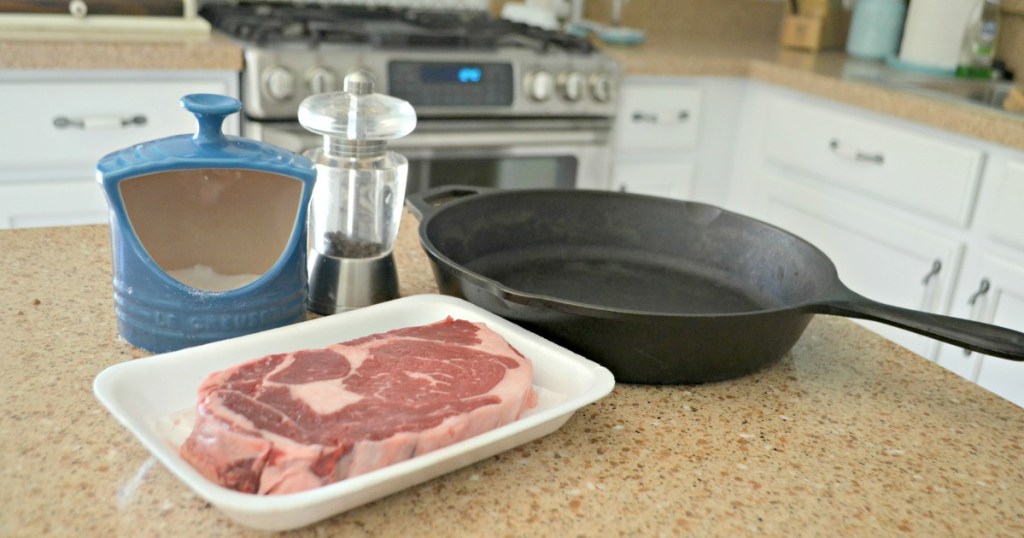 Alton Brown is my steak HERO!
His genius method for cooking fool-proof steaks is super easy to replicate and it's hands down my favorite way to cook a steak.
Not only is it simple, but this genius method also takes your steak game up a notch! Plus, it's great for those who don't have access to an outdoor grill as this method uses a stovetop and oven instead. But I'm telling you, this way of cooking will convince even the most diehard grill fans to head indoors to try it for themselves — the steak tastes as if it came straight out of a fine dining steakhouse!
If you're looking for an even easier method, you can also make a darn good steak using the air fryer!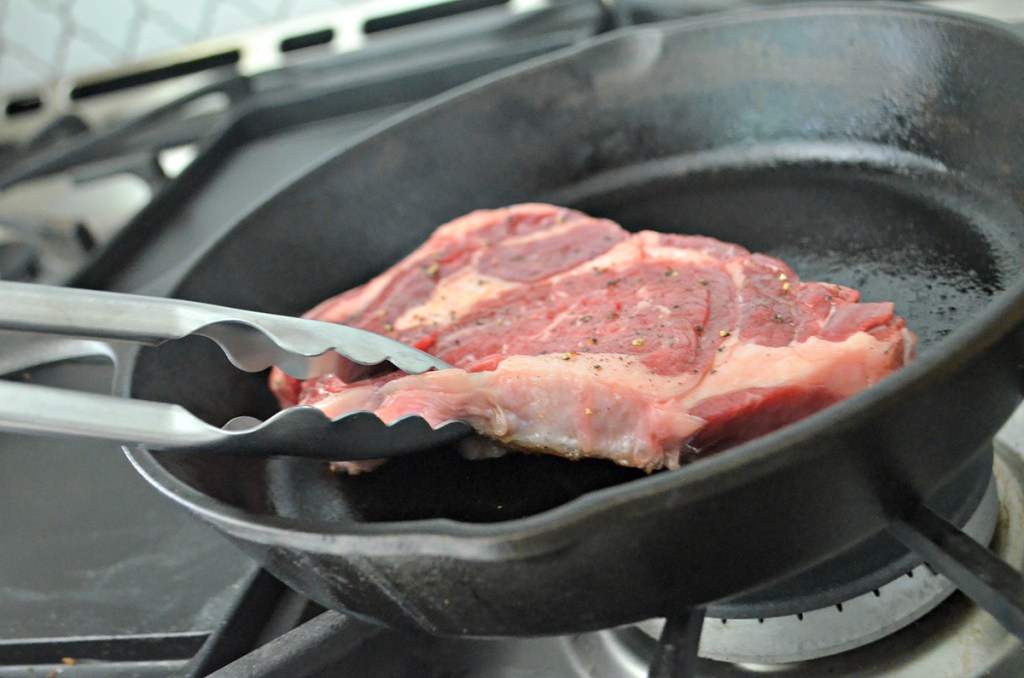 For this tried and true method, just season, sear, and bake!
What you'll need:
1

boneless ribeye steak (or steak of your choice), 1 1/2 inches thick

Olive oil (or oil of your choice), to coat

Kosher salt and ground black pepper
To get started, I first bring my steaks to room temperature, then turn on my oven to 500ºF and put my cast-iron skillet in the oven to heat up. While the skillet is heating up, I rub the steaks with oil and season them generously with kosher salt & fresh cracked pepper.
Once the oven is heated up to a screamin' hot 500º F, it's time to cook the steaks. That part is key! A piping hot skillet will help that steak sizzle and give it that crave-able seared crust around the outside.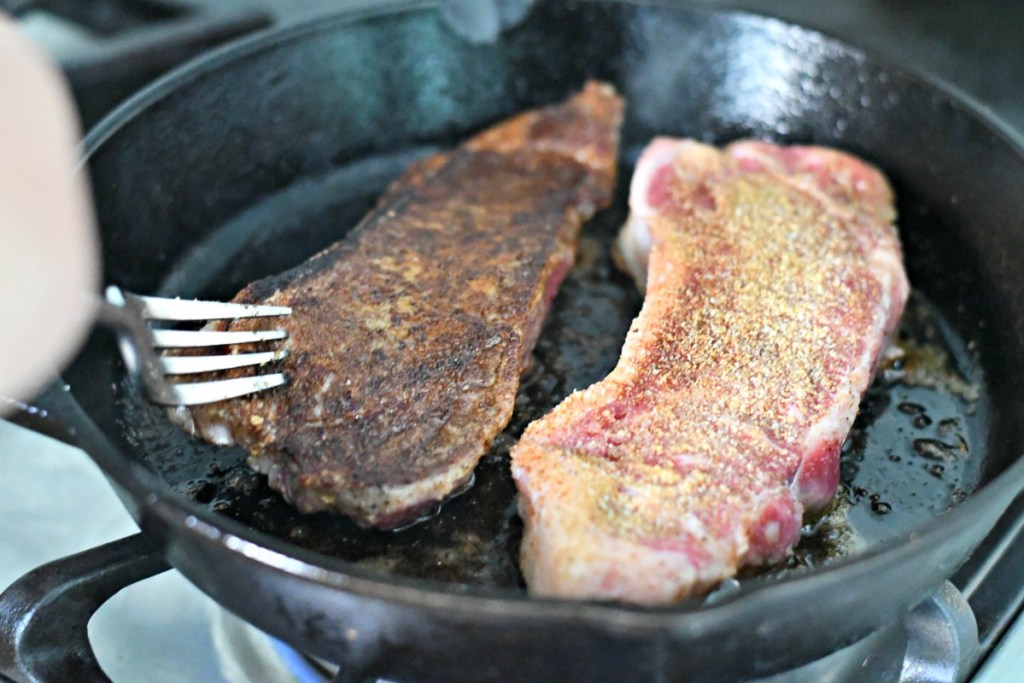 I love the super satisfying sound when meat first hits the pan.
Next, turn your stove on high heat and put your hot cast-iron skillet on the stove. Let it sit on the stove for a few minutes. Now sear steaks for about 30 seconds on each side, then put your cast iron skillet back in the 500ºF oven.
It's quick and easy to finish your steak in the oven!
To learn about oven cooking times, see Alton Brown's Instructions HERE. His directions take about 4 minutes of total cook time for medium-rare steak, and 6 minutes or so for medium. Make sure to flip half-way through cook time. Note that the time also may end up being longer or shorter depending on the thickness of your steak.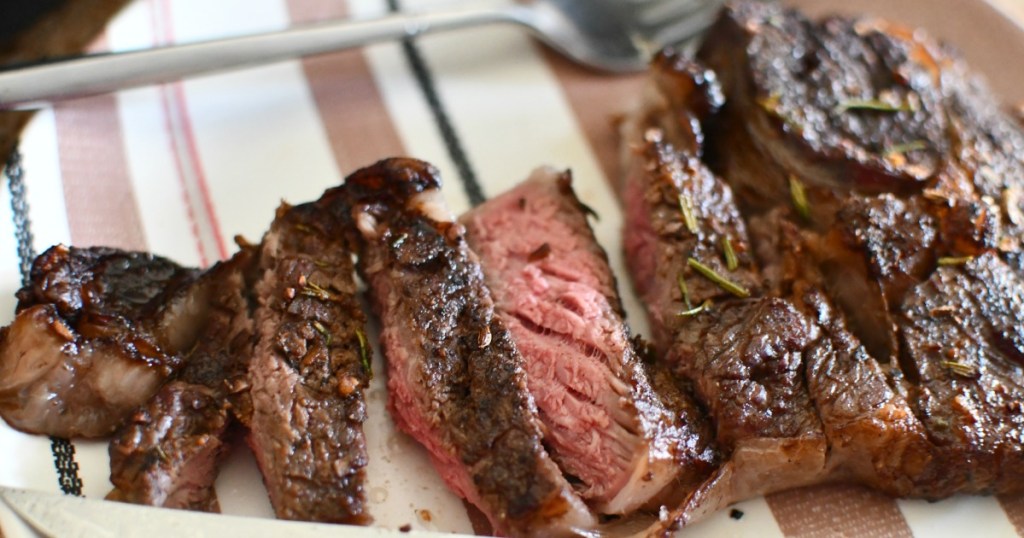 When your steaks are finished cooking, give the meat a 10-minute rest so the juices redistribute for ultimate tenderness. Then it's time to eat! A juicy steak ready to eat in under 20 minutes?! YES! So awesome and oh so tasty!
If you're a strict carnivore, you can ditch the oil and seasoning to enjoy the pure taste of yummy ribeye steak!
---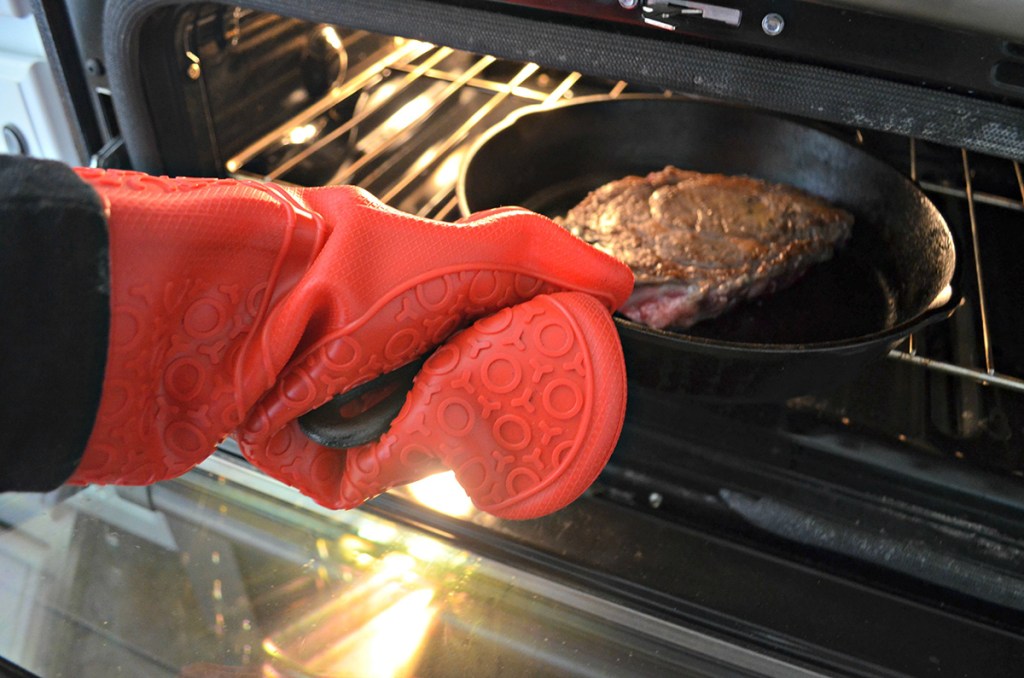 My advice: When cooking with cast iron, make sure your hands are well-protected. I know from experience, cast iron gets super hot and normal oven mitts sometimes can't cut it! Try these silicone oven mitts that can take the heat and offer great protection.
---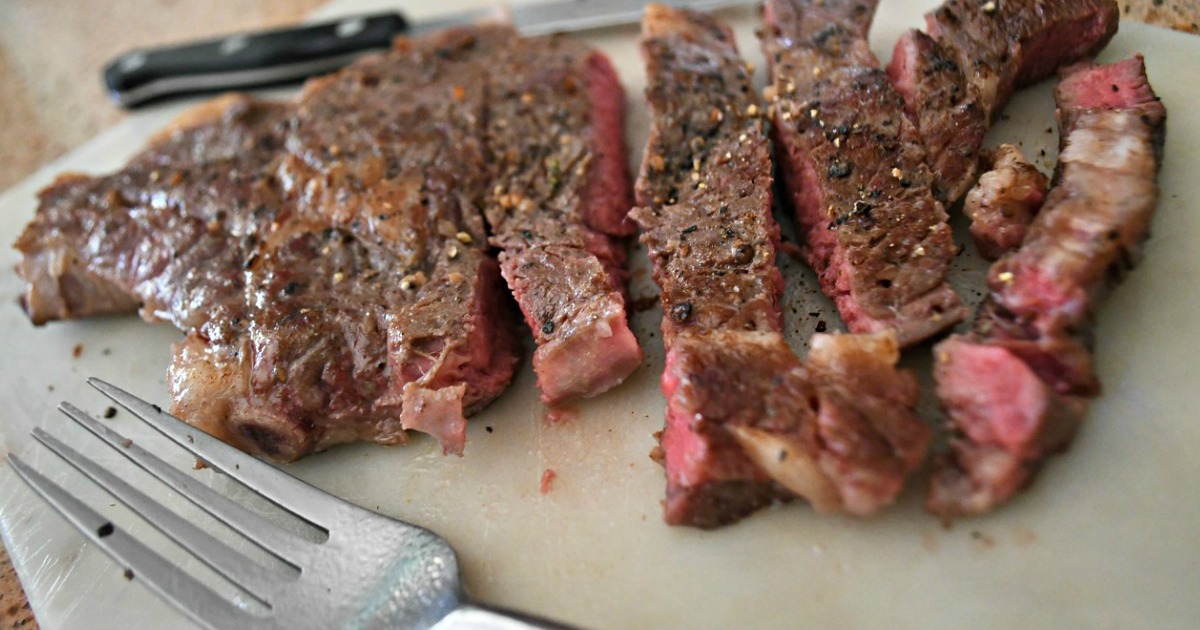 Ribeye steak perfection in a snap!
What I love about this steak preparation – the flavorful crust outside and the juicy tender inside. I literally could eat this every day, and it's so easy to make. YUM!
---
These Cajun Garlic Butter Steak Bites are the Ultimate One-Pan Keto Meal to Try!