The Best Sausage McGriddle Breakfast Sandwich (McDonald's Keto Copycat Recipe)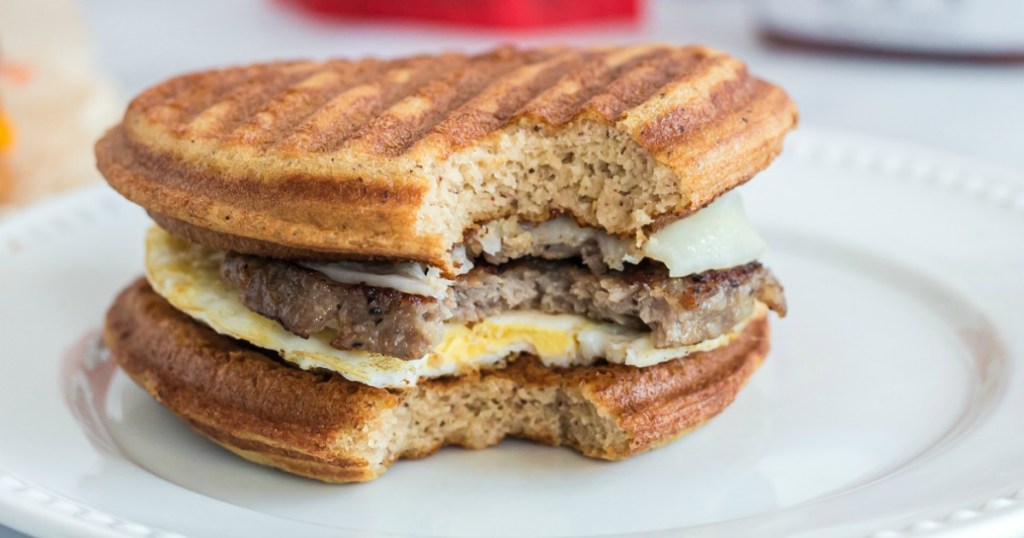 This copycat McDonald's Sausage Mcgriddle Sandwich made keto-style is sure to be a breakfast game changer!
Following a keto lifestyle does not mean you have to give up delicious on-the-go breakfast options! Although I love whipping up scrambled eggs and bacon, there are also many mornings when I crave something different, like this copycat McGriddle Sandwich that I can make at home.
This copycat keto Sausage McGriddle Breakfast Sandwich tastes virtually identical to the famous McGriddle from McDonald's minus most of the sodium and carbs! In fact, my keto version of this sandwich has 14g total carbs and 4.7g net carbs whereas the regular McGriddle Sandwich has a whopping 44 carbs! What a difference!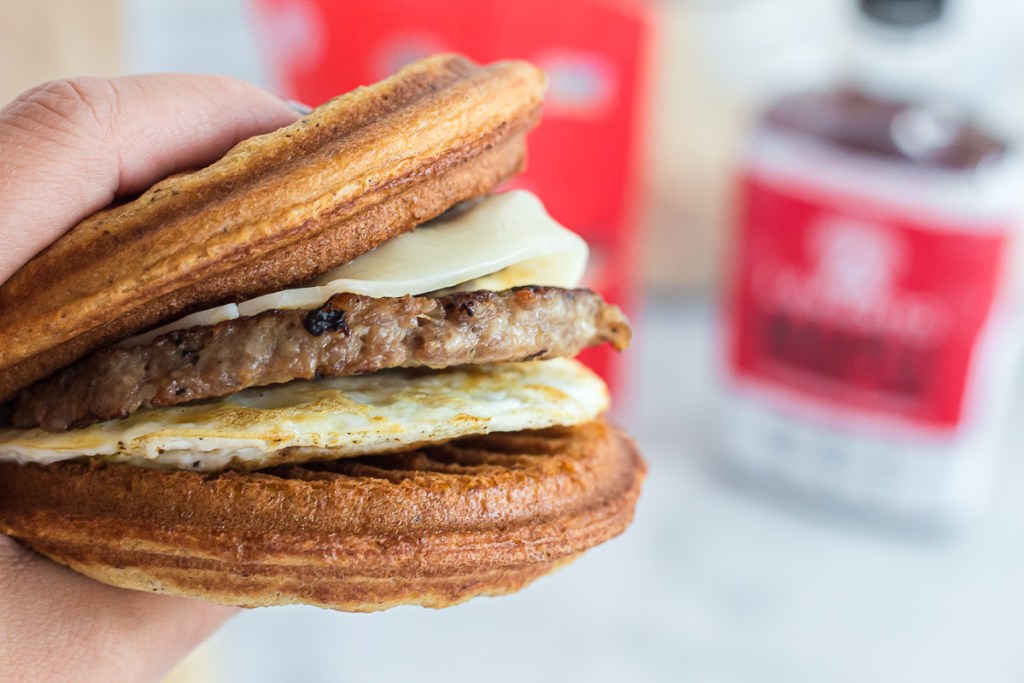 Hip tips for making the best keto sausage McGriddle copycat recipe:
Since the pancake batter makes more than enough for one sandwich, I usually make 4-5 sandwiches out of one batch and freeze them for the upcoming week.
You can also make this keto McGriddle with bacon, ham, or just spinach and mushrooms if you're vegetarian.
I like using just one sausage patty on my McGriddle. I used some fresh ground sausage to make the patties, but you can also grab pre-made sausage patties from the grocery store instead to save time.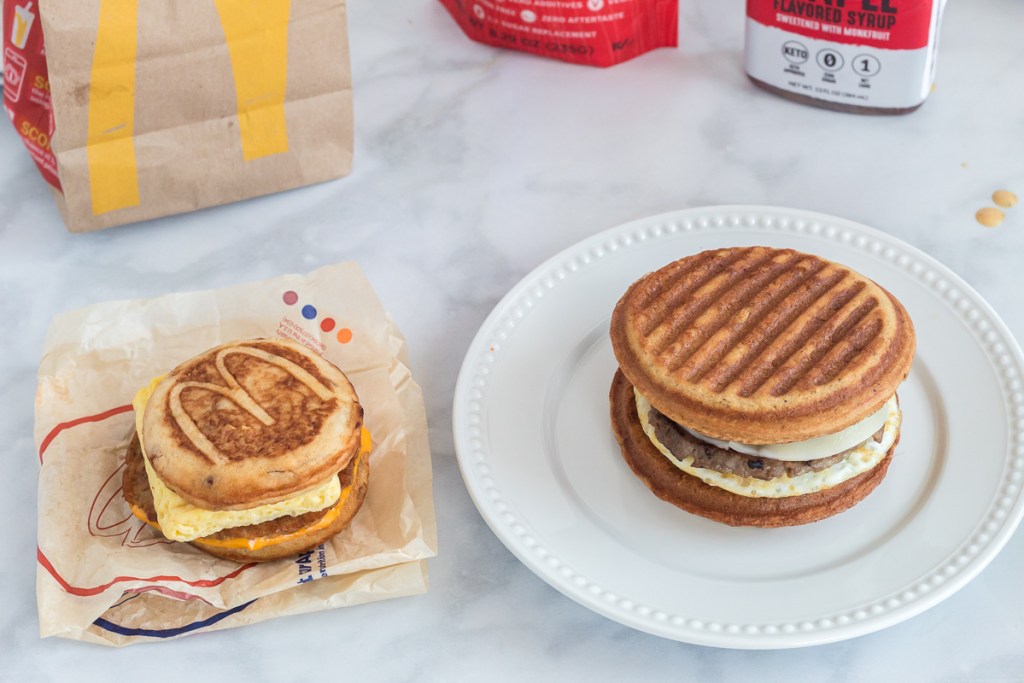 From the syrup-infused pancake buns to the fresh egg and choice of bacon, sausage, or ham, I mean come on, who wouldn't crave this delicious low-carb breakfast? So easy and oh so delicious, and perfect to grab when you're on the go!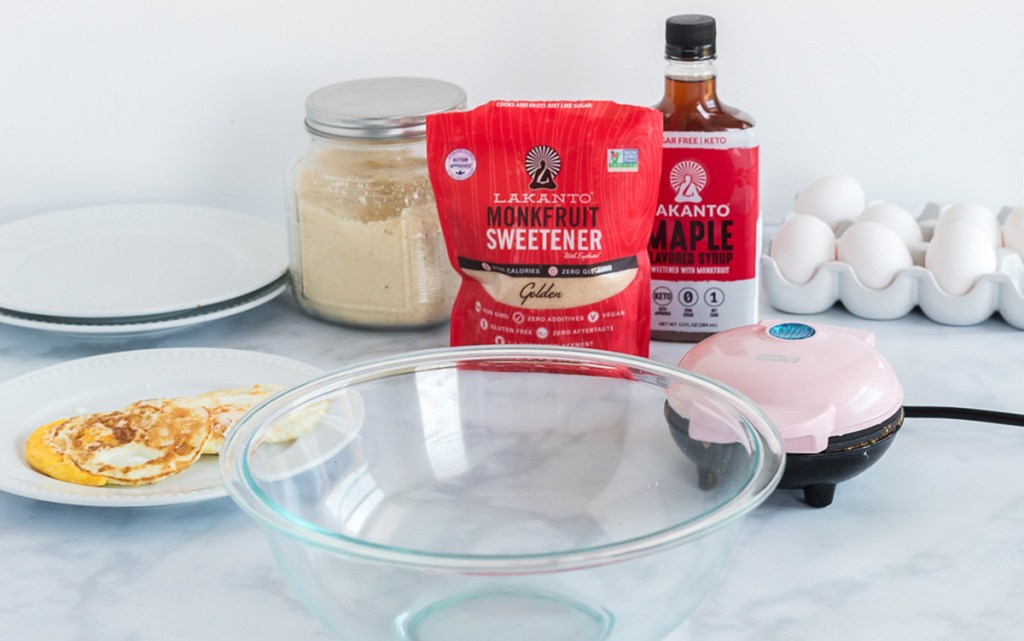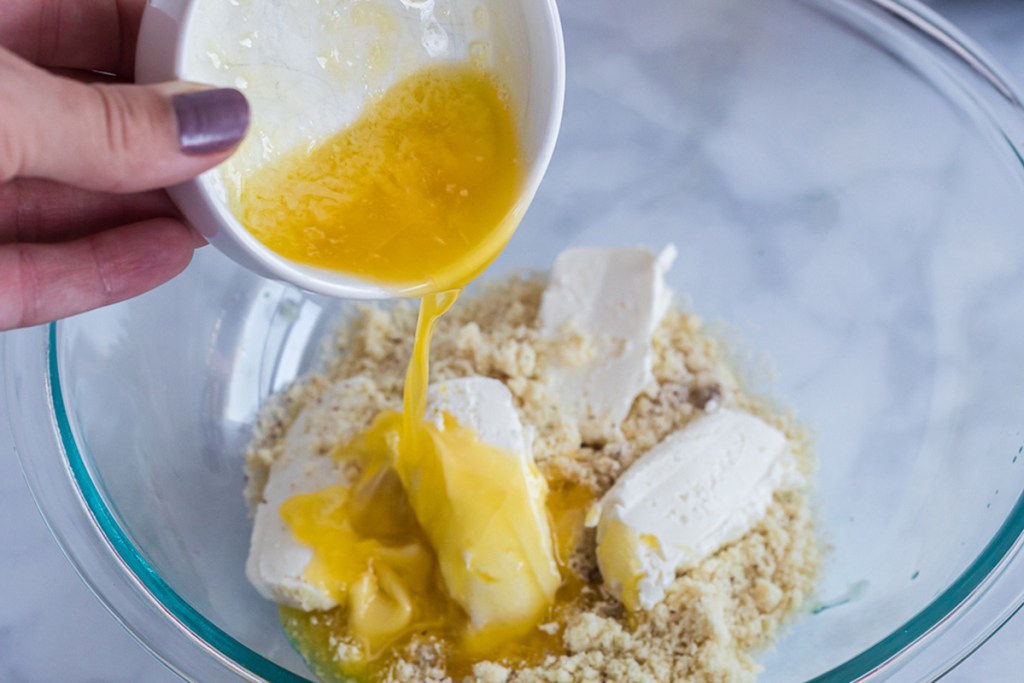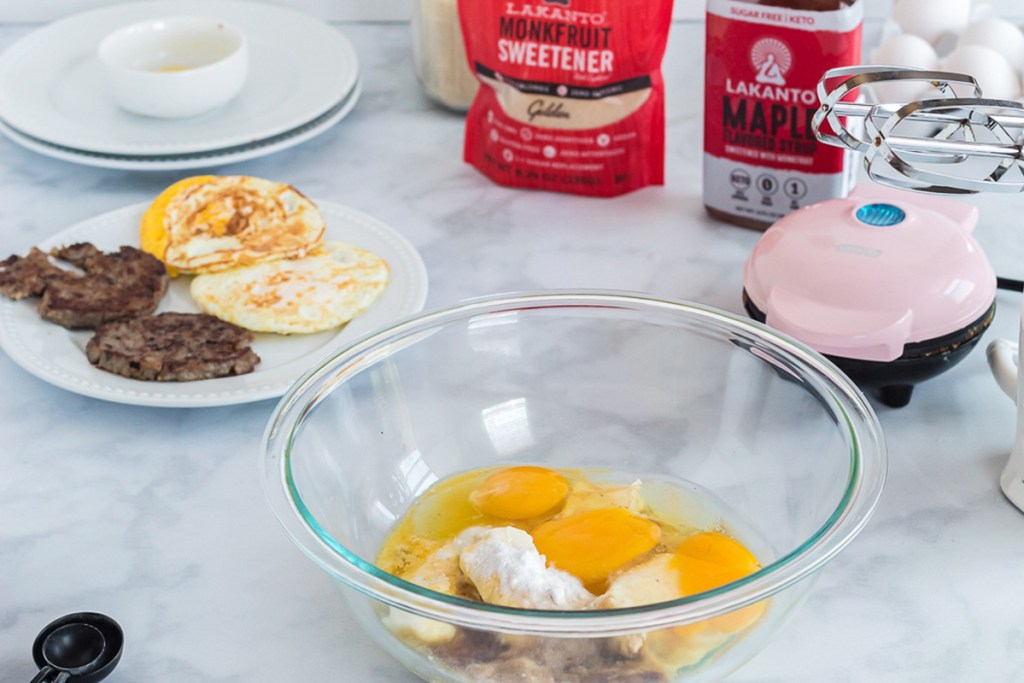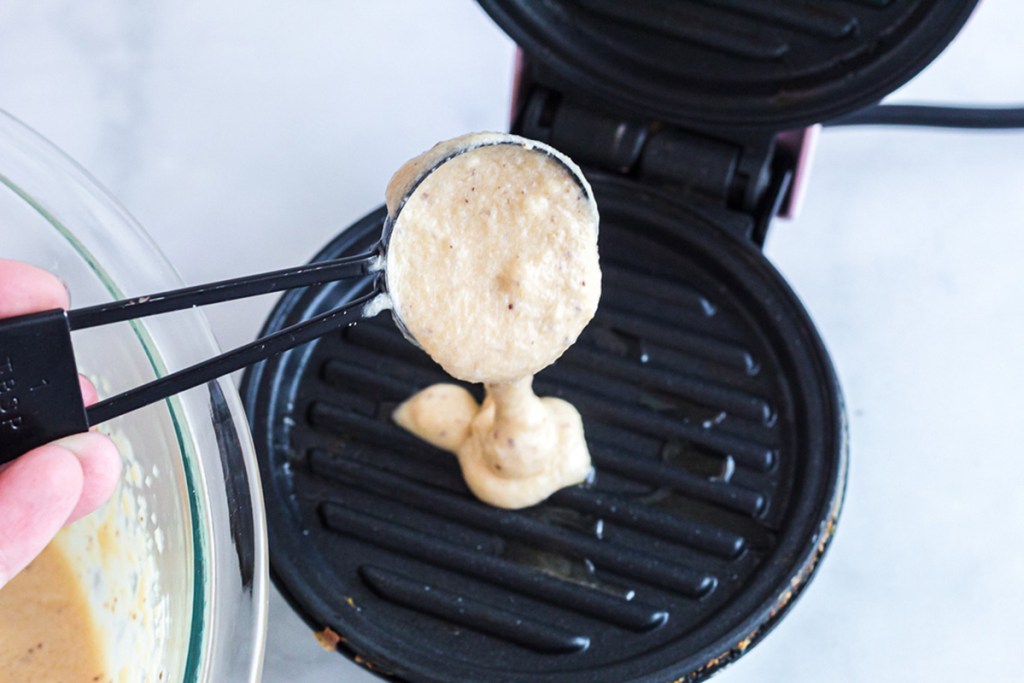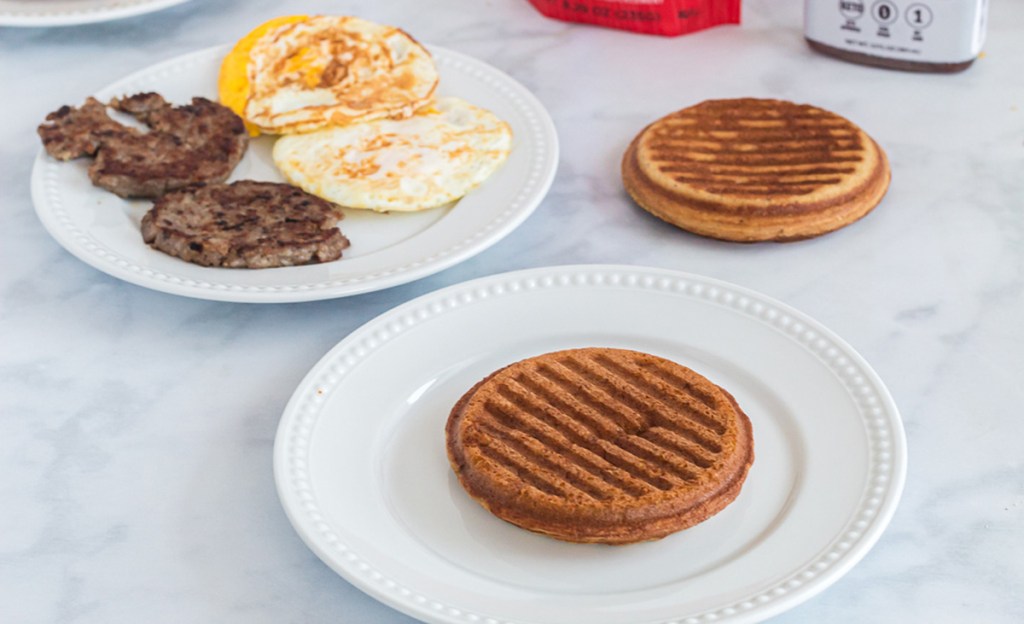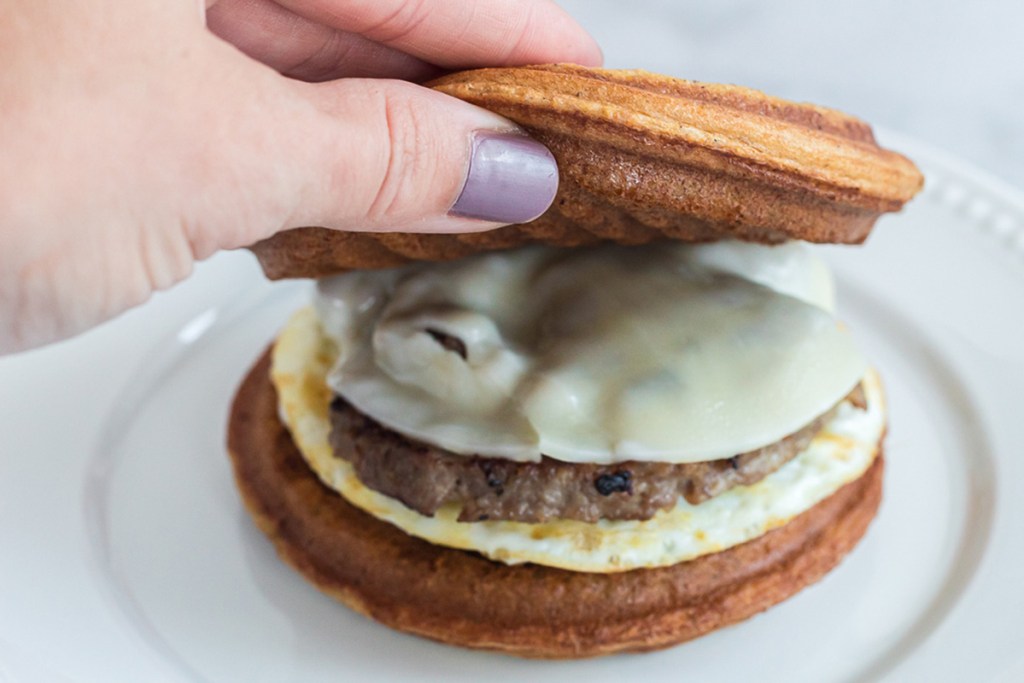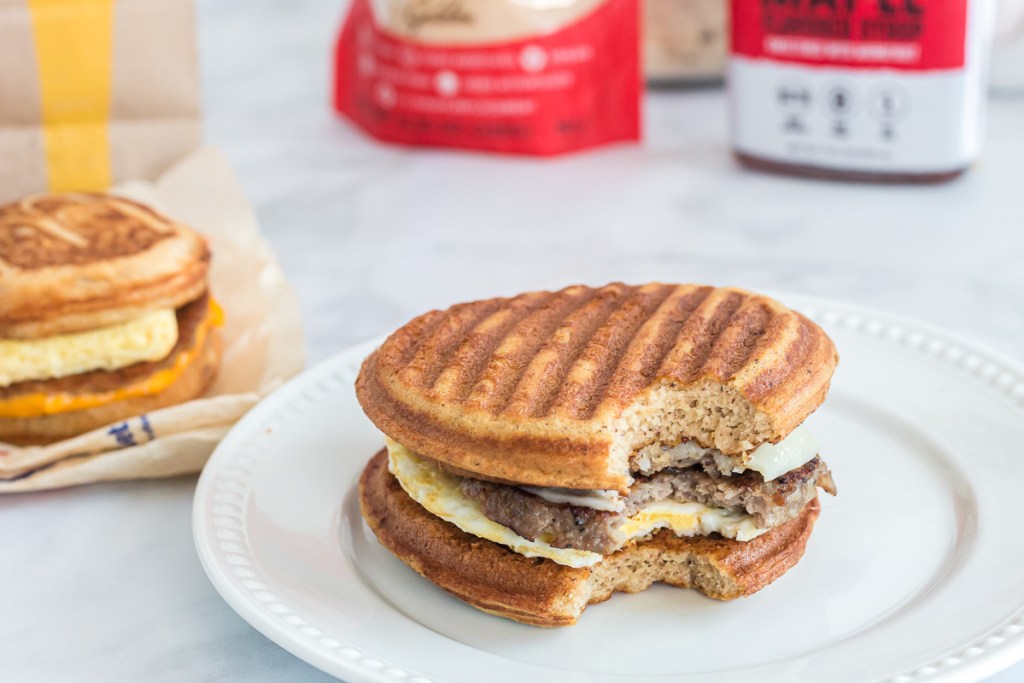 ---
Print
Keto Sausage McGriddle Breakfast Sandwich
yield: 5 SERVINGS
prep time: 5 MINUTES
cook time: 15 MINUTES
total time: 20 MINUTES
This egg, cheese, and sausage breakfast sandwich with sweetened buns is just like McDonald's... but so much better and so low-carb!
Ingredients
For the maple buns:
3 eggs
4 tablespoons cream cheese (softened)
2 tablespoons grass fed butter (melted)
1 1/4 teaspoons baking soda
1/4 teaspoon salt
For the egg & meat portion (1 of each ingredient added to buns):
5 cooked eggs
5 sausage patties
5 provolone cheese slices
Directions
1
In a large bowl, add all ingredients for the maple buns and mix.
2
Add 2 tablespoons of pancake batter to mini waffle maker and let cook for 2 minutes.
3
Cook the egg and sausage as normal. Add the cooked egg, sausage, and slice of cheese to the sandwich.
4
Enjoy fresh or wrap in plastic wrap, seal in a freezer-safe bag, and then freeze until ready to eat. Once ready, remove from the plastic wrap and microwave for 30-40 seconds or you could even heat up in the air fryer.
Additional Notes
If you prefer just to make the "bun" part of this recipe and skip the sausage, egg, and cheese that are in the middle then go for it! Here is the nutrition breakdown for just the "bun":
Serving Size: 1 McGriddle Bun (top & bottom) | 329 Calories | 28.7g Fat | 12.5g Total Carbs | 4.6g Fiber | 2.4g Sugar | 3.7g Sugar Alcohols | 11.5g Protein | 4.2g Net Carbs
Nutrition Information
Yield: 5 sandwiches with egg, sausage patty, and cheese, Serving Size: 1 sandwich
Amount Per Serving: 710 Calories | 61.6g Fat | 14g Total Carbs | 4.6g Fiber | 3g Sugar | 3.7g Sugar Alcohol | 29.8g Protein | 4.7g Net Carbs
---
My Hip sidekick Jenna gave this recipe a try and here's what she thought:
"My favorite thing on the entire McDonald's menu is the McGriddles! I remember when they first added them when I was in high school — I went from never eating there, to eating there just about every morning. I also remember reading that it had more carbs and sugar in it than anything else on the menu. That maple flavor in the pancake bun is the best, and this recipe recreates it in the perfect keto fashion. I froze a few and plan on adding this to my regular Sunday meal prep. This is absolutely a must-try recipe!"
---
Craving more keto breakfast ideas? Try these delicious keto pancakes!