Eat a Whole Pint of Ice Cream? Not a Problem When It's This Keto-Friendly Brand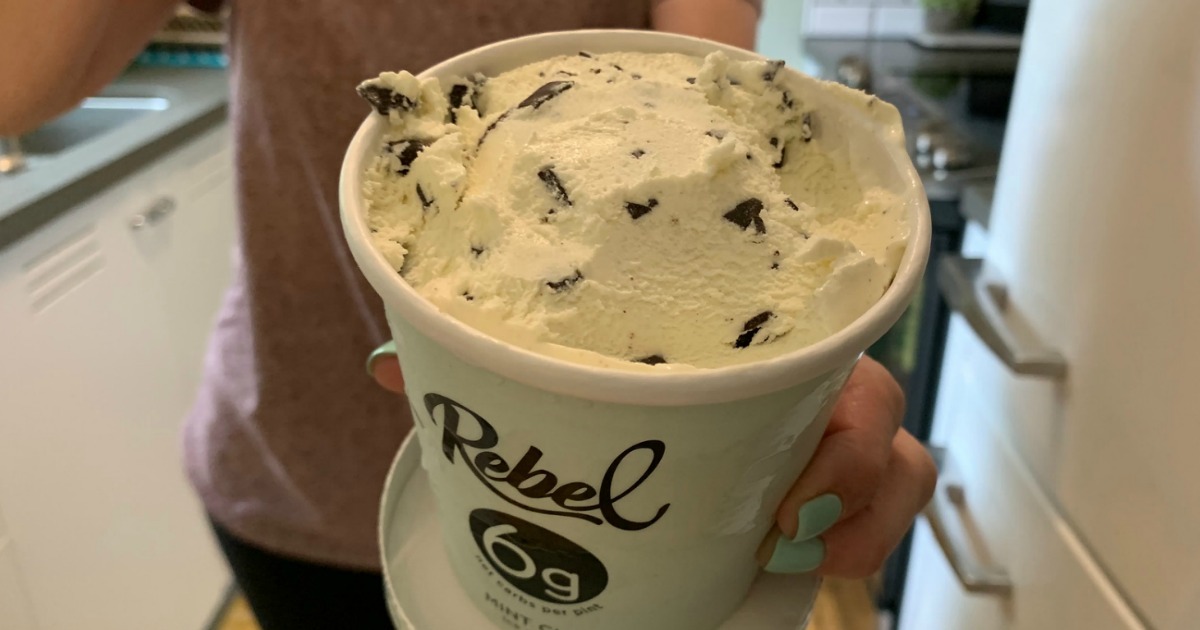 Close your eyes and imagine this. You're taking a bite of a frozen, sweet, creamy substance that doesn't leave a weird aftertaste in your mouth, and it is so satisfying to your sweet tooth that you break away from this nirvana in a panic thinking it must be loaded with sugar and carbs.
But then, your eyes open to see an exclamation of only 6 net carbs per pint. Did you catch that part? Not 6 net carbs per serving… it's 6 net carbs for the whole dang pint! 😱

That, my friends, is what it feels like to eat Rebel Creamery ice cream.
I don't know if there's any keto product I've raved about more than this absolutely delicious creation that somehow captures all the best aspects of ice cream and made them keto-friendly. I've mentioned just how much I have been loving this keto dessert not once, not twice, but three times in our Hip2Keto Facebook group.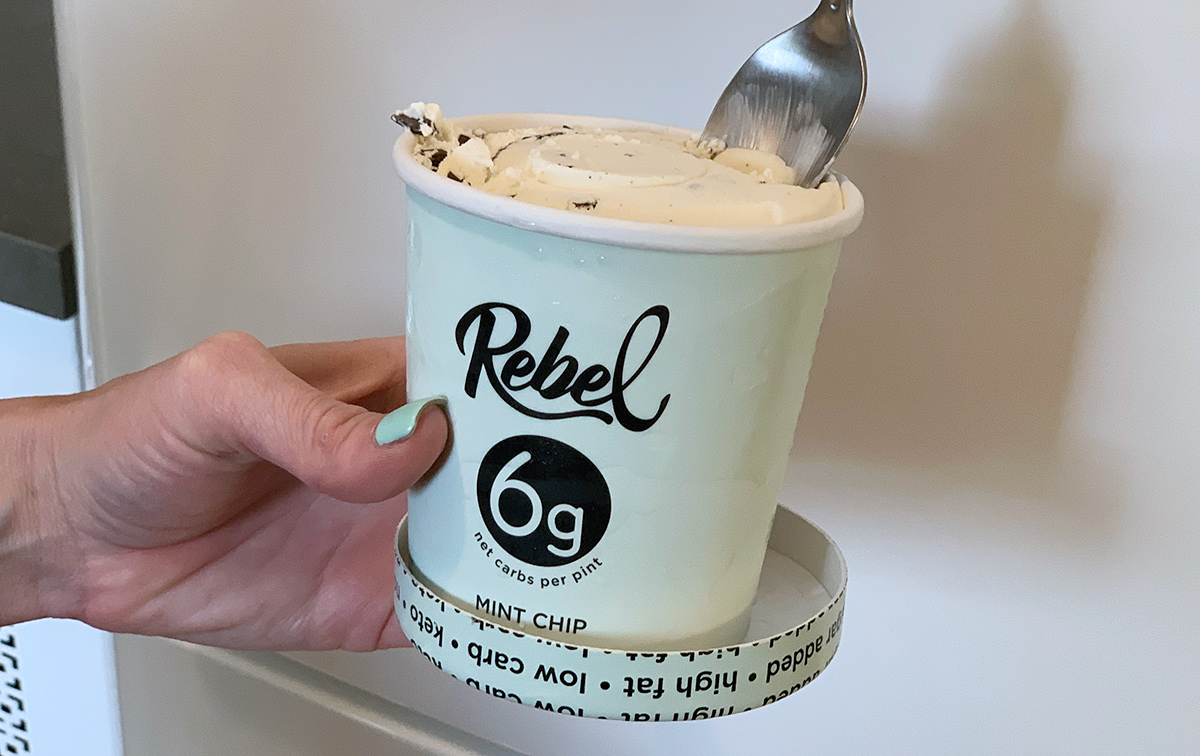 My area doesn't have all the flavors yet, so I've only tried chocolate, vanilla, peanut butter fudge, cookie dough, and mint chip, which is definitely my favorite of the varieties I've enjoyed. It's so good that I can literally eat the ENTIRE pint in a sitting and not feel guilty. And yes, I have done this a few times! 🤷🏼
I could honestly go on for days about how much I am obsessed with this ice cream, but I'll cut right to the nutrition facts and pint locator so you can try it out for yourself ASAP.
Serving size: 1/2 cup, Calories: 200, Total Fat: 19g, Net Carbs: 2g (Total: 12g, Fiber: 3g, Sugar Alcohol: 7g), Protein: 3g
Serving size: 1/2 cup, Calories: 160, Total Fat: 15g, Net Carbs: 1g (Total: 11g, Fiber: 3g, Sugar Alcohol: 7g), Protein: 2g
Serving size: 1/2 cup, Calories: 190, Total Fat: 18g, Net Carbs: 1g (Total: 10g, Fiber: 3g, Sugar Alcohol: 6g), Protein: 2g
Serving size: 1/2 cup, Calories: 170, Total Fat: 16g, Net Carbs: 1g (Total: 14g, Fiber: 3g, Sugar Alcohol: 10g), Protein: 3g
Serving size: 1/2 cup, Calories: 140, Total Fat: 12g, Net Carbs: 1g (Total: 13g, Fiber: 2g, Sugar Alcohol: 10g), Protein: 2g
Serving size: 1/2 cup, Calories: 160, Total Fat: 15g, Net Carbs: 2g (Total: 12g, Fiber: 3g, Sugar Alcohol: 7g), Protein: 2g
Serving size: 1/2 cup, Calories: 150, Total Fat: 14g, Net Carbs: 1g (Total: 11g, Fiber: 3g, Sugar Alcohol: 7g), Protein: 2g
Serving size: 1/2 cup, Calories: 150, Total Fat: 14g, Net Carbs: 1g (Total: 10g, Fiber: 2g, Sugar Alcohol: 7g), Protein: 2g
---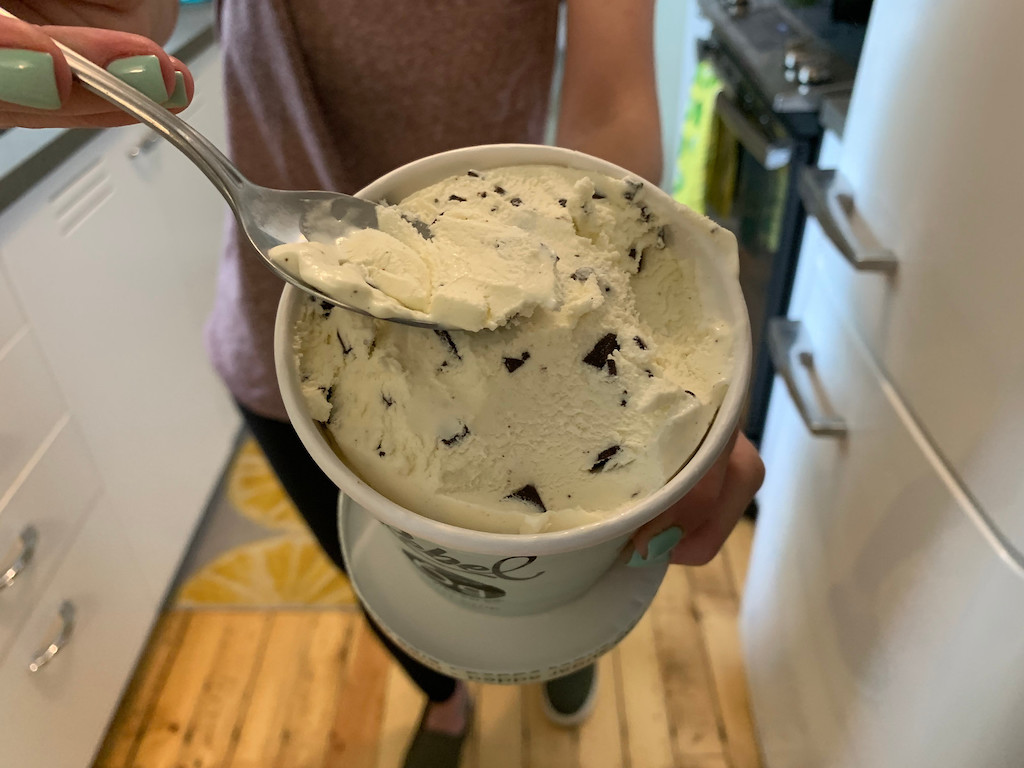 If I were you, I wouldn't wait to try this out. At the rate I'm taking down these pints, they may be out of stock before you get the chance to taste this keto delicacy for yourself. 😋
P.S. Rebel Creamery is not paying for this post… but they should. 😉
---