Low-Carb Chicken & Broccoli Casserole – Cheesy, Creamy and Keto-Dreamy!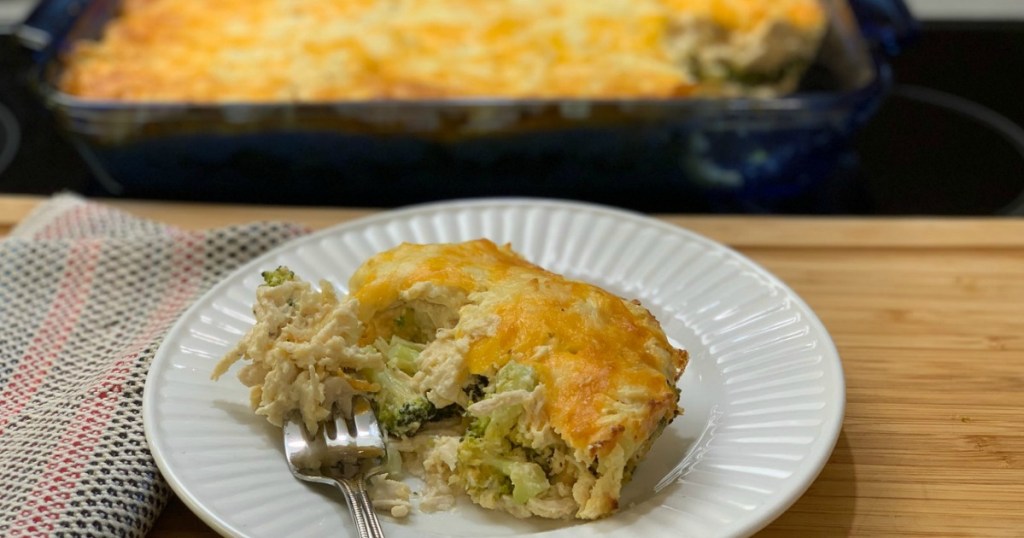 One of the many joys of keto… CHEESE! And, this chicken broccoli casserole is full of it.
Oh, this casserole! It's on my MVP list of keto dinner ideas that the entire family loves, particularly on cold winter evenings. For anyone who adores the marriage of chicken and cheese, it's a match made in heaven, with tiny broccoli florets to help balance the rich, creaminess of the dish.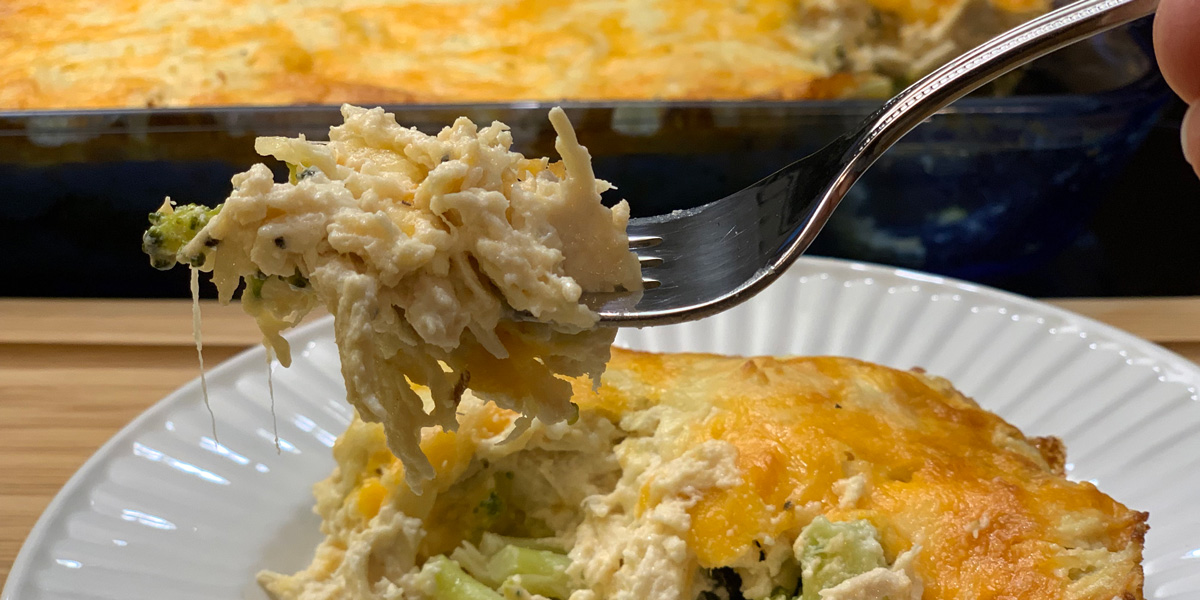 Want more keto inspiration and healthy tips to become a keto pro?

I love casseroles because they're easy to make ahead of time.
Dinner time is a bit chaotic in my house, so make-ahead meals are a real time-saver. This chicken and cheese keto casserole is super easy to prepare and can be refrigerated until you're ready to pop it in the oven. The leftovers reheat wonderfully, so I can serve it two nights in a row. And wouldn't you know it — nobody ever complains!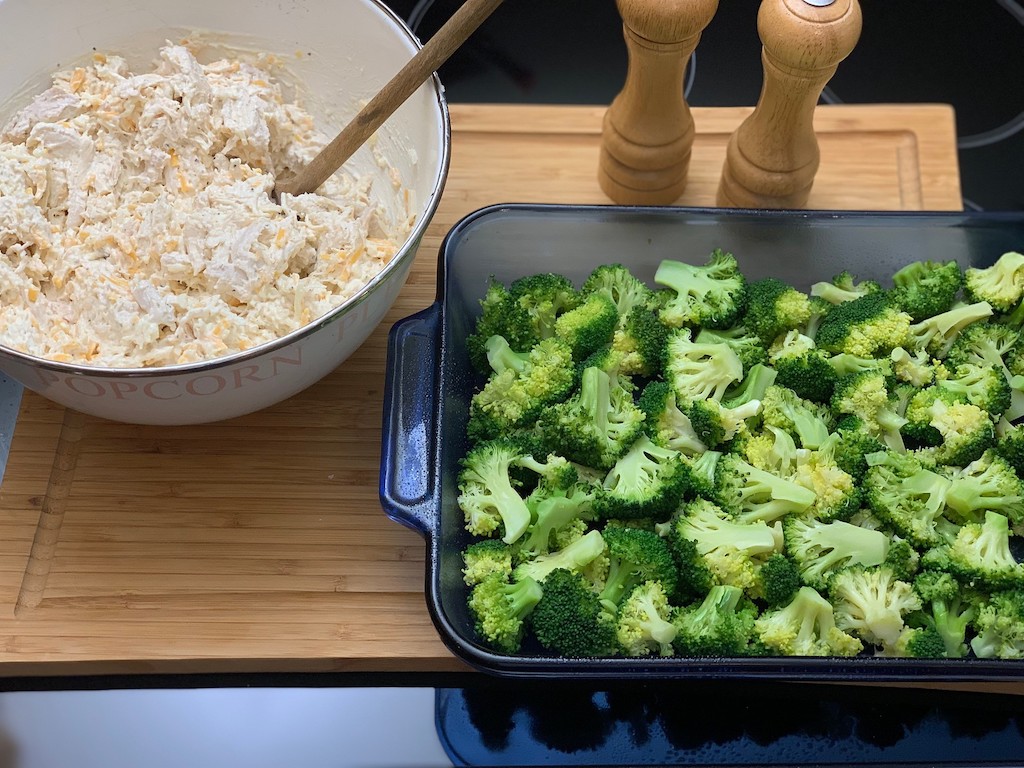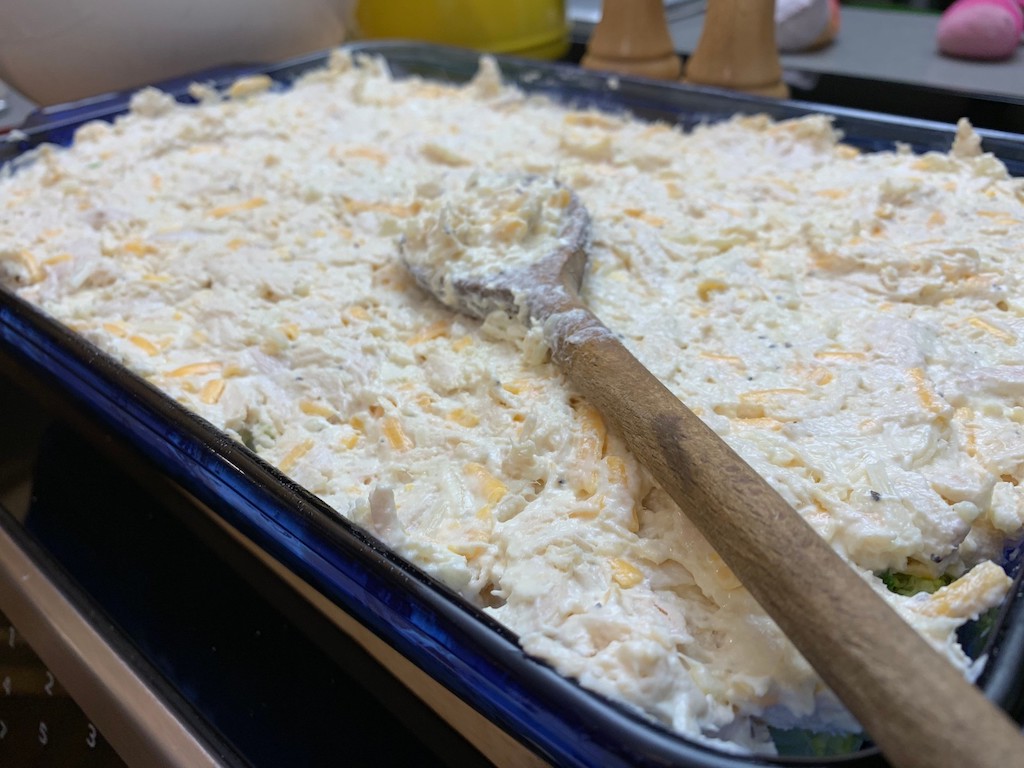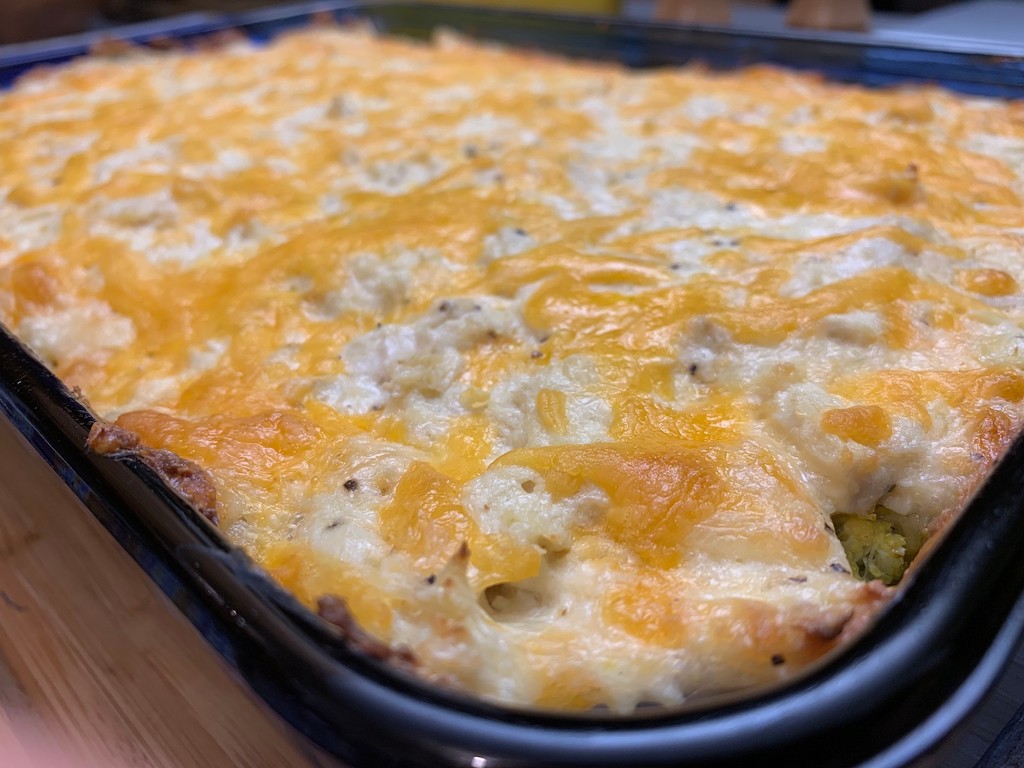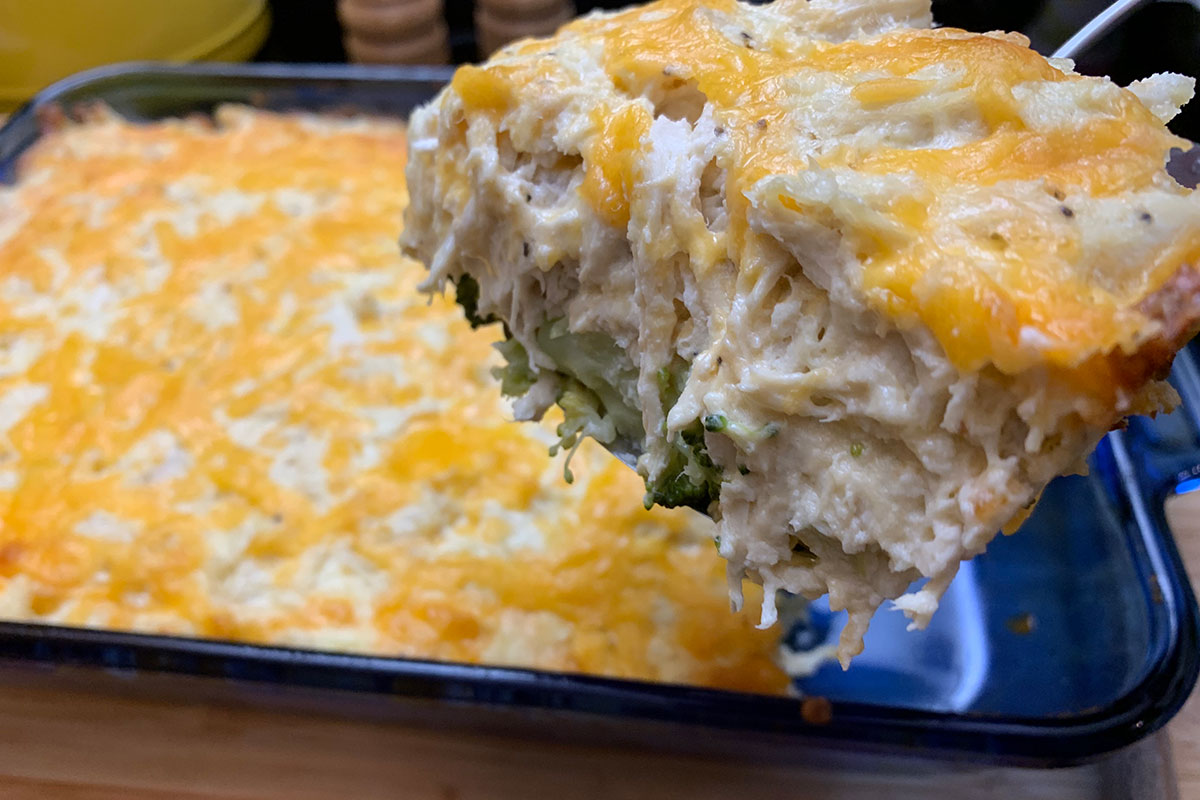 ---
Print
Keto Chicken, Broccoli and Cheese Casserole
yield: 10 SERVINGS
prep time: 35 MINUTES
cook time: 1 HOUR 25 MINUTES
total time: 2 HOURS
For anyone who adores the marriage of chicken and cheese, it's a match made in heaven, with tiny broccoli florets to help balance the rich and creaminess of the dish.
Ingredients
4 boneless, skinless chicken breasts (about 3 lbs)
3 medium heads broccoli, cut into 1" to 1 1/2" florets (approx. 9 cups of raw, cut broccoli)
1 cup sour cream
1 cup block cream cheese, (8 oz package) softened
1/2 cup mayonnaise
1 egg, beaten
2 cups cheddar cheese, shredded (8 oz bag), divided (1 1/2 cups + 1/2 cup for topping)
2 cups mozzarella cheese, (8 oz bag) divided, (1 1/2 cups + 1/2 cup for topping)
1 teaspoon salt
1 teaspoon garlic powder
1 teaspoon onion powder
1/2 teaspoon black pepper
1 teaspoon instant chicken bouillon powder (can substitute with one crushed bouillon cube)
1/2 cup hot water
Directions
1
Place chicken breasts in a large pot and pour in enough water to cover the breasts. Salt the water. Place over medium/high heat, bring to a boil, then reduce heat to low and simmer until no longer pink, about 40 minutes. Allow chicken to cool, then shred it into small pieces. Set aside.
2
Meanwhile, preheat the oven to 350 degrees. Grease a 13x9 inch baking dish with butter or non-stick cooking spray.
3
Add a few pinches of salt to the broccoli florets and steam until crisp-tender using your favorite method. Once cooked, drain to remove excess moisture, set aside.
4
In a large bowl, using a hand mixer, blend sour cream, softened cream cheese, mayonnaise, egg, and spices (salt through pepper) until thoroughly combined. Dissolve bouillon in 1/2 cup of hot water and beat into the mixture. Now add 1 1/2 cups each cheddar and mozzarella, mix well. Lastly, add the shredded chicken, stir to combine.
5
Spread about 1/4 of the chicken mixture into an even layer on the bottom of your greased baking dish. Make a second layer using the broccoli, followed by the rest of the chicken mixture. Top with remaining cheese.
6
Bake for 45 minutes. Let stand 5 minutes before serving.
Nutrition Information
Yield: 10 servings, Serving Size: approx. 1 1/4 cups
Amount Per Serving: 634 Calories | 40.1g Fat | 7.5g Total Carbs | 1.9g Fiber | .1g Sugar Alcohol | 56.1g Protein | 5.6g Net Carbs
---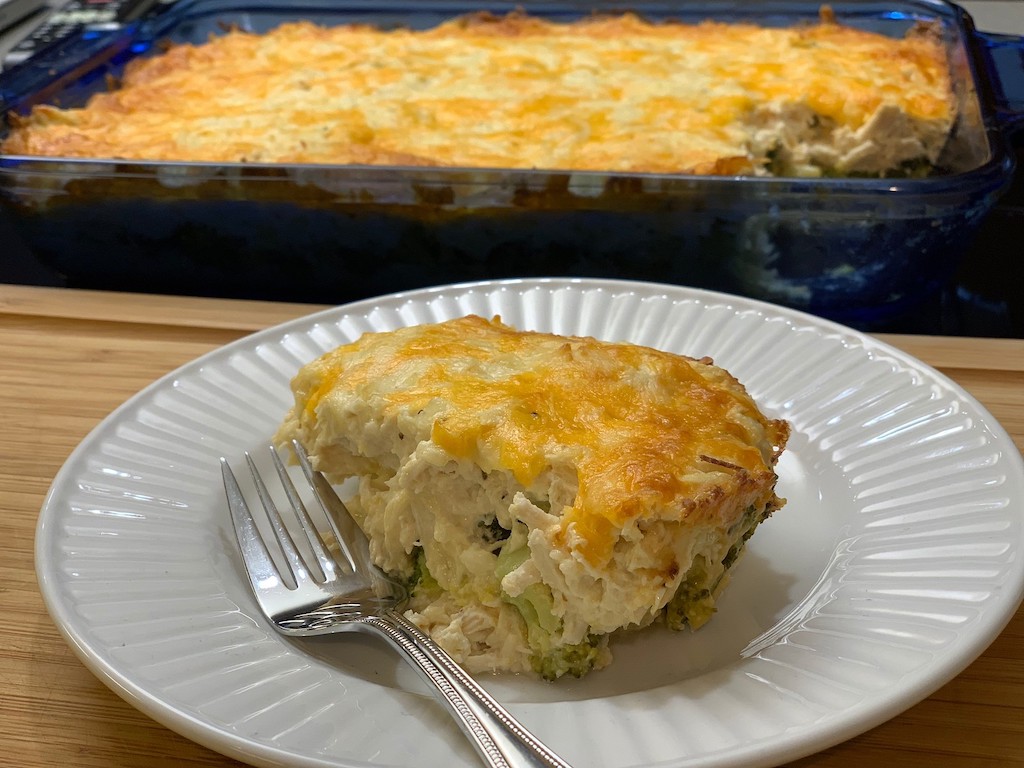 Hip Recipe Tips:
1.) You can prepare this dish ahead of time! Just cover it in a sheet of plastic wrap, and refrigerate for up to 24 hours before baking.
2.) Pressed for time? Skip stove-top steaming and use this top-rated, BPA-free microwave veggie steamer.
3.) If you're away from home for most of the day, use this easy slow cooker method for cooking the chicken: Arrange chicken breasts in the bottom of a slow cooker. Pour water (or broth) over the chicken. Add a touch of salt. Cook on low for 6-8 hours or high for 3-4 hours.
---