Keto Chicken Cordon Bleu Casserole is a Weeknight Win
Keto chicken cordon bleu casserole is the perfect dinner!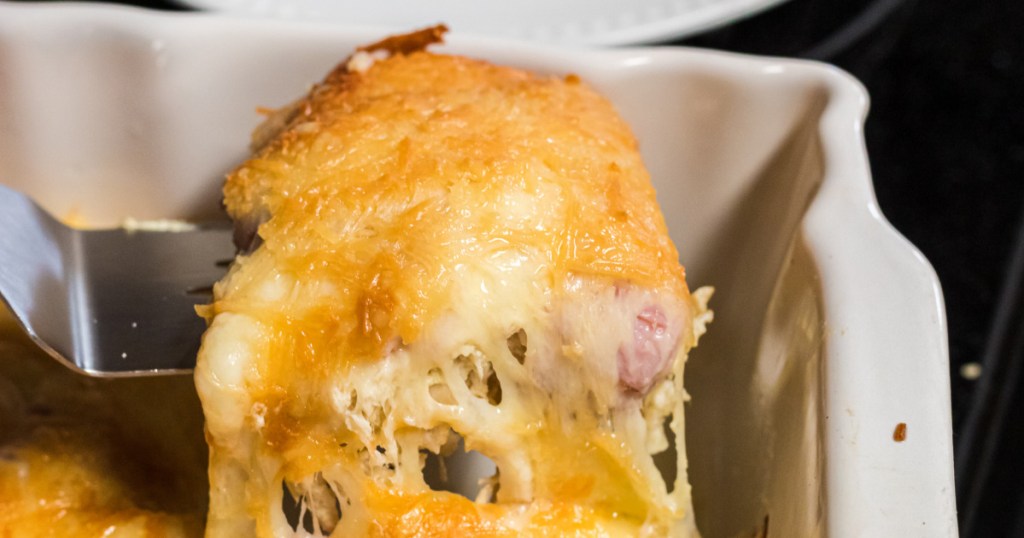 Casserole dinners are a weeknight win!
When you need to get a whole meal on the table without creating a mess of dishes in the sink, try out a casserole dinner. This keto Chicken Cordon Bleu casserole recipe brings together the savory flavors of chicken, sliced ham, and Swiss cheese. YUM!
But the real winner here? The sauce! 😋 It's creamy with a kick from the Dijon mustard and really binds all the elements of this simple meal together. And just for fun, I've topped the whole spread with shredded parmesan cheese for an extra bit of flavor!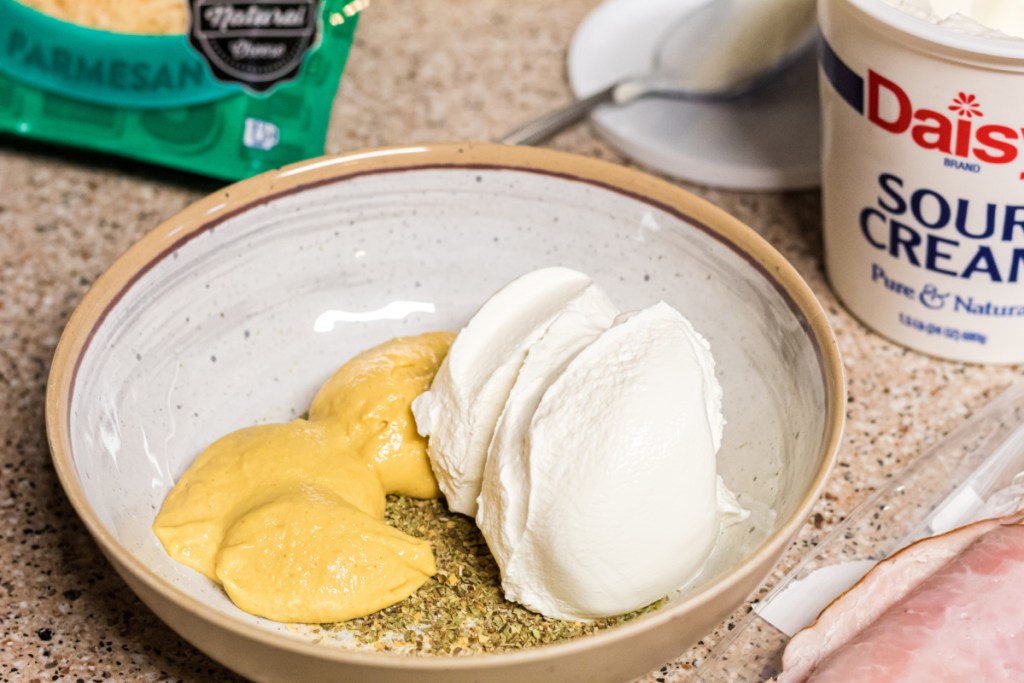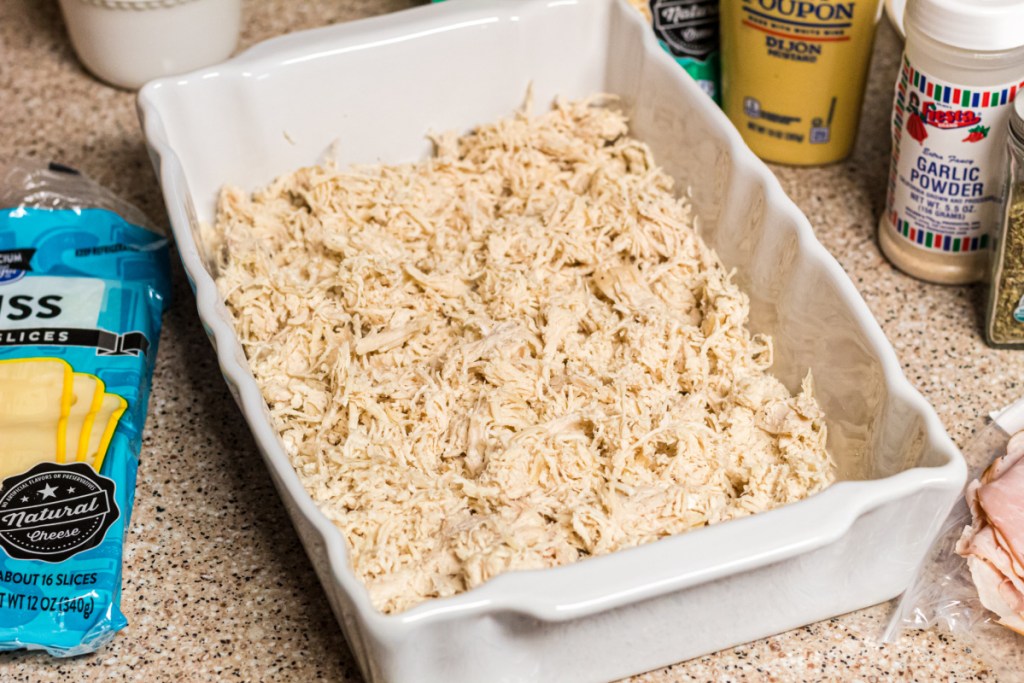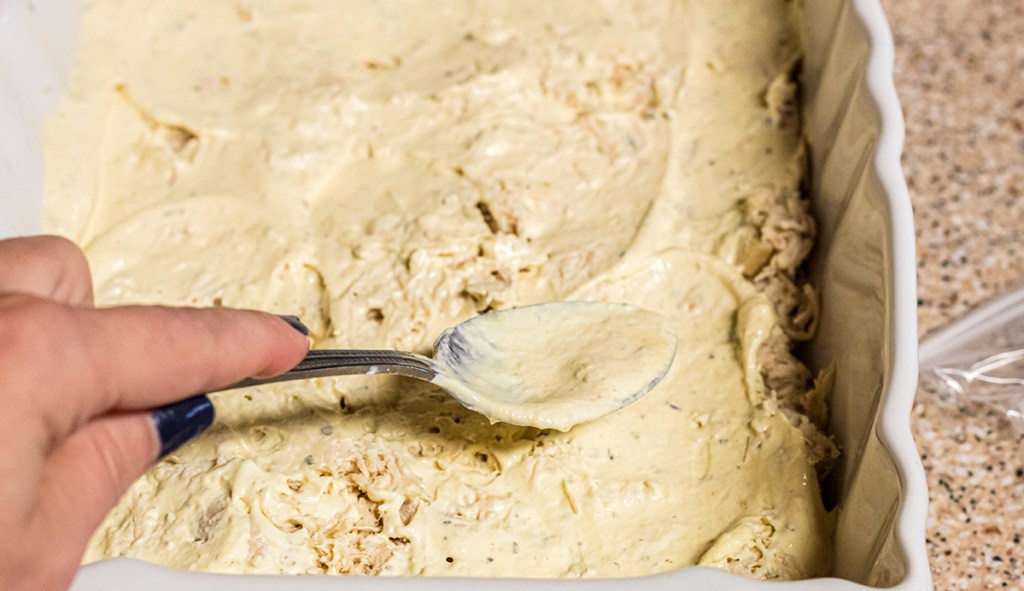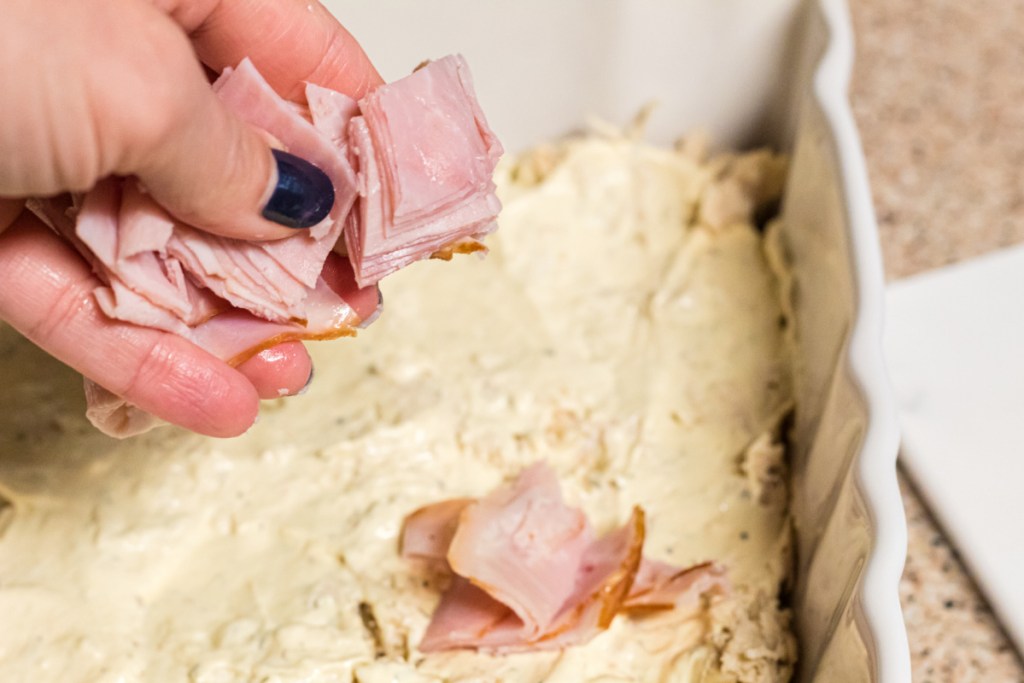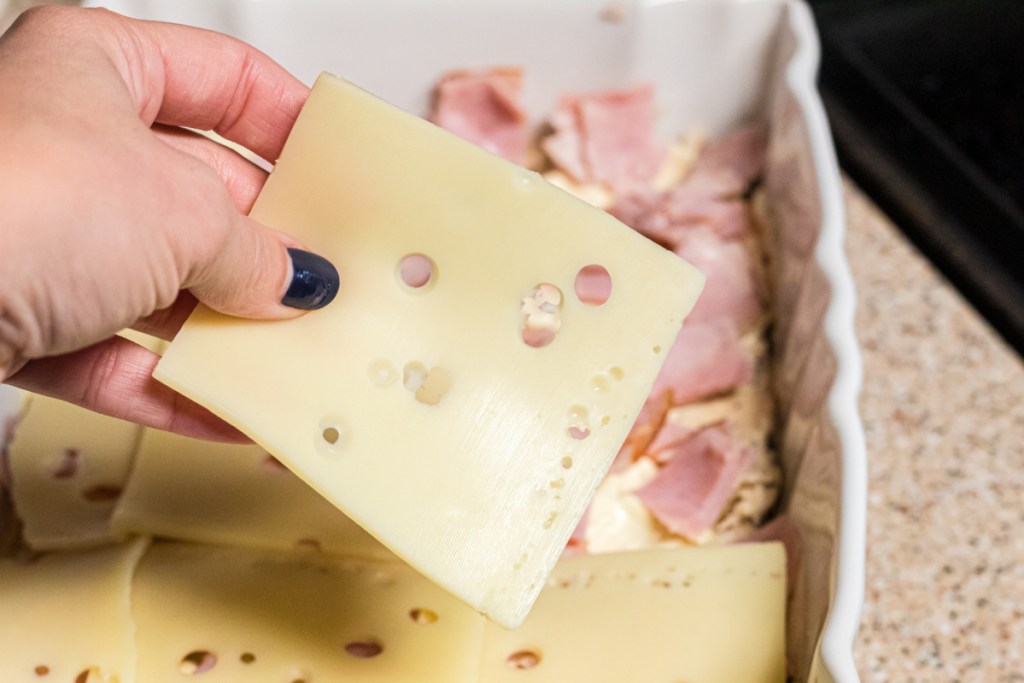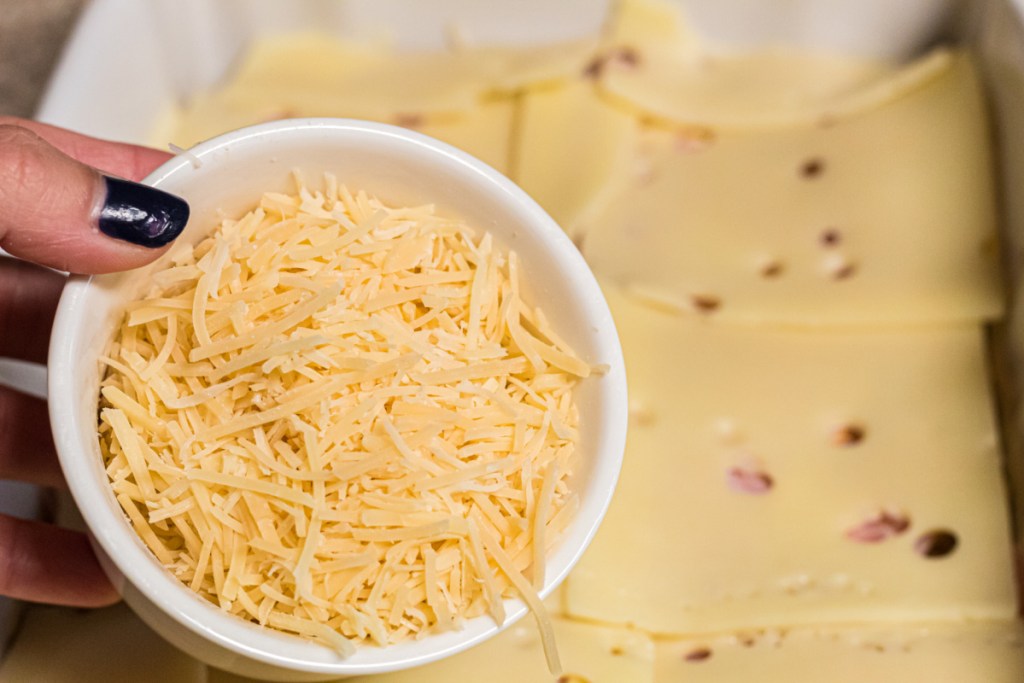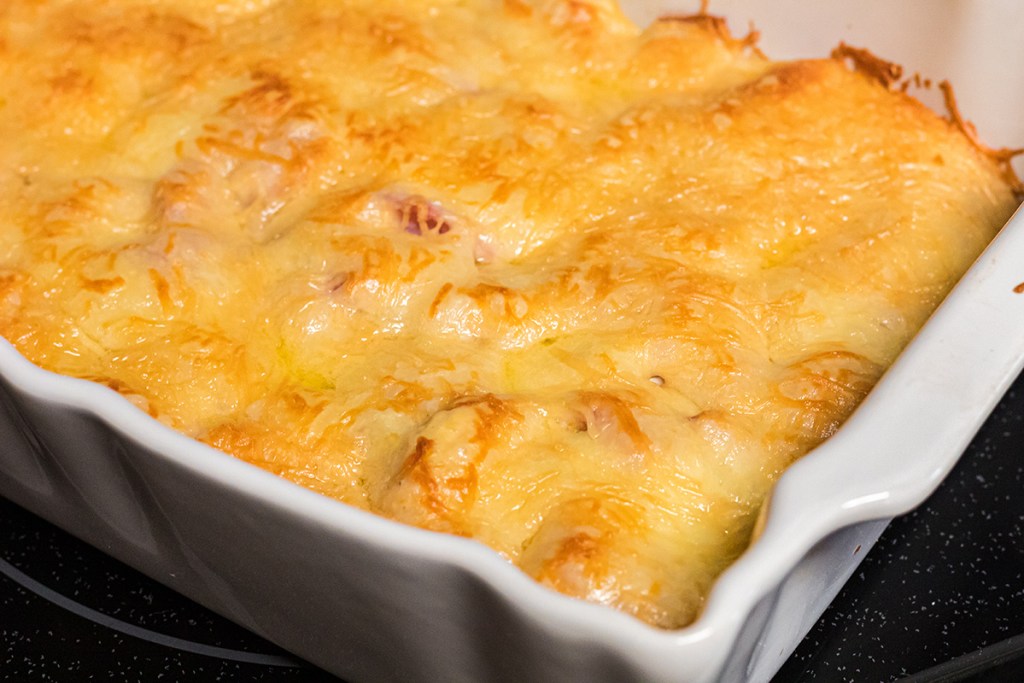 ---
Print
Keto Chicken Cordon Bleu Casserole
yield: 6 SERVINGS
prep time: 15 MINUTES
cook time: 30 MINUTES
total time: 45 MINUTES
Delicious Chicken Cordon Bleu is converted into an easy weeknight keto casserole dish with layers of chicken, ham, and Swiss cheese.
Ingredients
4 cups cooked shredded chicken breast
1 cup parmesan cheese, divided
8-10 slices deli ham, cut into squares
1 cup sour cream
3-4 tablespoons Dijon mustard (if you are a fan of Dijon, bump it up to 4 tablespoons)
1 teaspoon Italian seasoning
1/2 tablespoon garlic powder
11 slices Swiss cheese
Directions
1
Preheat oven to 375 degrees. Coat a 13x9 casserole dish with oil to prevent sticking.
2
Add shredded chicken and 1/2 cup of shredded parmesan cheese to the 13x9 dish. Making sure to cover the dish completely.
3
In a large bowl, mix together sour cream, mustard, Italian seasoning, garlic powder, and a pinch of salt & pepper to taste.
4
Spread the sour cream mixture over the shredded chicken. Add sliced deli ham on top of the spread. Top with sliced Swiss cheese covering the ham.
5
Top the layers with the remaining 1/2 cup of shredded parmesan cheese. If you like a crunch, you can add crushed pork rinds as well. Place in oven to bake for about 25 minutes.
6
Once browned and bubbling, remove from the oven. Slice, serve, and enjoy!
Nutrition Information
Yield: 6 servings, Serving Size: 1
Amount Per Serving: 522 Calories | 31.5g Fat | 5.5g Total Carbs | 0.4g Fiber | 3.3g Sugar | 52.3g Protein | 5g Net Carbs
---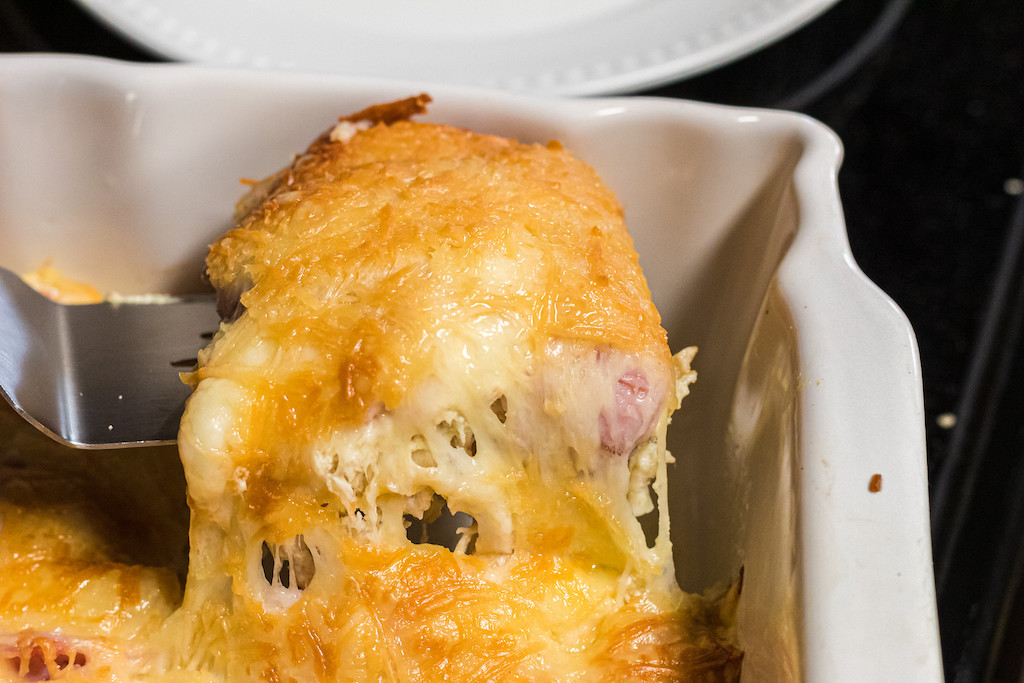 A few tips when making keto Chicken Cordon Bleu:
Want to add a crunch to the topping? Try using crushed pork rinds or pork rind crumbs to add crispiness to the topping.
Not a fan of pork rinds? Try adding bacon crumbles over top to add some crunch and saltiness.
Needing a side dish? Serve with your favorite keto vegetables or even some cauliflower rice. Some steamed broccoli would add freshness and crunch to the dish as well!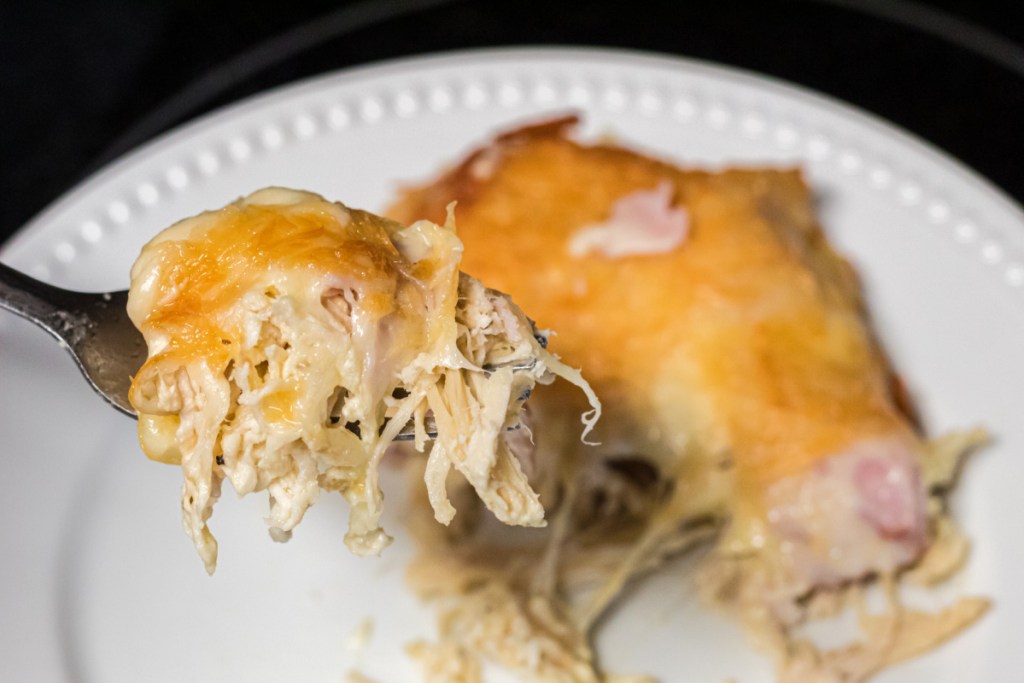 This recipe is a huge hit for all — keto and non-keto alike!
This dish is quickly becoming a favorite in my household. After my family each had a serving, this dish is now a weekly request. But I'm not even mad about it since it's ready in less than an hour, and I'm all for an easy dish! Hope your family feels the same. 🤗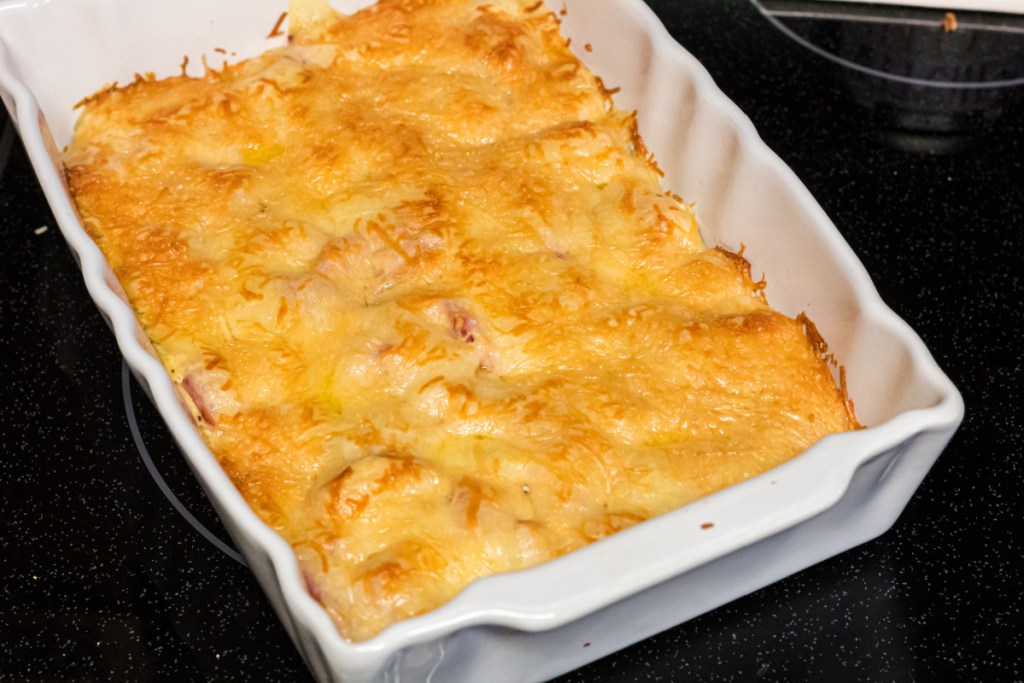 My Hip sidekick gave this recipe a try and here's what she thought!
"I really love this chicken cordon bleu casserole! So much flavor yet it's so easy to make, and I used a rotisserie chicken to make it even easier. The sauce itself is such a great combination of flavors — I would definitely make it for my family again!"
---