Quest Protein Chips Taste Test (All 7 Flavors Ranked Best to Worst)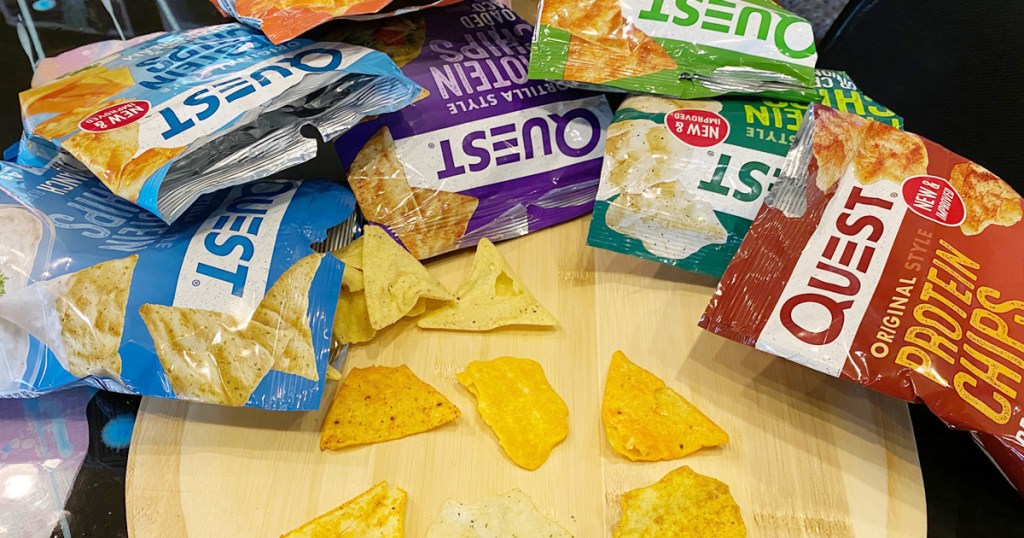 Missing the crunch since you've gone low carb? Quest protein chips to the rescue!

One of the things I've missed most when I first started keto was all of my favorite crunchy snacks! I sure do love potato chips (a little too much in fact), and as we all know, anything potato is basically a no-no in the low carb world.
Sure, I've enjoyed low carb snacks like crunchy pickles, yummy Whisps, and even almonds, but nothing quite compares to the crispy crunch from chips… well, that is until I got introduced to Quest Nutrition protein chips! 😋
---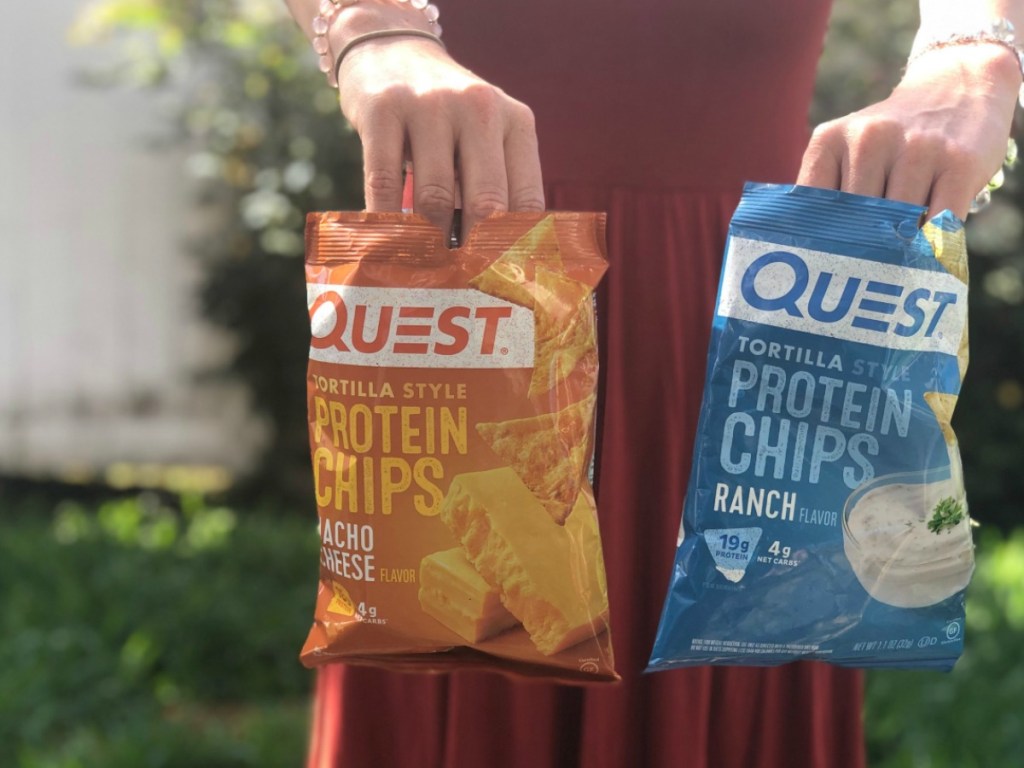 So many yummy flavors!
I recently grabbed a couple of friends and we each tried all seven flavor varieties of Quest Protein Chips including original style Sour Cream & Onion, BBQ, Cheddar & Sour Cream, and the Tortilla style Loaded Taco, Nacho Cheese, Chili Lime, and Ranch.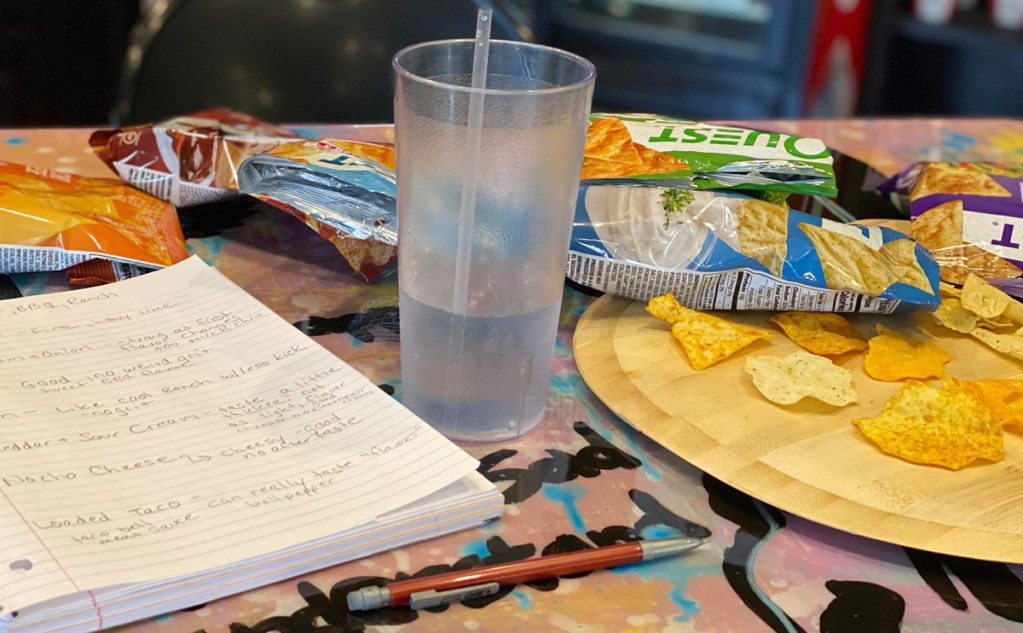 Let's eat! 😋
We took this task seriously, and each had a pad of paper, and a glass of water to clear our mouth of the taste of the previous chips before moving on to the next flavor. 😉 I also needed it for when I tried the spicy chips, but my friends did not. 😅🔥
We ranked Quest Protein Chips flavors in order of our least favorite to our absolute favorite, but truth be told, there isn't really a bad flavor in the bunch and there's a little something for everyone.
One thing to keep in mind, these chips do contain protein isolate so there is a little bit of grit to them which may be something unexpected if you've never had them before. But at just 4 net carbs per bag, this is certainly a snack you can add to your rotation.
Quest Protein Chips Nutritional Info:
Serving Size – 1 Bag | 140 calories | 5g Fat | 5g Total Carbohydrates | 1g Fiber | 4 Net Carbs | 19g Protein (the Chili Lime Protein Chips have 20g of Protein).
---
On to the taste test…
We tasted and ranked each flavor with #7 being our least favorite flavor and #1 as the winner overall. However, even the #7 ranking was still a pretty decent chip!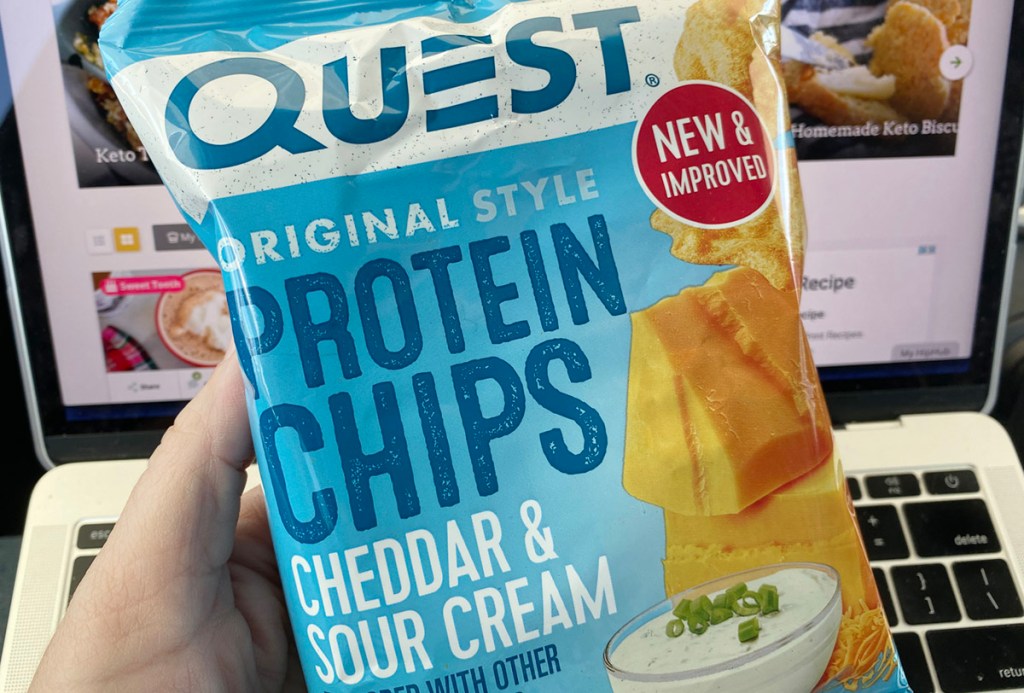 While I liked the taste, I didn't really get the sour cream flavor that I was expecting. They were very strongly cheese flavored and seemed a little thicker than the other chip varieties.
---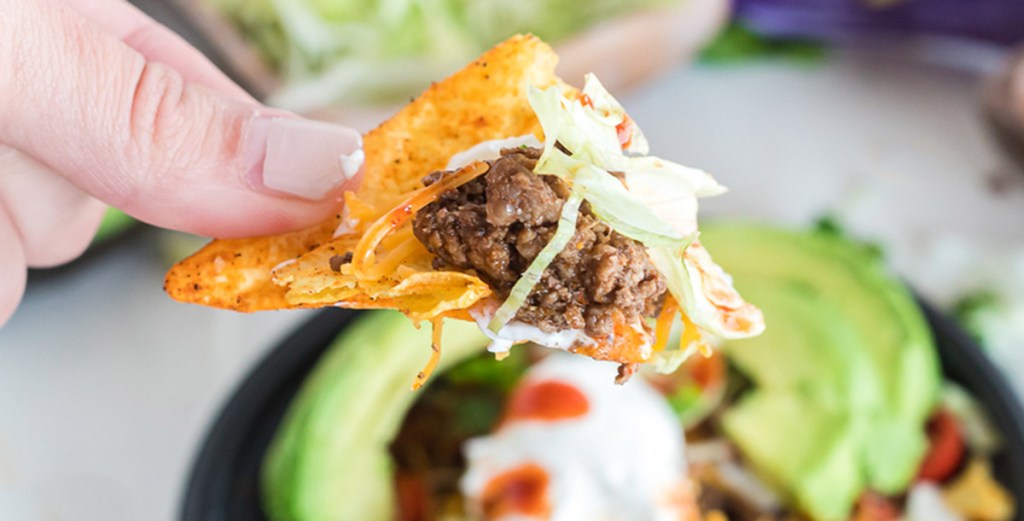 6. Quest Chili Lime Tortilla Style Protein Chips
This one is going to be a total personal preference, but they were a little too spicy for me. I'm a wimp y'all, so it's not anything against the chips it's all me and my weak taste buds. 🤣
I will say these were heavy on the lime, so if you're not really a lime person this may not be the flavor for you. My daughter tried one and said they taste like Takis which she loves, then she ran off with the bag, so they for sure have the teenager seal of approval!
They would be perfect to use when making low carb nachos!
---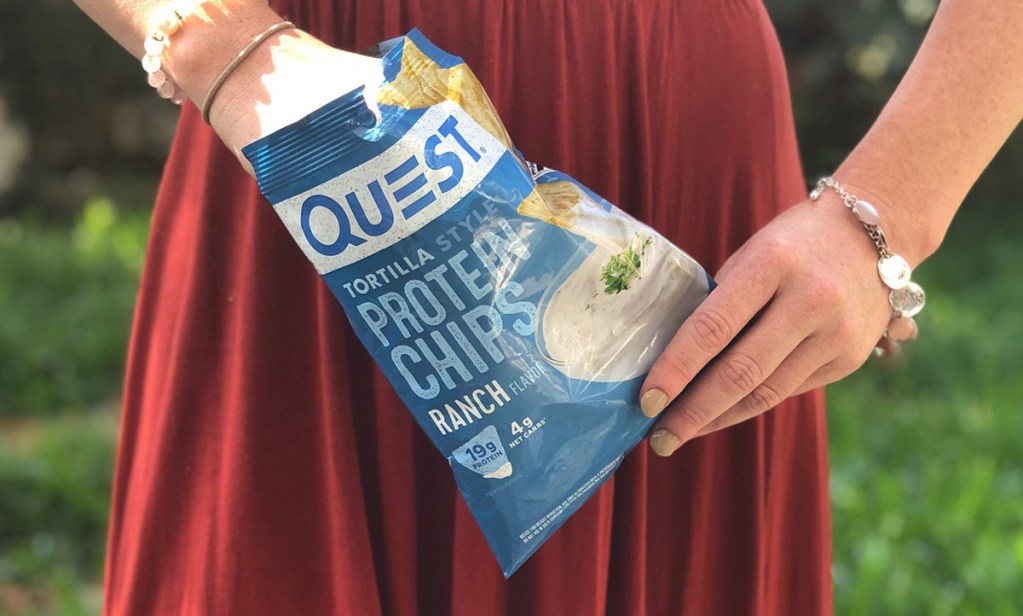 5. Quest Ranch Tortilla Style Protein Chips
These for sure will fit the bill if you're craving Cool Ranch Doritos, however, the flavor is a bit milder, which I actually liked.
---
4. Quest Nacho Cheese Tortilla Style Protein Chips
Y'all these are so dang good! Doritos who? I love using these to dip into tuna salad for a quick and easy lunch while I'm working. They're super filling!
---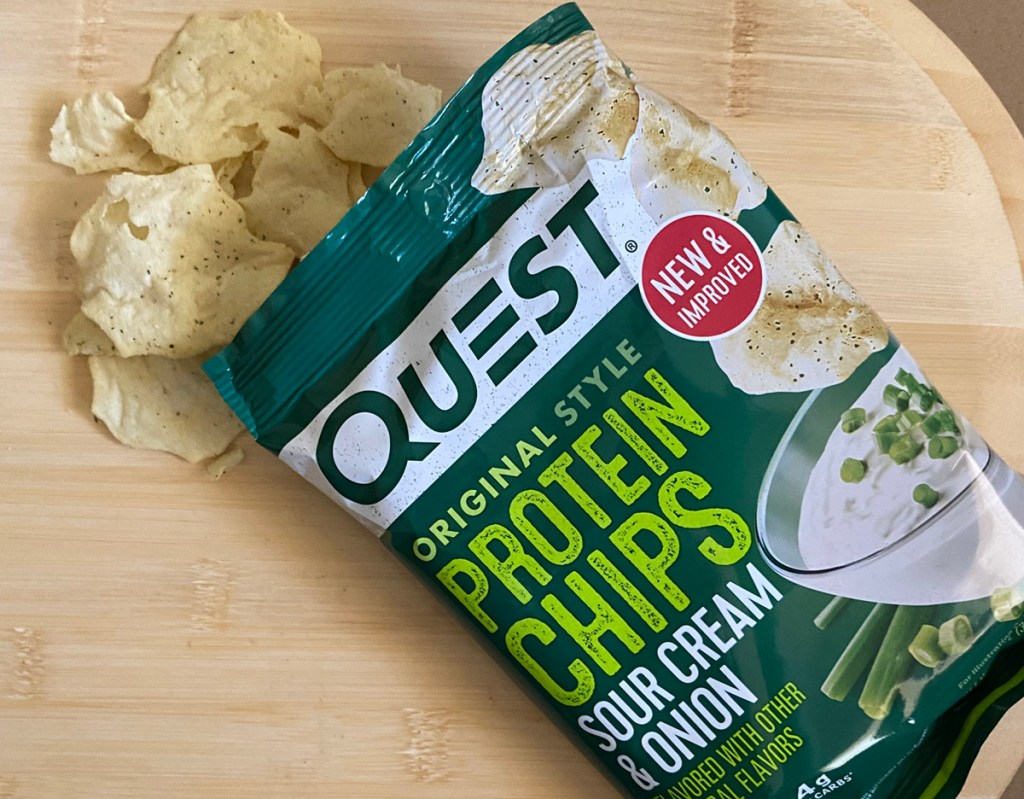 Sour Cream & Onion Lays Potato Chips are in my top two favorites for traditional potato chips and these Quest Protein Chips come pretty close flavor-wise! They are light and crispy just like the carb-heavy originals, this is a must-try flavor.
---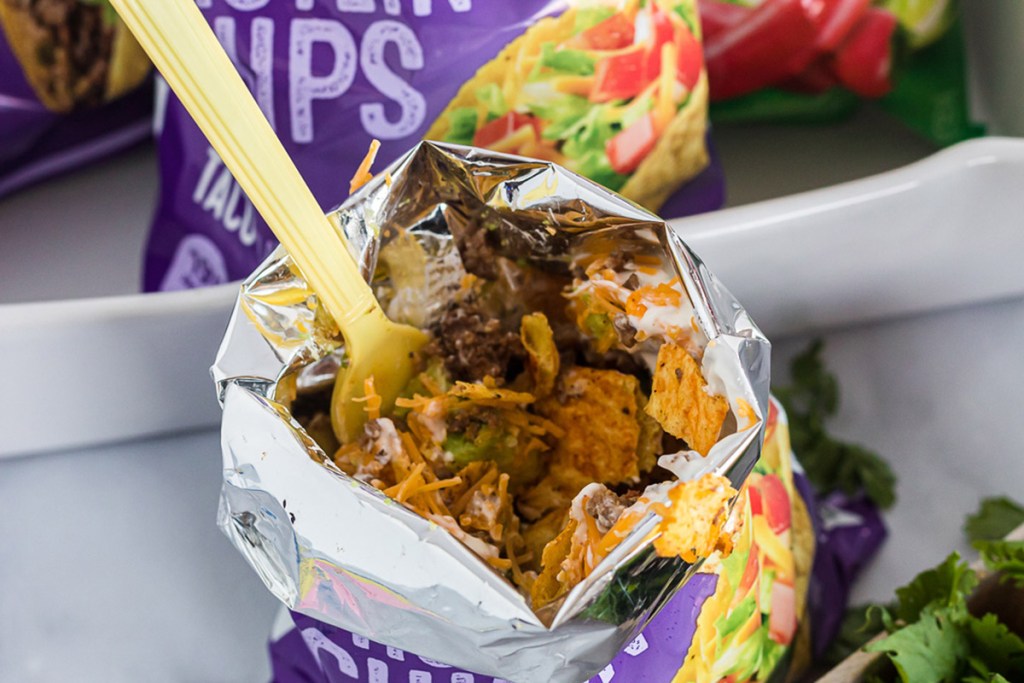 2. Loaded Taco
I polled our team and this flavor was for sure a favorite across the board! "It's like Taco Bell in a bag," one of our members said, and I have to agree!
We love using these chips in taco bowls and for making Walking Tacos, too. They're great for tailgating and any party where you want to keep it low carb while snacking.
---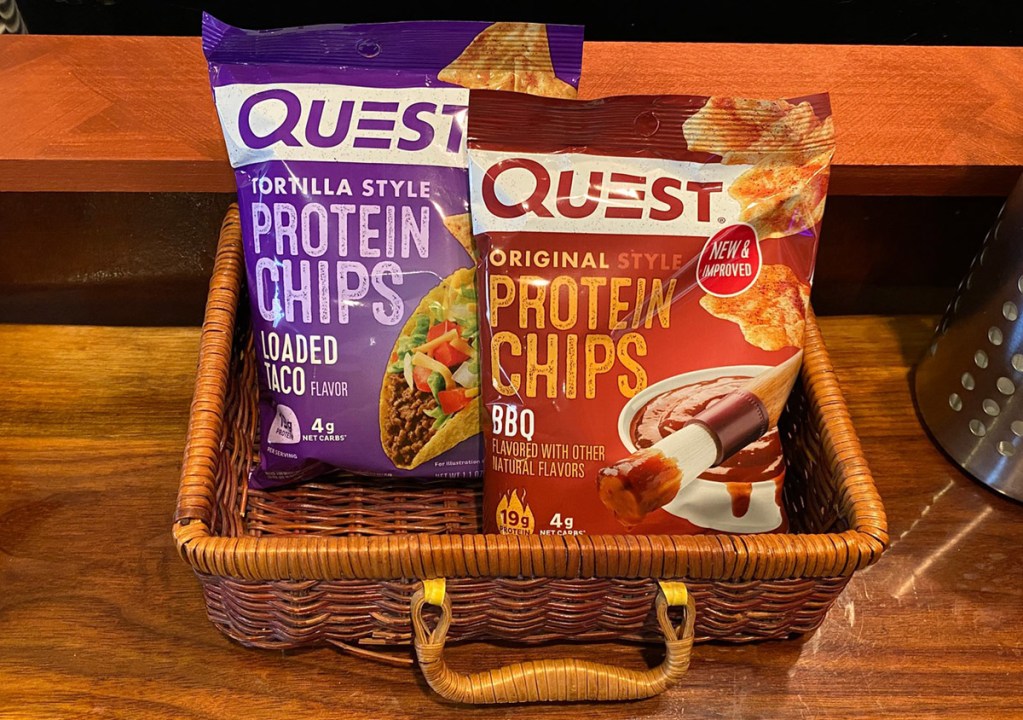 1. BBQ
It was not an easy decision trying to choose which flavor was my favorite, but I had to go with BBQ. This flavor tastes the most like it's potato chip counterpart, and I loved that it has a slight sweetness to it as regular BBQ chips do. I couldn't put this bag down!
This flavor is designated as one of their new and improved flavors, so if you've tried them in the past and were on the fence, you might want to give them a try again since the formula has been modified.
---
Curb snack attack cravings! These are the 10 best keto snacks to buy.