This Easy Keto Sugar-Free Cheesecake is a Crowd Pleaser
This easy keto sugar-free cheesecake is divine and a piece of cake to make!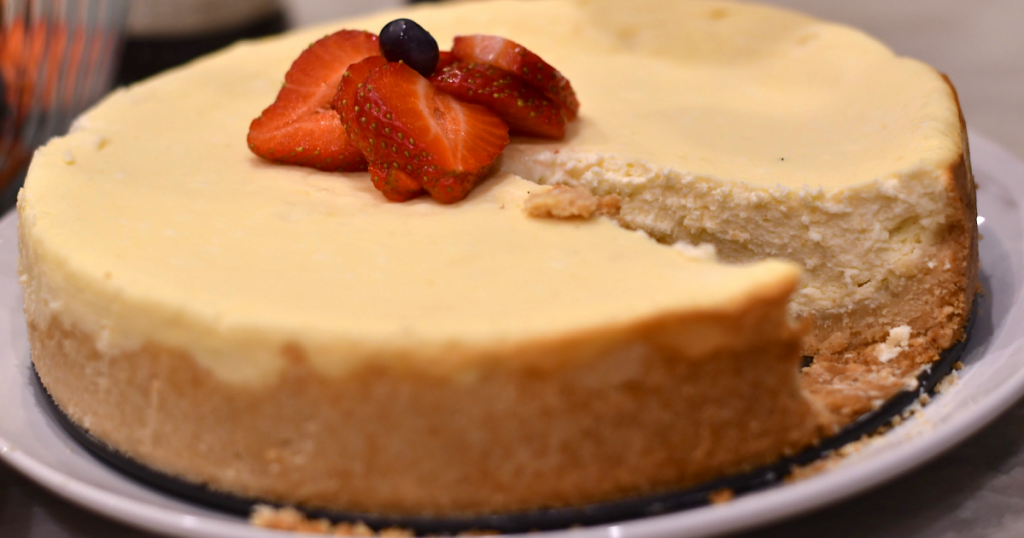 Love cheesecake for dessert?
Good news – It's completely possible to make an outstanding and easy sugar-free keto cheesecake recipe! In fact, it doesn't even taste keto, and I'm sort of a cheesecake enthusiast. The result is a dense, rich, and creamy dessert that's incredibly satisfying!
"This cheesecake is AMAZING. You can't even tell it's sugar-free. Just a warning though, it's hard to consume just one slice. It's that GOOD, and you kinda feel like you're cheatin'. This is up there as one of my most favorite keto desserts!" – Collin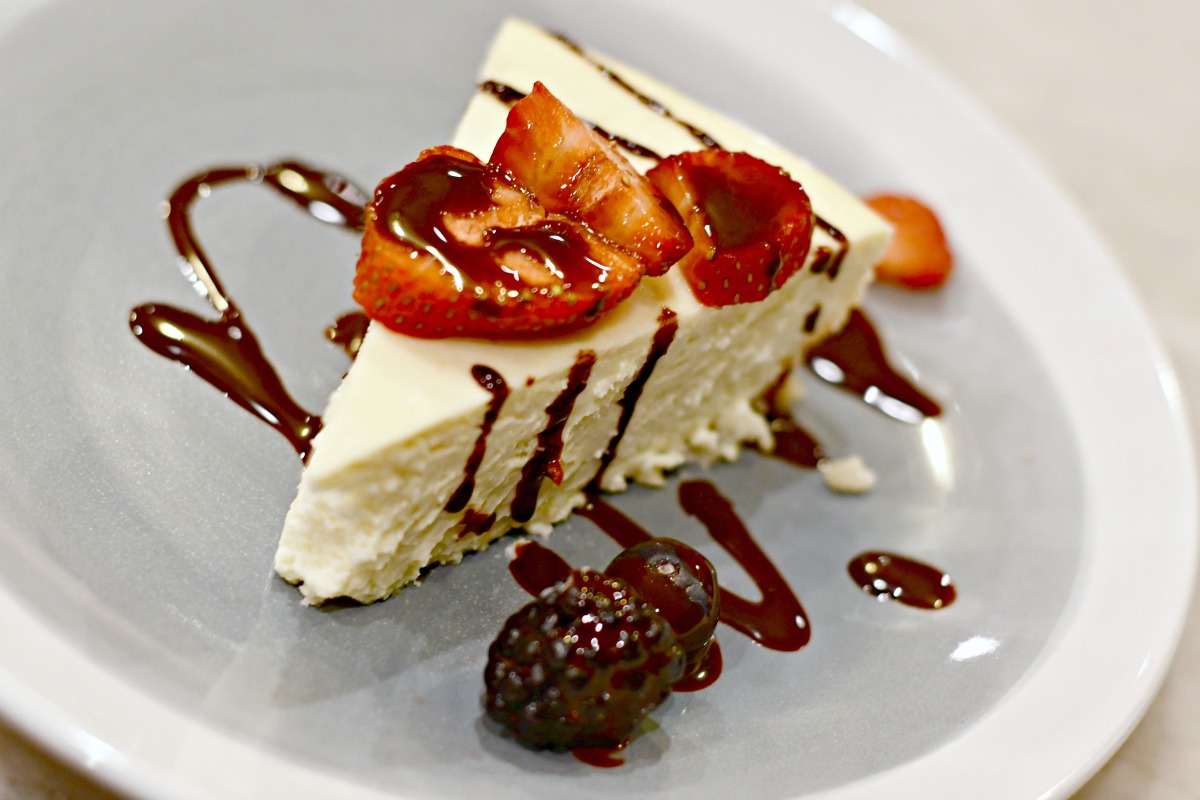 This might be the best keto dessert of all time!
I've tried so many low-carb dessert ideas, and this easy keto sugar-free cheesecake is my FAVORITE. Today, I'm sharing a simple New York-style cheesecake that can be served up as is, or you can jazz it up with fresh berries or sugar-free chocolate syrup.
I always assumed homemade cheesecake was difficult to bake, but it's honestly fairly easy to make. It does require some refrigeration time, so just plan for that part. I promise it's completely doable, and you'll be able to create a stunning keto dessert with easy ingredients!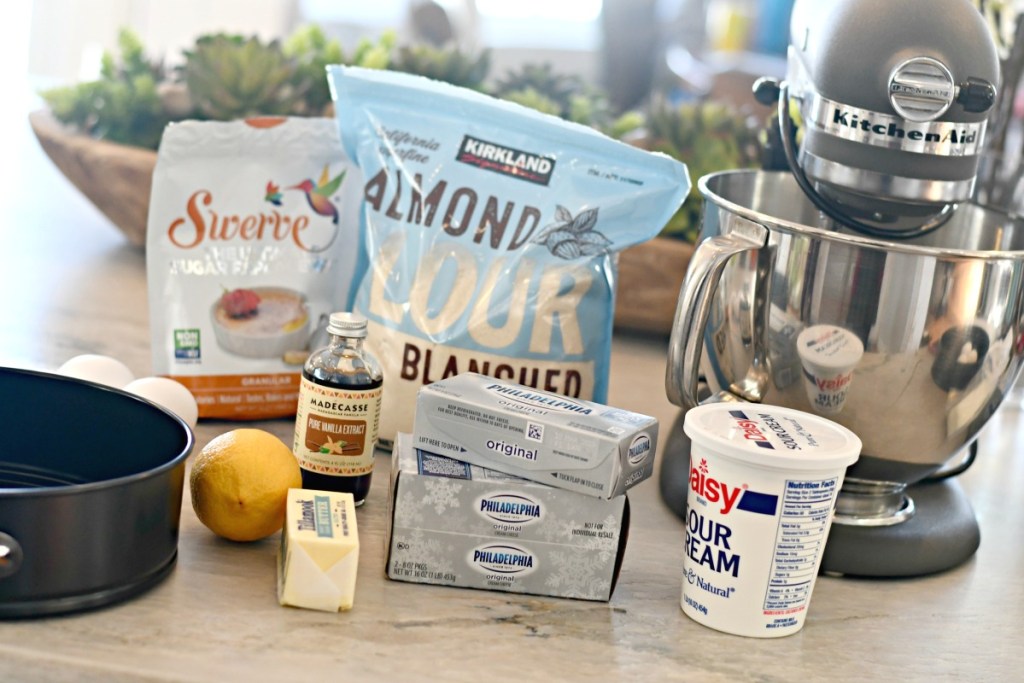 Use these important swaps to make this easy keto sugar-free cheesecake.
Instead of graham cracker crumbs, we're using almond flour to build a crust. The only other important swap (compared to a traditional cheesecake) is the sugar substitute. I used Swerve granular as that's what many of us on the Hip2Keto team love, and it turned out great in this recipe! Swerve Confectioners also works well in the cheesecake filling itself.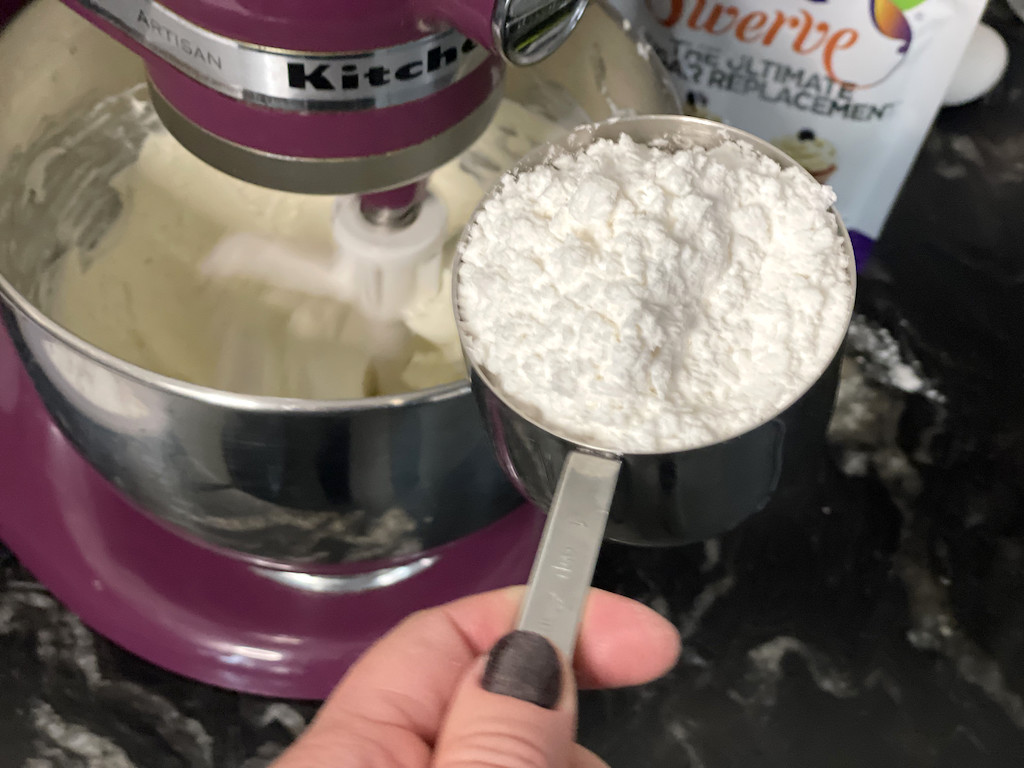 Here's a helpful Keto Sweetener Conversion Guide if you'd like to try another sweetener.
The other ingredient that stands out in this recipe is a teaspoon of lemon zest! It's that one magical ingredient. It gives the cheesecake such a fresh and delicious flavor that I think you'll LOVE!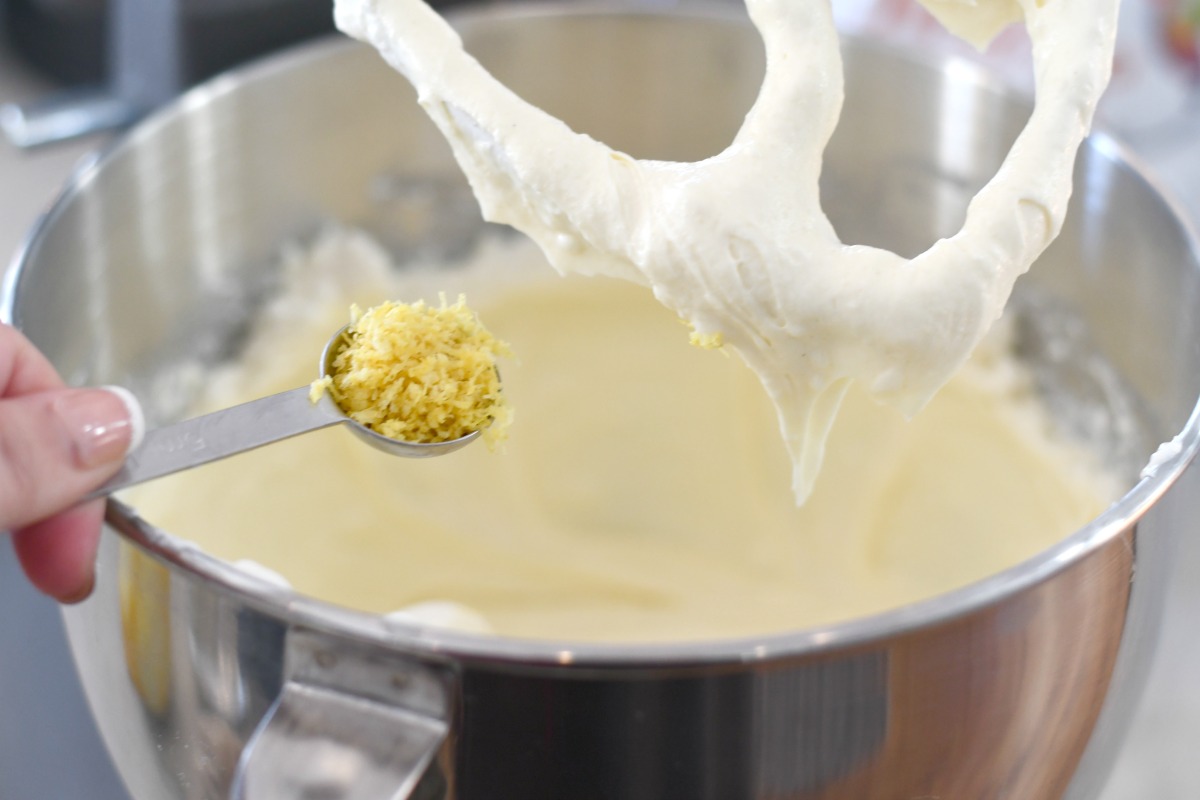 As far as steps involved for this easy keto sugar-free cheesecake, we'll be baking the 3-ingredient crust first in a 9-inch springform pan. Then we'll mix up the filling using a stand mixer or hand mixer, and finally, pour the filling on top of the baked crust. After the cheesecake is baked, refrigerate it overnight or at least for 4-6 hours until it's firm and set.
This is a great make-ahead dessert idea, as you can compile it a day or two ahead of time. Fresh cheesecake can last 5-6 days in the fridge, so the leftovers can be easily covered and stored. I've even pre-sliced, wrapped, and frozen cheesecake slices! It's perfect for portion control. 😉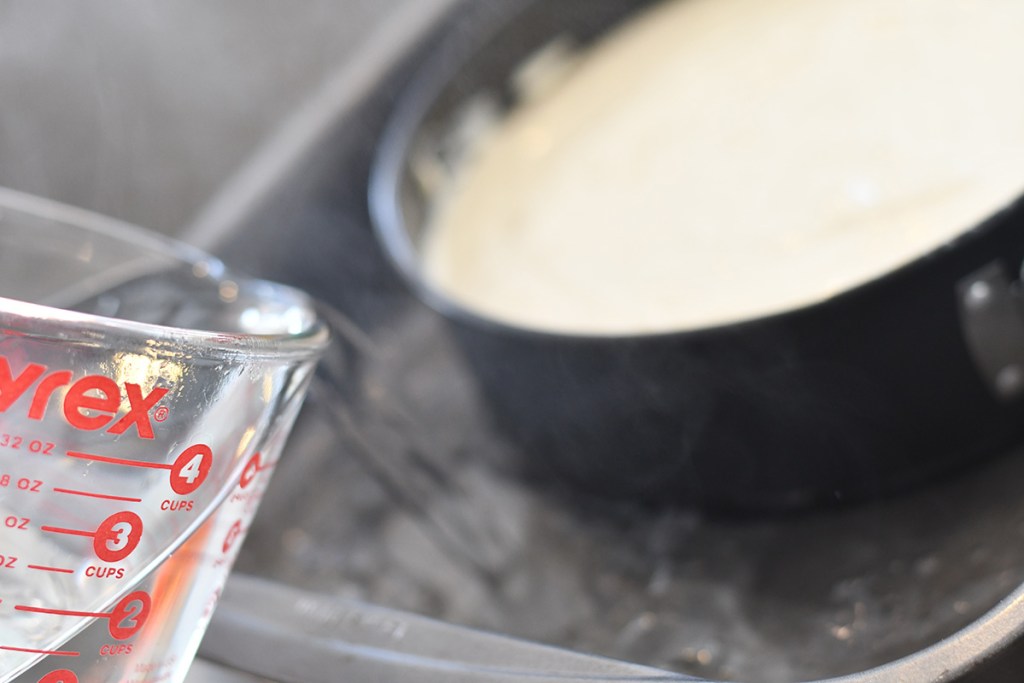 Keto cheesecake water bath tips:
Place the springform pan filled with the cheesecake into a roasting pan, and pour hot water into the roasting pan until it reaches about halfway up the sides of the springform pan. This will help avoid cracking on the top of your cheesecake. This step is optional, especially if you're not concerned about cracking.
Also if your springform pan is older, consider wrapping the outside with foil before adding water to ensure there is no leakage. My pan was brand new and had a tight seal so I skipped this step.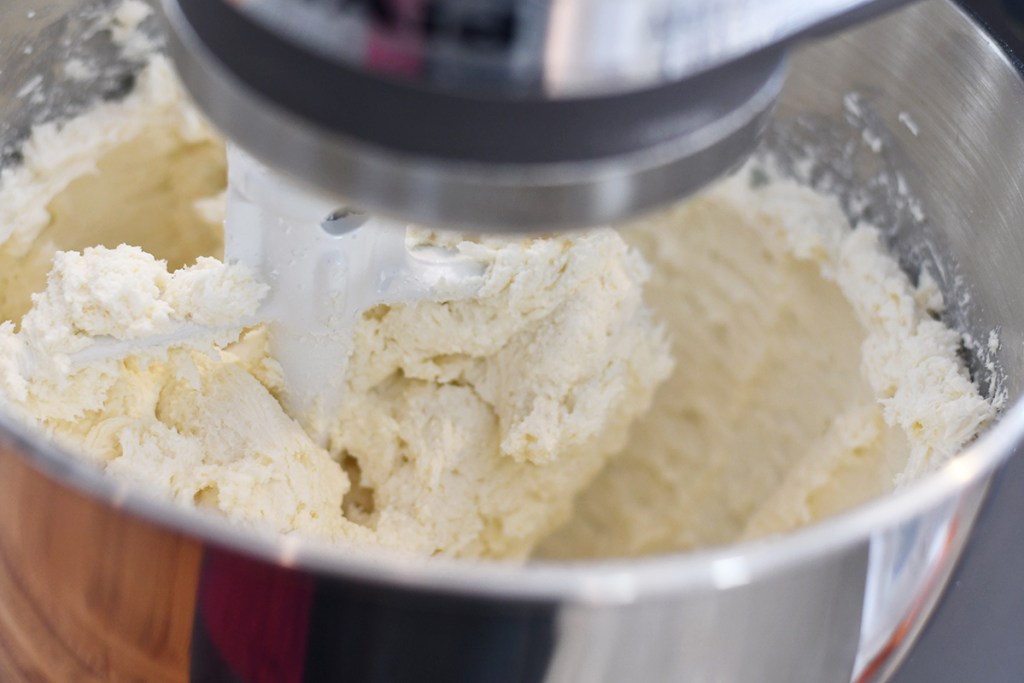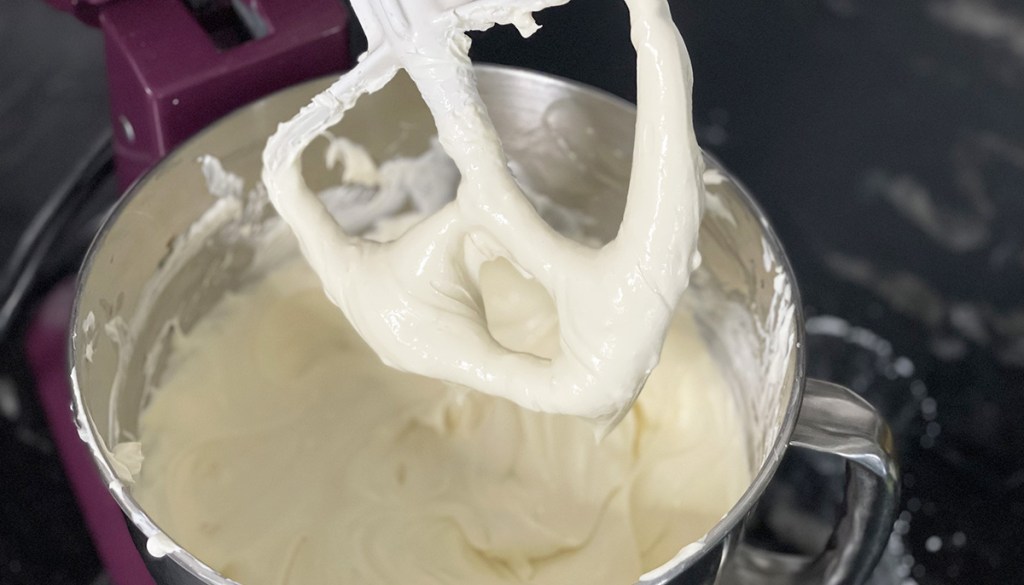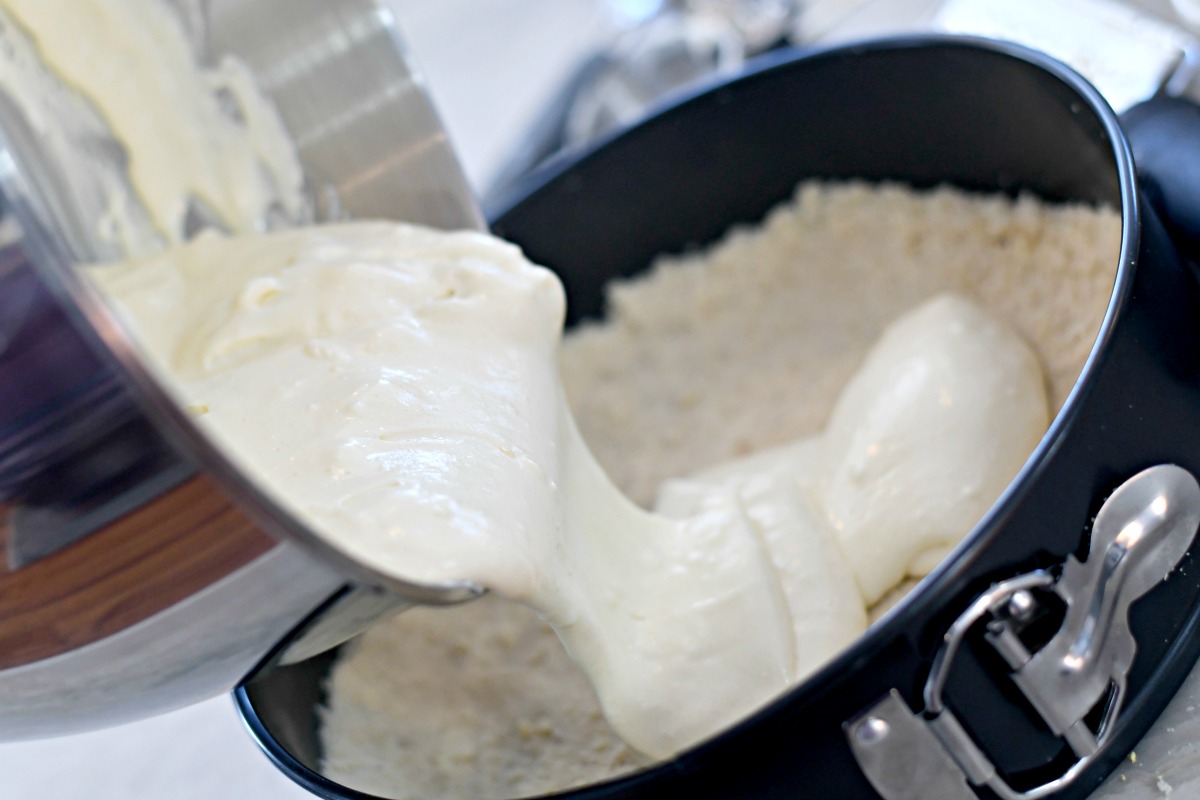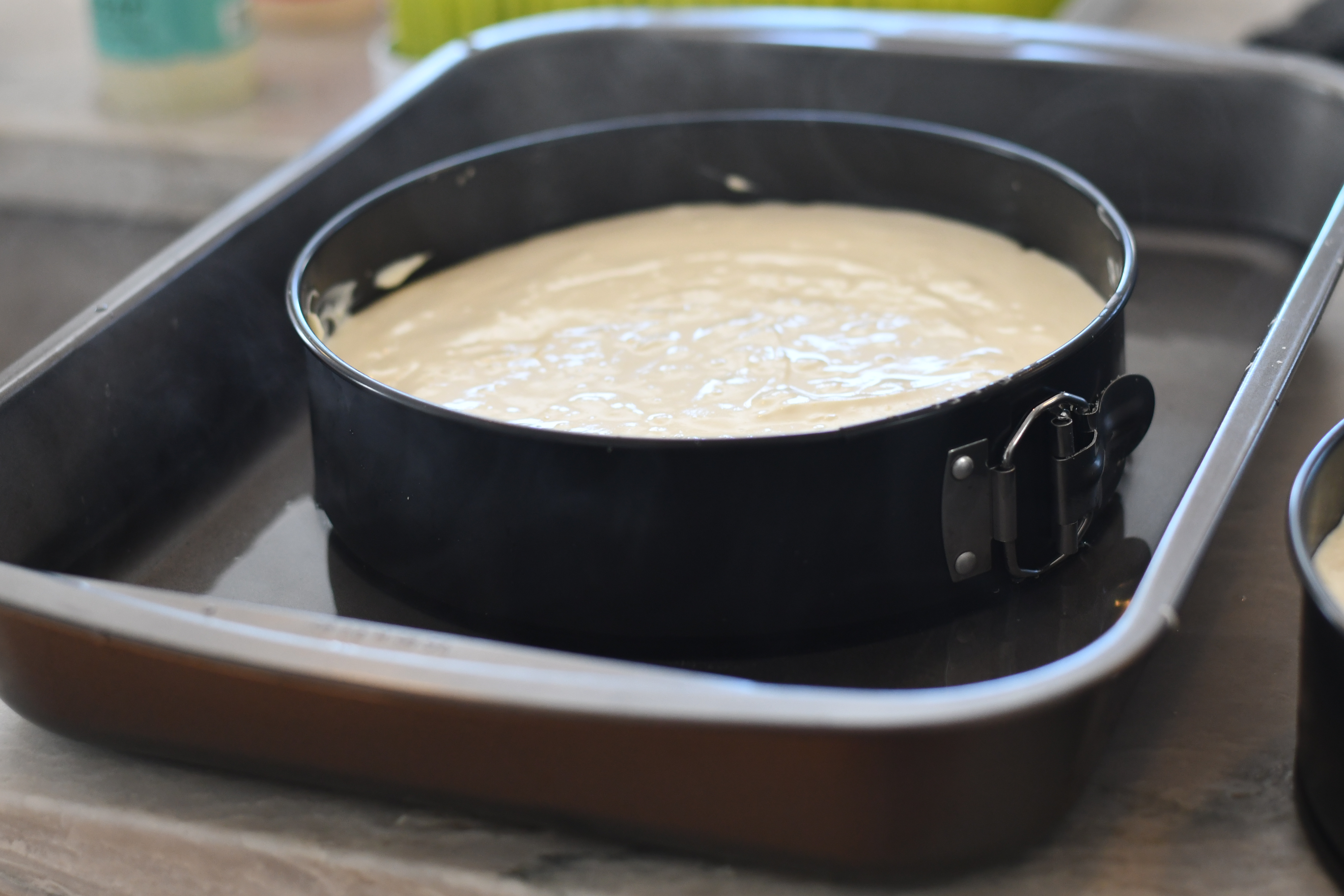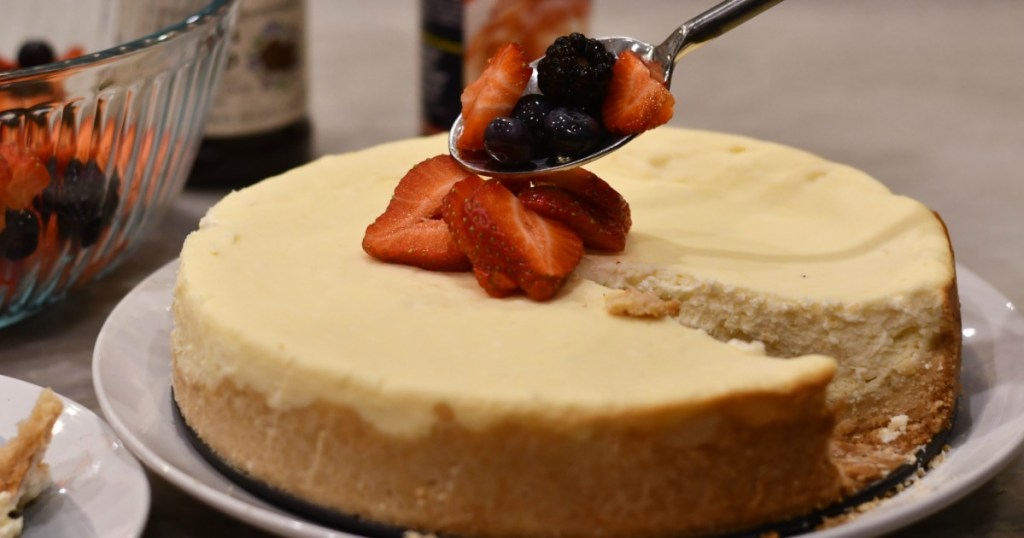 ---
Print
Sugar-Free Keto Cheesecake
yield: 12 SERVINGS
prep time: 25 MINUTES
cook time: 1 HOUR 30 MINUTES
total time: 1 HOUR 55 MINUTES
An easy to make, yet rich and dense homemade cheesecake that will please any crowd!
Ingredients
For the crust:
For the filling:
24 oz. cream cheese (3- 8 oz. bars), softened
1 cup Swerve granular sweetener or Swerve Confectioners
3 eggs
3/4 cup sour cream
1 teaspoon lemon zest
2 teaspoons vanilla extract
1/2 teaspoon salt
Directions
1
To make the crust:
Preheat oven to 300 degrees. To a mixing bowl, combine almond flour, Swerve, and melted butter.
2
Press crust onto the bottom of and slightly around the sides of a 9-inch springform pan. Bake for 12 minutes or until slightly browned.
3
To make the cheesecake filling:
Meanwhile to a stand mixer, cream together the cream cheese and Swerve sweetener on medium speed for a minute. Add eggs one at a time. Add sour cream, lemon zest, vanilla extract, and salt, and mix for about a minute until smooth.
4
Pour mixture over the crust, and smooth the top evenly.
5
Increase oven temperature to 350 degrees. Place the springform pan into a roasting pan, wrap with aluminum foil if desired, and pour hot water into the roasting pan until it reaches about halfway up the sides of springform pan. Note: A water bath will help avoid cracks in the cheesecake, but this is an optional step.
6
Bake for 70-90 minutes at 350 degrees until the cheesecake is set, but still jiggles slightly in the middle if shaken. Remove cheesecake from the water bath pan, and let it cool to room temperature.
7
Once cooled, run a knife around the edges of cheesecake, and release the pan to remove the ring from the edges. Chill cheesecake in the refrigerator overnight, or for at least 4-6 hours, then serve. Cut into 12 slices.
Nutrition Information
Yield: 12 slices, Serving Size: 1 slice
Amount Per Serving: 405 Calories | 37.7g Fat | 19g Total Carbs | 2g Fiber | 2.3g Sugar | 14g Sugar Alcohol | 10.1g Protein | 2.9g Net Carbs
---
A cheesecake that delights everyone!
I made two of these easy keto sugar-free cheesecakes as special dessert for one of our Hip2Save team retreats, and ALL of our keto and non-keto folks LOVED it! It has that crave-able sweet taste, rich texture, and an overall gorgeous presentation that I think you'll enjoy, too! 😄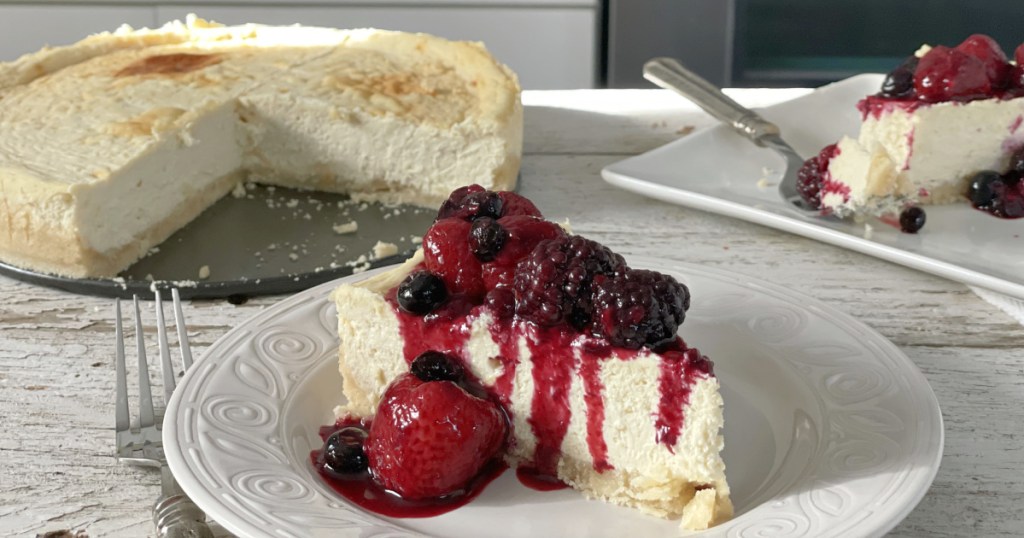 My Hip sidekick Emily love this keto sugar-free cheesecake too!
"Cheesecake is one of my absolute favorite desserts. I'm so happy to have an amazing, delicious keto cheesecake recipe! I topped it with frozen berries that I defrosted in the microwave and it was incredible. It's also perfect to eat plain as it has an amazing flavor from the lemon zest. This recipe is a keeper!"
---
This Raspberry Cheesecake keto ice cream is to die for!