Skip Store-Bought and Try Our Homemade Keto Trail Mix
Need a quick keto snack?
Homemade keto trail mix is such an easy recipe to make, and even more satisfying since you know exactly what's going into the mix. This keto-friendly recipe is incredibly delicious, and makes the perfect snack packed with all the nutrients we need.
No need to cave-in to sugar on the keto lifestyle. The rich, buttery syrup – which coats the nuts and seeds, takes this trail mix from blah to WOW in a matter of minutes! Plus, this snack can be made ahead of time to last you throughout the whole week.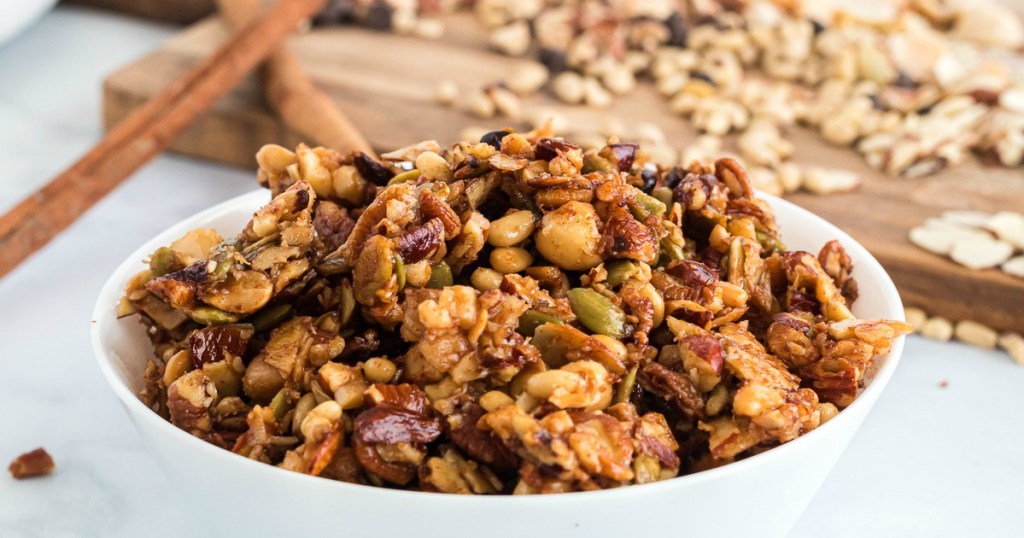 Hip Recipe Tips:
Make cleanup a breeze! Add parchment paper to your cookie sheet to help with removal and clean up.
Spice things up. If desired, omit the chocolate chips, and add 1/2 teaspoon of cayenne pepper to create a spicy-sweet mix.
Experiment with different flavors. If you are wanting a festive keto trail mix, add 1/2 teaspoon of cinnamon, 1/2 teaspoon of nutmeg, and a small handful of dried berries (optional). Note: dried fruit will add to the overall carb-count so use sparingly.
Save on ingredients. I try to buy my nuts in bulk at Costco or Sam's Club since they often offer the best deals. You can also change up the variety with your preferred low carb nuts.
Use what you have on hand. I bought the nuts and seeds raw since they roast during the baking process, but if you're looking to use roasted nuts you already have on hand, feel free to sub those it. You could even use a salted variety, if desired, for a salty-sweet taste!
Keep it fresh all week. Store the trail mix in an air-tight container for up to 7 days.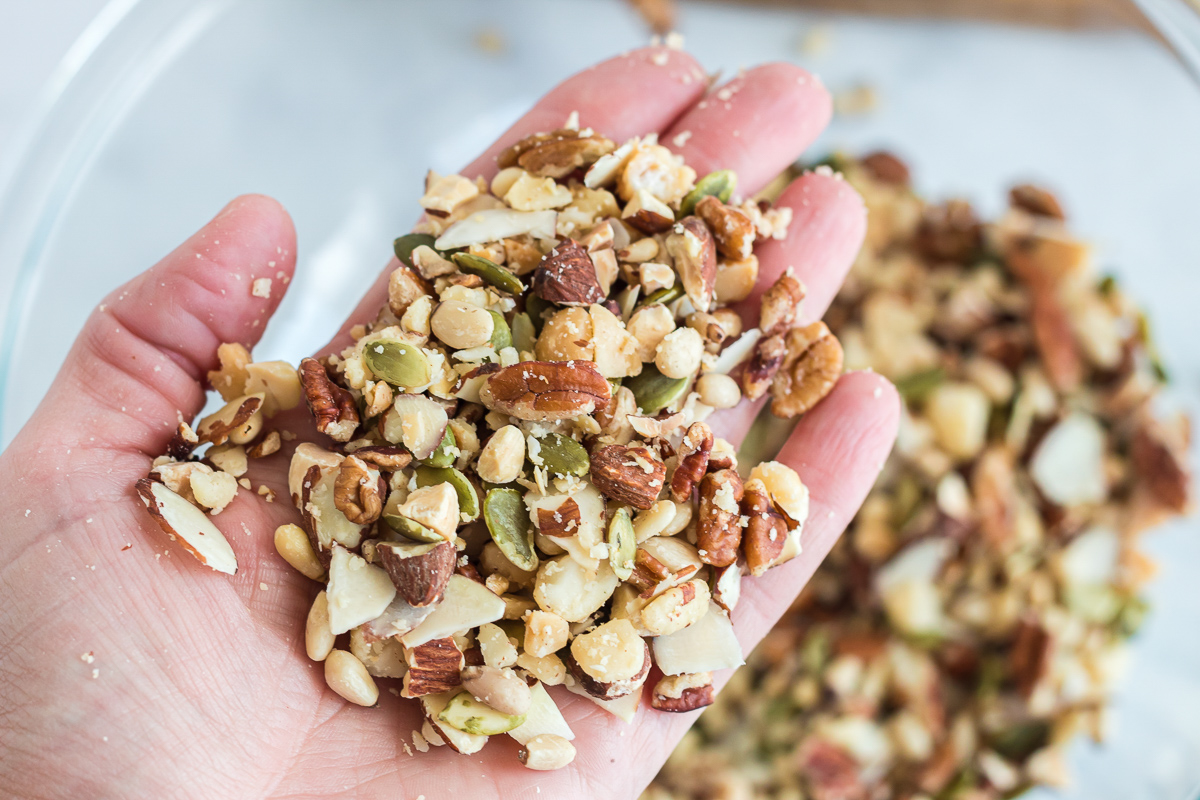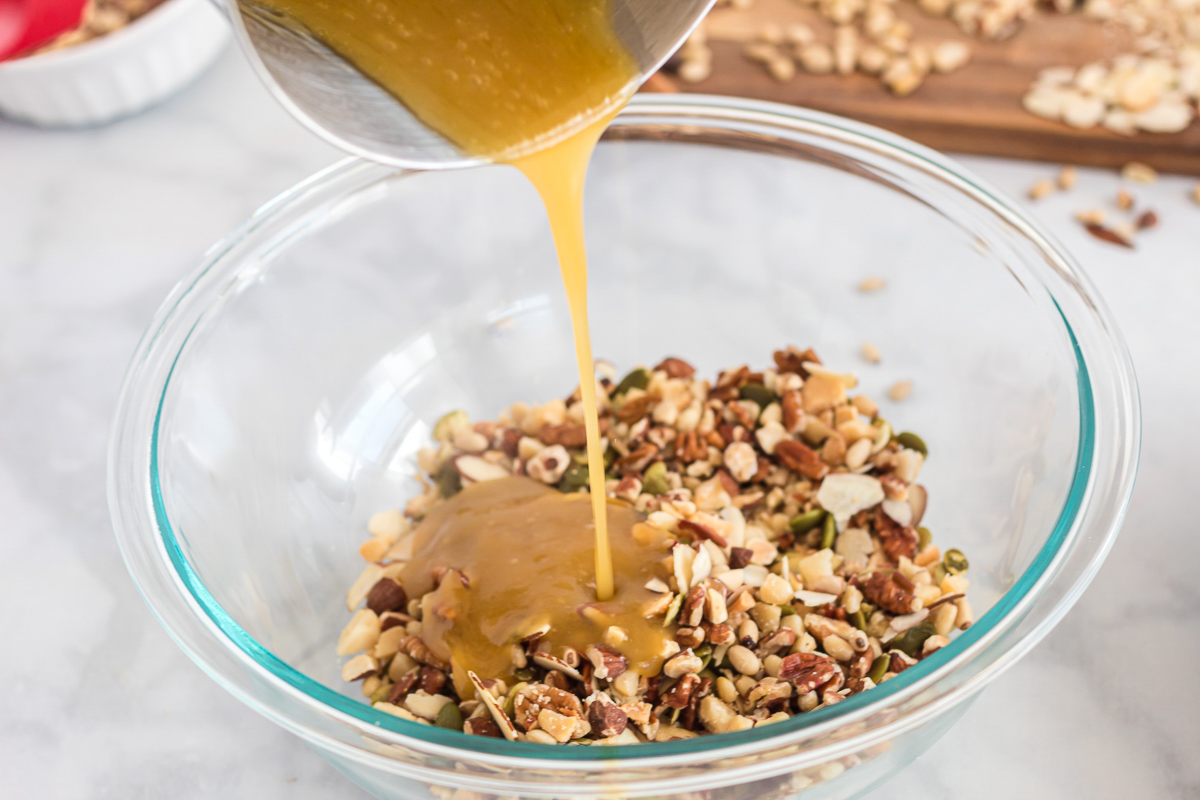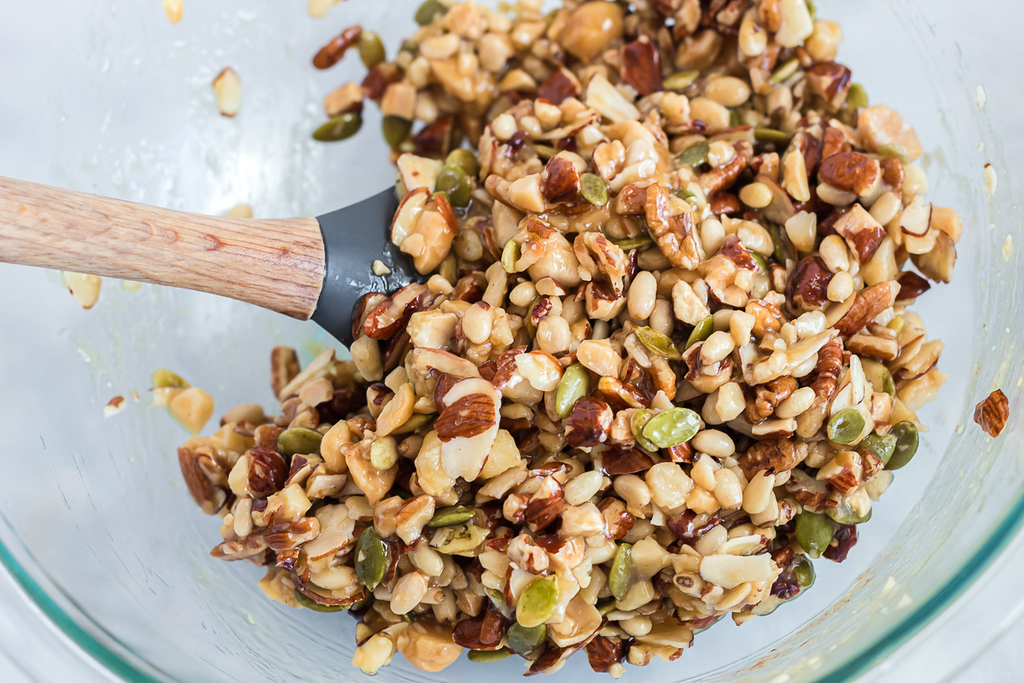 ---
yield: 14 SERVINGS
prep time: 10 MINUTES
cook time: 40 MINUTES
total time: 50 MINUTES
Delicious and crunchy low-carb trail mix packed with nutritious nuts in a sugar-free coating.
Ingredients
1 1/2 cups chopped pecans, raw & unsalted
1 1/2 cups sliced almonds, raw & unsalted
1 cup pine nuts, raw & unsalted
1 cup macadamia nuts, raw & unsalted
1 cup pumpkin seeds, raw & unsalted
4 tablespoons butter
2 tablespoons cinnamon
Directions
1
Preheat the oven to 325 degrees Fahrenheit. Line a large baking sheet with parchment paper for easy cleanup and set aside.
2
Add butter to a small saucepan over low heat. Once the butter has melted, add in syrup, bring the temperature up to medium heat, and simmer for 5 minutes to create a thick caramel texture. Watch carefully so the sauce doesn't burn.
3
Add nuts, seeds, and cinnamon to a large bowl and mix together. Pour buttery syrup over nut mixture and stir.
4
Pour nut mixture onto a baking sheet and bake for 40 minutes. After removing from the oven, top the trail mix with chocolate chips. Let cool completely before breaking into smaller pieces. Enjoy!
Nutrition Information
Yield: 14 servings, Serving Size: 1/2 cup
Amount Per Serving: 325 Calories | 32g Fat | 8g Total Carbs | 4g Fiber | 2g Sugar Alcohol | 6g Protein | 2g Net Carbs
---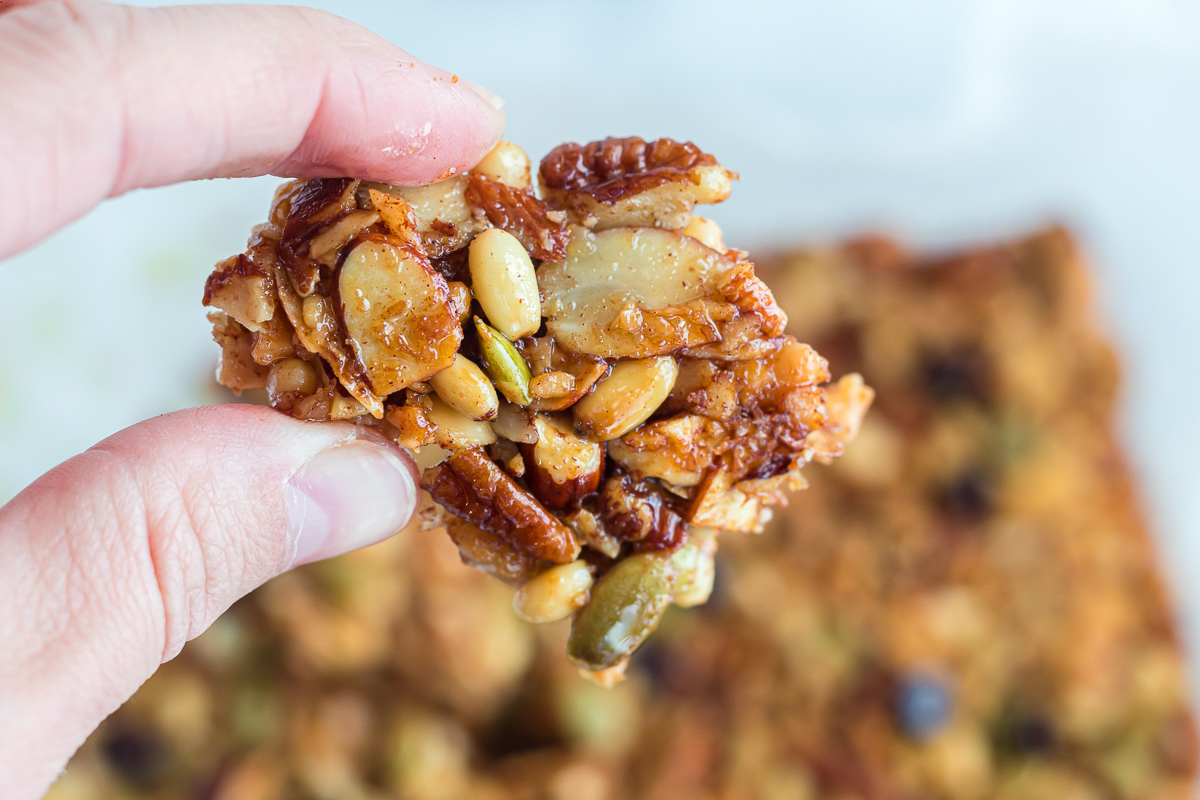 Kick sugary snack cravings to the curb with this delicious mix!
This keto trail mix recipe has crunch, richness, nutrients, and heartiness to help you stay full and charged for the day. I think one of the greatest things about this trail mix is that you can put whatever you want in it to give your family a variety.
You'll want to stock up on your household's favorite ingredients so you can make custom mixes for everyone!
---
Needing another quick snack on the go? Try these easy homemade KIND bars!