Fresh and Light Lemon Roasted Chicken Recipe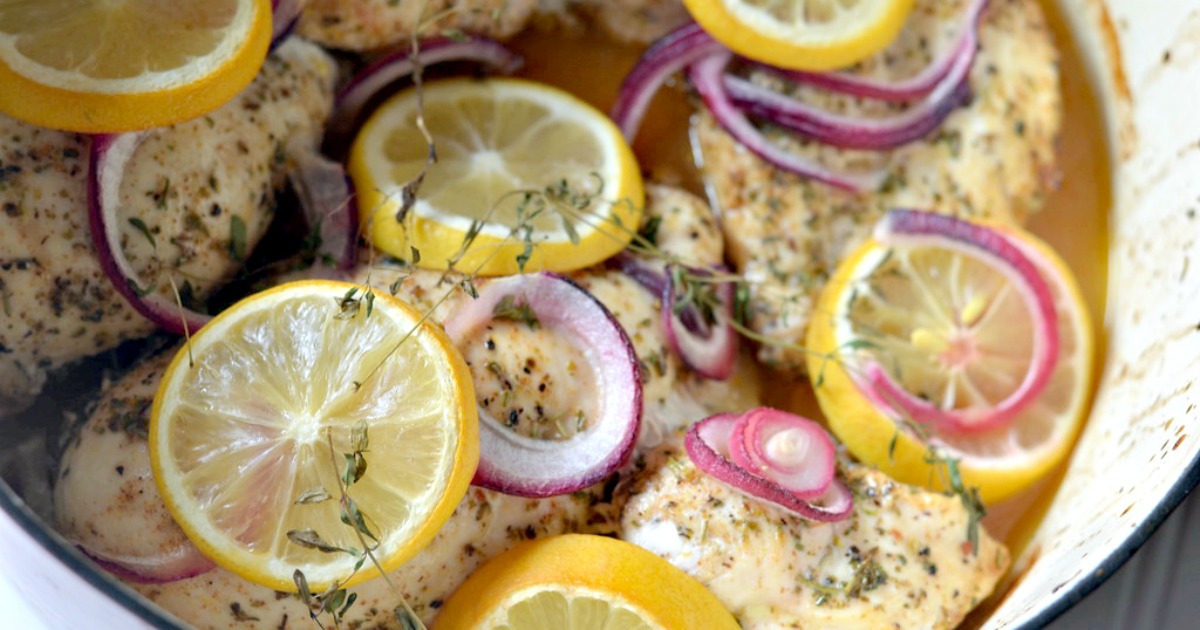 Ready for something light and fresh-tasting? I present lemon roasted chicken!
Grab a couple of lemons, herbs, olive oil, and chicken and check out this recipe for Lemon Roasted Chicken! It's a comforting and simple dish that's full of flavor.
---
Print
Lemon Roasted Chicken
Ingredients
2 tablespoons olive oil
2 lemons (one lemon juiced, one lemon sliced)
1 tablespoon Italian seasonings
1 teaspoon garlic powder
1 teaspoon paprika
1/4 teaspoon red pepper flakes
salt & pepper to taste
1/2 red onion, sliced
3 pounds chicken breasts (can also use thighs)
fresh rosemary, if desired
Directions
1
Preheat oven to 400 degrees.
2
Mix olive oil, juice from one lemon, Italian seasoning, garlic powder, paprika, red pepper flakes, and salt & pepper.
3
Rub chicken breasts with mixture and place in a baking dish. Place sliced lemons, sliced red onions, and any fresh herbs like rosemary or thyme on top if desired.
4
Bake uncovered for about 35-40 minutes until internal temperature reaches 165 degrees, and juices run clear. (Note: You can also use chicken bone-in with skin – just add about 15-20 minutes more baking time).
5
Garnish with additional fresh herbs if desired.
Nutrition Information
Yield: 6 servings, Serving Size: 1 serving
Amount Per Serving: 298 Calories | 8g Fat | 1g Total Carbs | 53g Protein | 1g Net Carbs
---

What a lovely and easy to make family meal idea!
Feel free to use both chicken breasts and thighs if desired. You can also serve with additional roasted veggies. I paired this chicken with some roasted Brussels sprouts and a big salad. Such an easy and flavorful meal! Enjoy.
---