Restaurant-Worthy Keto Lemon Roasted Chicken!
Tender lemon roasted chicken is one of the best keto chicken recipes I've made lately and it's so easy to pull off!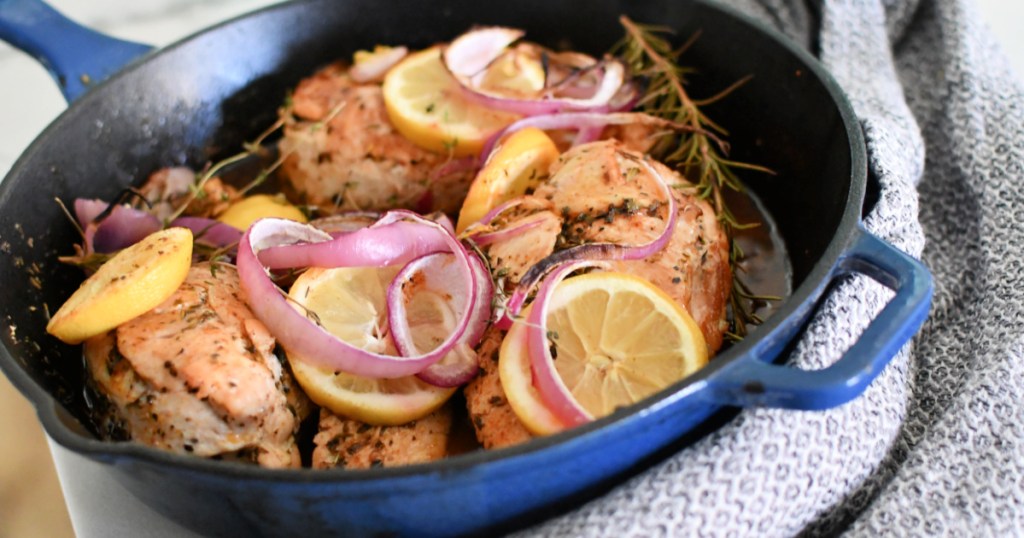 Ready for something light and fresh-tasting for dinner?
I suggest you add this lemon roasted chicken to your meal plan this week! Grab a couple of lemons, herbs, butter, and chicken, then check out this easy keto recipe. It's a comforting and simple main dish that's big on flavor and low on effort.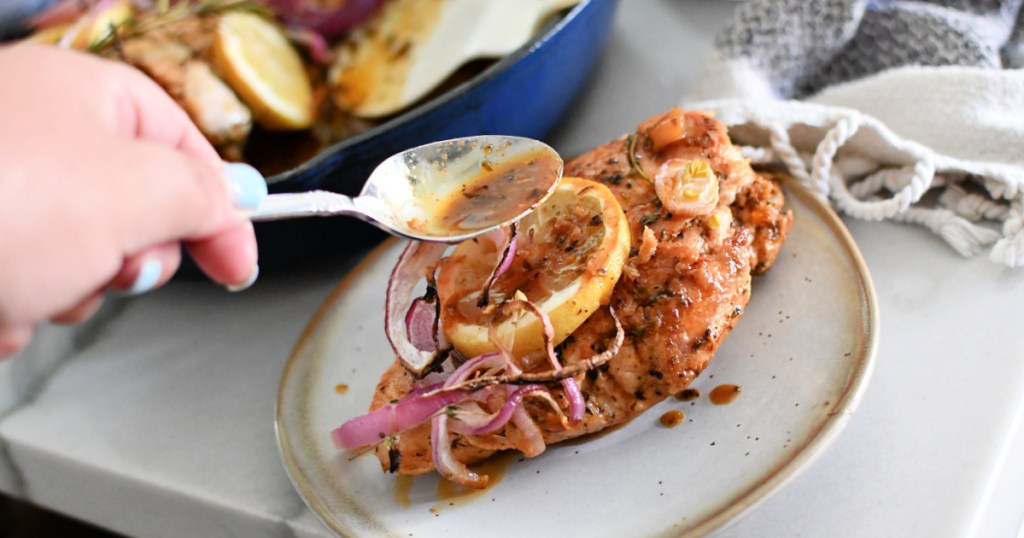 The result is a delightful chicken dish that is juicy, tender, and the buttery herb drippings are amazing when drizzled over the top. You can taste the lemon flavor but it's subtle for zestiness rather than sourness, and the caramelized onions are perfect on top. YUM!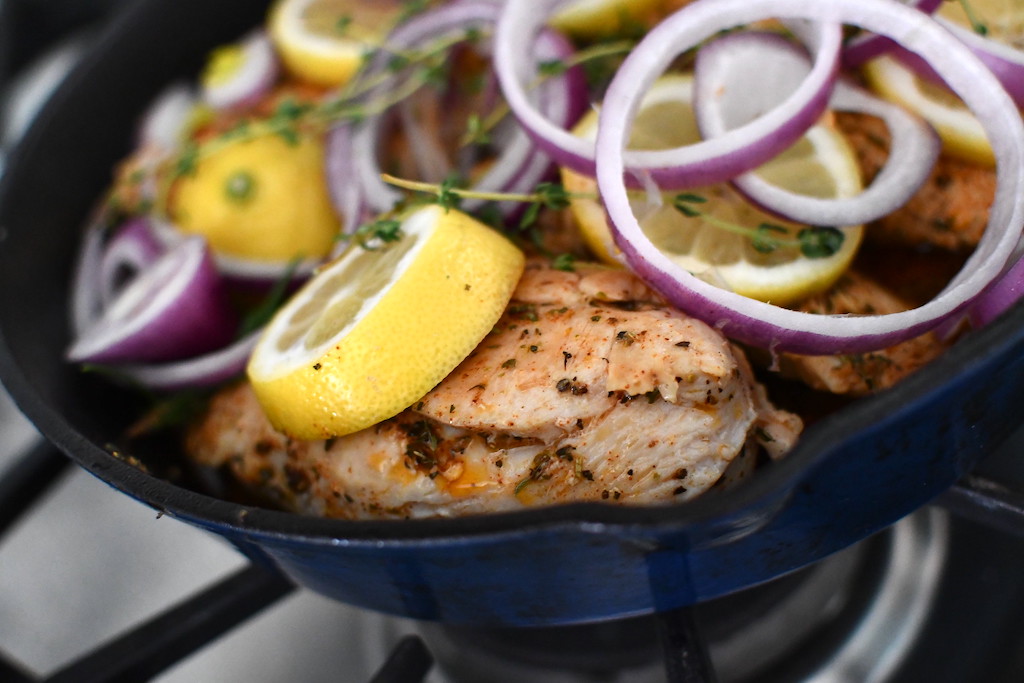 Hip tips for making the best keto roasted lemon chicken:
Feel free to use chicken breasts or thighs if desired. Either will work out beautifully. You could also consider using chicken bone-in with skin. Just add about 15-20 minutes more baking time.
Cook time may slightly vary according to how thick your chicken is. You'll want to use a meat thermometer and you'll know it's done cooking when the internal temperature is cooked to 165 degrees.
I chose to brown the chicken first with oil, salt, & pepper in an oven-proof cast-iron skillet to add more depth of flavor. This way it could be transferred to the oven to finish cooking, and still be a one-pan recipe. Fewer dishes to clean afterward is a big win too!
If you are curious about my handheld lemon juicer, I love to use it in recipes like this and highly recommend it! It's so fast and easy to use. For a stronger lemon flavor, try adding some of the lemon's zest to the butter. I will be trying this next time I whip up this recipe!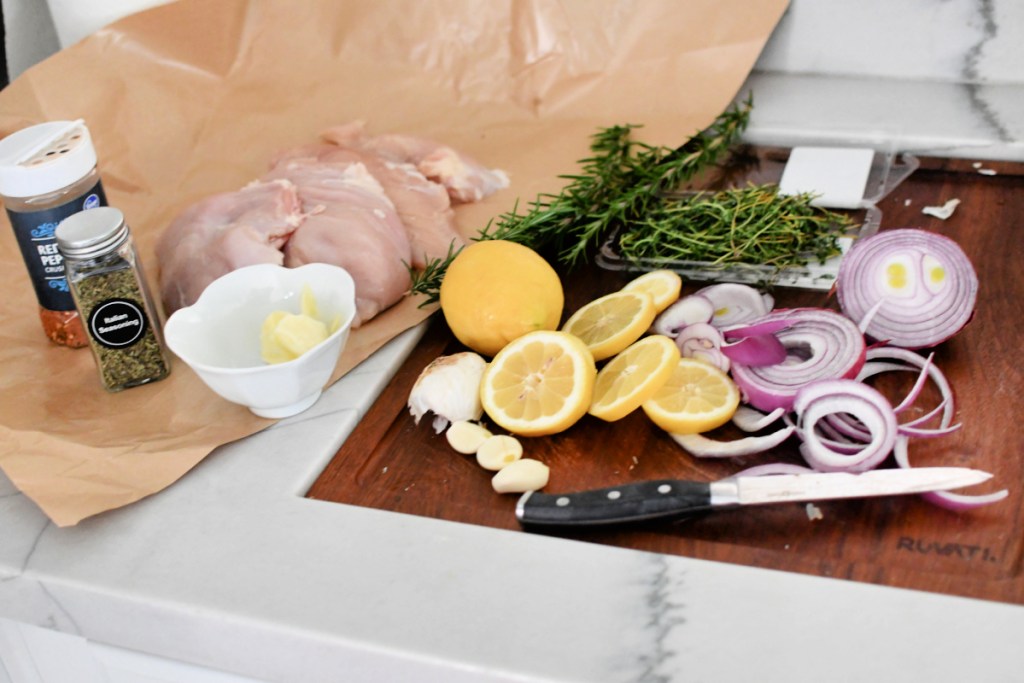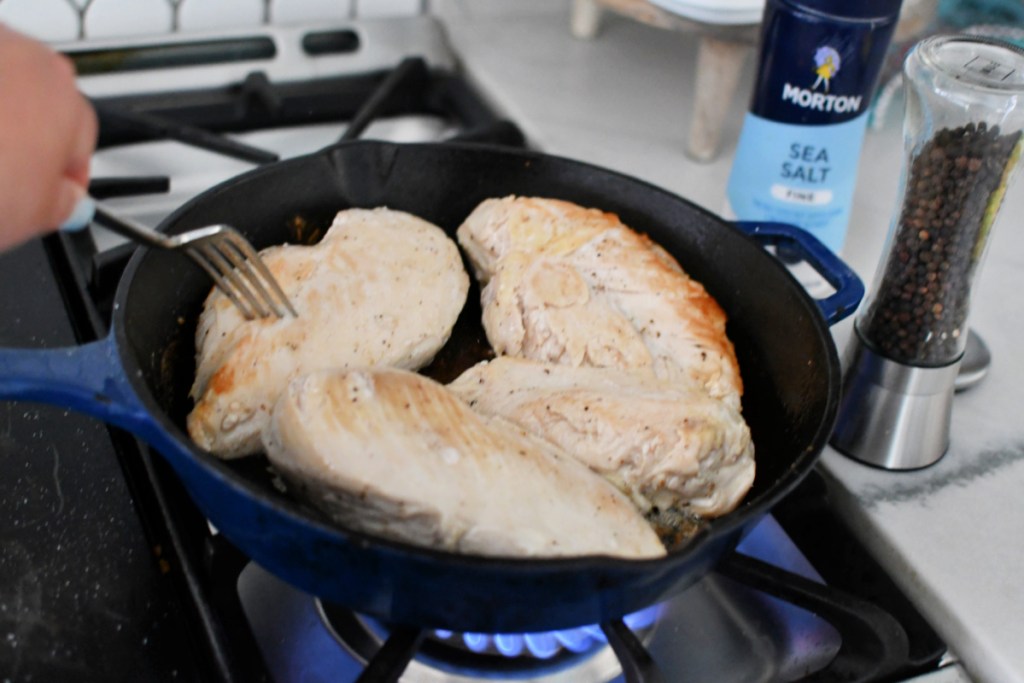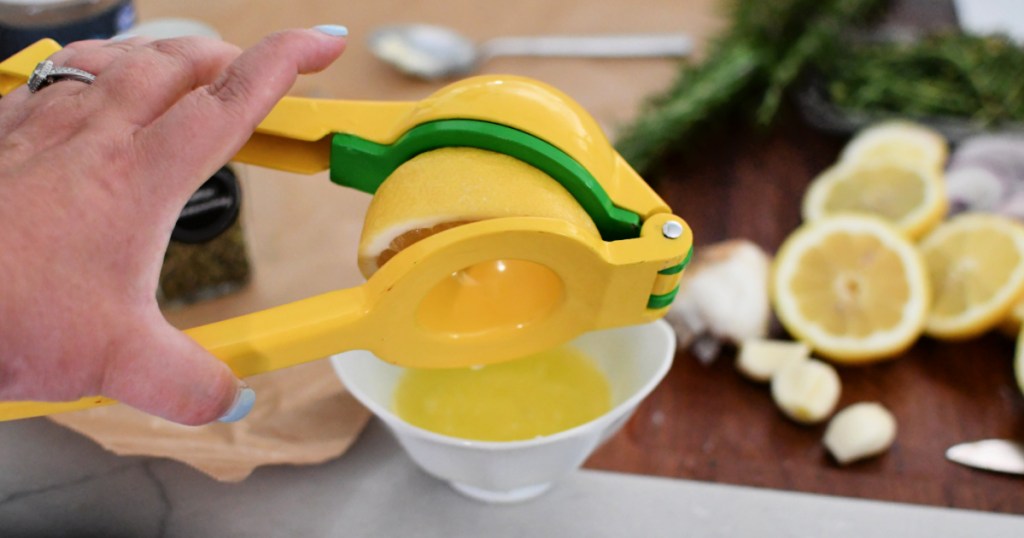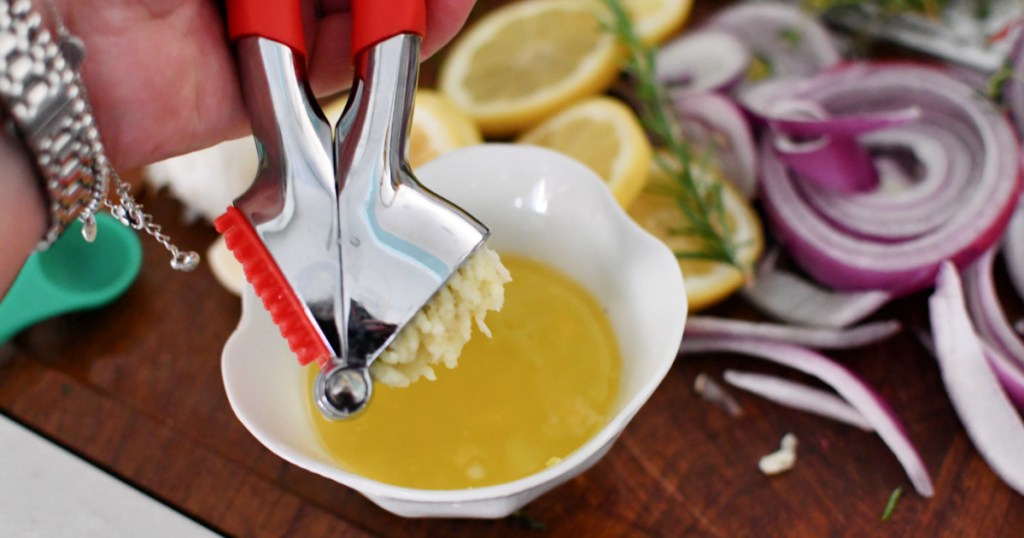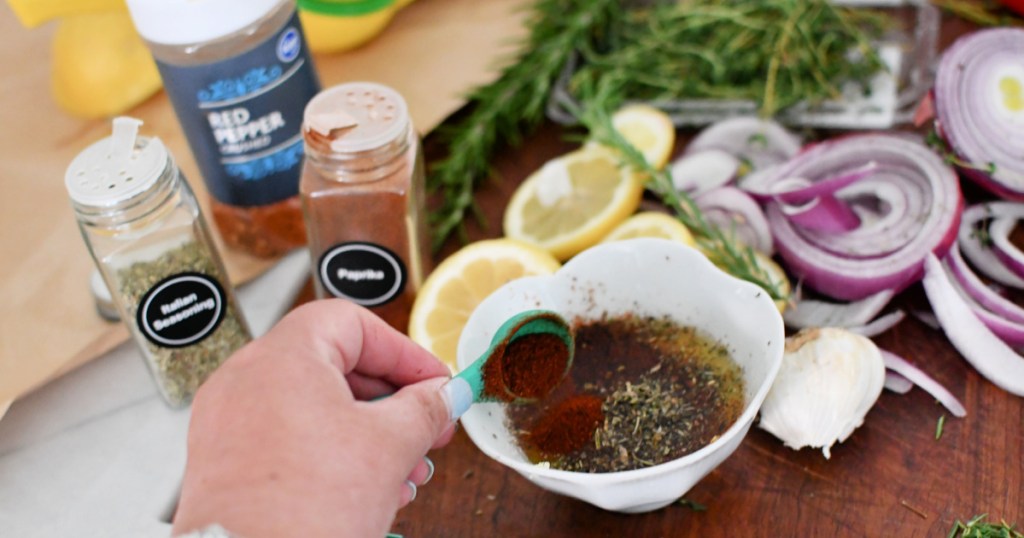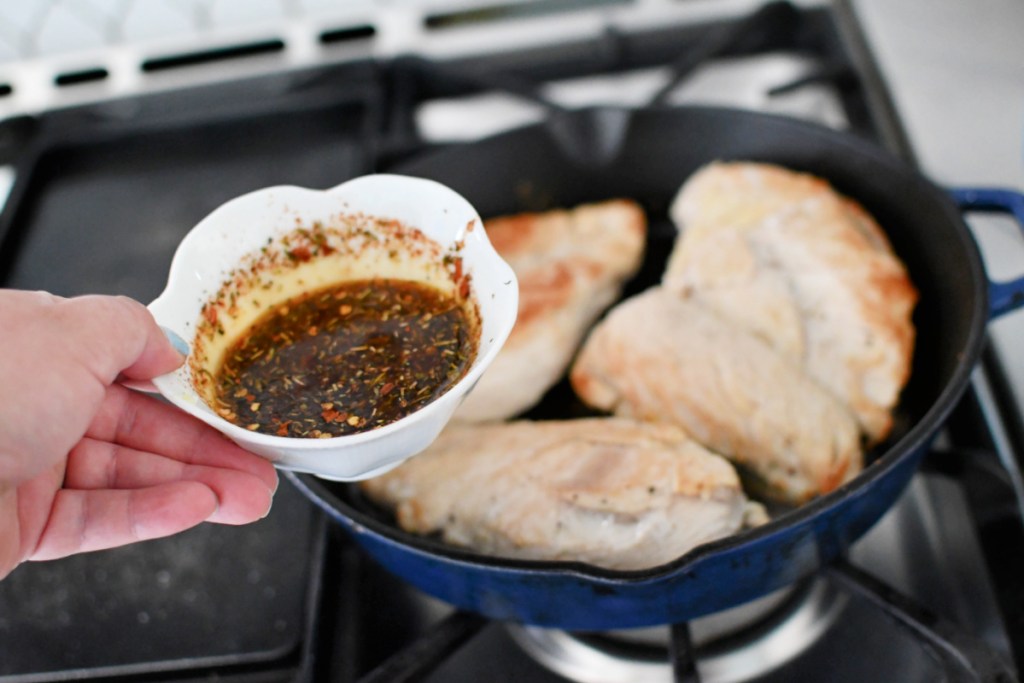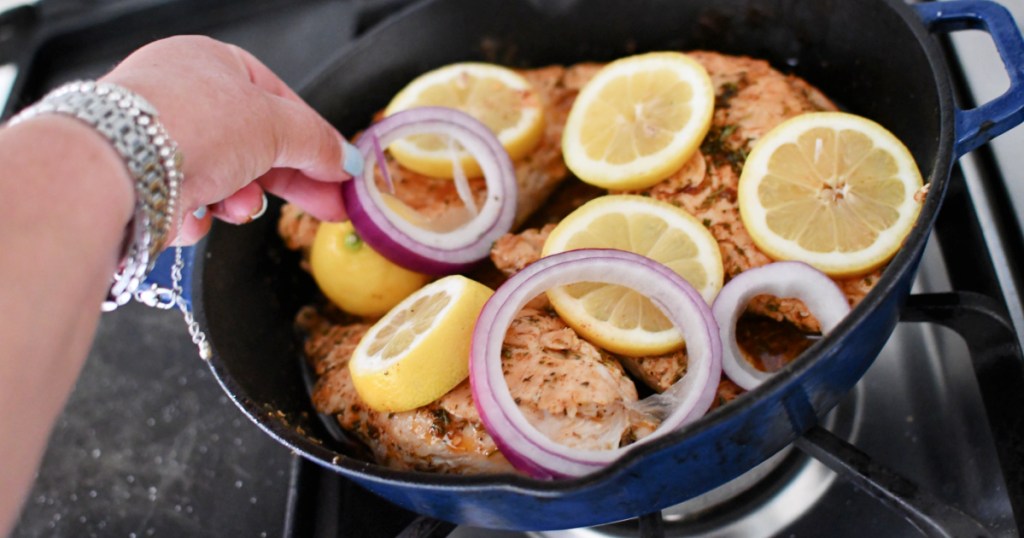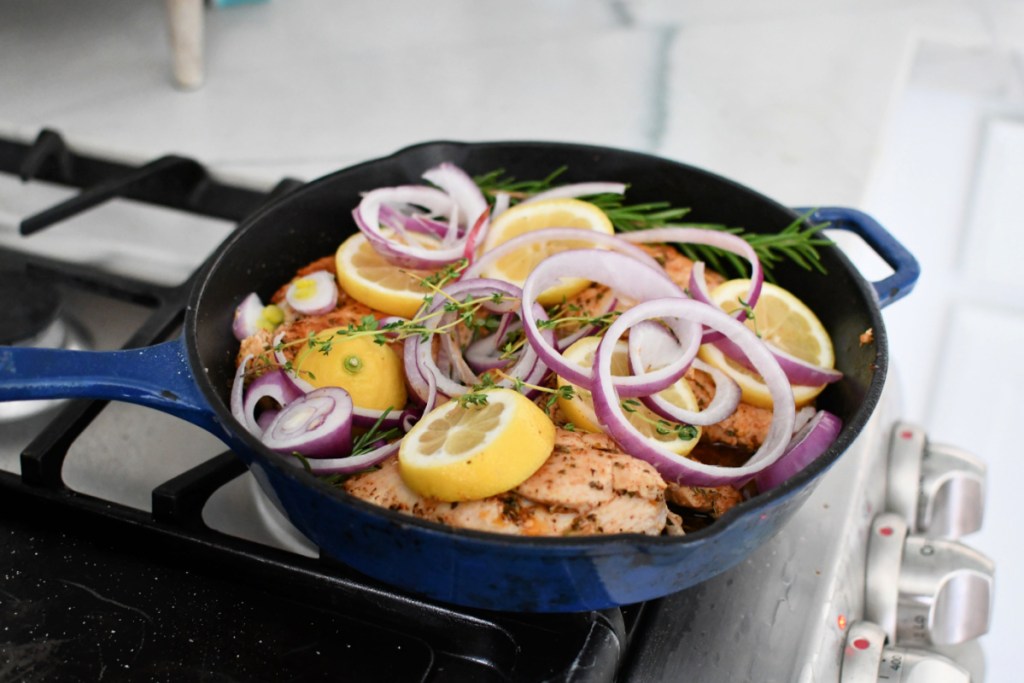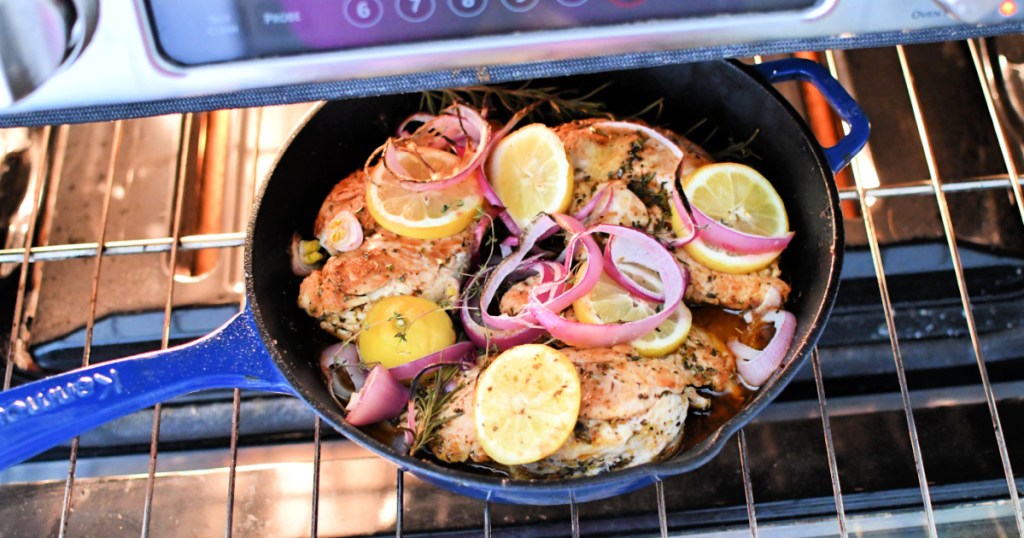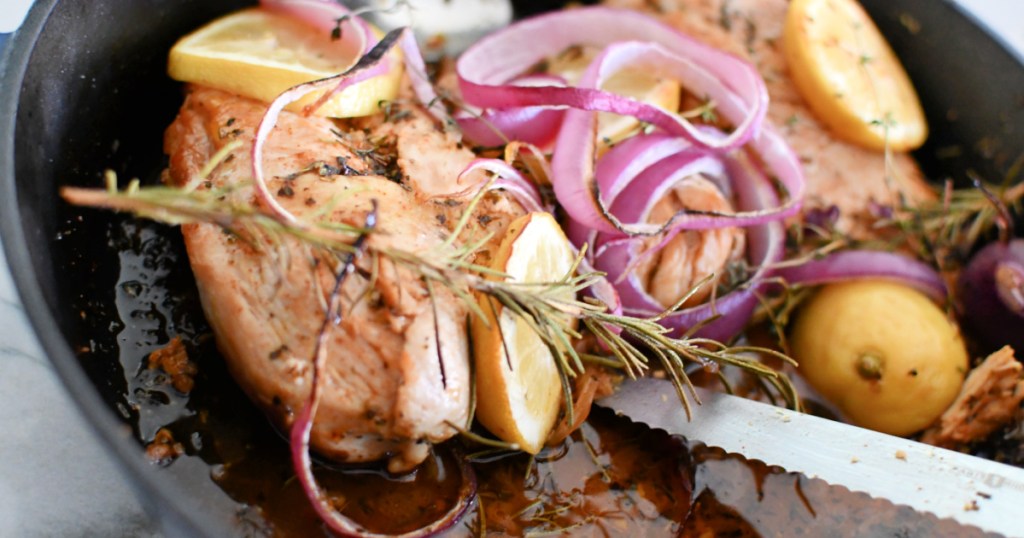 ---
Print
Keto Lemon Roasted Chicken
yield: 6 SERVINGS
prep time: 15 MINUTES
cook time: 25 MINUTES
total time: 40 MINUTES
Tender lemon roasted chicken with garlic, butter, and herbs.
Ingredients
1/2 teaspoon salt
1/4 teaspoon pepper
1/4 cup butter, melted
2 lemons (one lemon juiced, one lemon sliced)
3 cloves garlic, minced
1 teaspoon paprika
1/2 teaspoon red pepper flakes
1/2 a red onion, sliced
a few sprigs of fresh thyme and rosemary (optional)
Directions
1
Preheat oven to 400 degrees.
2
Heat a large oven-proof skillet to medium heat, and add the olive oil. Pound the chicken a bit if needed so that each breast has a similar thickness. Add salt and pepper to both sides of the chicken. Place the chicken in the skillet and brown it in the oil for a couple of minutes on each side.
3
Mix the melted butter, juice from one lemon, minced garlic cloves, Italian seasoning, paprika, and red pepper flakes in a small bowl.
4
Coat the chicken with the butter mixture in the skillet. Place sliced lemons, sliced red onions, and a few sprigs of fresh herbs such as rosemary and thyme on top.
5
Bake in the oven uncovered for about 25 minutes until the internal temperature of the chicken reaches 165 degrees, and juices run clear. Garnish with additional fresh herbs if desired.
6
Serve the cooked chicken with a drizzle of the drippings from the pan. Enjoy!
Nutrition Information
Yield: 6 servings, Serving Size: About 1/2 a large chicken breast
Amount Per Serving: 518 Calories | 22.8g Fat | 4.3g Total Carbs | 1.4g Fiber | 70.8g Protein | 2.9g Net Carbs
---
What a lovely and easy-to-make family meal idea!
My crew enjoyed this lemon chicken so much. You can also serve it with additional roasted veggies. I paired this chicken with some roasted Brussels sprouts and a big salad.
Such an easy and flavorful meal!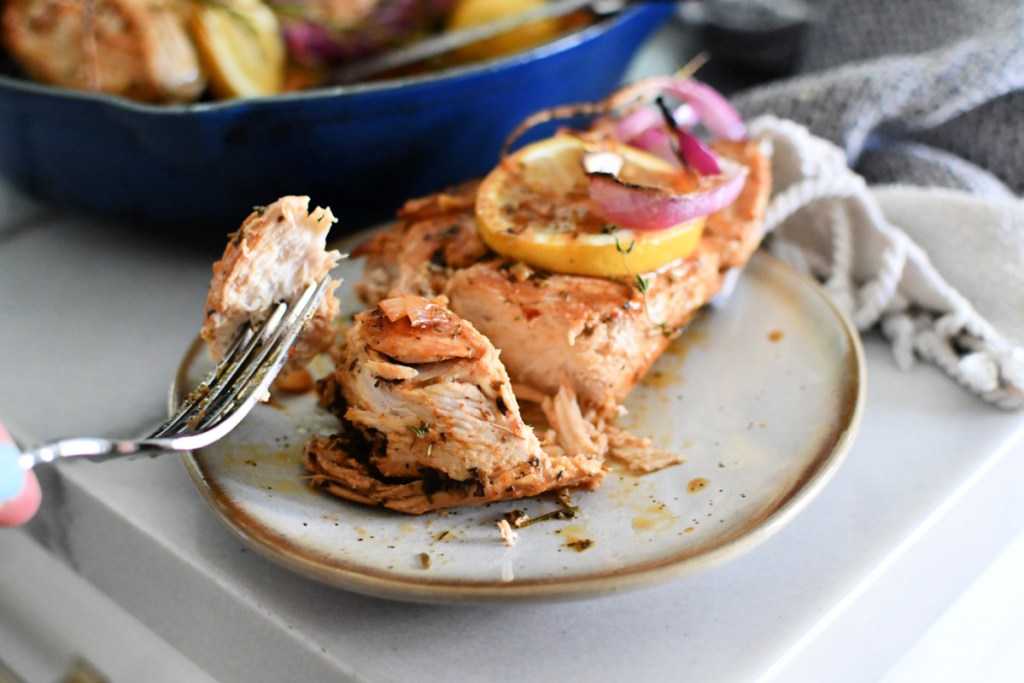 ---
Want more? Check out the rest of our delicious and easy keto chicken recipes!