Keto Burrito Bowl with Cauliflower Cilantro Lime Rice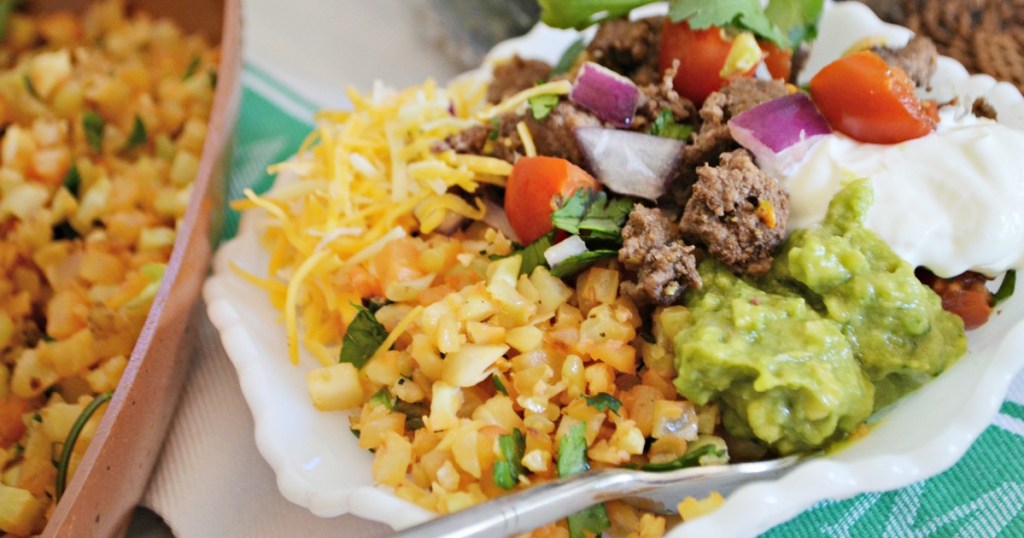 Love burrito bowls from restaurants like Chipotle?

If you're craving a Mexican restaurant-style burrito bowl with rice, but you're also reducing your carb intake, try making your own grain-free burrito bowl at home using cauliflower rice! The result is a flavor-packed, keto-friendly meal that's both delicious and satisfying.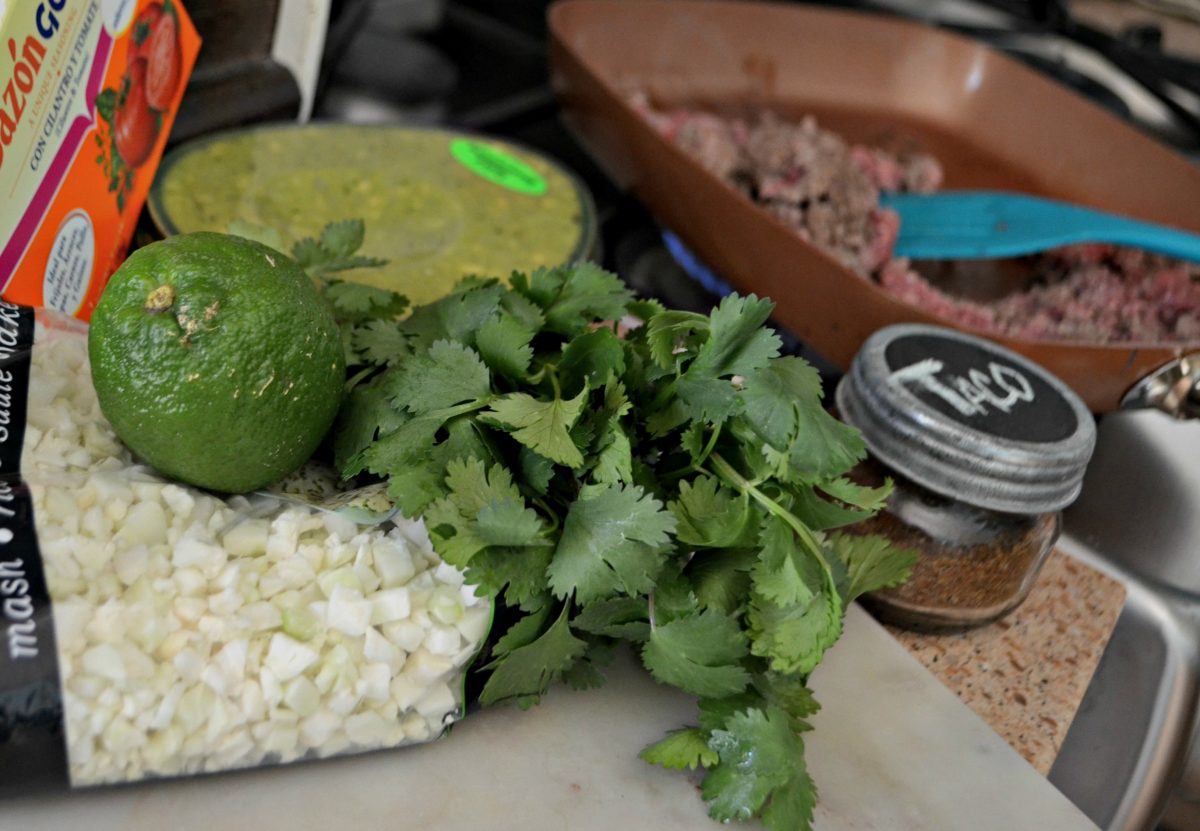 Try catering it to your family's tastes by picking a protein they'll love. I'm using taco seasoned ground beef, but you could use shredded beef, pork, chopped steak, or chicken if desired.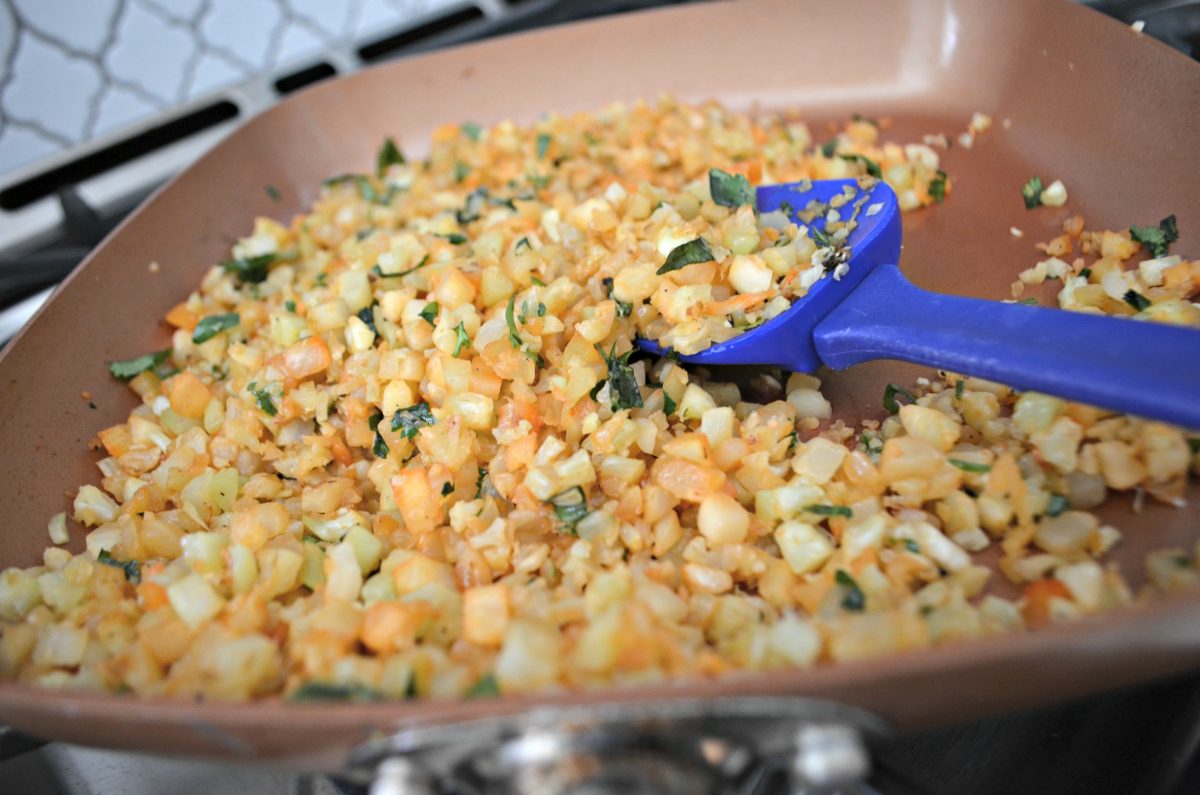 The star of this recipe is the cauliflower cilantro rice!
If you haven't enjoyed cauliflower rice in the past, try this delicious version. It's filled with bright, bold flavor.
I'm using 1/2 a packet of Goya Sazon, a favorite seasoning used in Hispanic dishes such as in soups, rice, and even when roasting chicken. It produces amazing flavor and deep color using ground coriander and achiote. Goya products can be found in most grocery stores with other Hispanic foods.
If you're looking for an alternative to Goya, try Badia Sazon.
---
Print
Keto Burrito Bowl with Cauliflower Cilantro Lime Rice
yield: 4 SERVINGS
prep time: 15 MINUTES
cook time: 10 MINUTES
total time: 25 MINUTES
Ingredients
1 pound ground beef
16 oz. bag of riced cauliflower
1 tablespoon olive oil
1 teaspoon minced garlic from the jar
1 Goya Sazón packet
1/4 cup cilantro, chopped
juice from one lime
zest from 1/2 a lime
optional garnish ideas: shredded cheese, sour cream, guacamole, diced onion, salsa
Directions
1
In a skillet on the stove, cook ground beef with taco seasoning. Set aside.
2
Heat olive oil in another skillet over medium heat, and add garlic.
3
Add riced cauliflower, and cook for 5-6 minutes until tender, stirring often.
4
Season rice with 1/2 a packet of Goya Sazon.
5
Stir in lime juice, zest, and chopped cilantro.
6
Divide meat and cauliflower rice into 4 bowls. Serve with desired toppings, like guacamole, shredded cheese, and sour cream.
Nutrition Information
Yield: 4 servings, Serving Size: 1 serving
Amount Per Serving: 300 Calories | 21g Fat | 5g Total Carbs | 0.4g Fiber | 21g Protein | 4.6g Net Carbs
---
This burrito bowl is so DELICIOUS!
It's such an easy low carb meal idea the ENTIRE family will LOVE. I enjoy quick meals that everyone can easily adjust to their tastes, and this one is definitely a winner!
---