Best Cream Cheese Brands to Buy (And 2 to Avoid)
These are the best cream cheese brands to buy, plus we explore the difference between cream cheese and Neufchatel cheese.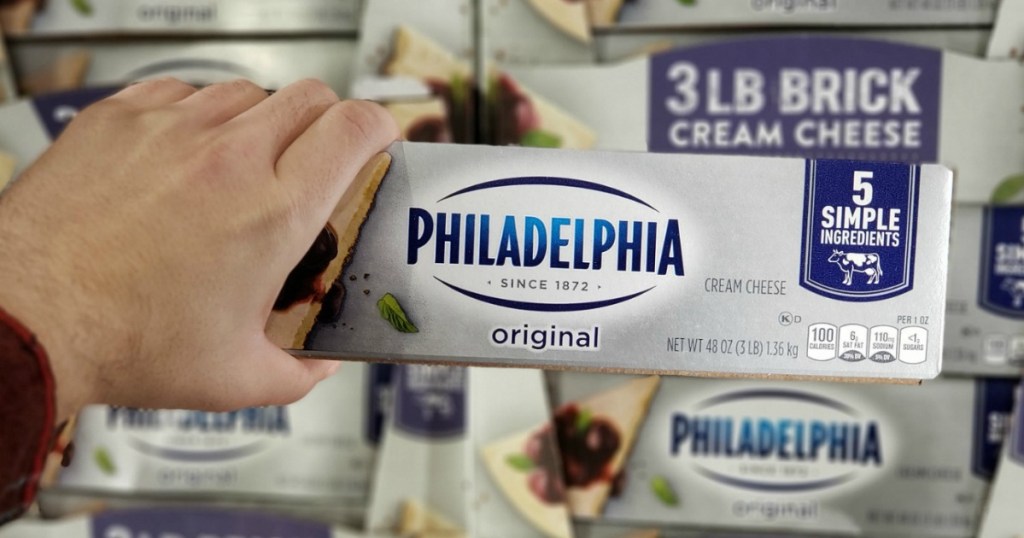 You can bet I always have a block of cream cheese (or multiple) in the fridge!
Cream cheese is basically a keto staple. You can whip it up into sweet frosting, slather it on a keto bagel with keto berry jam, and even throw it in the Crockpot with chicken for a rich, tasty dinner. It's also naturally low-carb so you can indulge without any guilt.
Needless to say, we're pretty crazy about the stuff over here. 😍
Now for the question many of us ask – "Is Neufchatel cheese the same as cream cheese?"
If you've seen Neufchatel cheese in the grocery store right next to the regular cream cheese, you may be wondering what the difference is. Like the heavy cream vs. whipping cream question, the distinction comes down to fat & moisture content.
Neufchatel is traditionally a French cheese made with cow's milk. In the United States, Neufchatel makers typically add cream into the mix as well, which makes Neufchatel taste more like cream cheese than the original, milk-only version you'd find in France.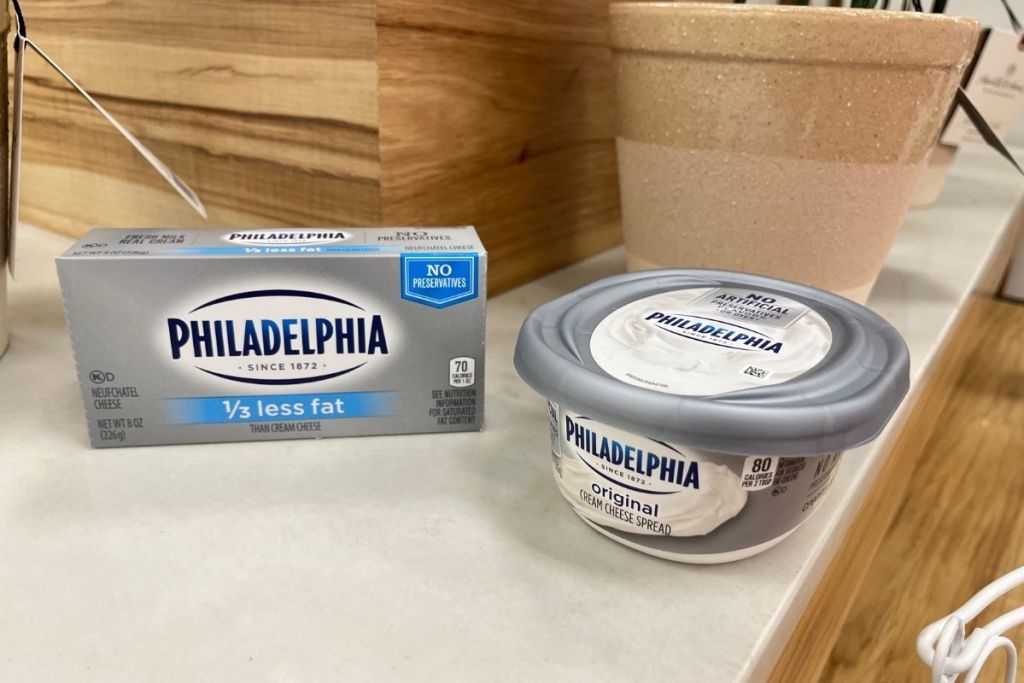 According to FDA regulations, Neufchatel cheese contains between 20% to 33% milkfat, but it also has to have a maximum moisture content of 65% by weight. Cream cheese, on the other hand, must contain a minimum of 33% milkfat and the moisture content can't be above 55% by weight. That's why you'll often see statements like "1/3 Less Fat" advertised on Neufchatel cheese packages.
Essentially, this just means that cream cheese is slightly more rich and dense.
Taste-wise, they're pretty much the same and can be used interchangeably, but I personally prefer cream cheese given the higher fat content is a bonus on keto. 🙌 Luckily, cream cheese is widely available, and most (if not all) grocery chains carry at least one brand.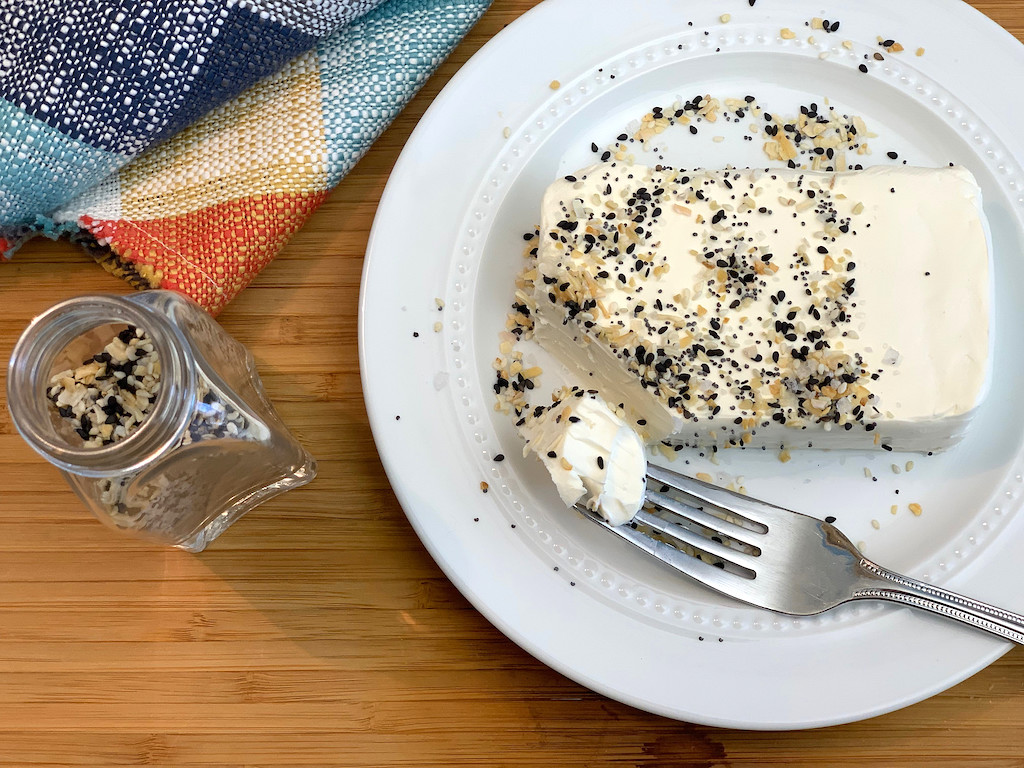 Try our Everything But the Bagel Cheese Ball – only 3 ingredients needed!
---
Here are a few widely available cream cheese brands & what we think about them:
Philadelphia Cream Cheese is good enough to eat by itself. 😋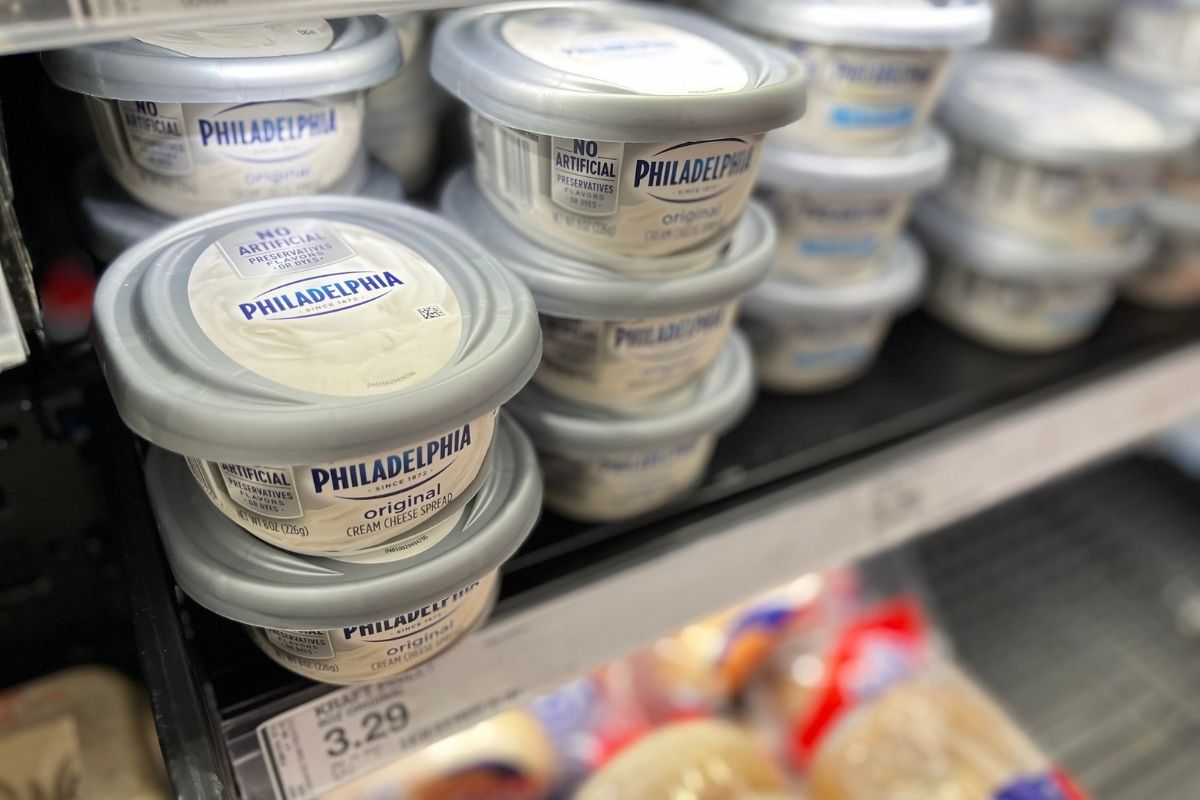 Philadelphia is probably the most familiar and popular brand out there! It's also deliciously smooth and tangy, and even though it can be spendier than store brands, you can really taste the difference. It's also the top choice of several Hip team members!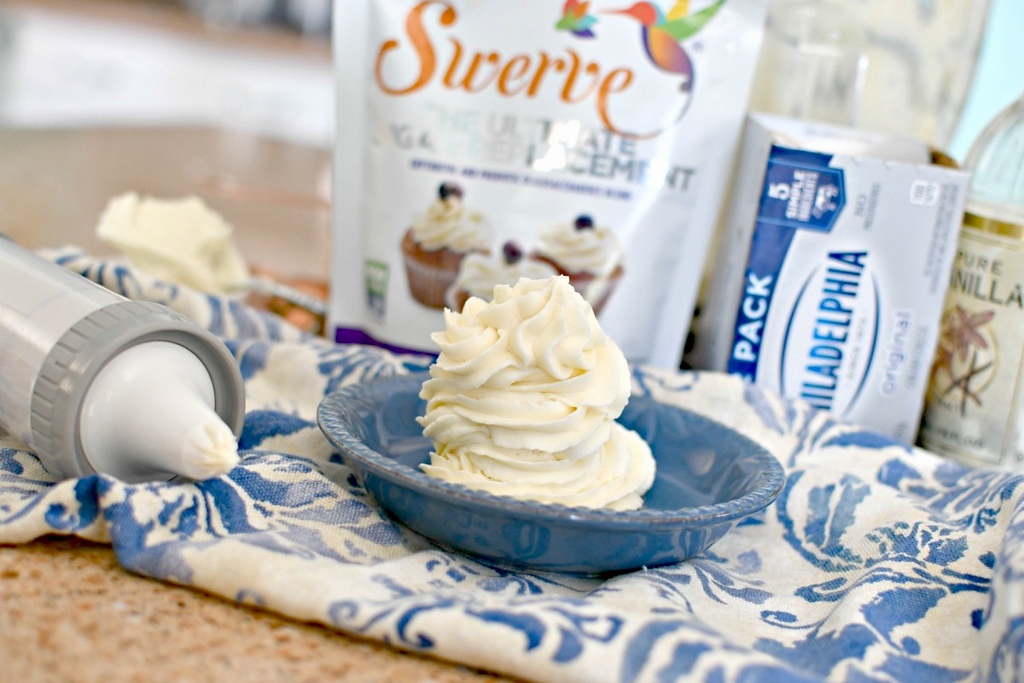 Here's what they say about it:
"I have to say Philadelphia is the best as far as taste and I don't think any other brand comes close, but it's too expensive. If I only used cream cheese a few times a year, I'd buy Philly." – Jennifer
---
"Philadelphia has been my go-to for years; whether it's on bagels, or as an ingredient for chili — I've never been disappointed. I think Rick Astley was referring to Philadelphia Cream Cheese in 🎶 Never Gonna Give You Up 🎵" – Shane
---
"Philadelphia cream cheese is my go-to. I always know it's going to have the best test and texture for things like cheesecake and frosting. But I also use generics from my local grocery store, Winco, and the generic Kroger one and have never had any issues with them. I do think Philadelphia tastes the best overall though." – Emily
Needless to say, if you have a recipe that really depends on good quality cream cheese, sticking with Philadelphia is a safe bet. 🙌
---
Member's Mark cream cheese is budget-friendly but doesn't taste like it.
If you're looking for a large amount of cream cheese for a recipe (like this Keto Churro Cheesecake 😍), head over to Sam's to pick up their Member's Mark brand since it's less than $7 for 3 lbs.
Member's Mark cream cheese is fresh and tangy, but reviewers noted the only downside is that it dries out more easily than some other brands, even if tightly re-wrapped.
---
Raskas at Costco is another great bulk buy!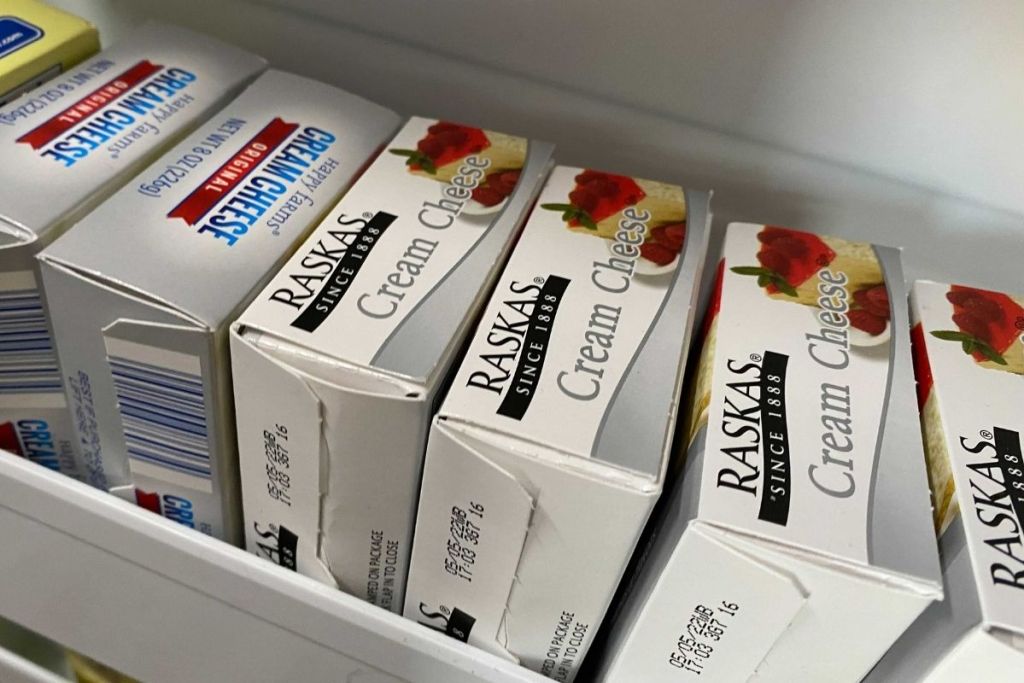 Just like Sam's Club, Costco has a tasty store-brand cream cheese, but it's also a great location to score good prices on Philadelphia and other brands too. Raskas is similar in quality to Philadelphia, but for a much better price, especially when buying for the family. My Hip teammate, Stacy, picks up Raska's along with a couple of other brands.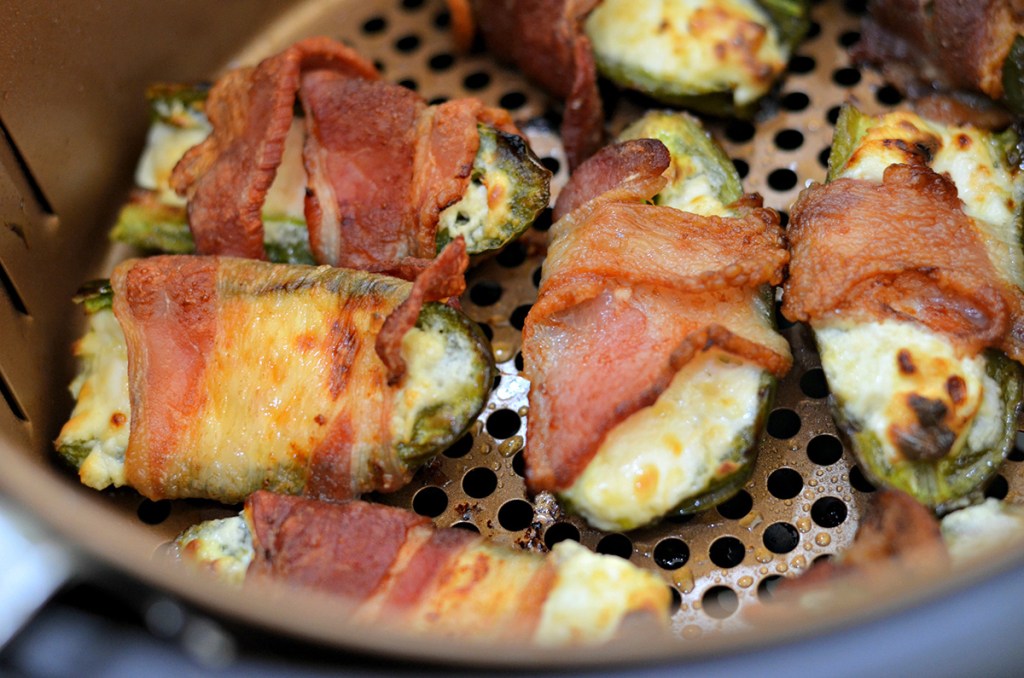 Here's what she thinks about it:
"There's a Costco store-brand cream cheese, and it's yum! I mostly use those but will grab the ALDI version too. I honestly can't tell a difference between them and Philadelphia. We use them a couple of times a week in keto waffles, bacon-wrapped jalapeños, and cream cheese fluff." – Stacy
---
Happy Farms cream cheese from ALDI is both tasty AND under $1!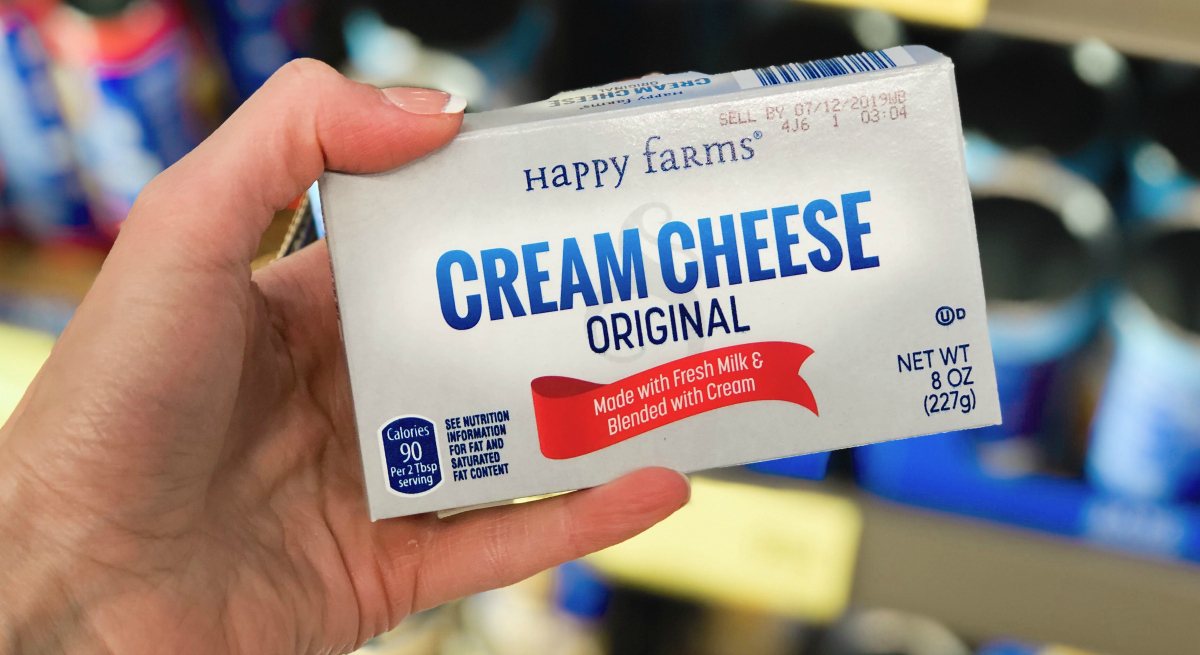 Jennifer on our team likes buying ALDI's Happy Farms brand as a budget-friendly alternative to Philadelphia since it doesn't have the lumpy texture you may experience with Great Value.
Here's what she said about it:
"I buy the Happy Farms brand from ALDI because it tastes good. The block doesn't hold as good of a shape as Philly, but it's still great. The reason I choose ALDI is the price. They are only 79¢, but recently went up to 99¢. We use so much in our house it's the most economical way to get it." – Jennifer
If you're using cream cheese to make keto cream cheese frosting or another recipe where you really want a smooth texture, skip Great Value and try out ALDI's Happy Farms brand if you need quality cream cheese on the cheap!
---
Walmart's Great Value Cream Cheese doesn't have the best texture, but it's still worth a try.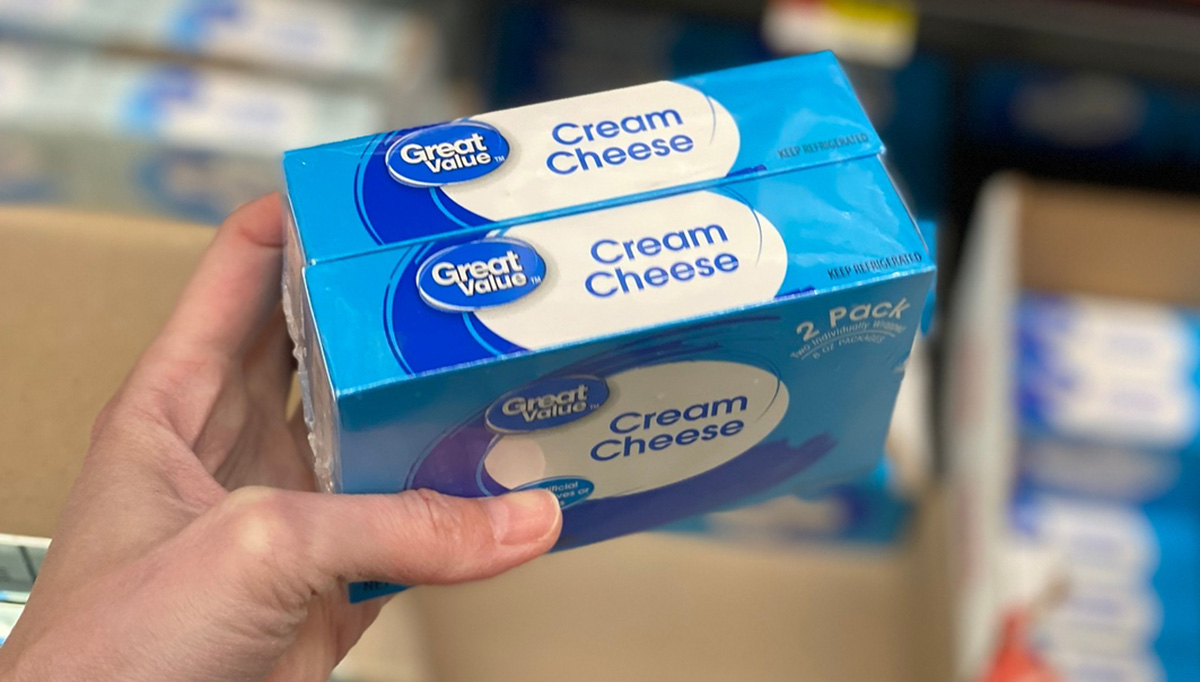 Walmart's Great Value Cream Cheese has pretty good reviews online, but the Hip team tends to steer clear of this particular brand. My Hip teammates, Jennifer and Shane, don't like the consistency of it. It tends to curdle when used in recipes & it's also difficult to get it totally smooth.
---
Target's Good & Gather brand is cheap, but reviews are mixed.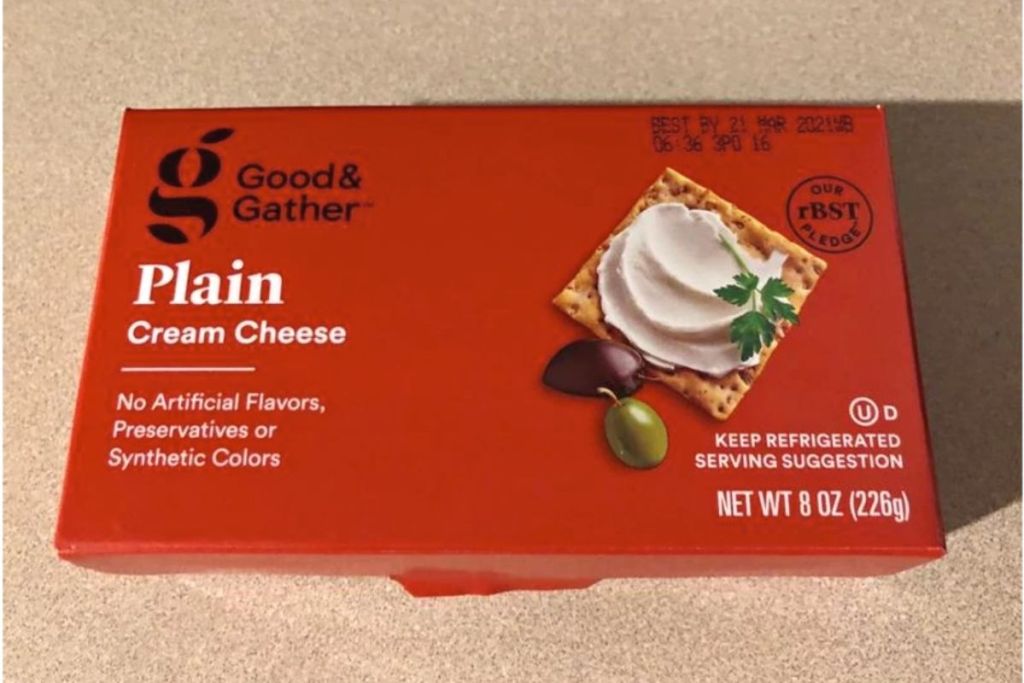 I'm usually a huge fan of Target's Good & Gather line, so I was bummed to see that their cream cheese isn't up to par with the rest of the G&G line.
While several reviewers liked it, there were plenty of others who noted that the cream cheese had a slightly slimy texture & not enough tang. While it may be worth buying at least once to try for yourself, especially when it's less than $2 per 8 oz. block, but you may be better off sticking with the pricier brands if you really want a rich, tangy taste & silky texture.
---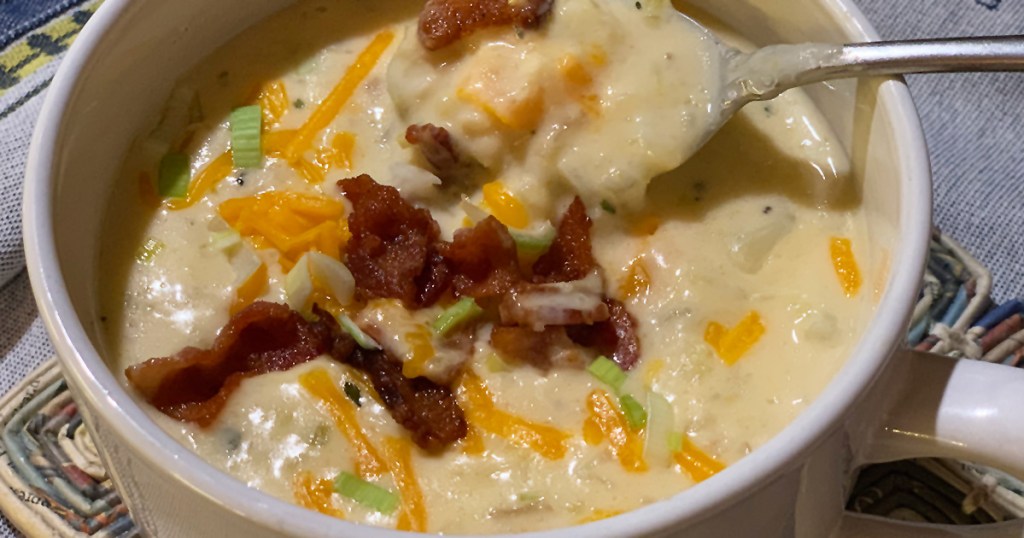 No matter which brand you prefer, cream cheese is so versatile, delicious, and a must-have keto fridge staple!
Try out some of our favorite cream cheeses in these recipes: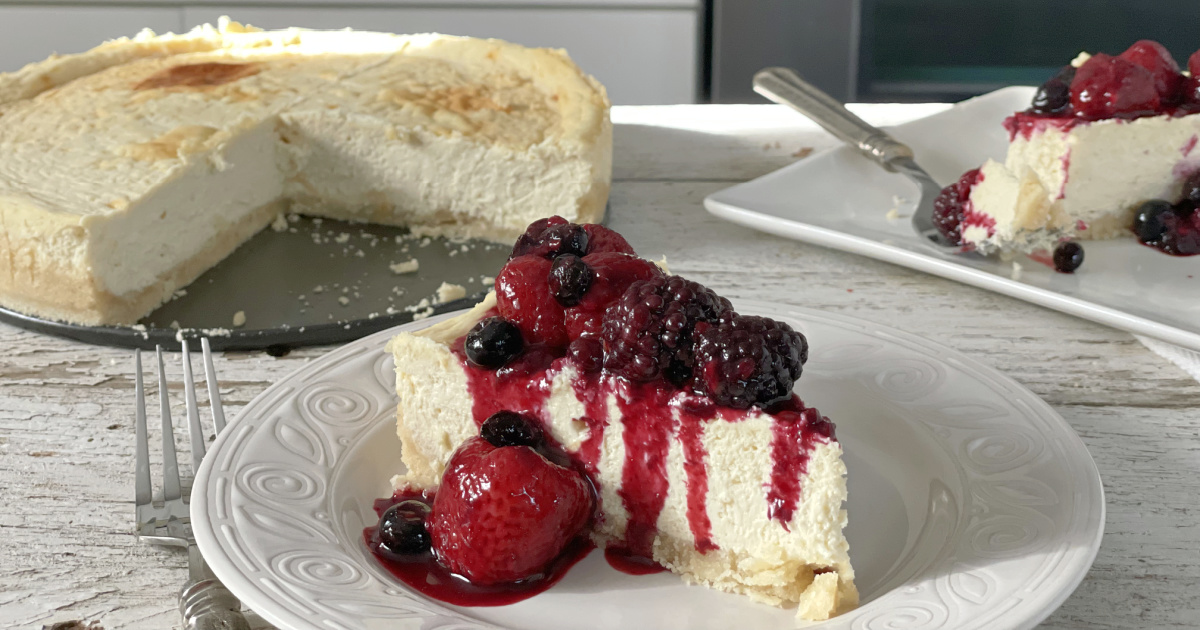 ---
Check out some other keto items on our essential shopping list!