Easy Keto Crockpot Meal – Cream Cheese Chicken & Broccoli
You won't be able to stop eating this amazing Crockpot keto chicken meal!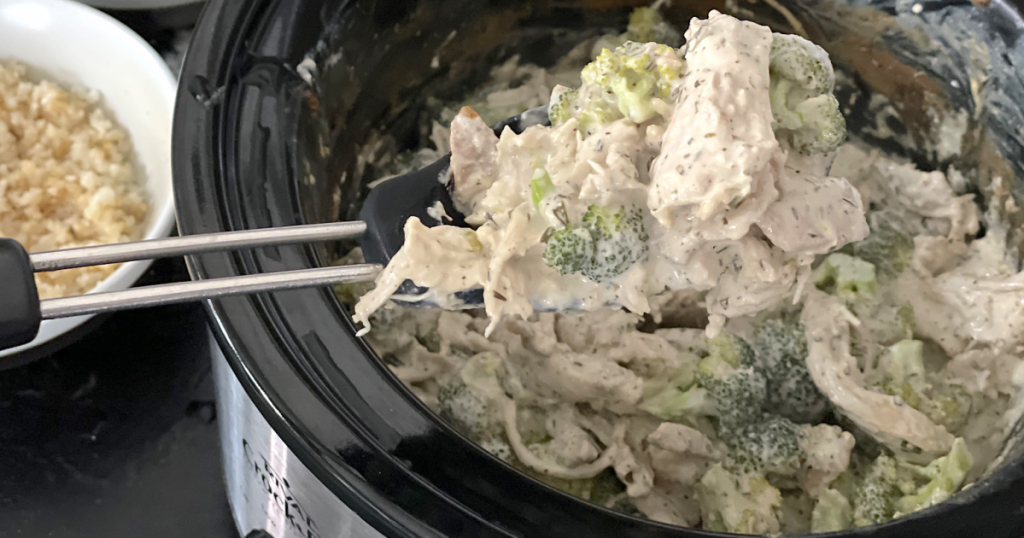 Have you tried cream cheese chicken?
This keto Crockpot meal is truly phenomenal. Cream cheese chicken is one of those dinners that's so easy you don't have very high expectations, but then it surprises you!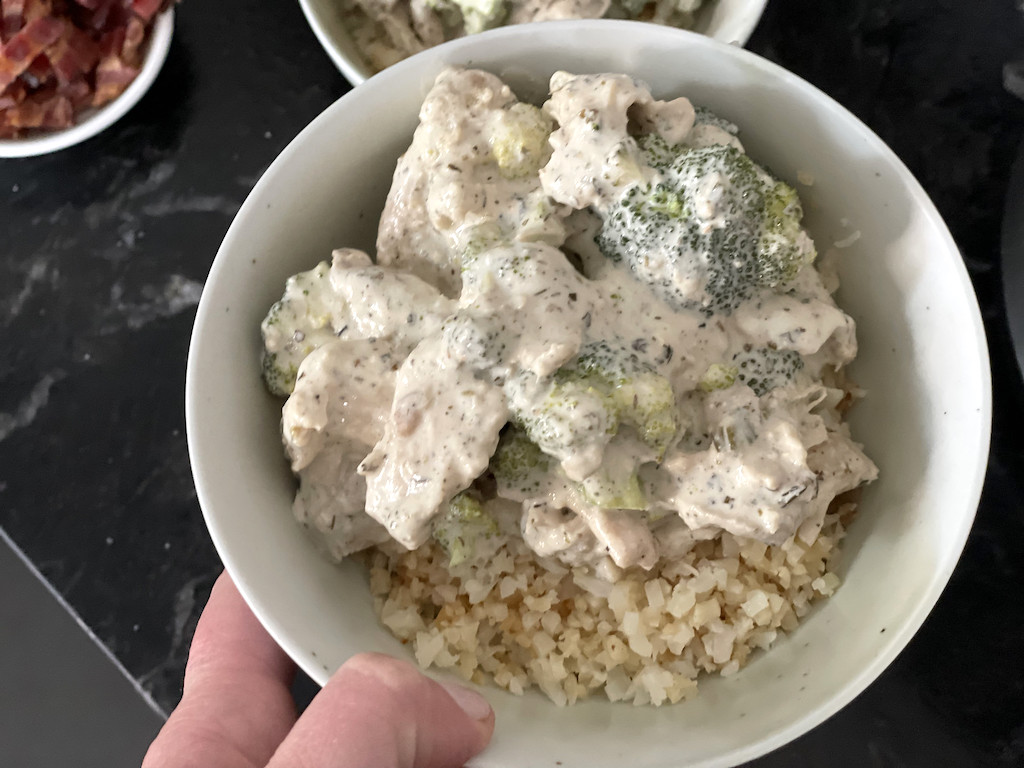 I made this for my husband and we ended up eating it two nights in a row. My husband is not big on leftovers but he gladly ate this for dinner a second night, and I almost think it tastes better the next day.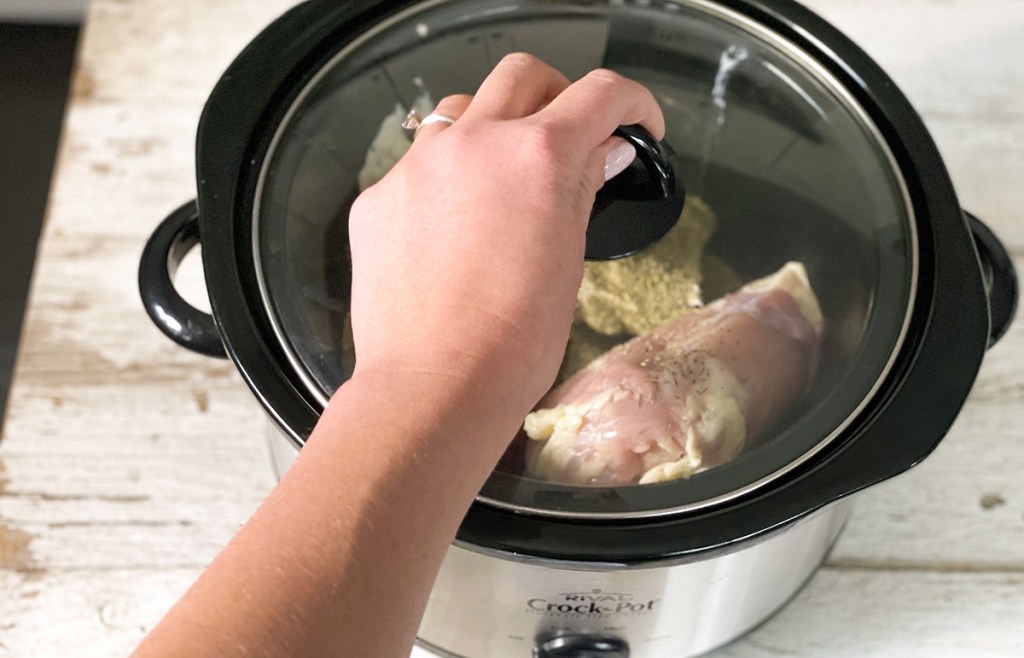 How to make keto cream cheese chicken in the Crock-pot:
The slow cooker does most of the work for this meal. You place the chicken in the slow cooker with both the regular cream cheese and the chive & onion flavored cream cheese, along with a few seasonings. Let it cook on HIGH for about 3 to 4 hours or LOW for 5 to 6 hours and then shred.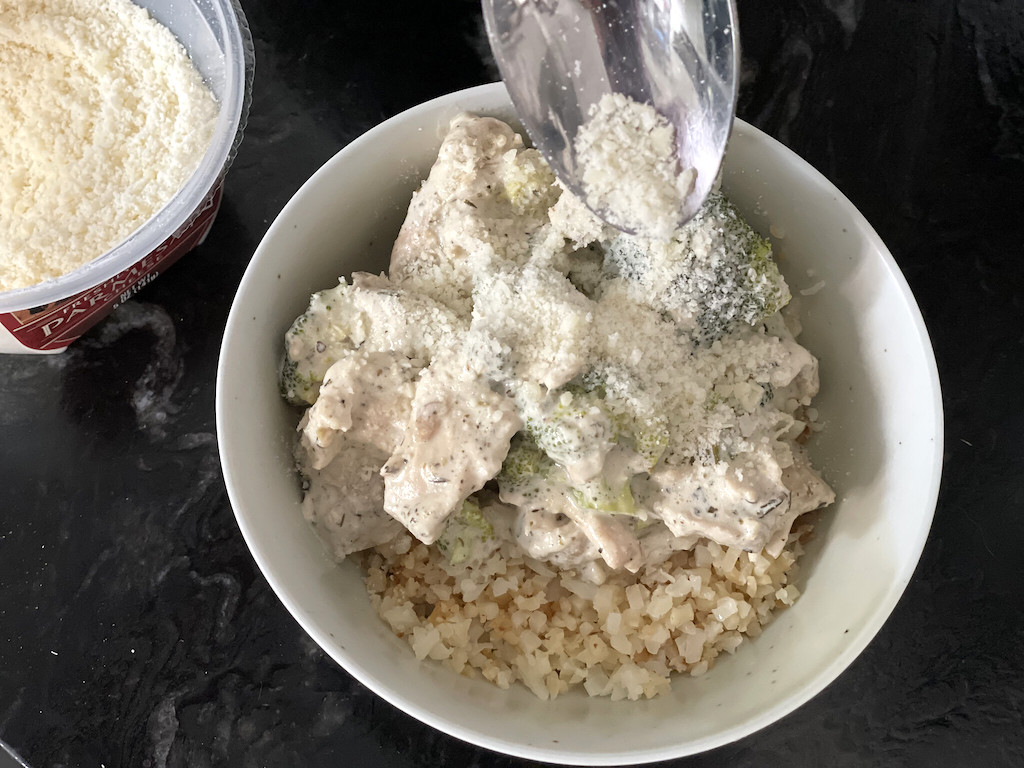 About 15 minutes before serving the chicken, you add in the broccoli. While the broccoli is cooking, pan fry some bacon for the topping and then cook up some cauliflower rice in the bacon grease. And let me tell you, cauliflower rice cooked in bacon grease is amazing! I don't think I can cook it any other way now. 😋
Tips for making the best keto cream cheese chicken in the Crockpot:
I used boneless, skinless chicken thighs for this recipe but chicken breasts work too. I just prefer chicken thighs on keto over chicken breasts as they have more flavor due to the higher fat content.
Keep an eye on your Crockpot slow cooker. This meal was cooked in 3.5 hours on HIGH in my slow cooker.
I used grated parmesan as a topping but you could use shredded or shaved parmesan. Even shredded cheddar cheese would be delicious!
If you want to use an Instant Pot, check out this recipe. You could also make this on the stovetop in a stockpot or large saucepan.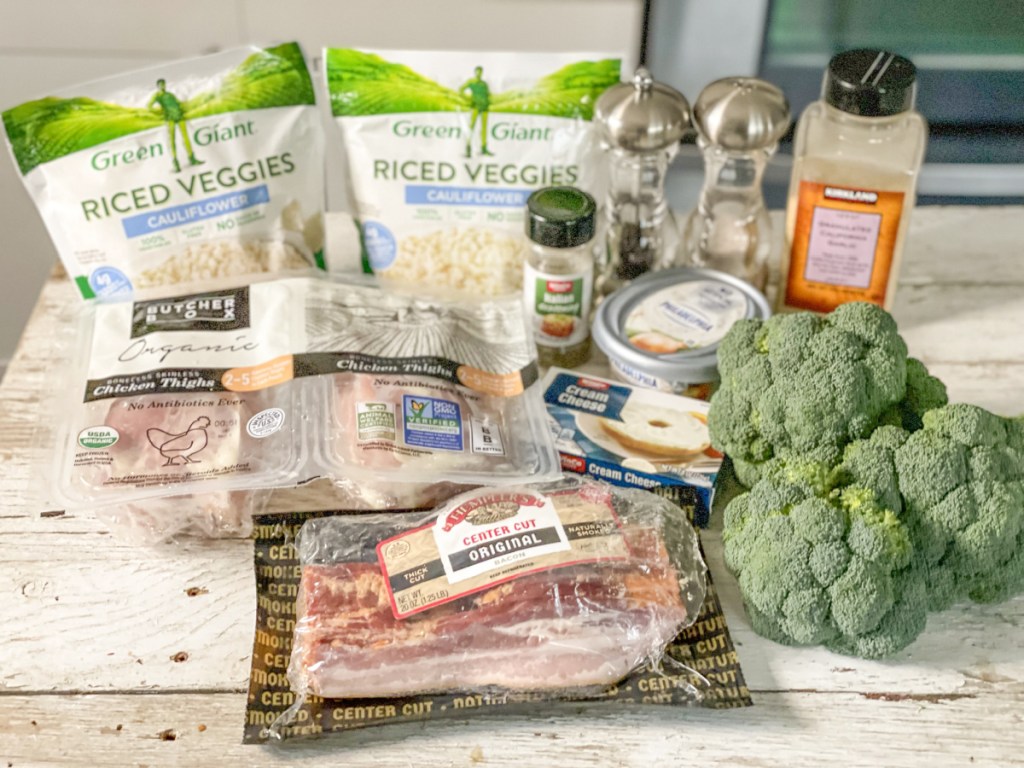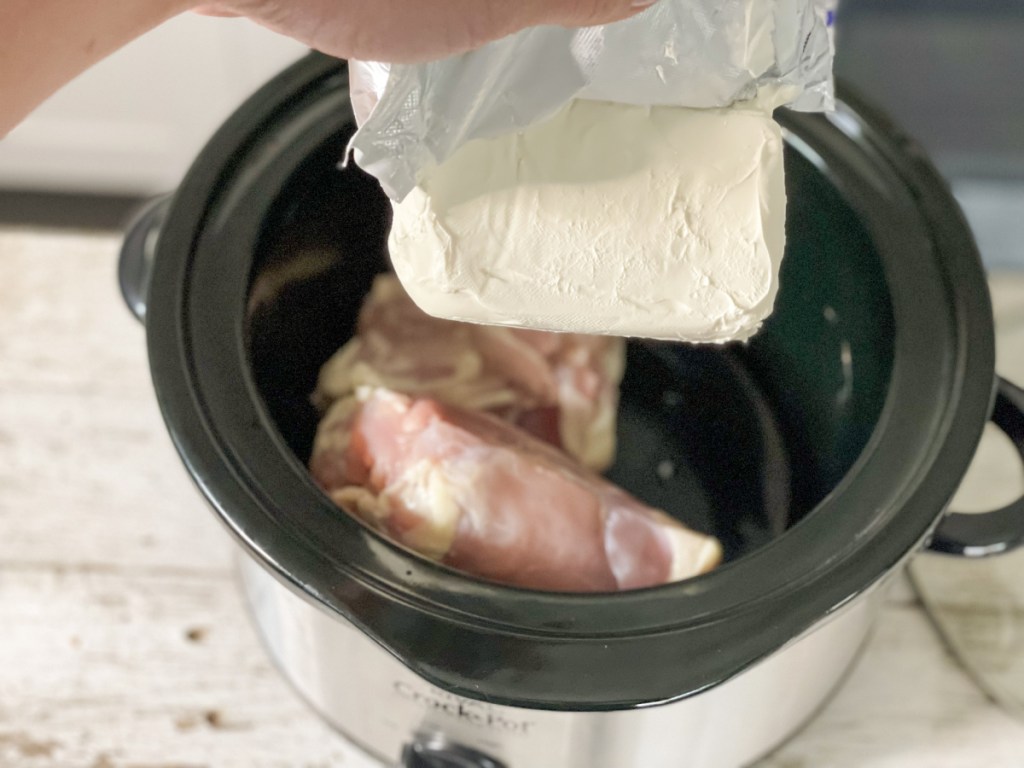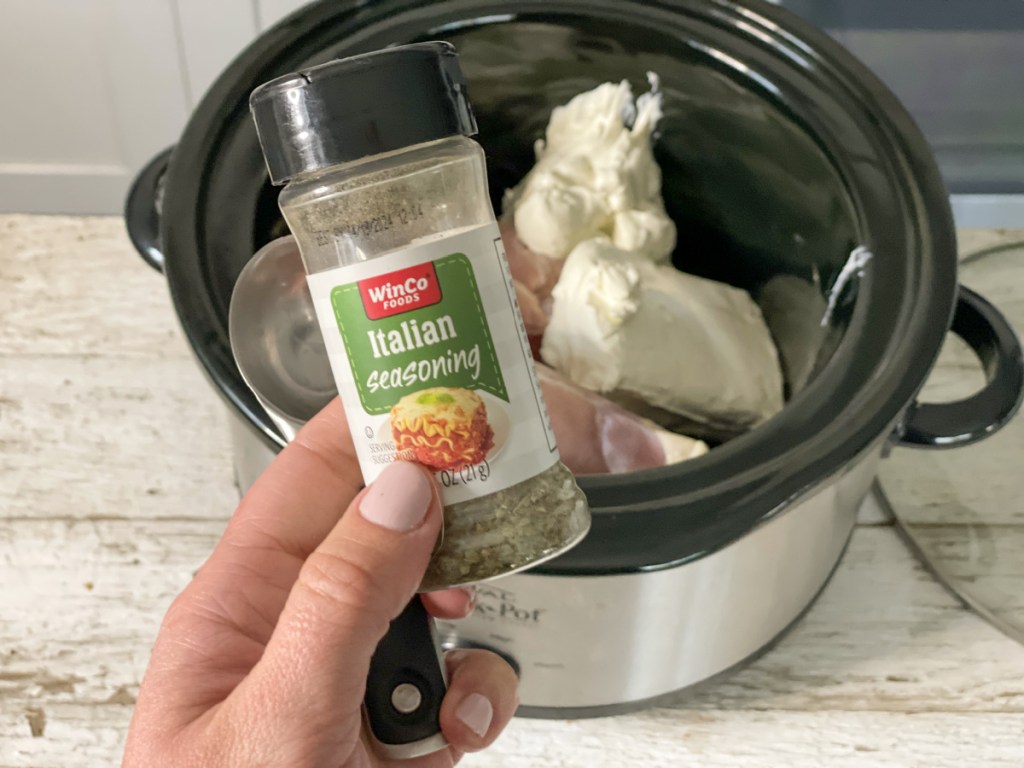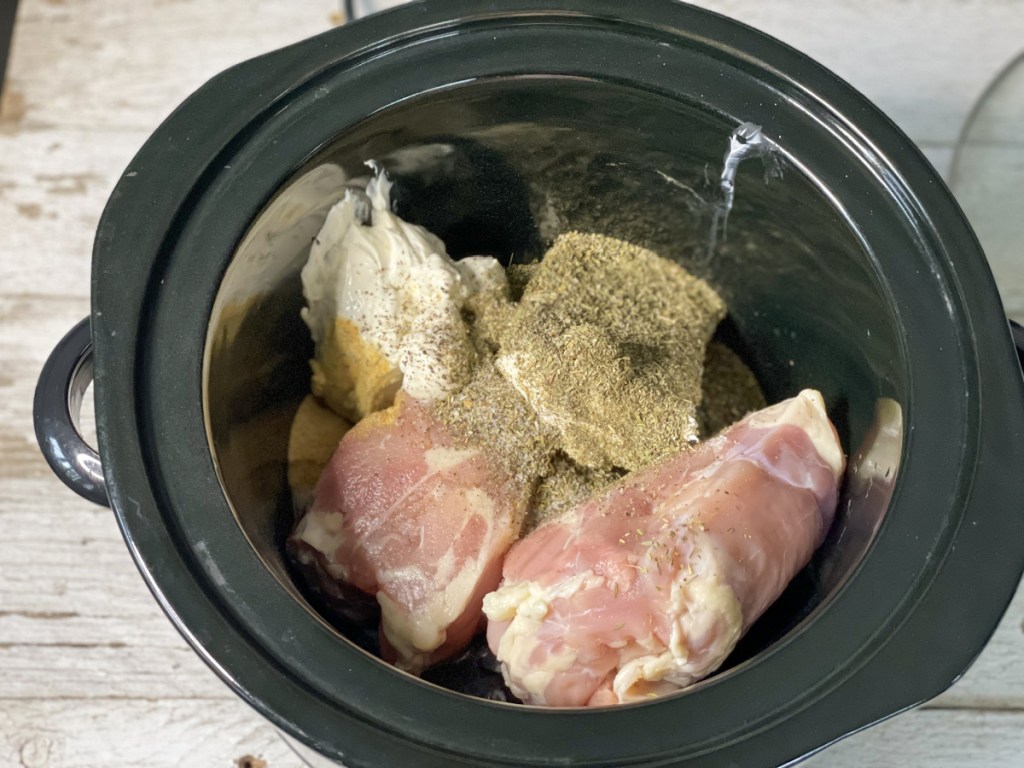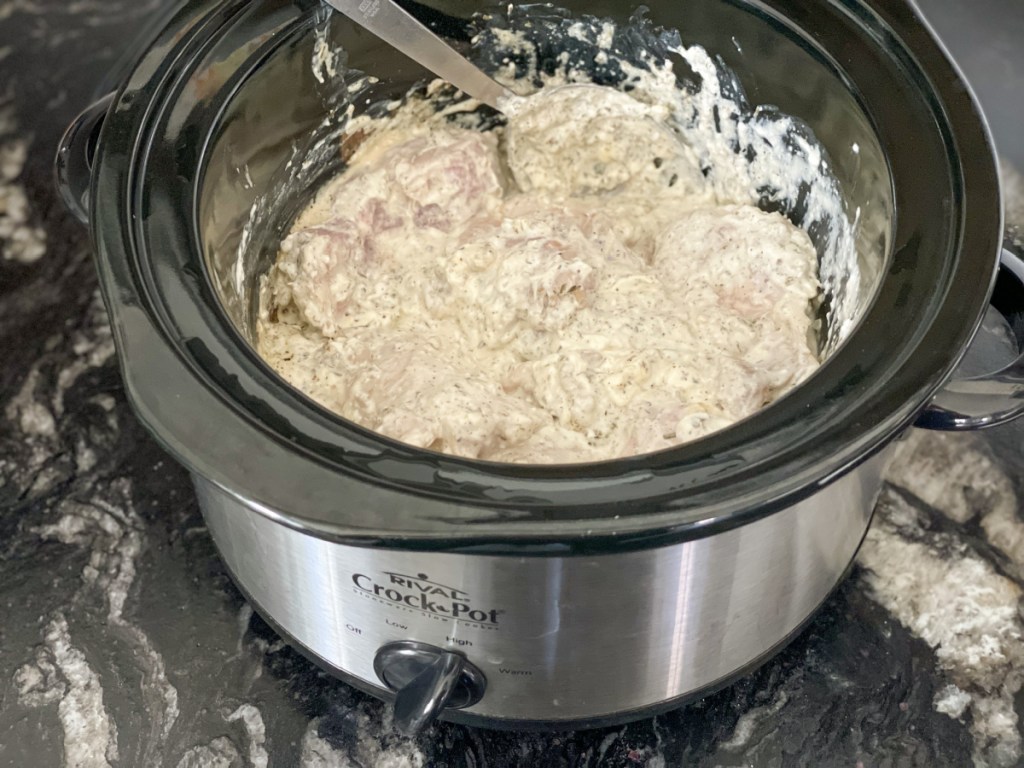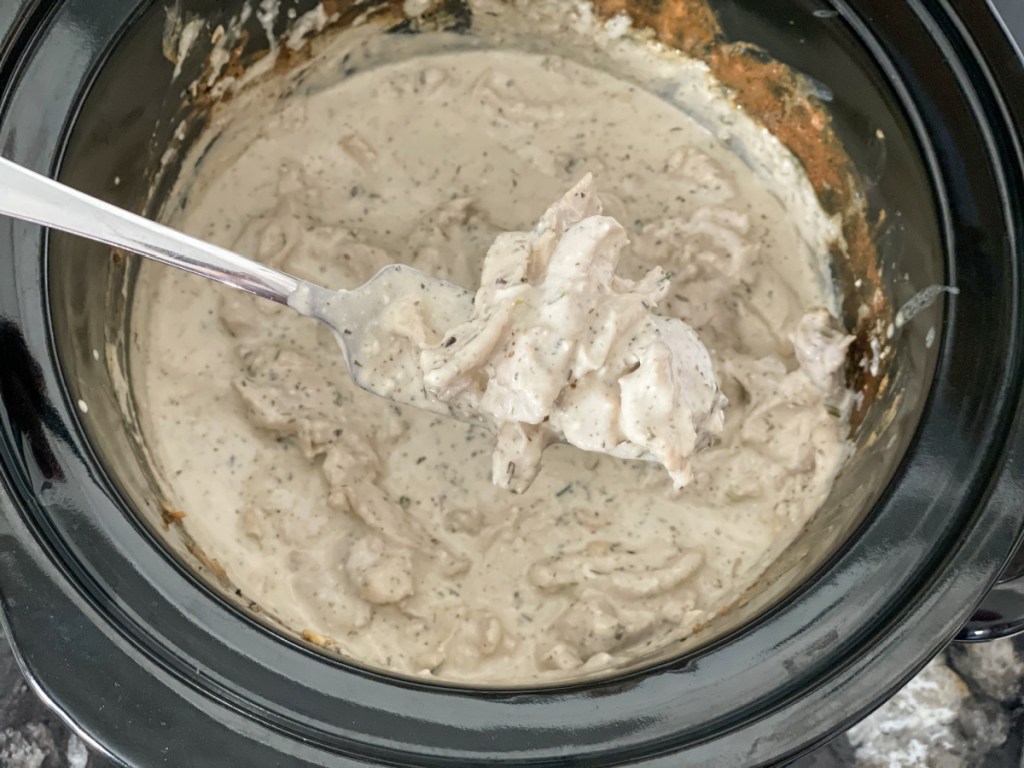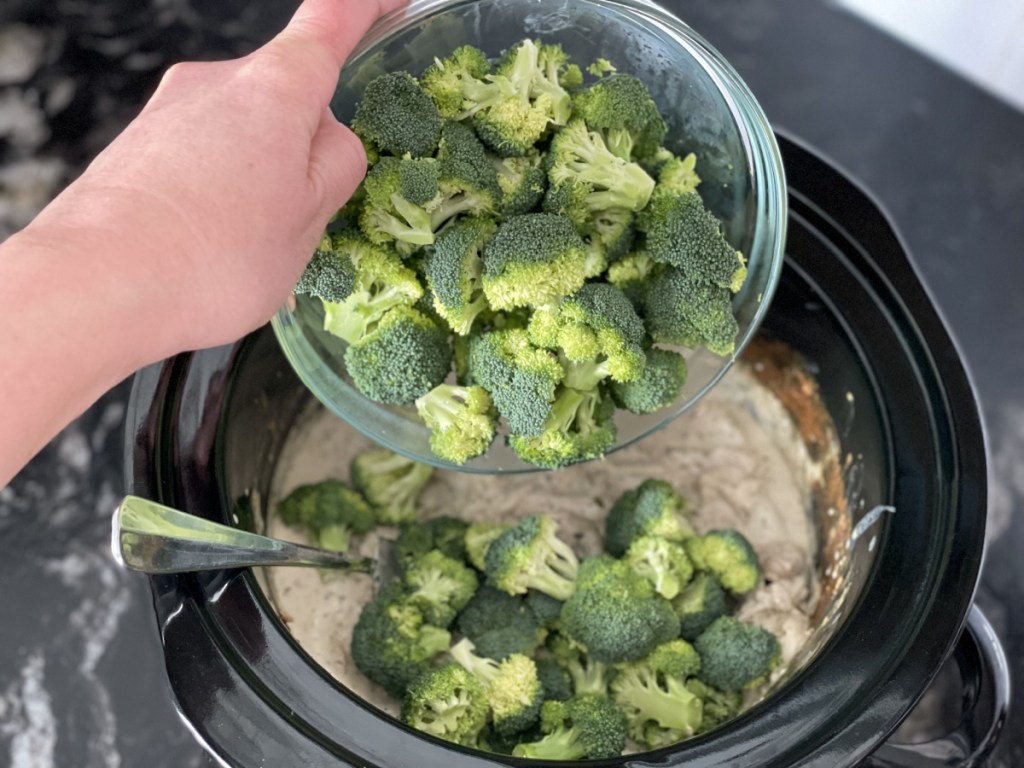 ---
Print
Keto Crockpot Cream Cheese Chicken
yield: 6 SERVINGS
prep time: 5 MINUTES
cook time: 4 HOURS
total time: 4 HOURS 5 MINUTES
Chicken slow-cooked with cream cheese and seasonings, then mixed with broccoli, served over cauliflower rice, and topped with bacon and parmesan.
Ingredients
2 pounds of chicken thighs, boneless, skinless
8 oz. cream cheese (1 block)
8 oz. onion and chive cream cheese
1 tablespoon Italian seasoning
2 teaspoons garlic powder
1 teaspoon salt
1/4 teaspoon pepper
3 cups of broccoli, chopped
4 slices bacon
4 cups cauliflower rice (about 2 - 10oz. packages)
6 tablespoons parmesan cheese
Directions
1
Place chicken, cream cheese, onion and chive cream cheese, Italian seasoning, garlic powder, salt, and pepper in the Crockpot. Cook for 3 to 4 hours on HIGH or about 5 to 6 hours on LOW.
2
Once the chicken is cooked, shred the chicken with two forks.
3
Add the broccoli to the slow cooker about 15 minutes before serving. Stir to combine the broccoli with the chicken.
4
While the broccoli is cooking in the slow cooker, pan fry the bacon in a skillet over medium heat. Once crispy, remove the bacon from the skillet and chop. Cook cauliflower rice in the same skillet with the bacon grease until soft, about 10 minutes.
5
To serve, dish up about 3/4 cup of cauliflower rice and top with about 1 cup chicken broccoli mixture. Sprinkle with bacon and 1 tablespoon parmesan cheese. Enjoy!
Nutrition Information
Yield: 6 servings, Serving Size: 1 serving
Amount Per Serving: 547 Calories | 41.8g Fat | 8.6g Total Carbs | 2.8g Fiber | 3.4g Sugar | 37g Protein | 5.8g Net Carbs
---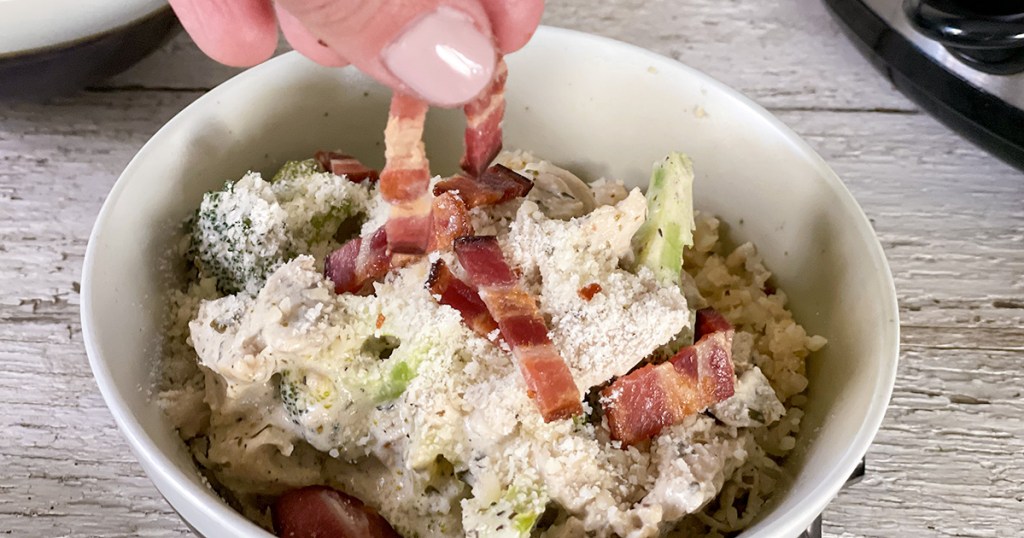 Every forkful just gets better and better!
Who knew something so simple could result in a dish bursting with such yummy and comforting flavors!? Cream cheese chicken is a great keto meal with the focus being on protein, veggies, and natural fats. And it's basically a one-dish meal, which makes it even better! 🙌
My Hip sidekick Jenna made this recipe and here's what she had to say:
"Slow cooker cream cheese chicken is sure to be a hit with the whole family! The kids didn't even complain that it wasn't rice! The sauce was the star of the dish for sure and is oh so good. The broccoli gives it a tasty crunch and the whole dish is so full of flavor. This dish will fill you up and it will have you wanting to put onion and chive cream cheese spread on everything!"
---
Want more amazing keto slow cooker recipes, check out our full Crockpot recipe collection!