Keto Bacon-Wrapped Jalapeno Poppers in the Air Fryer | Only 3 Ingredients Needed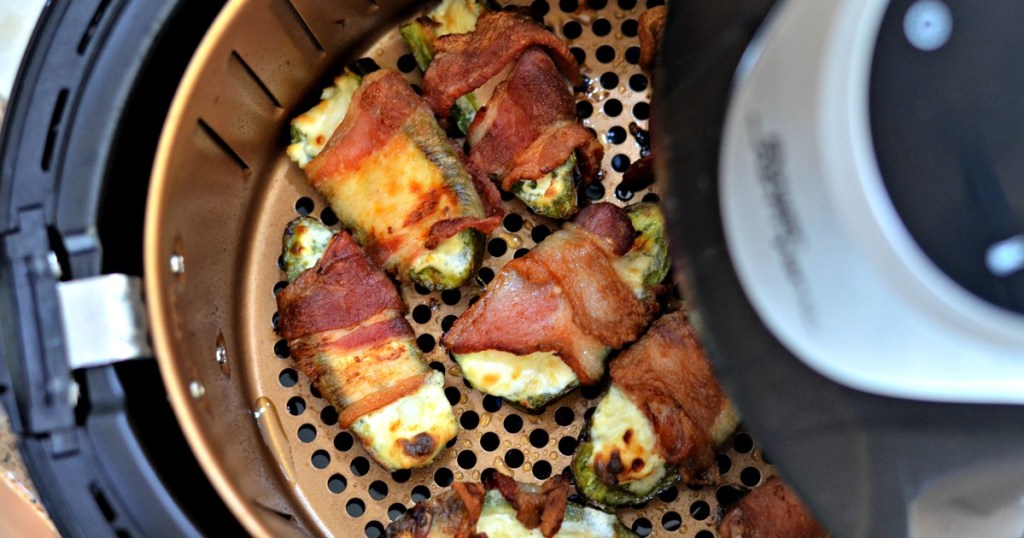 Need a yummy keto appetizer idea?
You've gotta try making these EASY cream cheese and bacon-wrapped jalapeno poppers in the air fryer using just 3 ingredients! Yep, this recipe is extremely simple, and something anyone can feel confident making for guests when entertaining. In fact, these low-carb cream cheese poppers are our favorite holiday party appetizer and football watching snack!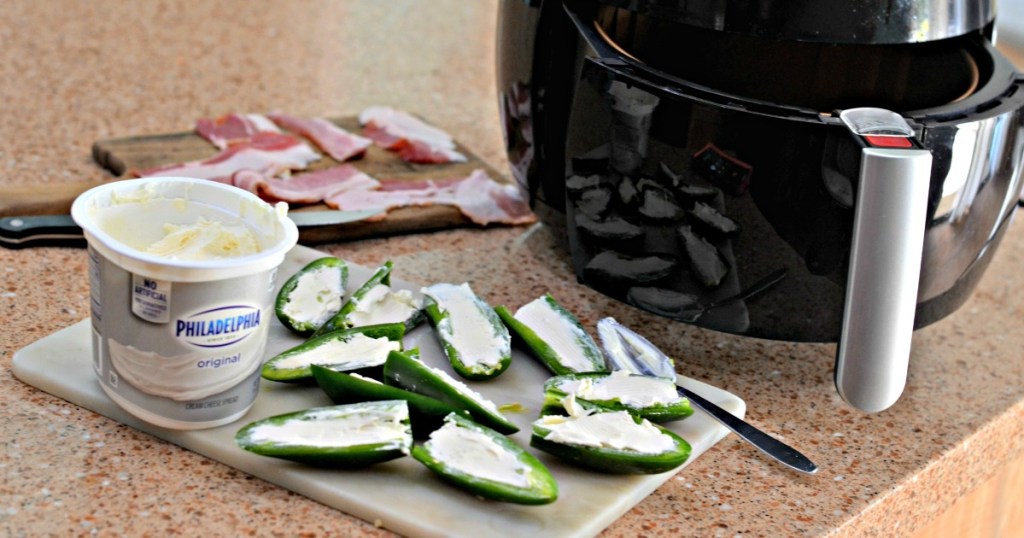 Hip Tips:
I highly recommend wearing kitchen gloves while scooping out jalapeno seeds! If you've ever cleaned and chopped jalapenos then accidentally touched your eyes afterward, you'll understand – it's no fun!
Feel free to flavor the cream cheese filling by adding fresh herbs or ground seasonings before stuffing the jalapenos. We usually keep it simple with plain cream cheese, but you could add some savory spices like garlic and onion powder to the cream cheese filling. Chopped green onion is a great add-in too!
Jalapeno poppers can also be baked in the oven instead. Bake on a sheet pan at 400 degrees for about 20 minutes until the bacon is crisp.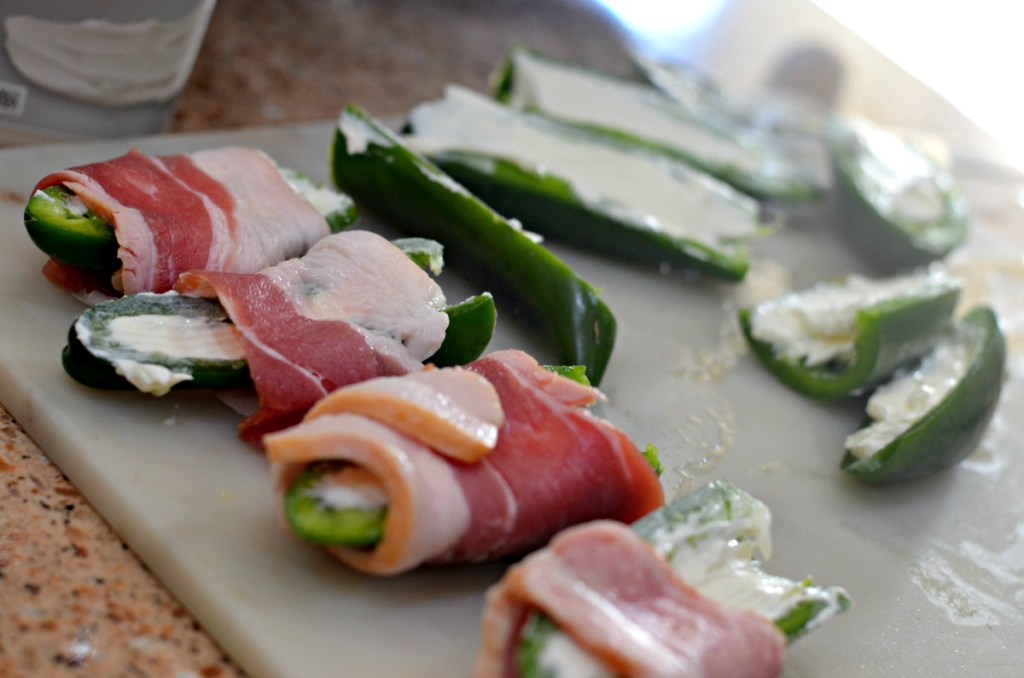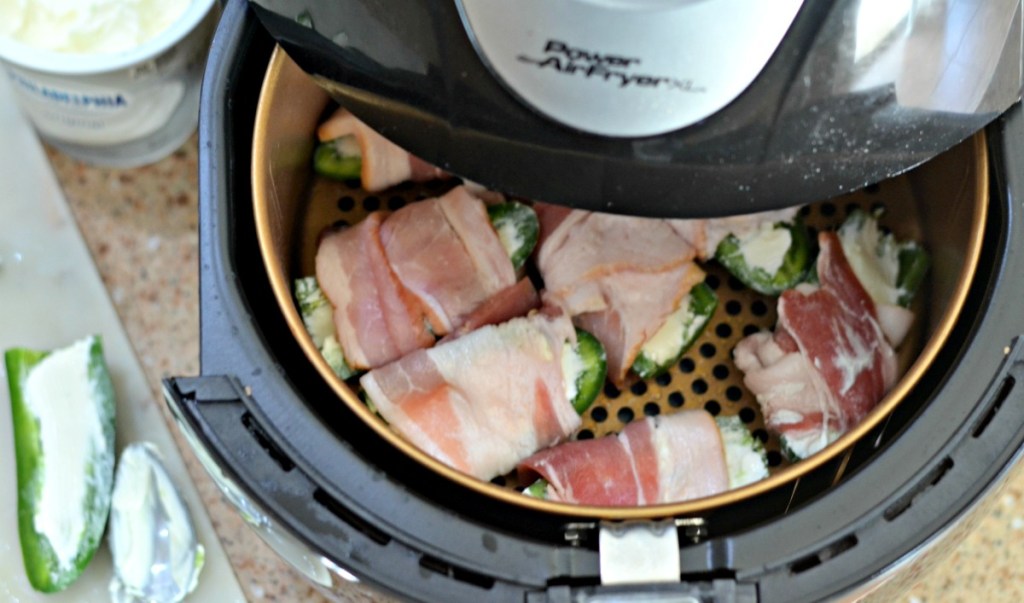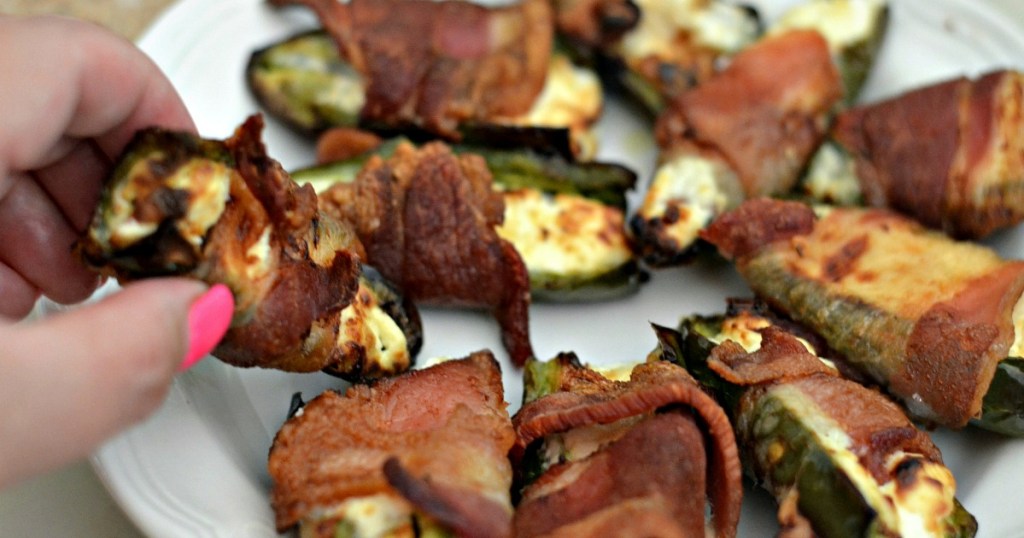 ---
Print
Keto Bacon Wrapped Jalapeno Poppers
yield: 6 SERVINGS
prep time: 10 MINUTES
cook time: 14 MINUTES
total time: 24 MINUTES
A roasted jalapeno pepper with melted cream cheese and crispy bacon is the ultimate keto snack!
Ingredients
6 fresh jalapeno peppers
1/3 cup cream cheese, softened
6 slices of raw bacon
Directions
1
Slice the jalapenos in half lengthwise and remove seeds.
2
Fill each jalapeno slice with cream cheese using a spoon.
3
Cut the slices of raw bacon in half and wrap each jalapeno.
4
Place poppers in the air fryer and set to 370 degrees for 14 minutes.
(Note: Your cook time may vary slightly due to your thickness of bacon and pepper. It's super easy to close the machine and add a couple of minutes of cook time until the desired doneness.)
Nutrition Information
Yield: 12 poppers, Serving Size: 2 poppers
Amount Per Serving: 180 Calories | 14g Fat | 2g Total Carbs | 11g Protein | 2g Net Carbs
---
I've been making these cream cheese filled poppers for years and truly LOVE them.
They're always the first appetizer to disappear at family gatherings, so making extra by doubling the recipe is never a bad thing. Crisping them in the air fryer is such a quick, easy and convenient method—plus, they taste incredible! But then, bacon by itself in the air fryer is amazing, too.
Cream cheese poppers are one of those ideas that appeal to both keto and non-keto friends, and are a brilliant low-carb food to serve at any type of gathering!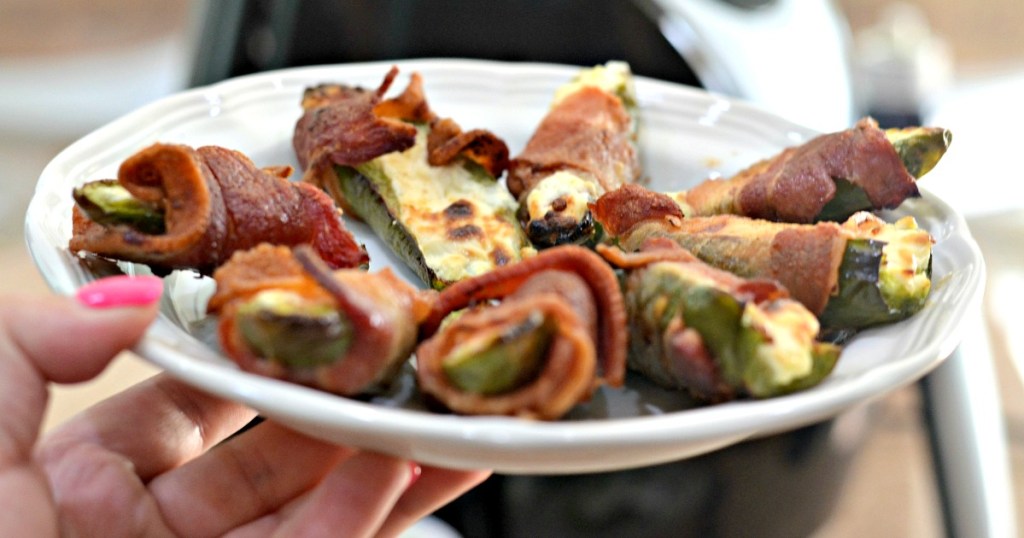 ---
Make keto artichoke spinach dip in the Instant Pot for your next party!