This Easy Keto and Low-Carb Berry Jam Recipe is Delicious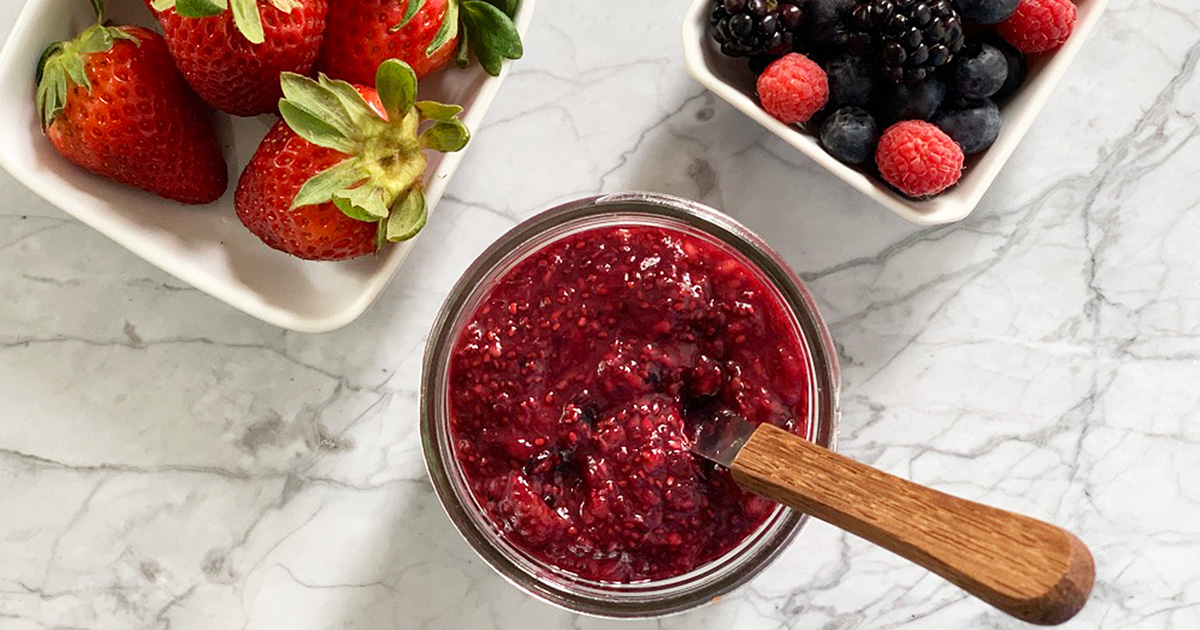 Hey, fruit—I wanna jam it with you!
Yep, I couldn't help but throw in a Bob Marley phrase… I mean, my name is Marley after all (and of course, I'm a Bob fan). Reggae music just makes you feel good! Do you know what else does? This AMAZING keto berry jam!! 💃🏽
It's thickened with chia seeds and sweetened with your favorite keto sweetener, whatever that may be. I prefer allulose, but I also make this jam with stevia and erythritol. I love how simple it is to customize this recipe, and at only 1 net carb per serving, everyone can have their jam… and eat it, too!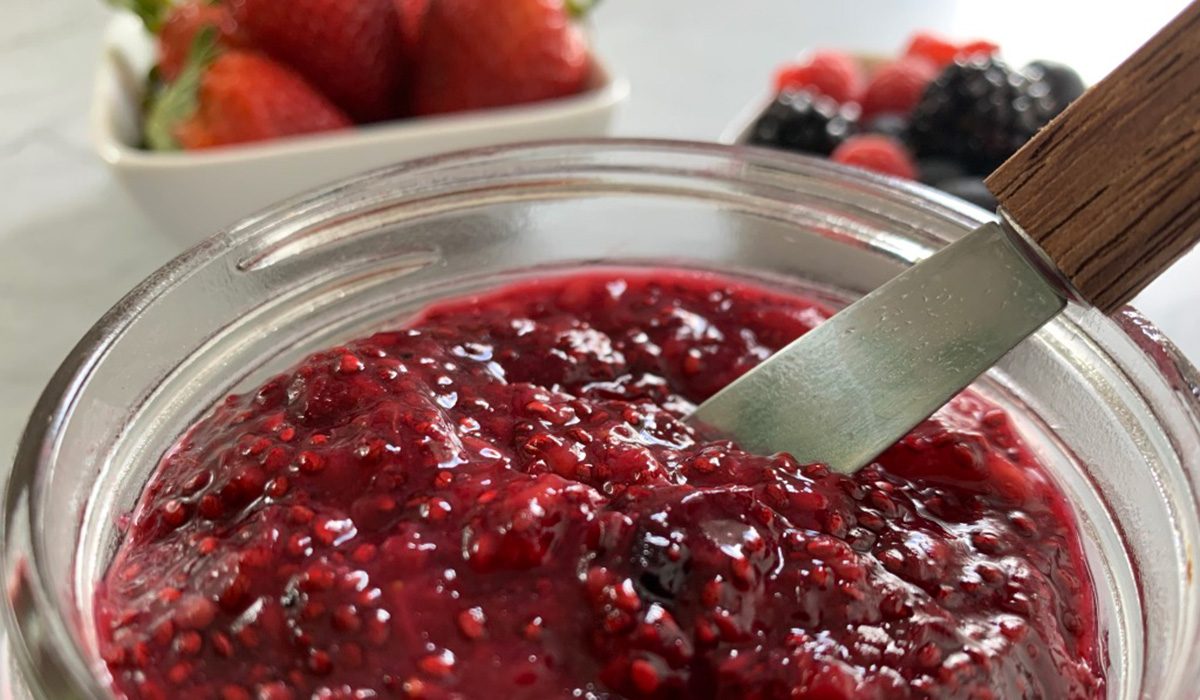 ---
Print
Very Berry Keto Jam
yield: 8 SERVINGS
prep time: 5 MINUTES
cook time: 5 MINUTES
total time: 10 MINUTES
This easy and delicious keto and low-carb jam really hits the sweet spot!
Ingredients
1 cup fresh berries of your choice (I used 1/4 cup each, strawberries, blackberries, raspberries, & blueberries)
1 tablespoon chia seeds
preferred sweetener, optional (equivalent to 1-2 tablespoons sugar or to taste)
Directions
1
Place berries and sweetener in a small pot over medium-high heat. (If using strawberries, I suggest chopping them first.) Stirring occasionally, cook for about 5 minutes or until fruit starts to break down. Remove from heat and mash using a potato masher, wooden spoon, or immersion blender until you reach your desired consistency.
2
Add the chia seeds and stir to combine. Set aside to cool for 10 minutes. The chia seeds will thicken the jam as it cools.
3
Taste the jam and add additional sweetener if needed. Store in an airtight container in the refrigerator for about a week, or freeze for up to three months. (I use mini ice cube trays to freeze single servings.)
Additional Notes
Nutritional information does not include values for sweetener. If using stevia, the nutritional data will remain the same. For all other sweeteners, values will need to be calculated accordingly.
Nutrition Information
Yield: 8 servings, Serving Size: 1 tablespoon
Amount Per Serving: 19 Calories | 0g Fat | 3g Total Carbs | 2g Fiber | 1g Protein | 1g Net Carbs
---
What to pair with this easy low-carb berry jam recipe…
Now that you have this glorious jam, you may be wondering what to do with it (other than eat it by the spoonful). Below are some of my favorite items to eat with keto berry jam.
10 Very Berry Keto Jam Pair-Ups: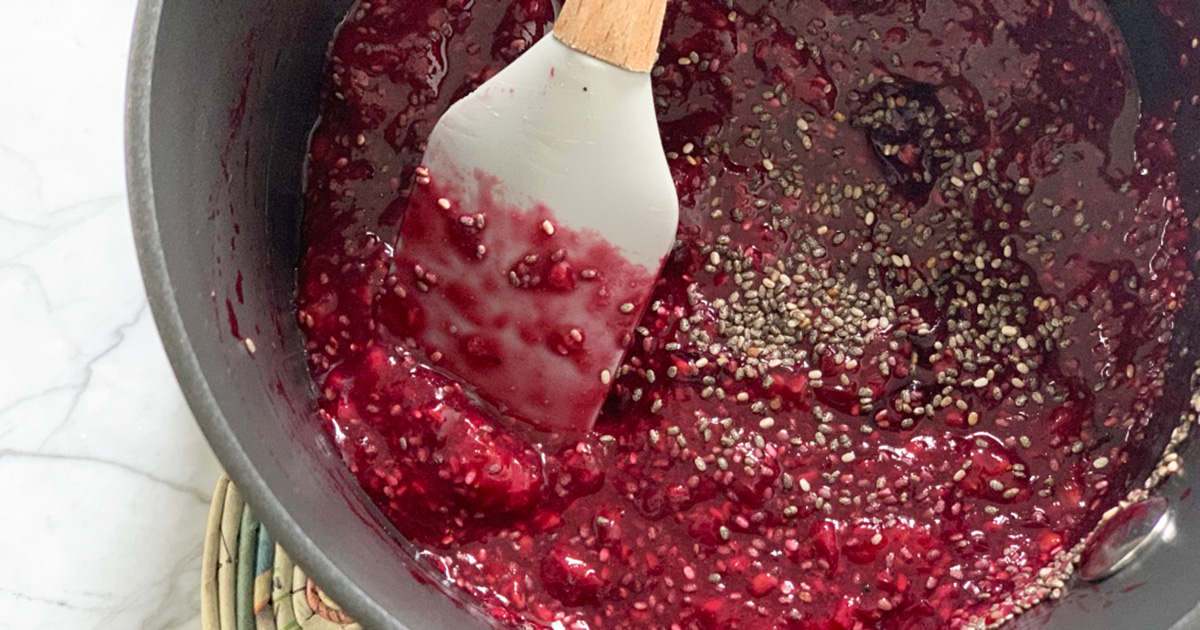 Bring a little sunshine to your day…
With this bright and refreshing jam—Simply put, it's good mood food. 😄
"Don't worry about a thing, 'cause every little thing gonna be all right." -Bob Marley, reggae singer/songwriter

---
For another bright and sunny recipe, try my Kale Superfood Salad!