Easily Make a Pine Cone Shaped Cheese Ball Keto Appetizer
This keto pine cone cheese ball is the perfect holiday app!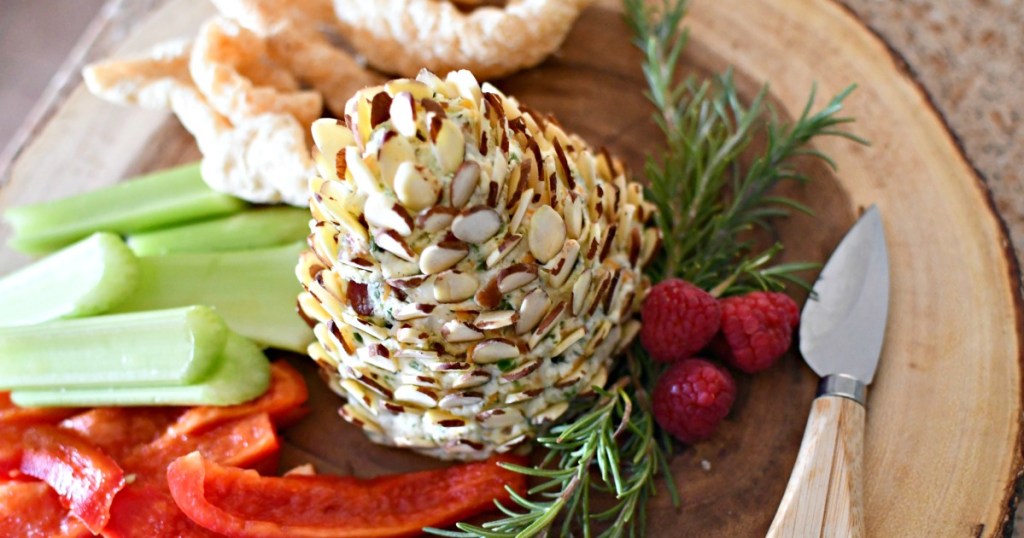 Here's a special holiday keto appetizer to consider!
Create a rustic cheese ball in the shape of a pine cone using sliced almonds to style it alongside a few sprigs of fresh rosemary and berries. Then serve it with yummy keto-friendly dippers for a gorgeous presentation.
This is such a fun way to serve a cheese ball, and it's actually easier than you'd think to make!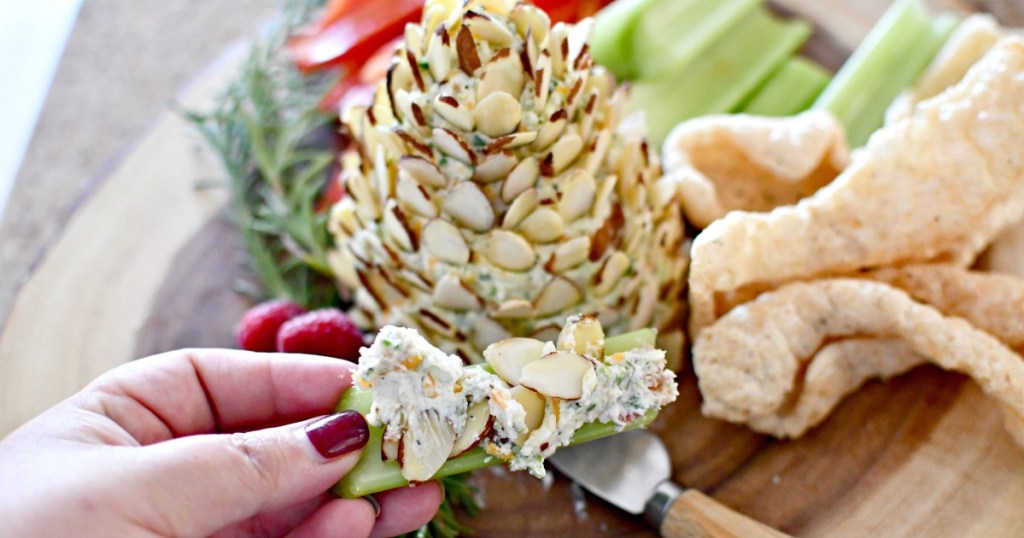 The result is a beautiful bacon, jalapeño, and cheddar cheese ball with tons of flavor that's a perfect starter to a holiday meal. This irresistible cheese ball will be a big hit with keto eaters and non-keto eaters alike and tastes so great with a crunchy dipper like pork rinds and/or celery.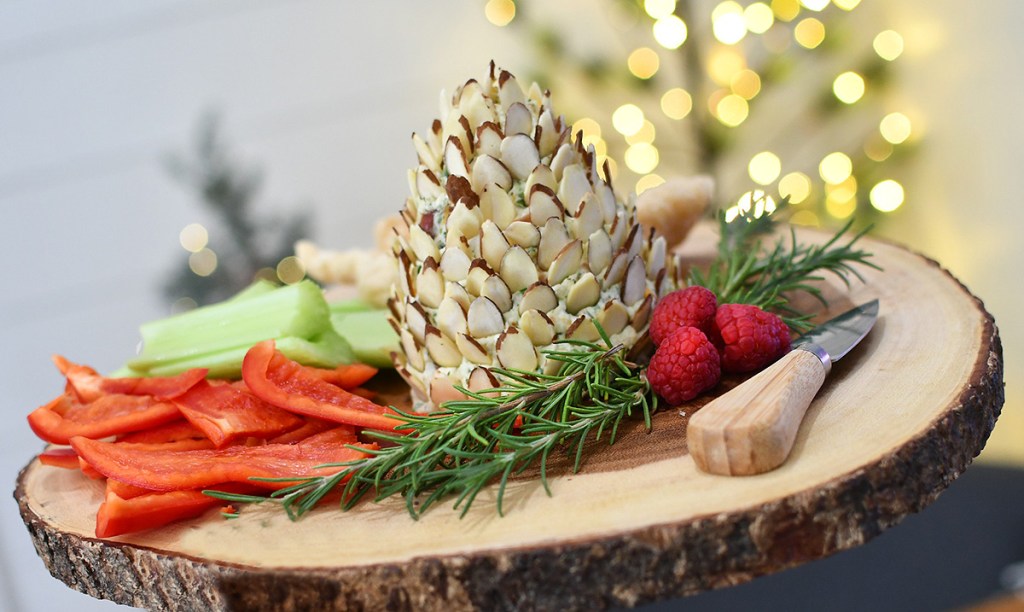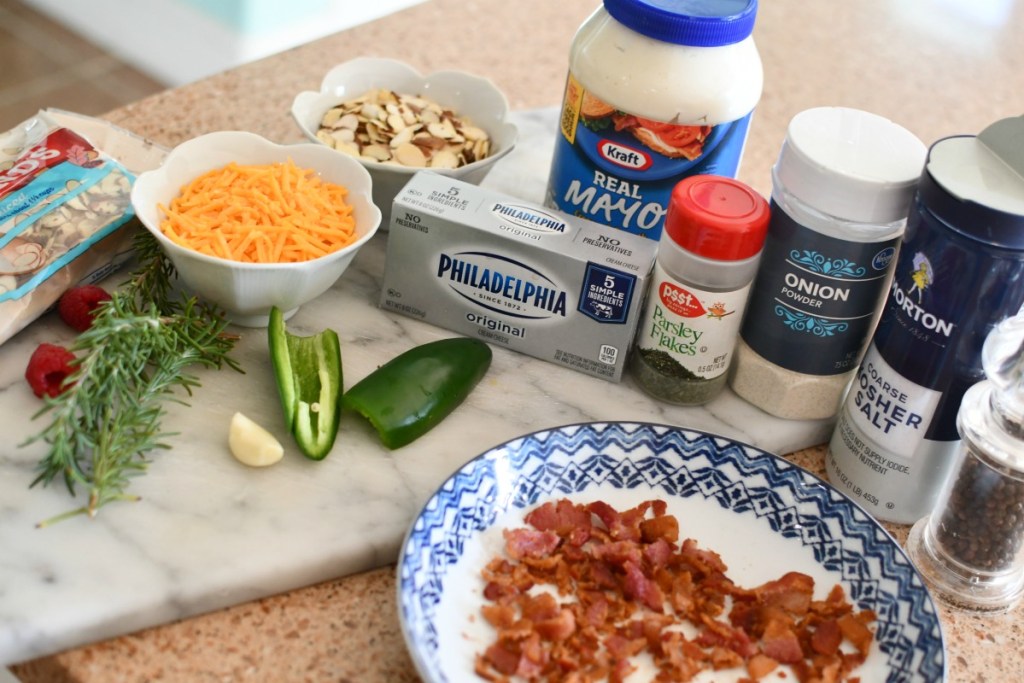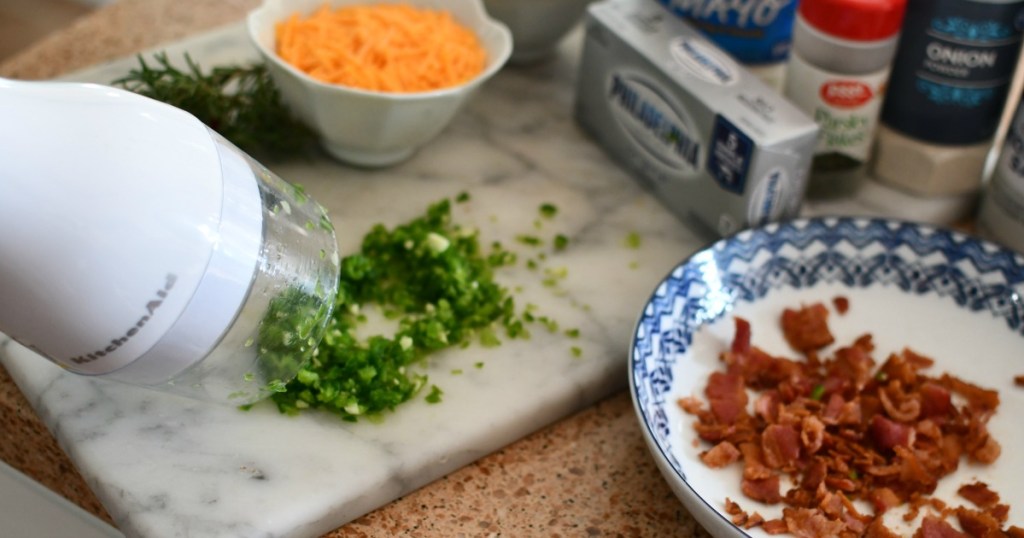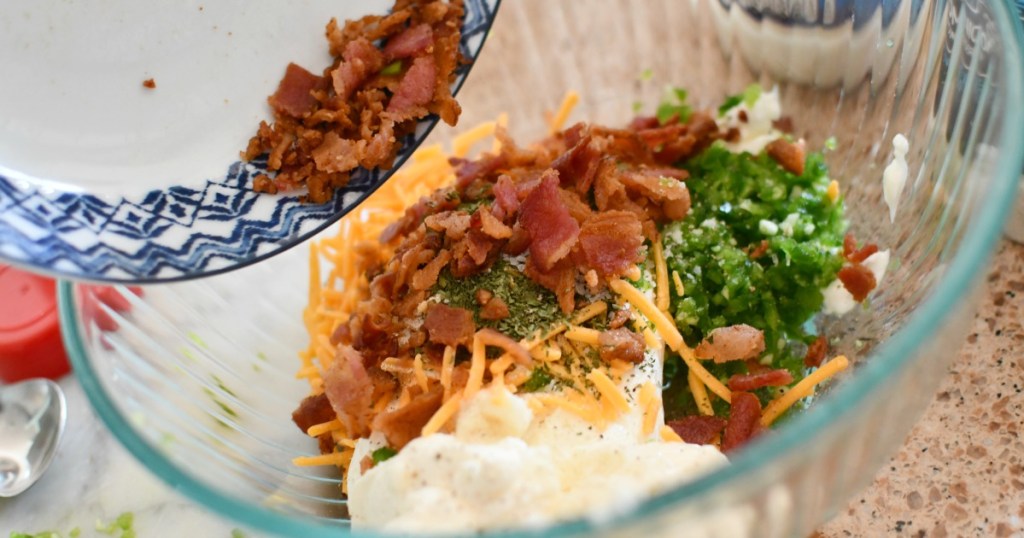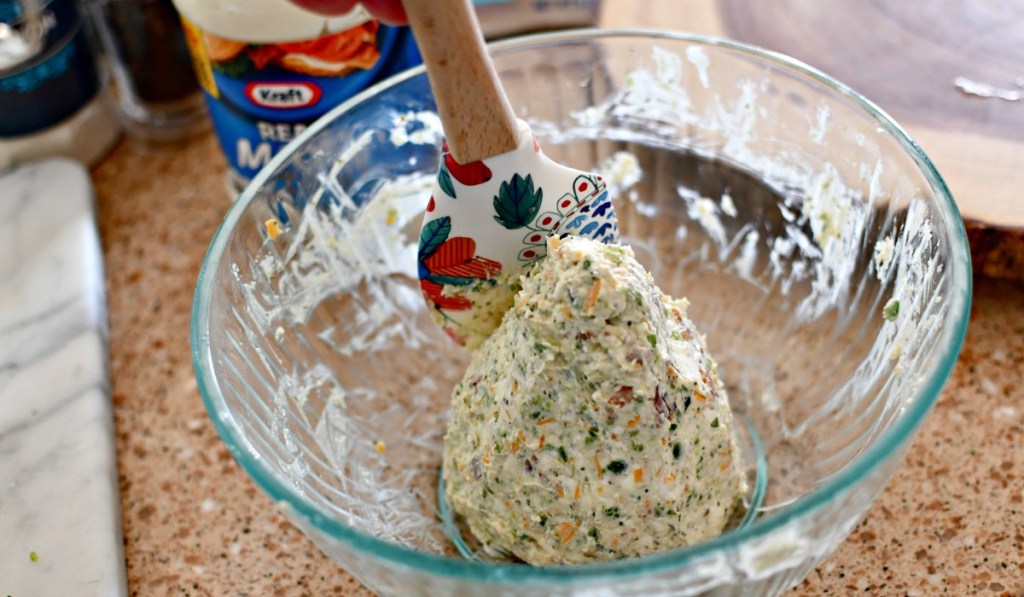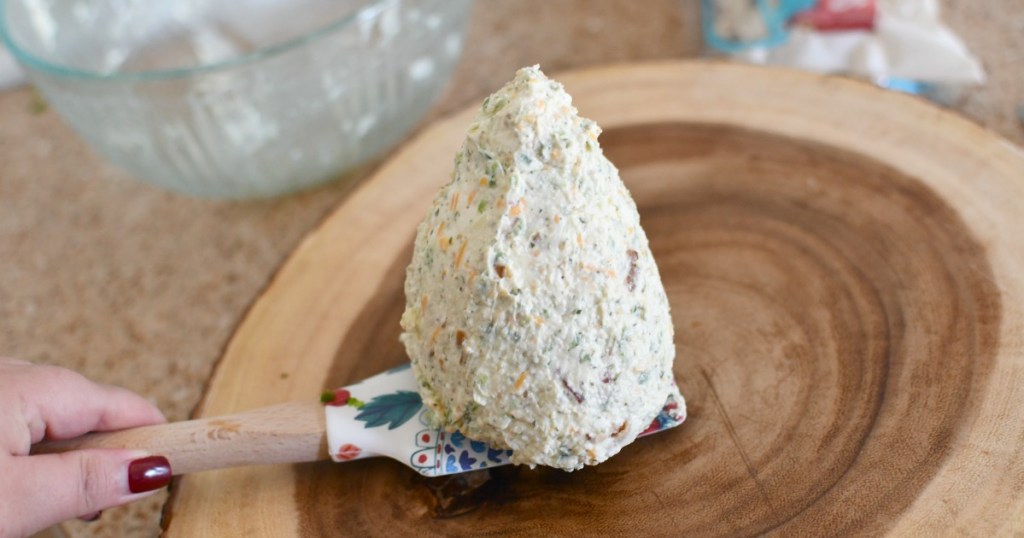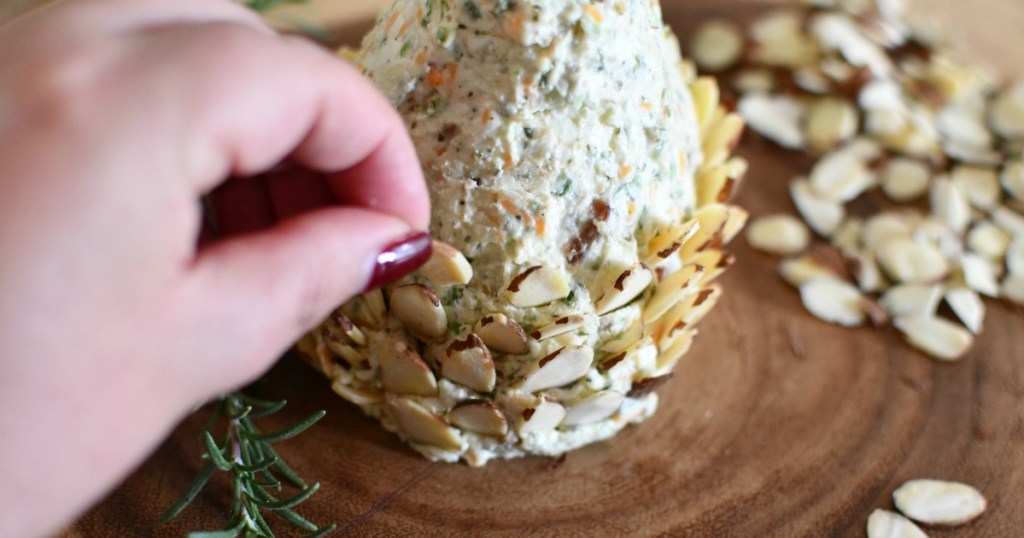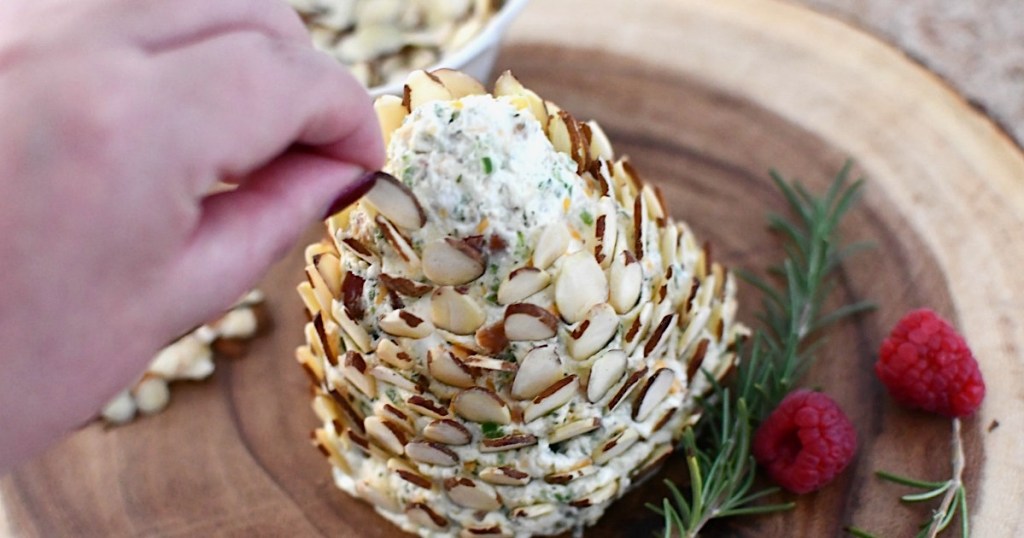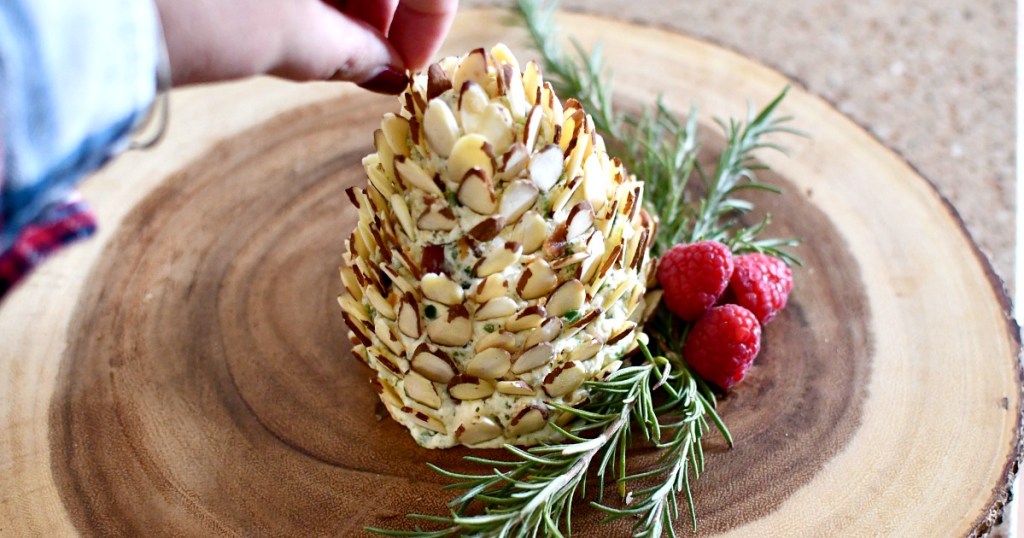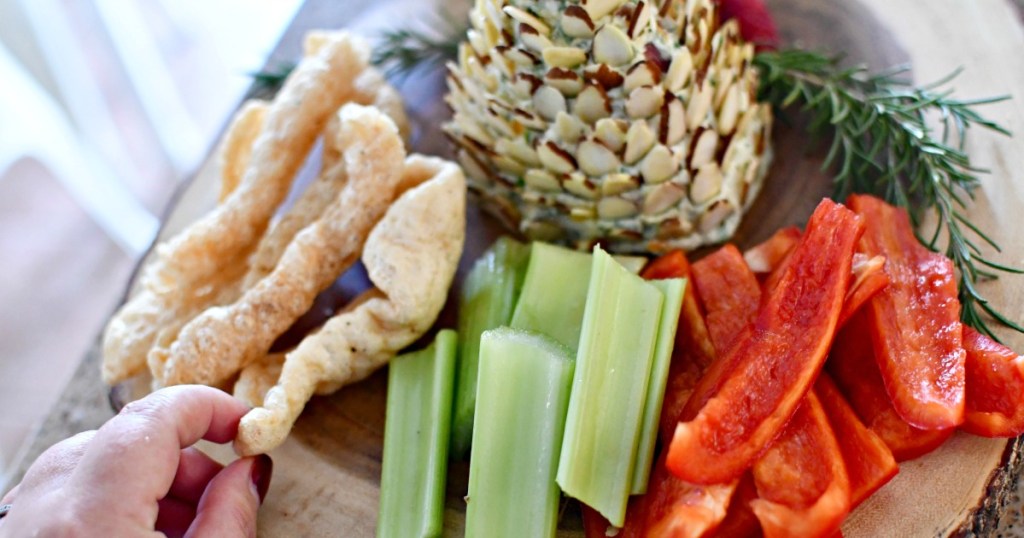 ---
Print
Pine Cone Cheese Ball Appetizer
yield: 16 SERVINGS
prep time: 20 MINUTES
total time: 20 MINUTES
A beautiful way to serve a keto cheese ball by decorating the outside with sliced almonds to resemble a pinecone.
Ingredients
8 oz. cream cheese, softened
1/4 cup real mayonnaise
1 jalapeño, minced
1/2 cup sharp shredded cheddar cheese
4 slices of bacon, cooked & crumbled
1 garlic clove, minced
1 teaspoon dried parsley flakes
1 teaspoon onion powder
1/2 cup sliced almonds
optional garnish: fresh rosemary and berries
Directions
1
Mix the softened cream cheese, mayonnaise, jalapeño, cheddar cheese, bacon, garlic, parsley, and onion powder together until fully incorporated.
2
Use the back of a batter spoon to form a pine cone shape in the bowl. Chill in the fridge for 15-20 minutes.
3
Transfer the cheese ball to a platter. Add the almonds to the sides starting at the bottom. If the cheese is now too firm, let it hang out on the counter for a few minutes, or the almonds may break when pressed into the cheese.
4
Garnish with rosemary and a couple of berries if desired for presentation. Serve with keto-friendly dippers. Enjoy!
Nutrition Information
Yield: 2 cups, Serving Size: 2 tablespoons
Amount Per Serving: 104 Calories | 9.9g Fat | 1.2g Total Carbs | 0.5g Fiber | 0.4g Sugar | 2.9g Protein | 0.8g Net Carbs
---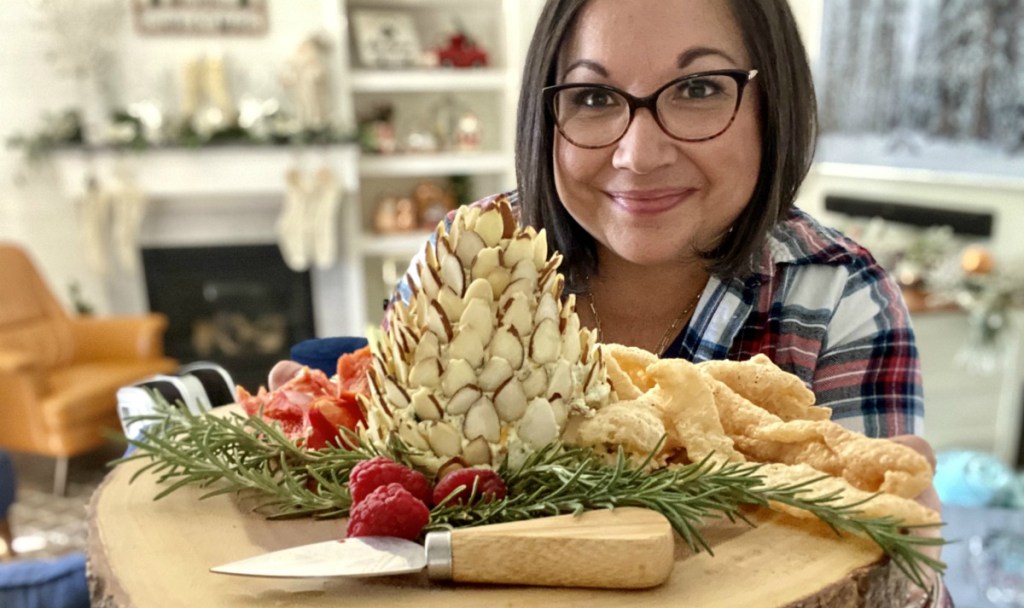 Tips for making the BEST keto pine cone cheese ball:
You can essentially use your favorite cheese ball recipe, however, I love the cream cheese, cheddar, & jalapeño combo here! And bacon… I mean bacon just makes everything delicious!
Make sure your cream cheese is soft so it will be easier to mix everything up. I used the back of a large batter spoon to shape my pine cone right in the bowl, and then let it chill in the fridge for about 15 minutes to firm up. It was easy to transfer to my tray after that to decorate.
When adding your almonds, start from the bottom, and try to insert the round edge of each almond facing down and the pointy side facing out, for a realistic pine cone effect.
I used one jalapeño in this recipe and it gives some nice flavor without making the cheese ball overly spicy since I removed the seeds. I used my manual food chopper to quickly mince it along with a garlic clove — it's one of my most helpful kitchen tools!
If you did not want to make this into a pine cone shape, just shape it into a ball and roll it in the sliced almonds instead. It will be equally delicious!
No one can resist this creamy pinecone-shaped cheese ball!
It's hard to stop once you've started digging into this. My family devoured it so fast! I love that it's easy, full of healthy keto ingredients, and almost too pretty to eat — enjoy!
Here's what my teammate Jenna had to say about this pine cone cheese ball recipe:
"I had a blast making this appetizer! I can't believe how fun and easy this was, and it turned out delicious. I love the flavors and the never-ending opportunities to dip in them. I used sliced peppers and pork rinds and it was amazing!"
---