16 Best Keto Zucchini Recipes | Low-Carb and Delicious!
These keto zucchini recipes give reason to cheer for the sensational squash!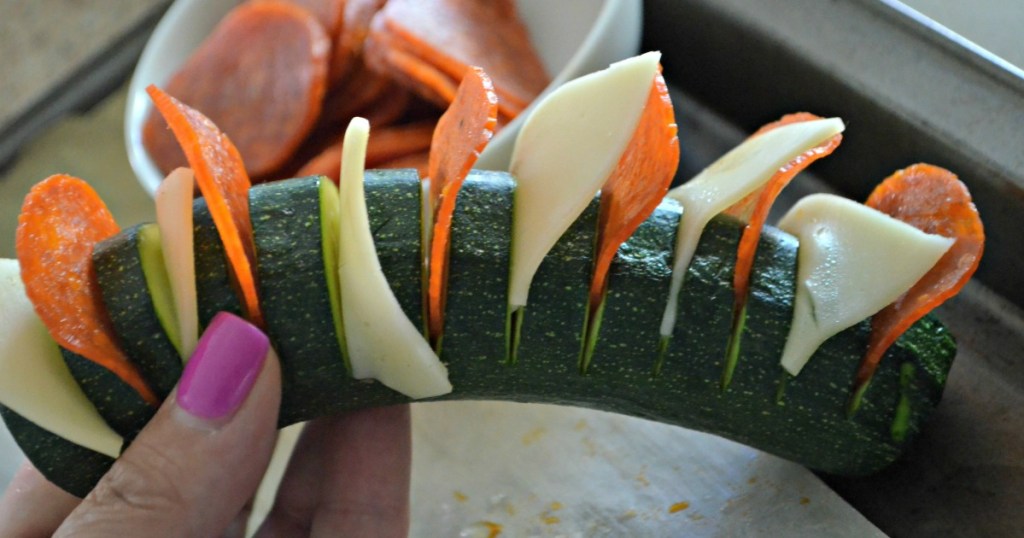 Replace pasta, pizza, potatoes, chips, and more with… zucchini!
Whether you're new to keto or a vet, you know that zucchini is arguably a lifeline when it comes to keto-friendly recipes. It's an excellent replacement for pasta, potatoes, and even chips! Whether you're looking for a hearty dinner or even a sweet dessert, check out all the incredible keto zucchini recipes that are worth celebrating.
---
Here are our favorite keto zucchini recipes:
---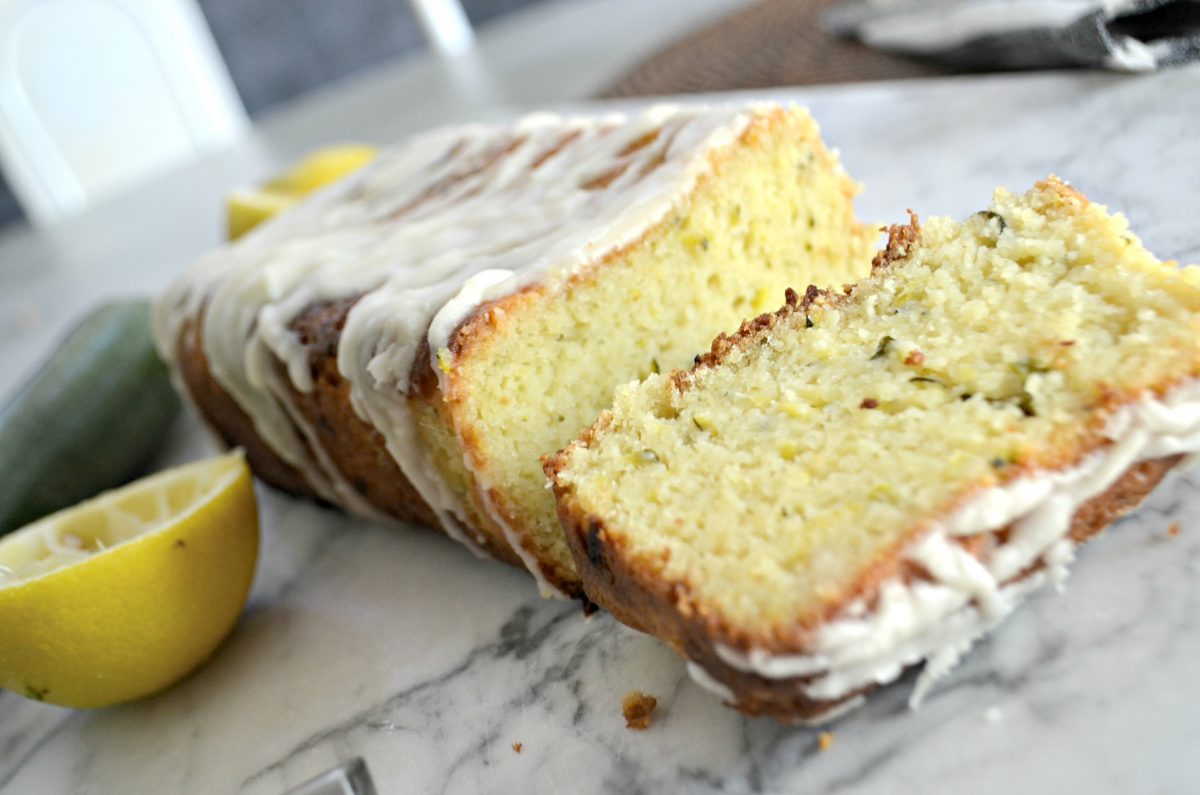 If you're looking to indulge in a sweet treat, enjoy this lemon zucchini bread minus all the sugar and carbs! The combination of lemon and zucchini balances out this dish and makes the perfect zesty treat you deserve.
---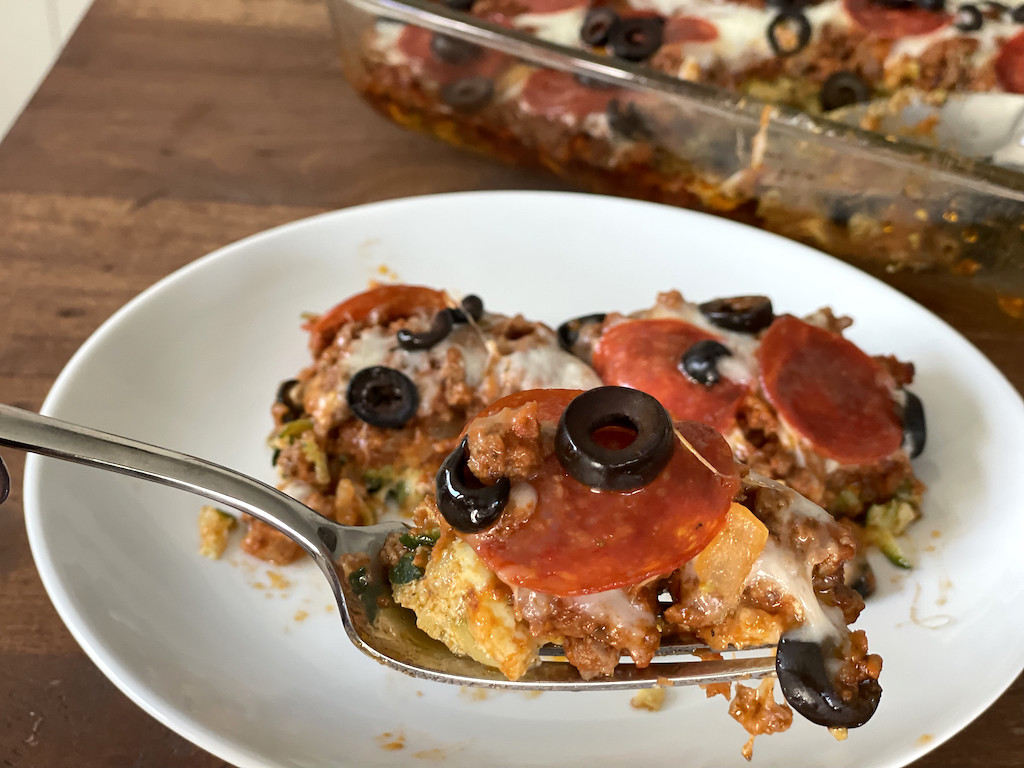 If you're bored with cauliflower crust pizzas, try out this zucchini pizza casserole! The base of this casserole is shredded zucchini, eggs, and cheese topped with your favorite pizza topping classics. This is a big win for a weekday dinner!
---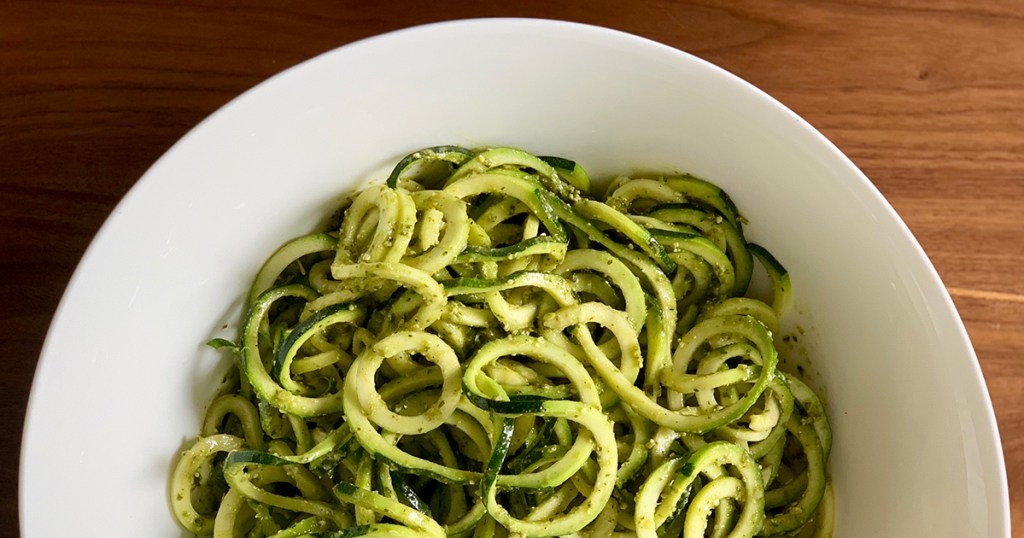 "Zoodles", a.k.a. zucchini noodles, are a staple and base in many keto meals! They're extremely nutritious and a great substitute for pasta dishes. If you don't have the space or aren't ready to invest in a countertop spiralizer, this handheld vegetable spiralizer is the way to go!
---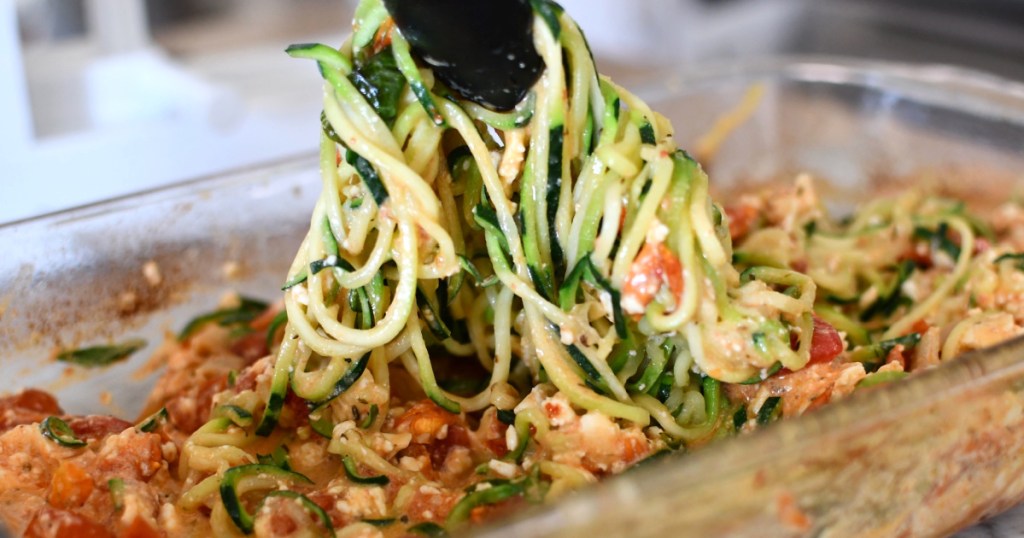 At this point, you've likely seen the viral baked feta pasta recipe on TikTok. We've keto-fied it with some zoodles, and it's too good not to share. 🤤
---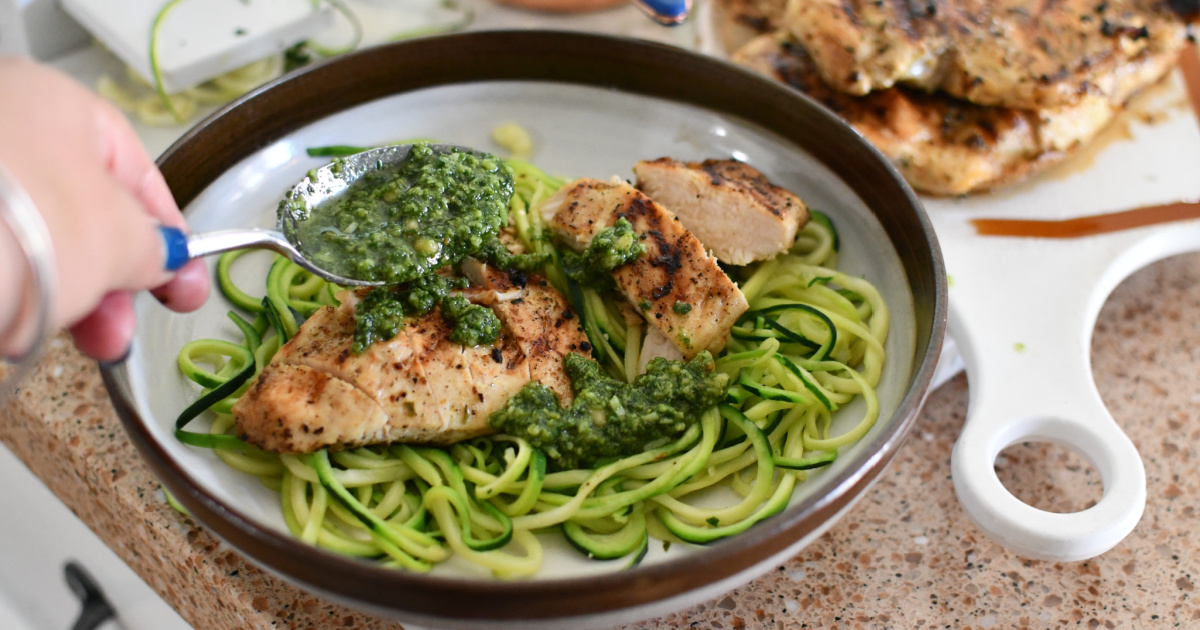 Keeping up with the zoodle base, we've added some chicken and pesto into the mix, and it's oh-so-tasty! Sure, you can use store-bought pesto sauce, but creating it from scratch elevates this meal even more.
---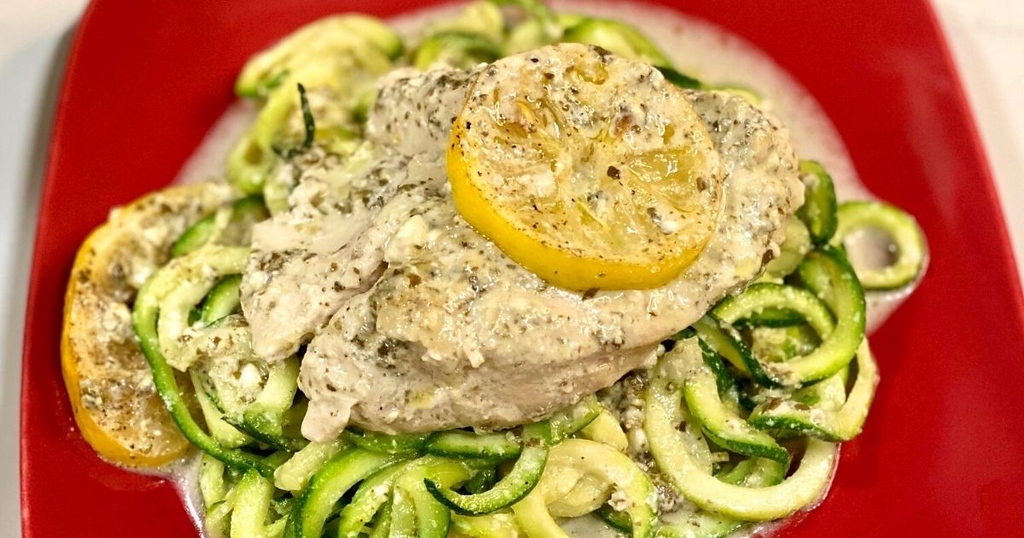 This lemon pesto dish is easy to make and incredible to eat! We made the chicken in a Crockpot and topped it with some zoodles. The flavors complimented each other so well.
---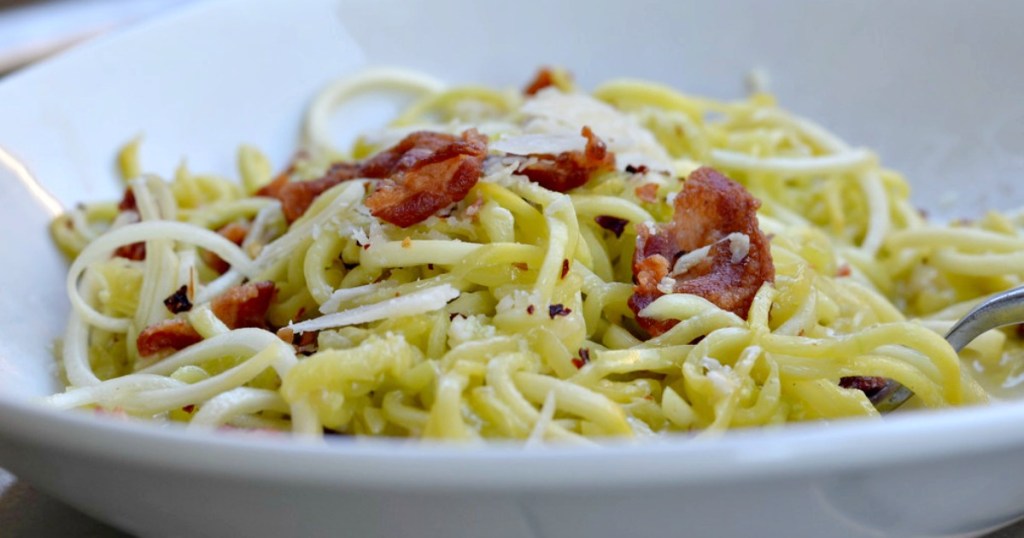 Cacio e Pepe is a pasta favorite for anyone who loves cheese and pepper, and the keto version is just as delicious. It's definitely the simplest zoodles dish we have on this roundup, but the cheese and pepper complement the zucchini noodles so well. We even top it off with some bacon and red pepper flakes to kick it up a notch!
---
No need to mourn fettuccini alfredo because we have zoodle alfredo! Altering this to be keto-approved, this low-carb sauce is creamy, smooth, and flavorful featuring garlic, cheese, seasonings, and butter.
---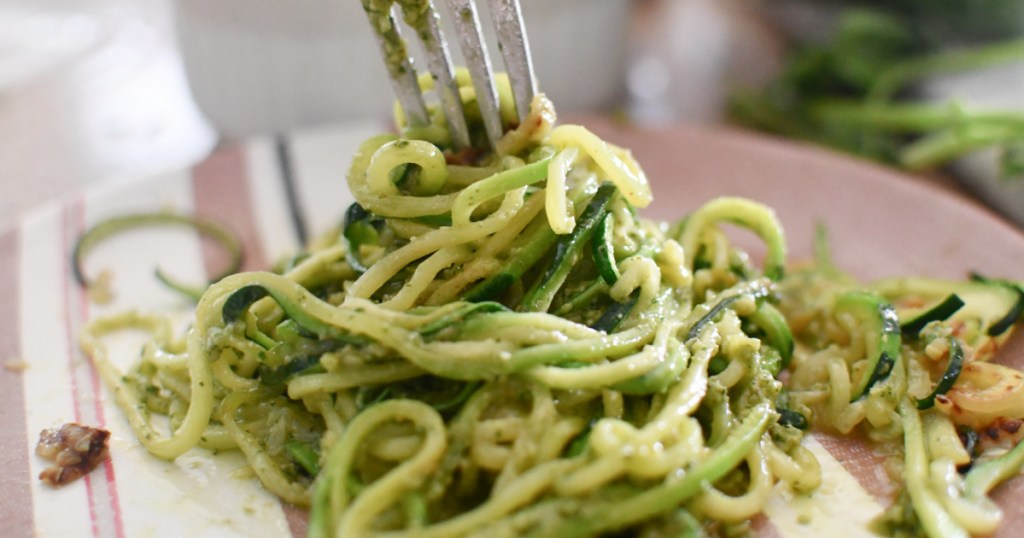 Classic pesto omits avocado, but this avocado pesto sauce is going to fill the hole in your heart you didn't know you had. Pesto sauce with zucchini noodles is already amazing, and the avocado addition takes it to another level.
---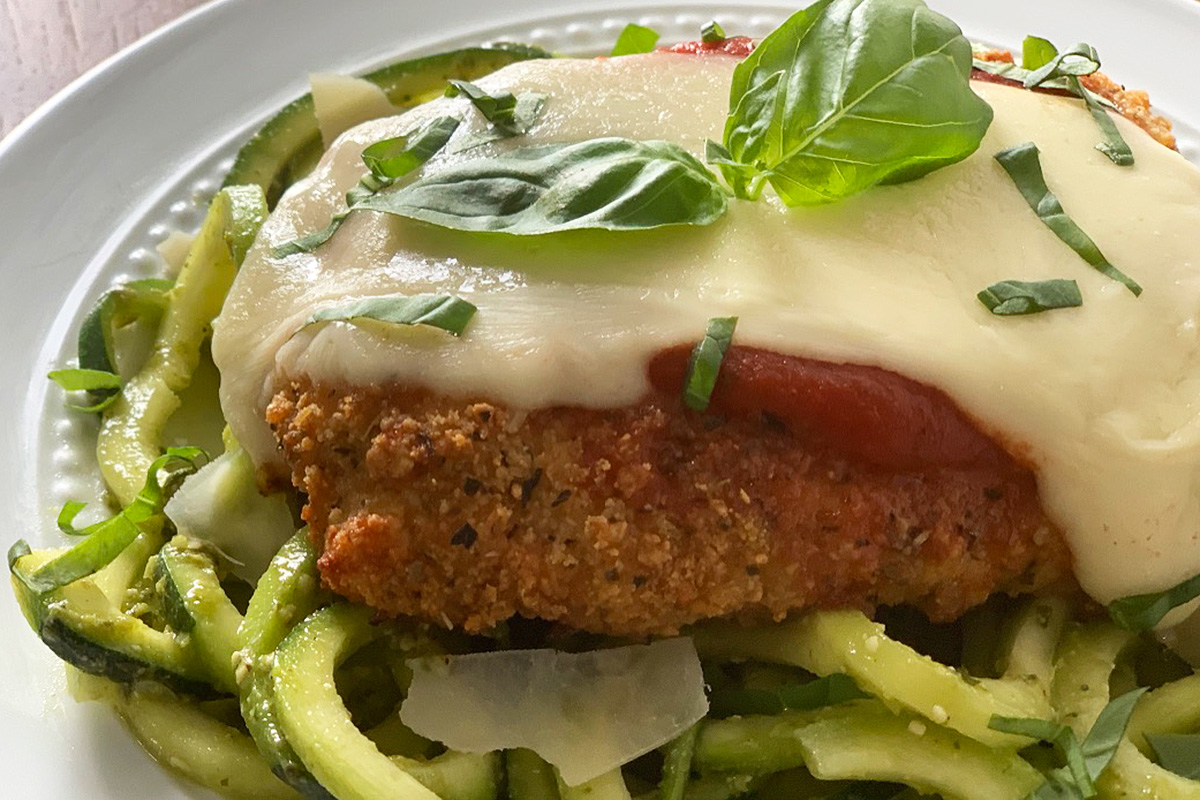 Chicken parmesan may be the pasta dish you crave the most, but we combined it with our trusty pesto zoodles! You can now dig into a hearty meal that contains all your favorite flavors. It's so good that the regular chicken parmesan simply fails in comparison.
---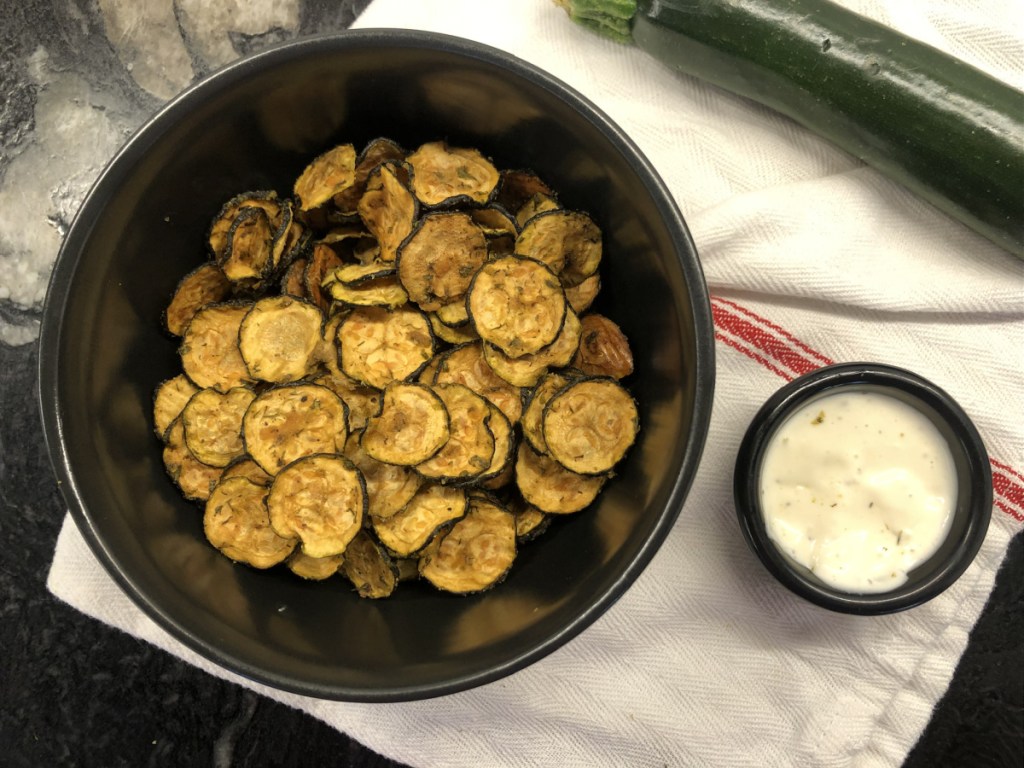 If you're looking for a delicious snack, you have to try these zucchini chips! These are cool ranch and vinegar seasoned and work best with smaller zucchini as they are the most flavorful.
---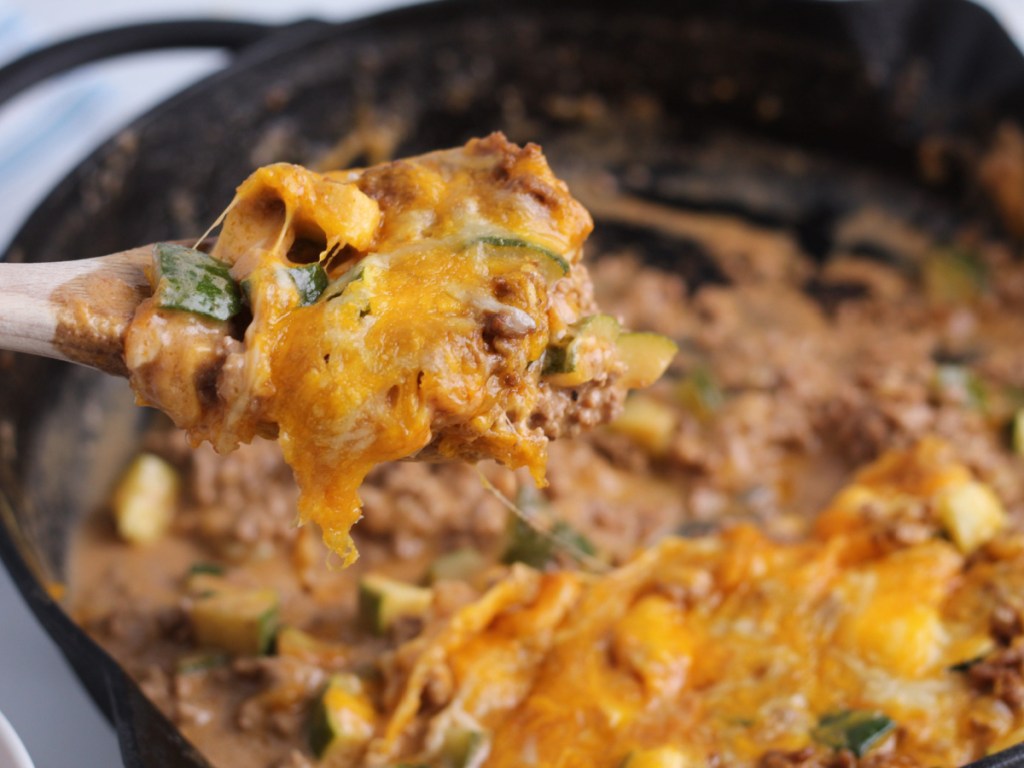 This keto hamburger helper is better than the real thing! Chopped zucchini is mixed with ground beef, cheese, and other seasonings. Having only one serving is going to be next to impossible!
---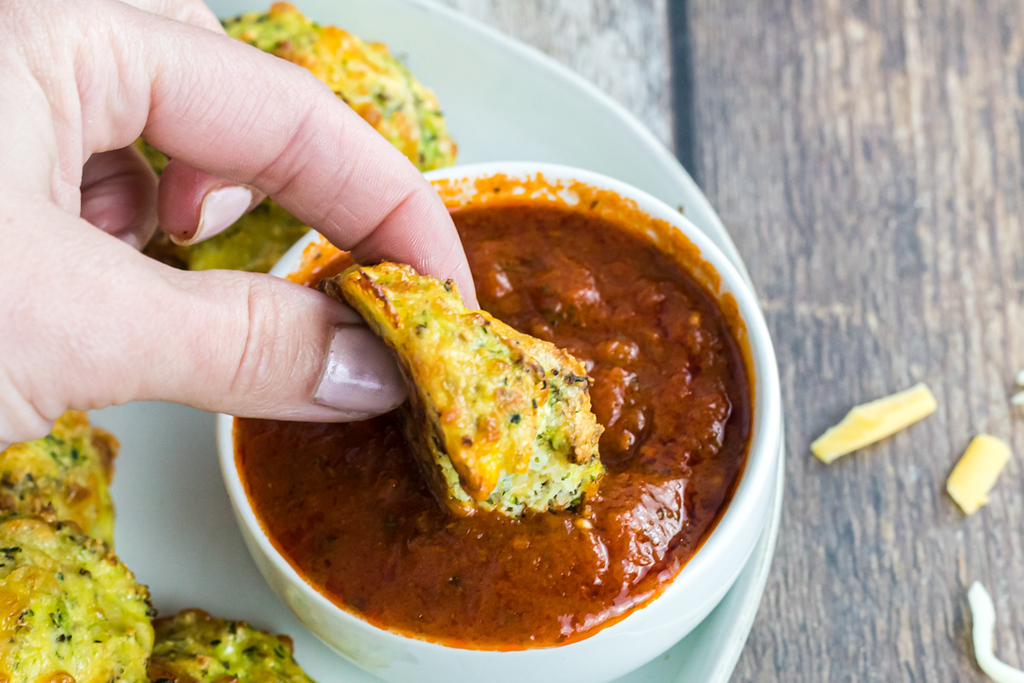 Looking for the perfect side dish? These cheesy zucchini bites are the perfect way to use up any leftover zucchini sitting at just 1g net carb!
---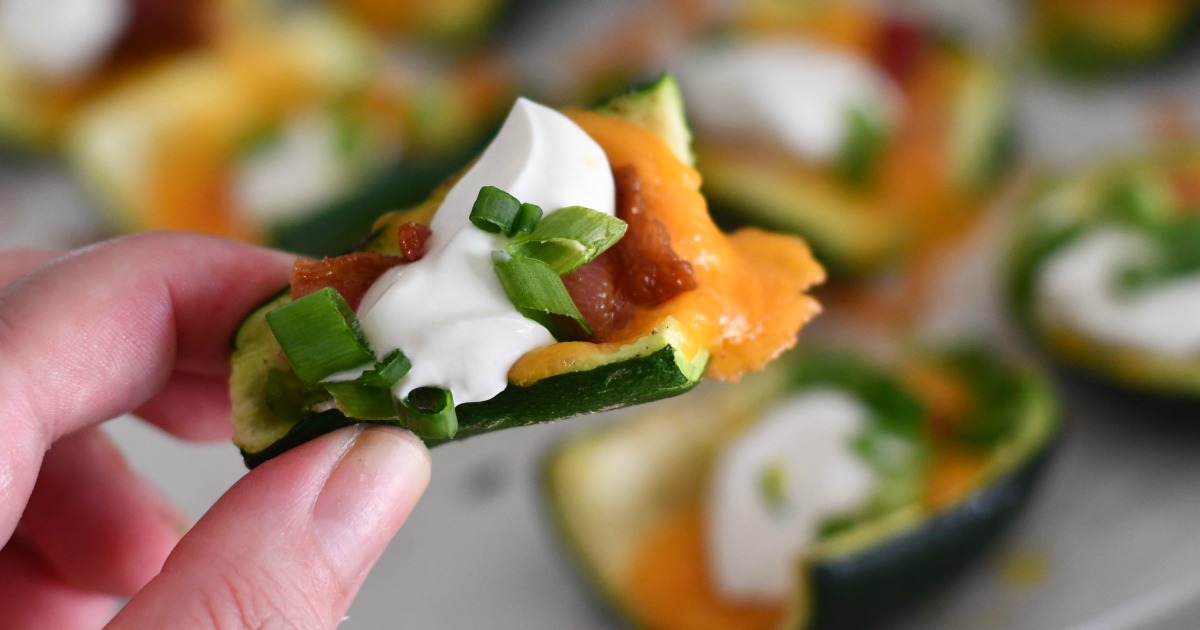 If you're looking to take a different spin on an appetizer, try serving some loaded zucchini skins! It contains the same fillings as your classic baked potatoes, including cheese, bacon, and sour cream.
---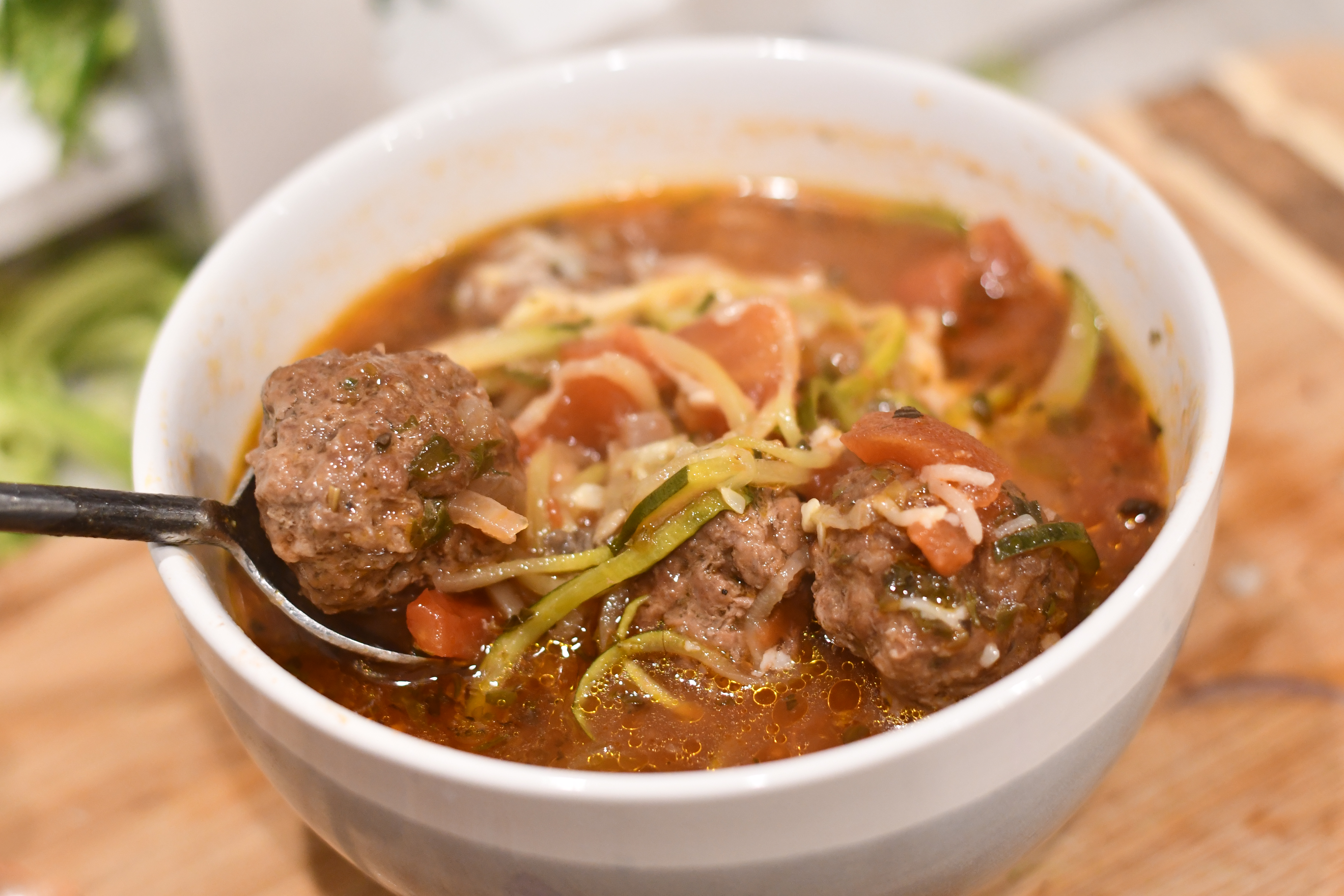 If you're looking for a hearty soup, this keto Italian meatball soup will warm you up in no time! In addition to the hearty meatballs, this soup features zoodles and other veggies including celery, mushrooms, onions, and tomatoes.
---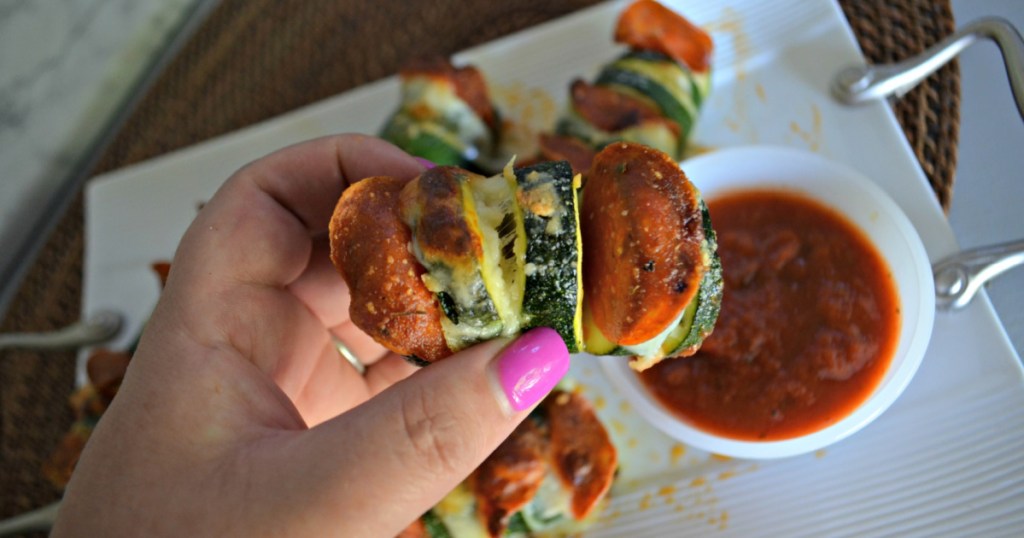 Who needs pizza crust, or even the traditional "slice" at all?! This baked Hasselback-style pizza-stuffed zucchini tastes even better when dipped into no-sugar marinara sauce.
---
Drooling for more? Here's our entire collection of mouth-watering keto recipes!