Get Your Crunch on with Cool Ranch Flavored Keto Zucchini Chips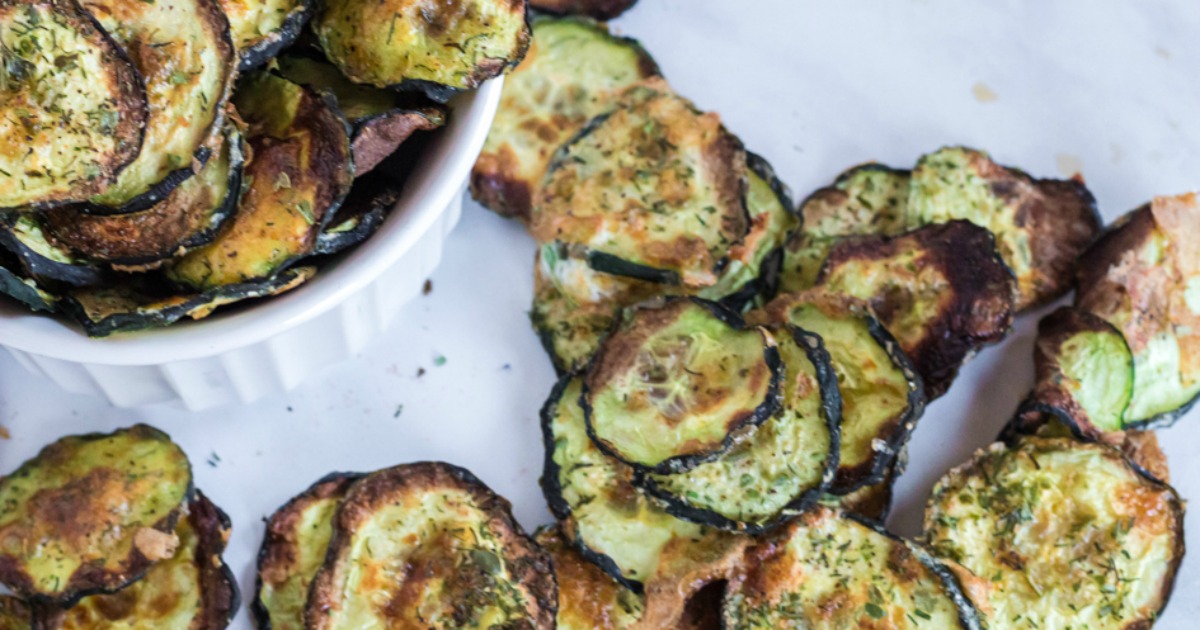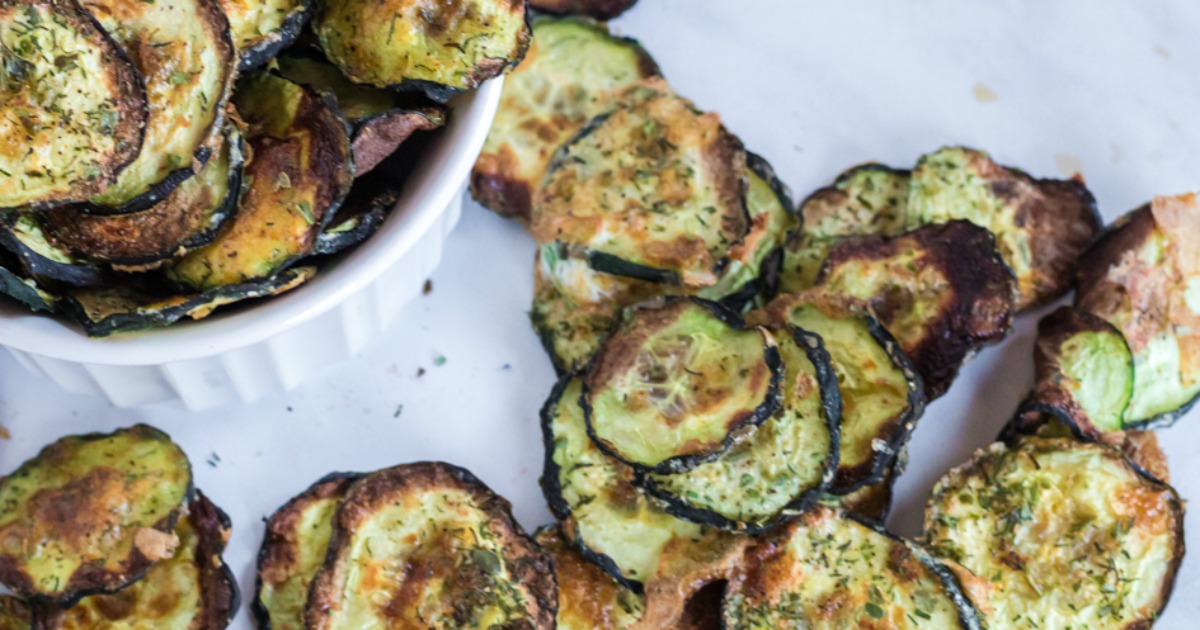 Missing chips since you've gone keto?
Today we're sharing a healthy keto snack that's filled with savory flavors and still has that much-needed crunch you've been craving! Don't give in and reach for that potato chip bag as these simple cool ranch keto zucchini chips will hit the spot!
Zucchini is the one vegetable I recommend always having on hand. It's so versatile – you can use it for breakfast, lunch, dinner, side dishes, desserts, and NOW snacks. It's a must-have that's even kiddo-approved!
Hip tips for making the best cool ranch keto zucchini chips:
Want to speed up the process? Use your air-fryer! Cook the zucchini chips in the air fryer for 5 minutes at 380 degrees then flip the chips and cook for an additional 5 minutes. I like to put a small wire rack on top of my chips if I cook them in the air fryer, it keeps them from flying around (this also works when cooking bacon too). I use the one that came with my Instant Pot but you can also grab one from Amazon, just be sure to get the right size for your air fryer.
After slicing your raw zucchini into thin slices, place your chips on a paper towel and sprinkle with salt for 15 minutes to extract any moisture they may still have (this will be key to get your crispiest chip).
Smaller zucchinis have more flavor! Stick to smaller ones when buying per pound at the grocery store so you can get the best taste while also getting the most bang for your buck.
Don't be afraid to change up the recipe and add your favorite spices or seasonings to give them an extra kick! I even like to sprinkle a little parmesan on mine after I pull them out of the oven. I'm thinking our homemade keto taco seasoning might even be good to use for a yummy batch of Mexican-style flavored zucchini chips!
These keto zucchini chips are best when they're fresh, so be sure to eat them before they go soggy after a few days.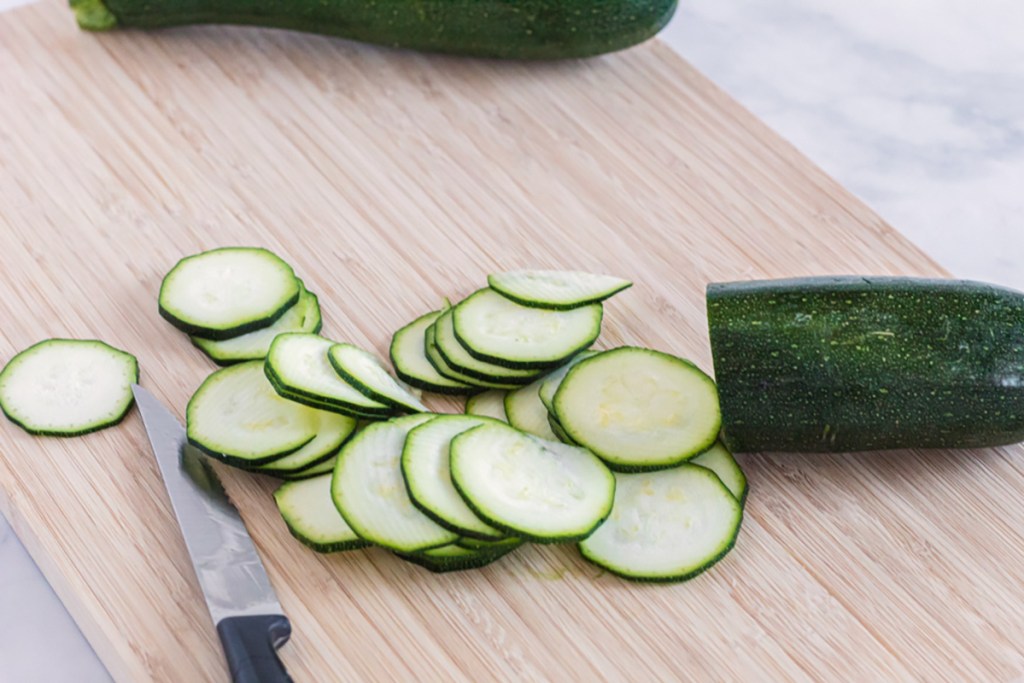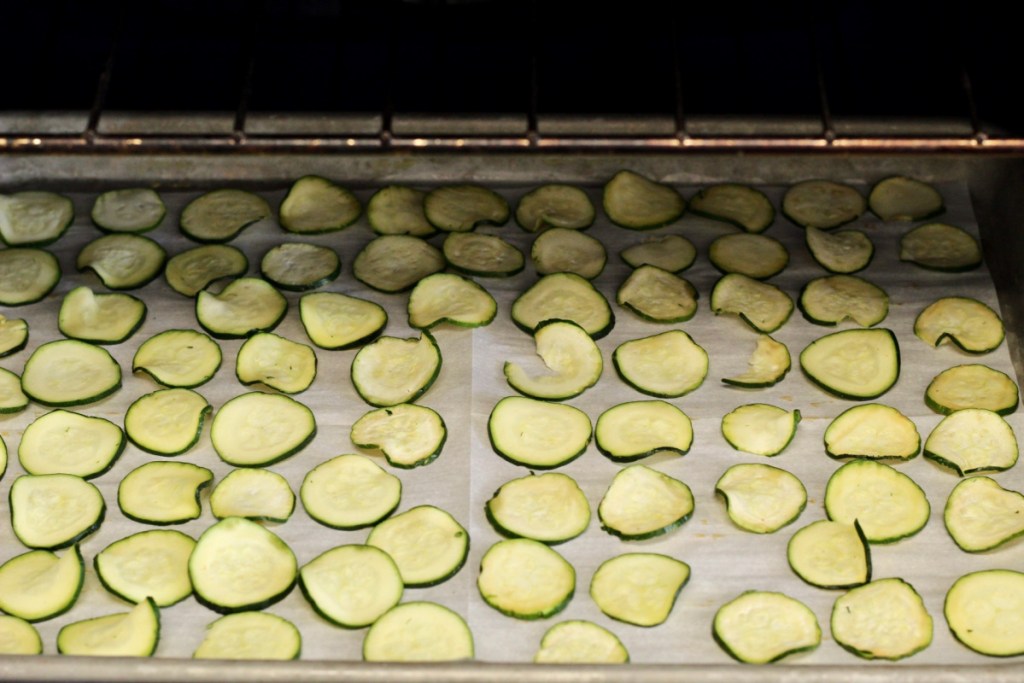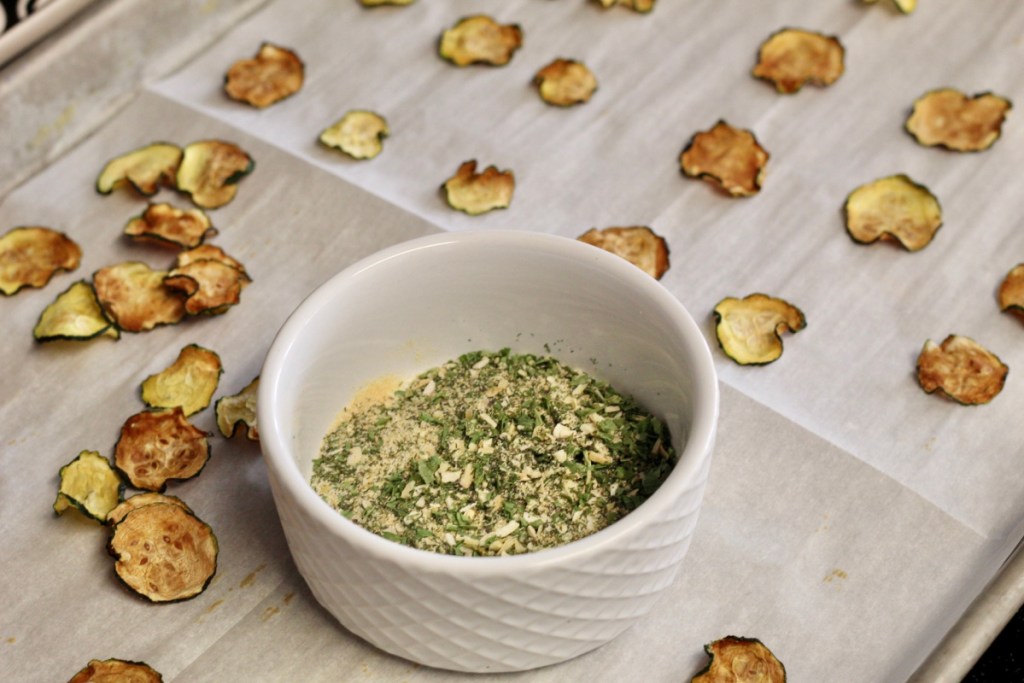 ---
Print
Cool Ranch Flavored Keto Zucchini Chips
yield: 2 SERVINGS
prep time: 20 MINUTES
cook time: 15 MINUTES
total time: 35 MINUTES
Savory, easy, irresistible, and low-carb cool ranch keto zucchini chips!
Ingredients
2 small/medium size zucchini (6"-8")
1/2 teaspoon salt
1/2 teaspoon pepper
2 teaspoon dill
1 teaspoon parsley
1 teaspoon minced onion flakes
1/2 teaspoon onion powder
1/2 teaspoon garlic powder
Directions
1
Slice zucchini very thin. You can use a knife or if you have a mandolin slicer you can use that as well.
2
Place your slices onto a paper towel, sprinkle with salt, and let them sit for 15 minutes. This will soak up any excess liquids. Pat down any liquids that have risen to the top.
3
In a small bowl, mix pepper, dill, parsley, minced onion flakes, onion powder, and garlic powder.
4
Sprinkle seasoning mixture on top of chips before placing in the oven.
5
Place zucchini slices on a lined parchment baking sheet. Place baking sheet in the oven at 200 degrees for 2 hours.
6
Remove chips and enjoy!
7
Best if enjoyed the same day.
Nutrition Information
Yield: 40 chips, Serving Size: 20 chips
Amount Per Serving: 76.6 Calories | 3.3g Fat | 7.2g Total Carbs | 2.3g Fiber | 0g Sugar | 0.1g Sugar Alcohol | 5.8g Protein | 4.8g Net Carbs
---
I made these as a low carb snack for myself, but the kids ended up loving them and asked for more. Be sure to make enough for the whole family! Plus, you can enjoy these chips with one of our delicious keto-friendly dips such as pimento cheese, spinach, queso, or warm and gooey bacon and cheese dip. Enjoy!
---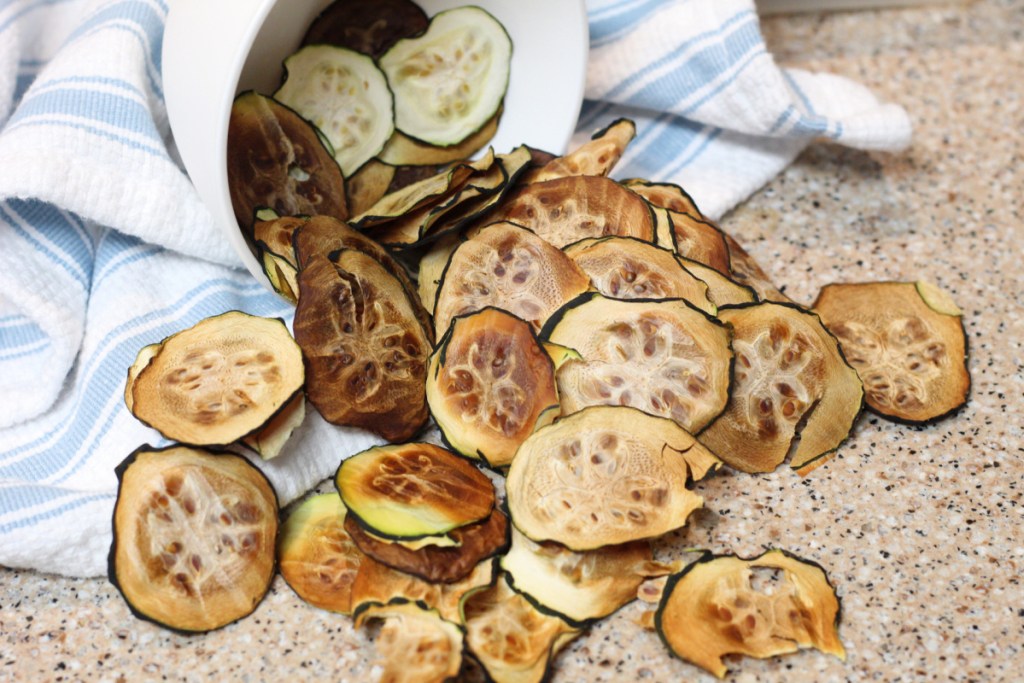 Love chips and dip? Try this easy keto ranch dressing recipe!