Easy Keto Zucchini Chips With Ranch (Low-Carb Potato Chip Alternative)
These keto zucchini chips are savory, easy, irresistible, and low-carb!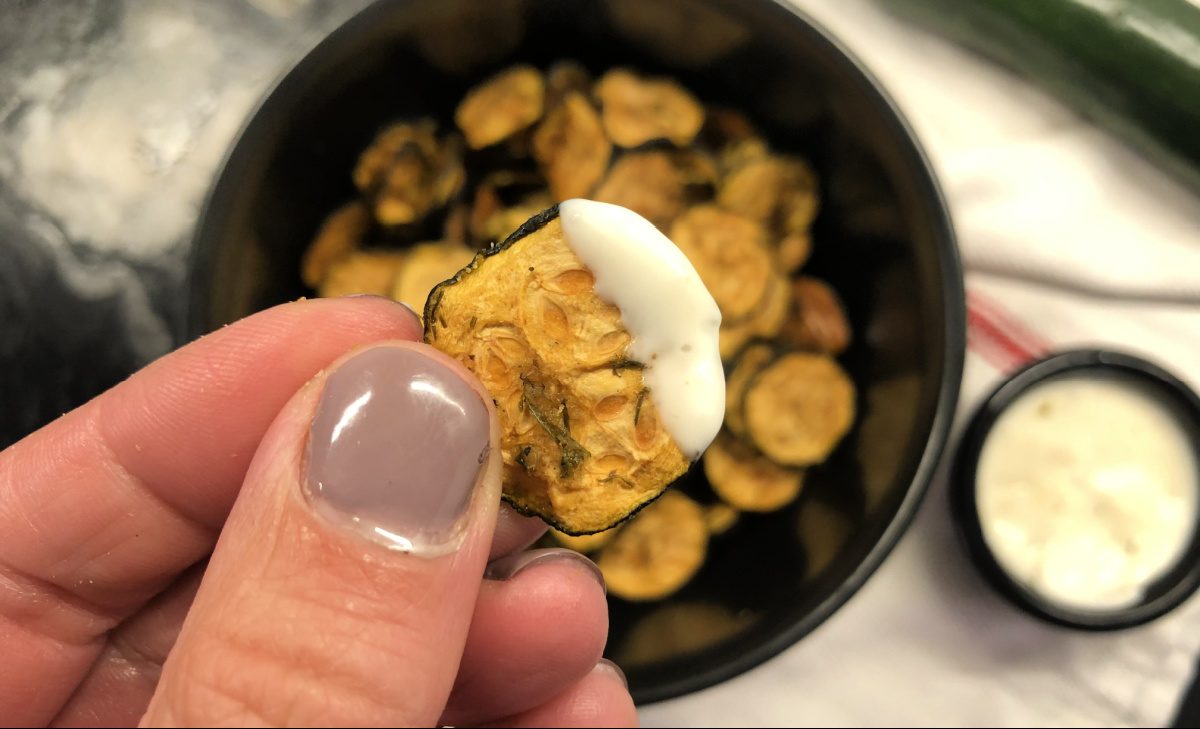 Missing chips on keto? You'll love these keto zucchini chips!
We're sharing the best recipe for a healthy keto snack filled with savory flavors and that much-needed crunch you've been craving. Don't give in and reach for those potato chips as these simple cool ranch and vinegar keto zucchini chips will hit the spot!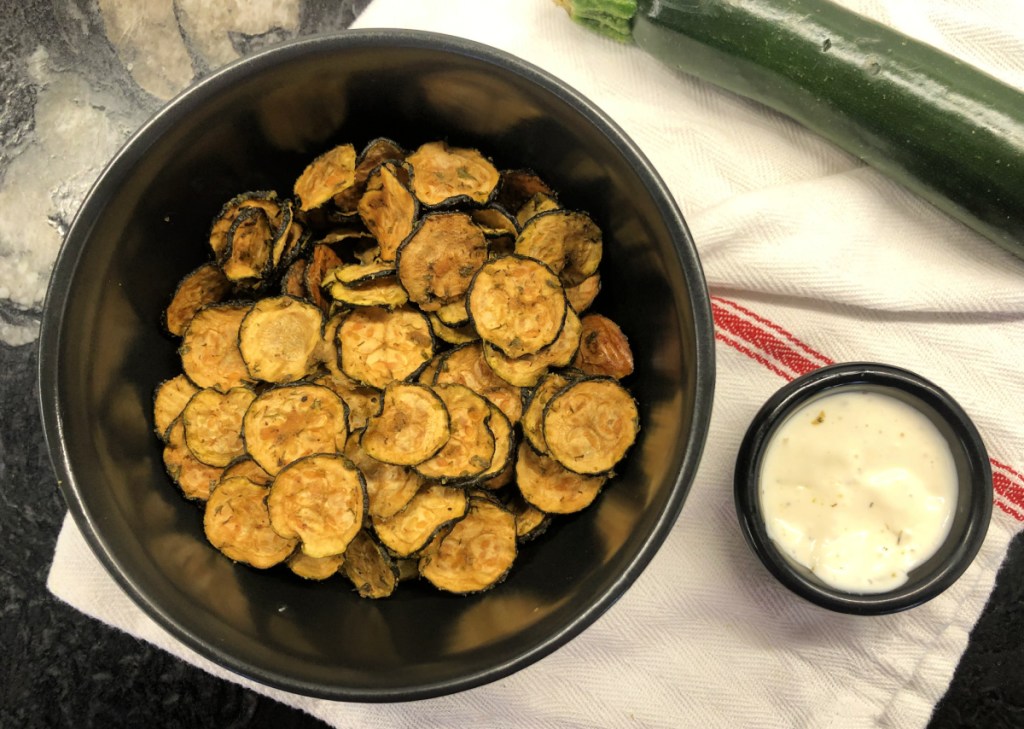 Want to speed up the process? Here's how to make zucchini chips in the air fryer.
These chips do take several hours to bake in the oven. To speed up the process, here's how to make zucchini chips in the air fryer! Cook them for 5 minutes at 380 degrees, and then flip the chips and cook for an additional 5 minutes.
Put a small wire rack on top of the chips to keep them from flying around in the air fryer (this also works when cooking bacon). You can grab a wire rack from Amazon if you don't have one, just be sure to get the right size for your air fryer.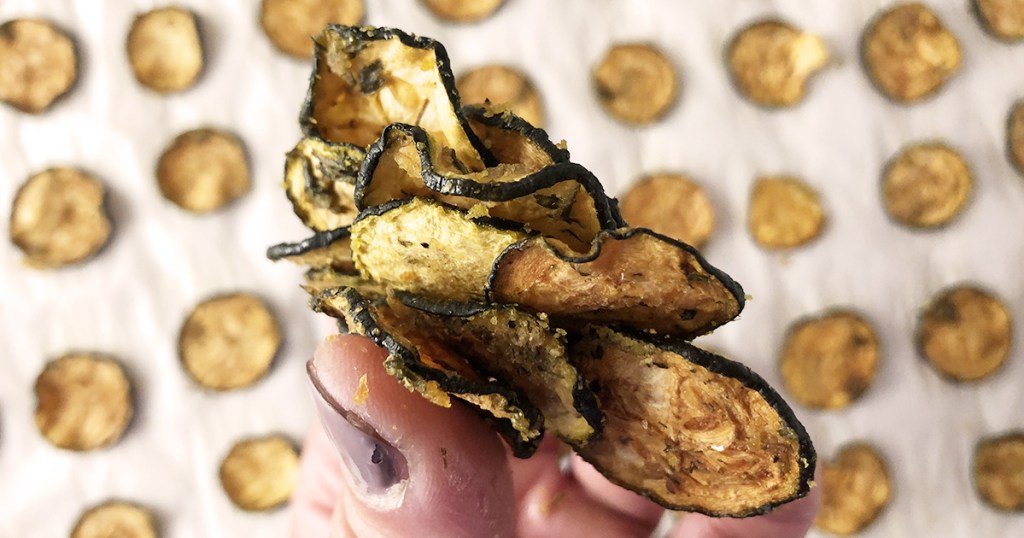 Hip tips for making the best cool ranch & vinegar keto zucchini chips:
Smaller zucchinis have more flavor! Stick to smaller ones when buying per pound at the grocery store so you can get the best taste while also getting the most bang for your buck.
Don't be afraid to change up the recipe and add your favorite spices or seasonings to give them an extra kick! Try sprinkling on a little grated parmesan after you pull them out of the oven. Our homemade keto taco seasoning might even be good to use for a yummy batch of Mexican-style flavored zucchini chips!
Watch the chips pretty closely while they're baking as they can get overcooked quickly.
These keto zucchini chips are best when they're fresh, so be sure to eat them within a day or two before they get soggy.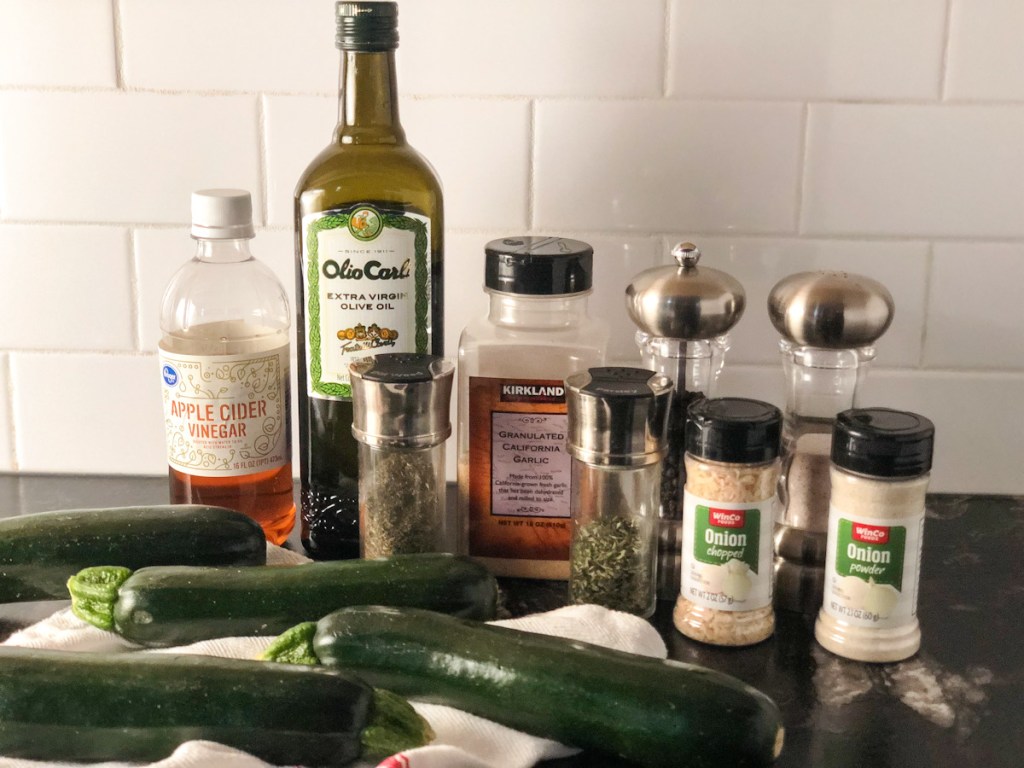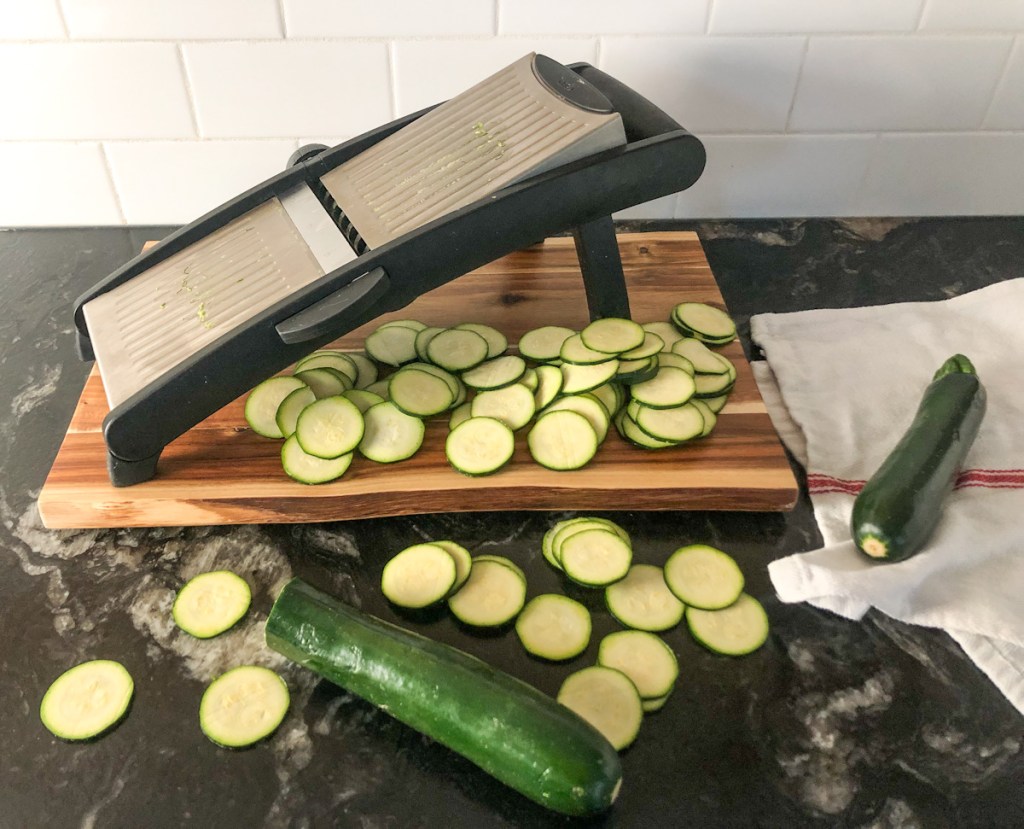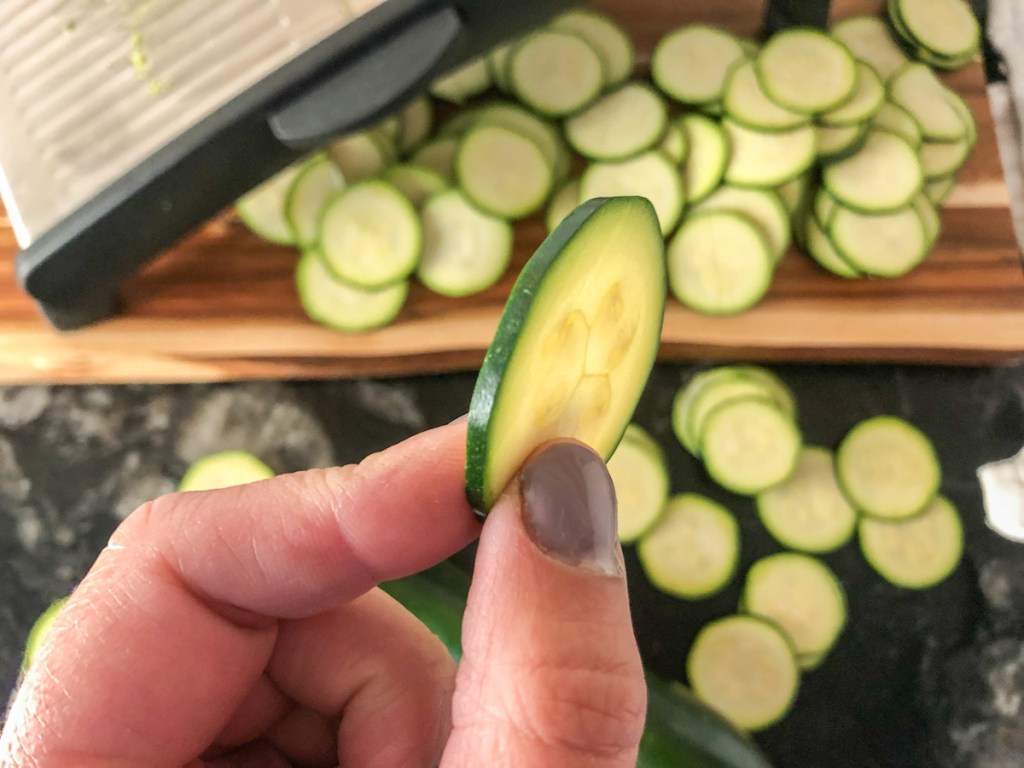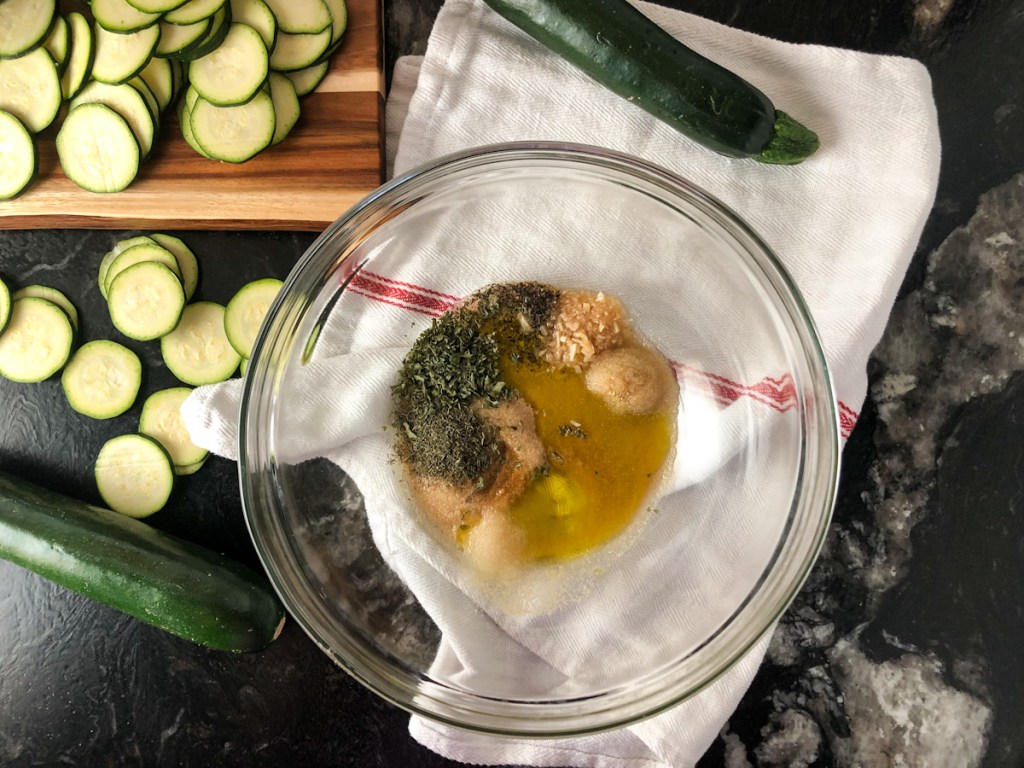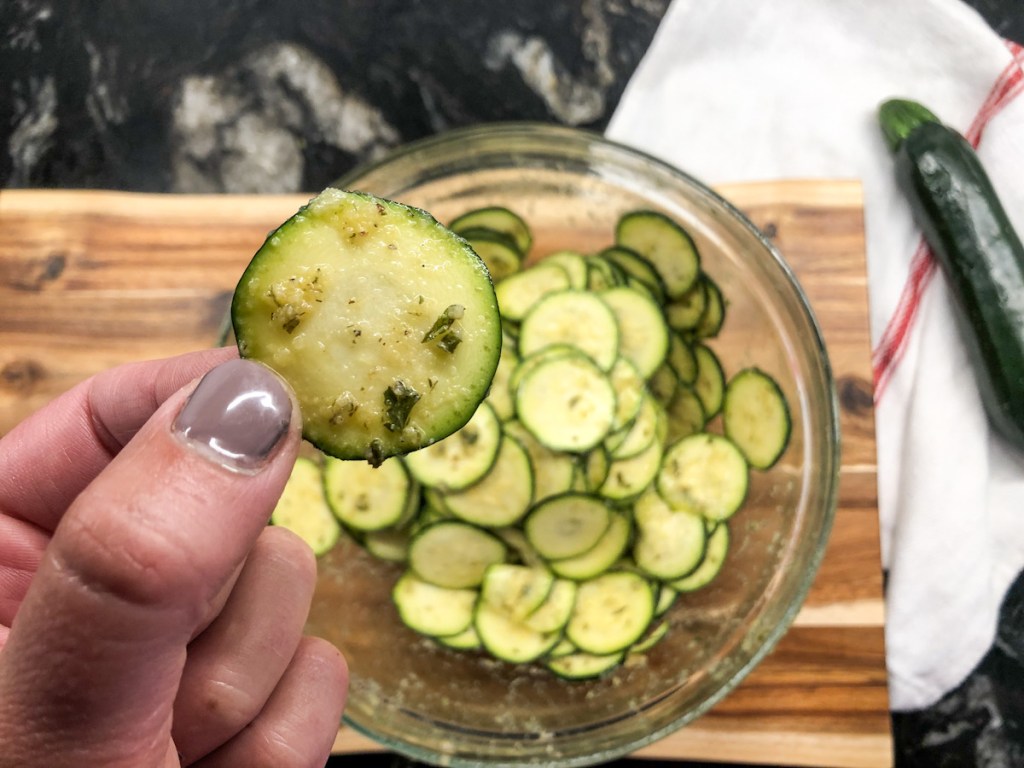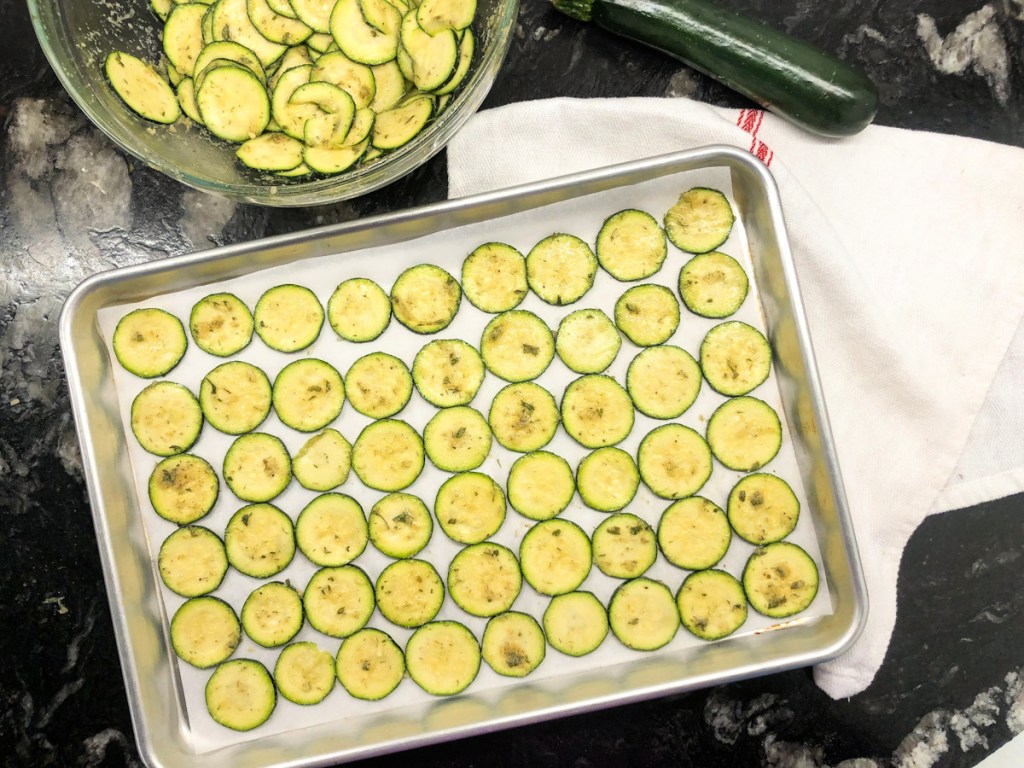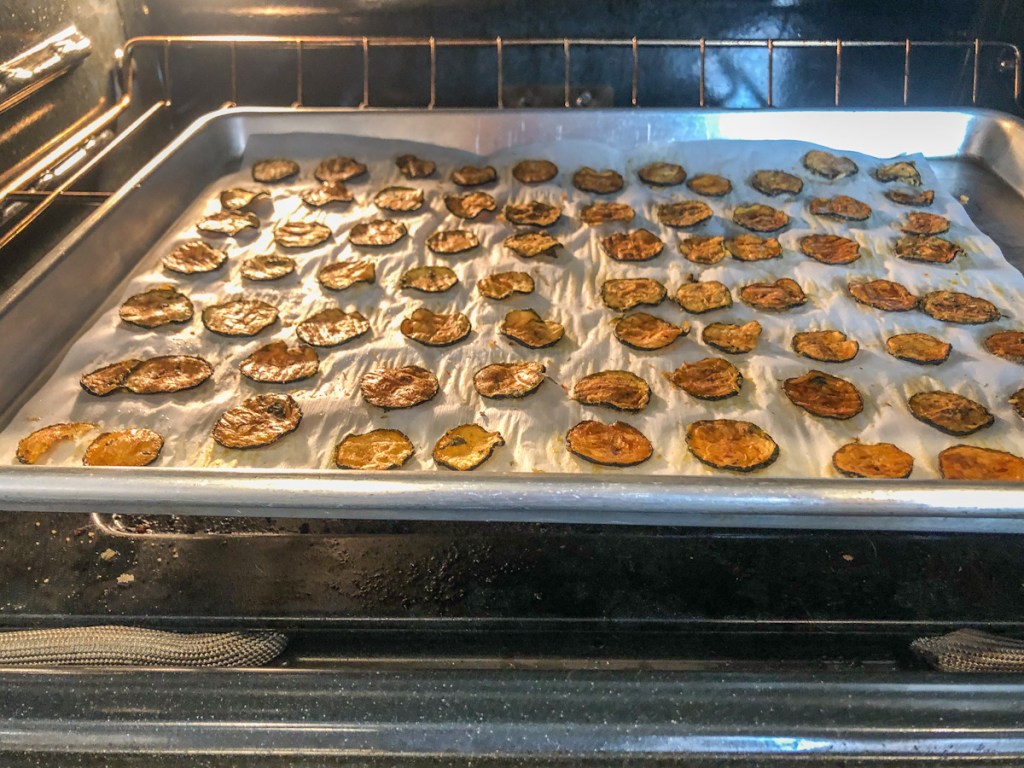 ---
Print
Keto Zucchini Chips
yield: 3 SERVINGS
prep time: 20 MINUTES
cook time: 4 HOURS
total time: 4 HOURS 20 MINUTES
Savory, easy, irresistible, and low-carb cool ranch and vinegar keto zucchini chips!
Ingredients
3 small/medium size zucchini (6 to 8 inches)
1/4 cup apple cider vinegar
2 tablespoons olive oil
1 tablespoon garlic powder
1 teaspoon salt
1/2 teaspoon pepper
1/2 teaspoon dried dill
1 teaspoon dried parsley
1 teaspoon minced onion flakes
1 teaspoon onion powder
Directions
1
Preheat oven to 200 degrees. Line baking sheets with parchment paper. You'll likely need two to three large baking sheets.
2
Slice zucchini very thin, about 1/8 inch. You can use a knife or a mandolin slicer works great.
3
In a large bowl, mix together apple cider vinegar, olive oil, garlic powder, salt, pepper, dill, parsley, onion flakes, and onion powder.
4
Add the sliced zucchini to the oil, vinegar, and seasoning mixture. Toss well to fully coat the zucchini slices.
5
Place zucchini slices in a single layer on baking sheets lined with parchment paper.
6
Bake for 4 to 5 hours, depending on your oven. Check the zucchini chips every hour or so, and flip them over after two hours. The chips are done when golden brown and crispy.
7
The zucchini chips are best enjoyed fresh!
Nutrition Information
Yield: 60 chips, Serving Size: 20 chips
Amount Per Serving: 87 Calories | 7.1g Fat | 5g Total Carbs | 1.2g Fiber | 1.7g Sugar | 1.4g Protein | 3.7g Net Carbs
---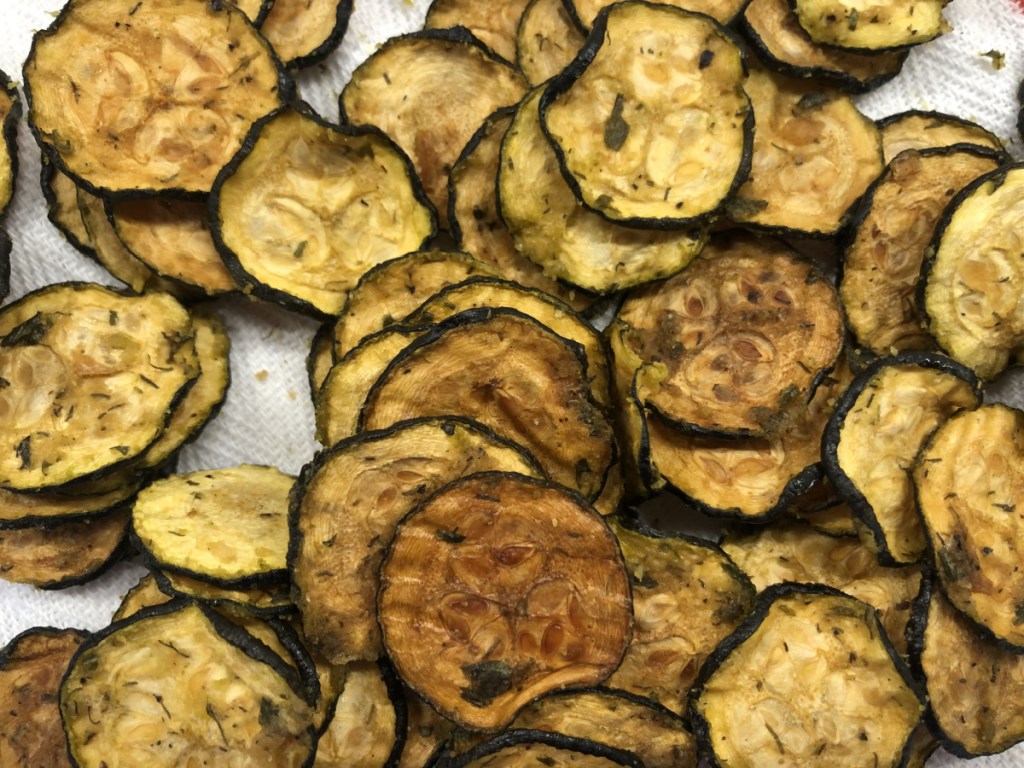 Try not to eat all these keto zucchini chips at once!
Bet these keto zucchini chips don't even last a day! They make a great low-carb snack and actually could even be a side dish with dinner… just be sure to make enough for the whole family!
You can enjoy these chips with our delicious keto-friendly dips such as our dill dip, pimento cheese dip, spinach dip, queso, or warm and gooey bacon and cheese dip. Yum!
My Hip sidekick Jenna gave this recipe a try and here's what she thought:
"These are so flavorful and way better than any other chip snack. My favorite flavor of potato chips is Salt & Vinegar and these blow those out of the water! Make sure you slice them uniformly and thin enough so they get crispy – and when they do, they are awesome. 🙌 I will definitely make these again for my family!"
---
Love chips and dip? Try this easy keto ranch dressing recipe to go with your zucchini chips!