This Keto Bacon Cacio e Pepe is So Simple!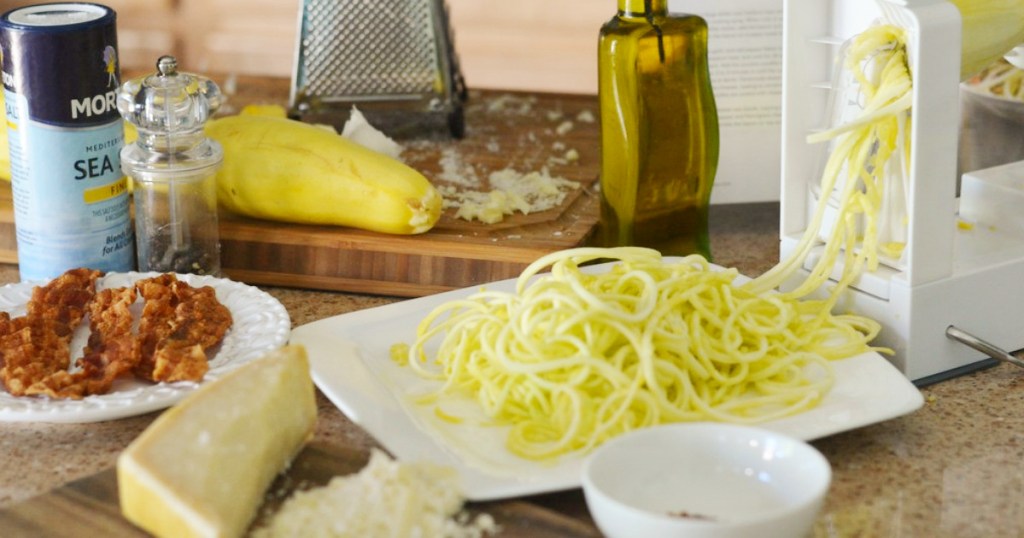 I love easy one-skillet dinners!
This keto bacon Cacio e Pepe is a super simple and tasty Italian classic that means "cheese and pepper" in English. This keto bacon version is delicious – and replacing traditional noodles with spiralized veggies is both healthy and yummy. Enjoy!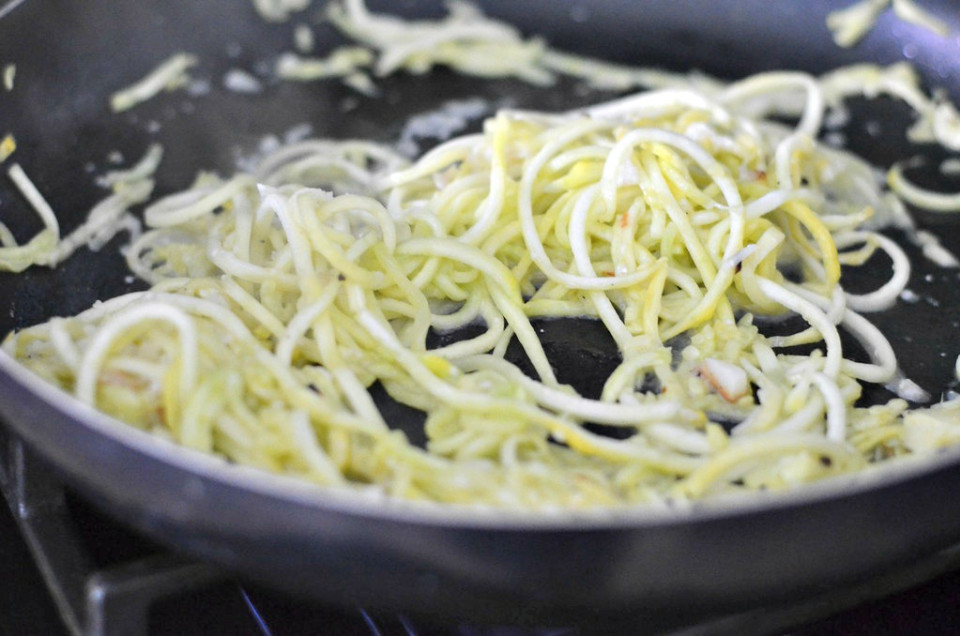 Hip Tips:
The best way to make squash and zucchini noodles is by using a spiralizer, and I think it's fun to do! There's lots of spiralizers on Amazon to choose from if you don't have one. We love this highly-rated OXO spiralizer, as it's easy to use right out of the box, and cleans up easily.
In a pinch, look for bags of zucchini that are already spiralized, at your grocery store!
Salt brings out moisture in squash and zucchini when cooking, so add a touch of salt if desired, after cooking to avoid soggy texture.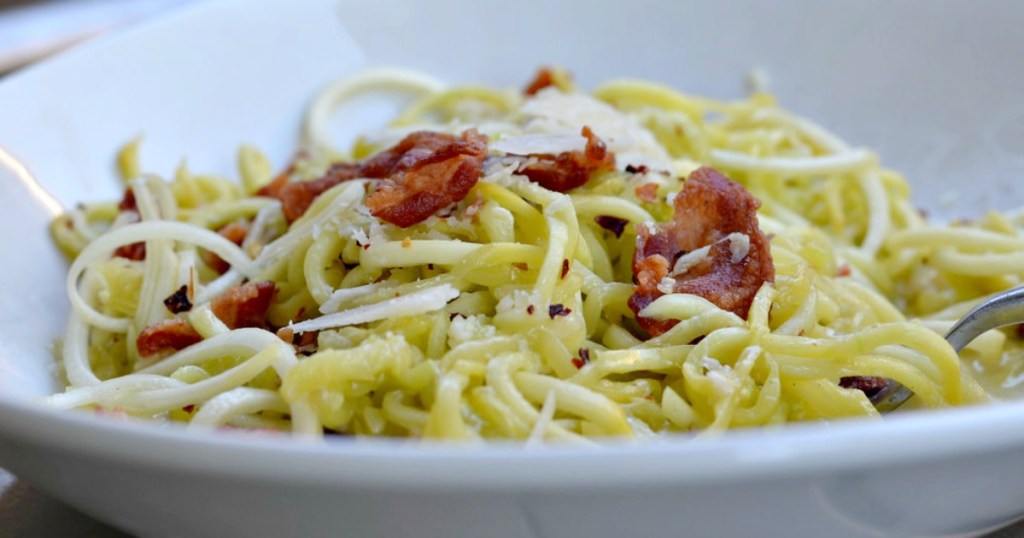 ---
Print
Keto Bacon Cacio e Pepe
yield: 4 SERVINGS
prep time: 15 MINUTES
cook time: 10 MINUTES
total time: 25 MINUTES
Spiralized squash noodles cooked with garlic, olive oil, topped with parmesan and bacon.
Ingredients
8 slices bacon
4 medium-sized squash or zucchini, spiralized
1/2 teaspoon red pepper
4 cloves of garlic, minced
1/2 cup Parmigiano Reggiano cheese, grated
fresh ground black pepper
Directions
1
Cook bacon in a skillet on the stove and transfer to a paper towel to drain. Remove most of the bacon grease, leaving about a tablespoon in the pan.
2
With the skillet over medium/high heat, add garlic and red pepper flakes for about 30 seconds. Add the noodles and toss in the pan for a couple of minutes to cook. Season noodles with pepper and also add the Parmesan cheese. Toss to combine and divide between two plates.
3
Serve with crumbled bacon, more cheese, and red pepper flakes if desired. Salt to taste.
Nutrition Information
Yield: 4, Serving Size: 1
Amount Per Serving: 173 Calories | 13g Fat | 2g Total Carbs | 0.1g Fiber | 12g Protein | 1.9g Net Carbs
---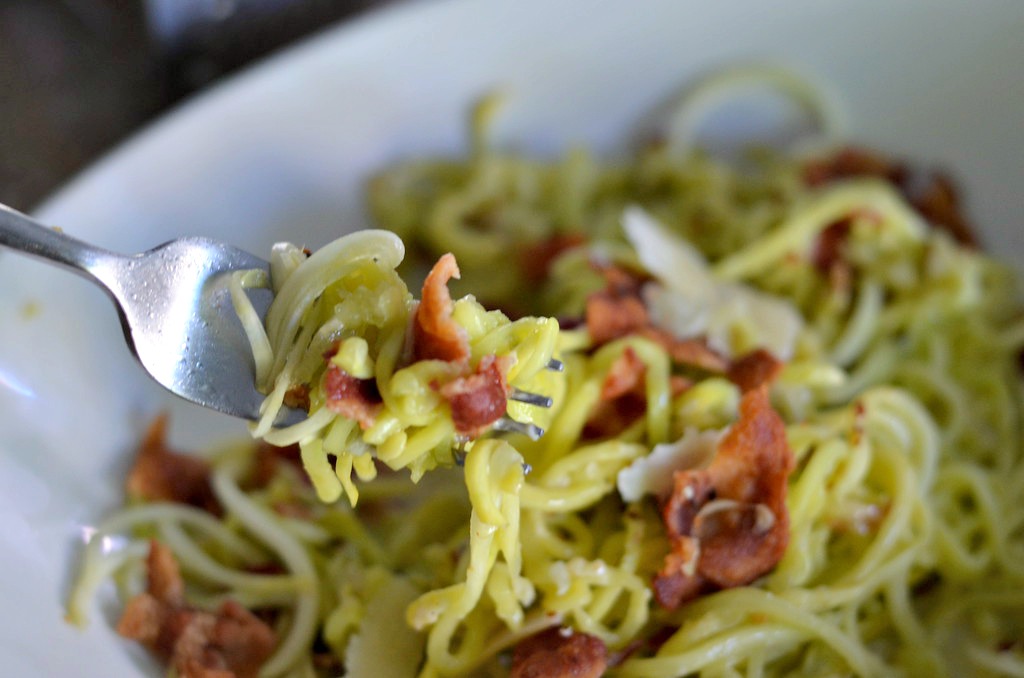 This keto meal is a family favorite, for sure!
Not only does it look beautiful, it tastes YUM. The kids like eating these "noodles", and I appreciate how easy and delicious this simple idea is!
---