Keto Lemon Zucchini Bread – You've Got to Try This (Low Net Carb & Made w/ Almond Flour)
This bright and flavorful keto lemon zucchini bread will leave you wondering if it's truly low carb.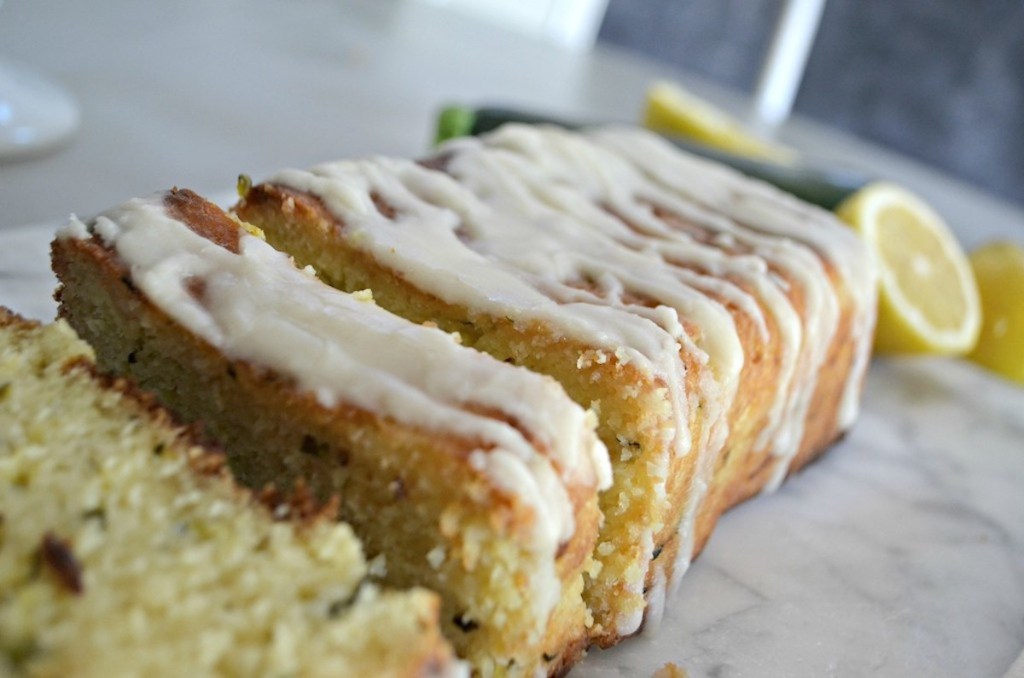 Eating low carb and miss homemade zucchini bread? Not anymore! 🙌

I've got a wonderful keto zucchini bread recipe bursting with citrusy lemon zest you're gonna wanna try ASAP!
In this recipe, we're swapping out the flour for grain-free almond flour, and sugar for keto-friendly sweeteners including Swerve granular and Swerve confectioners. They are the closest thing to real sugar I have tasted and work great in this recipe to give you a flavorful keto bread!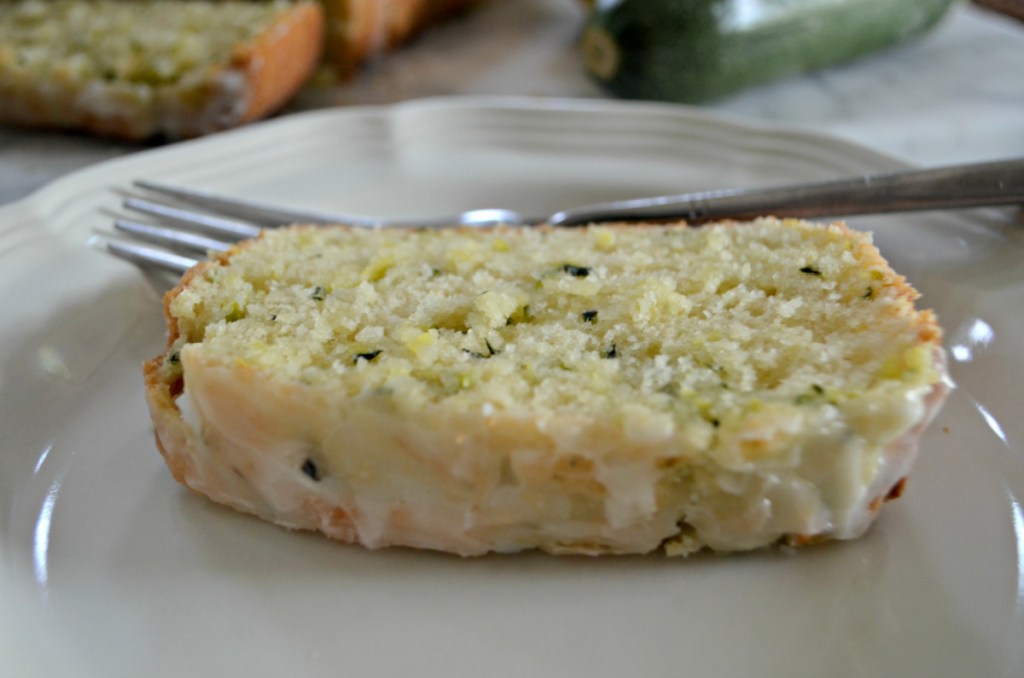 Here's how to make keto zucchini bread (FYI – It's easy peasy!)
Both the bright flavor of lemon and the added texture and moisture of zucchini are delicious and make a yummy combo! This is a tasty cake-like treat that the entire family will love, and won't even guess it's keto-friendly unless you tell them (our lips are sealed)!
I love that the process is very simple: mixing up dry ingredients and wet ingredients separately, then combining them with the lemon zest and zucchini. The result is a low net carb zucchini bread that tastes amazing!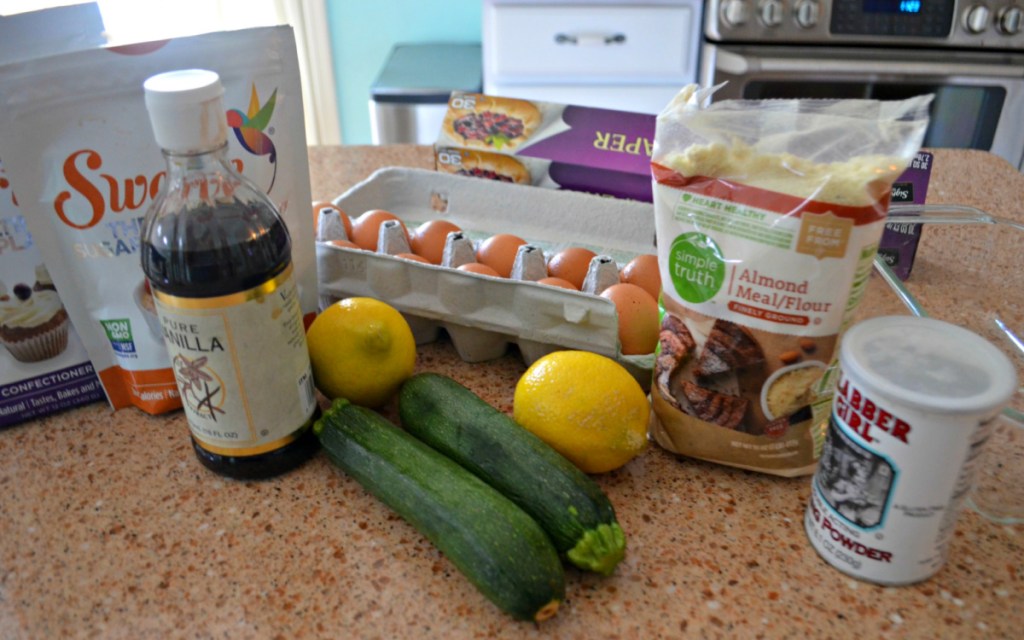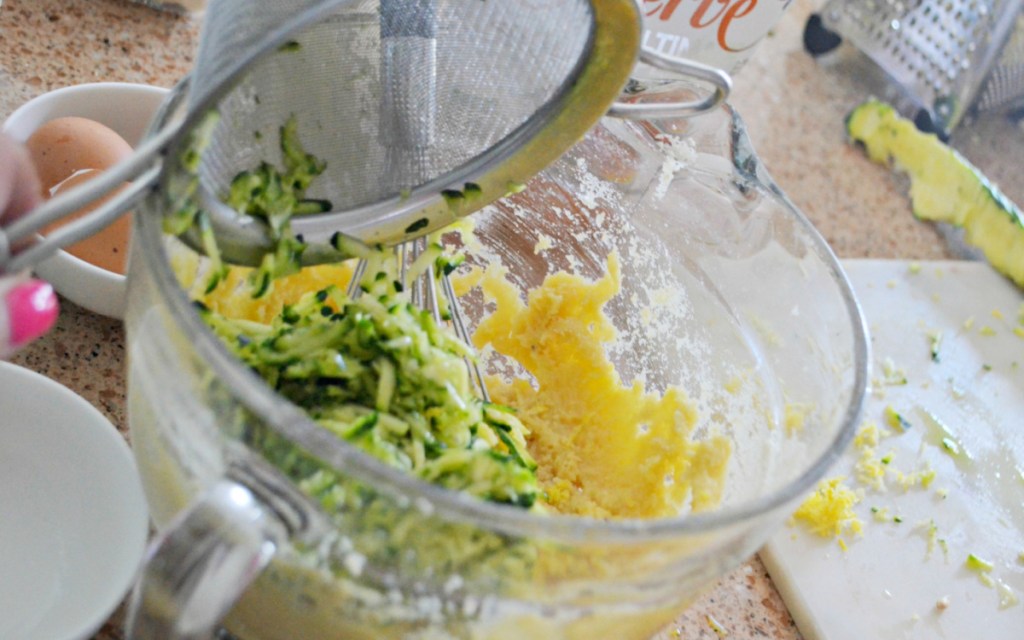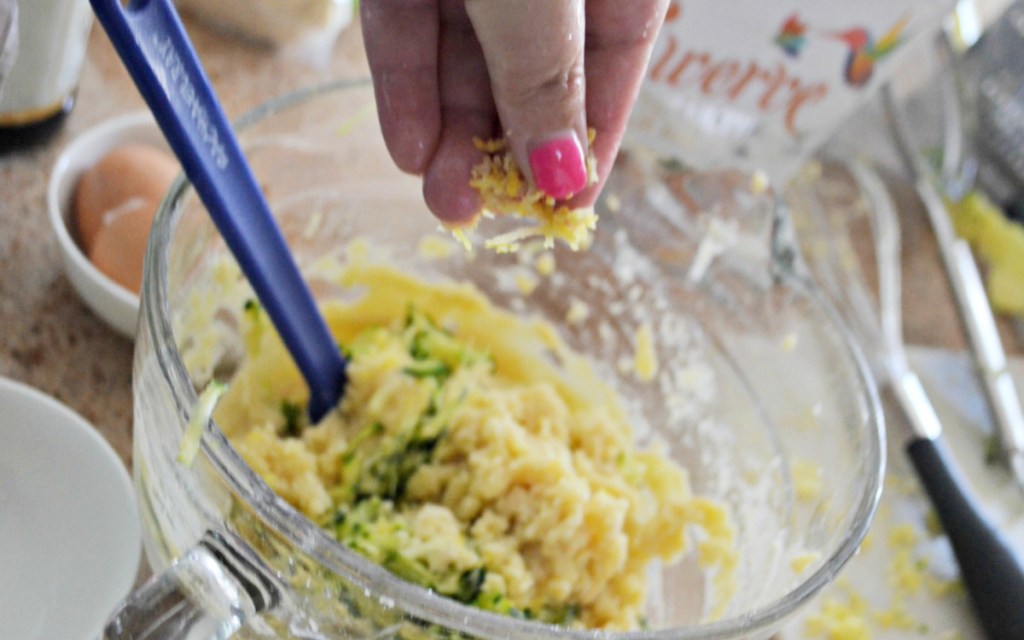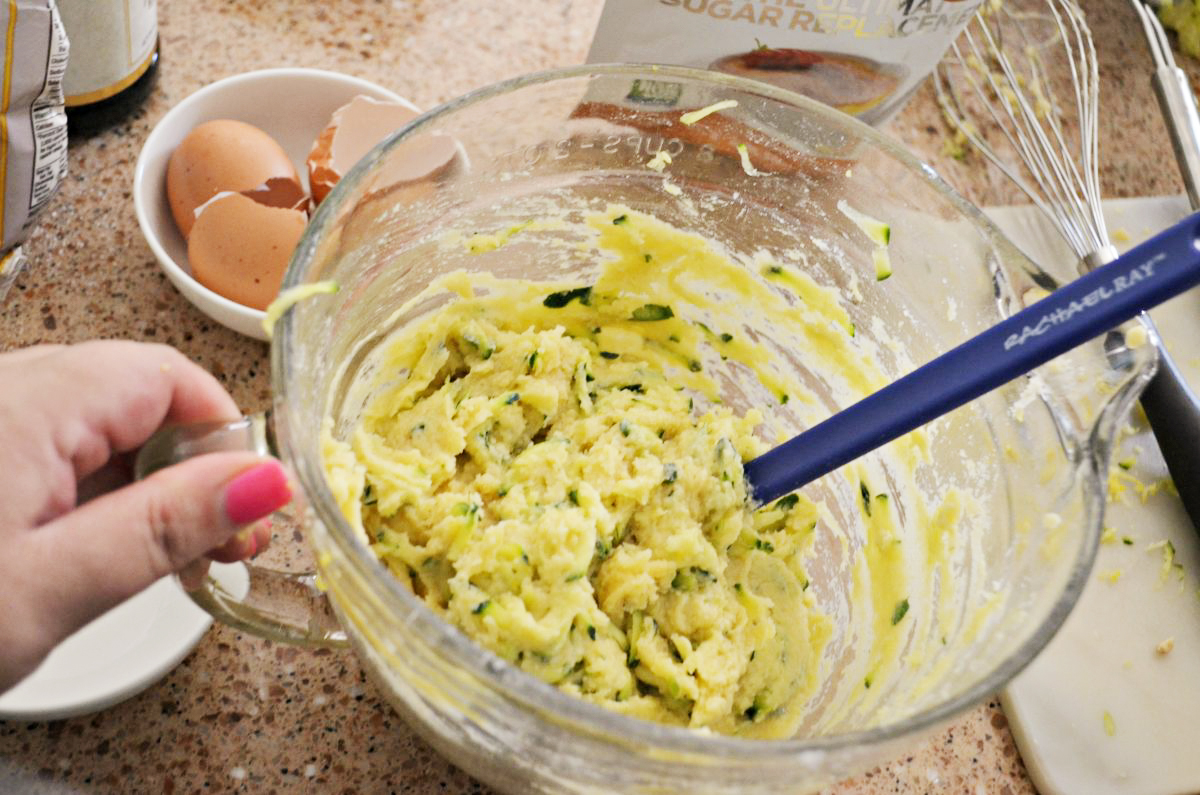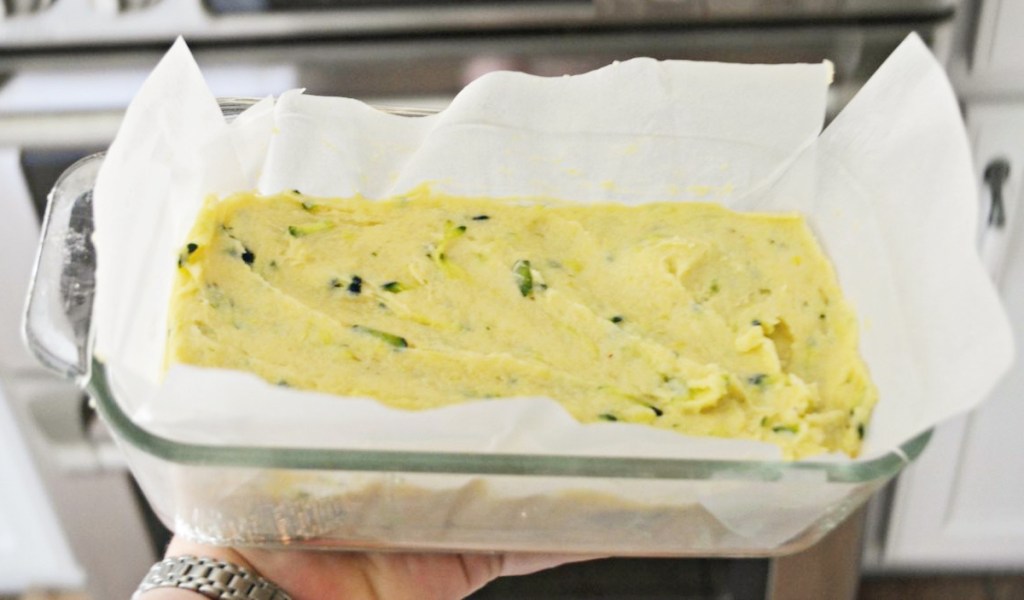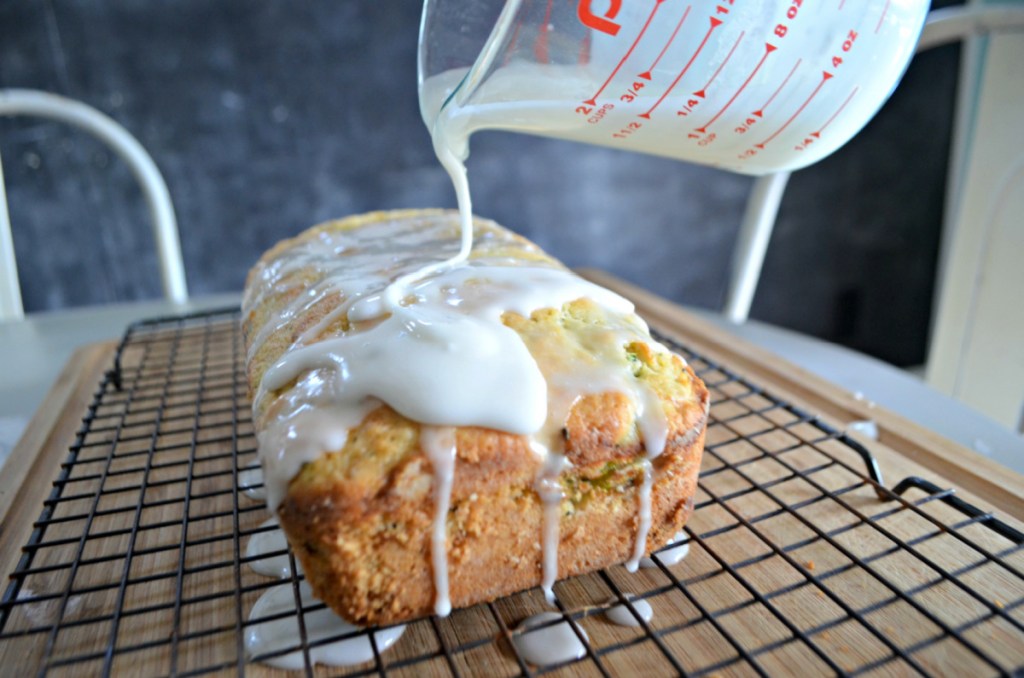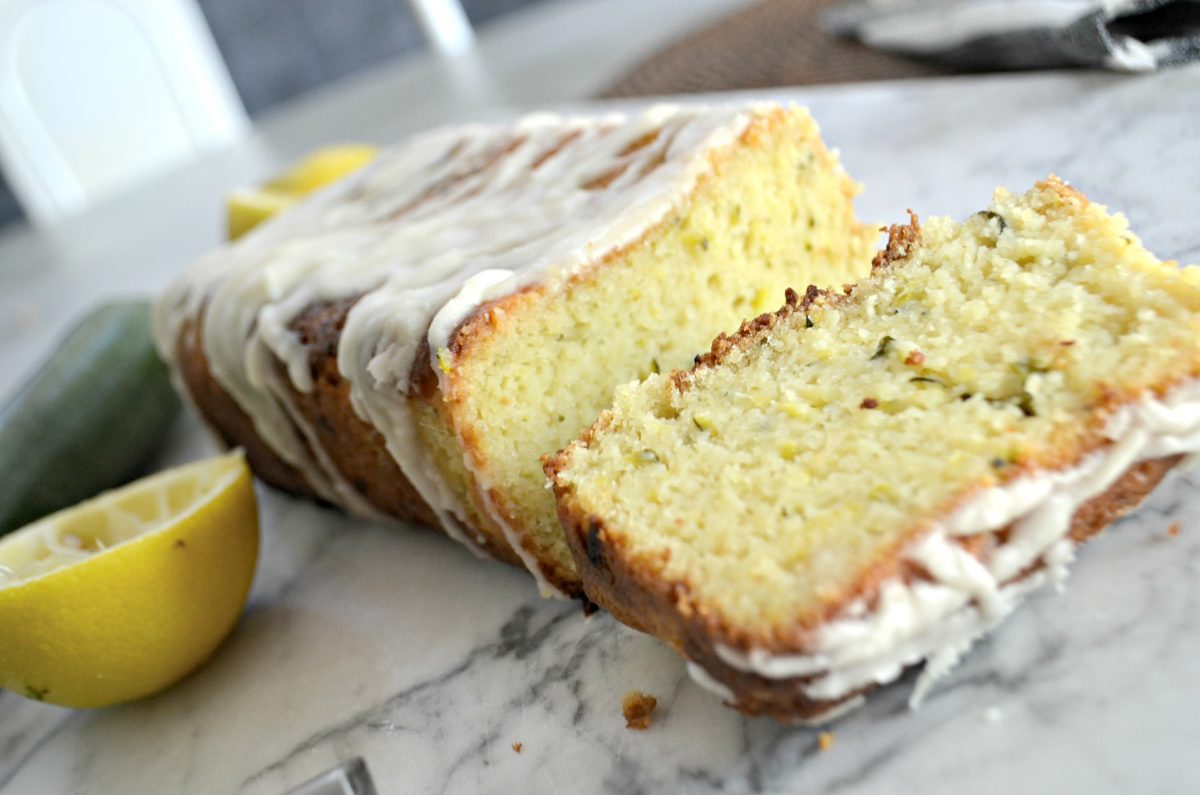 ---
Print
Keto Zucchini Bread
yield: 12 SERVINGS
prep time: 25 MINUTES
cook time: 1 HOUR 5 MINUTES
total time: 1 HOUR 30 MINUTES
Bright and flavorful keto zucchini bread that you'd never guess has low net carbs!
Ingredients
For the bread:
1/4 teaspoon salt
2 teaspoons baking powder
3 large eggs (room temperature)
1 teaspoon vanilla extract
2 tablespoons fresh lemon juice (room temperature)
1 tablespoon lemon zest
1 cup zucchini, shredded and drained (before measuring)
For the Glaze:
4 tablespoons lemon juice
Directions
1
Preheat the oven to 325 degrees. Line a loaf pan with parchment paper. This is an important step so that the almond flour zucchini bread doesn't stick.
2
To make this keto zucchini bread, spoon and level out your almond flour to ensure the correct amount. Mix the almond flour, salt, baking powder, and xanthan gum. Set aside.
3
In a separate mixing bowl, whisk the Swerve into the coconut oil before adding the other ingredients. Once whisked, add eggs, vanilla, lemon juice, and lemon zest. Mix well.
4
Fold in the dry ingredients with the wet, then fold in the drained zucchini into the batter (make sure you've squeezed out the extra moisture).
It is really important to get most of the moisture out of the zucchini. We have additional tips for how to do this best below the recipe. 
5
Transfer to the prepared loaf pan and bake in the oven for 55-65 minutes but check at the hour mark so it doesn't overcook. If it's browning too much toward the end of bake time, cover with foil. (I'd recommend covering it at about 45 minutes). A toothpick inserted in the middle will come out clean when the almond flour zucchini bread is cooked through. Place on a wire rack to cool.
6
Whisk together Swerve confectioners and lemon juice. After the loaf has cooled slightly, drizzle the loaf with glaze. Enjoy!
Additional Notes
NUTRITIONAL INFORMATION without sweetened lemon glaze:
Amount Per Serving: 205 Calories | 18.2g Fat | 17.1g Total Carbs | 2.9g Fiber | 0.4g Sugar | 12.1g Sugar Alcohol | 5.7g Protein | 2g Net Carbs
Nutrition Information
Yield: 12 slices, Serving Size: 1/2 inch slice
Amount Per Serving: 206 Calories | 18.2g Fat | 21.4g Total Carbs | 2.9g Fiber | 0.6g Sugar | 16.1g Sugar Alcohol | 5.7g Protein | 2.3g Net Carbs
---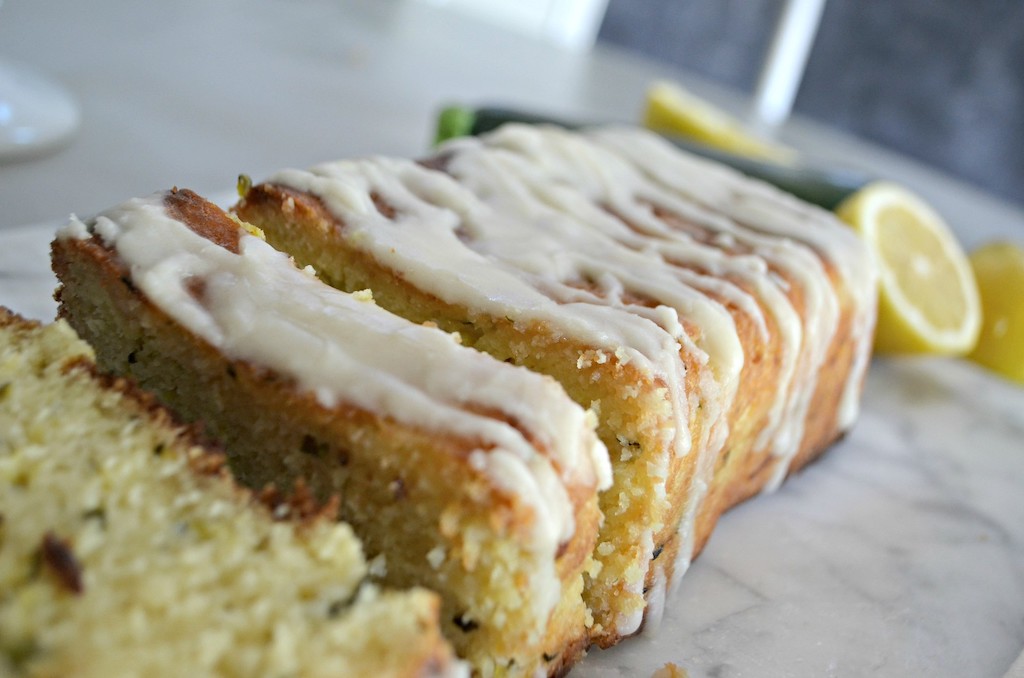 Don't be alarmed by the high total carb count!
While we may refer to this loaf as "low carb" zucchini bread, what we actually mean is it contains low net carbs which is what makes it keto-friendly.
Fiber and erythritol (the main ingredient in Swerve) do not affect blood sugar in the same way that regular carbs do, so we subtracted them from the total carb count. You'll see that the net carbs are much lower once you remove the sugar alcohol and fiber.
---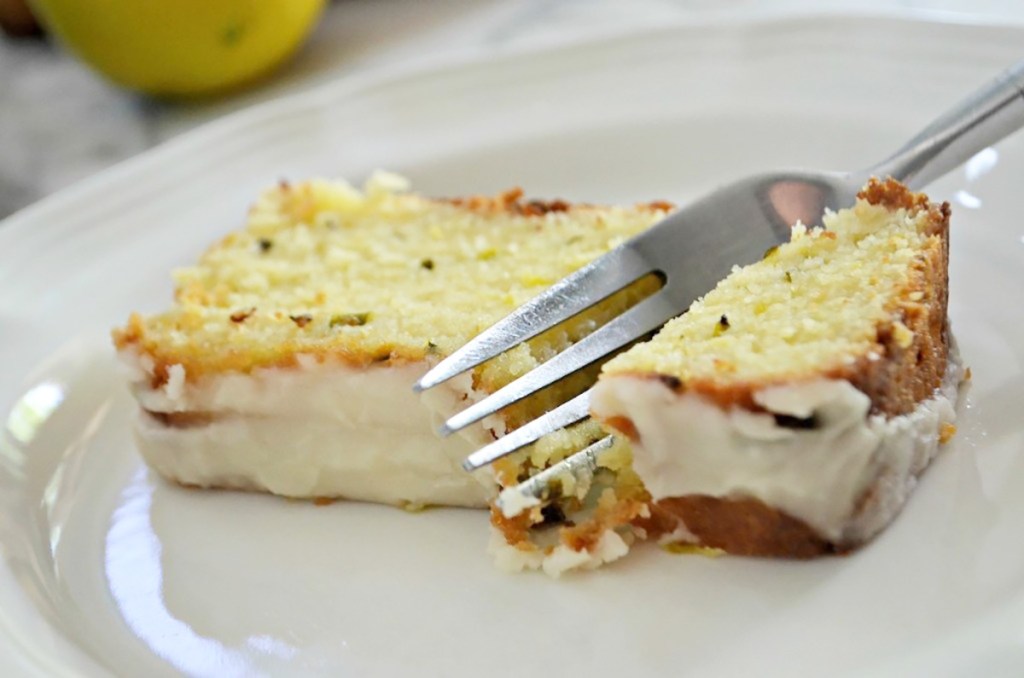 Here are a few recipe tips to keep in mind when making keto lemon zucchini bread:
Grate the zucchini and then press it against the strainer to get some of the water out.
Put grated zucchini in a kitchen towel or cheesecloth, squeeze gently over a sink to release the extra moisture, and pat dry. This is an important step that can't be missed!
Keto bread can sometimes stick badly in pans, so I first covered my loaf pan with parchment paper. It worked perfectly and I definitely recommend it.
When baking, cover the loaf with foil about 45 minutes in to prevent the top from burning. Monitor this and add more time if necessary.
Be sure to let your almond flour zucchini bread cool slightly before pouring the glaze over the top. You can also freeze this loaf.
If you're in need of some substitutions for your low net carb zucchini bread, you can swap xantham gum with arrowroot powder. You can also use avocado oil instead of coconut oil and lemon extract in place of real lemons.
Slice it up and ENJOY!
This keto lemon zucchini bread ROCKS and the lemon glaze throws it over the top! You won't regret taking the time to bake this keto family-friendly treat.
What a great way to use fresh zucchini, especially this time of year if you happen to have any in your garden.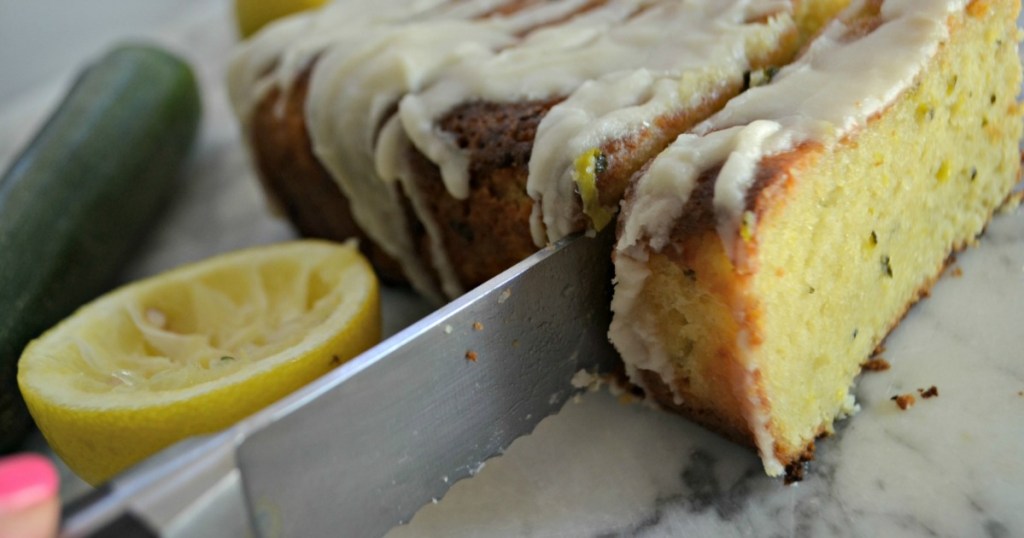 My Hip Sidekick Jenna tried this keto lemon zucchini bread, and here's what she had to say about it:
"I could tell this was going to be so good just because of how delicious the batter smelled while being mixed up and then baking. This recipe was easy to follow. I highly recommend trying it warm with a bit of butter – so good! I had some zucchini left from the garden and this low carb zucchini bread was the most perfect way to use it up. Everyone enjoyed this!"
---
Can't get enough lemon? Try our keto lemon pound cake next!