Easy & Cheesy Keto Hamburger Helper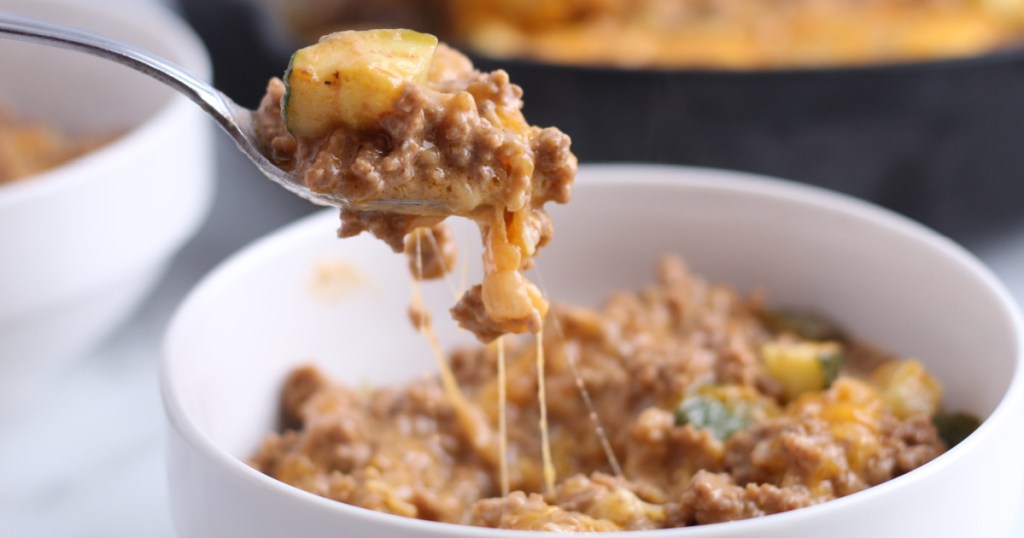 Who else loved Hamburger Helper as a kid?🙋🏼‍♀️
If you're like me, you grew up with Hamburger Helper as a regular dinner staple that was oh so yummy! While the original is so not keto-friendly, I've hacked it and turned it into a low carb meal that is ready in just under 40 minutes and comes together in just one pan.
You're going to want to add this easy cheesy keto Hamburger Helper to your dinner menu!
This super easy keto dinner recipe will have everyone happy and asking for seconds. Packed with cheesy goodness, this dish can be made on a busy weeknight. I gotta tell ya, the next day leftovers might be even better. 😋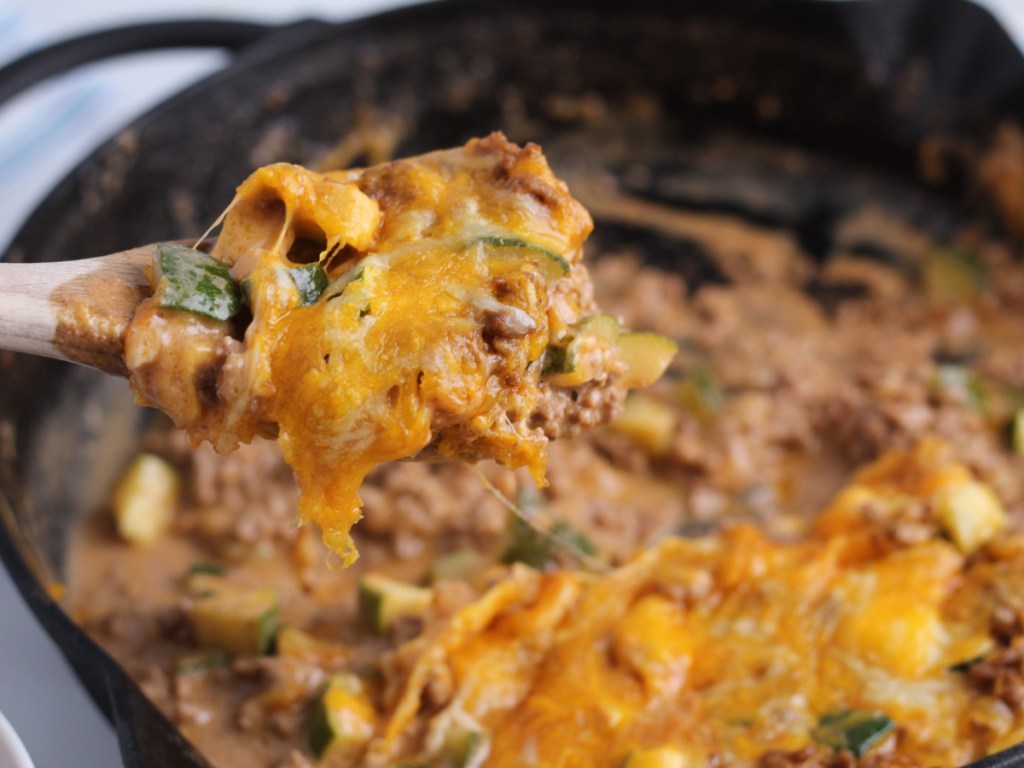 A few tips when making keto Hamburger Helper:
Want to sneak in some keto-friendly vegetables in addition to the zucchini? Go ahead, add all your favorites like broccoli, peppers, and/or mushrooms!
Make it even tastier by adding bacon to the mix! My boys love anything with bacon and it just gives it a little something extra.
If you have a busy weeknight ahead, you can make the beef mixture the day before, then add the cheese to the top, and toss it in the oven to heat through and melt the cheese.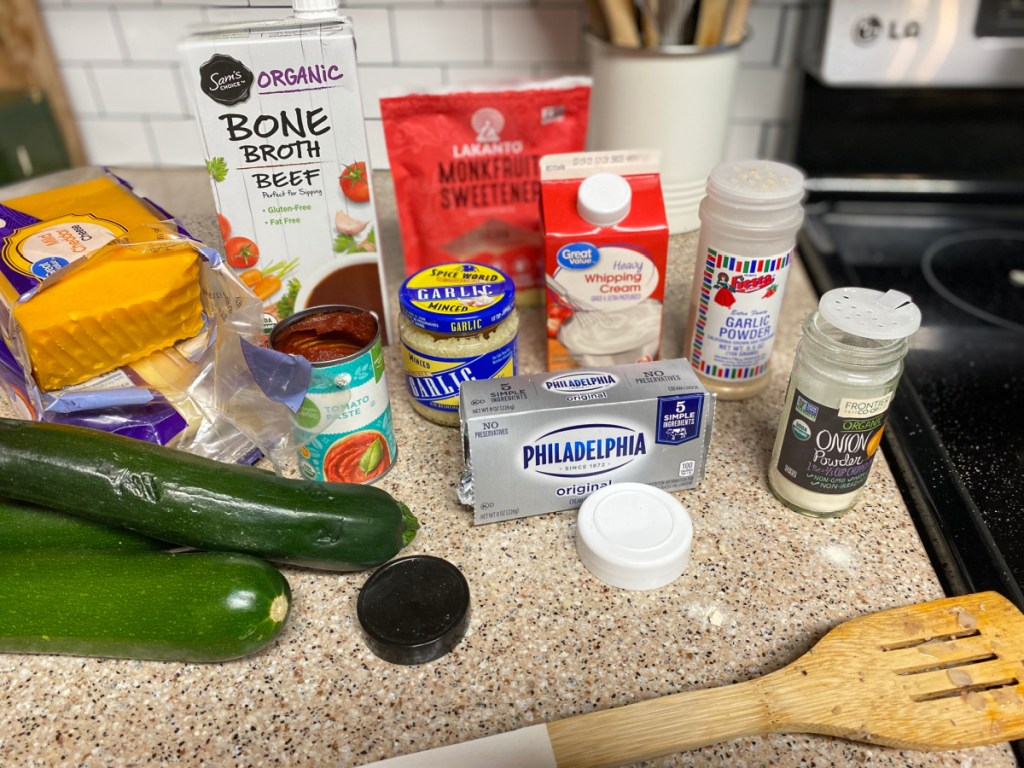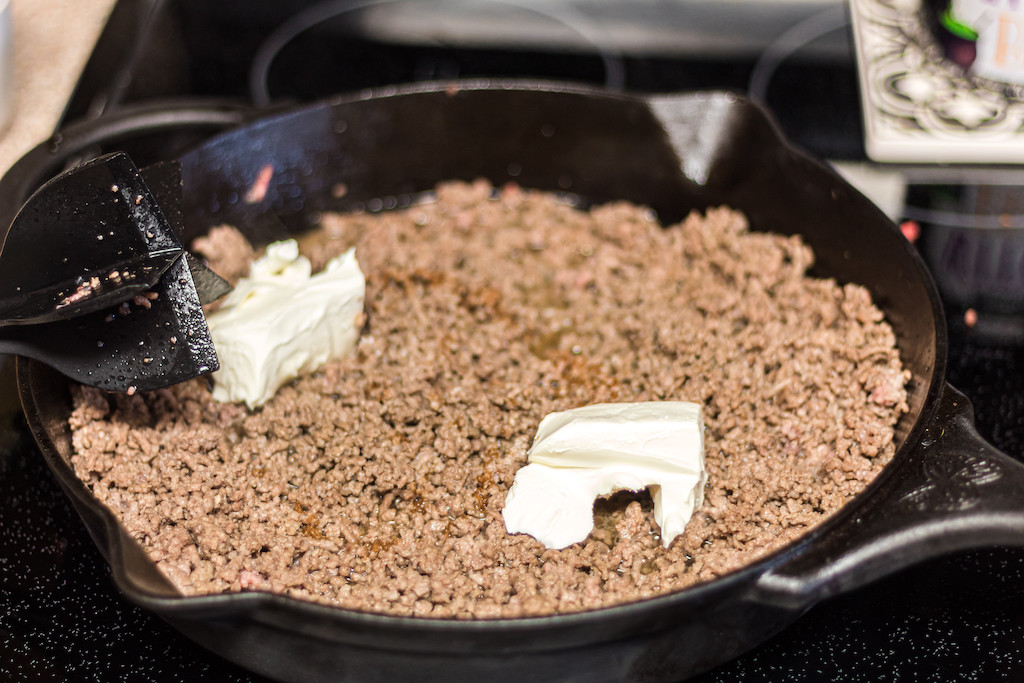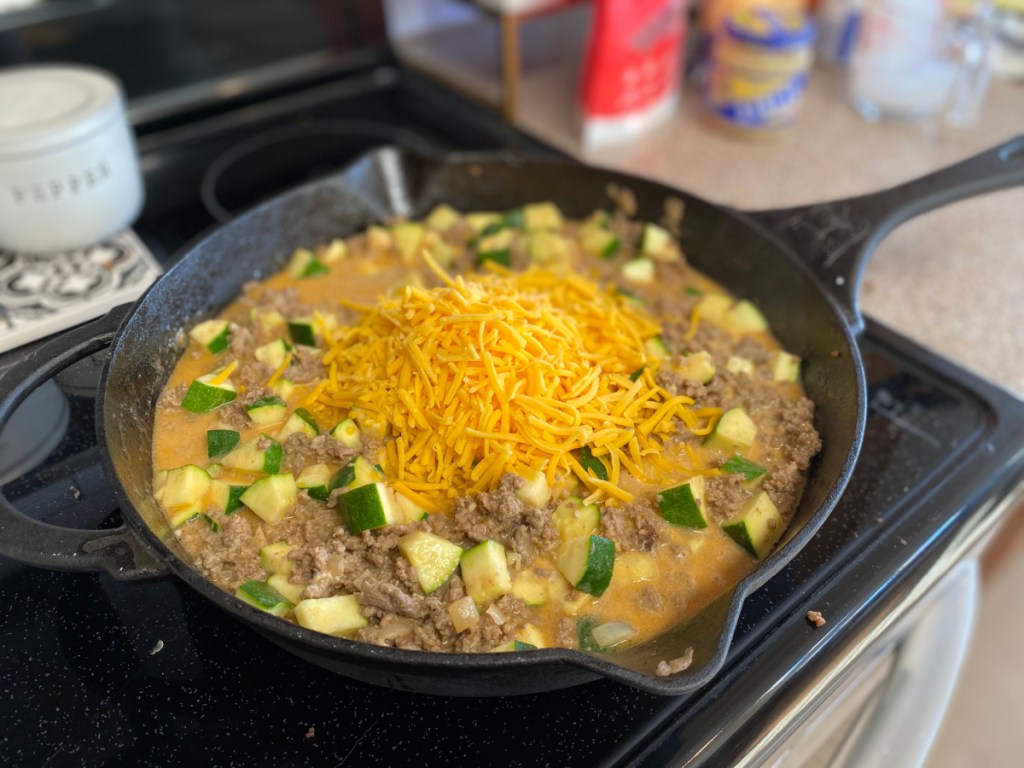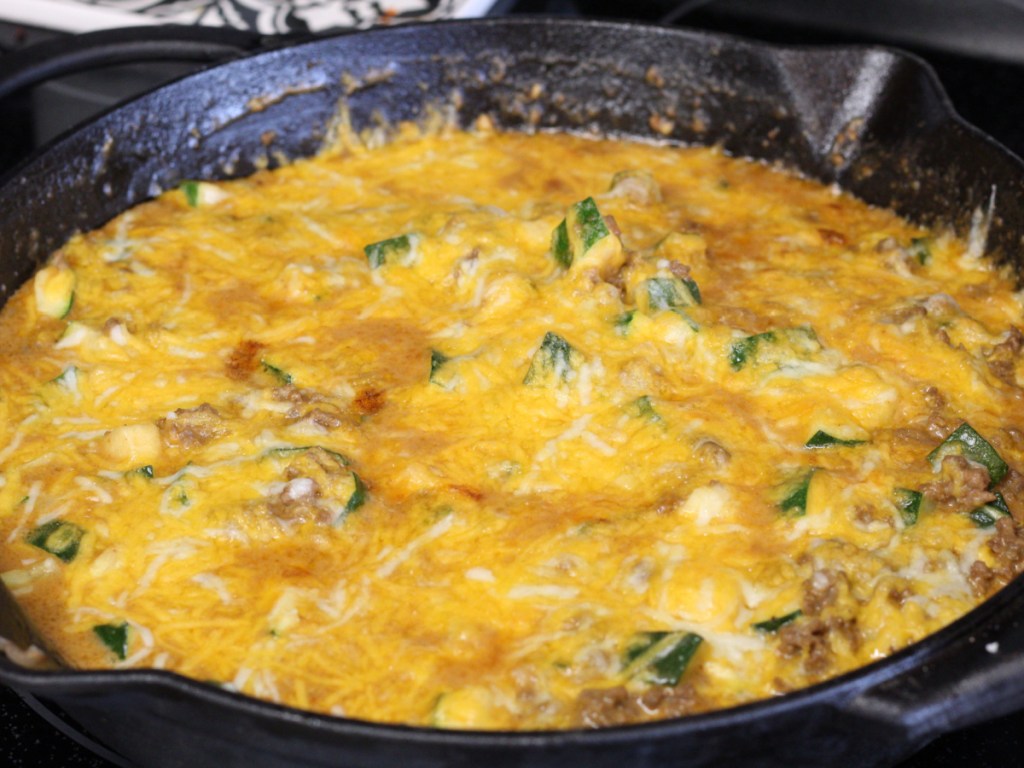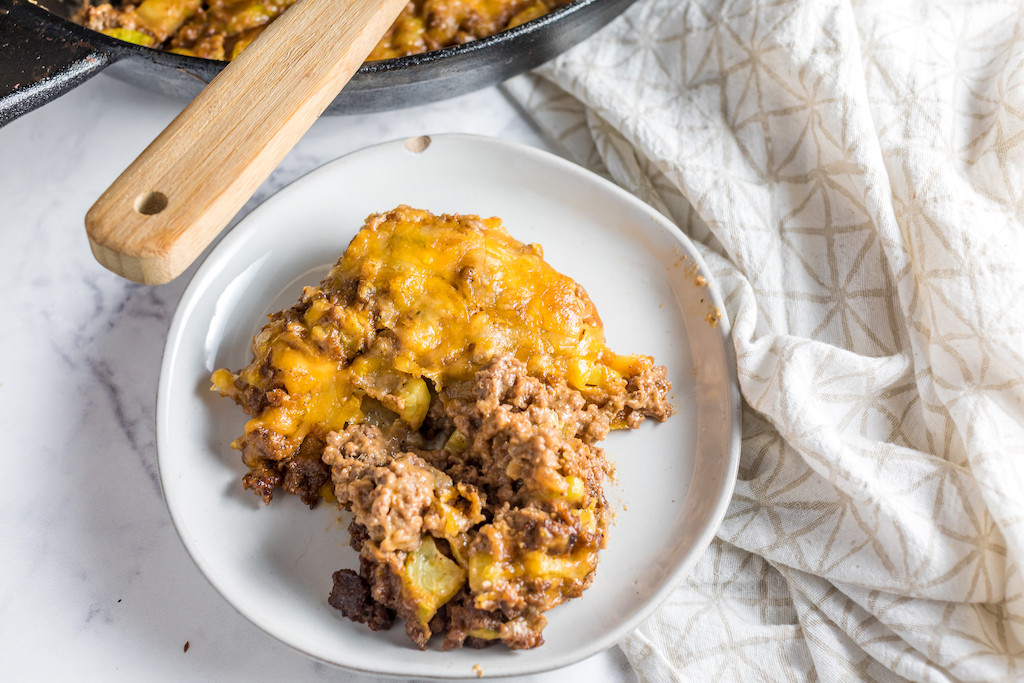 ---
Print
Keto Hamburger Helper
yield: 6 SERVINGS
prep time: 5 MINUTES
cook time: 30 MINUTES
total time: 35 MINUTES
A deliciously easy & cheesy keto-friendly version of the classic Hamburger Helper dinner!
Ingredients
1 tablespoon keto-friendly oil
1 small onion, diced
2 tablespoons garlic, minced
2 pounds ground beef
1/2 teaspoon salt
1 teaspoon pepper
1 tablespoon garlic powder
1 tablespoon onion powder
1 tablespoon granular keto sweetener
1/2 cup beef broth
1 tablespoon tomato paste
4 oz. cream cheese
1/4 cup heavy cream
4 cups zucchini, cubed
2 cups Monterey jack cheese, shredded
1 cup sharp cheddar cheese, shredded
Directions
1
In a large oven-safe skillet, such as a cast-iron skillet, sauté onions, and minced garlic in a tablespoon of keto oil. Add in ground beef, salt, pepper, garlic powder, onion powder, and granular sweetener. Brown over medium heat. Drain all of the grease from the skillet once the beef is cooked.
2
Add in beef broth, tomato paste, and cream cheese. Stir over low heat until cream cheese has melted.
3
Add in heavy cream, cubed zucchini, and two cups of Monterey Jack cheese.
4
Stir for 5-10 minutes on low until zucchini is tender.
5
Turn oven to low broil, and add one cup of shredded cheddar cheese to the top of the hamburger helper. Place in oven under broil just until cheese has melted.
Nutrition Information
Yield: 7, Serving Size: 1 cup
Amount Per Serving: 573.9 Calories | 38.4g Fat | 8.0g Total Carbs | 1.0g Fiber | .5g Sugar Alcohol | 49.1g Protein | 6.5g Net Carbs
---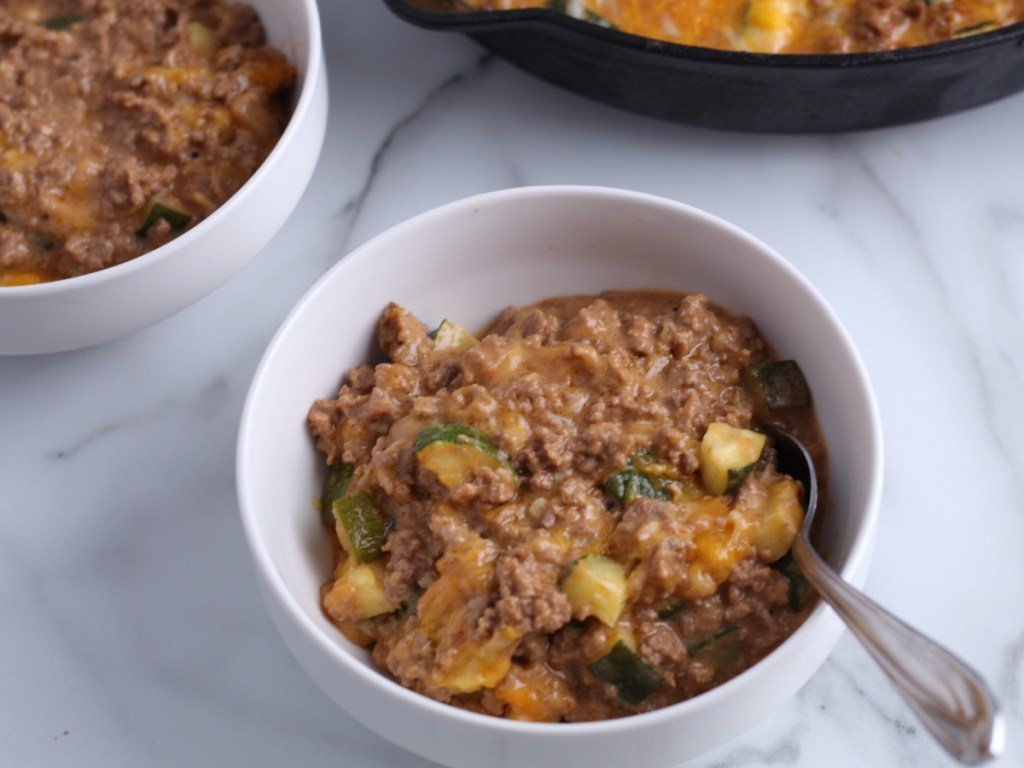 Low carb and loving it!
Just one bite of this easy cheesy keto Hamburger Helper will take you back to your childhood! It truly is keto comfort food at its finest!
PS – Add a little hot sauce if you want some spice to it, it's a fun addition that really kicks up the flavor.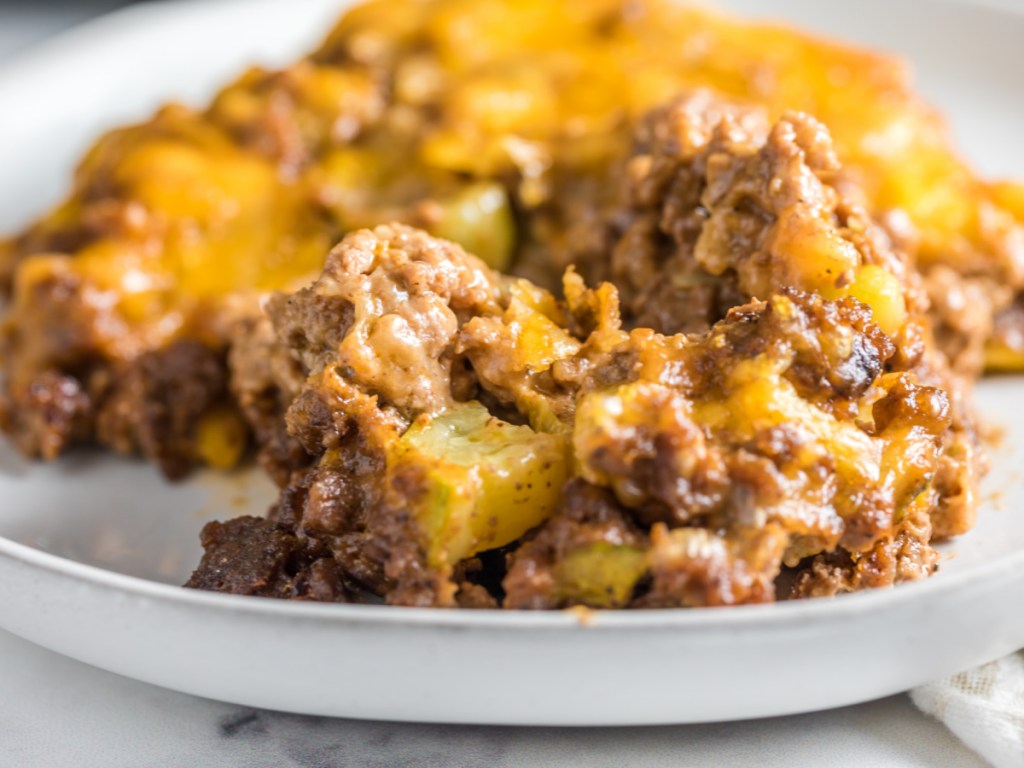 My Hip sidekick Jenna tried out this recipe and here's what she thought:
"Now, this is a delicious and very hearty meal! It's easy to make like a traditional Hamburger Helper and the whole family loved it! I am a huge fan of one-pan meals and this is perfect when you're running short on time. I made it in my cast iron skillet and it was a home run, I can't wait to make it again!" – Jenna, Hip2Save recipe tester
---
Feeling cheesy? Make this cheese-stuffed Italian sausage!