3 Easy Keto One Skillet Meal Ideas (5 Ingredients or Less!)
If easy keto cooking is your jam, check out three delicious and fast low-carb skillet meals to make this week!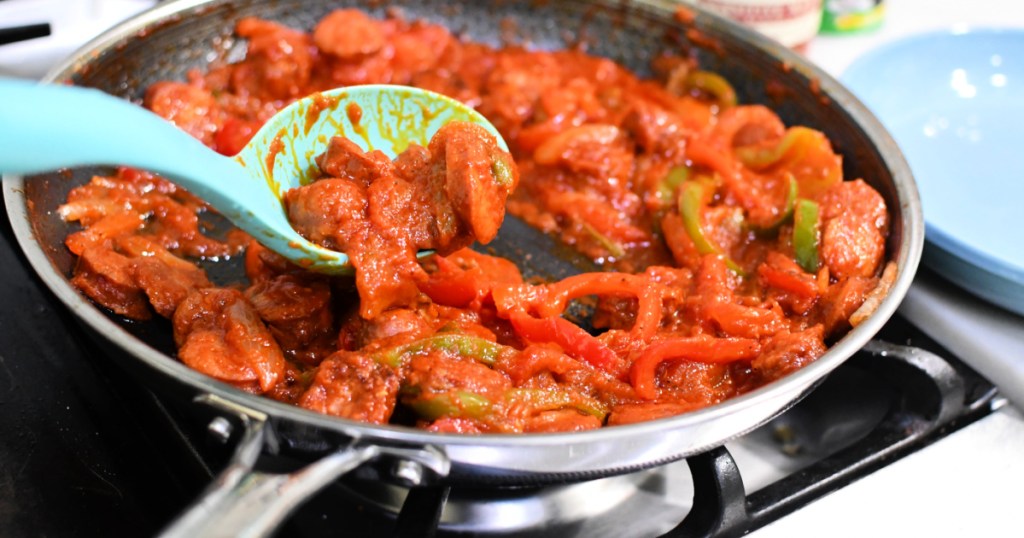 Need super quick and easy dinner ideas? We've got ya covered!
Skillet meals are my favorite, because they are usually pretty easy to throw together on busy evenings, and you're only left with one pan to wash — yippee! I've compiled 3 simple one-skillet meals to throw together in a pinch! Better yet, you only need about 5 ingredients for each!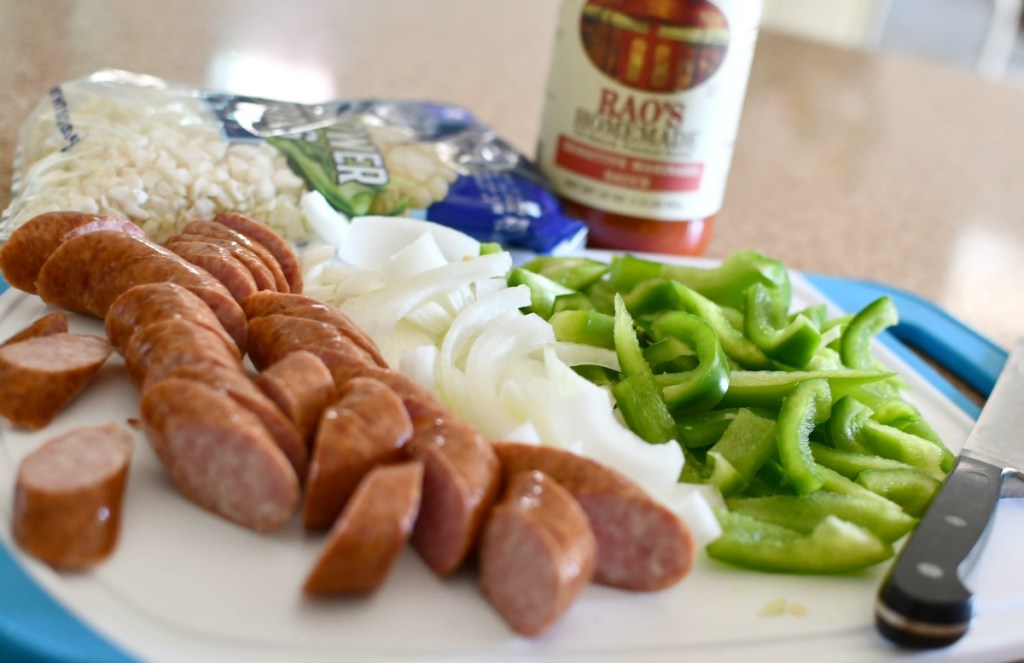 There are often occasions when I just don't have the time or energy to cook a homemade meal that requires quite a bit prep and lots of ingredients. This is when store-bought zucchini noodles, canned sauces from the pantry, and a grocery store rotisserie chicken can come in handy!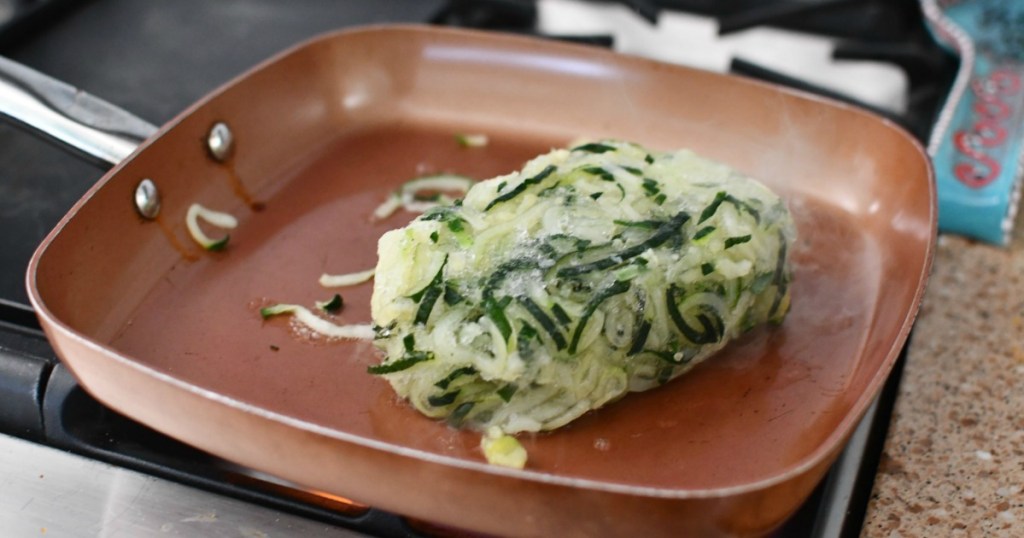 Here are 3 yummy recipes you can compile in less than 20 minutes for a no-fuss one skillet keto dinner!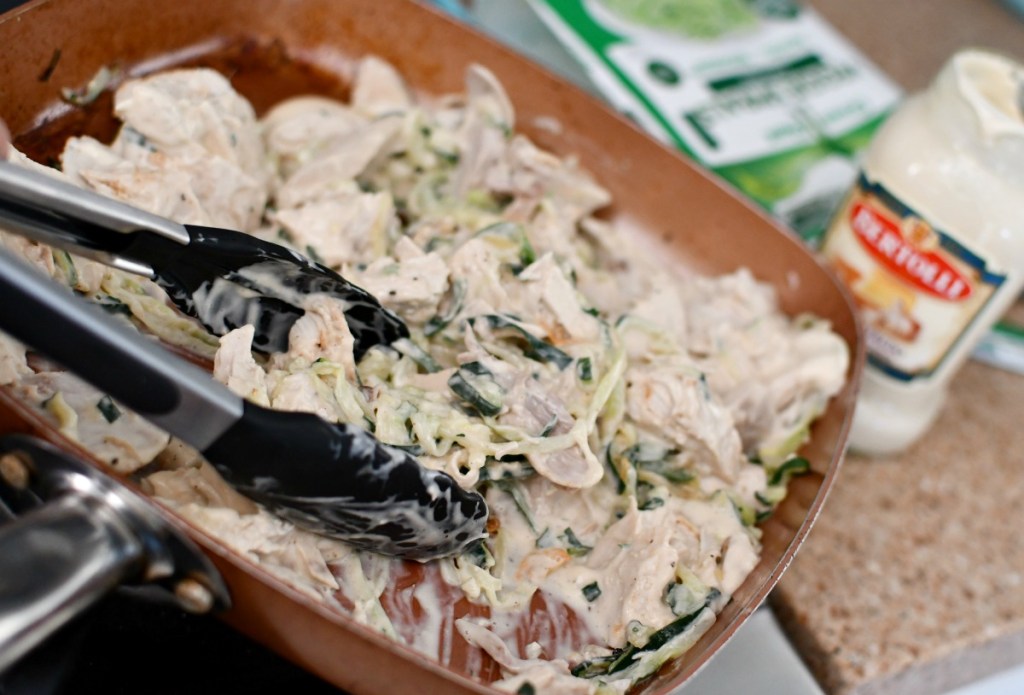 Keto Alfredo Zucchini Noodles with Chicken
Here's a rich and creamy chicken dinner using frozen zucchini spirals from the store that can be heated on the stove in just a few minutes!
---
Keto Spicy Sausage Skillet
This sausage one-skillet meal is bursting with Italian and Cajun flavors and reminds me of jambalaya… except we're using a bag of riced cauliflower as a quick shortcut to get dinner done in a flash and keep it low-carb!
---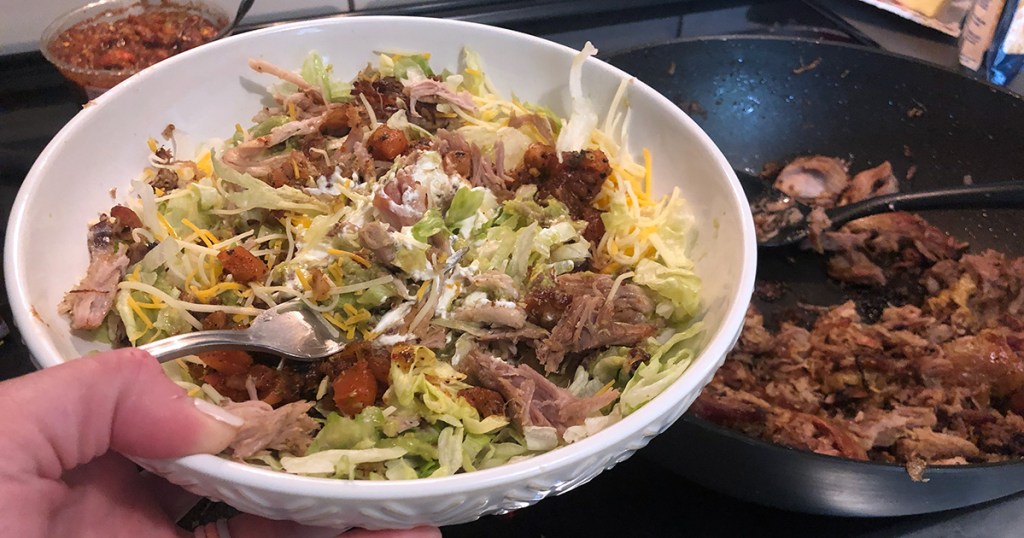 Keto Carnitas Salad
This pork carnitas salad is so hearty and delicious you won't even miss the carbs! We are starting with some yummy carnitas meat from Trader Joe's (or your local grocery store may sell something similar), but if you feel like creating your own, try this yummy homemade slow cooker carnitas as a food prep idea!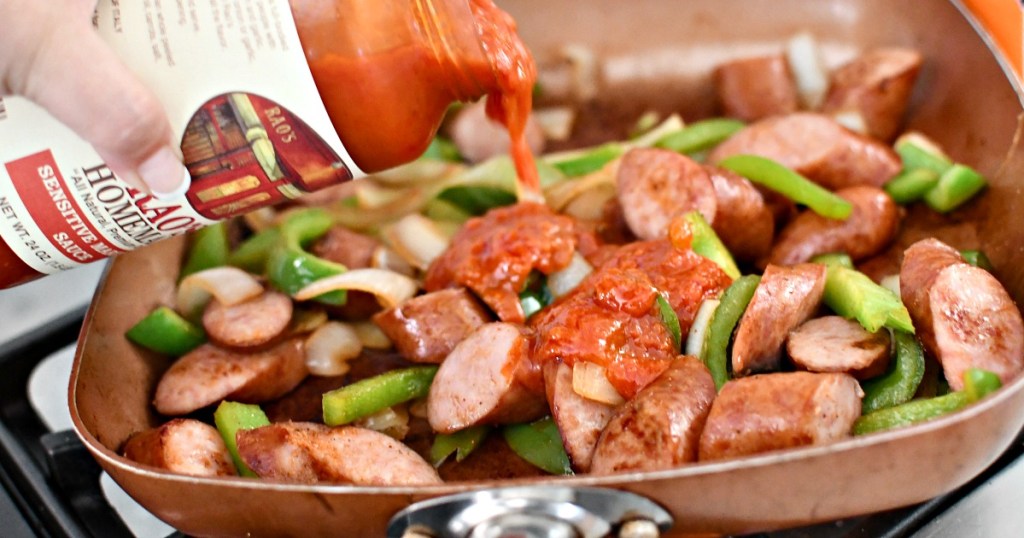 ---
Print
3 Easy One Skillet Keto Meals
Using roughly 5 or so ingredients, you can throw together a delicious keto dinner using only one skillet!
Ingredients
Keto Alfredo Zucchini Noodles with Chicken:
1 rotisserie chicken, shredded (about 3 cups shredded)
3/4 cups shredded parmesan cheese
Keto Spicy Sausage Skillet:
1 bell pepper, sliced
1/4 of an onion, sliced
Keto Carnitas Salad:
1/4 cup onion, diced
6 cups of shredded lettuce
1 cup shredded cheddar cheese
Garnish: sour cream & guacamole
Directions
1
Alfredo Zucchini Noodles with Chicken
---
Directions: Heat a skillet to medium heat and sauté frozen zucchini noodles for 5 minutes in a skillet on the stove, then add in shredded chicken. Pour sauce on the top, and toss to combine until warm. Top with shredded cheese.
---
Hip Tip: We do have a great homemade alfredo sauce recipe if you'd like to skip the store-bought!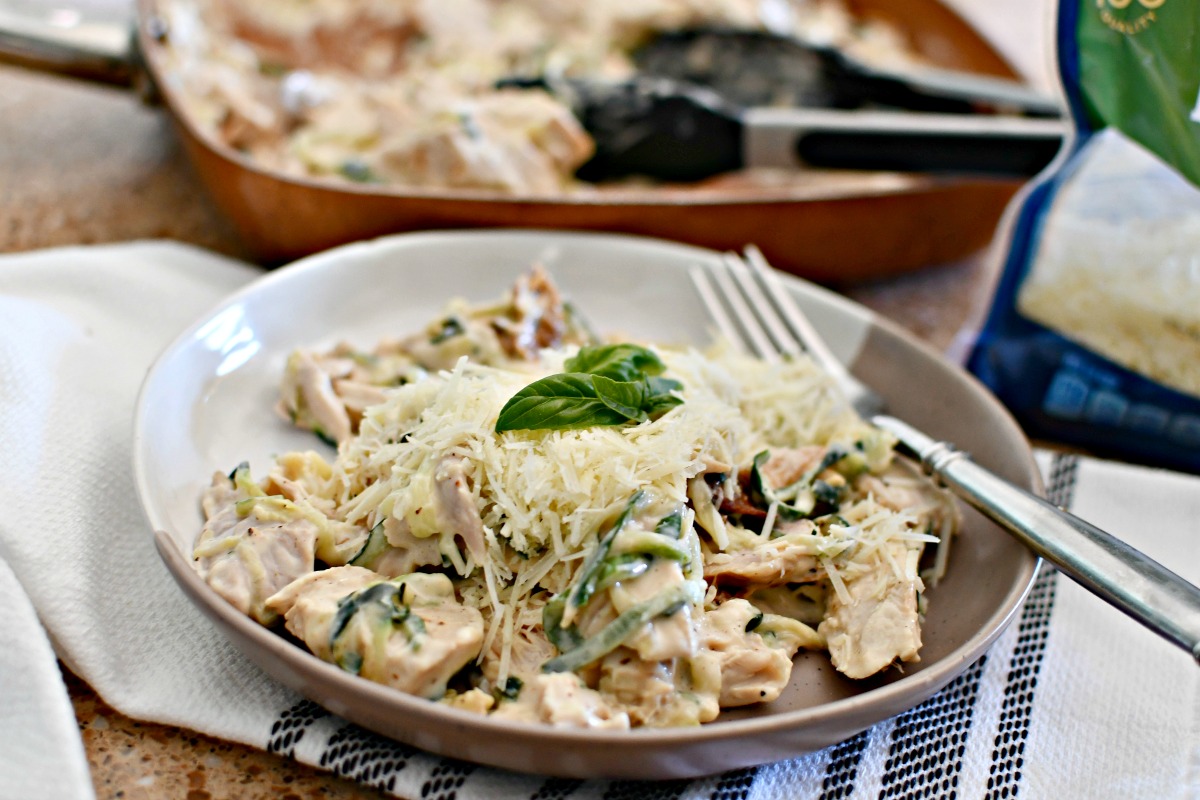 2
Spicy Sausage Skillet
---
Directions: Heat a tablespoon of olive oil in a large skillet on medium heat. Add the sliced kielbasa sausage, bell pepper, and onion to the skillet and saute until tender and sausage is browned, about 6-8 minutes. Season the mixture with Cajun seasoning. Add the marinara sauce, and stir until warm. Heat the cauliflower rice in the microwave and serve sausage mixture over it.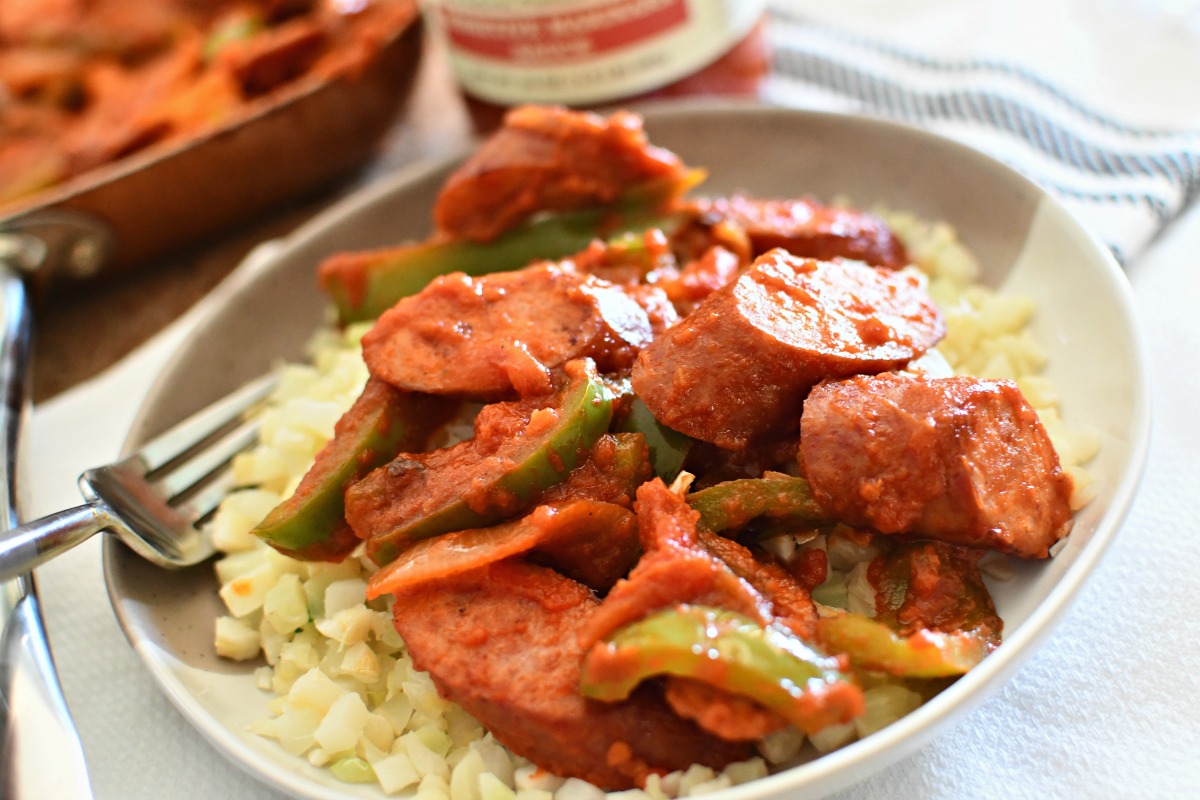 3
Trader Joe's Carnitas Salad
---
Directions: Heat a skillet to medium heat, and saute onions and carnitas until tender and the meat is heated. Feel free to add other veggies to the skillet that you have on hand. Add 1.5 cups of lettuce to each plate, along with carnitas meat on top. Top each with 1/4 cup of cheese, guac, sour cream and any other toppings you love.
---
Collin is a huge fan of this easy keto dinner idea!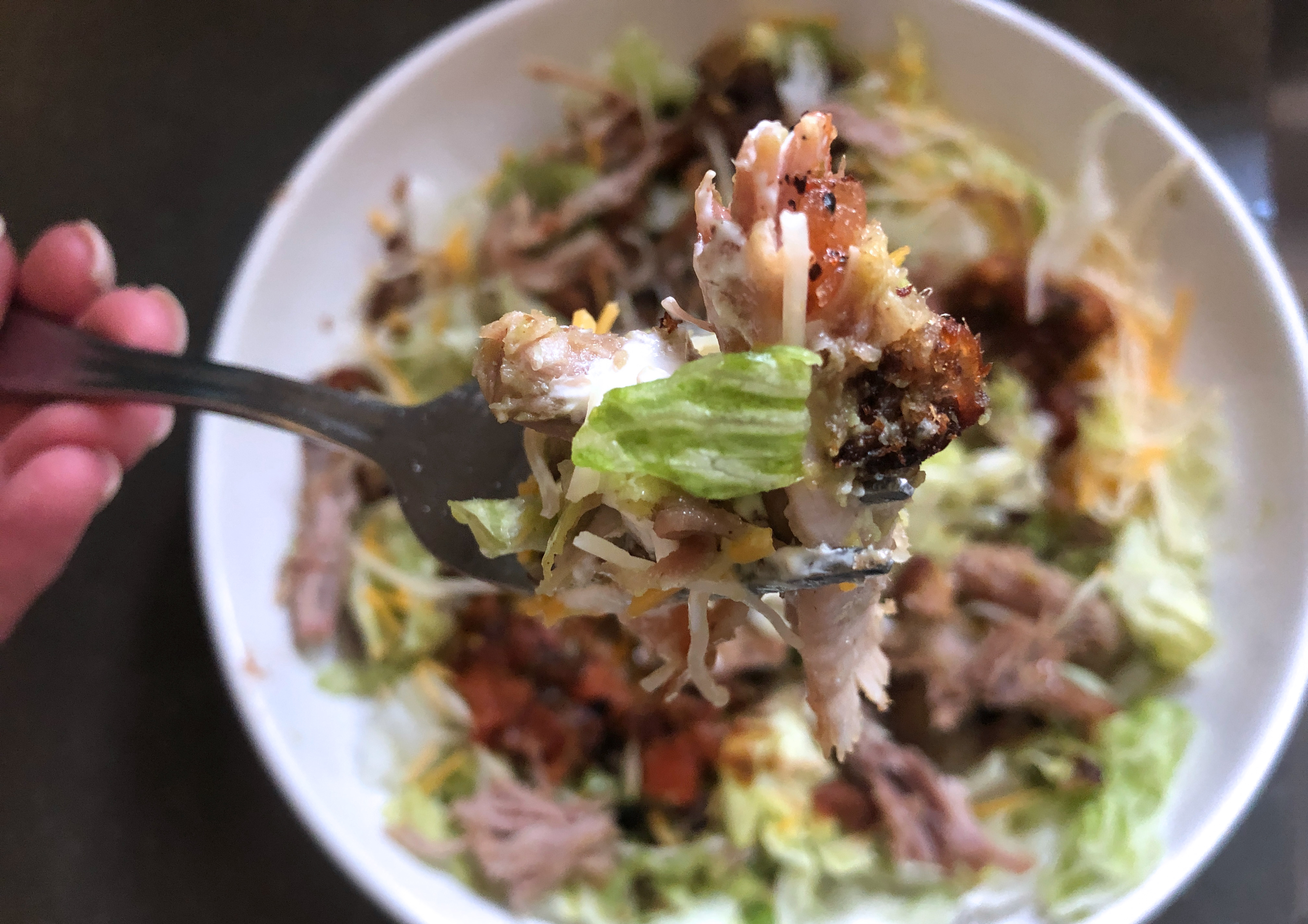 Additional Notes
Alfredo Zucchini Noodles with Chicken
Yield: 4 servings
Amount Per Serving: Calories: 365, Total Carbohydrates: 6g, Fiber: 1g, Net Carbohydrates: 5g, Total Fat: 19g, Protein: 26g
Spicy Sausage Skillet
Yield: 4 servings
Amount Per Serving: Calories: 397, Total Carbohydrates: 10g, Fiber: 3g, Net Carbohydrates: 7g, Total Fat: 32g, Protein: 14g
Trader Joe's Carnitas Salad
Yield: 4 servings
Amount Per Serving: Calories: 582, Total Carbohydrates: 10g, Fiber: 2g, Net Carbohydrates: 8g, Total Fat: 38g, Protein: 46g
---