Creamy Avocado Pesto Sauce That's Keto & Delicious!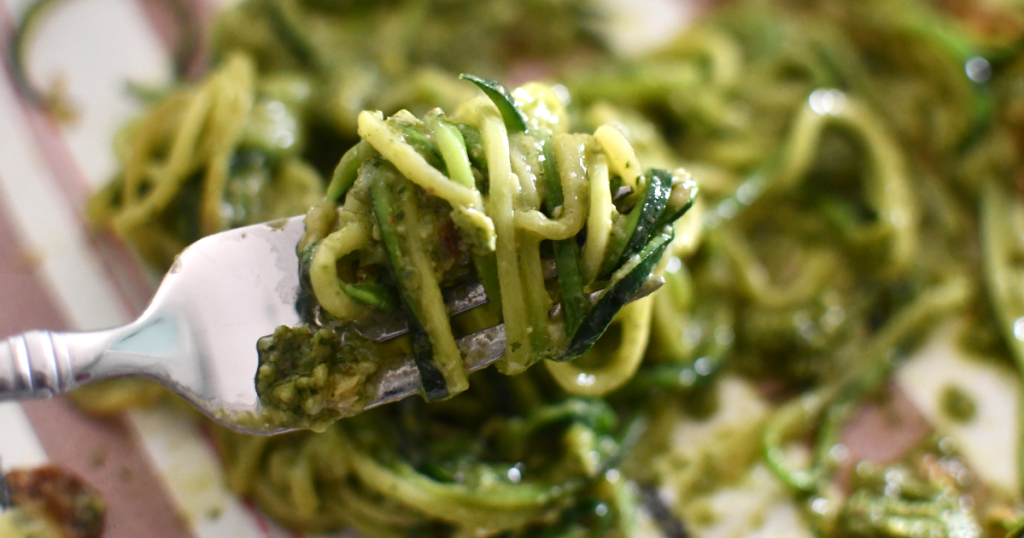 The secret is in the sauce!
These days I'm really exploring sauces and flavors to give my keto recipes an added kick. I recently made a delicious homemade pesto sauce recipe featuring basil and avocado, and the result is a pesto that is so full of fresh flavor with a yummy creamy texture.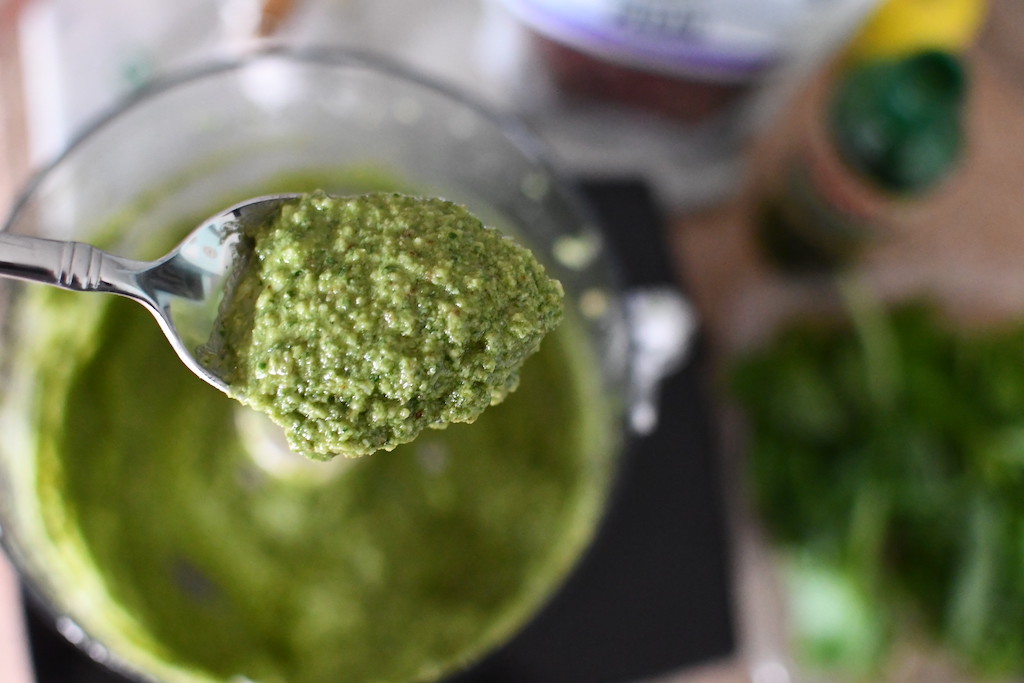 The best part, you literally throw everything in the food processor or blender and you're good to go!
Now I know you can purchase store-bought pesto and yes, there are some delicious varieties out there but let me tell ya, once you make your own homemade pesto, you'll never want to purchase a store-bought jar again.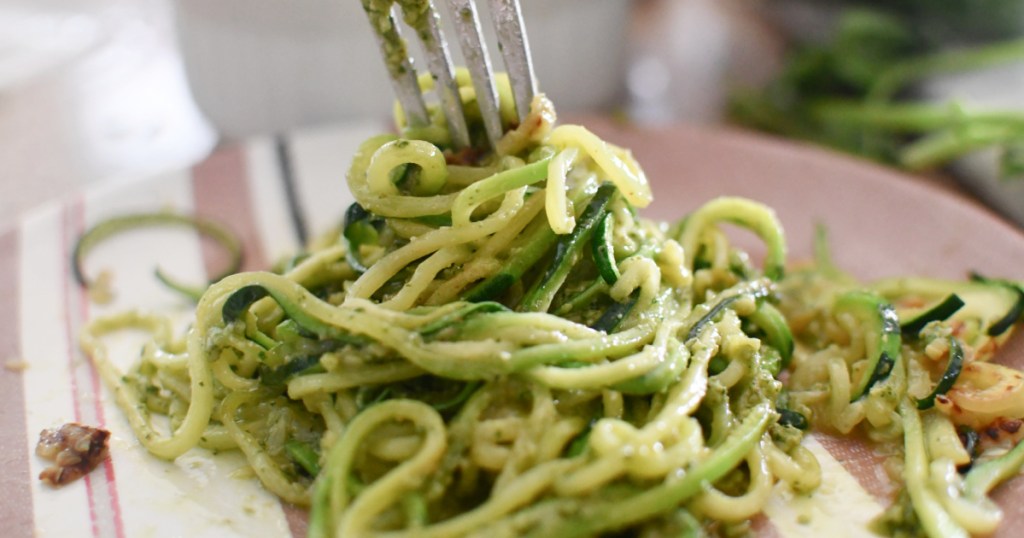 Zoodles new BFF!
This super easy avocado basil pesto sauce recipe kicks zoodles up a notch with a flavor explosion for your mouth. The garlic, lemon, olive oil, parmesan cheese, and basil blend beautifully to create a rich sauce that I think your family will enjoy. Plus, the addition of the avocado really takes it over the top!
Instead of adding pine nuts like traditional pesto, I'm using pecans for a delicious high-fat, and super flavorful option.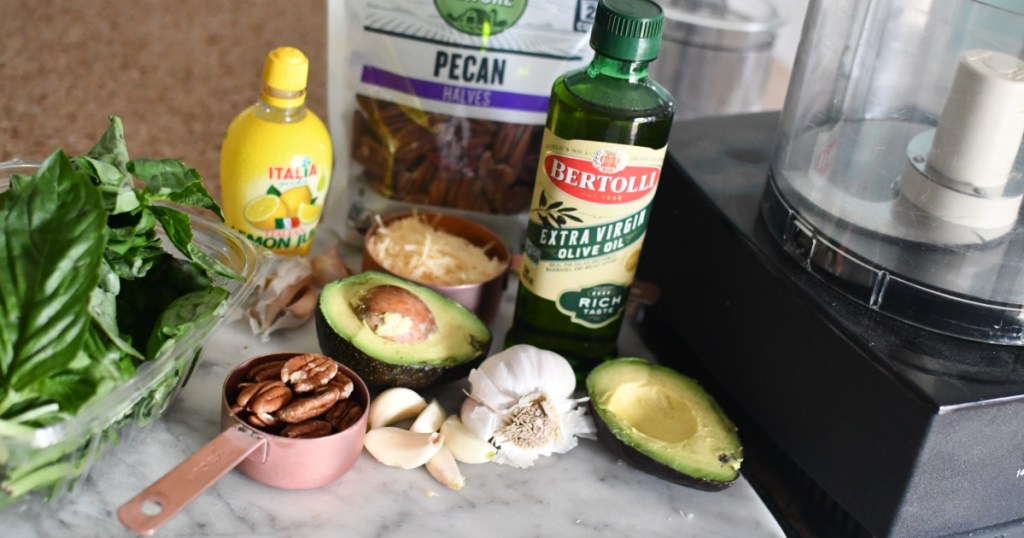 Hip tips for making the best homemade pesto sauce:
Basil is super easy to come by during the summertime but don't throw it out at the end of the season. Go ahead and freeze it so you'll always have some on hand for recipes that you make during the fall and winter months.
Love a little bit of extra kick? Try adding crushed red pepper to add a little heat to make your pesto spicy.
Since this pesto has avocado, it should be used the same day. However, you can cover it with plastic wrap making sure the top of the sauce touches the wrap, and place in the fridge for up to a few days. You can also try freezing leftovers in an ice tray to use later on.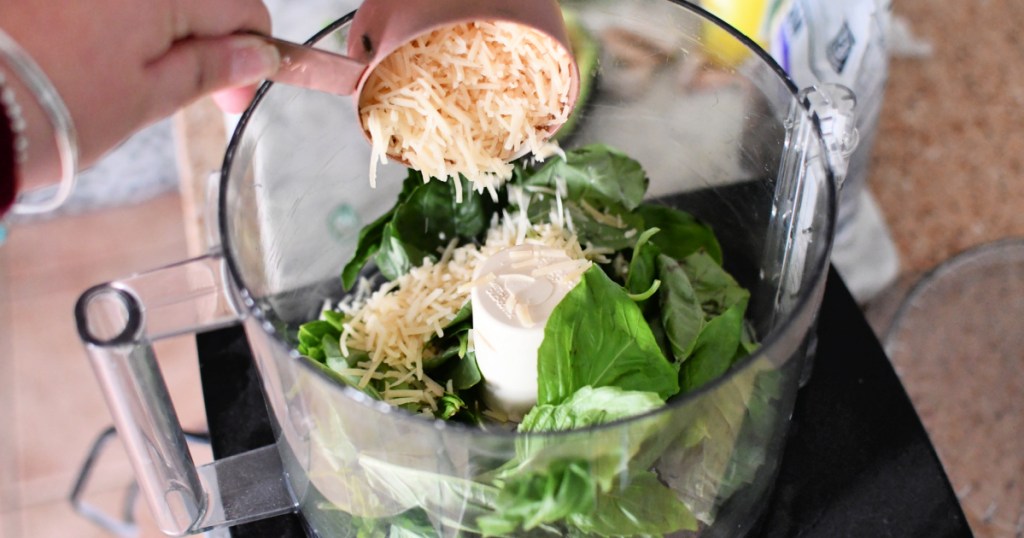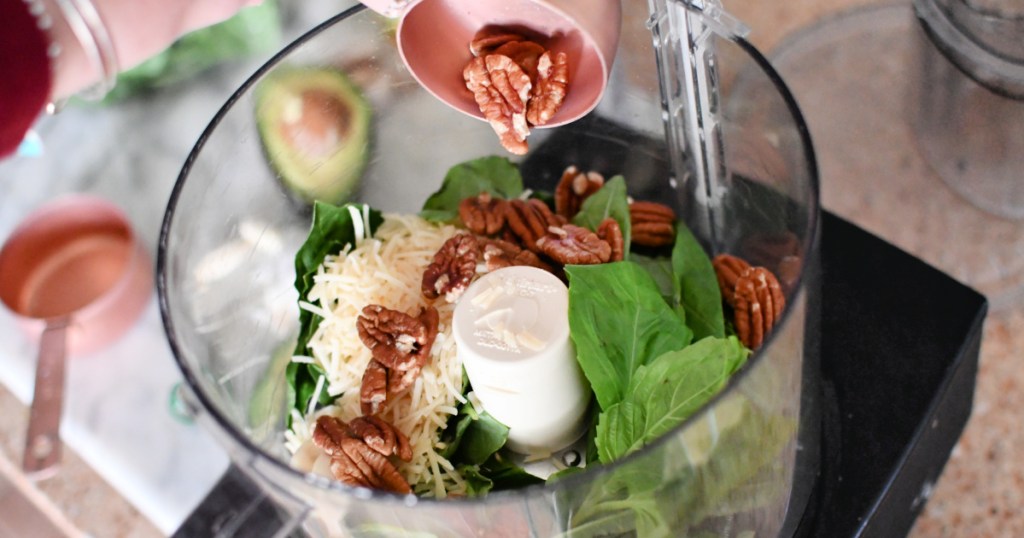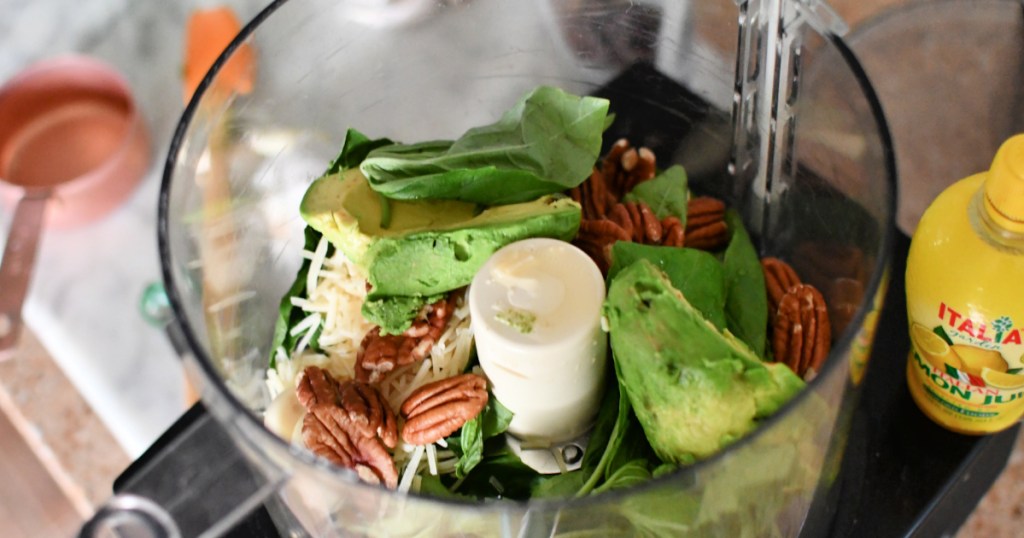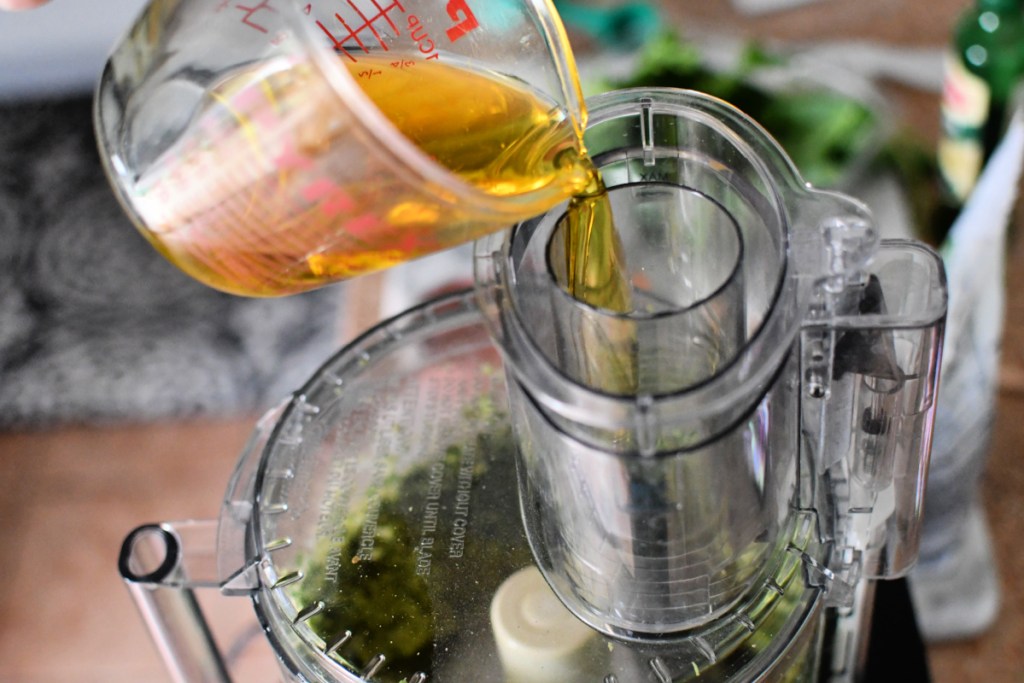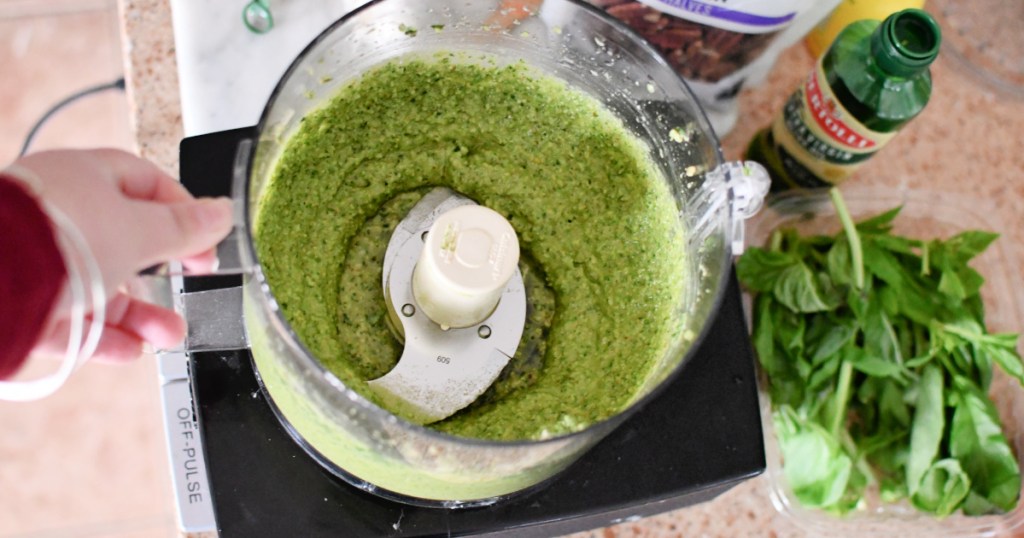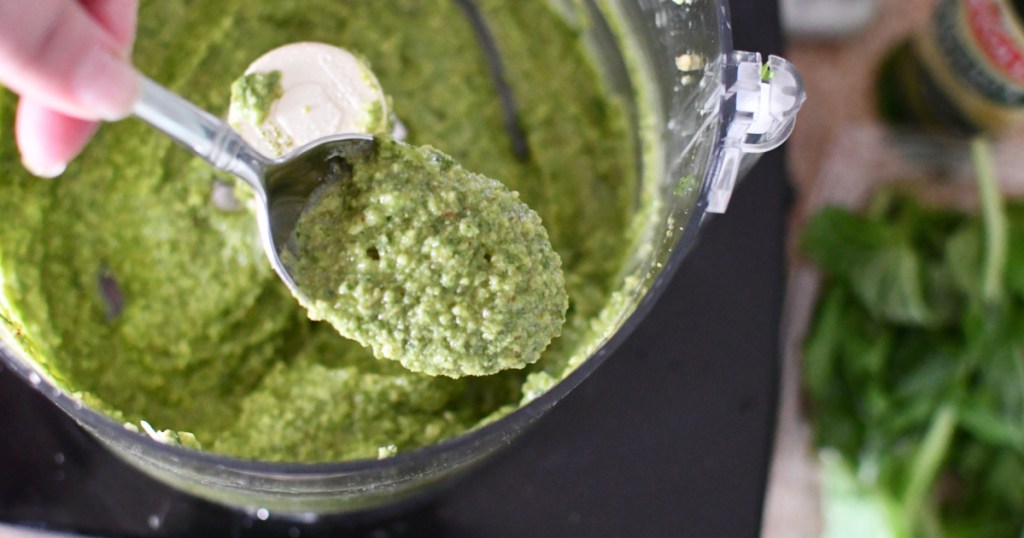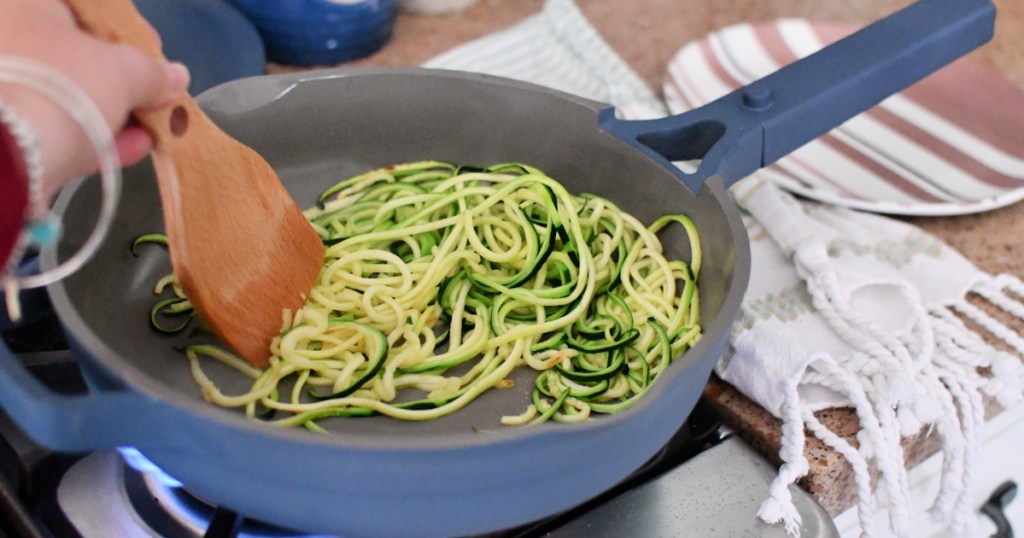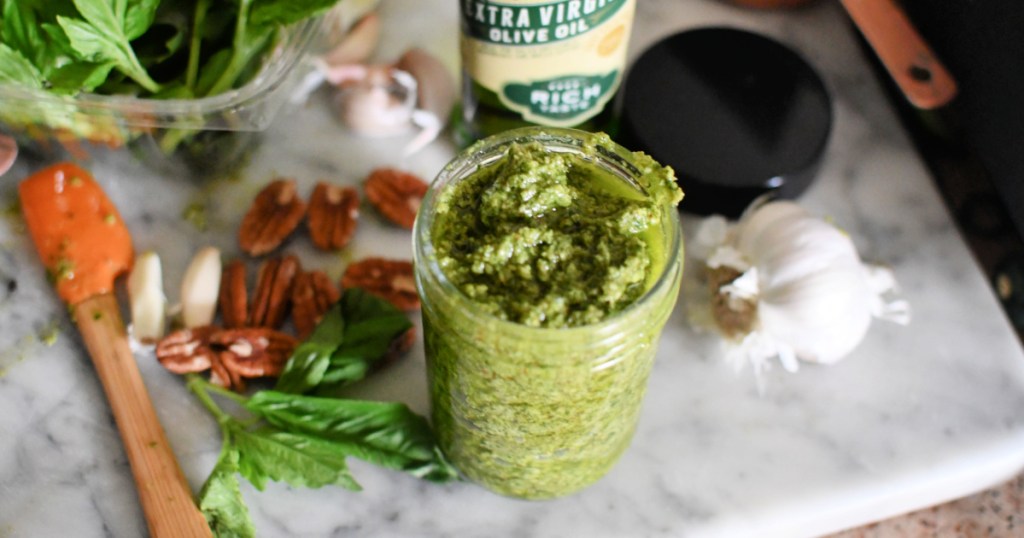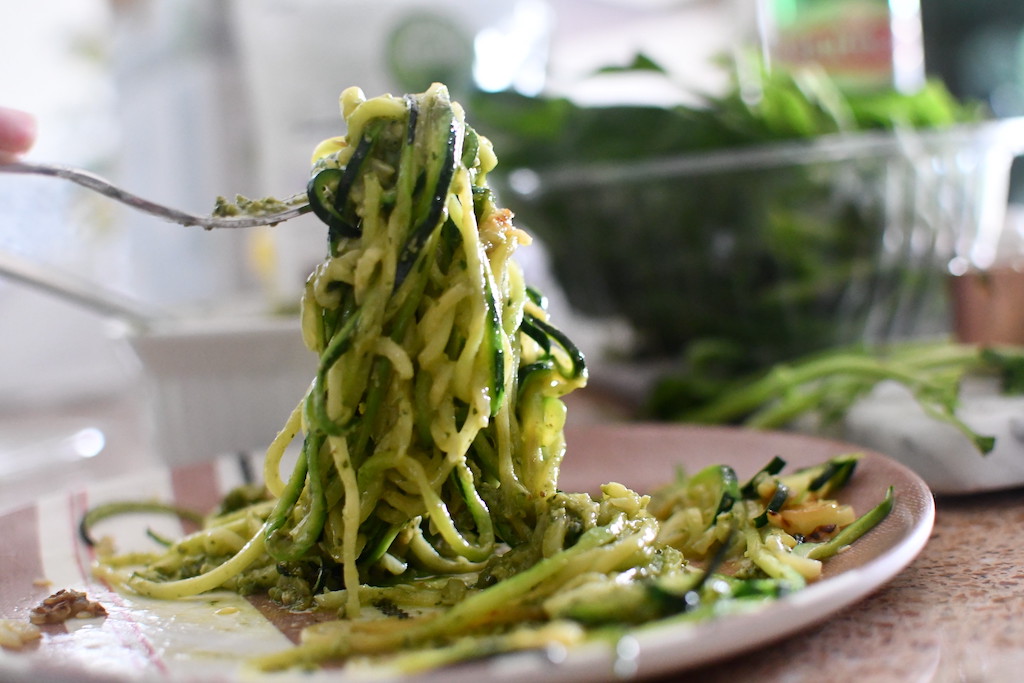 ---
Print
Avocado Pesto Sauce
yield: 11 SERVINGS
prep time: 5 MINUTES
total time: 5 MINUTES
A creamy keto-friendly pesto sauce made with pecans, garlic, basil, and avocado for additional fat. Perfect to pair with zucchini noodles!
Ingredients
1 1/2 cups fresh basil
1/2 cup parmesan cheese, shredded
3 large garlic cloves
1 tablespoon lemon juice
1/2 teaspoon salt
1 medium sized avocado
1/2 cup extra virgin olive oil
Directions
1
In a food processor, add in all ingredients except olive oil. Turn the food processor on pulse. Pulse several times and be sure to scrape the sides with a spatula to make sure everything is getting blended together.
2
Slowly add in extra virgin olive oil while the food processor is on low. Continue mixing for about a minute.
3
Remove pesto sauce from the food processor and use on top of zucchini noodles or serve as desired. If you have any leftovers, store pesto in a sealed container in the refrigerator for up to 3 days.
Nutrition Information
Yield: 1 and 1/3 cups (10.6 oz), Serving Size: 2 tablespoons
Amount Per Serving: 155.3 Calories | 12.8g Fat | 2.2g Total Carbs | 1.3g Fiber | 2.0g Protein | 0.9g Net Carbs
---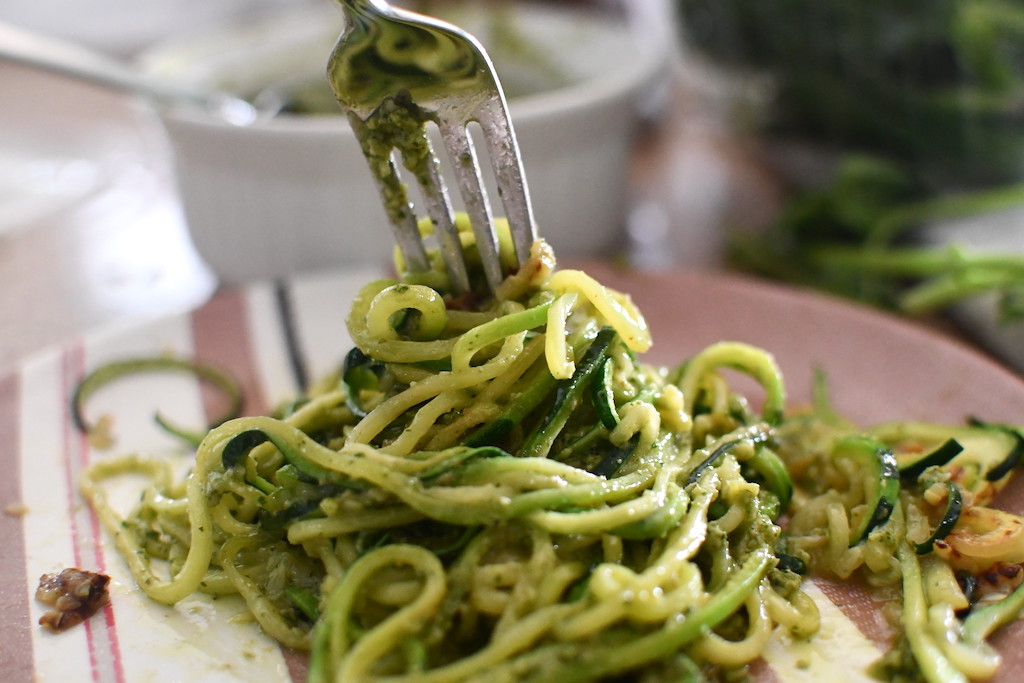 This easy pesto sauce is so versatile, and you can serve it so many ways!
Not only is it excellent to use as a creamy sauce for zucchini noodles, but you can serve it over fish, steak, and chicken. In fact, this chicken veggie sheet pan bake is a great option to consider using your homemade avocado pesto.
In general, pesto is one of my favorite foods ever, and I'm always trying to think of new ways to incorporate it into keto recipes.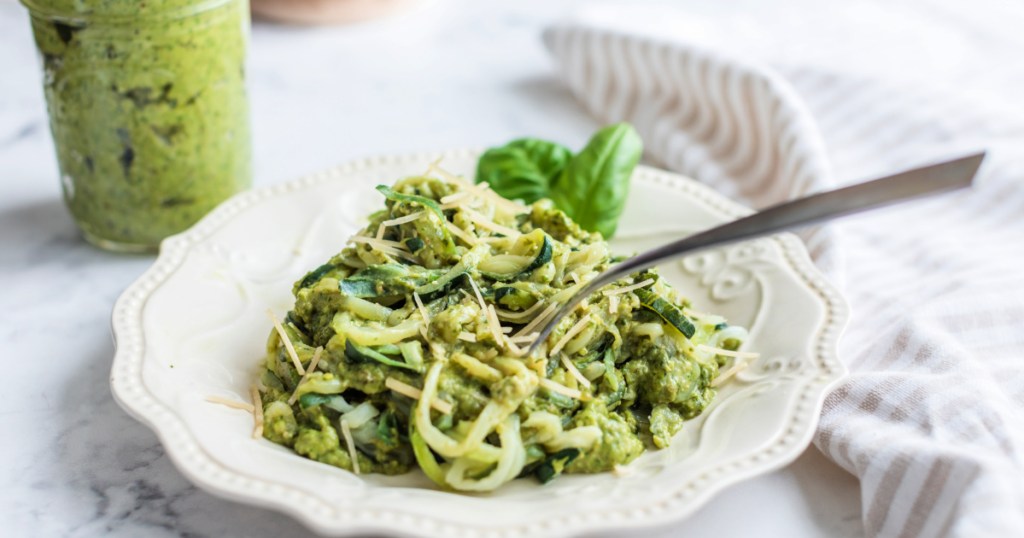 My teammate, Jenna, gave this recipe a test for me, and here's what she had to say:
"This was so easy to make! I love that everything just goes in the food processor, and then boom, fresh pesto. The basil isn't too overpowering thanks to the avocado. Also, the pecans are a fun touch.
I put this on some zoodles and it was so good! I love the combination of the ingredients, the amazing scent while blending, the even better taste, and just how easy it was to make."
---
Make this Crock-Pot Lemon Pesto Chicken with Zucchini Noodles!