YUMMY and Easy Pizza Stuffed Hasselback Zucchini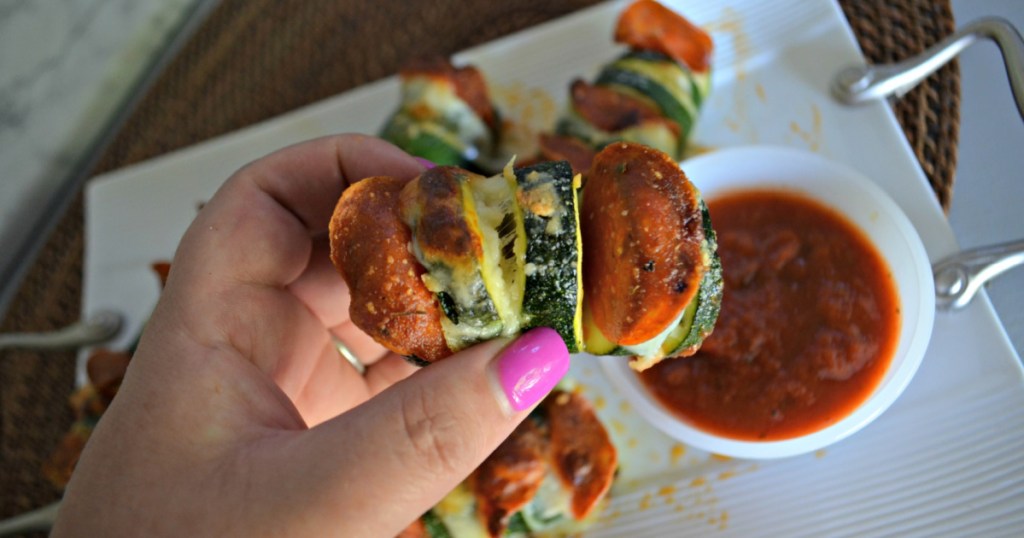 You've most likely had (or seen) Hasselback potatoes, sliced and stuffed with cheese and toppings. It's SO good but SO full of carbs.
How about combining the delicious flavors of cheesy pepperoni pizza with a roasted zucchini instead! It's easy, and it's the best way I've served zucchini lately. It's also perfect for this summer when gardens are brimming with zucchini!
This keto-friendly idea is super easy to make! Just grab some zucchini, a baking sheet covered with parchment paper, and pizza ingredients!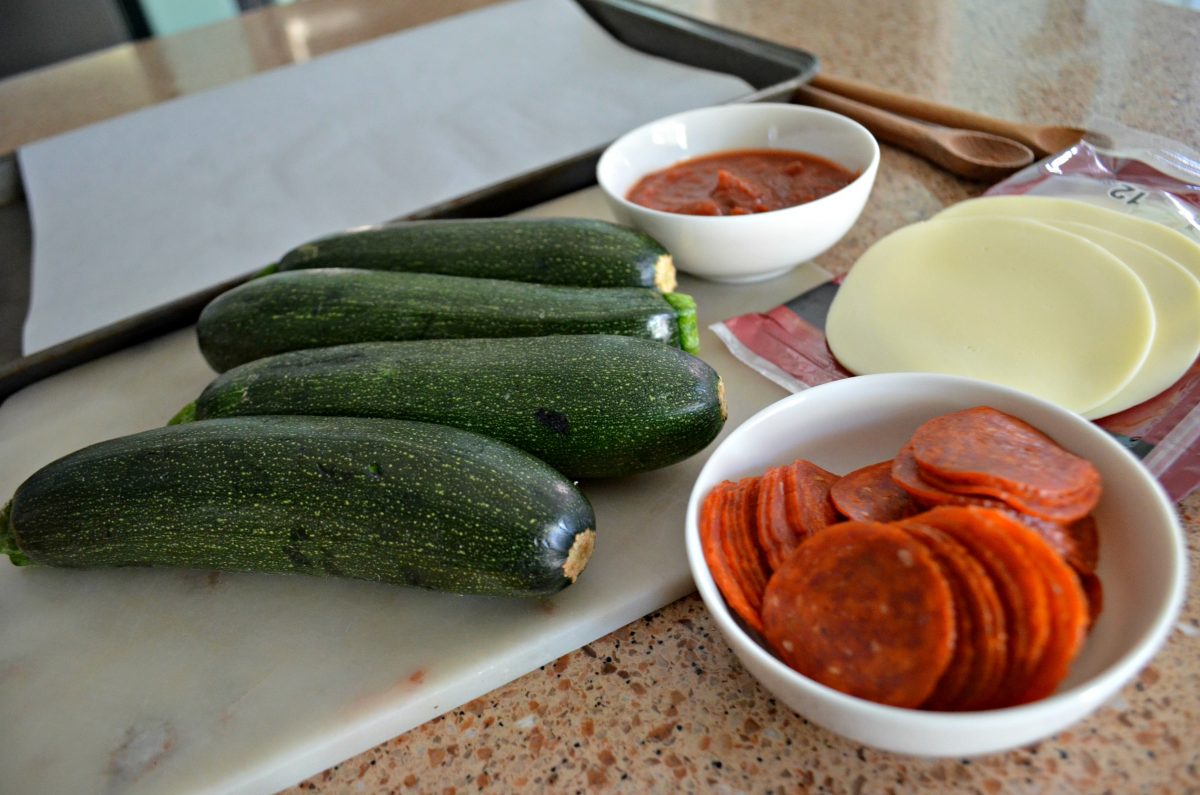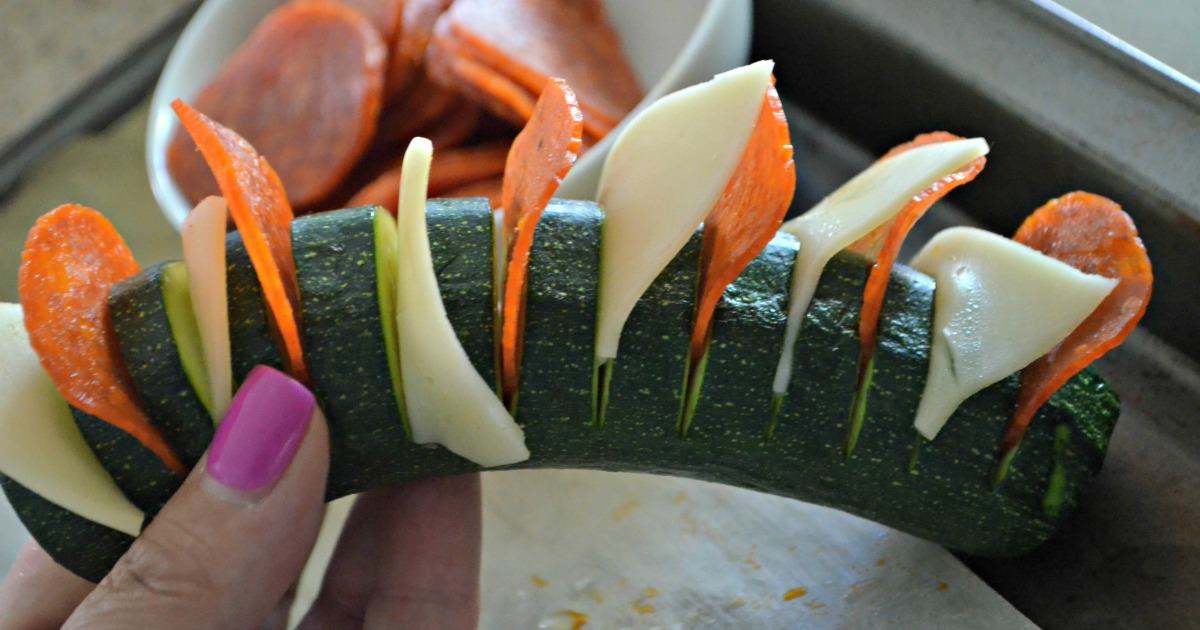 ---
Print
Easy Pizza Stuffed Hasselback Zucchini
yield: 4 SERVINGS
prep time: 15 MINUTES
cook time: 25 MINUTES
total time: 40 MINUTES
An easy zucchini pizza stuffed appetizer the entire family will enjoy!
Ingredients
4 zucchini, medium-sized
4 slices provolone cheese
24 pepperoni slices
1/2 teaspoon Italian seasoning
3 tablespoons Parmesan cheese, grated
low sugar marinara for dipping *optional
Directions
1
Preheat oven to 400 degrees.
2
Cut ends off zucchini. Use a knife to make 1/4-inch cuts down the zucchini, making sure not to cut zucchini all the way through. Tip: Place a chopstick (or something similarly shaped) on each side of the zucchini to help block the knife from cutting all the way through.
3
Place all four zucchini on a parchment paper covered baking sheet. Bake for about 12 minutes, so it's tender enough to open slightly for stuffing.
4
Remove from oven and let cool.
5
Cut cheese into smaller pieces, and place between every other slice of zucchini. Same with the pepperoni. I used about one slice of cheese and 6 slices of pepperoni for each zucchini.
6
Sprinkle all with Italian seasoning, salt, pepper, and grated Parmesan cheese.
7
Put back in the oven for another 10-15 minutes until the desired done-ness. (Note: Your total cook time will depend on the size of the zucchini.)
8
Serve by itself, or with some low sugar marinara sauce or ranch dressing.
Nutrition Information
Yield: 4 servings, Serving Size: 1 stuffed zucchini
Amount Per Serving: 176 Calories | 13g Fat | 7g Total Carbs | 2g Fiber | 12g Protein | 5g Net Carbs
---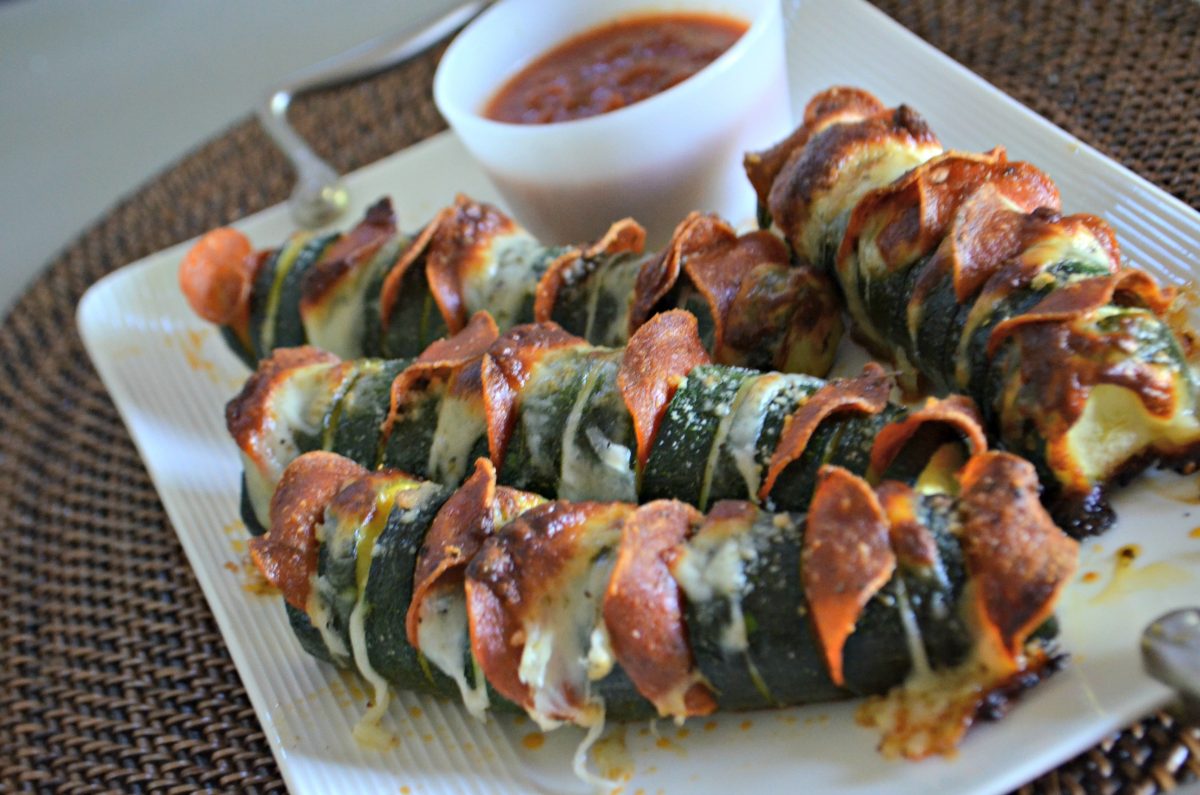 What a seriously delicious and FUN way to serve zucchini!
My daughter had fun helping me, and we all enjoyed this idea! We used provolone cheese, but you can pick any cheese that you'd like. There are definitely other ingredients you can consider using, like bacon instead of pepperoni, or Ranch instead of marinara for dipping. Enjoy!
---