Must-Make Keto Dinner Idea: Chicken and Zucchini Noodles with Pesto
Add more zest to your weeknight dinner by whipping up chicken and zucchini noodles with pesto!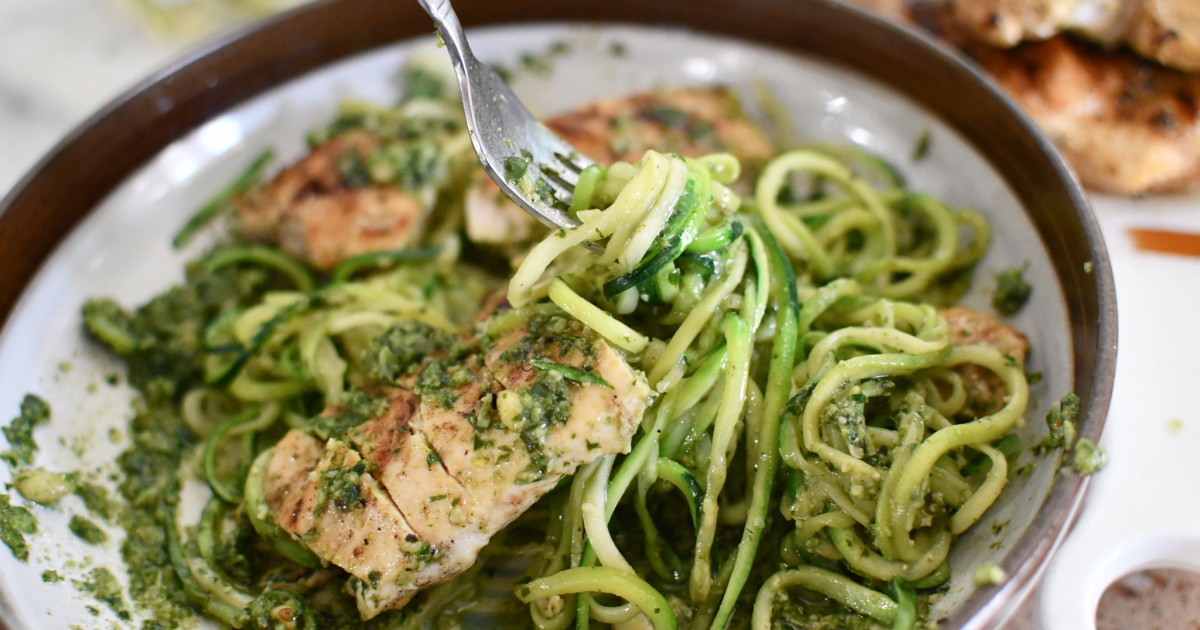 Any keto friends here who love pesto?
Here's an easy pesto keto chicken dinner recipe that's one of my family's favorites! Making pesto with fresh basil is honestly so easy to make at home in a blender or food processor. It adds so much fresh flavor to any meal, and I love using it for low-carb keto meals because of the healthy high-fat ingredients.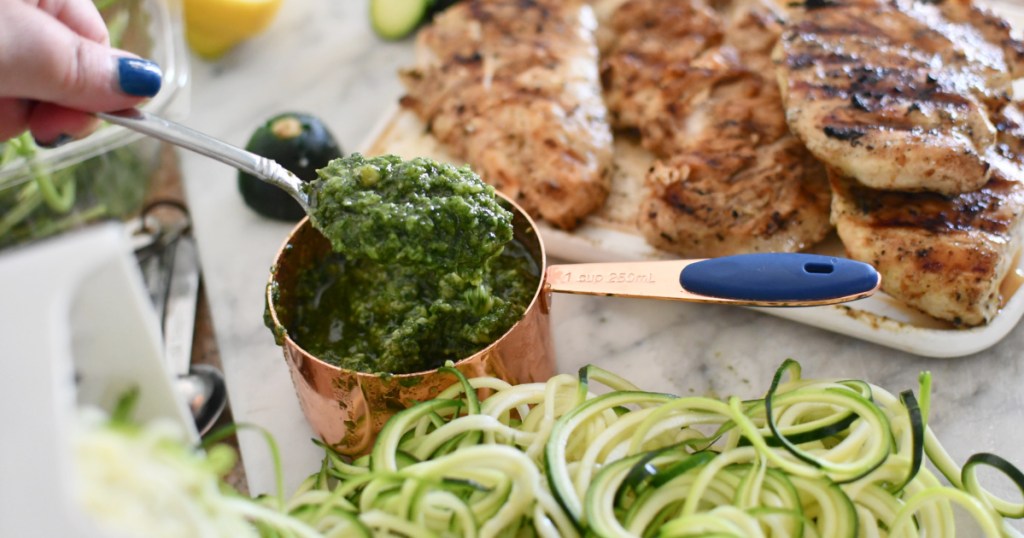 You don't have to sneak healthy veggies into your meals when they taste THIS good.
Try replacing high-carb pasta with zucchini noodles as a delicious keto hack that everyone will LOVE. Add in a simple fresh-at-home pesto and grilled chicken, and you have a mouthwatering meal that is both super satisfying and easy to make.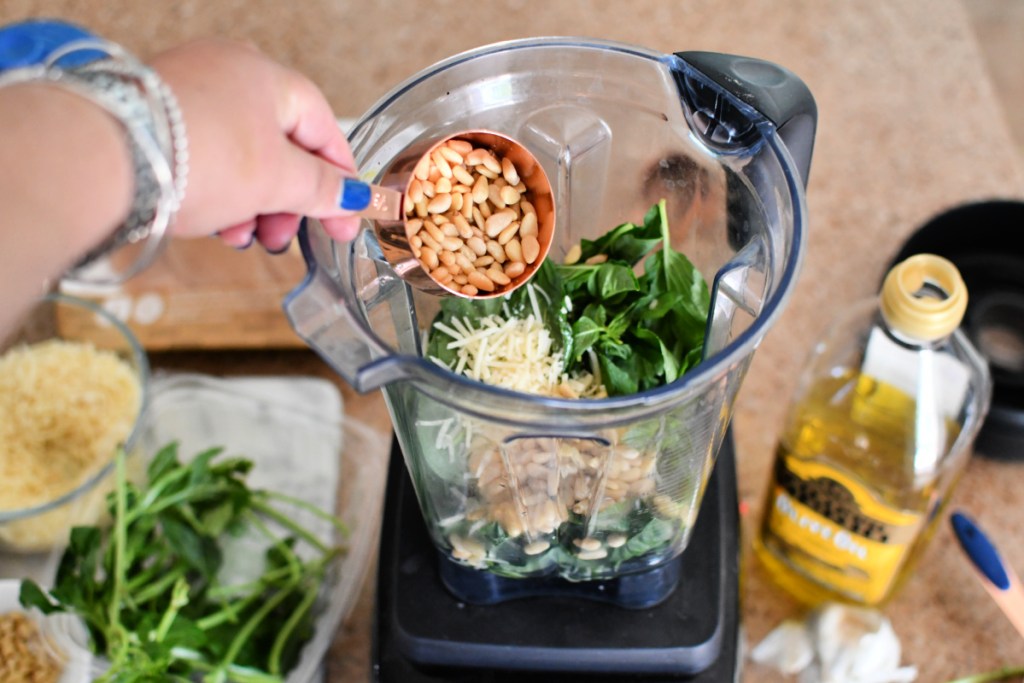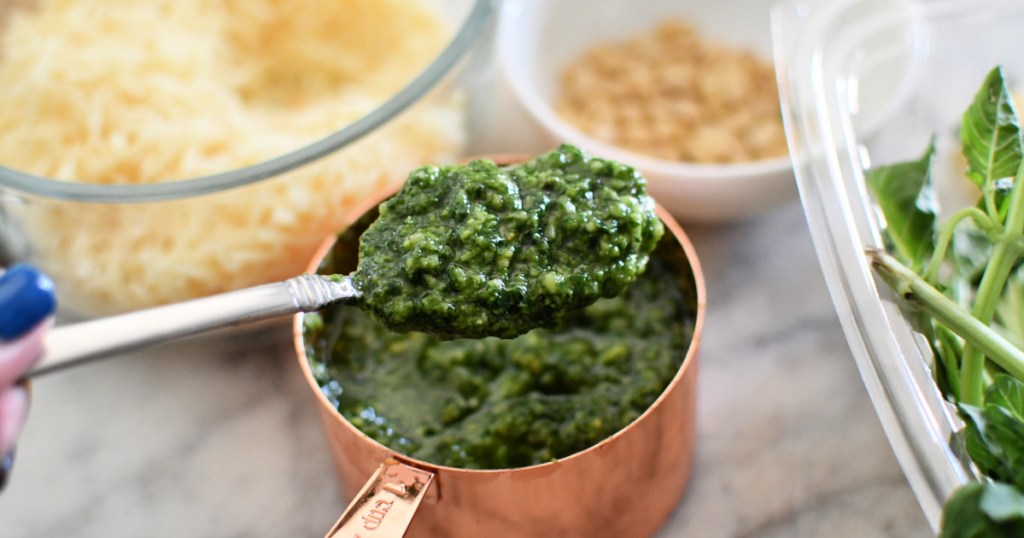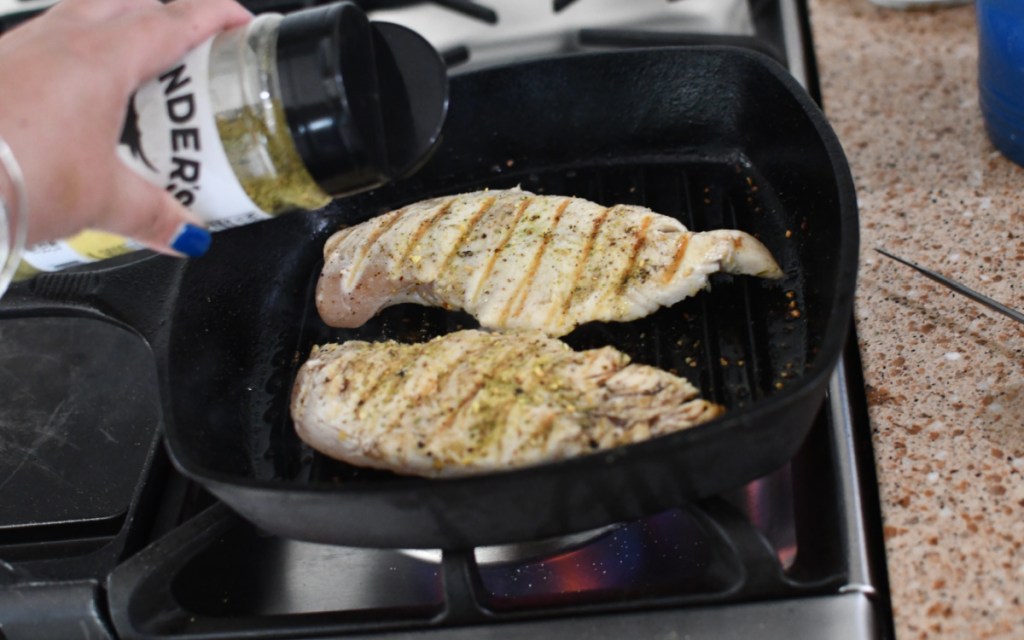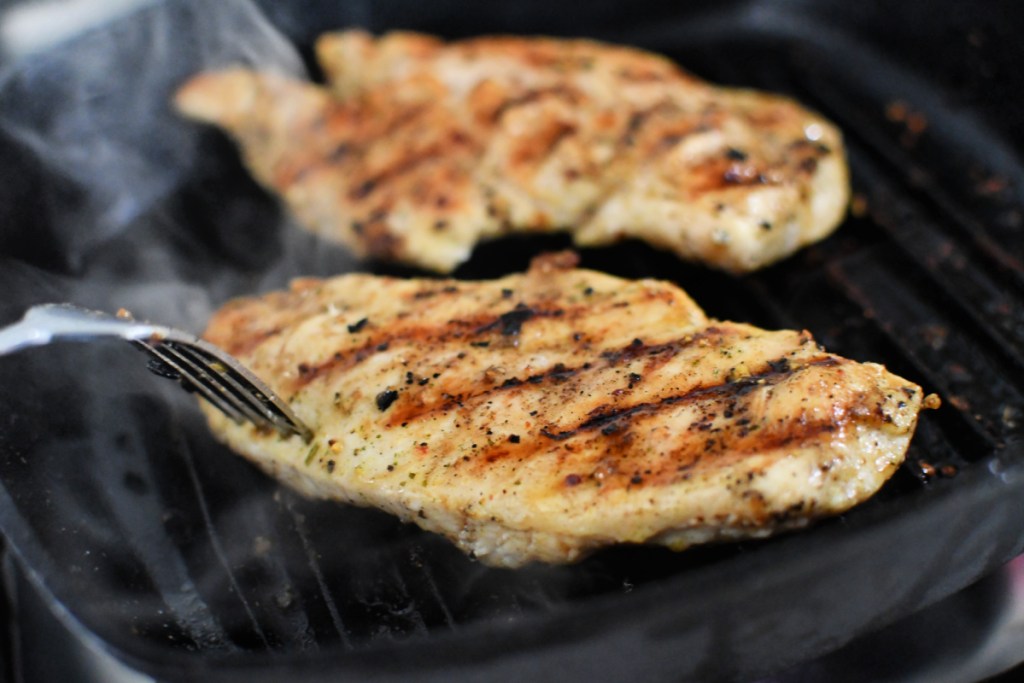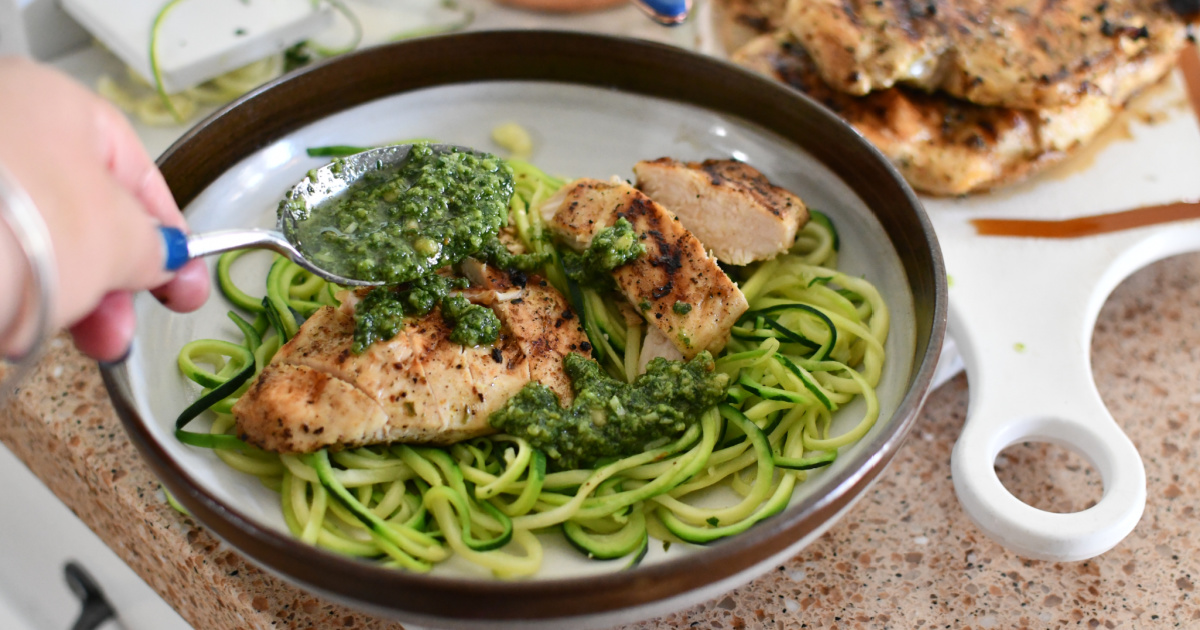 ---
Print
Chicken and Zucchini Noodles with Pesto
yield: 4 SERVINGS
prep time: 20 MINUTES
cook time: 15 MINUTES
total time: 35 MINUTES
This delicious one pan keto chicken pesto recipe is loaded with flavor without all the carbs.
Ingredients
For the fresh pesto:
1/2 cup and 1 tablespoon olive oil
2 cups fresh basil leaves (3 oz. container)
1/4 cup Parmesan cheese, shredded
1 tablespoon lemon juice
2 cloves garlic
1/4 teaspoon salt
pinch of pepper
For the chicken & zoodles:
4 raw chicken cutlets (1.5 lbs)
pinch of salt and pepper on each side of cutlet
6 medium sized fresh zucchini (about 1.5 pounds)
1 teaspoon olive oil (or avocado oil)
Directions
1
Combine pesto ingredients in a food processor or high-powered blender and pulse until the mixture is coarsely ground and smooth. Makes about 1 cup of prepared pesto.
2
Prep a grill pan with olive oil or avocado oil, and heat to medium on the stove. Season with salt and pepper, and grill chicken for a few minutes on both sides until the internal temperature reaches 165 degrees. Remove from pan, slice chicken, and set aside.
3
Make zucchini into noodles using a vegetable spiralizer tool. Use a paper towel to blot some of the moisture. Heat a nonstick skillet to medium heat and sauté zoodles in a pan with olive oil on the stove for just a few minutes until slightly tender. Do this in a couple of batches so you do not overcrowd and be careful not to overcook.
4
Add 1 1/2 cup zoodles to each plate and add a pinch of salt and pepper when plating. Top with a sliced chicken breast and about 3 tablespoons of pesto. Enjoy!
Nutrition Information
Yield: 4 servings, Serving Size: 1 1/2 cups cooked zoodles, 3 tablespoons pesto, 1 chicken cutlet
Amount Per Serving: 577 Calories | 42.5g Fat | 8.1g Total Carbs | 2.4g Fiber | 4.9g Sugar | 42.4g Protein | 5.7g Net Carbs
---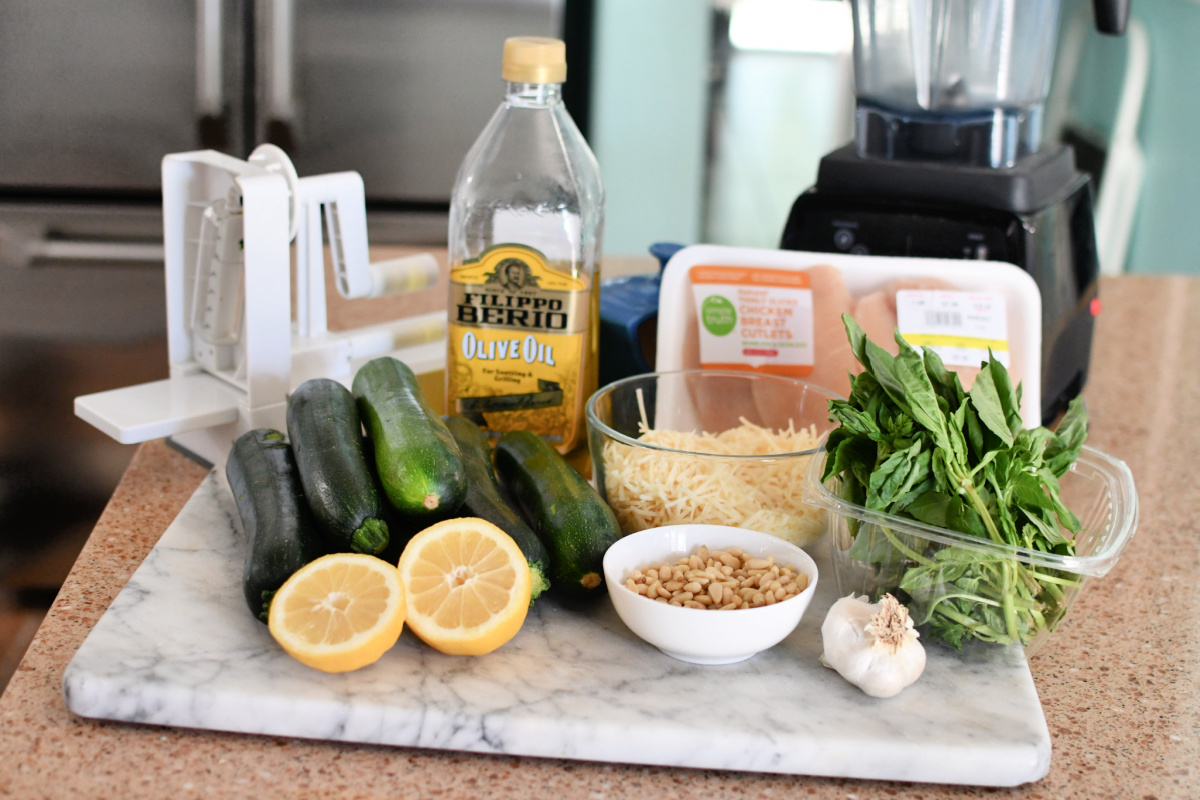 Tips for making the best keto chicken and zucchini noodles with pesto: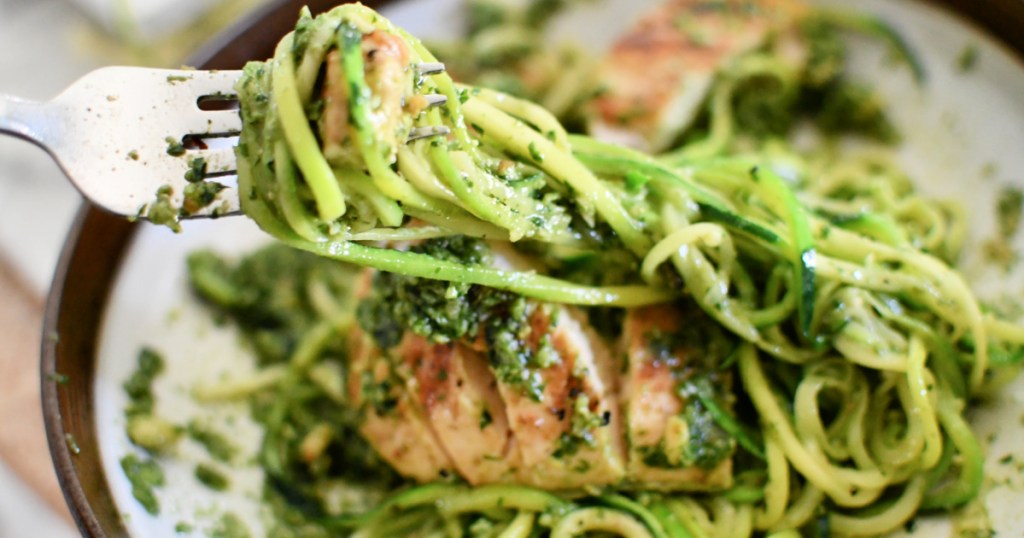 My family absolutely loves this zucchini noodles with pesto & chicken meal – the zucchini noodles rock!
I have been making this for years, and I love that keto eaters and non-keto eaters alike enjoy this meal. The combo of creamy pesto zoodles with savory grilled chicken is undeniably tasty and hearty. Top with some Pecorino Romano cheese for a flavor explosion! 🤤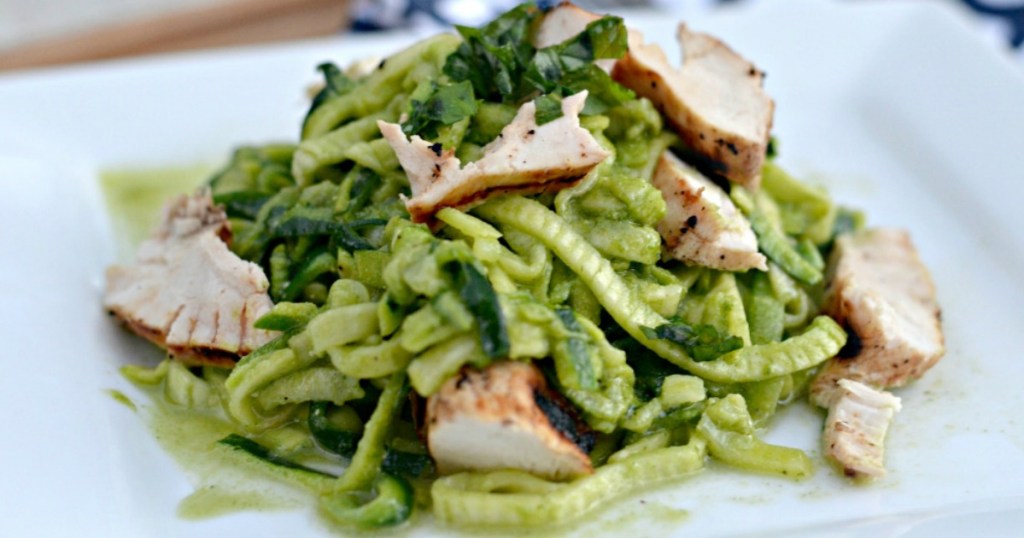 Here's what my teammate Erica had to say after trying this homemade zucchini noodles with pesto dish:
"I'm literally telling everyone about this awesome recipe!! It is so yummy. There truly is no better pesto recipe out there, and I've made pesto multiple times. The pine nuts… yes, they are a bit pricier, but they are so worth it! My favorite part about keto is that you can eat yummy and high-fat sauces just like this one!"
---
Try making this easy creamy avocado pesto sauce next – it's a winner too!