Crock-Pot Lemon Pesto Chicken with Zucchini Noodles
Tender and juicy slow cooker chicken smothered in a savory lemon pesto sauce served over zucchini noodles.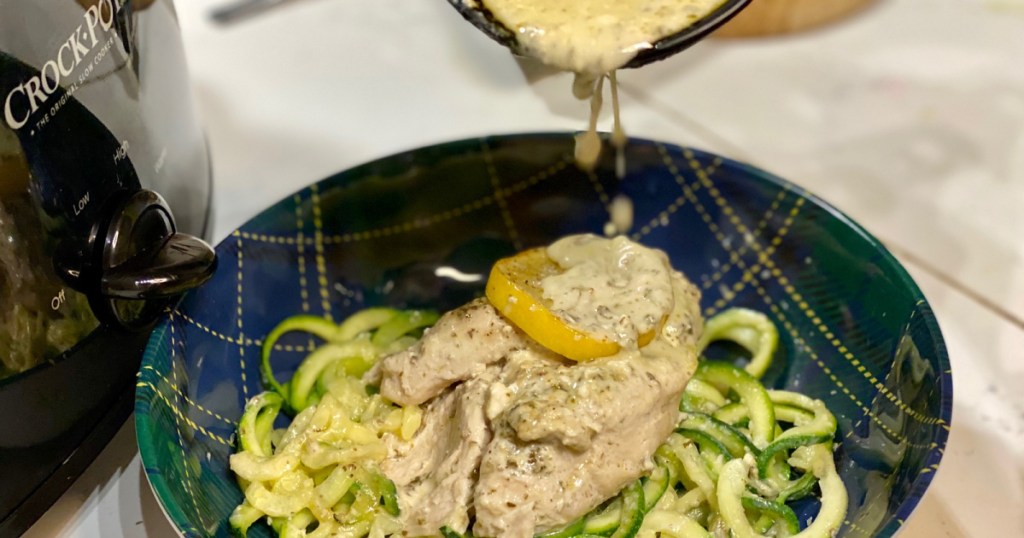 Keto Crockpot slow cooker meals are the best!
I love a good pesto sauce, but with the addition of lemon, it takes things to a whole new level of YUM. This keto Crockpot lemon pesto chicken recipe will likely have you reaching for a second serving…. and maybe even more the next day, if there's any left!
This keto lemon pesto chicken is not only undeniably delicious, but it's also extremely easy to make!
With simple ingredients, including jarred pesto sauce and chicken broth, you can quickly throw this dish together and get back to Netflix binging while it cooks in the Crockpot.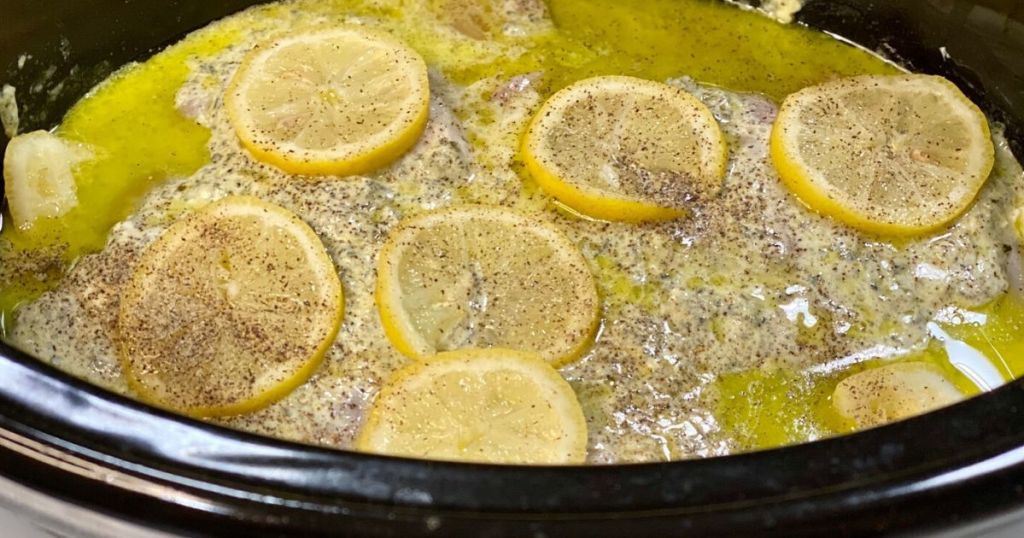 After a couple of hours have passed, your lemon pesto chicken will be nice and juicy, and almost ready to devour. I recommend complementing the zesty chicken with zucchini noodles or spaghetti squash for a fully appetizing meal.
You'll have a decent amount of sauce lingering in your slow cooker, so put that to good use and drizzle it over your low-carb "noodles". Try to keep it together without drooling over the table before you take your first bite! 😉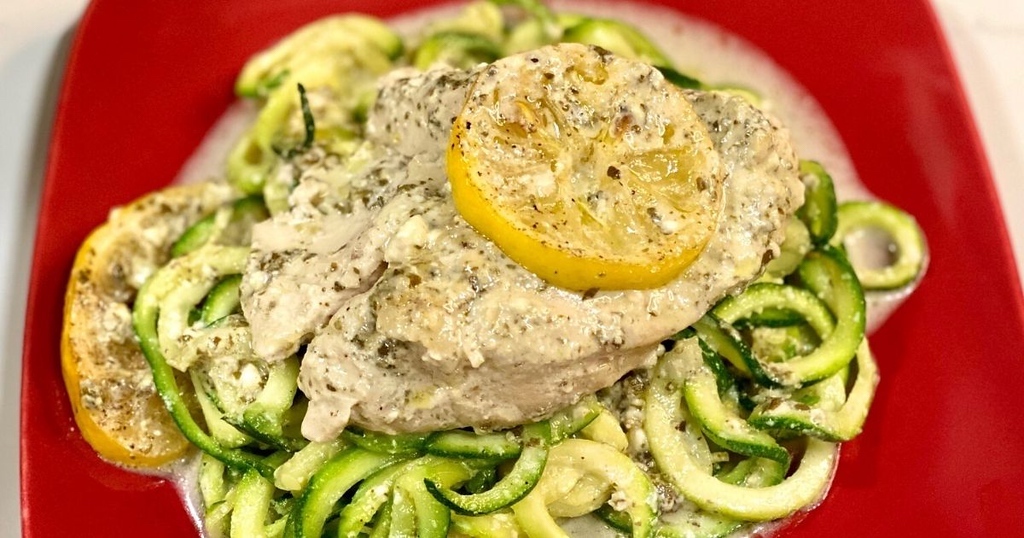 Tips for making the best Crockpot Lemon Pesto Chicken:
Don't have a spiralizer for your zucchini? You can use frozen zoodles instead to save yourself the spiralizing step. You'll likely need two bags for this recipe to get a filling serving (our recipe tester said 1 full cup of zoodles is more filling size than the suggested 1/2 cup), though making your own zoodles is a more frugal option!
You could use frozen chicken breasts but the cooking time will need to be increased to 2 to 3 hours on HIGH.
Feel free to garnish with additional mozzarella cheese, because you can never have too much cheese!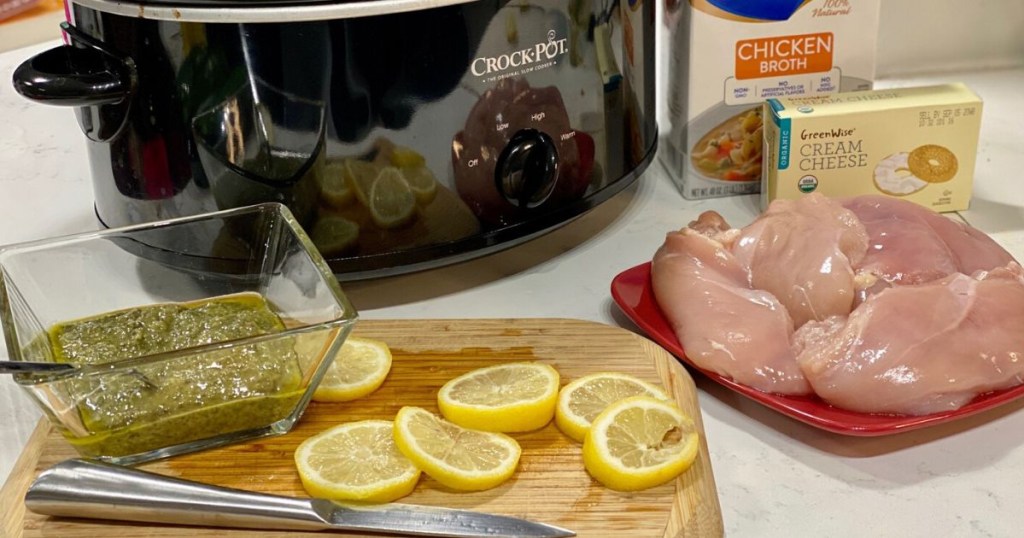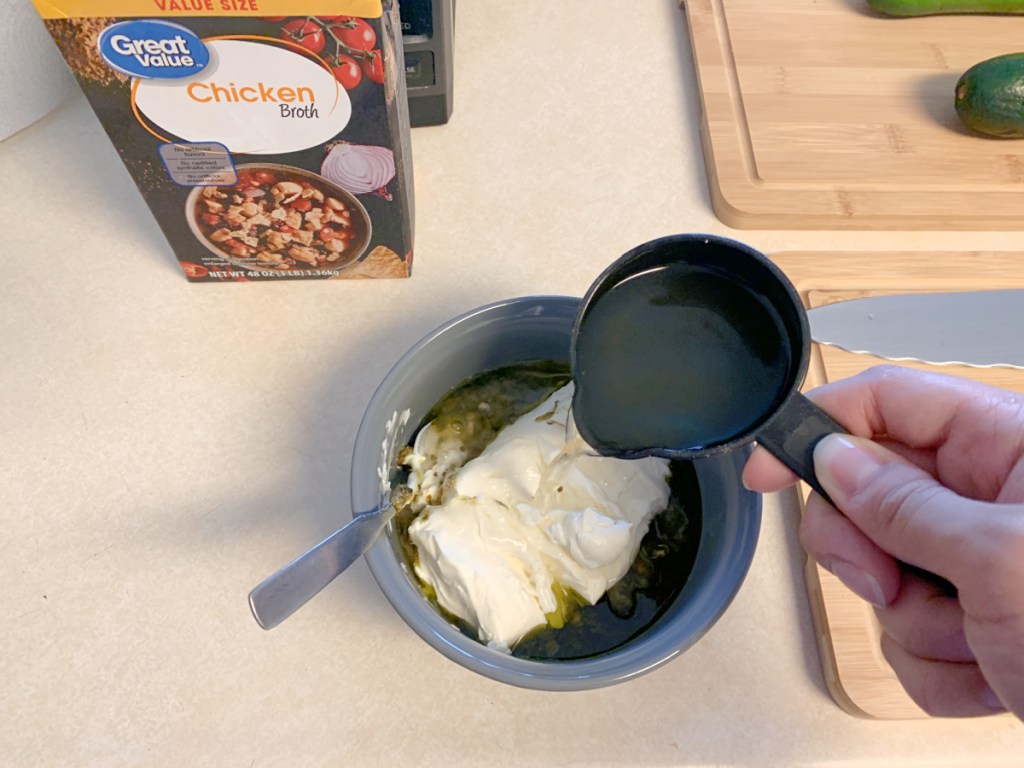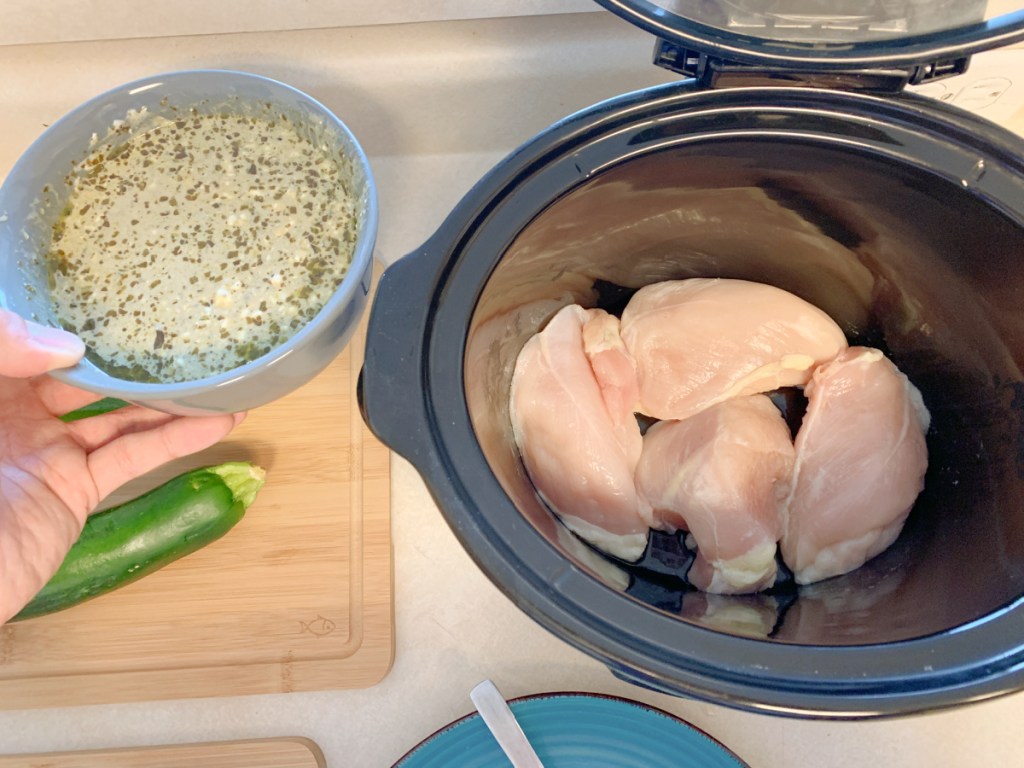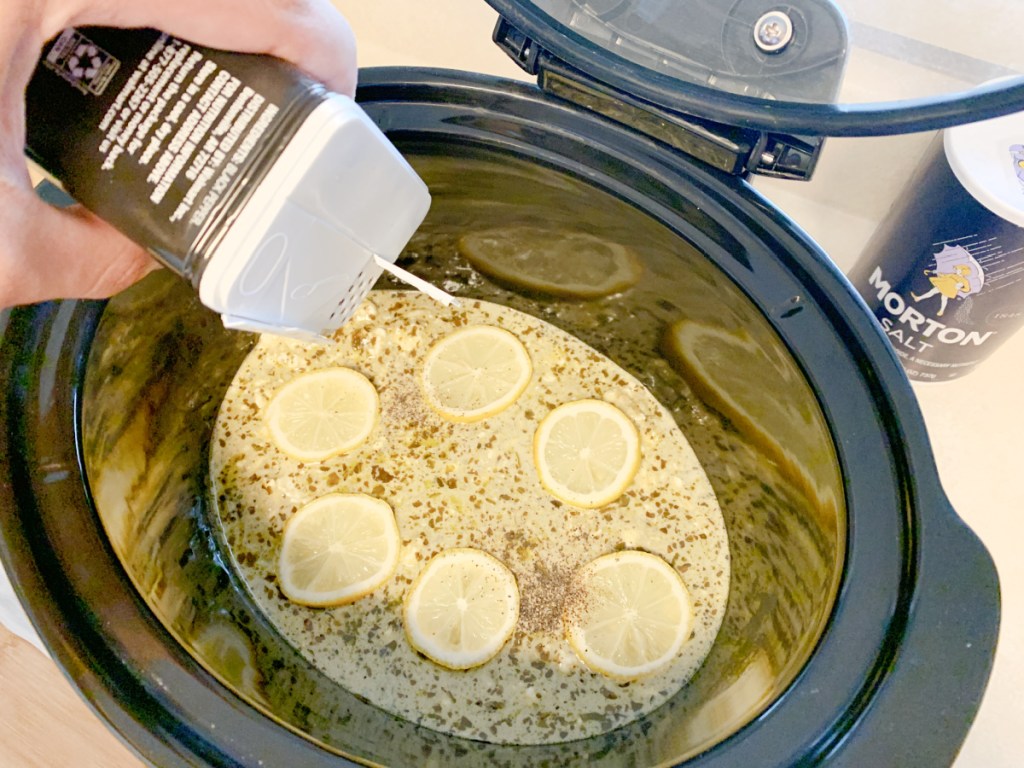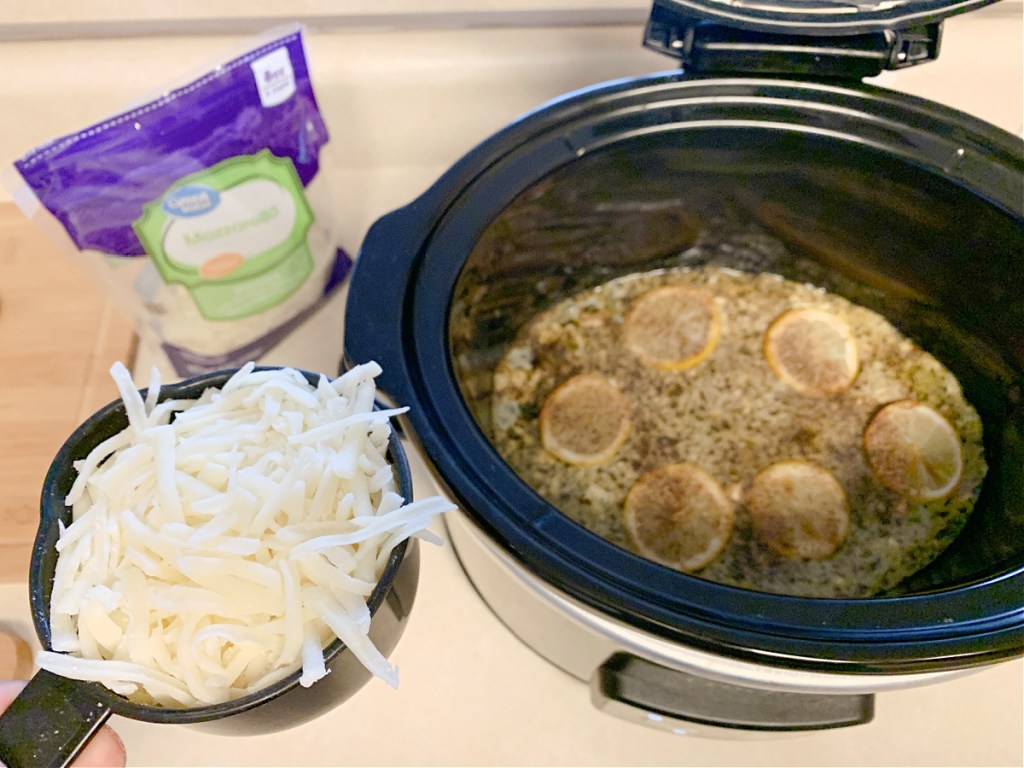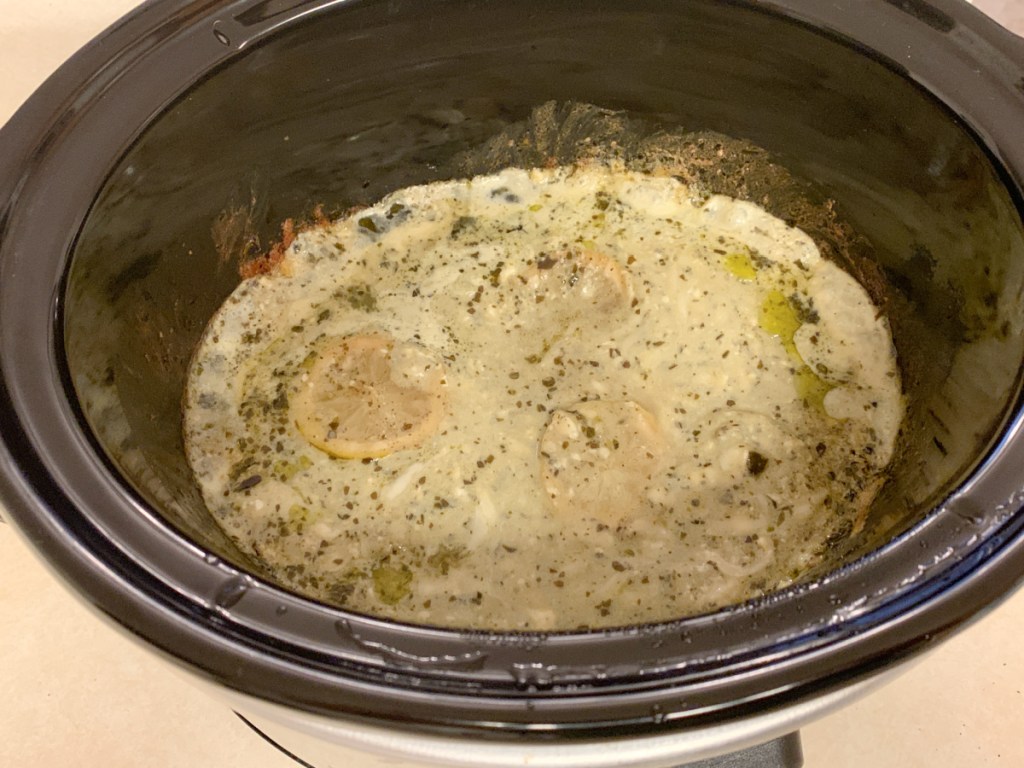 ---
Print
Crockpot Lemon Pesto Chicken
yield: 4 SERVINGS
prep time: 10 MINUTES
cook time: 2 HOURS
total time: 2 HOURS 10 MINUTES
Tender and juicy slow cooker chicken smothered in a savory lemon pesto sauce served over zucchini noodles.
Ingredients
4 chicken breasts, fresh or thawed
6 oz. jar of pesto sauce
8 oz. package of cream cheese, softened
1 cup of mozzarella cheese, shredded
1/2 cup chicken broth
1 lemon
1/2 teaspoon salt
1/2 teaspoon pepper
1 tablespoon olive oil (for sautéing zoodles)
4 medium-sized zucchinis (or 4 cups store-bought zoodles)
1/4 cup grated or shredded Parmesan cheese
Directions
1
Combine jarred pesto sauce, chicken broth, and softened cream cheese in a bowl and mix together.
2
Place the boneless chicken breasts in the slow cooker and pour the sauce mixture over the chicken.
3
Slice the lemon, remove any seeds, and place individual slices on top of the chicken breasts. Sprinkle with salt and pepper. Cover with the lid and set your slow cooker on HIGH for 1 hour.
4
After 1 hour of slow cooking, add in the shredded mozzarella cheese and stir it into the sauce. You might see some oil rising to the top, don't worry, that's supposed to happen. Cover and cook on LOW heat for another hour. That's it!
5
To cook fresh zoodles, heat olive oil in a medium-sized skillet over medium heat. Sauté the zoodles for 5-10 minutes, until just tender. If you're using pre-spiraled noodles, you'll need about four cups. If using frozen zoodles, cooking time will increase to about 10 to 12 minutes.
6
Plate your zoodles and top with 1 chicken breast. Drizzle some of the excess sauce over both your noodles and chicken to enhance the lemon pesto flavor. Sprinkle parmesan on top and enjoy!
Nutrition Information
Yield: 4 servings, Serving Size: 1 chicken breast & 1 cup of zoodles
Amount Per Serving: 761 Calories | 56.5g Fat | 9.1g Total Carbs | 2g Fiber | 4.6g Sugar | 54g Protein | 6.9g Net Carbs
---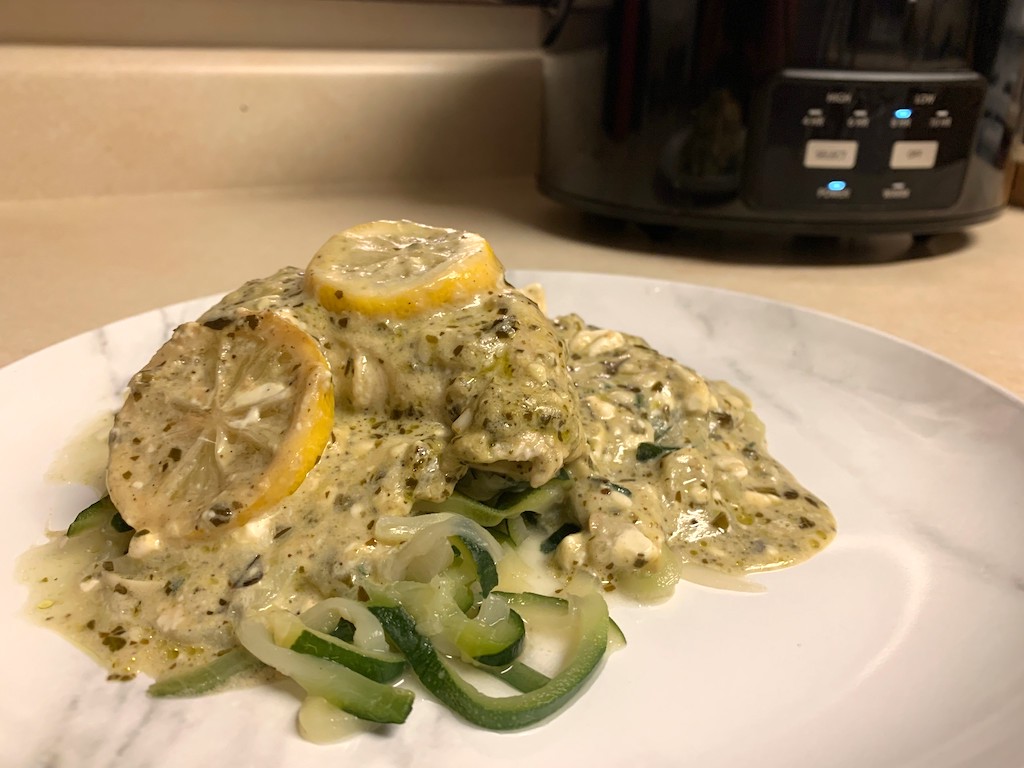 I'm literally eating this yummy lemon pesto sauce by the spoonful while plating the chicken!
This recipe is enough to feed four very hungry mouths, but could also be stretched for six smaller portions.
If you've got leftovers sitting around, don't let them go to waste! Place your leftover lemon pesto chicken in the oven at 350 for 10 to 15 minutes the next day and wait for a flavorful comeback that's just as tasty as the fresh meal.
My Hip sidekick Shane made this keto Crockpot lemon pesto chicken recipe and here's what he thought:
"This is one of the first keto dishes I've made, and I was astonished at how tasty it is. The combination of pesto and mozzarella cheese was the perfect pairing to top off the chicken, and the zoodles rounded out the dish in such a delicious fashion. All in all the actual prep time was shorter than most recipes I've done, which is great for those who don't want to spend TOO long in the kitchen assembling ingredients. I can safely say I will be making this again — even my roommate gave me a whole-hearted two thumbs up!"
---
If you like this recipe, try this Keto Chicken Alfredo Casserole next!