Crock-Pot Lemon Pesto Chicken with Zucchini Noodles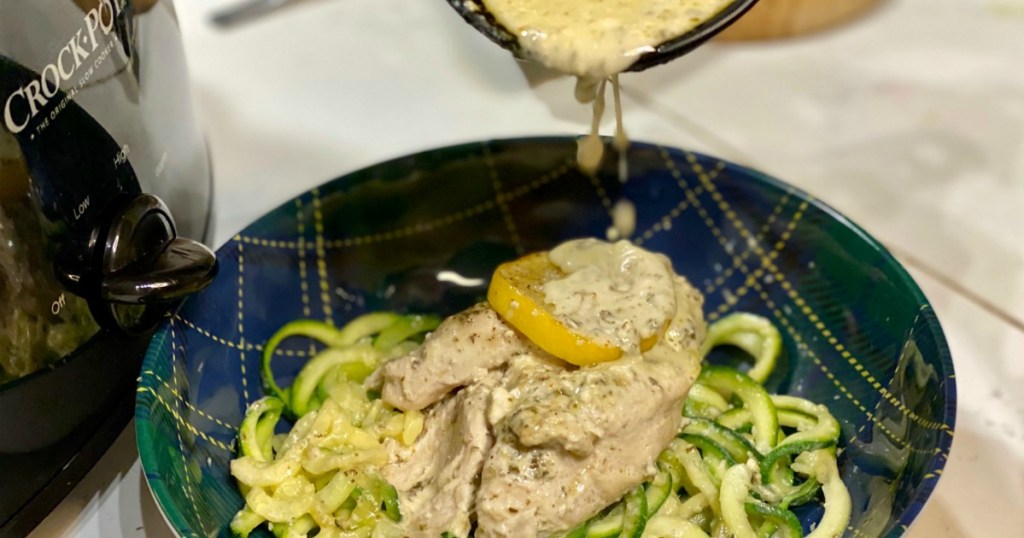 Keto Crockpot slow cooker meals are the best!
I love a good pesto sauce, but with the addition of lemon, it takes things to a whole new level of YUM. This keto Crockpot lemon pesto chicken recipe will likely have you reaching for a second serving…. and maybe even more the next day, if there's any left!
This keto lemon pesto chicken is not only undeniably delicious, but it's also extremely easy to make!
With simple ingredients, including jarred pesto sauce and chicken broth, you can quickly throw this dish together and get back to Netflix binging while it cooks in the Crockpot.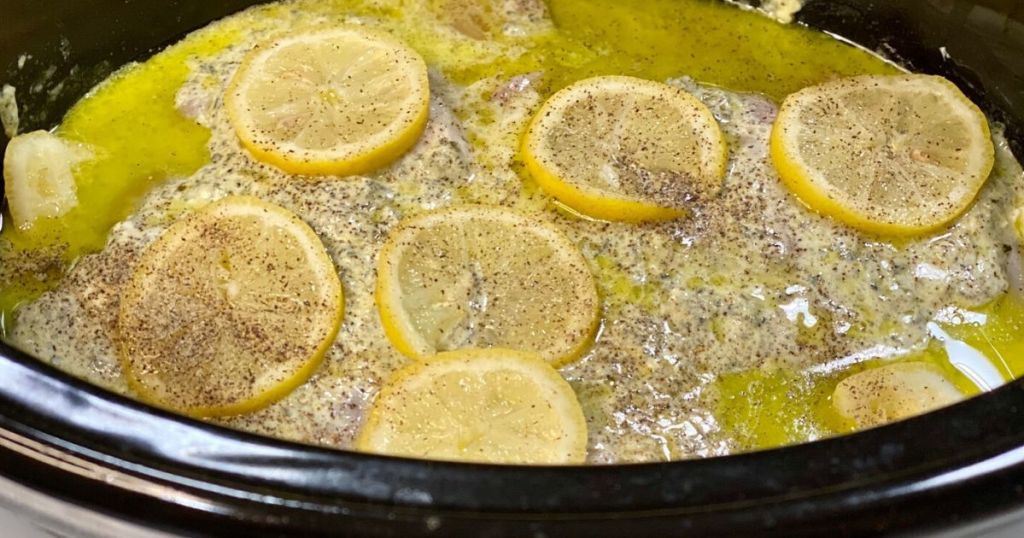 After a couple of hours have passed, your lemon pesto chicken will be nice and juicy, and almost ready to devour. I recommend complementing the zesty chicken with zucchini noodles or spaghetti squash for a fully appetizing meal.
You'll have a decent amount of sauce lingering in your slow cooker, so put that to good use and drizzle it over your low-carb "noodles". Try to keep it together without drooling over the table before you take your first bite! 😉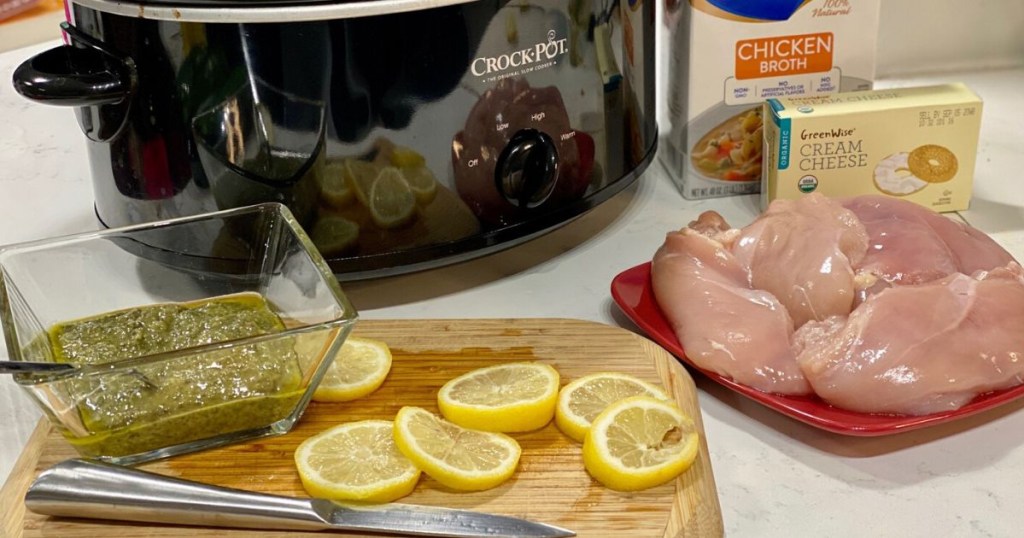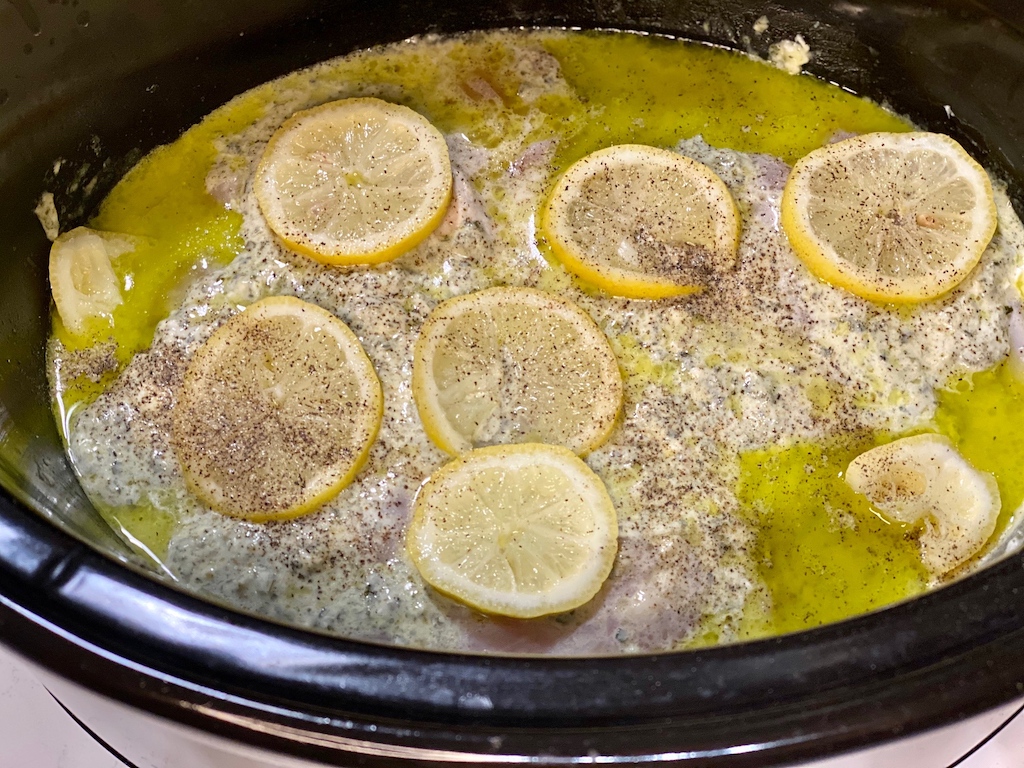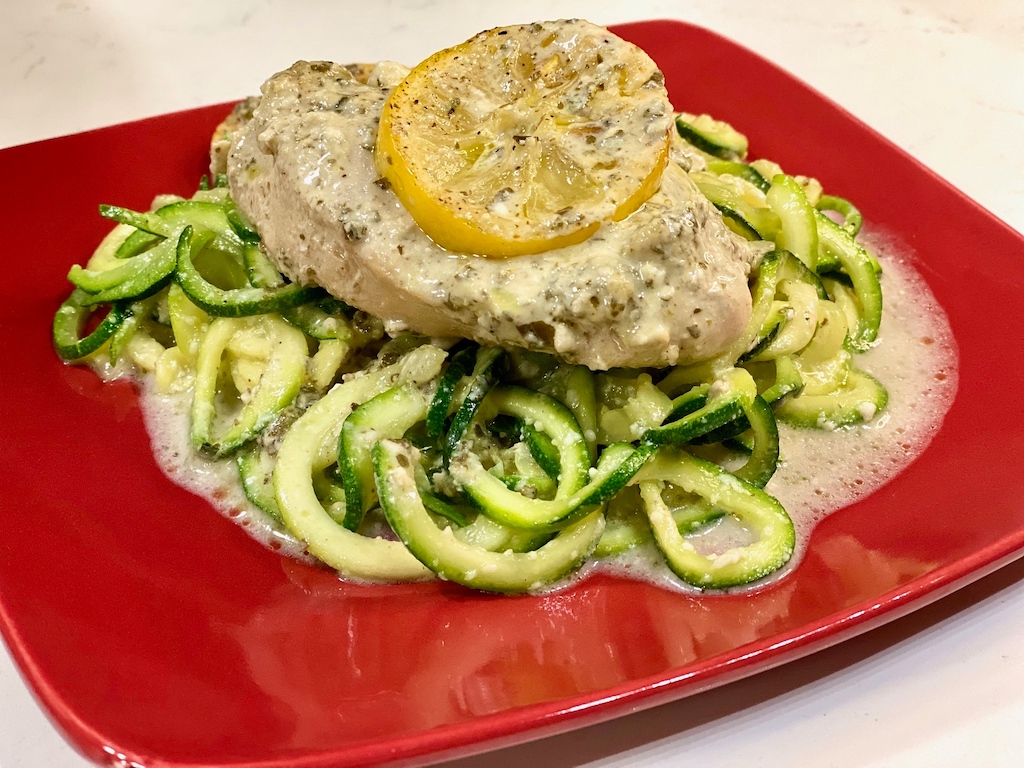 ---
Print
Crockpot Lemon Pesto Chicken
yield: 4 SERVINGS
prep time: 10 MINUTES
cook time: 2 HOURS
total time: 2 HOURS 10 MINUTES
Tender and juicy slow cooker chicken smothered in a savory lemon pesto sauce served over zucchini noodles.
Ingredients
4 chicken breasts
6 oz. jar of pesto sauce
8 oz. package of cream cheese, softened
1 cup of mozzarella cheese, shredded
1/2 cup chicken broth
1 lemon
Salt and pepper to taste
4 medium-sized zucchinis
1/4 cup grated Parmesan cheese
Directions
1
Combine jarred pesto sauce, chicken broth, and softened cream cheese in a bowl and mix together.
2
Place 4 boneless chicken breasts in the slow cooker and pour sauce mixture over the chicken until it's completely covered.
3
Slice 1 whole lemon and place individual slices on top of the chicken breasts. Sprinkle generously with salt and pepper. Cover with lid and set your slow cooker on high for 1 hour.
4
After 1 hour of slow cooking, add in 1 cup of mozzarella cheese and stir into the sauce. You'll see a good bit of oil rising to the top. Cover and cook on low heat for 1 more hour. That's it!
5
In a large saucepan on the stove, cook the zoodles over medium heat for 5-10 minutes, until tender. If you're using pre-spiraled noodles, you'll need about four cups.
6
Plate your zoodles and top with 1 chicken breast. Drizzle some of the excess sauce over both your noodles and chicken so everything is filled with the lemon pesto flavor. Sprinkle parmesan on top and eat up!
Nutrition Information
Yield: 4 servings, Serving Size: 1 chicken breast & 1 cup of zoodles
Amount Per Serving: 686 Calories | 50g Fat | 7g Total Carbs | 2g Fiber | 58g Protein | 5g Net Carbs
---
I'm literally eating this yummy lemon pesto sauce by the spoonful while plating the chicken!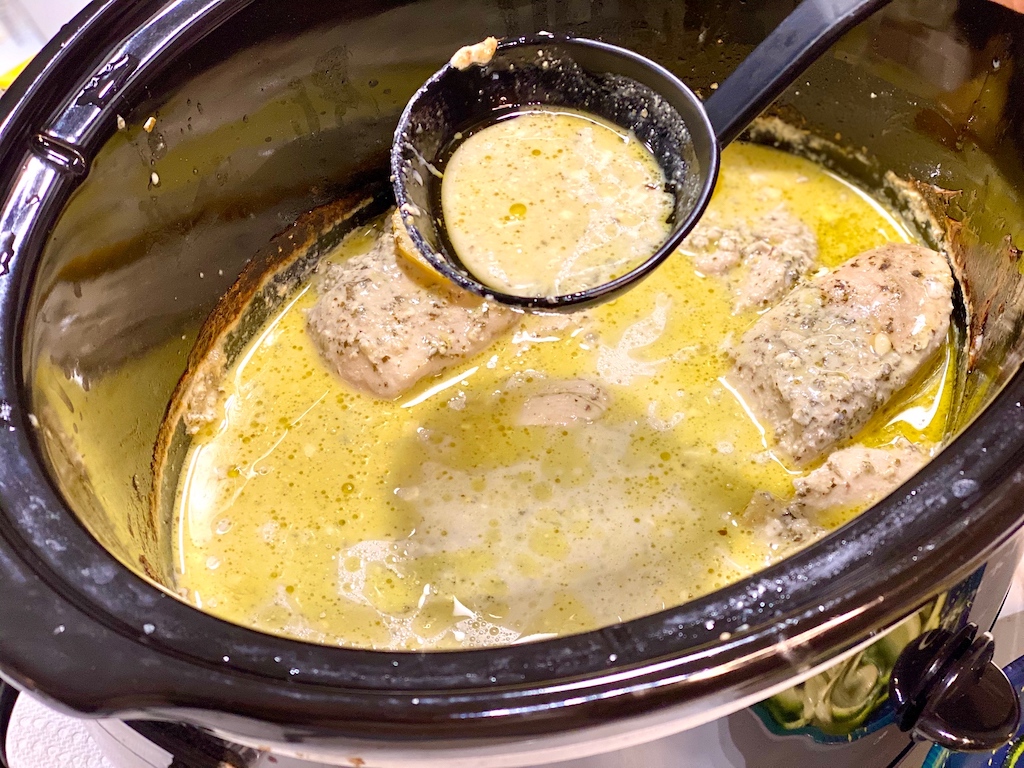 This recipe is enough to feed 4 very hungry mouths, but could also be stretched for 6 smaller portions.
If you've got leftovers sitting around, don't let them go to waste! Place your leftover lemon pesto chicken in the oven at 350 for 10-15 minutes the next day and wait for a flavorful comeback that's just as tasty as the fresh meal.
---
If you like this recipe, try this Keto Chicken Alfredo Casserole next!