Keto Chicken Parmesan with Pesto Zoodles
This is the mouth-watering low-carb keto chicken parmesan that you have been craving!

This flavorful chicken dinner is sure to be a family favorite!
Our crispy low-carb keto chicken parmesan is covered with hearty marinara sauce & melted mozzarella served atop a bed of pesto-infused zucchini noodles. It's undoubtedly delicious and undeniably achievable!
It doesn't take a pro to make this restaurant-quality dish either. It's a favored weeknight dinner in my house, even with picky kiddos so I'm happy to whip it up when asked. I'm certain it will be a hit in your home, too!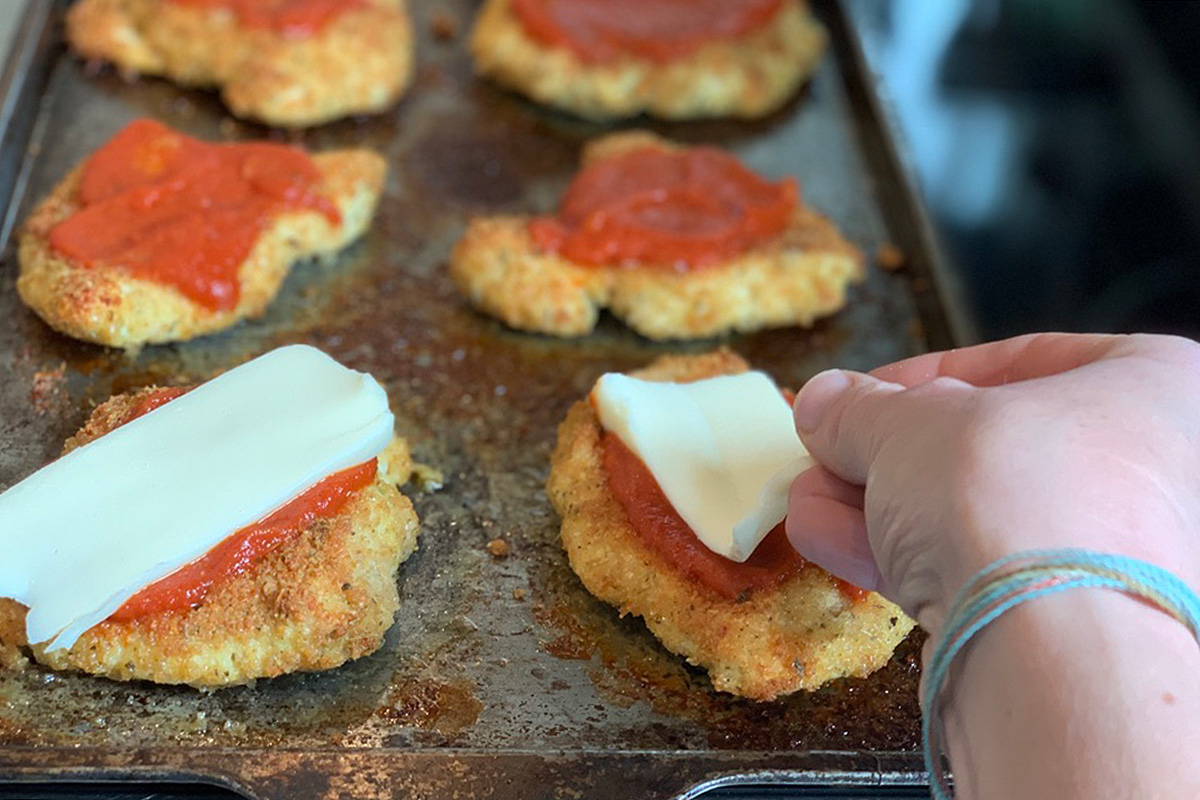 Wow your dinner guests with this keto chicken parmesan recipe!
Dinner parties with friends are super fun, BUT they can also be seriously stressful. I totally get it—meal prep, cooking, cleaning, etc. It's a lot of time and multitasking. Fortunately, this keto chicken parmesan and pesto zoodle recipe is a perfect meal for dinner guests.
Spiralize the zoodles well in advance and use fresh store-bought pesto to save time. Pre-prepare the "breading" mix earlier in the day to help prep move quickly. Later, while the chicken bakes, there's a window of time to tidy the kitchen and wash the prep dishes. All these little things help manage dinner-hosting anxieties. 👏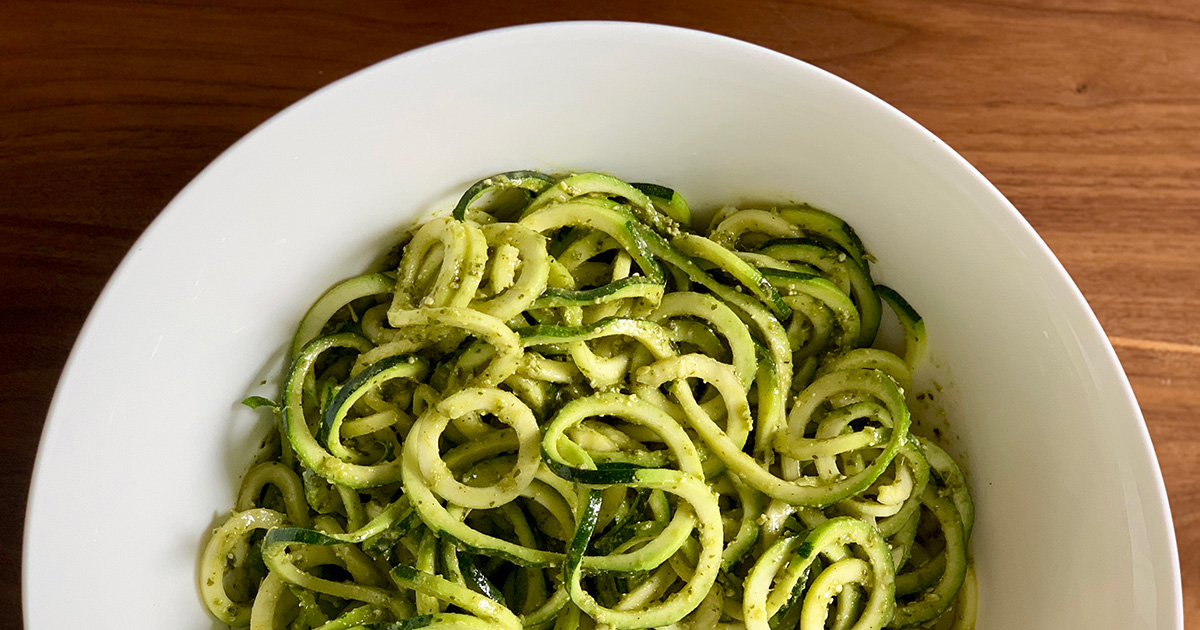 Tips for making the best keto chicken parmesan over pesto zoodles:
Save time by preparing the zucchini noodles earlier in the day, then just cover and refrigerate. I recommend removing your zoodles from the fridge when you begin the chicken, allowing them time to come to room temperature.
Because zucchini has a high moisture content, always serve your zoodles immediately after they've been tossed in sauce.
I prefer using the thicker noodle blade of my Spiralizer. Thicker zoodles remain "al dente" and are less likely to get mushy.
Don't forget to pound your meat to about 1/2-inch thick. This helps the chicken cook evenly.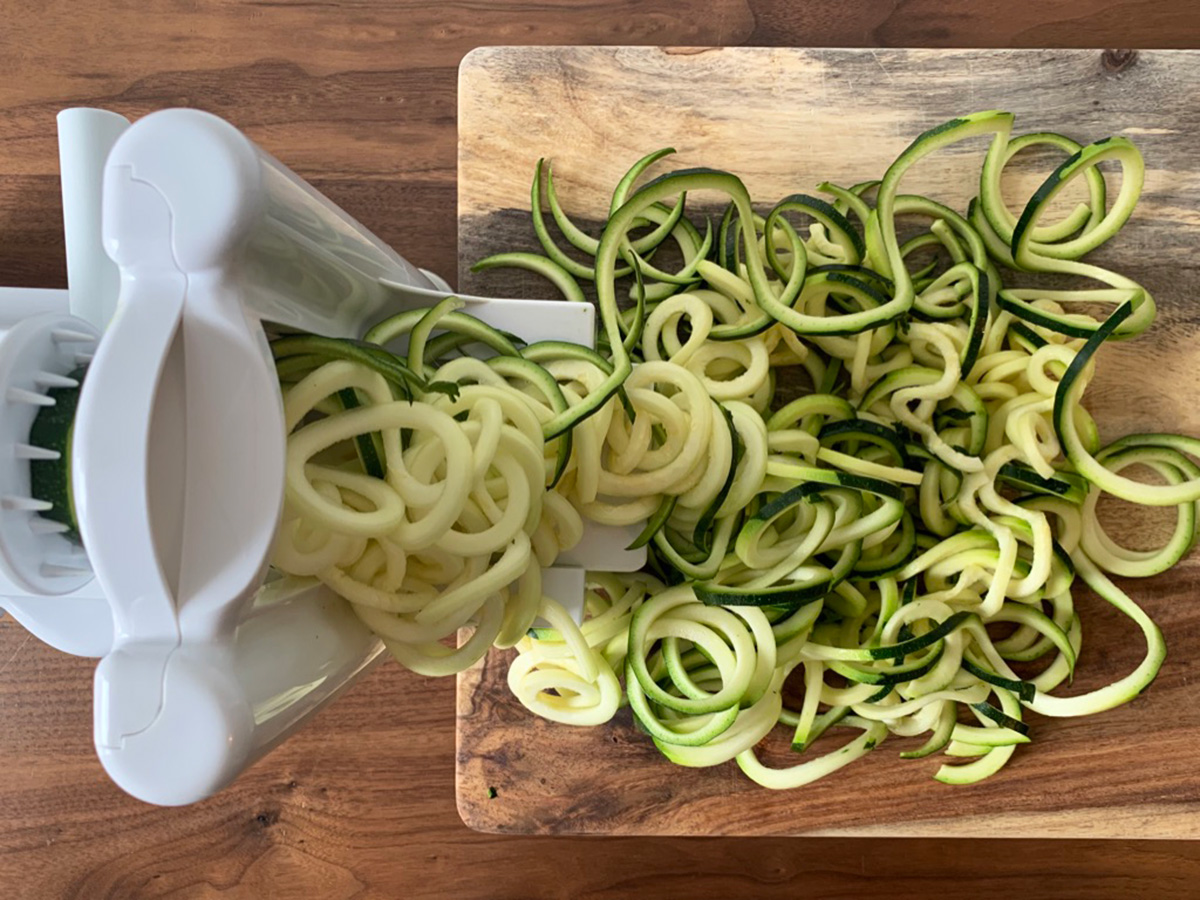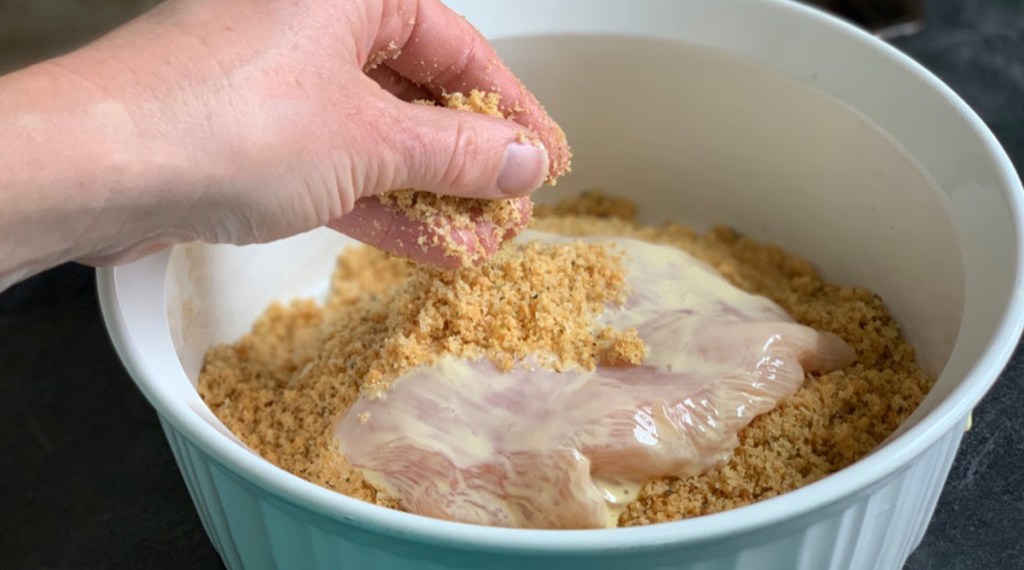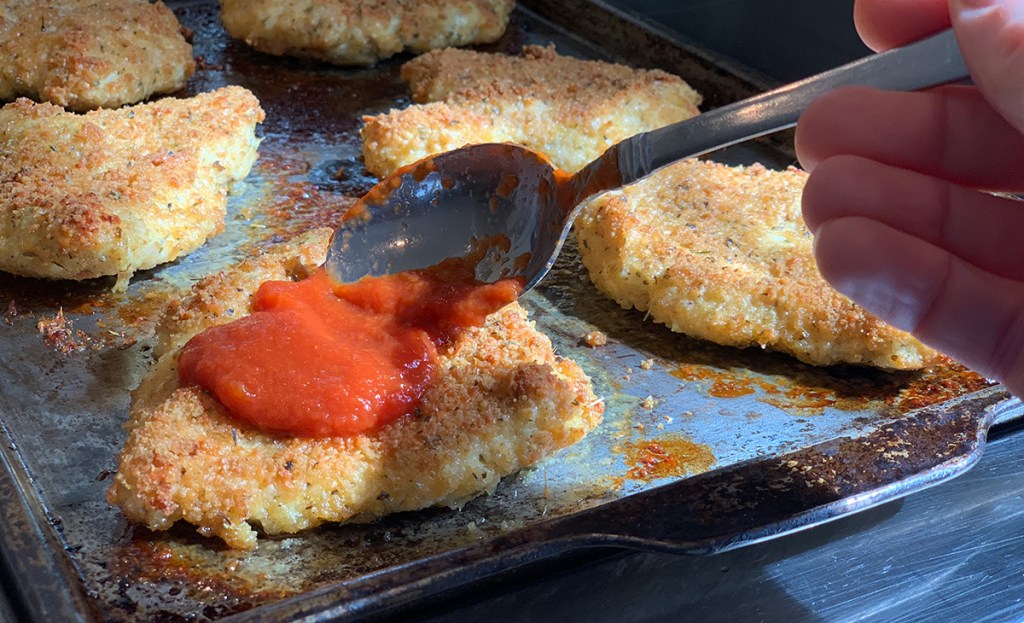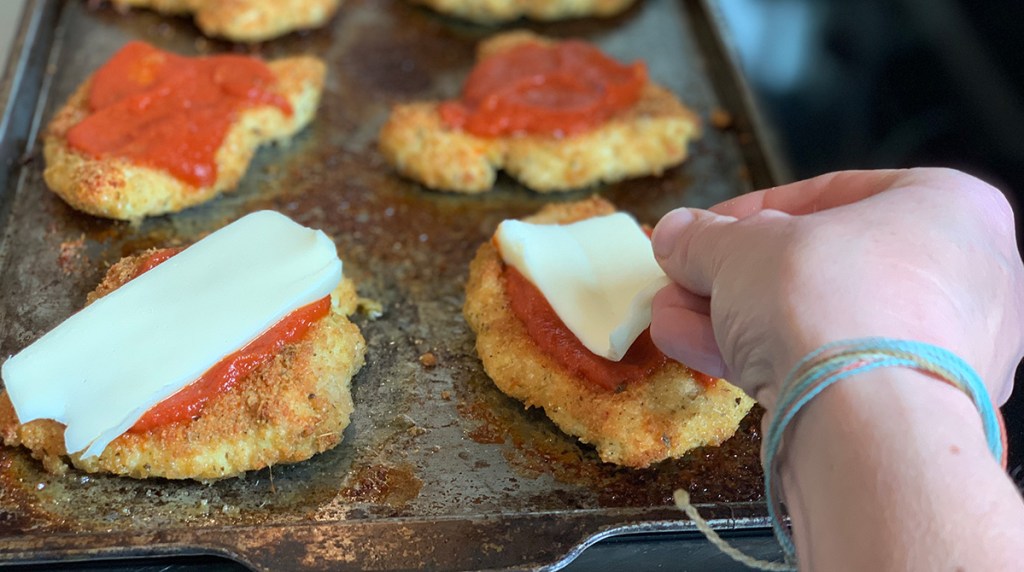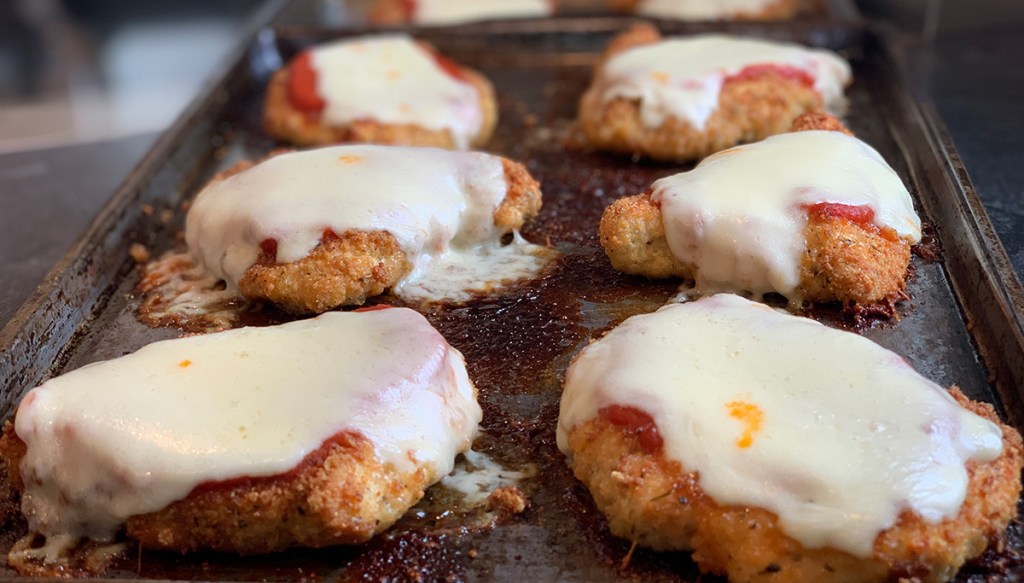 ---
Print
Keto Chicken Parmesan Over Pesto Zoodles
yield: 8 SERVINGS
prep time: 30 MINUTES
cook time: 25 MINUTES
total time: 55 MINUTES
This colorful, restaurant-quality dish boasts a variety of delicious flavors!
Ingredients
For the zoodles:
4 medium to medium-large zucchini (8-10 inches long)
For the chicken:
4 chicken breasts, fresh (about 2 1/2 to 3 pounds total)
1/2 teaspoon salt
1/2 teaspoon pepper
2 large eggs
2 tablespoons heavy whipping cream
1 1/4 cup (5 oz.) fine-grated parmesan cheese
1 tablespoon Italian seasoning
1 1/2 teaspoons garlic powder
8 oz. block-style whole milk mozzarella cheese, cut into 8 even slices (like Polly-O or Galbani)
Shaved or shredded parmesan cheese for topping (optional)
Fresh basil leaves, gently chopped for topping (optional)
Directions
1
Prepare the zucchini using a spiralizer, vegetable peeler, or julienne peeler. I prefer to use a spiralizer on the large noodle setting. Trim zucchini noodles so that they're about 10 inches long. Place zoodles in a bowl with a few paper towels on the bottom to absorb moisture from the freshly cut noodles. Cover and set aside. (Refrigerate if prepared well in advance.)
2
Preheat oven to 425 degrees. Rinse your chicken under cold water and thoroughly pat dry with paper towels. Working with one chicken breast at a time, place inside a gallon zip-lock bag (sealed with the air pressed out) or between two pieces of plastic wrap. Using the flat side of a meat mallet or a rolling pin, gently pound the chicken until about 1/2" thick. Cut each breast in half so that you end up with 8 even pieces in total. Season chicken breast with salt & pepper. Set aside.
3
Lightly grease a large baking sheet with oil or cooking spray. Set aside. Combine crushed pork rinds, parmesan cheese, Italian seasoning, and garlic powder in a low rimmed dish. In a separate dish, beat together heavy cream and eggs. Dredge each piece of chicken first in the egg wash, followed by breading mix. Place on prepared baking sheet. Repeat with remaining chicken. There should be little to no breading left when you're done.
4
Lightly spritz a bit of oil spray on top of each breast. Bake in the oven for about 20 minutes until crispy with an internal temperature of 160-165 degrees. Note the time may vary depending on your oven and the thickness of your chicken.
5
Remove from oven, spoon 1 tablespoon marinara sauce over each piece of chicken (more if desired) and top each with one slice mozzarella cheese. Return to oven for an additional 5 minutes or until cheese is melted.
6
While chicken finishes cooking, prepare the zoodles using one of two methods:
1) Warm a large skillet over medium heat. Spray with cooking spray and cook the zoodles (tossing gently as they cook) for 1 1/2 to 2 minutes until just warmed through. DO NOT overcook or the zucchini will become mushy. Remove from heat and gently toss the zoodles in the store-bought pesto sauce. You do not need to heat the pesto prior to tossing it with the zoodles.
2) Gently toss the zoodles in pesto sauce and serve raw at room temperature. (This is my preferred method.)
Tip: Prepare zoodles just before chicken is done. Once the zucchini is tossed with pesto sauce, it will begin to wick out moisture. Zoodles are always best served immediately.
7
Plate a serving of zoodles and top with chicken parmesan. If desired, garnish with fresh basil and parmesan cheese. Buon Appetito!
Nutrition Information
Yield: 8 servings, Serving Size: 1 piece of chicken w/ sauce, mozzarella cheese, and pesto zoodles
Amount Per Serving: 641 Calories | 38.6g Fat | 6.5g Total Carbs | 1.6g Fiber | 3g Sugar | 67.5g Protein | 4.9g Net Carbs
---

Are you drooling yet?
This meal plates up beautifully! I highly recommend adding freshly chopped basil to each serving, as it elevates the presentation to a whole new level. And don't forget to set the table with a few extras like shaved parmesan, crushed red pepper flakes, and additional marinara sauce. For the wine, select a good Merlot or Pinot Noir. Enjoy!
---
My Hip sidekick Shane made this recipe and here's what he had to say:
"I have been dying to create my own chicken parmesan for some time, and this recipe came at such an opportune time — it's not only a fun one to put together (highly recommend doing this with friends or family), but one that is just SO tasty! The combination of the crunchy pork rinds and the juicy chicken pairs so well with the distinctive flavor of the pesto in the zoodles. Would recommend it to everyone: not only those that are keto-conscious but anyone who likes delicious, nutritious, and super flavorful meals!"
---
Add a dessert course with this delicious low-carb cheesecake!