Keto Zucchini Pizza Casserole (Finally a Non-Cauliflower Crust!)
Yes, you can have pizza on keto with this zucchini pizza casserole!
The easiest keto zucchini pizza casserole is just an hour away.
It's so nice to have a keto pizza dish that's not made with cauliflower! Don't get me wrong, I love using cauliflower as a low-carb substitute, but sometimes I just want something else.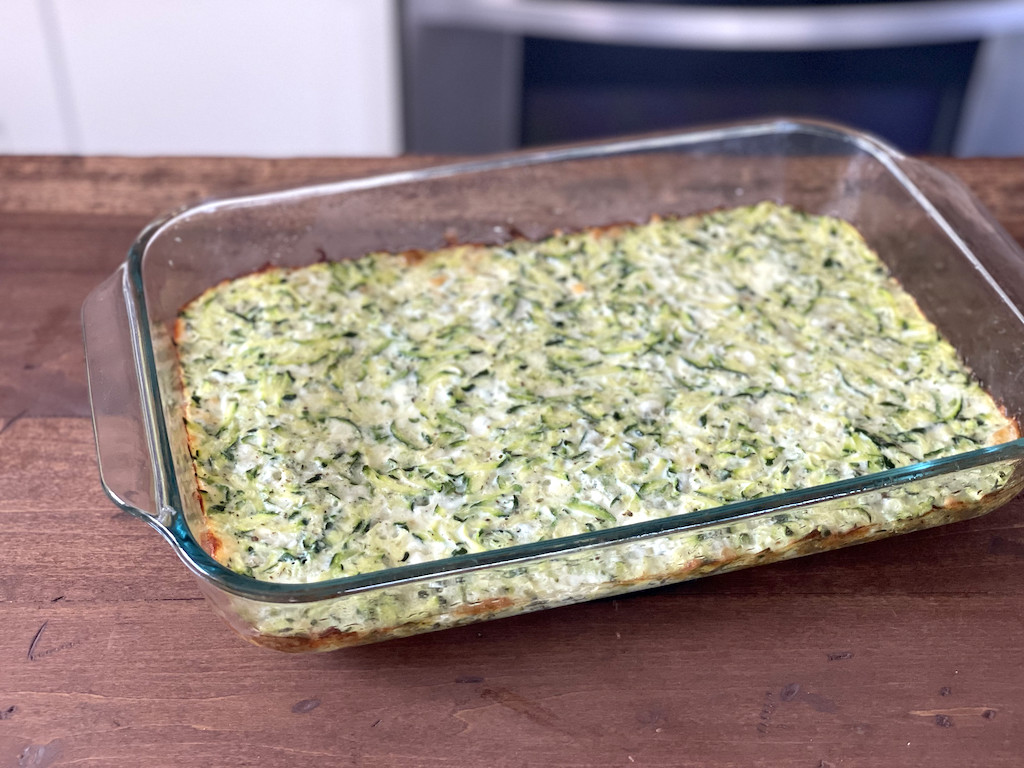 The crust on this keto zucchini pizza casserole is made from shredded zucchini, eggs, grated parmesan, mozzarella cheese, and seasonings. You get as much moisture as possible out of the zucchini and then prebake the "crust" to help remove more moisture and crisp it up.
Even picky eaters will like this meal.
The pizza flavor in this meal is incredible. It tastes just like you'd expect a deep-dish pizza casserole to taste. You don't even miss the bready pizza dough!
You honestly can barely even taste the zucchini once it's covered in the meat marinara sauce, pepperoni, and melted cheese. There's also cheese mixed in the crust too so even the zucchini-naysayers out there will be asking for more.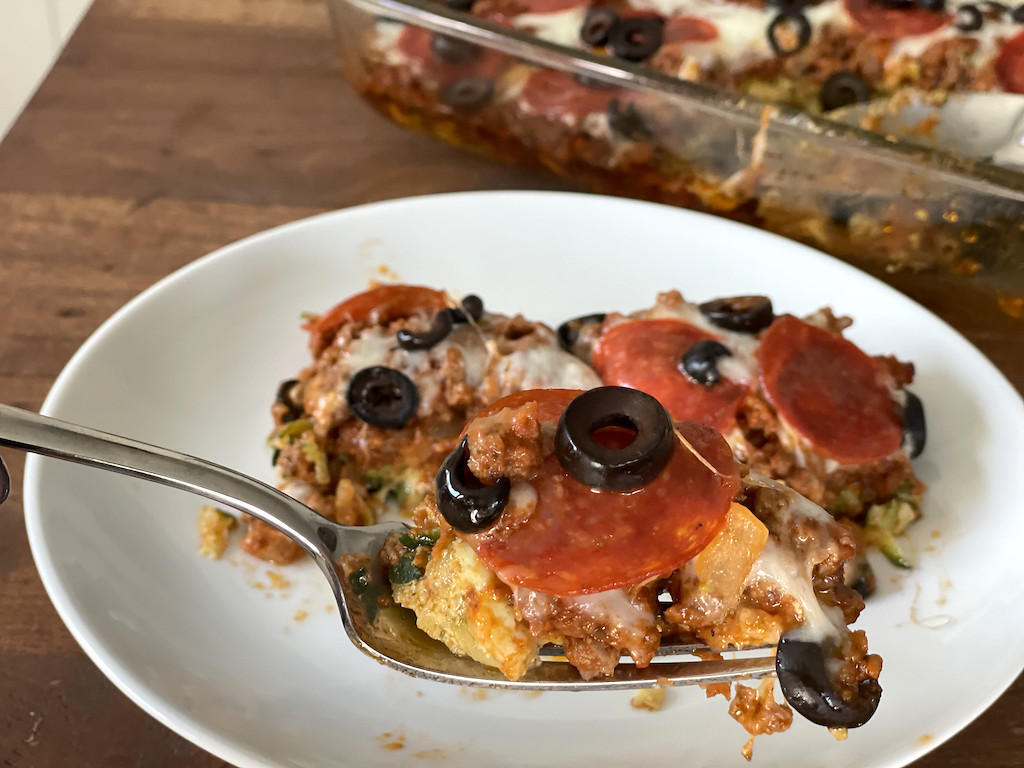 Tips for making the best Keto Zucchini Pizza Casserole:
Get as much moisture out of the zucchini as possible. Salting helps draw out the water, and you can also press the zucchini with paper towels while it's in the colander to help absorb even more moisture.
Feel free to add more cheese or your favorite pizza toppings. This is definitely a recipe that you can customize to your tastes!
Depending on your oven and how much moisture you get out of the zucchini, you may want to bake the crust closer to 25 to 30 minutes to help crisp it up even more. If it starts getting too brown around the edges, cover edges with a strip of aluminum foil.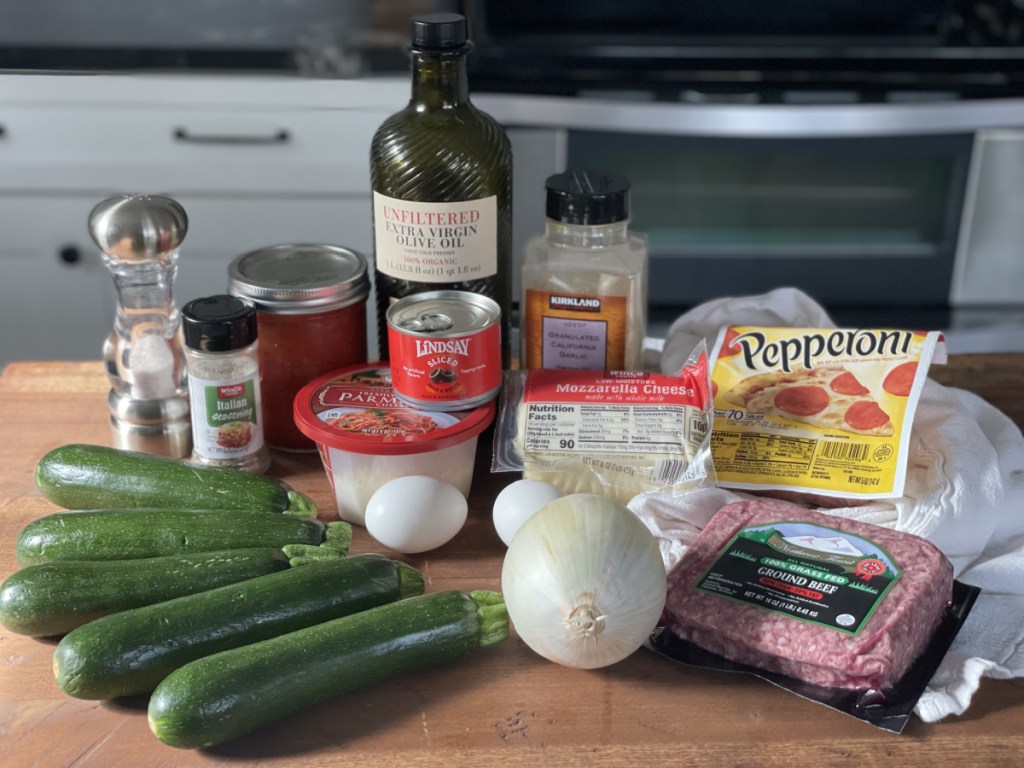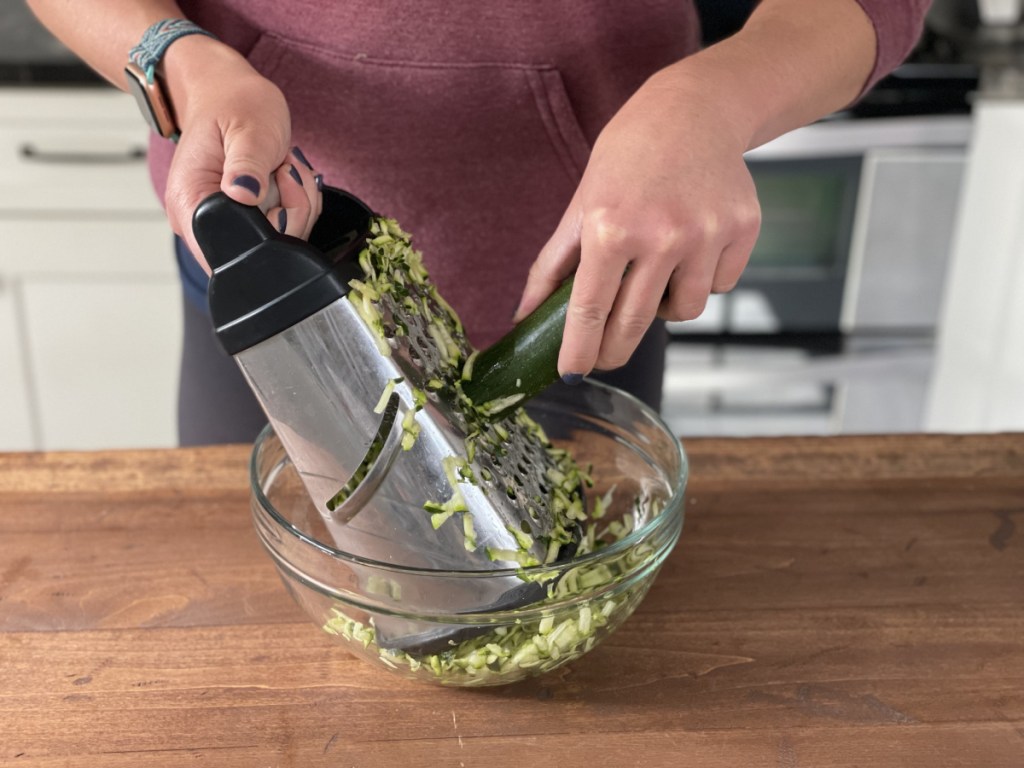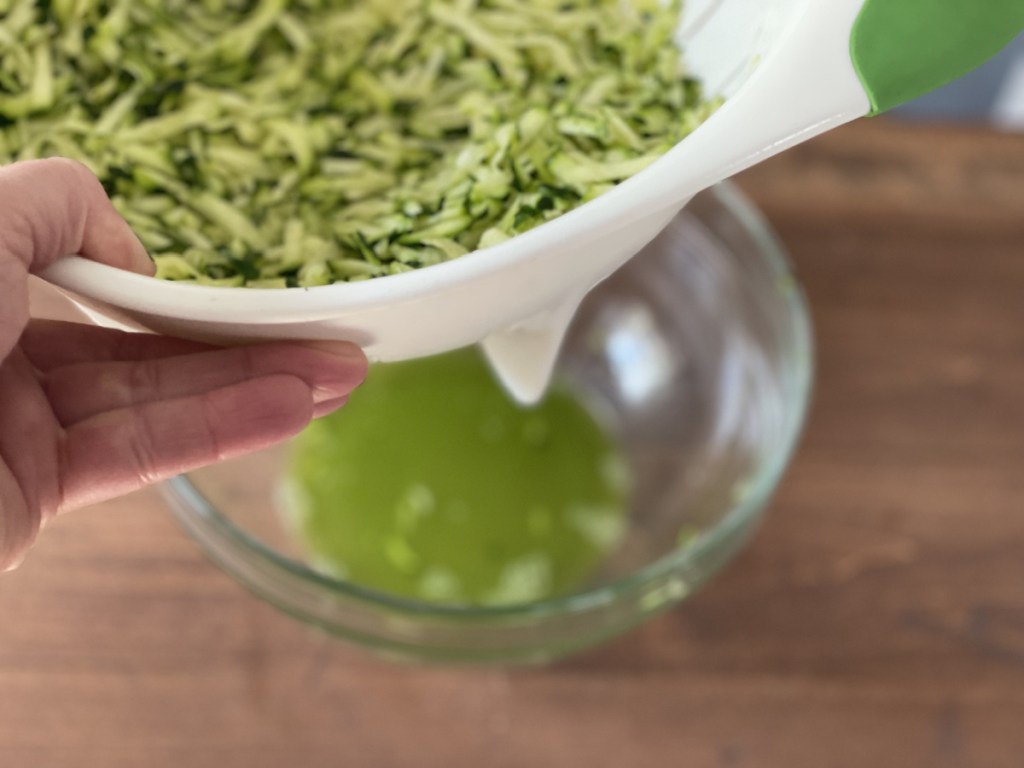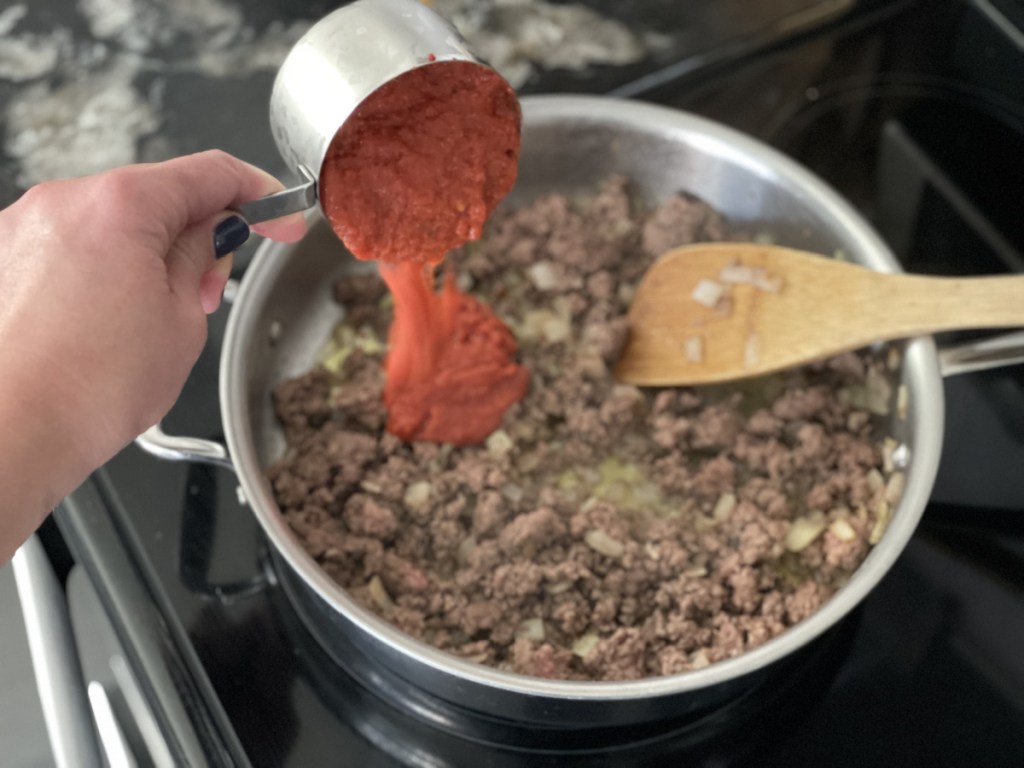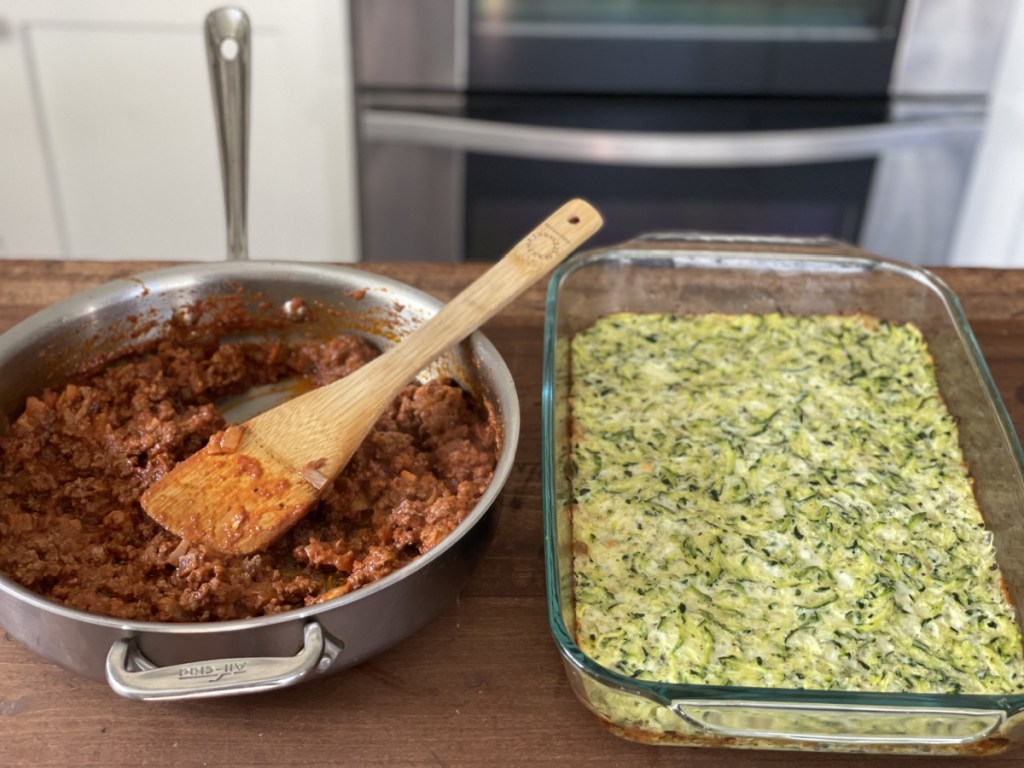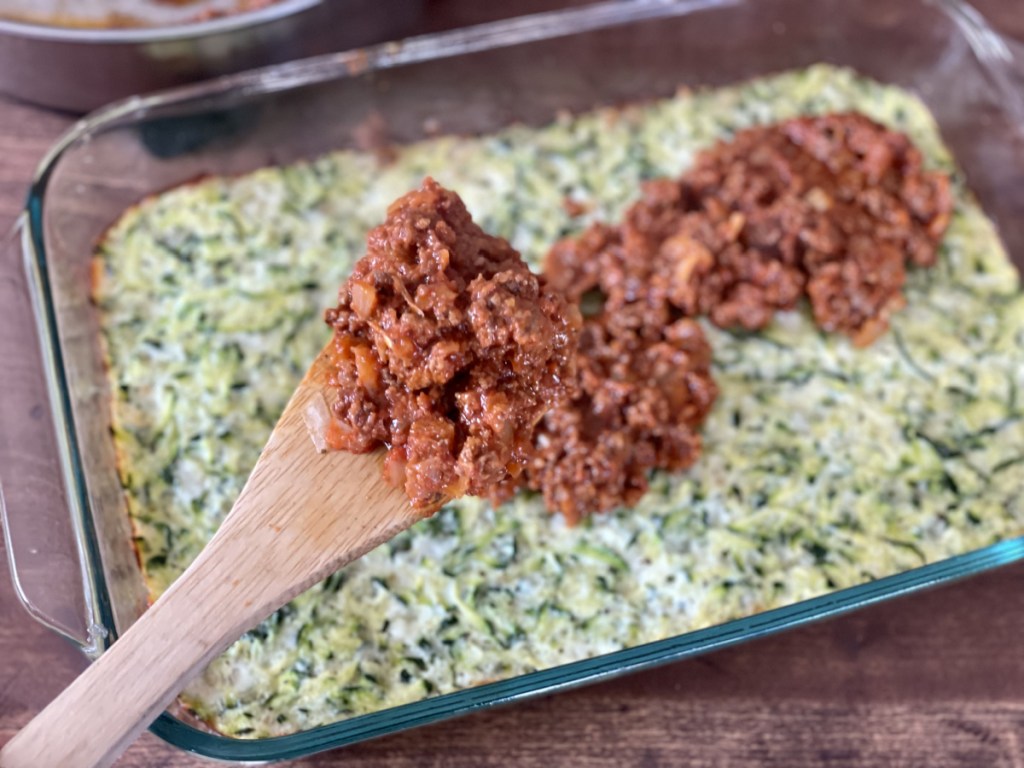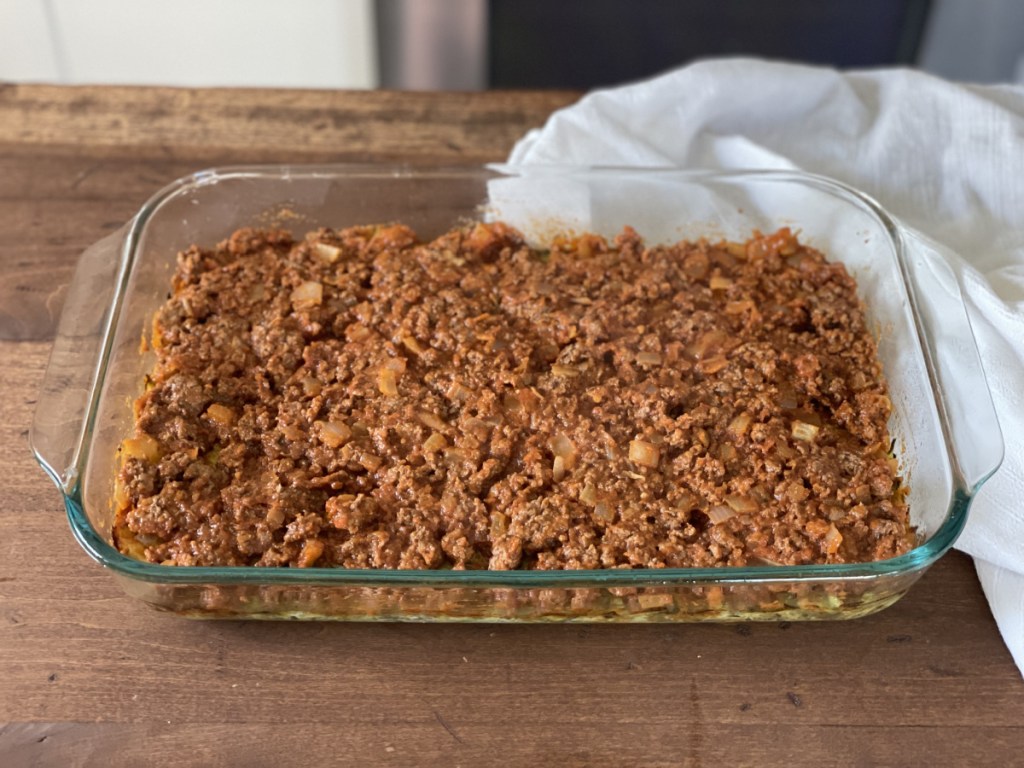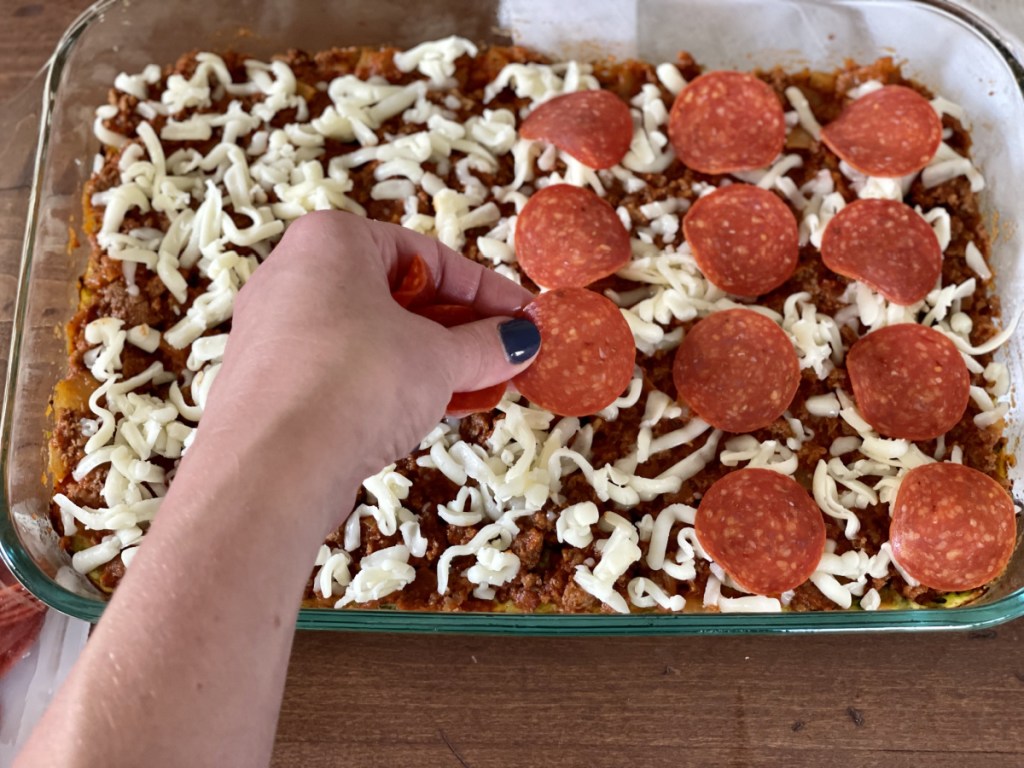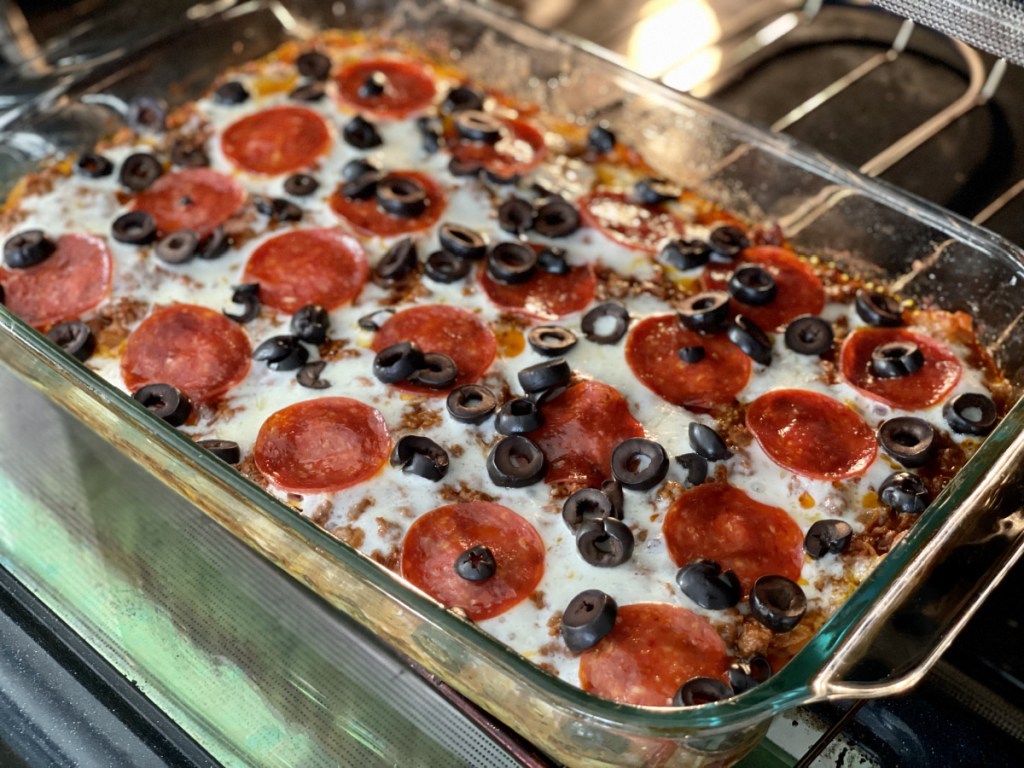 ---
Print
Keto Zucchini Pizza Casserole
yield: 8 SERVINGS
prep time: 20 MINUTES
cook time: 40 MINUTES
total time: 60 MINUTES
Keto pizza made with a zucchini crust and topped with a meat marinara sauce, cheese, pepperoni, and olives!
Ingredients
4 cups of zucchini, shredded (3 medium or 5 small)
1/4 teaspoon salt
1/2 cup parmesan cheese, grated
2 eggs
1 1/2 cups mozzarella, shredded, divided
1 teaspoon Italian seasoning
1 teaspoon garlic powder
2 tablespoons olive oil
1/2 medium-sized white onion, chopped
1 pound ground beef 80/20
20 pepperoni slices
2.25 oz. can sliced black olives
Directions
1
Preheat oven to 400 degrees. Grease a 9 x 13-inch pan.
2
Shred the zucchini and place it in a colander. Sprinkle with salt and lightly toss to combine. Place the colander in the sink or over a bowl and let the zucchini drain for at least 10 minutes. Press with paper towels if desired to remove even more moisture. I would highly recommend taking this step as it will help your casserole not come out so watery.
3
In a medium bowl, mix together the drained zucchini, parmesan, eggs, 3/4 cup mozzarella cheese, Italian seasoning, and garlic powder. Press the zucchini mixture into the greased 9x13-inch pan and bake for 20 minutes, until it starts to brown around the edges.
4
While the zucchini crust is baking, heat the olive oil in a medium-sized skillet over medium heat. Once hot, add the chopped onion and sauté for about 5 minutes. Then add the ground beef and cook until browned, about 10 to 15 minutes.
5
Once the ground beef is cooked, add the marinara sauce to the skillet and stir to combine. Spoon the mixture over the zucchini crust.
6
Sprinkle the remaining mozzarella cheese on top of the meat marinara sauce. Top with pepperoni slices and olives.
7
Bake for another 15 to 20 minutes, until the cheese is melted. Enjoy!
Nutrition Information
Yield: 8, Serving Size: 3 x 3-inch square
Amount Per Serving: 353 Calories | 24.9g Fat | 6g Total Carbs | 1.4g Fiber | 3.5g Sugar | 24.8g Protein | 4.5g Net Carbs
---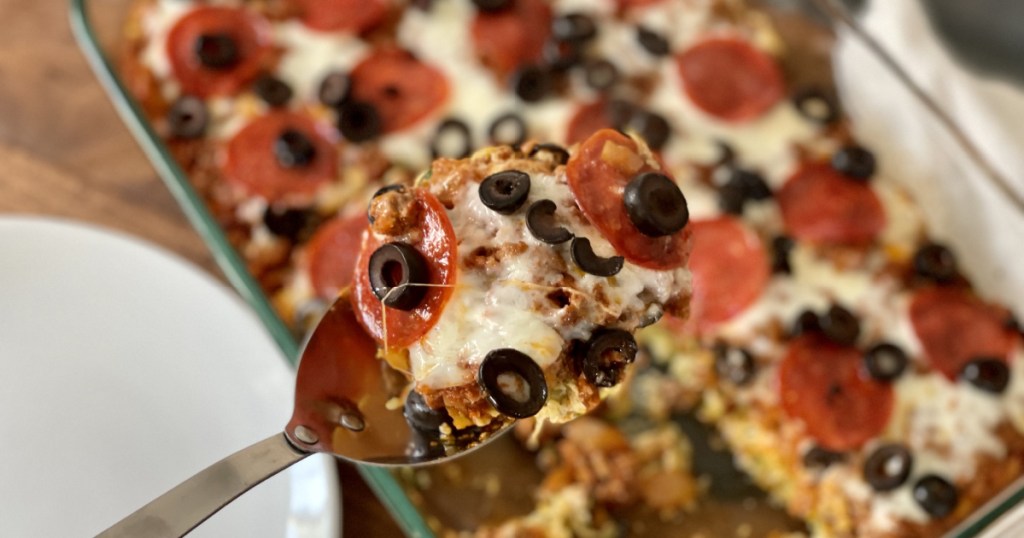 Easy keto casseroles for the win!
I love casseroles; they're the best! I prefer to make a one-dish meal versus cooking a meat with sides. So much better to have everything in one pan to make for easy cooking AND cleanup.
I can't wait to try this out with various toppings next time I make it. 😋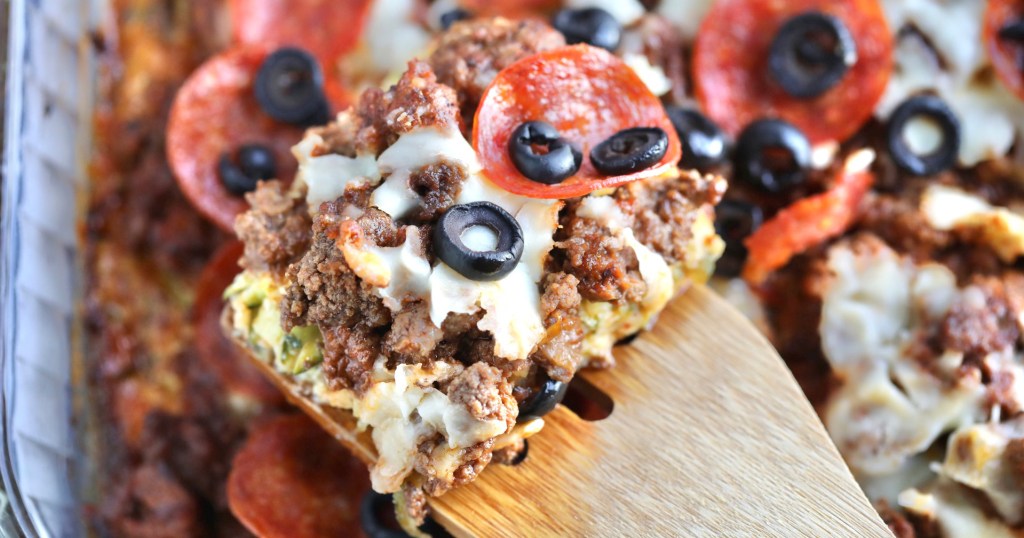 My Hip sidekick Jenna made this keto zucchini pizza casserole and here's what she had to say:
"Now this is one the whole family will love AND you'll have leftovers that reheat beautifully! I bet this would freeze nicely too. This is so full of flavor and so filling! I love the pizza toppings and that cheesy zucchini crust is to die for. I know we all get sick of cauliflower from time to time so this is a great alternative."
---
Love casseroles like me? Don't miss our popular Keto Chicken Broccoli Cheese Casserole!