Crispy Keto Crackers — Only 2 Ingredients Needed!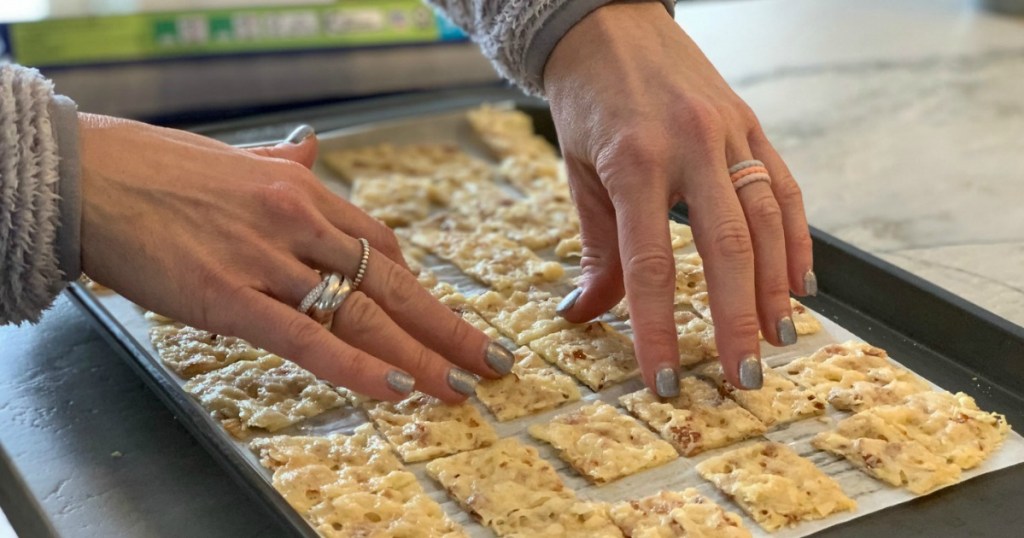 Super crispy keto crackers that are perfect for dipping, smothering, or simply snacking.
With a flavor reminiscent of Cheez-Its, these low-carb parmesan and almond crackers are a hit—even with my kiddos. They have a fabulous, crispy texture and unlike many cheese-based crackers, they still pack that crunch days later! The best part? They're totally keto-friendly. Woohoo!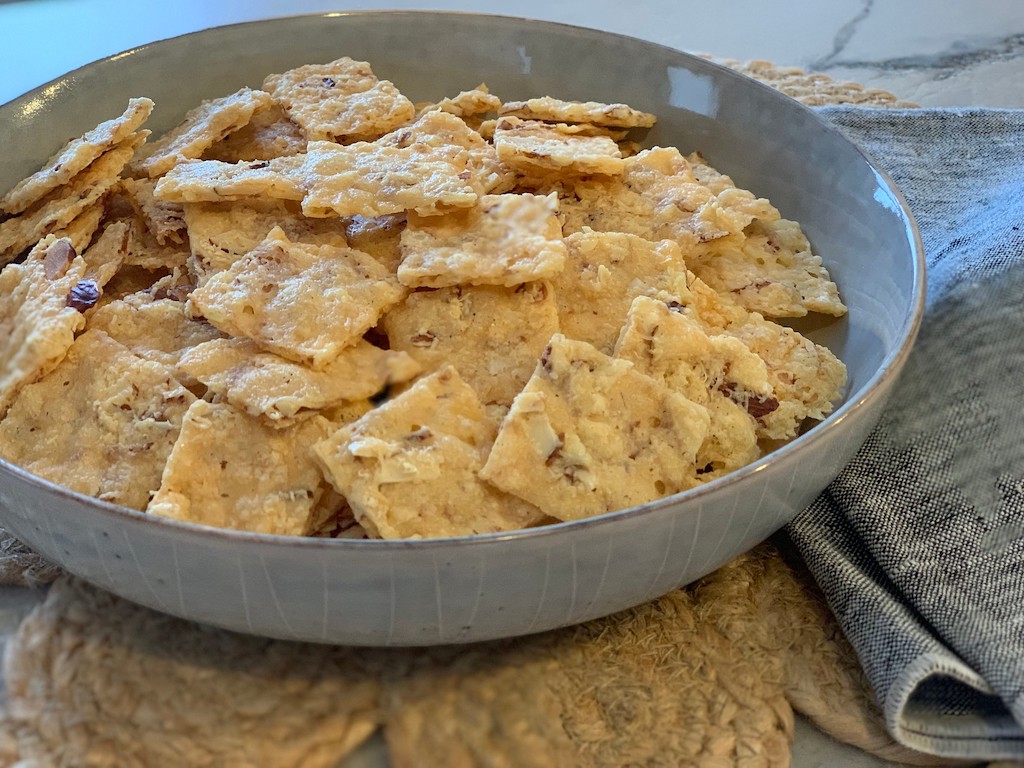 Tips for making the best keto crackers:
I've found that using freshly grated parmesan works much better than store-bought, pre-shredded varieties. Yes, it takes a bit of extra time, but trust me, it's worth it!
To crush the sliced almonds: Gently place them in the palm of your hand and squeeze slightly. The goal is to break the fine almond slices just a bit. Once crushed, the almonds should be similar in size to whole oats, certainly NOT a fine meal, so don't get too crazy when you're crushing.
You can always switch these up by adding a fresh herb like dill or rosemary. A seasoning added to the top such as Everything But the Bagel seasoning would be so tasty, too!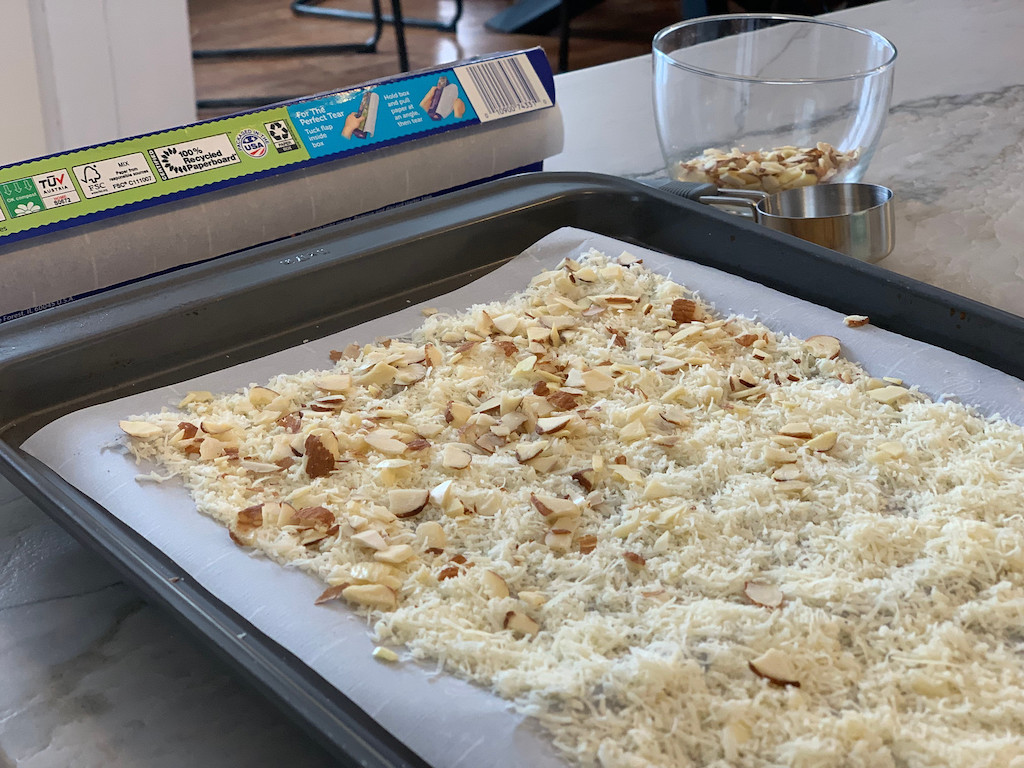 Two ingredients. One net carb. 100% AMAZING!
The process is super simple, yet the reward is outstanding. A super low-carb cracker that takes 5 minutes to prep, bakes in 20 minutes, and is ready to eat within 10 minutes out of the oven.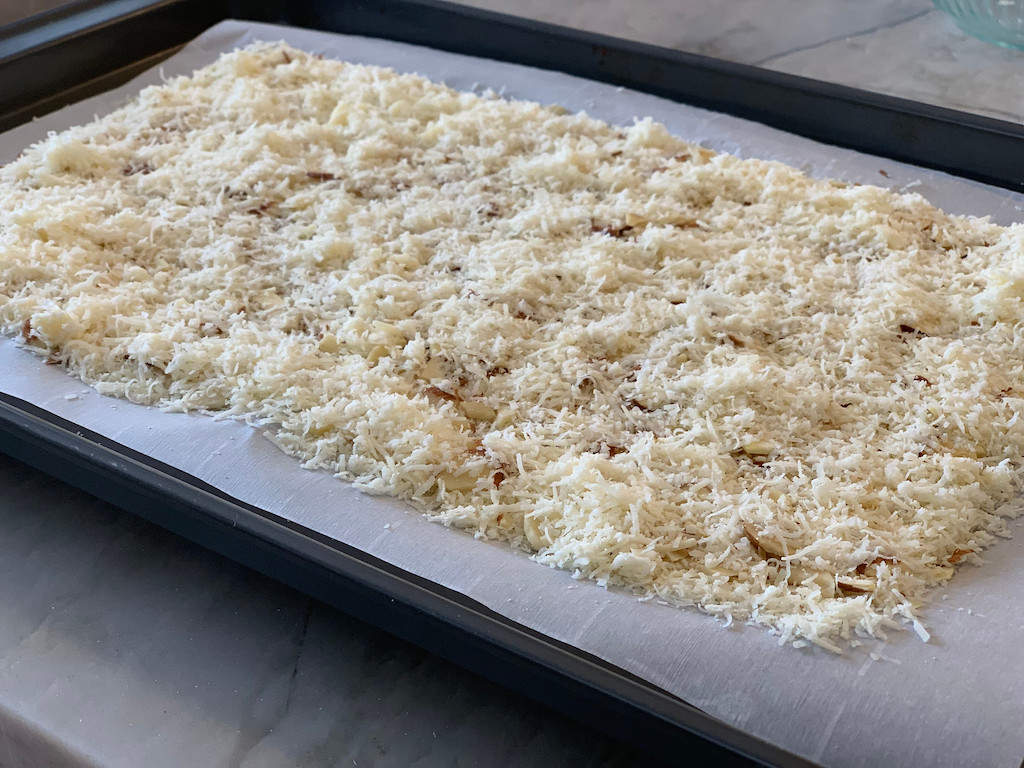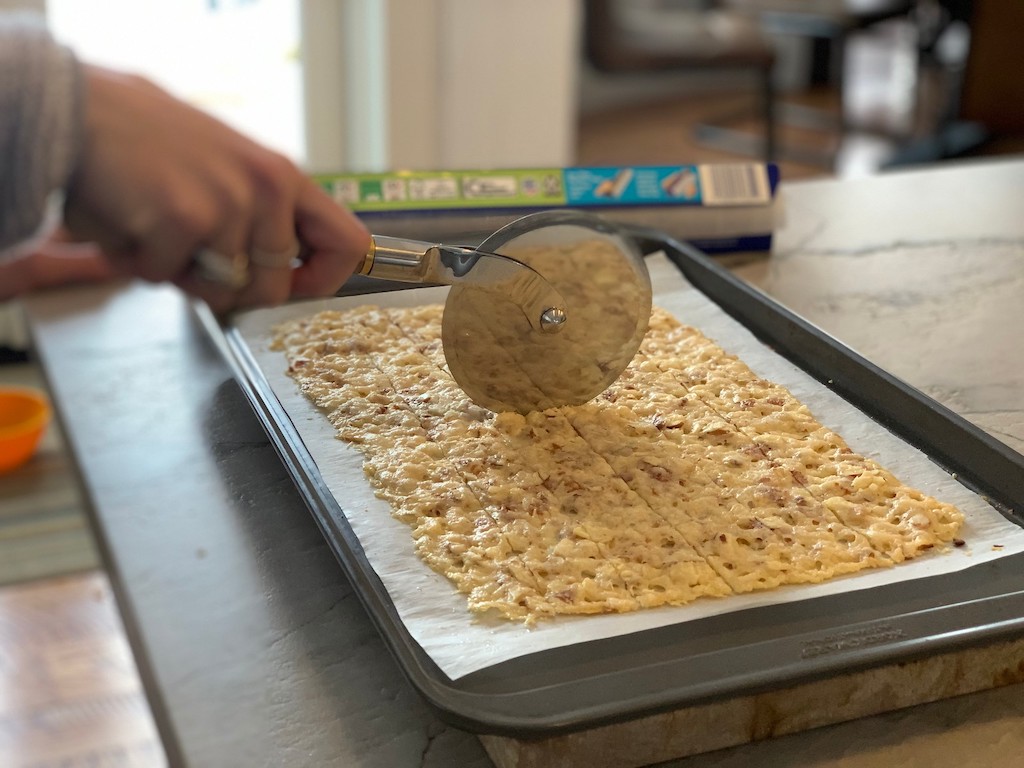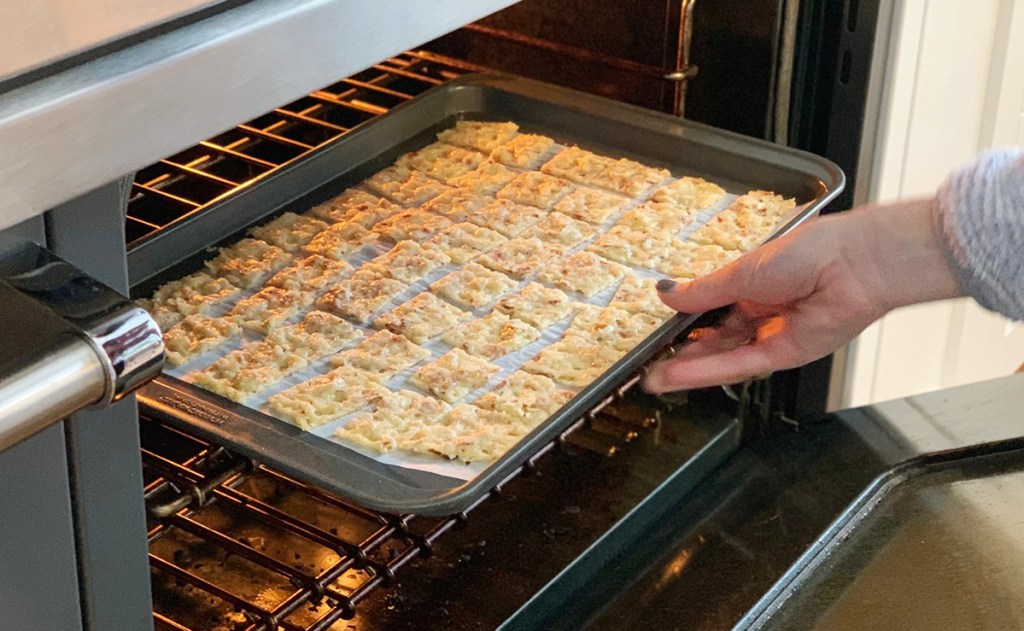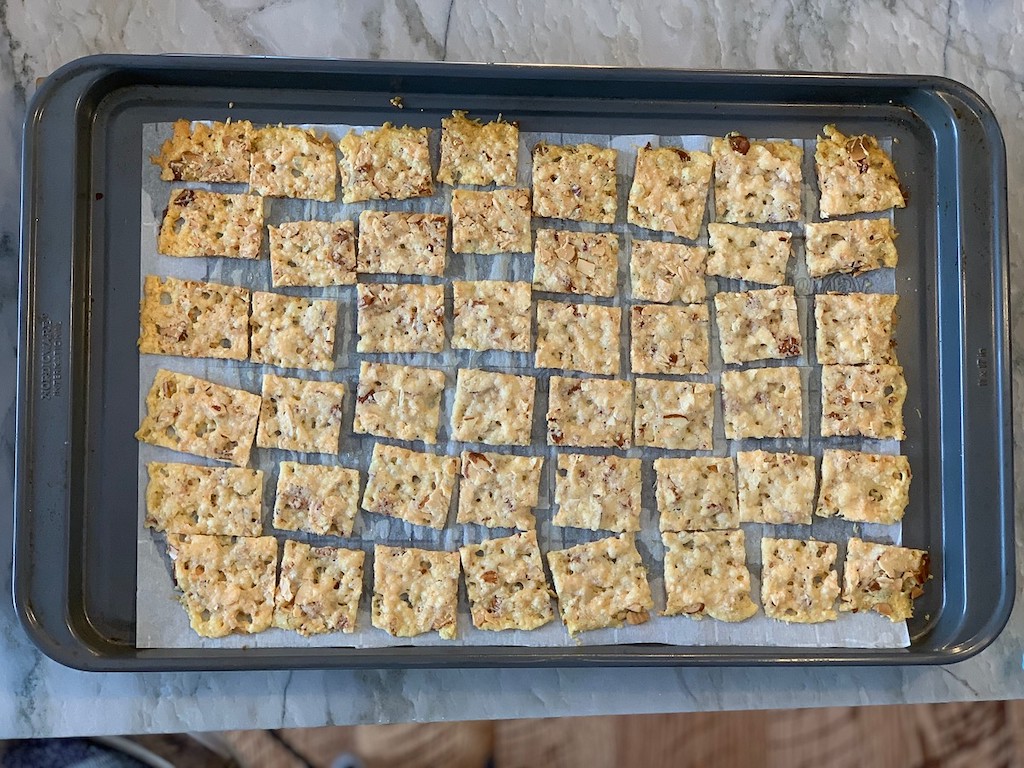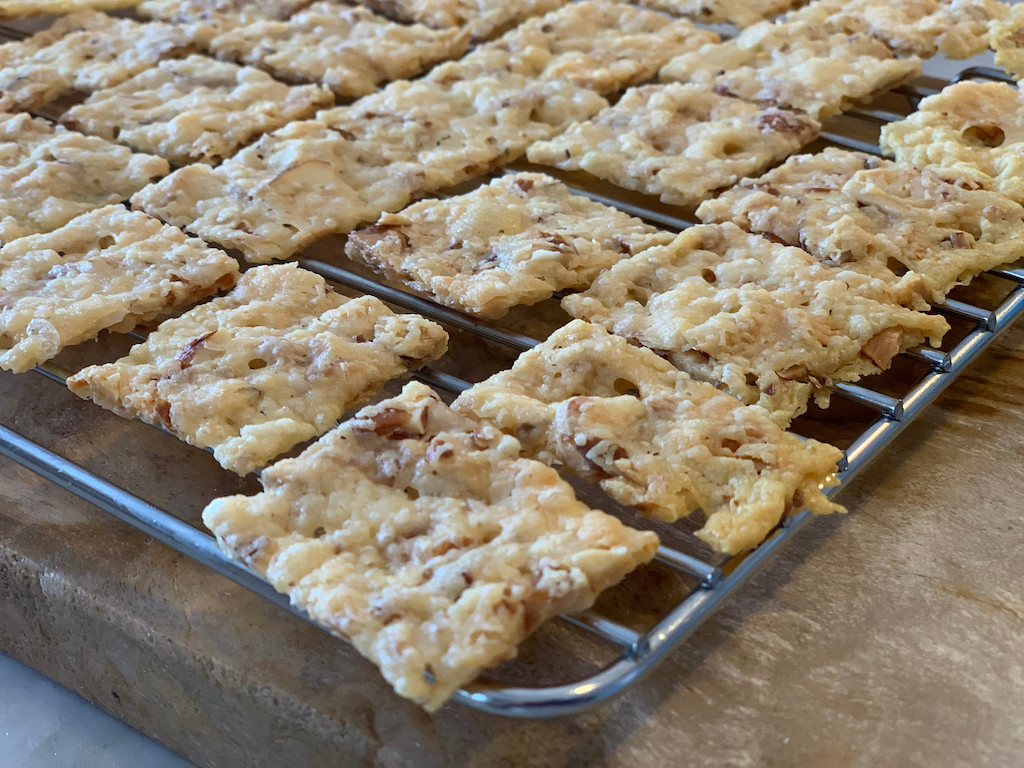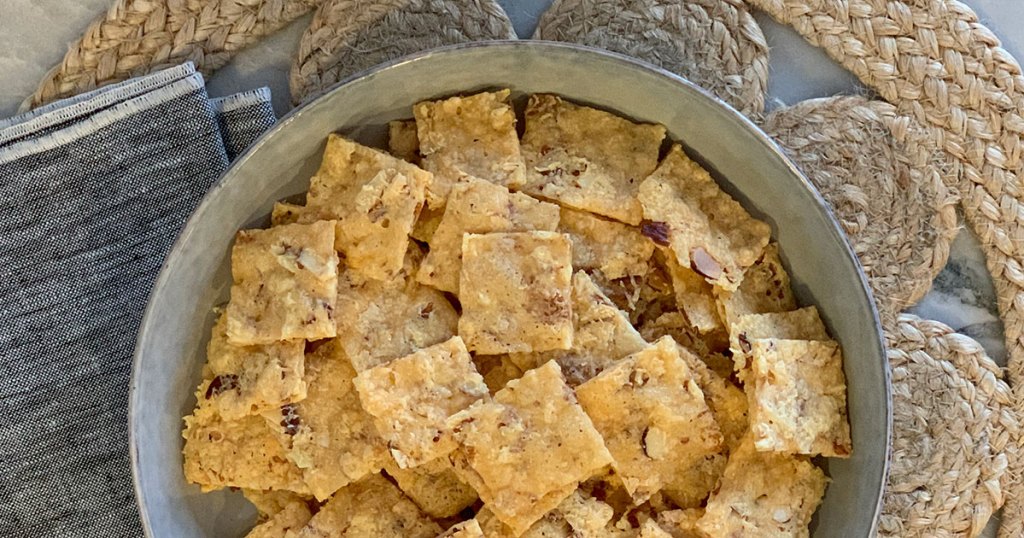 ---
Print
Crispy Low Carb Parmesan Almond Crackers
yield: 5 SERVINGS
prep time: 5 MINUTES
cook time: 20 MINUTES
total time: 25 MINUTES
Shredded parmesan and almond slices bake up for a crunchy keto snack!
Ingredients
5 oz parmesan cheese block, finely shredded
Directions
2
Spread half the parmesan cheese onto the prepared pan creating a rectangle that's approximately 8" x 14". Evenly sprinkle the gently crushed, sliced almonds over the cheese. Layer the remaining cheese over the almonds. Use your hands to push any stray bits into the rectangle forming an even edge.
3
Bake for 10 minutes (cheese will be bubbly and melting). Remove from oven. Allow crackers to rest for about 30 seconds. Using a pizza cutter, slice the dough first lengthwise, then widthwise. I usually make 4 cuts lengthwise and 8 cuts widthwise which results in 45 individual crackers. Gently separate each cracker.
4
Return to oven for 7-10 minutes until crackers begin to turn golden. Remove from oven. Place crackers on a cooling rack for 10 minutes and they will crisp as they cool.
5
Note: If your crackers are not crispy after cooling, you can return them to the oven for a few more minutes.
Additional Notes
Once fully cooled, store crackers in an airtight container at room temperature.
Nutrition Information
Yield: 5 servings, Serving Size: 9 crackers
Amount Per Serving: 194 Calories | 14.3g Fat | 3.8g Total Carbs | 1.5g Fiber | 1.6g Sugar | 0g Sugar Alcohol | 13g Protein | 2.3g Net Carbs
---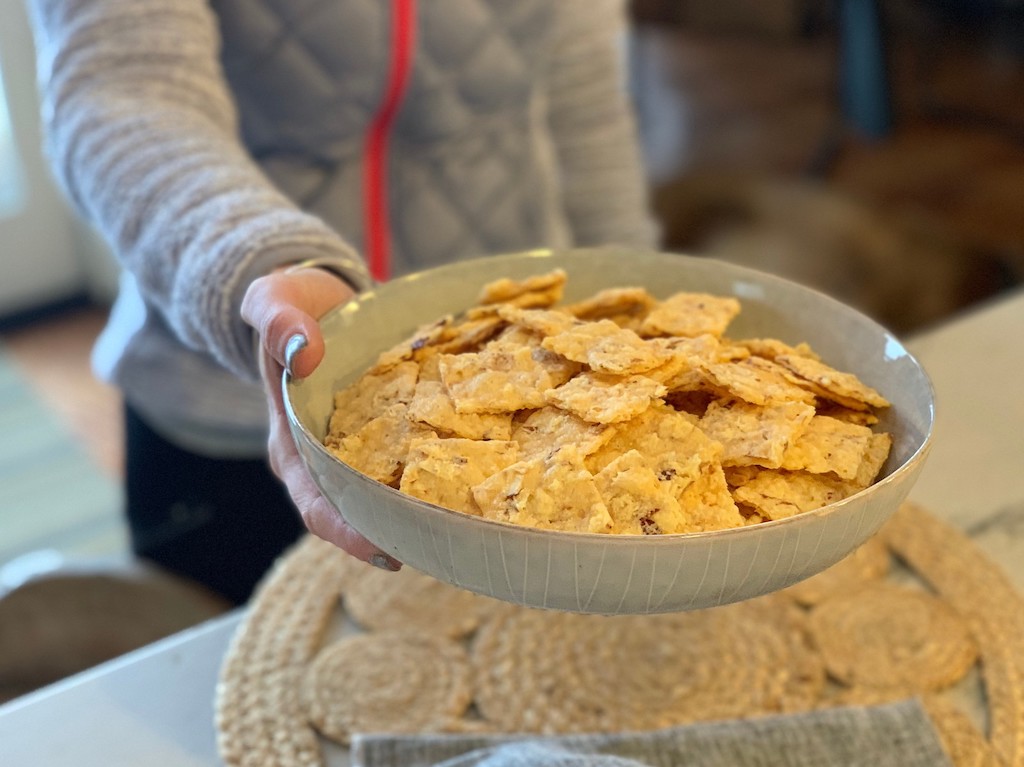 Attention Snackaholics, this one is for you!
GET EXCITED, because you just discovered the holy grail of keto munchy food! You can munch on these alone or serve them alongside your favorite low-carb dip. I also like to use these when creating a keto charcuterie board using Italian meats and cheeses, as a yummy party appetizer.
Here are a few of our favorite keto-friendly dips that would pair well with these keto crackers: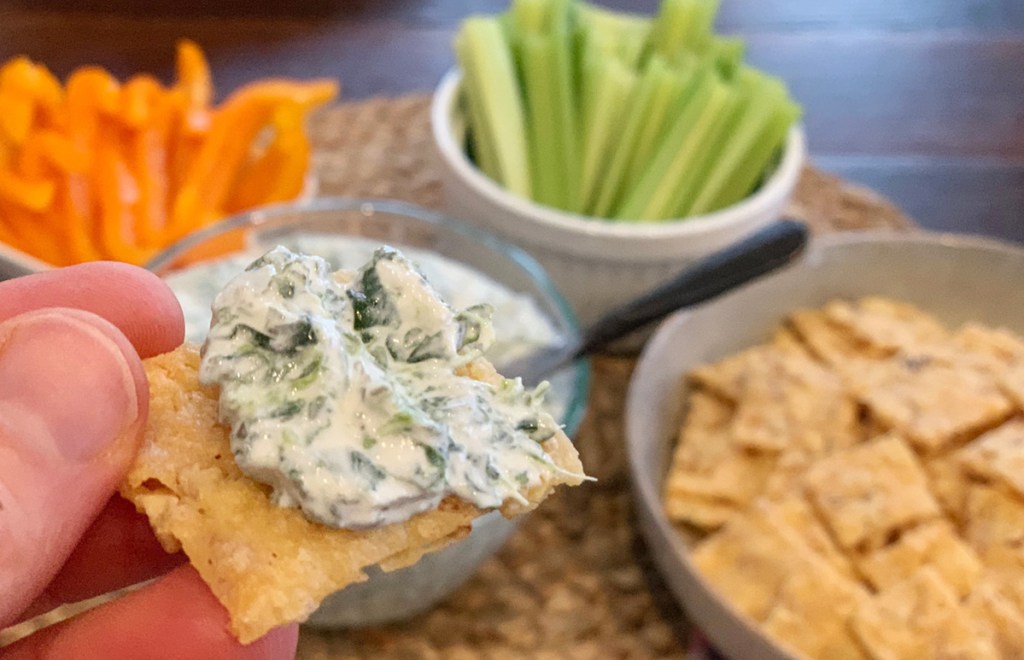 ---