The Best Keto Spinach Dip Recipe
This low-carb dip gets a high-five!
It's funny to me that most people would never choose spinach as a side dish however they'll do cartwheels for a bowl of spinach dip. I serve this thick, creamy spinach dip with keto crackers and crunchy raw veggies—it scores a win every time!

We use a secret ingredient!
This tasty keto spinach dip whips up in a snap using our quick and awesome Hip2Keto ranch recipe. But there's more… we include a secret ingredient that really takes it up a notch – Jicama!
Most spinach dip recipes use water chestnuts to add crunch, but at a whopping 21 net carbs per 100 grams, they're not so keto-fabulous. Put them in the ring with our buddy jicama (also known as yam bean) and it's a total knockout with jicama coming in at only 4 carbs per 100 grams! (And the crowd goes wild!!)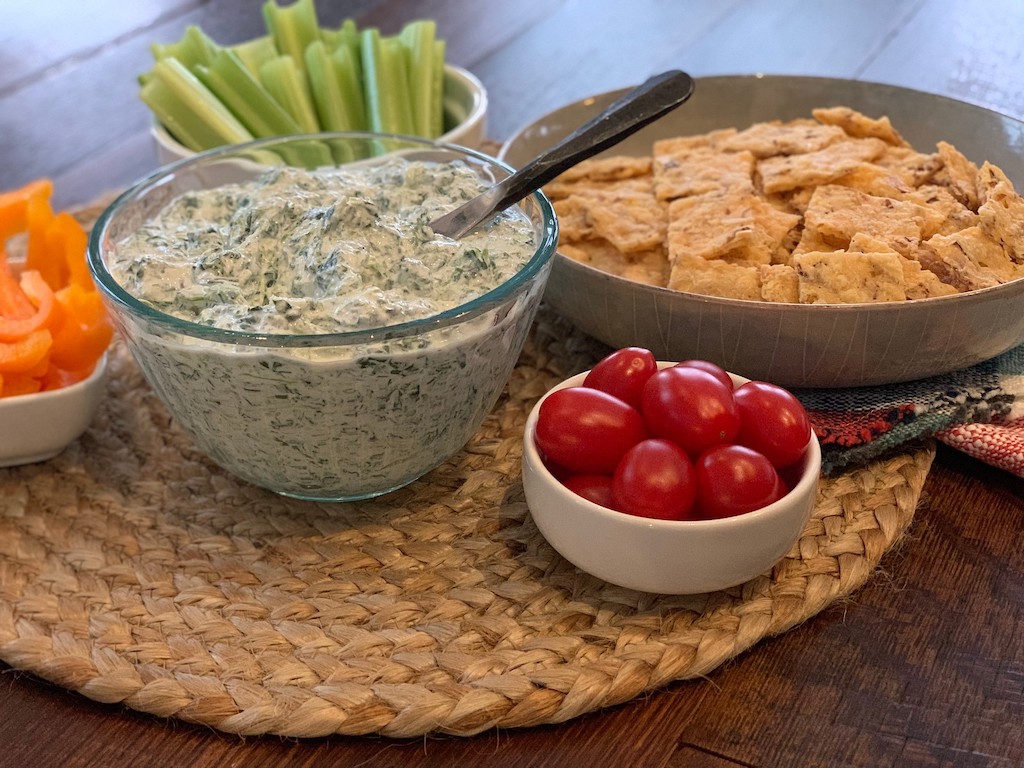 My favorite keto spinach dip companions –
Honestly, I could eat this low-carb spinach dip with a spoon. Yep, it's that good. However, to be polite, I have a few delicious pair-ups.
Raw, crunchy veggies (Celery and multi-colored bell peppers are my fave!)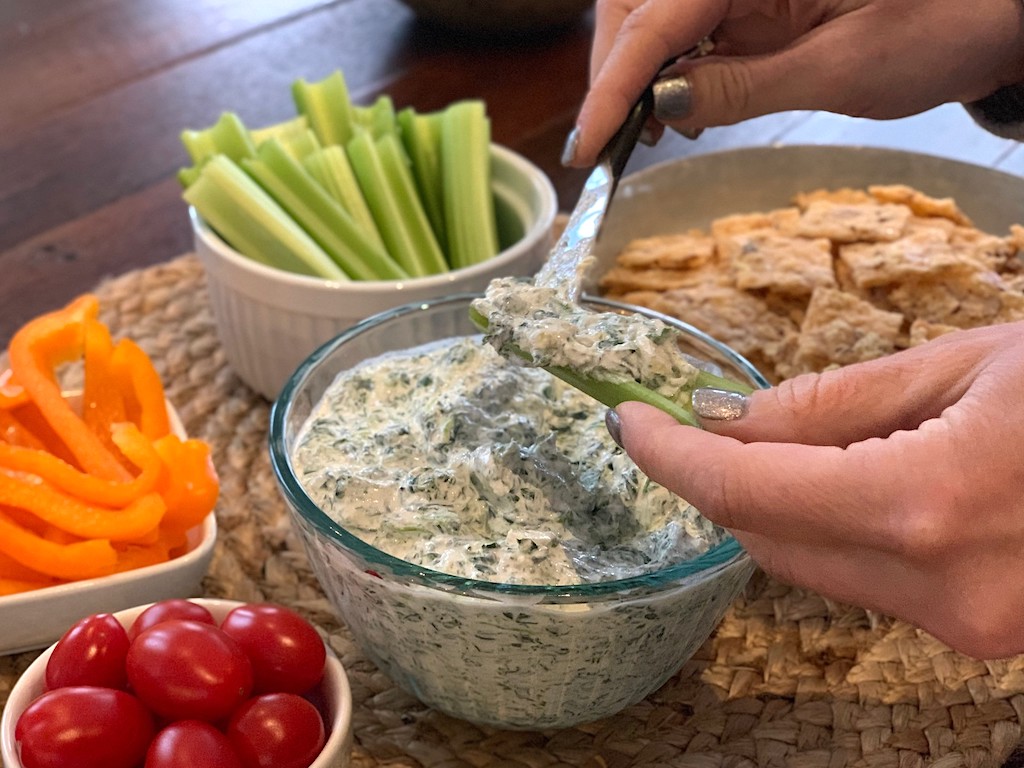 ---
yield: 10 SERVINGS
prep time: 10 MINUTES
total time: 10 MINUTES
This creamy spinach dip is an easy appetizer for any crowd.
Ingredients
16 oz sour cream (I use Daisy brand)
1 teaspoon garlic powder
1 teaspoon onion powder
1 teaspoon dried minced onion flakes
2 teaspoon dried parsley
1 teaspoon dried dill weed
1 teaspoon salt
1/4 teaspoon black pepper
1 teaspoon erythritol
10 oz frozen chopped spinach, thawed
1/2 cup jicama, peeled and finely diced
Directions
1
In a medium bowl, mix sour cream together with spices (garlic powder, onion powder, onion flakes, parsley, dill, salt, pepper, and erythritol). If desired, you can add additional salt one pinch at a time to ramp up the savoriness.
2
Drain thawed spinach. To avoid watery dip, use a sieve or thick paper towels and press out all excess water from spinach.
3
Add spinach and finely diced jicama to the sour cream mixture. Combine thoroughly until spinach and jicama are evenly incorporated.
4
Chill for at least 1/2 hour before serving. Enjoy!
Nutrition Information
Yield: 10 servings, Serving Size: about 1/4 cup
Amount Per Serving: 103 Calories | 8g Fat | 4g Total Carbs | 1g Fiber | 3g Protein | 3g Net Carbs
---