Keto Spinach Artichoke Dip | Easy Instant Pot Recipe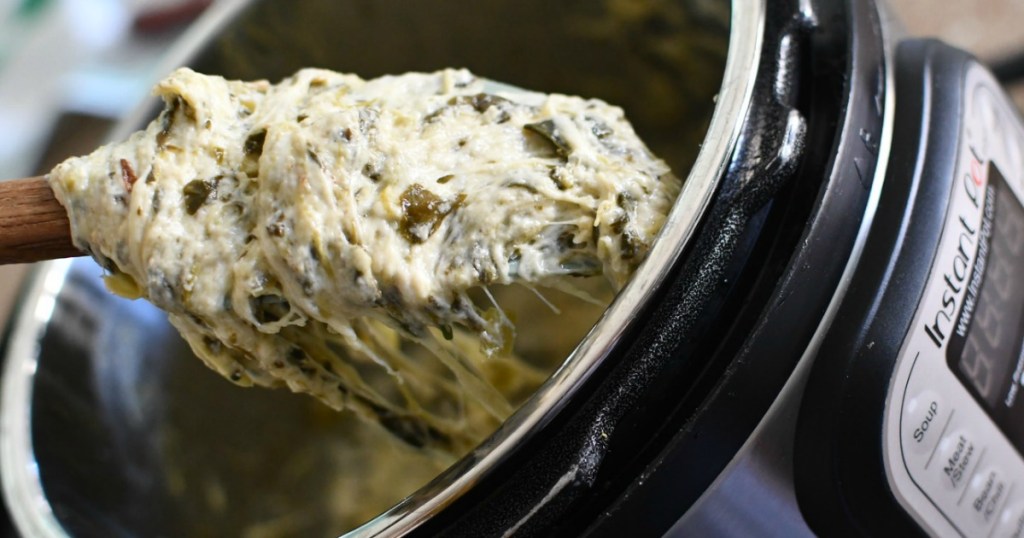 Love cheesy keto dips?
Keto Spinach Artichoke Dip is such a classic party snack that everyone LOVES! The great news is you can easily mix it up and melt it using your Instant Pot pressure cooker and it'll soon become your favorite warm keto-friendly cheese dip to share with family and friends.
This is such a perfect game day food, and (of course) a tasty option for all holiday gatherings. If you're struggling with what to bring or make for both a keto and not keto crowd, this is the dip to make! You can include keto dippers like celery and parmesan crisps to make it a yummy low-carb snack.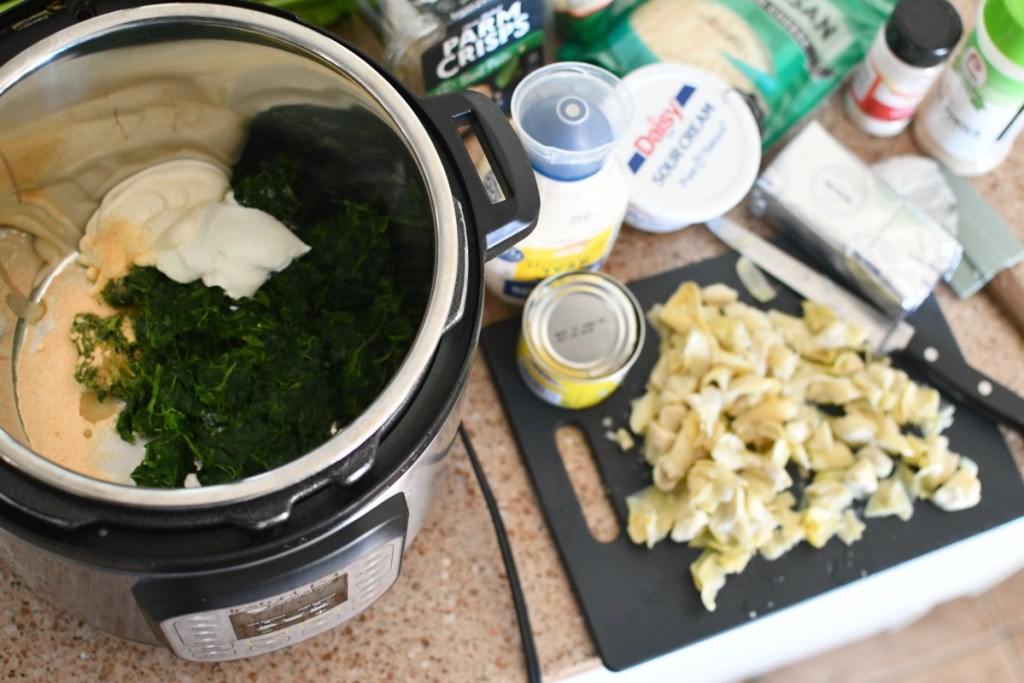 Hip Tips:
---
Don't fret if, after the pressure cooking step, the dip looks watery and curdled! Once you melt in all that delicious cheese at the end, it will become nice and creamy!


---

Spice it up! I feel like this dip is too bland without any green chiles or jalapenos. You could, however, skip them and maybe add red chile flakes. Another option would be to add in some pepper jack cheese to replace some of the mozzarella. Yum!


---

Keep your dip warm! The instant pot has a warm setting you can always use to keep the dip warm until ready to serve. Just keep an eye on it and stir once in a while to avoid accidentally burning.


---

Add lots of keto dippers! Some suggestions would be celery, bell pepper, pork rinds, and Parmesan crisps. You could also make your own homemade cheese crisps instead!


---

Use your slow cooker to make this if desired! Simply combine all ingredients except the broth in a slow cooker, and slow cook on low for 3-4 hours, or on high for 2 hours. Give the mixture a good stir every once in a while, and cook until melted and creamy.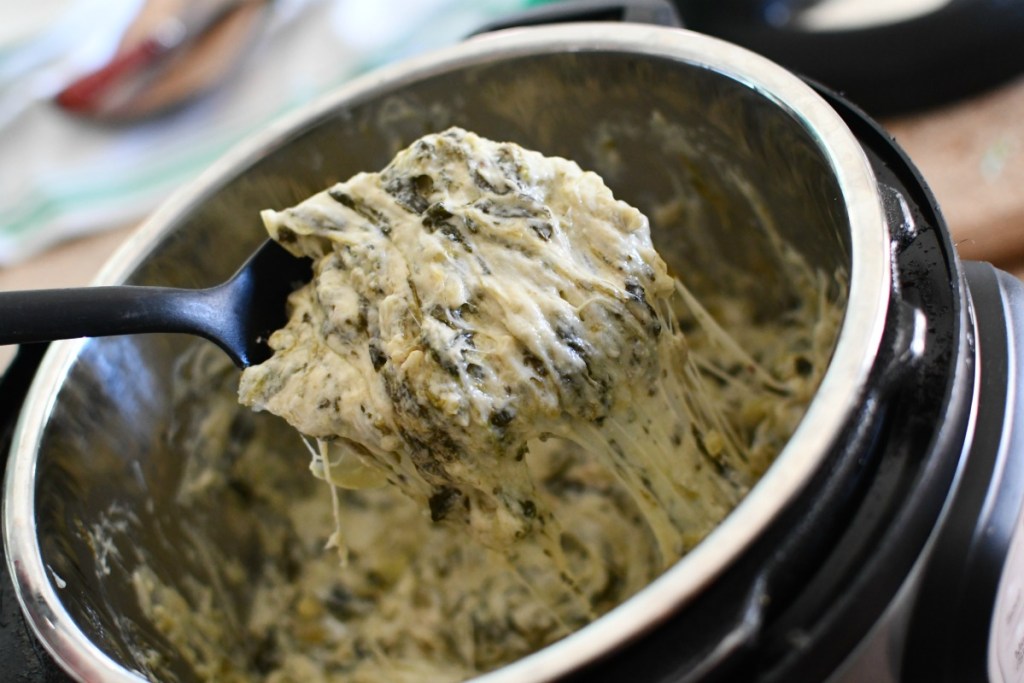 ---
Print
Instant Pot Keto Spinach Artichoke Dip
yield: 10 SERVINGS
prep time: 5 MINUTES
cook time: 20 MINUTES
total time: 25 MINUTES
Here's a popular creamy dip featuring chopped artichokes and lots of yummy cheese! The best part is you can make it right in your instant pot!
Ingredients
8 oz. cream cheese
13.75 oz. can of artichoke hearts
3 oz. can of spicy green chiles or jalapenos
10 oz. frozen package of spinach, defrosted
1/2 cup sour cream
1/2 cup real mayonnaise
1/2 teaspoon salt
1/2 teaspoon onion powder
1/2 teaspoon garlic
1/2 cup chicken broth
3 cups mozzarella cheese, grated
1 1/2 cups parmesan cheese, grated
Directions
1
Drain and chop artichoke hearts. Drain and squeeze water out of spinach using a colander.
2
To the Instant Pot, add the artichokes, green chiles, spinach, cream cheese, sour cream, mayonnaise, salt, onion powder, garlic powder, and chicken broth. Mix to combine, then close and seal the lid.
3
Cook on manual or high for 4 minutes cook time. Note: It will take 10-15 minutes to come to pressure and then it will cook.
4
Quick release the pressure, and mix in the cheeses until melted and creamy. Transfer to a casserole dish to serve, or serve from the Instant Pot.
Nutrition Information
Yield: 5 cups, Serving Size: 1/2 cup
Amount Per Serving: 363 Calories | 29g Fat | 7g Total Carbs | 1g Fiber | 16g Protein | 6g Net Carbs
---
Okey dokey artichokey, this dip is AHHH-MAZING!
This is definitely one of my family's favorite dips, and it always seems to be popular at our parties and gatherings. I appreciate that it's so EASY to mix up and melt, and it's such a no-fuss recipe that always turns out yummy.
Also if you have leftovers, they are so good warmed up the next day, and I have even served melted artichoke dip on top of roasted chicken breasts as an easy dinner idea!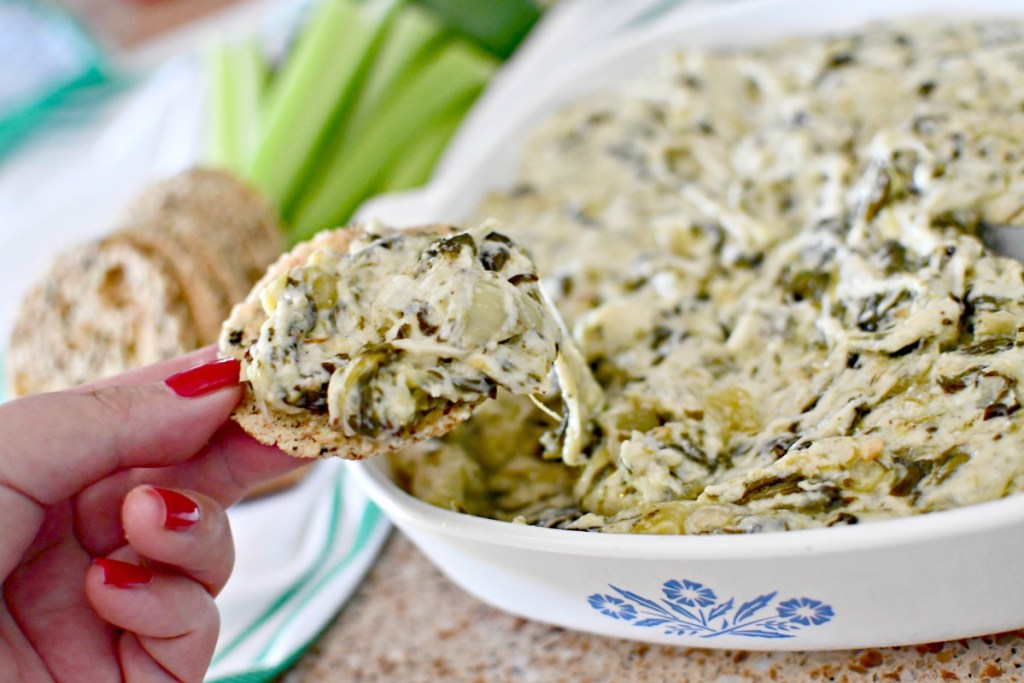 ---