Keto Pimento Cheese Dip (Pork Rinds New BFF)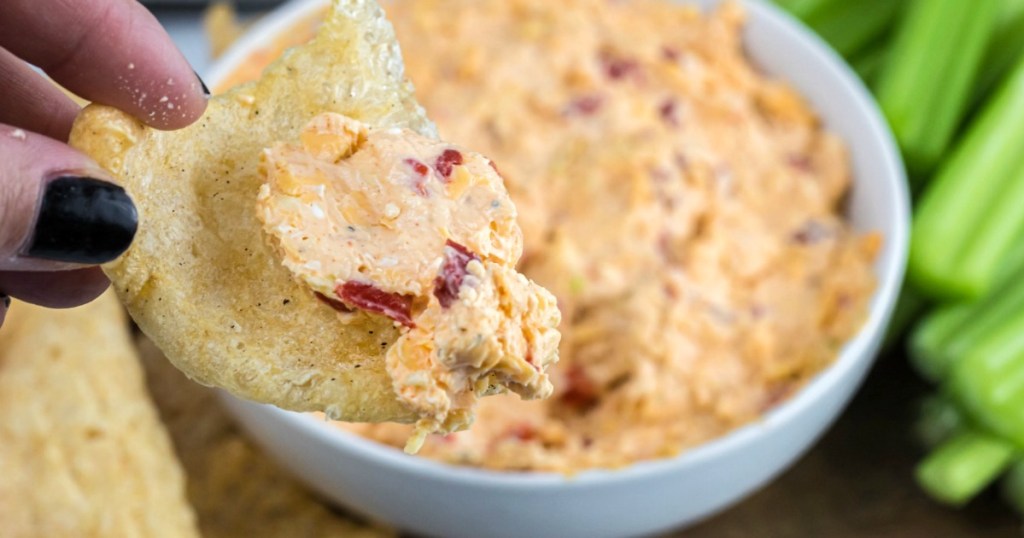 This dip is soooo cheesy! 🧀
I've gotta be honest, I have never had pimento cheese as a keto snack which is even surprising to me as a big-time cheese lover. After Collin was raving about how much she loves it, I headed to the store and grabbed a few different brands of pimento cheese. I'm wondering what took me so long to try this as it's so delicious and flavorful!
I loved it so much I decided to make a keto-friendly Pimento Cheese Dip, and today I'm sharing the recipe with all of you.
Introducing keto pimento cheese dip!
When I was comparing store-bought brands of pimento cheese I was pretty surprised to find that the carb counts were all over the place from 4g of net carbs all the way up to 14g of net carbs. However, my recipe clocks in at just 2.7g net carbs per delicious serving! 😋 And pork rinds make the best zero carb dippers.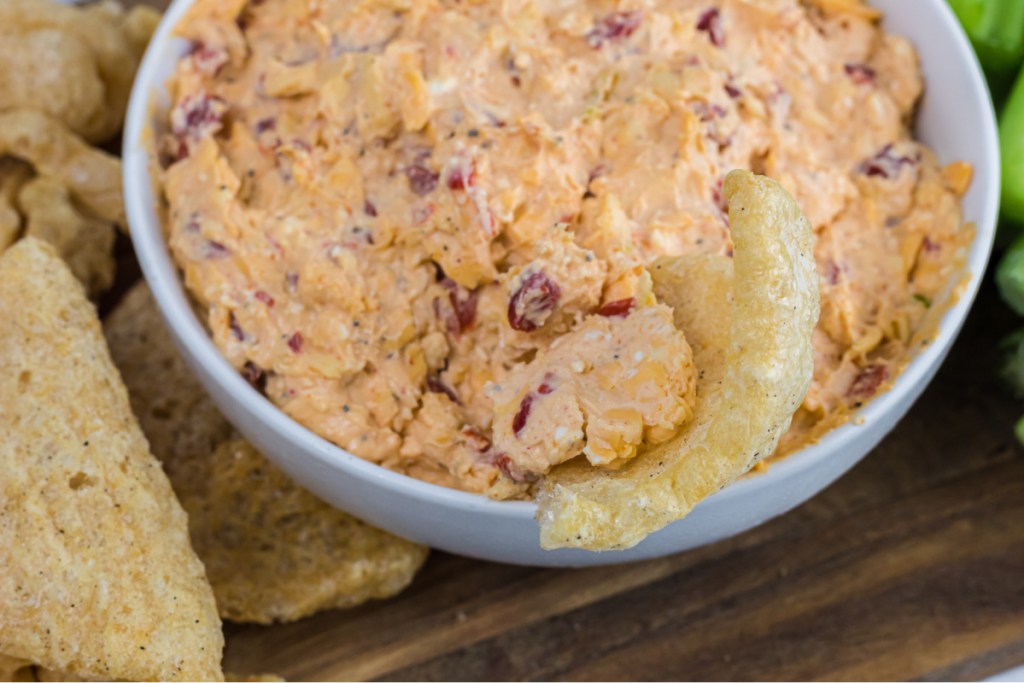 Tips for making the BEST keto pimento cheese dip:
You can use bagged shredded cheese but I really recommend freshly shredding a block of cheese to really get a true flavor. If you're having a hard time finding gouda, I would recommend using white cheddar as a replacement.
If you're like me and have never purchased pimento peppers, you may be surprised to find that they are located by the canned vegetables. Hopefully, that saves you a trip down all the random aisles as I was originally looking by the olives. 🤦‍♀️
If you like some heat, you can add 1/2-1 teaspoon of hot sauce to the mix and it really takes the flavor to another level.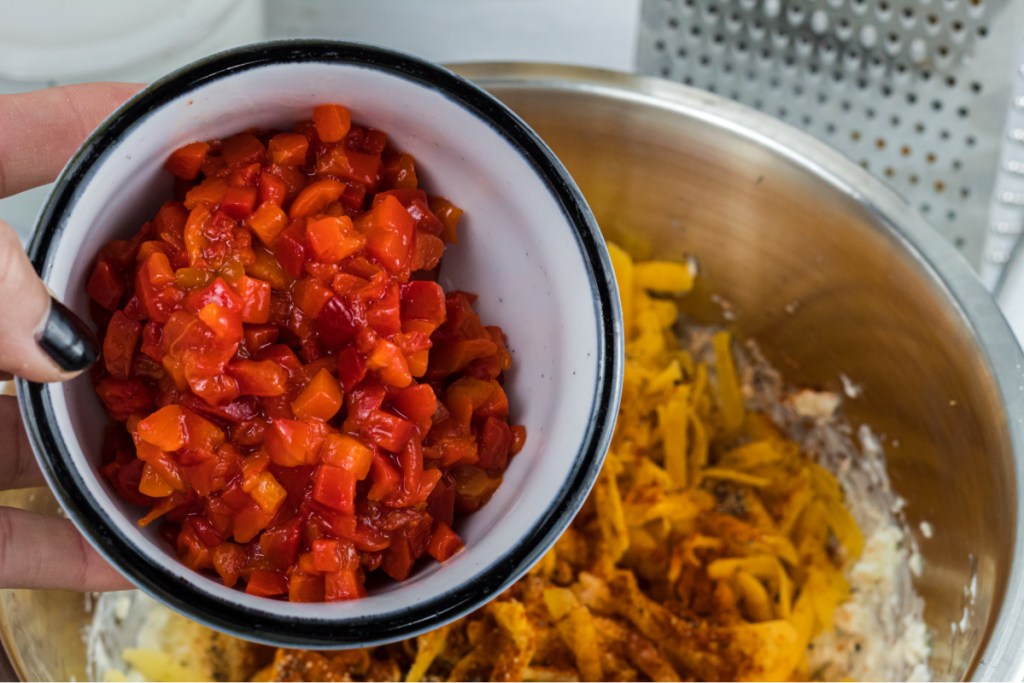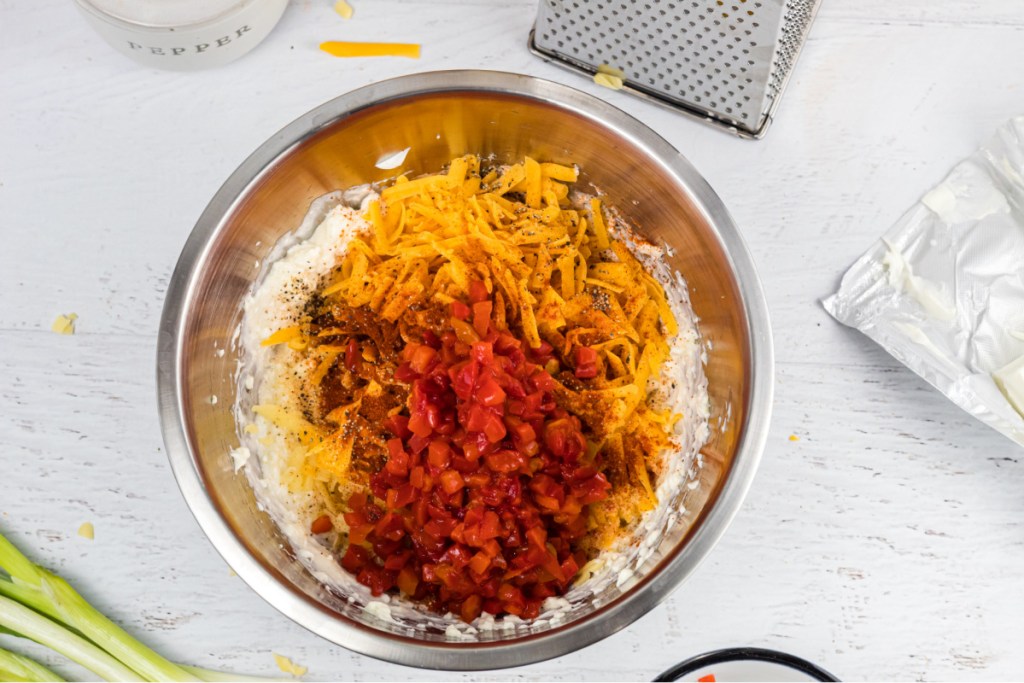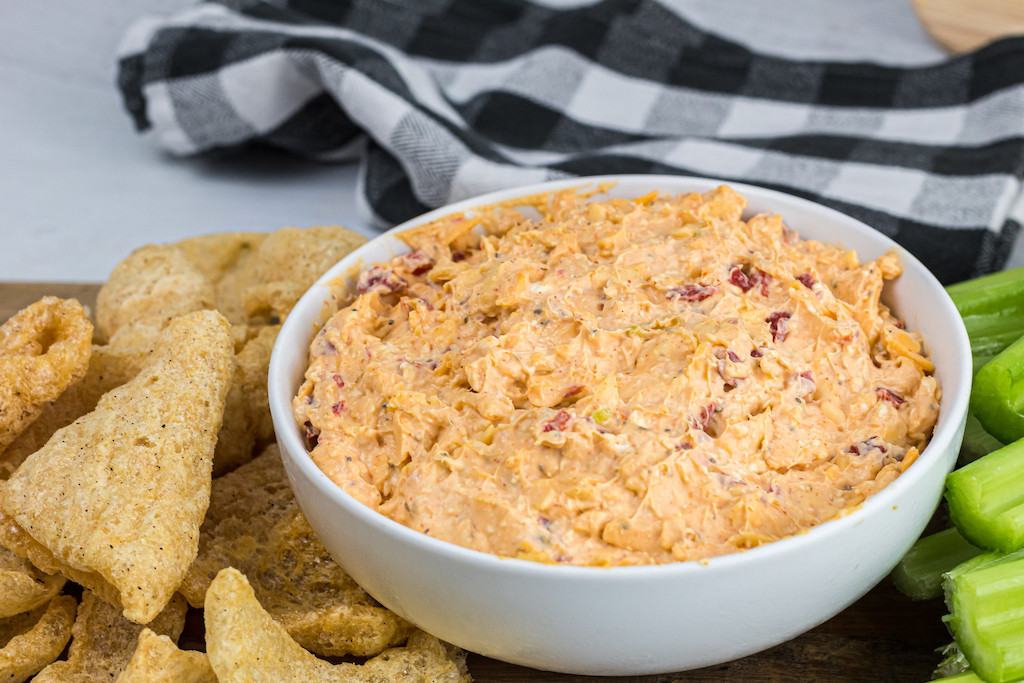 ---
Print
Keto Pimento Cheese Dip
yield: 8 SERVINGS
prep time: 10 MINUTES
total time: 10 MINUTES
This low carb pimento cheese dip is easy to make with a few simple ingredients and so flavorful!
Ingredients
8 oz. cream cheese
1 1/2 cup sharp cheddar cheese, freshly grated
1 cup gouda cheese, freshly grated
3 green onions, finely diced
1/2 teaspoon smoked paprika
1/2 teaspoon black pepper
1/2 teaspoon garlic powder
Directions
1
In a medium-sized bowl, mix together cream cheese and avocado mayo with an electric mixer until creamy.
2
Add in remaining ingredients and mix together with a spoon. Feel free to add a little salt to taste. Spoon pimento cheese into a serving dish and place it in the refrigerator until you are ready to serve.
Nutrition Information
Yield: 2 cups, Serving Size: 1/4 cup
Amount Per Serving: 386 Calories | 38.3g Fat | 3g Total Carbs | 0.3g Fiber | 11g Protein | 2.7g Net Carbs
---
This easy to make keto-friendly recipe is one of my new favorite go-to snack ideas! Use it as a dip for pork rinds, celery, cucumbers, or spread it on a freshly made chaffle for a quick lunch!
Here's what my teammate Jenna had to say after making this pimento cheese dip recipe:
"This is such a delicious dip and combining it with pork rinds is pure genius! The cream cheese and mayo base is so flavorful and adding a little hot sauce gives it the kick that I crave. I wasn't able to find gouda at my stores, so I opted to use mozzarella and white cheddar which was a home run. I'll be making this again soon!"
---