Dig Into This Keto Baked Brie Appetizer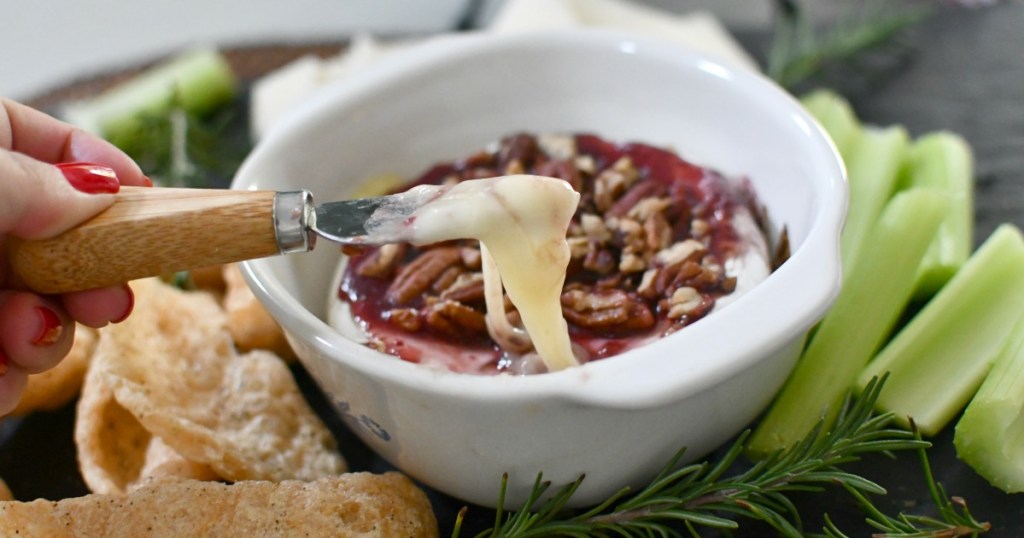 Love creamy, melted cheese keto appetizers?
Well, we all know cheese is LIFE, especially when eating keto, and today I'm sharing a simple 3-ingredient appetizer idea that will satisfy those cheese cravings for sure! This melted baked brie cheese wheel with keto jam and pecans is the perfect combination of sweet and savory – and also happens to be super easy to make at home too!
Keto baked brie is perfect for sharing with family during the holidays, or any time of the year honestly! You can serve it up with some keto dippers, or include it as part of an epic keto charcuterie board with other meat and cheese accompaniments.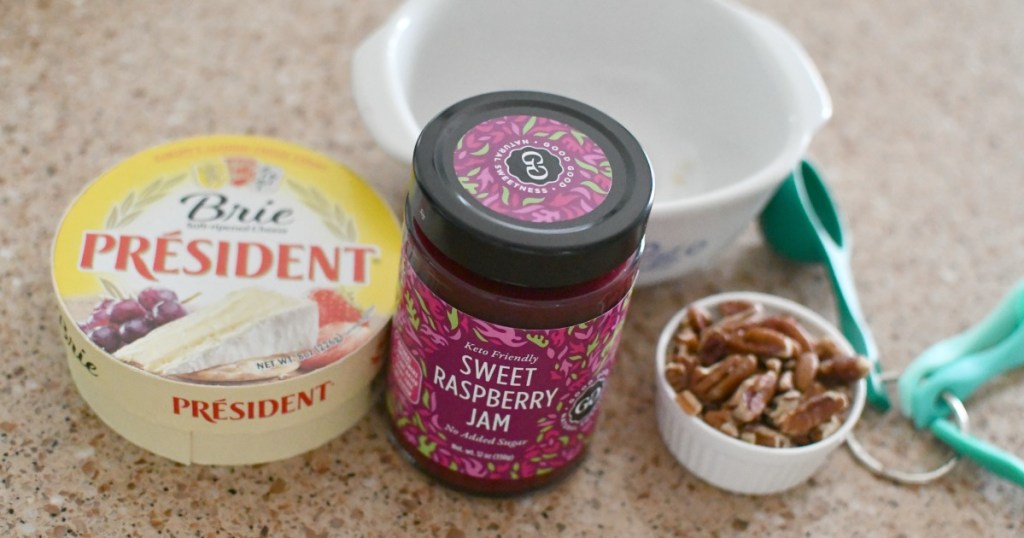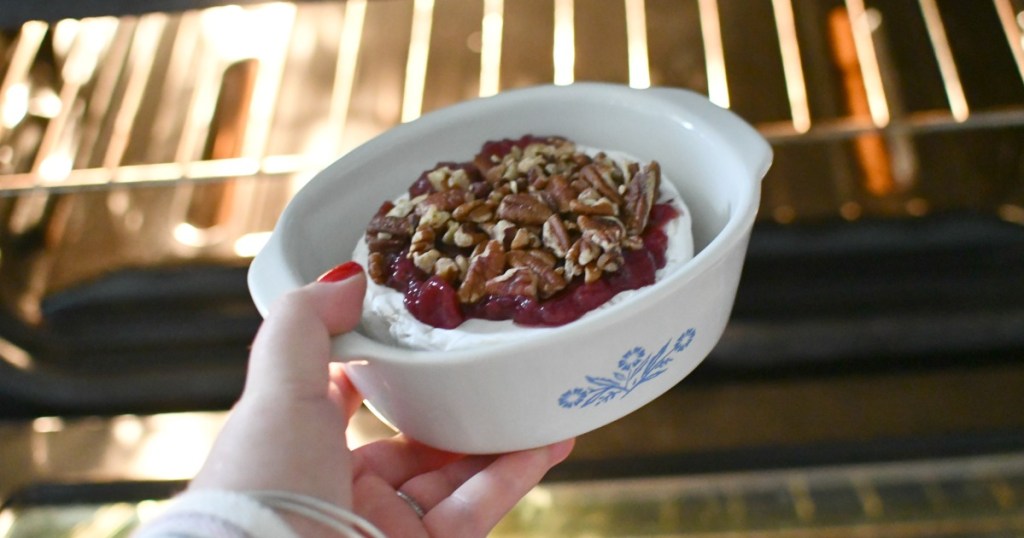 Tips for making the BEST melted baked brie and jam keto appetizer:
This idea is highly adaptable to taste! If you wanted to try other appetizing nuts and topping ideas, go for it. You could use sugar-free maple syrup and walnuts as another example. Perhaps a savory pesto and extra pine nuts would also be a great option. You can really have fun with baked brie topping ideas!
You could also buy a sugar-free jam at the grocery store like Smucker's, but if you're super clean keto it may have ingredients that would fall in the "dirty keto" category. Another option would be to make a homemade keto jam like our berry keto jam recipe! YUM.
Don't forget to serve your melted brie alongside some yummy keto-friendly dippers! I highly suggest these Southern Recipe brand pork rinds, as they are crispy and perfectly seasoned. Some other ideas are celery, radishes, and sliced jicama!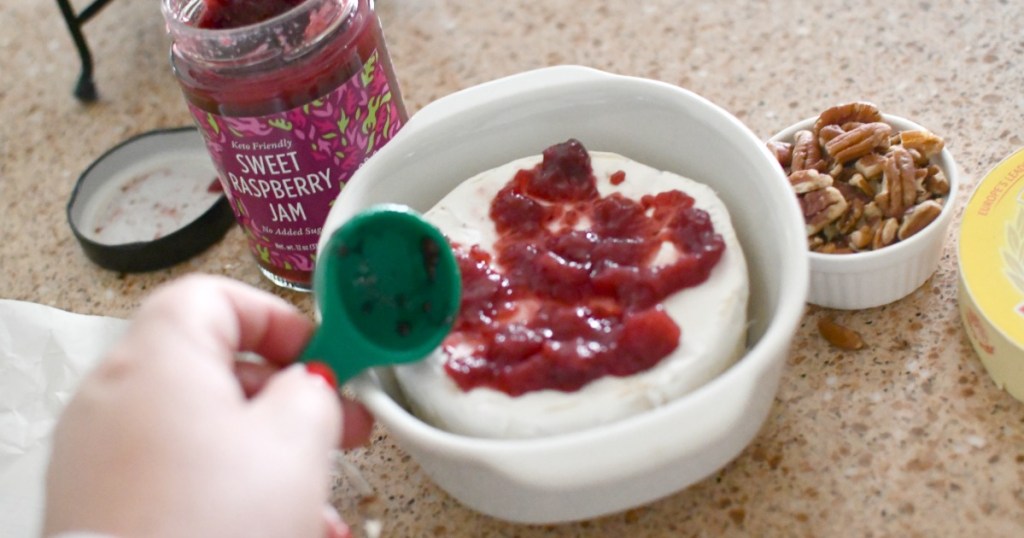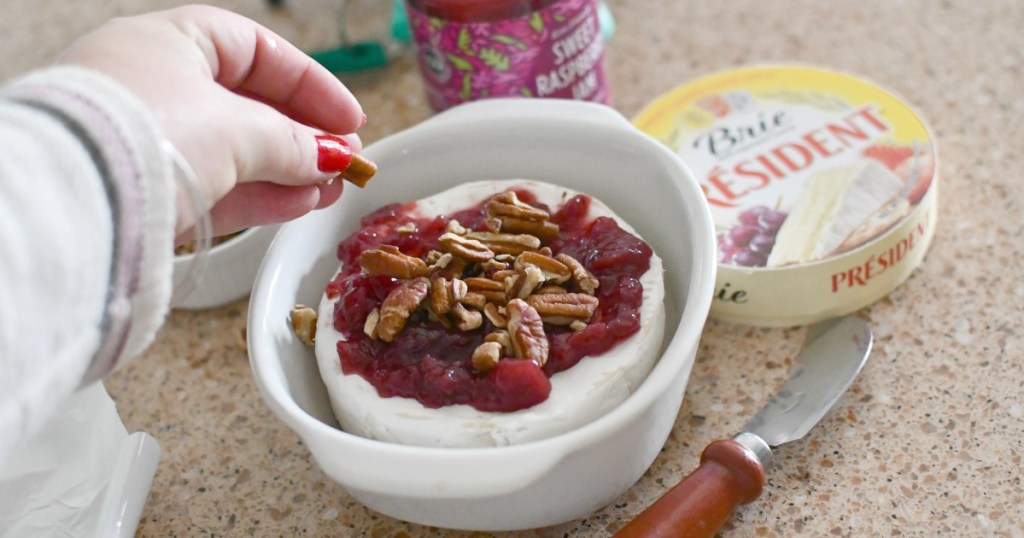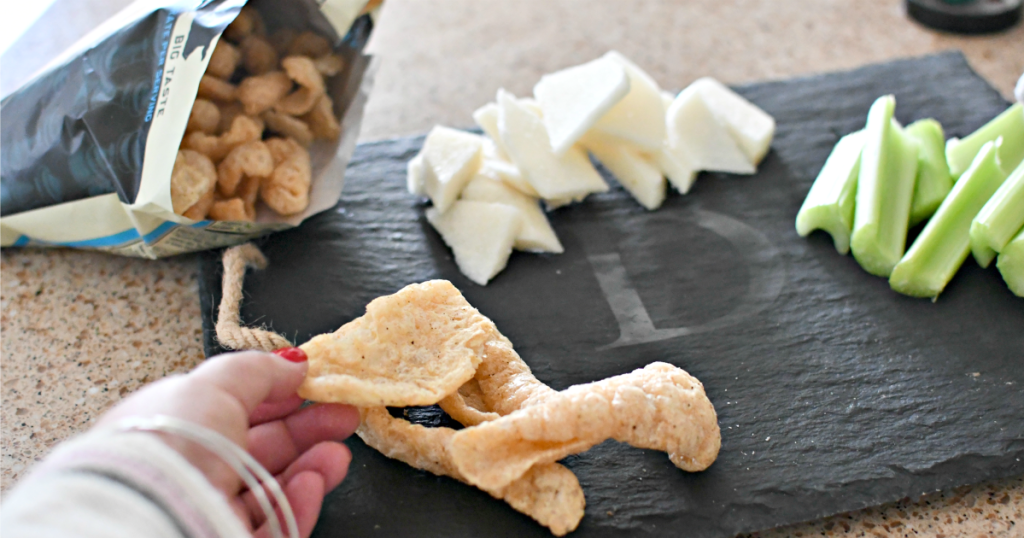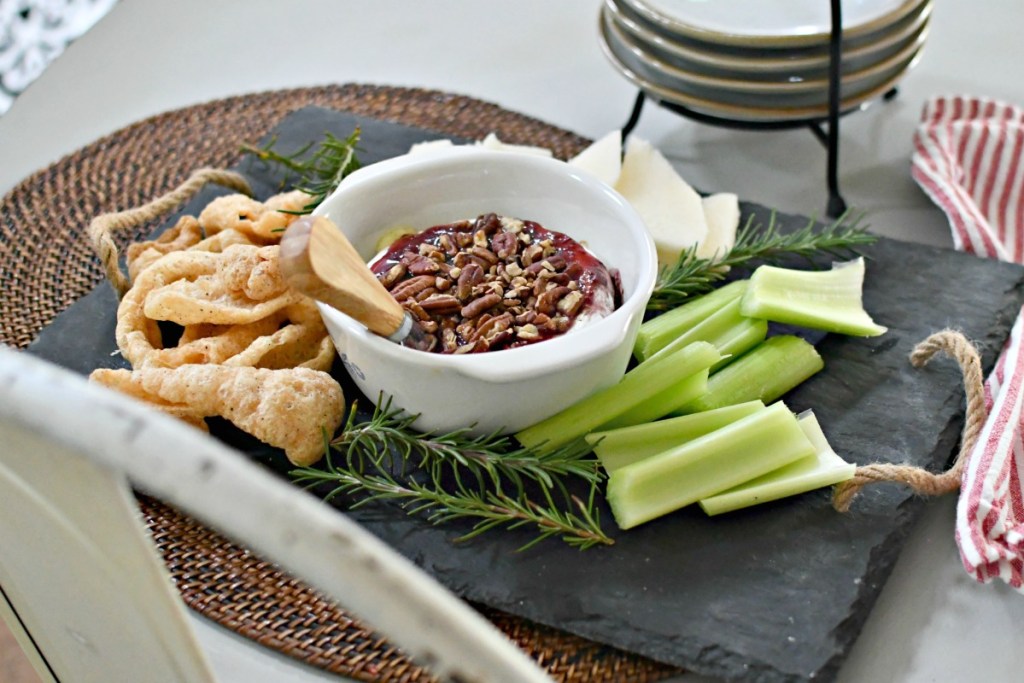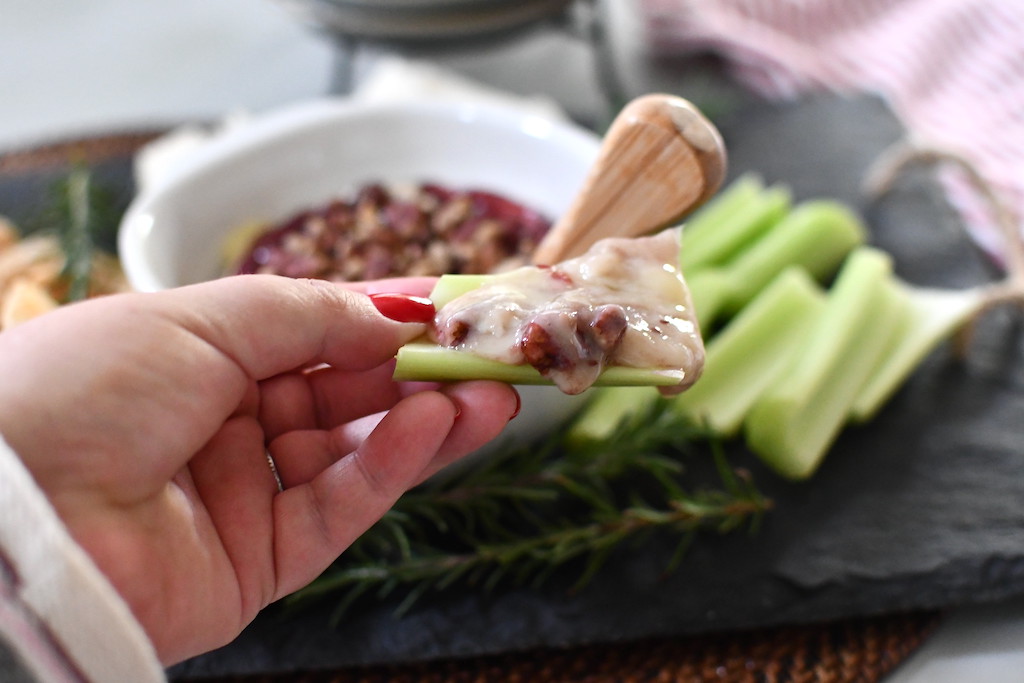 ---
Print
Keto Baked Brie & Jam
yield: 8 SERVINGS
prep time: 5 MINUTES
cook time: 12 MINUTES
total time: 17 MINUTES
A wheel of brie baked with sugar-free jam and pecans is an ooey gooey appetizer fit for any occasion!
Directions
1
Preheat the oven to 400 degrees.
2
Place the unwrapped brie on a small ovenproof tray, casserole dish, or large ramekin.
3
Spread the jam and add pecans to the top of the brie.
4
Bake for about 12 minutes until melted. Serve with keto-friendly dippers, and enjoy!
Nutrition Information
Yield: 8 servings, Serving Size: 1 inch piece
Amount Per Serving: 127 Calories | 11.8g Fat | 1.6g Total Carbs | 0.4g Fiber | 0.8g Sugar Alcohol | 4.4g Protein | 0.3g Net Carbs
---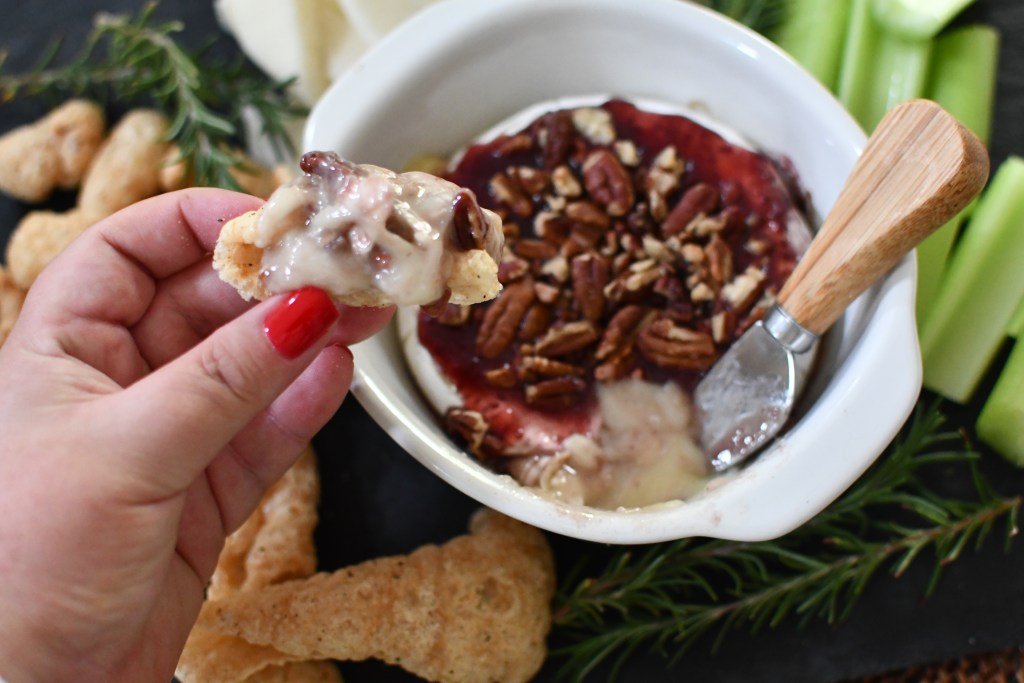 Baked brie is the perfect keto appetizer!
Satisfying melted cheese with the pork rinds is simply the best, and the pecans add a nice crunch and flavor as well. Overall, this is a must-try idea for all you brie cheese fans out there!
---
Our sugar-free keto spiced almonds would pair well with the baked brie, too!