Simple Keto Quick Bread—Oven-Ready in 10 Minutes or Less!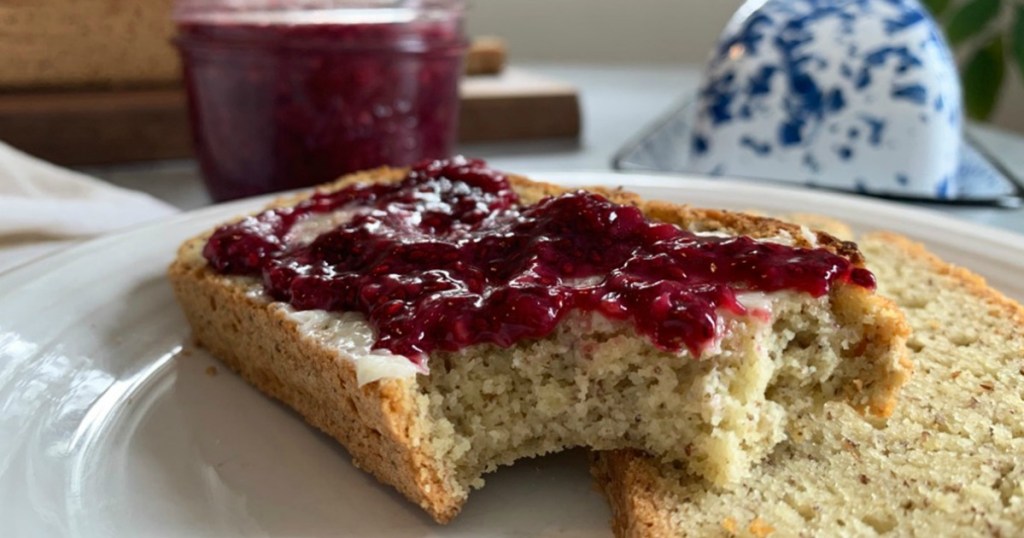 Say hello to your old friend, bread!
Finally, a simple, low-carb, quickie keto bread made with pantry staples. What's more, you don't need to be a skilled baker to whip up a batch. It's soft, delicate, moist, and best of all—EASY!
Yep, this keto bread is delicious, and with only 2 net carbs, it's a game-changer. That said, it's not exactly the same as your everyday wheat laden, yeast-risen sandwich bread. Rather, it's moist and very soft, with a delicate crumb and a subtly rich flavor. The texture is unique and is somewhat similar to zucchini bread, cornbread, or even a biscuit.
Has breakfast become boring?
If your answer is YES, then you're in luck! This keto bread is my favorite go-to, especially for breakfast on the fly. I enjoy it well-toasted with crunchy peanut butter, avocado slices topped with everything but the bagel seasoning, homemade keto jam, and my all-time fave – grass-fed butter with cinnamon and "sugar" (aka, a sprinkle of allulose or erythritol). It truly hits the spot. 🙌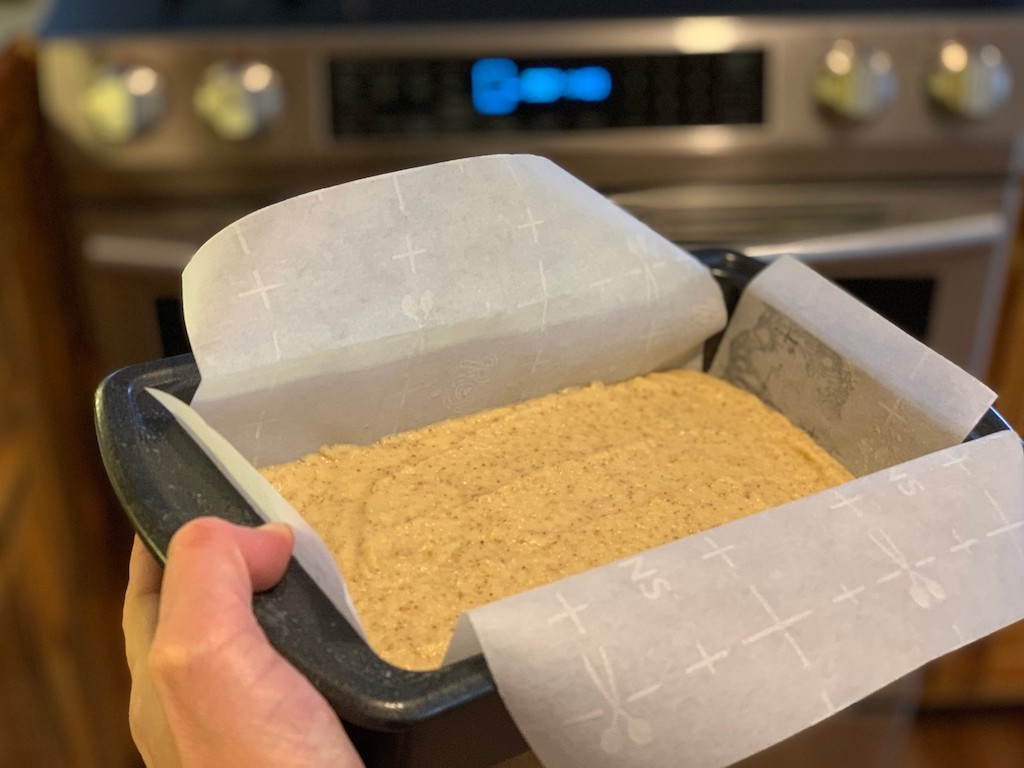 Bake Your Bread Like a Pro with these Hip Tips:
While this recipe is really easy peasy, I want to make sure you get the best possible results! Follow these steps, and your loaves are going to be as amazing as you are.
---
Don't scoop the almond flour! Scooping from the bag with your measuring cup will often compress the flour—potentially up to 25%! Improper amounts will greatly impact the results of your keto bread. Use a spoon to scoop flour into the measuring cup and level off with a knife. However, the BEST practice is to weigh your flour.
Use room temperature eggs to get the best rise out of your batter.
Check the expiration date on your baking powder.
Beat the batter for a couple of minutes to incorporate as much air into the mix as possible.
Use a parchment liner to ensure easy removal from the pan (not necessary for silicon pans):

Spray the pan with cooking spray (this helps hold the parchment paper in place).
Cut two sheets of parchment paper

long enough to line the bottom and two sides of the pan—One sheet will be running lengthwise and the other running widthwise. Leave a little extra paper to create "handles" hanging over the sides of the pan. Crease the

corners

, so that the parchment paper fits snugly in the greased pan. Trim any excess as needed.

If desired, lightly spray the prepared parchment-lined pan again for good measure.

Cool bread slowly. When your bread has finished cooking, turn off the oven and open the door, allowing the bread to cool slowly. Removing the bread from a hot oven and quickly transferring it to a cool location can sometimes cause the loaf to sink. I suggest cooling in an open oven for around 10 minutes.
Use a cooling rack. Once the bread has cooled in the oven, pull it out of the pan (using parchment "handles"), discard the parchment paper and place the bread on a metal cooling rack. A rack helps ALL EDGES to cool with proper air circulation. If you cool on a solid surface then moisture can condense on the bottom of the loaf, which may make it soft and soggy.
Pre-slice your loaf & freeze for up to a month! Simply slice the bread, then place in a freezer bag or sealed container. When hunger strikes, pop a frozen slice in the toaster, and you'll have breakie-ready bread in less than a minute!
If you want more chew, you can add ½-1 teaspoon xanthan gum to the dry ingredients; however, I think the bread performs great without it.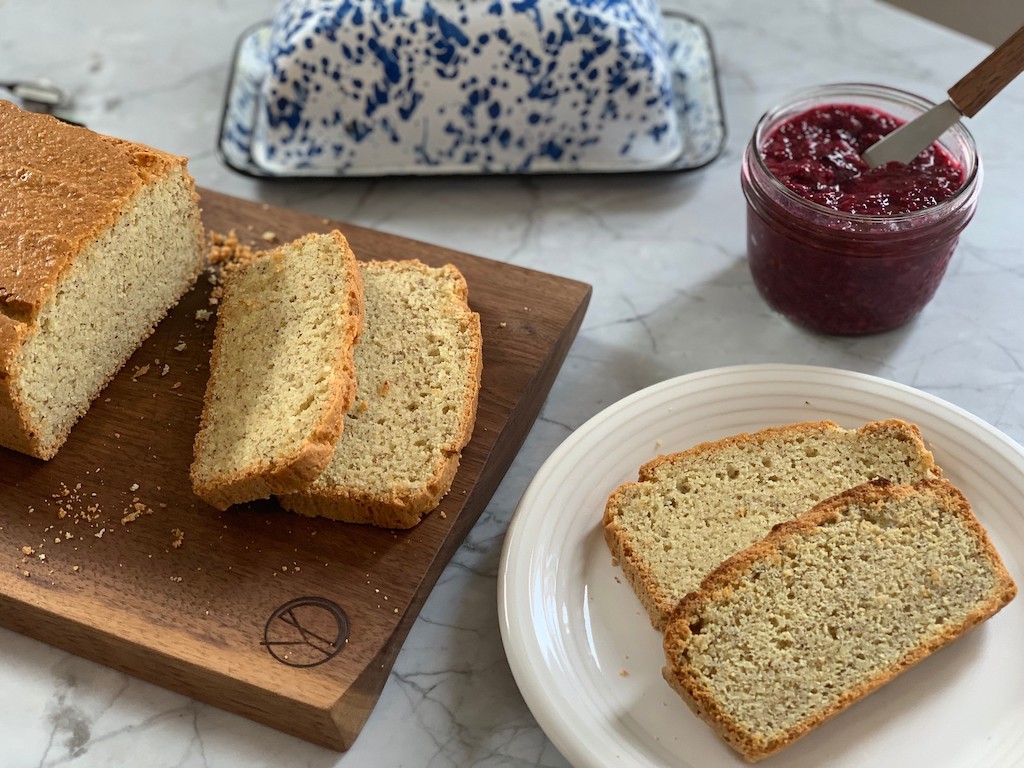 ---
Print
Simple Keto Quick Bread
yield: 16 SERVINGS
prep time: 10 MINUTES
cook time: 60 MINUTES
total time: 1 HOUR 10 MINUTES
Fast and easy keto bread made with pantry staples!
Ingredients
3 cups super-fine blanched almond flour (336g)
1/4 cup flax meal (26g)
2 tablespoons erythritol, granular
1 tablespoon baking powder
1 teaspoon sea salt
6 large eggs, at room temperature
1/2 cup butter, melted (for dairy free, substitute with avocado oil or coconut oil)
1/4 cup warm water
Directions
1
Preheat oven to 350-degrees. Prepare a standard-sized bread pan with a parchment liner and cooking spray. (See Hip Tips.)
2
In a medium bowl, combine almond flour, flax meal, erythritol, baking powder, and sea salt. Set aside.
3
In a separate medium to large bowl, beat eggs and butter until well combined using a stand mixer or electric hand mixer. Add the water and half the flour mixture. Beat on low speed for a minute. Then add the remaining flour mixture and beat on medium-high for another two minutes.
4
Immediately pour the batter into prepared bread pan, using a spatula to spread the top of the batter into an even layer. Bake on center rack in preheated oven for 60-70 minutes (depending on oven model and altitude). Bread will rise and top will crack as it cooks. Please note that testing with a toothpick will not work with this recipe as it will come out clean even if it's not finished baking.
5
Once done, allow your bread to cool in the oven with the door open for 10 minutes. Then remove from pan, discard the parchment paper and allow to cool all the way on a metal rack.
Additional Notes
Once bread has completely cooled, store it in a sealed container, either at room temperature or in the refrigerator for about a week. Frozen bread keeps for a month or longer. If freezing, I suggest slicing the bread first.
Nutrition Information
Yield: 16 servings, Serving Size: one ½-inch slice
Amount Per Serving: 208.2 Calories | 18.9g Fat | 6.6g Total Carbs | 2.8g Fiber | 1.6g Sugar Alcohol | 7.2g Protein | 2.2g Net Carbs
---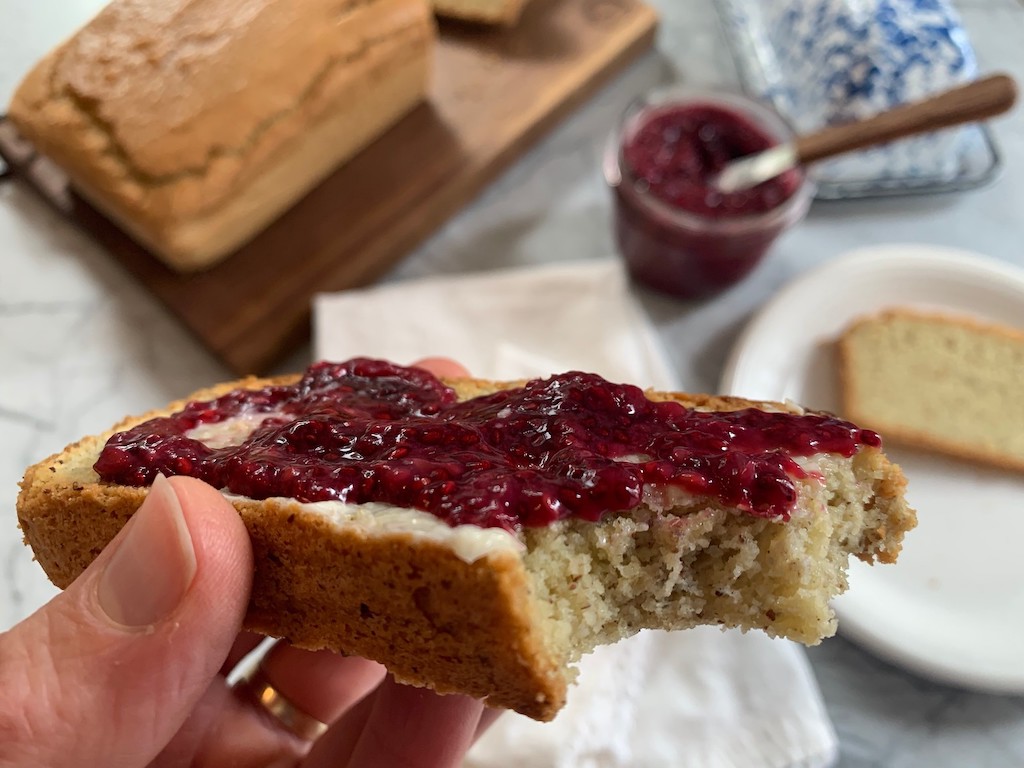 Get the most out of your low-carb bread!
I highly recommend toasting the bread (much of the time). Toasting the bread until it's brown and crispy really firms it up. This adds strength to each slice as well as creating a wonderful crunch to the outside while remaining soft & delicious on the inside. When I'm crafting a masterpiece sandwich, whether it's loaded with meat & cheese or eggs & sausage, I always toast my keto bread first.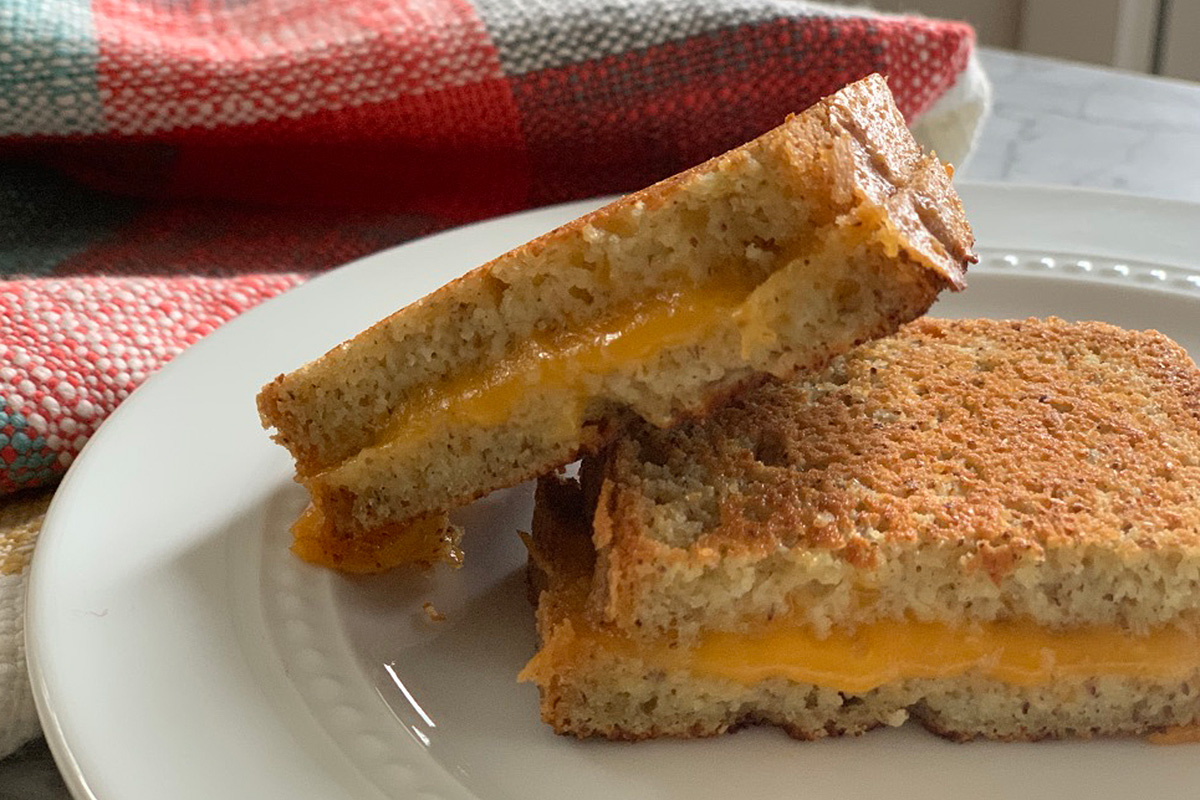 A couple of meal ideas:
Grilled cheese: One of my all-time faves! Simply heat a pan over medium heat. Then place a couple of slices of cheese between two slices of keto bread. Add a smear of butter to the outside of each bread slice, and cook for about 3-4 minutes per side until well browned and crispy.
French toast. A traditional favorite! First, toast your keto bread (this helps to dry it out a bit). Set aside. Beat one egg with a tiny splash of heavy cream in a shallow bowl. You may add a dash of cinnamon or vanilla extract if desired. Then dredge the pre-toasted slices of bread in the egg mixture for about 60 seconds, flipping halfway (any longer, and the bread may start to break down from the added moisture). Place egg-soaked bread in a greased, preheated skillet over medium heat and cook for 2-3 minutes per side. Serve with your favorite sugar-free syrup.
---
If you love keto-baking, try this lemon zucchini bread!