Celebrate Every Day with this Yummy Keto Birthday Cake Protein Shake

This low-carb birthday cake protein shake makes every day feel special!
I don't know about you, but I have a seriously dangerous obsession with birthday cake.
Recently, I thought to myself, wouldn't it be magical to enjoy all the delicious flavors of the beloved birthday cake in a keto-friendly shake that provides healthy fat and protein?! I set out on a miracle mission. I'm happy to report that I found the stairway to protein shake heaven with this super tasty keto birthday cake shake recipe!
---
Hip Tips:
Crush your ice. Crushed ice versus ice cubes makes all the difference. If your refrigerator doesn't have a crushed ice function, no worries! Simply grab a cutting board and place cubes in a Ziploc bag on top. Then crush by hand using a meat mallet or hammer.
I LOVE my new 900 Watt Ninja Personal Blender. Man, that baby is powerful!
Easily make this a one-serving recipe by simply halving the ingredients.
Add additional grass-fed whey protein if you need a mega protein boost.
Both the sweetness and vanilla flavor of each protein brand will vary. Get the right amounts dialed for your specific whey protein brand by tasting as you add the additional sweetener and vanilla extract. I based the recommended amounts of erythritol & vanilla extract using Garden of Life, Grassfed Organic Whey Protein, Vanilla… and, FYI, I like it SWEET!
Add a little pizazz with sugar-free sprinkles! (You can even make them yourself!)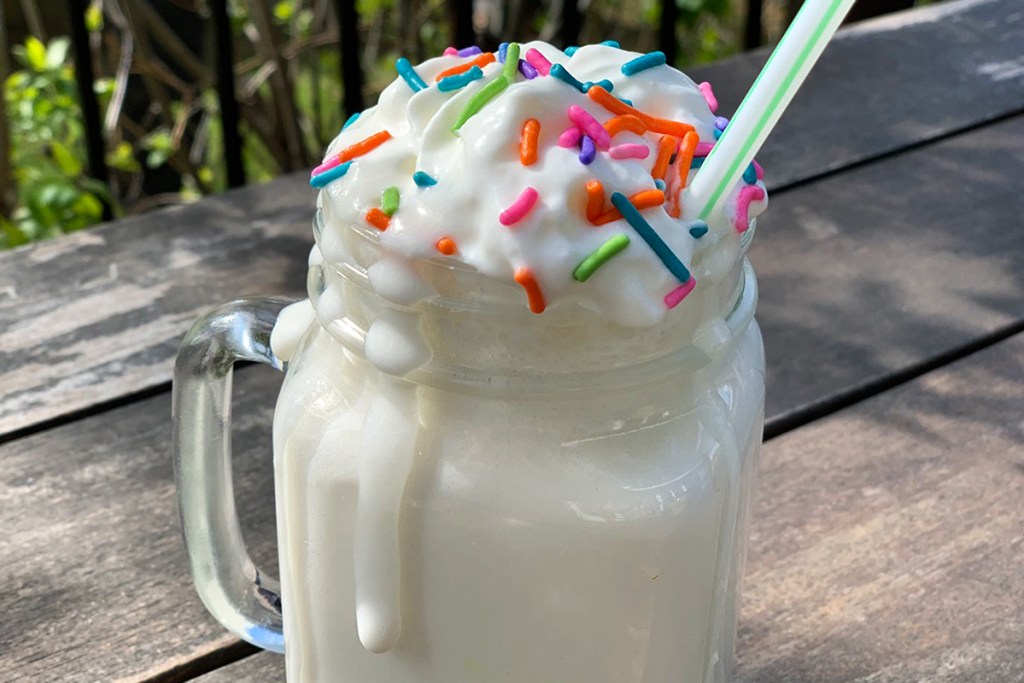 ---
Print
Keto Birthday Cake Protein Shake
yield: 2 SERVINGS
prep time: 5 MINUTES
total time: 5 MINUTES
Party like it's your birthday with this yummy keto protein shake recipe!
Ingredients
1/4 cup heavy cream
1 tablespoon grass-fed butter (like Kerrygold), softened
1 cup unsweetened vanilla almond milk
1/4 teaspoon pure vanilla extract, or to taste
1/8 teaspoon pure almond extract, or to taste
heaping 1/3 cup grass-fed vanilla whey protein powder (about 35 grams)
1 to 1 1/2 cups crushed ice
2-3 tablespoons erythritol, confectioners
liquid stevia to taste, optional
pinch or two xanthan gum, optional for extra thickening
Directions
1
Add heavy cream to blender. (I prefer to use a small, personal-size blender.) Blend for a minute or so until the cream has churned into a thick whipped cream. (Tilt the blender to the side if needed to engage the blender blade with the cream.)
2
Add the softened butter, almond milk, vanilla extract, and almond extract. Blend for about 30 seconds. Then add the protein powder and crushed ice. Blend for a minute or so.
3
Add erythritol and optional liquid stevia. I suggest adding a bit and then tasting to see if you need more. If you want a thicker shake, add a sprinkle of xanthan gum. Blend until combined.
4
Divide into two glasses. Garnish with freshly made whipped cream and sugar-free sprinkles. Enjoy!
Nutrition Information
Yield: 2 servings, Serving Size: 10-12 oz. (about 1 1/3 cups)
Amount Per Serving: 237 Calories | 19g Fat | 12g Total Carbs | 1g Fiber | 9g Sugar Alcohol | 13g Protein | 2g Net Carbs
---

Party like it's your birthday!
Celebrate the sweetness of life with this yummy protein shake. It's filling AND delicious. What better way to start (or end) your day than a mouthful of birthday cake!
Party on my friends—Here's to YOU!
---
Hey, fellow cake lovers, try this awesome Lemon Bundt Cake!