The BEST 5-Minute Keto Chocolate Mug Cake
This fast and easy chocolate cake dessert is absurdly delicious!
Honestly, I'd given up hope that I could create a microwavable keto cake that's truly lovable. No joke, I spent an entire day last year experimenting with a zillion different combinations of ingredients. Unfortunately, the day ended in bitter defeat along with short-term disdain for cocoa powder and almond flour.
Then recently, on a whim, I whipped up a quickie cake for my kiddo's birthday…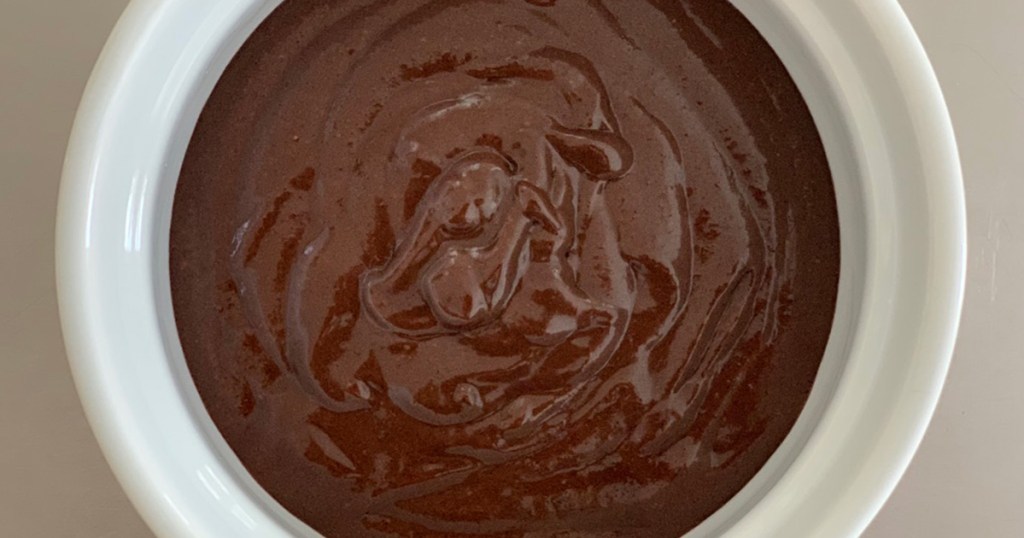 I pulled a few staples from the fridge, hit up the pantry, and threw together a cake with ZERO expectations that anyone would actually eat it. I popped that baby in the micro for a couple of minutes, topped it with some whipped cream, and added a few berries for color.
To my sheer amazement, once the candle was blown out and the singing ended, my family DEVOURED the cake. And not only did they eat it, they genuinely liked it!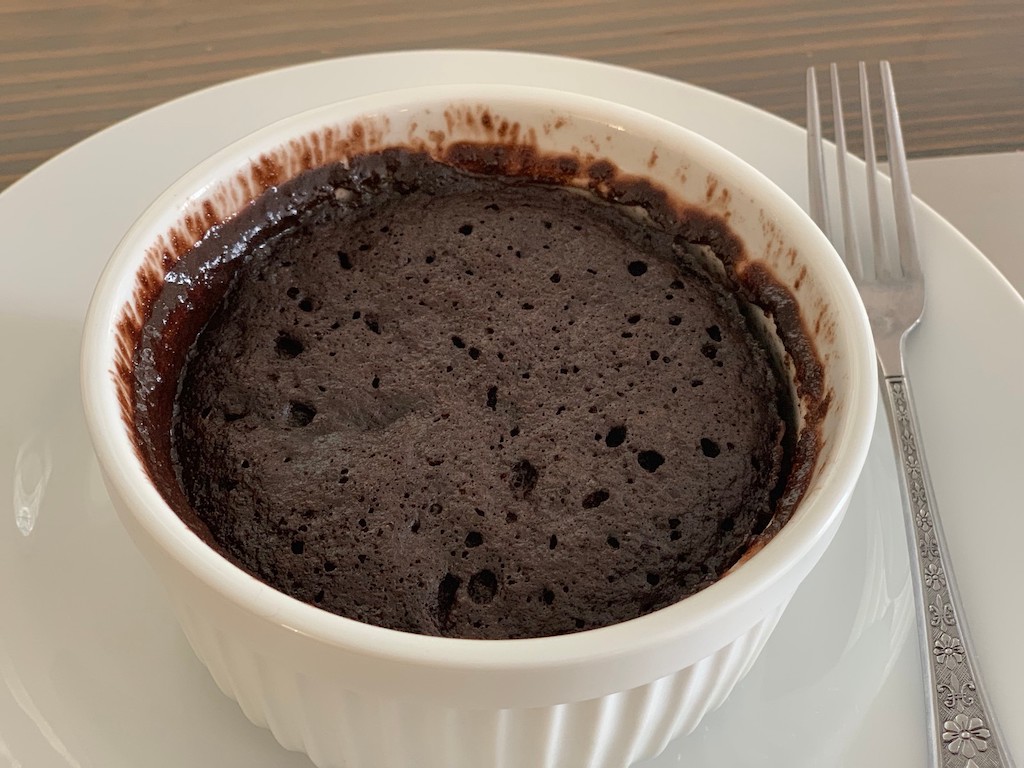 Keep these tips in mind when making this keto chocolate mug cake dessert:

You can easily convert the recipe to one single serving by simply halving the ingredients. Because attempting to halve an egg is a real pain, I suggest using one egg yolk if you're baking a single serving size. It still tastes wonderful and eliminates the struggle of trying to split a whole egg.
Check out these adorable ramekins by Sweese. They are perfect for single servings. I absolutely love all the shades of blue and green. Sweese makes some of my favorite kitchenware and their prices are fantastic!
I now believe in small miracles… in the form of chocolate cake.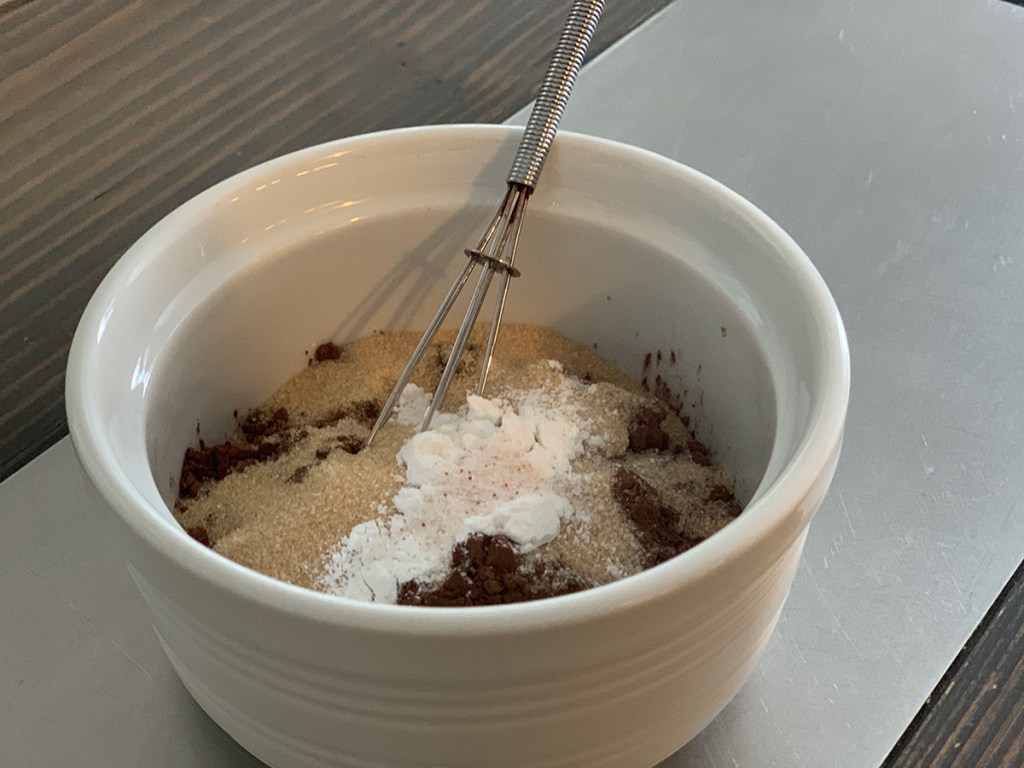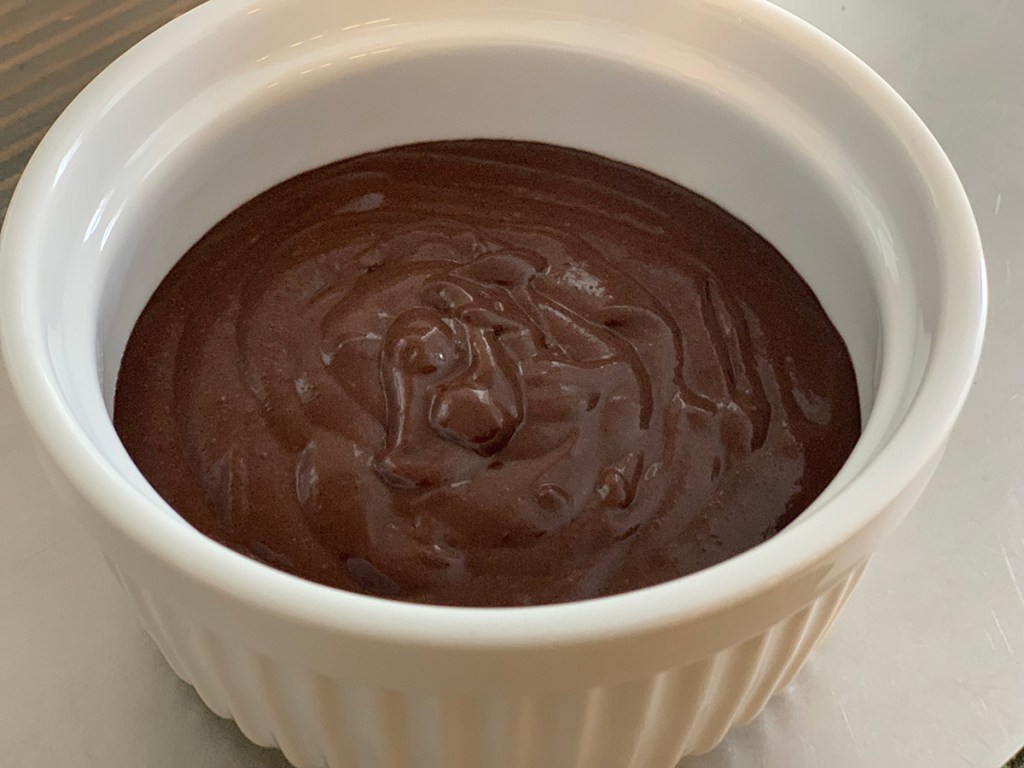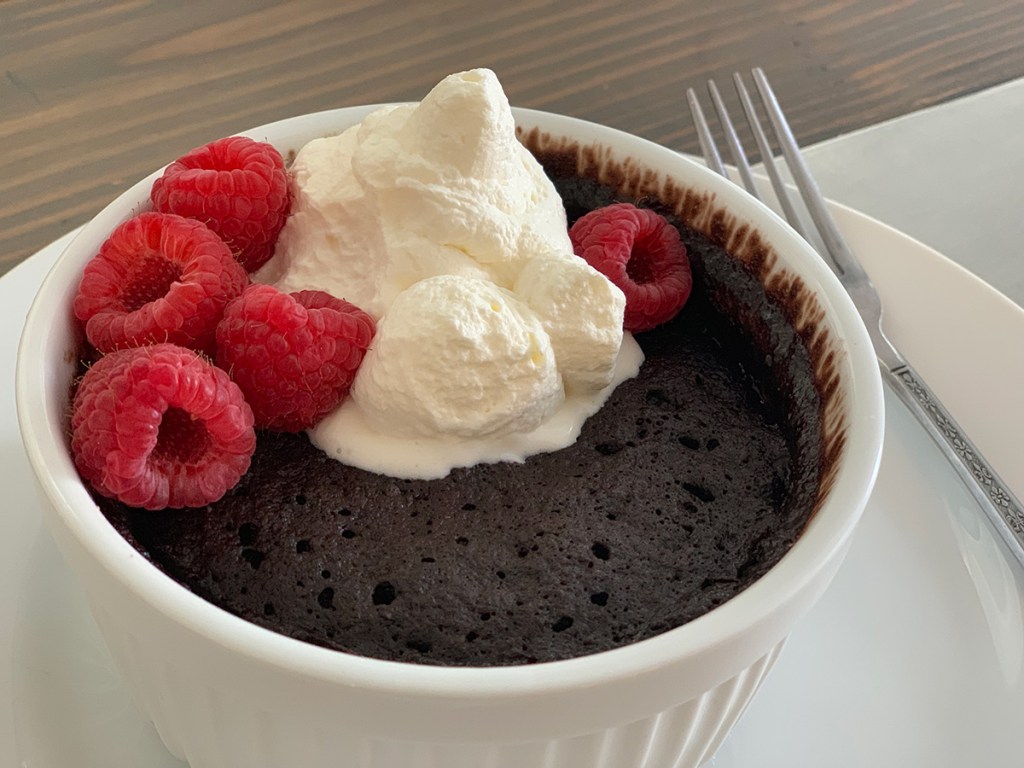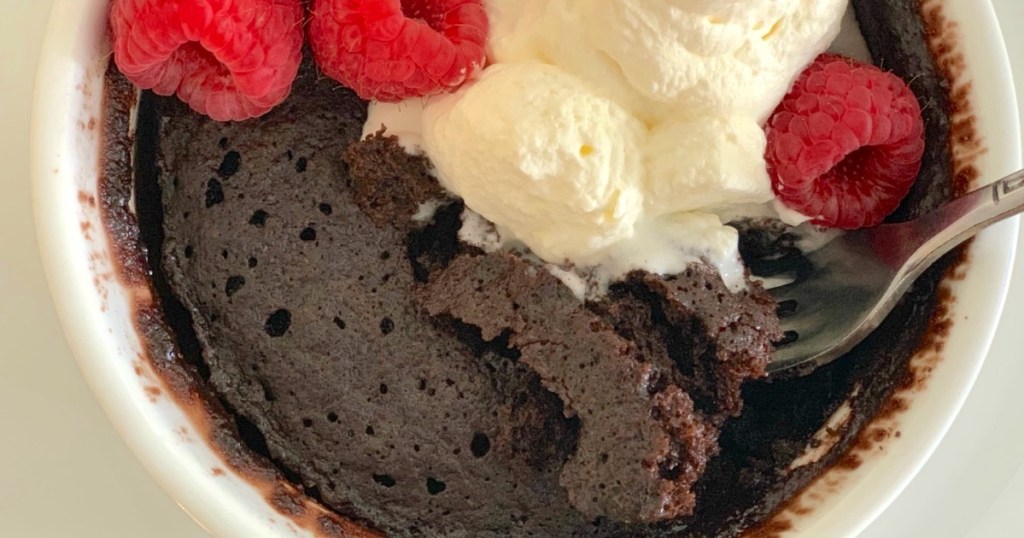 ---
Print
5-Minute Keto Chocolate Mug Cake
yield: 2 SERVINGS
prep time: 3 MINUTES
cook time: 2 MINUTES
total time: 5 MINUTES
This easy low-carb microwave cake is moist, fluffy and delicious!
Ingredients
1/4 cup blanched almond flour
2 tablespoons unsweetened cocoa powder
1/2 teaspoon baking powder
1/8 teaspoon sea salt
2 tablespoons avocado oil (or your oil of choice)
1 tablespoon heavy cream
1/2 teaspoon pure vanilla extract
1 large egg
homemade whipped cream, optional for topping
fresh berries, optional for topping
Directions
1
In a bowl, mix all the ingredients together until thoroughly combined. Pour the prepared batter in a microwave-safe (ungreased), oversized mug, small baking dish, bowl or ramekin. I use a 16 oz ramekin which works perfectly or you can divide the batter into two individual mugs/dishes (8 oz or larger). Please keep in mind that your batter will over double in size as it cooks. (If desired, you can mix the ingredients directly into your baking mug/dish.)
2
Microwave on high for 2 minutes (or 60 seconds if you divided the batter and are cooking one serving at a time). *Microwave cooking times may vary depending on your specific model, adjust accordingly as needed.
3
Allow to cool a bit before topping with homemade whipped cream and berries. Enjoy!
Additional Notes
Directions for a single serving:
Use half of all ingredients listed. For ease, you may replace the large egg with just an egg yolk. Adjust cooking time to approximately 60 seconds.
Nutrition Information
Yield: 2 servings, Serving Size: 1/2 of cake
Amount Per Serving: 282 Calories | 27g Fat | 19g Total Carbs | 4g Fiber | 12g Sugar Alcohol | 7g Protein | 3g Net Carbs
---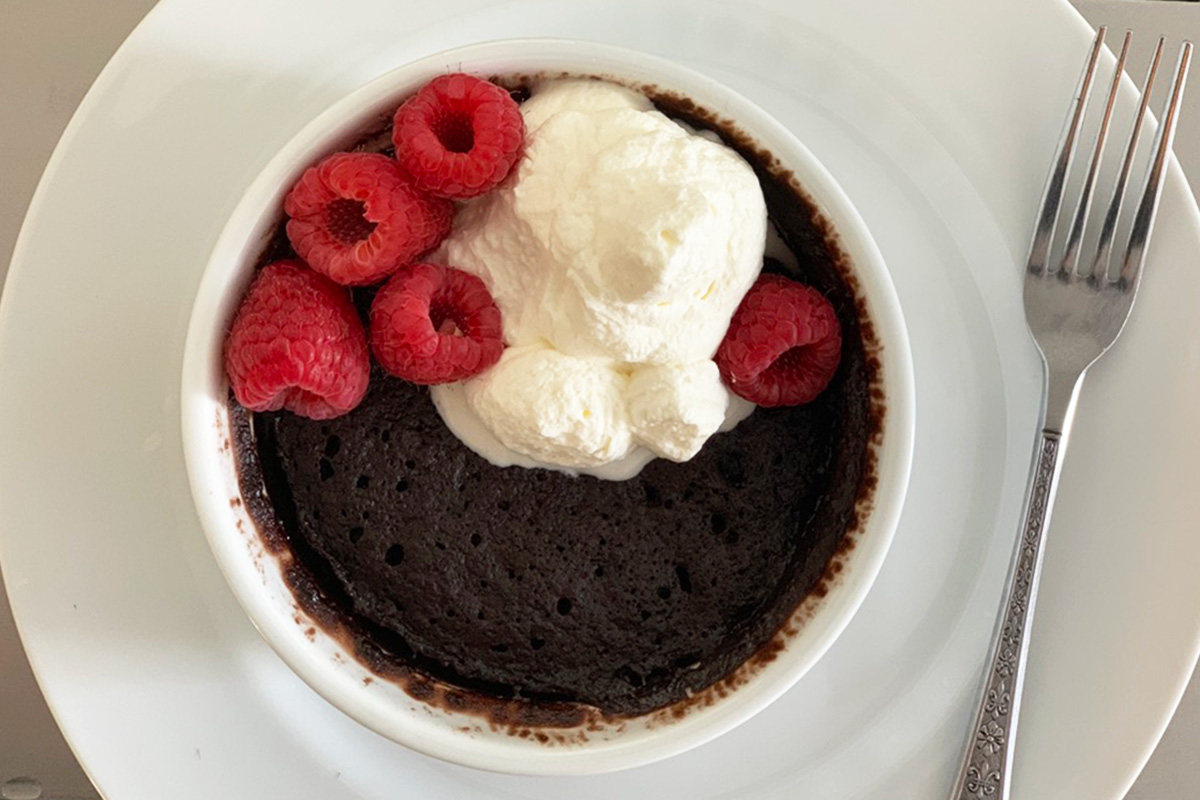 Check out this reader review:
"I love the optional suggestion of homemade whipped cream and berries for a topping. It really takes this cake to another dimension. I would not change a single measurement or direction in this recipe. It's perfect!"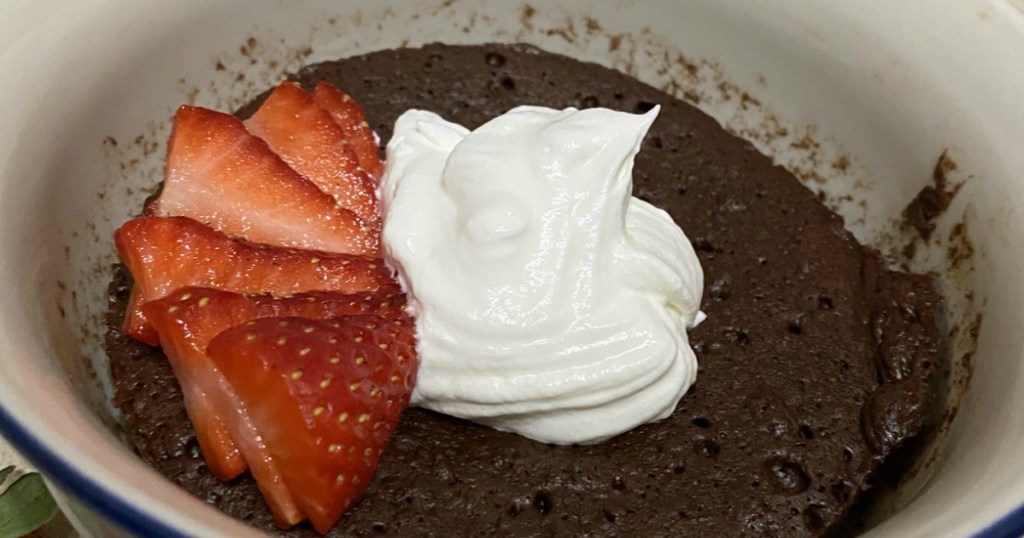 ---
Nothing goes better with chocolate cake than Vanilla Ice Cream!