Best Ever Keto Vanilla Bean Ice Cream Recipe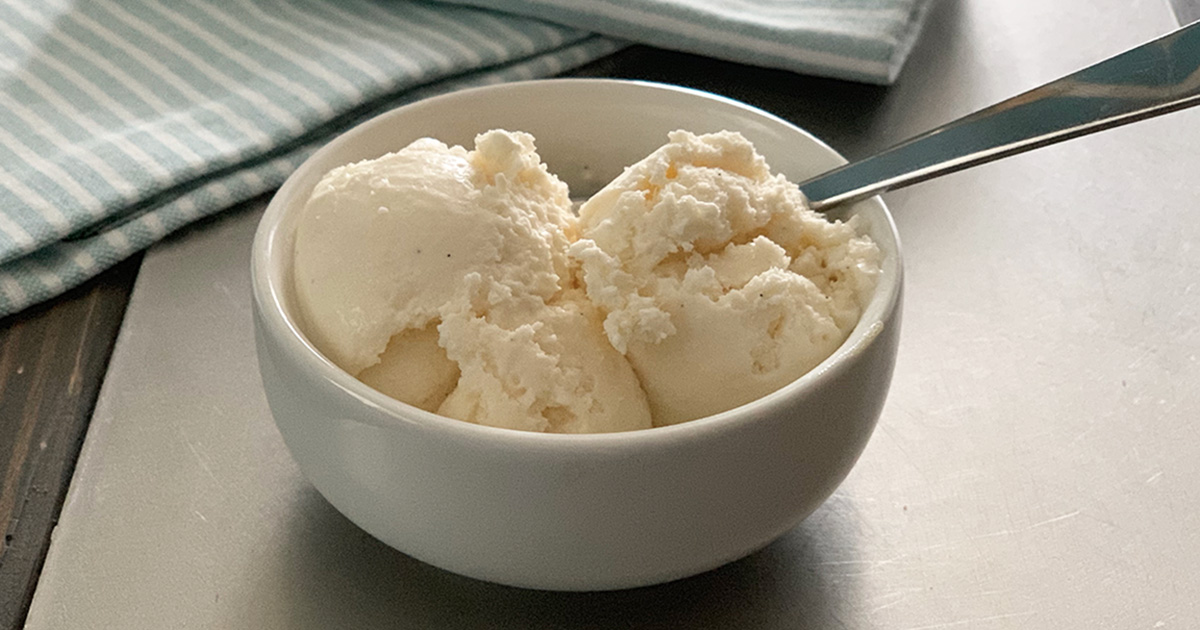 Sweet & creamy low-carb ice cream that is out of this world!
Forget store-bought keto-approved ice cream. If you're anything like me, you'd rather save your hard-earned money than spend it on the ice-milk texture and odd, powdery mouthfeel of most freezer aisle options. What's worse, these fad low-carb ice creams are seriously expensive. And let's be honest, we typically purchased them out of dieter desperation rather than genuine enjoyment.
On the other hand, this homemade keto vanilla bean ice cream is actually amazing! It tastes just like the real thing, is super easy to make, and is ready in a jiffy.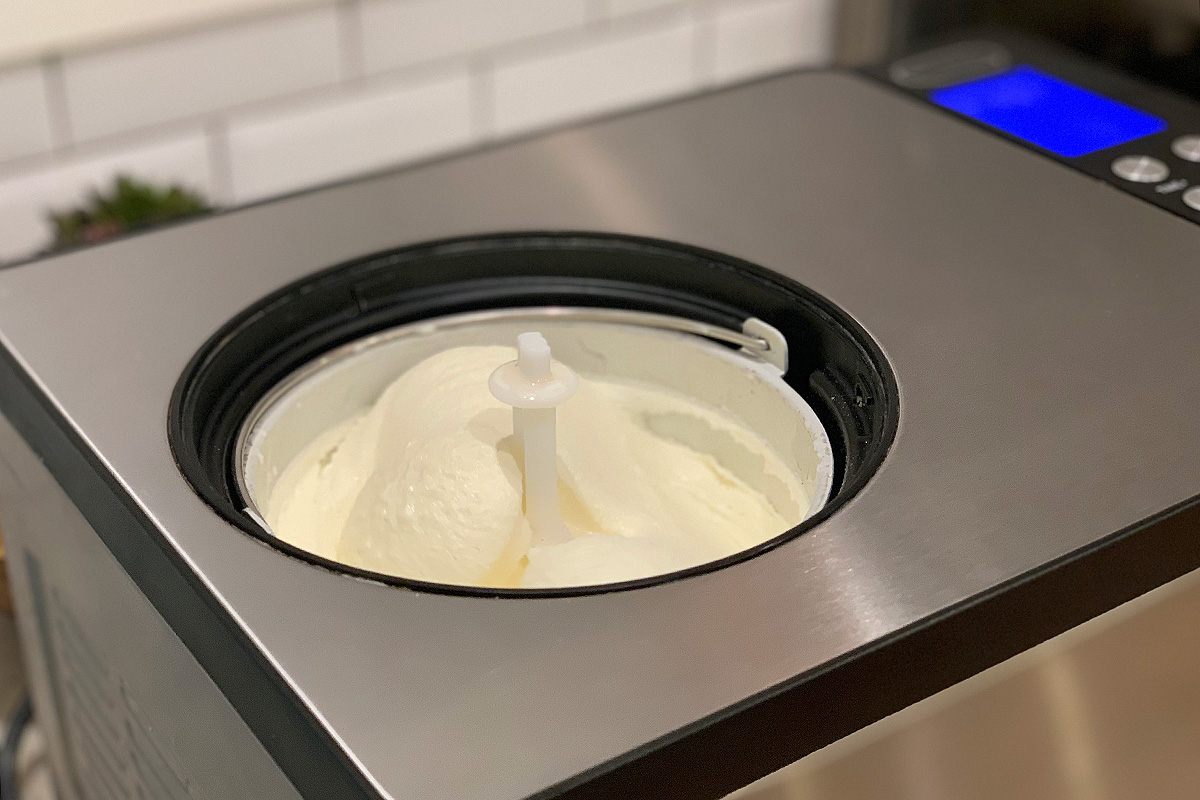 ---
Print
Best Ever Keto Vanilla Bean Ice Cream
yield: 12 SERVINGS
prep time: 5 MINUTES
cook time: 45 MINUTES
total time: 50 MINUTES
This amazing keto ice cream tastes just like the real thing, is super easy to make, and is ready in a jiffy! ---> Please note, this recipe requires a 2-quart electric ice cream maker.
Ingredients
1 cup allulose (or 3/4 cup erythritol)
1/4 teaspoon xanthan gum
1 vanilla bean (halved and scraped, reserving seeds)
2 large eggs (use pasteurized shell eggs or Egg Beaters if you have safety concerns about consuming raw eggs)
3 cups heavy whipping cream
1 cup unsweetened vanilla almond milk
1 teaspoon pure vanilla extract
a few pinches sea salt
Directions
1
In a small bowl, mix together sweetener, xanthan gum, and vanilla bean seeds until fully combined. Set aside.
2
In a bowl (or directly in your ice cream basin), beat eggs (or Egg Beaters) using a whisk or electric hand mixer on low speed. Gradually add the sweetener mixture until combined. Add heavy cream, almond milk, vanilla extract, and salt. Mix until ingredients are evenly incorporated.
3
Pour mixture into your 2-quart electric ice cream maker. Process until thick & frozen. Enjoy!
Additional Notes
Store ice cream in the freezer in an airtight storage container or in a homemade ice cream storage tub. (See SUMO storage containers under Hip Tips.)
Regarding Nutritional Information: Allulose carb values are shown in the nutritional breakdown under Sugar Alcohols. While allulose is NOT a sugar alcohol, we deem it can be subtracted from total carbs to determine the net carb value. Researchers have found allulose to have no impact on blood glucose levels.
Nutrition Information
Yield: 12 serving, Serving Size: 1/2 cup
Amount Per Serving: 225 Calories | 23g Fat | 14g Total Carbs | 0g Fiber | 12g Sugar Alcohol | 2g Protein | 2g Net Carbs
---
About Allulose:
If you haven't already heard, allulose is my new FAVE keto sweetener! When using allulose, I don't experience the tummy troubles that I often have with erythritol and xylitol.
Allulose is not a sugar alcohol but is actually a naturally occurring, zero-glycemic, sugar-like substance that is found in only a few foods including figs, jackfruit, and raisins. Allulose has 70% the sweetness of sugar so you need to adjust accordingly when replacing allulose for sugar (or erythritol) in recipes.
I buy it in bulk from Amazon. This is by far the cheapest way that I've found to purchase allulose—I use my Amazon Subscribe and Save account to save an additional 15% and I score Ketstone Pantry Allulose for about $8.50/lb. Woot!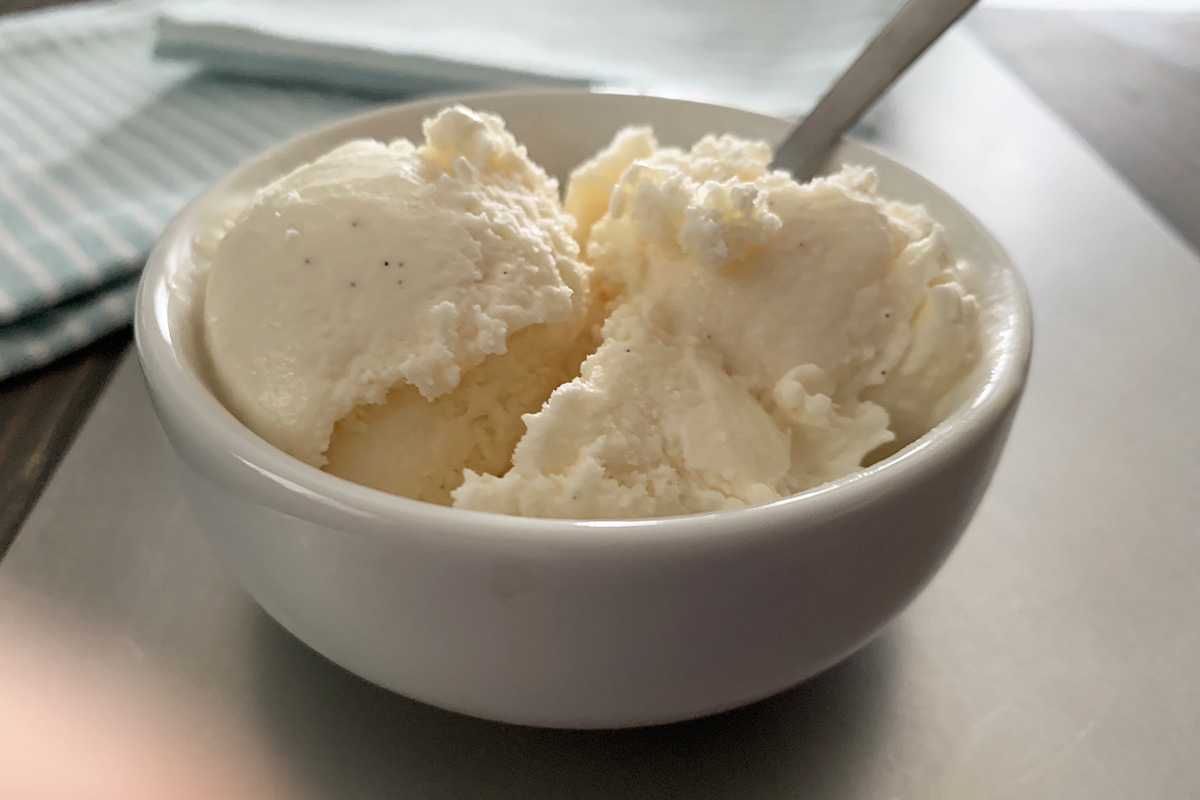 Hip Tips:
For this recipe, you will need a 2-quart ice cream maker. If you want one that doesn't require freezing the drum first, check out this top-rated ice cream maker by Whynter. My sis swears by hers.
An affordable option (that DOES require pre-freezing the drum) is Cuisinart's Pure Indulgence Ice Cream Maker. This is what I use personally and I think it's fabulous!
If you're going to be making homemade ice cream regularly, I highly recommend buying SUMO Ice Cream Storage Containers. These containers allow for easy scooping and reduce the risk of freezer burn. Yay!!
---
Feelin' fruity? Try our Keto Raspberry Cheesecake Ice Cream!