Massaged Kale Superfood Salad | Keto, Paleo, & Vegan

This powerhouse salad is full of flavor AND health benefits!
Nothing is better than eating whole foods especially when they taste delicious and provide nourishing goodness for your mind and body. This salad boasts some amazing superfoods with many fabulous benefits!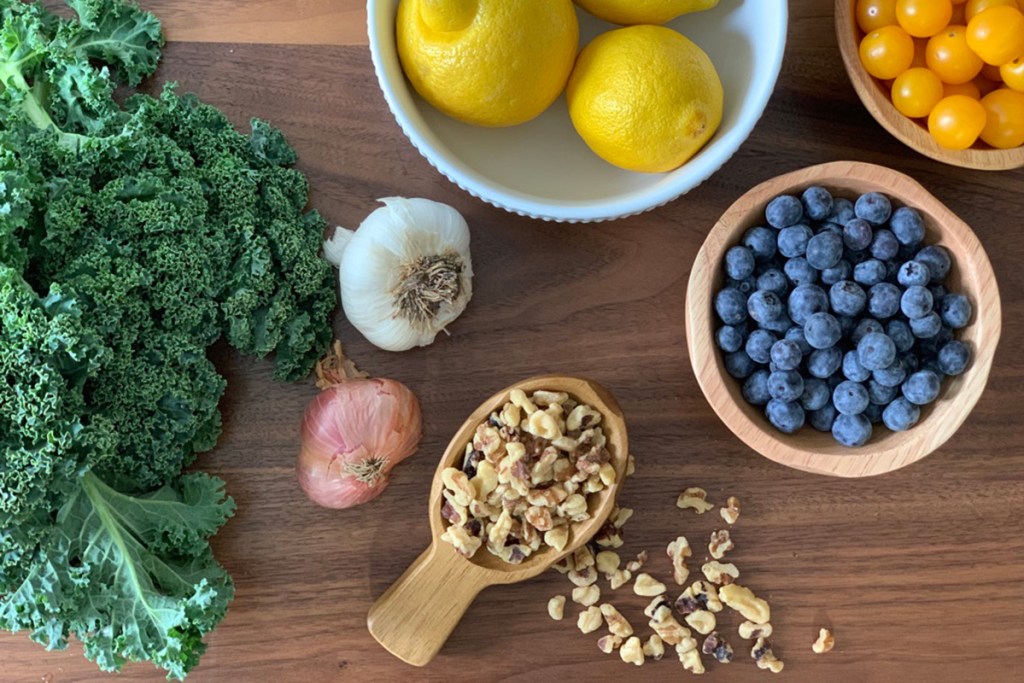 Here are some healthy highlights of the star ingredients:
---
Kale:
Packed with vitamins, one cup of chopped kale will provide you with over 200% of your daily value of vitamin A, 134% of your daily value for vitamin C, and nearly 700% of your daily value for vitamin K! It also supplies vital minerals like manganese, potassium, and calcium as well as many powerful antioxidants. Kale also has about 120 mg of Omega-3 fatty acid per cup. Woo! Furthermore, kale is presumed to improve your cholesterol profile and fight against heart disease.
Blueberries:
Did you know that the deep-blue color of blueberries is a byproduct of flavonoids? Flavonoids are natural compounds that protect your brain's memory-carrying cells from the harmful effects of oxidation and inflammation. Blueberries are one of the BEST sources of flavonoids! Go figure that this superfood has a keen reputation for helping to preserve memory function and improve cognitive abilities. Additionally, blueberries contain iron, phosphorous, calcium, manganese, zinc, and vitamin K, which help build and maintain healthy bone structure. Plus, they're high in fiber which helps prevent constipation and promotes healthy digestion.
Walnuts:
A modest handful of walnuts a day can provide a healthy dose of iron, zinc, selenium, calcium, some B vitamins, and a rare form of vitamin E, gamma-tocopherol. Walnuts contain great fats, such as monounsaturated and polyunsaturated fats (PUFAs). They are also a fabulous (vegan-friendly) source of the essential fatty acid omega-3. Research indicates that walnuts protect brain function and help slow the onset of neurological diseases like Alzheimer's and Parkinson's.
Tomatoes:
Technically a fruit, many consider tomatoes a shining star of cancer-fighting superfoods. Tomatoes contain lycopene, an antioxidant thought to reduce the risk of certain cancers as well as prevent heart disease. They also provide a good dose of vitamins A, C, and E—All fighters against cancer-promoting free radicals. Many believe that tomatoes help maintain healthy blood pressure and reduce blood glucose levels in people with diabetes. Moreover, they include key carotenoids that protect our eyes against light-induced damage.
Olive Oil:
Olive oil is loaded with a healthy monounsaturated fat called oleic acid, making up about 73% of the total oil content. Studies suggest that oleic acid reduces inflammation and may even have beneficial effects that fight against cancer genes. Olive oil is also packed with powerful antioxidants. These antioxidants may reduce your risk of chronic diseases. Research implies that this powerhouse oil can fight inflammation and help protect your blood cholesterol from oxidation—potentially lowering your risk of heart disease.
We all love a good massage, even kale.
You may be wondering, what the heck is this talk of massaging kale? Here's the skinny—massaging kale helps to break down the tough cell structure which gives the kale a softer texture and (some suggest) a milder flavor. For raw kale dishes like salad, many feel that the taste, texture, and digestibility are greatly improved with a simple kale massage.
---
How to massage kale:
Rip the leafy part of the kale off of the rib.

If you haven't already, thoroughly wash & dry the kale. I use my salad spinner.
Place the leafy greens in a large bowl and pour the prepared dressing on top.
Gently knead the dressing into leaves for 3-5 minutes similar to how you knead dough. (Take sections of kale in each hand and rub them together.)
It's ready when the crunchiness has diminished and the kale has started to wilt.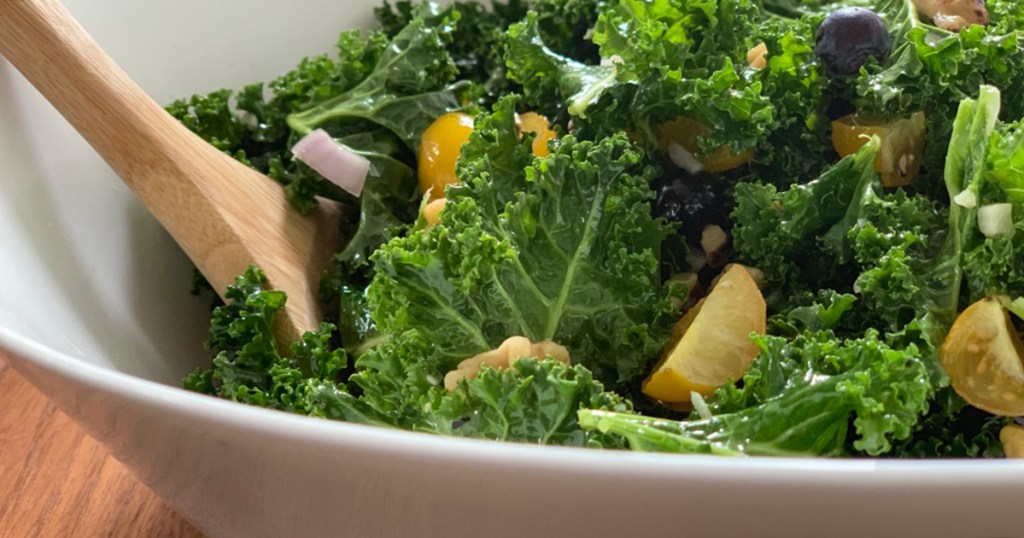 Print
Massaged Kale Superfood Salad
yield: 6 SERVINGS
prep time: 20 MINUTES
total time: 20 MINUTES
This salad tastes delicious and provides tremendous health benefits for your mind & body!
Ingredients
For the salad:
1 bunch kale
1/3 cup orange or yellow grape tomatoes, quartered
1/3 cup fresh blueberries
2 tablespoons shallots, quartered and thinly sliced
1/4 cup walnut pieces
For the dressing:
1/4 cup extra virgin olive oil
2 tablespoons lemon juice, freshly squeezed
1 tablespoon white wine or champagne vinegar
1 clove garlic, finely minced
1 teaspoon dijon mustard
1/4 teaspoon sea salt
about 8 drops liquid stevia (or adjust to taste)
freshly ground pepper, 4-5 turns (or to taste)
Directions
1
Prepare the dressing by whisking all the ingredients together until thoroughly combined. The dressing should become almost creamy in appearance as you whisk. Once combined, set aside and allow flavors to mingle for at least 10 minutes... The longer it sits, the better.
2
Remove ribs from kale and tear (or chop) into big bite-size pieces. Thoroughly wash and dry before proceeding. In a large bowl, pour dressing over kale pieces. Using freshly cleaned hands, massage the kale for 3-5 minutes until leaves darken and begin to wilt just a bit.
3
Add the tomatoes, blueberries, shallots, and walnuts. Gently toss to combine using either your hands or salad forks. Enjoy!
Additional Notes
Serve as a side salad. If desired, top with goat cheese crumbles, freshly shaved parmesan or diced avocado.
Refrigerate leftovers in a sealed container for up to three days.
Nutrition Information
Yield: 6 servings, Serving Size: approx. 1 cup, lightly packed
Amount Per Serving: 158 Calories | 13 Fat | 8 Total Carbs | 2 Fiber | 4 Protein | 6 Net Carbs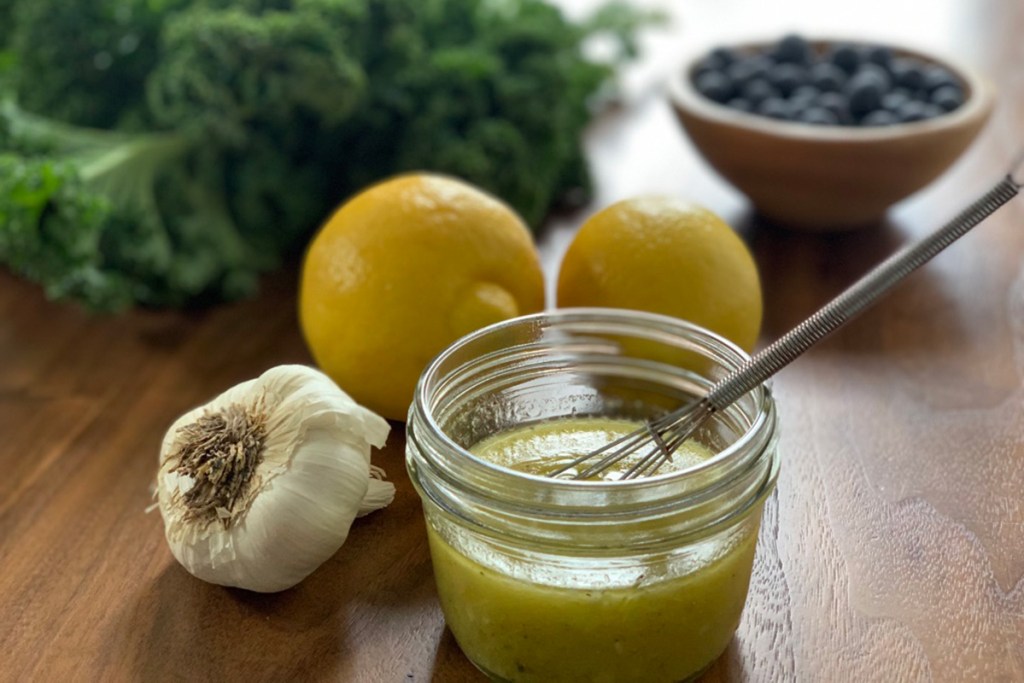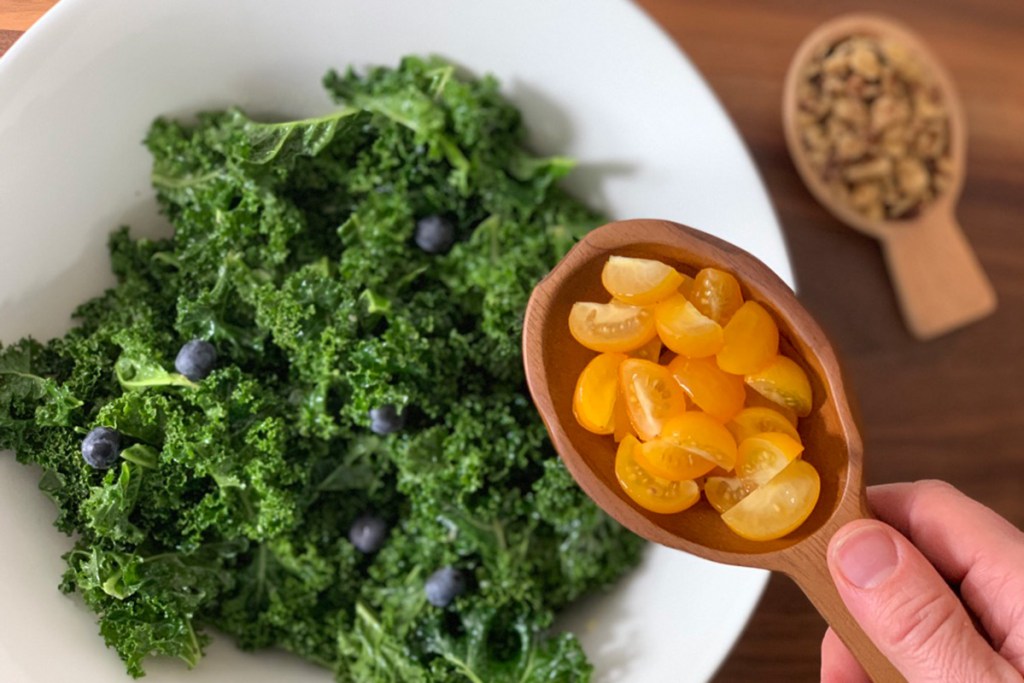 This salad goes fabulously with additional fats & proteins!
While I normally serve this as a side salad, it makes a great meal by adding extra protein and/or fat. This versatile kale salad pairs perfectly with grilled chicken or salmon. Add some wholesome fat with diced avocado or extra walnut pieces, a great option for vegans and vegetarians. Additionally, I enjoy this salad with goat cheese crumbles or freshly shaved parmesan!