Keto Sweetener Conversion Chart for Recipes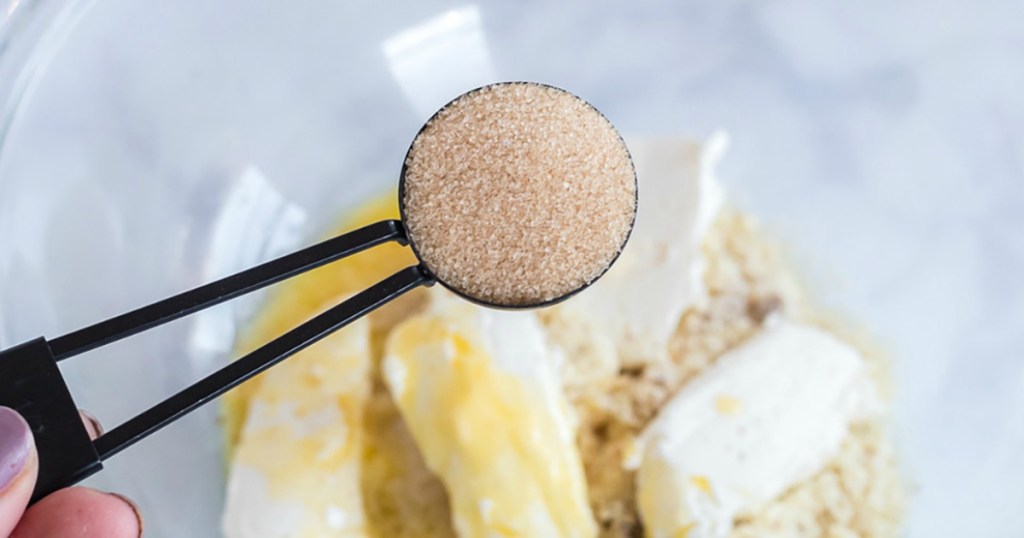 Calling all keto bakers!
Alternative sweeteners are a crucial part of the ketogenic diet for those who love to indulge in sweets. The only problem? It's tricky switching from sugar to sugar-free sweeteners in recipes, especially when some sweeteners are more potent than others.
Instead of memorizing each sweetener conversation rate or breaking out your calculator every time you bake, download and print this handy sweetener conversion chart! This guide shows popular non-sugar sweeteners and how much you should add for each 1 teaspoon, 1 tablespoon, 1/4 cup, 1/3 cup, 1/2 cup, or 1 cup of sugar.
---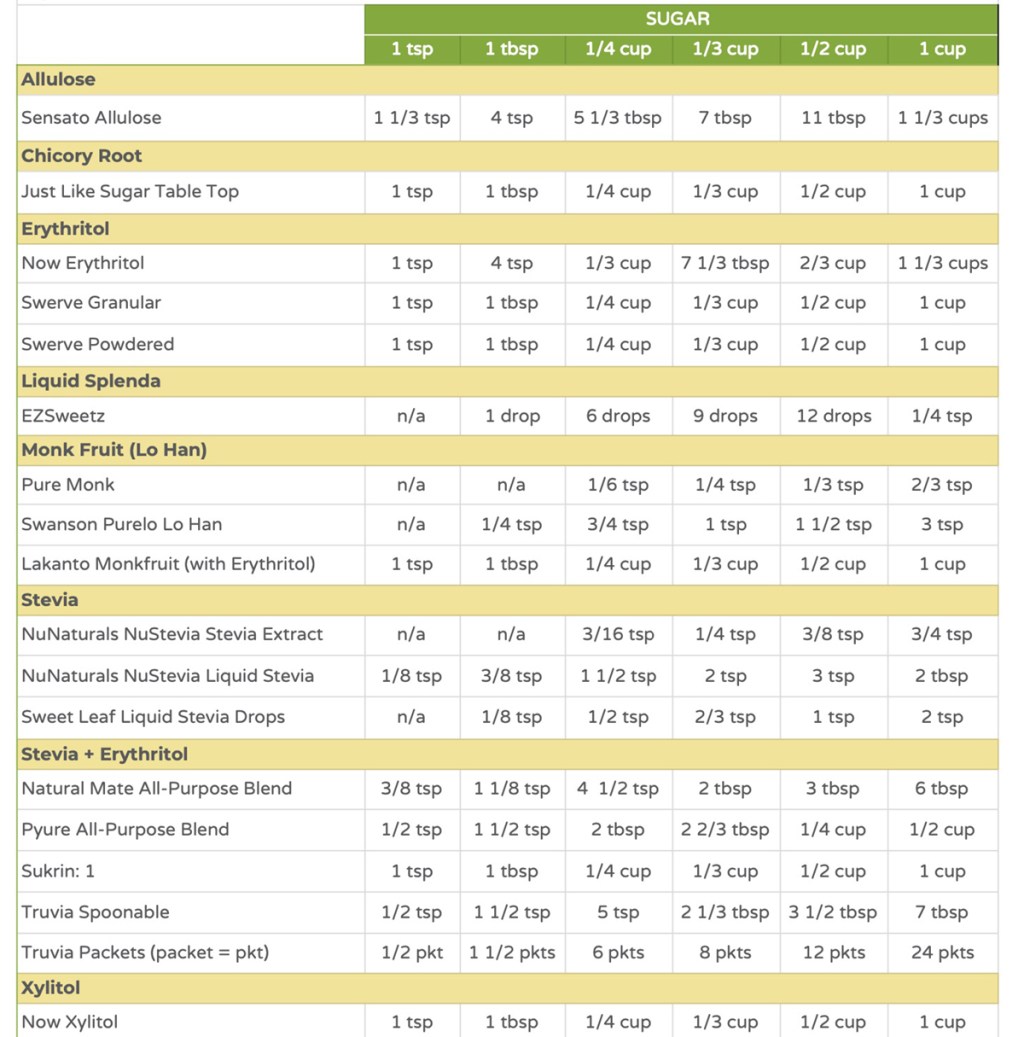 ---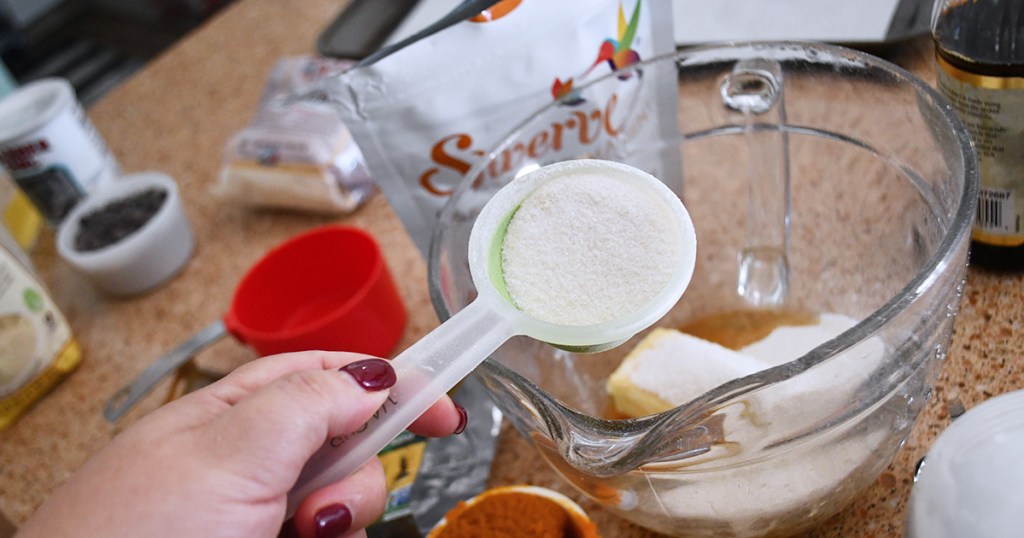 Why alternative sweeteners?
As you likely already know, sugar (along with honey, agave, syrup, and other sweet additives) contain carbs that throw the body right out of ketosis. Many keto eaters turn to non-sugar sources like stevia, xylitol, erythritol, and monk fruit to subdue their sweet cravings.
It's worth mentioning that not all alternative sweeteners are created equal. Many sugar-free products you'll find in the store are sweetened with maltitol or sorbitol, which can cause blood sugar spikes. Fortunately, there are some amazing low glycemic sweeteners available.
---
Here are some of our favorite low carb & keto-friendly sweeteners:

Xylitol
Xylitol is one of our favorite sweeteners. Traditionally sourced from birch bark, xylitol is pretty much on par with sugar in terms of sweetness. We're also huge fans of how the mouthfeel of xylitol is crystalline just like sugar, and without the aftertaste of other sweeteners.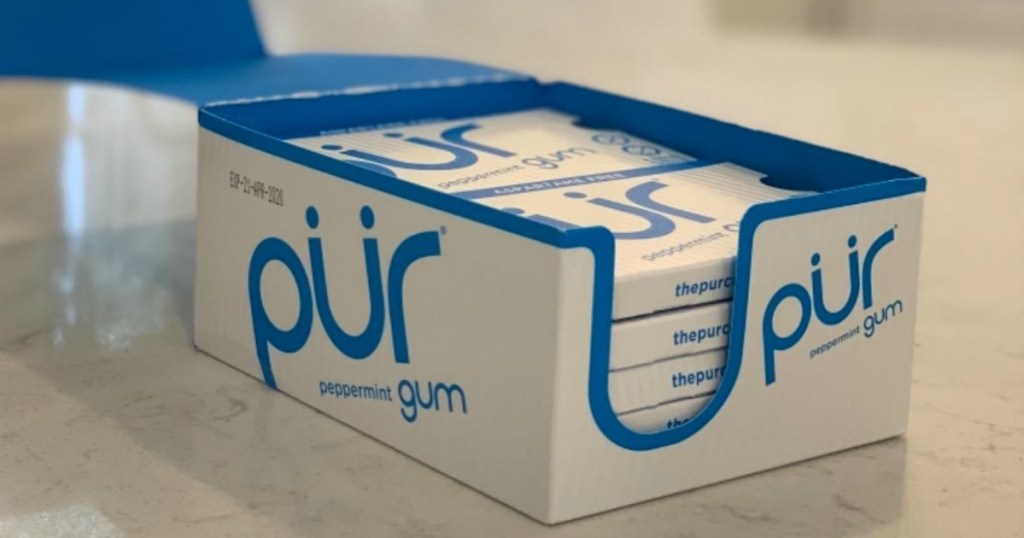 If you've never had xylitol before, chewing gums like Pur are a favorite medium for the sugar alcohol thanks in part to its antibacterial nature.
A few brands of xylitol that you may want to try include Now Xylitol, Anthony's Xylitol Sweetener, and XyloSweet.
🚫Caution: Xylitol is toxic to dogs, cats, and other pets. In humans, consuming too much can also cause stomach upset and bloating, so use caution until you know how your body responds.
---
Erythritol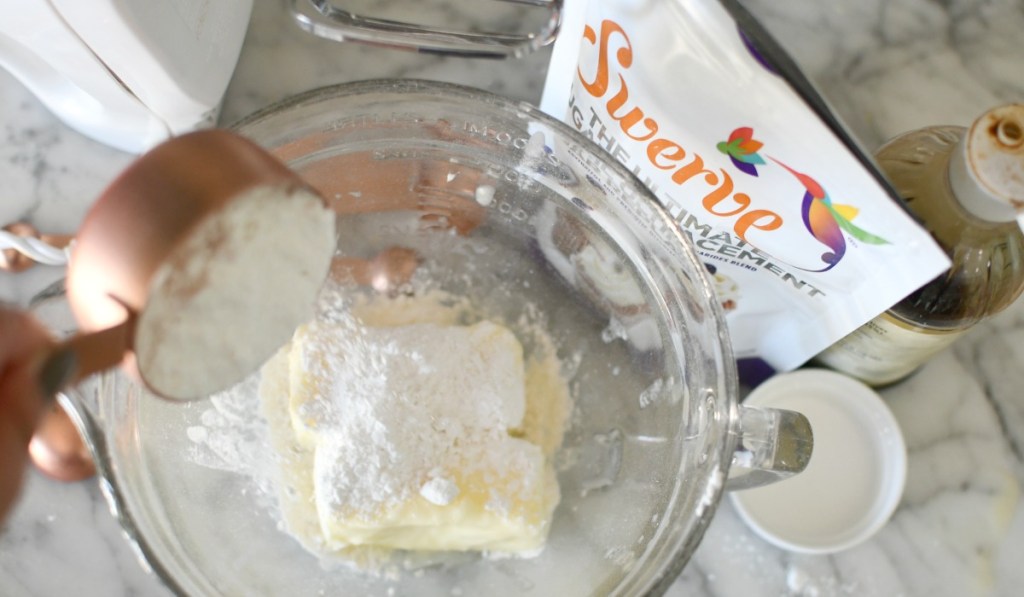 Thankfully, erythritol has become increasingly popular, especially since it doesn't pose the danger to pets as xylitol does. Chocolate bars like Lily's and ChocoPerfection both use this sweetener, and they taste pretty close to the real thing!
If you plan to bake your own keto baked goods, brands like Swerve come in confectioners, granular, and even in brown for richer sweetness, so you can use Swerve for everything from the cake to the frosting!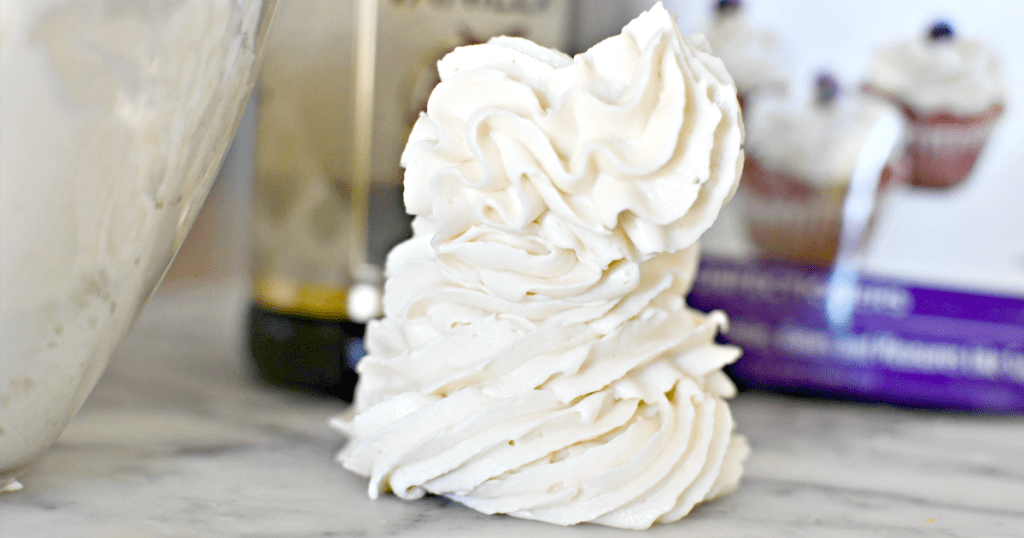 Speaking of frosting, try making our delicious buttercream frosting with Swerve!
Erythritol can have a cooling effect, so it's perfect when paired with chicory root. Also, since erythritol doesn't break down in recipes as well as other sweeteners, it tends to keep its crystalline, crunchy structure. I typically measure out the amount I need and then powder it in my Ninja (or another food processor) before adding to recipes. Or you could use the Swerve confectioners and bypass this step.
---
Stevia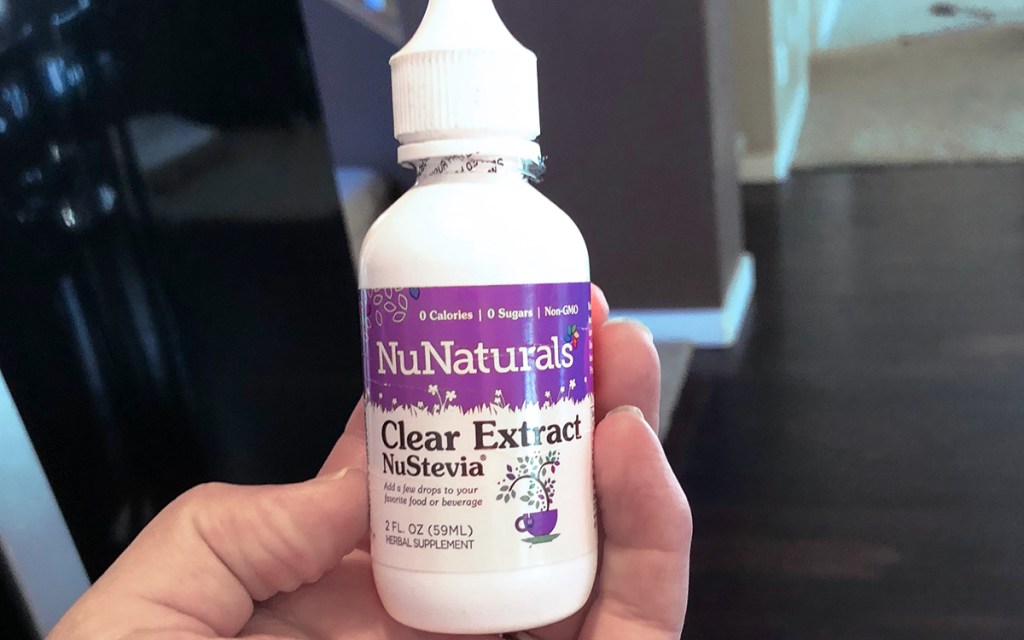 Stevia has been emerging as a popular keto option for a few years now. Related to the daisy and ragweed family, the species Stevia rebaudiana is found in South America, where, for centuries, people have used leaves from the stevia bush to sweeten their foods.
Stevia is 150 times sweeter than sugar, so a little goes a long way. Sure, to supertasters the flavor can be off-putting, but the hybrid sweeteners (stevia + another sweetener, like erythritol) are GREAT for baking, hot drinks, and more.
A few brands of Stevia that you may want to try are Sweet Leaf Liquid Stevia Drops and NuNaturals NuStevia Liquid Stevia. As far as the hybrid sweeteners, we like Natural Mate All-Purpose Blend, Pyure All-Purpose Blend, Sukrin: 1, Truvia Spoonable, and Truvia Packets.
---
Monk Fruit (Lo Han)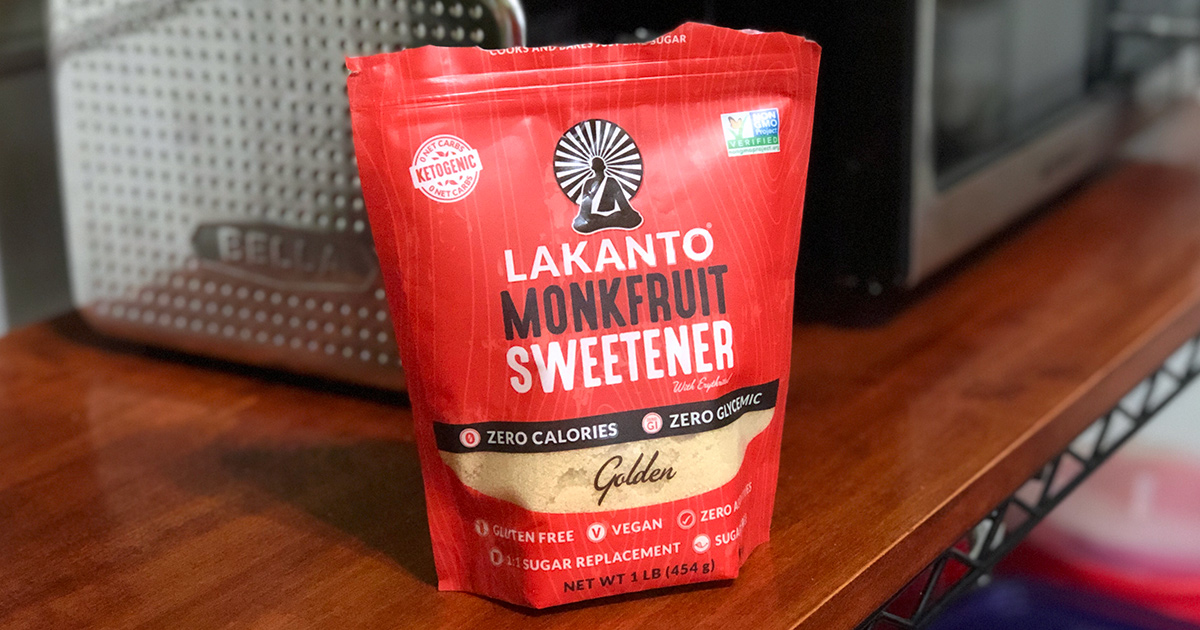 Monk fruit is a type of small melon found in South East Asia. Antioxidants called mogrosides (found only in monk fruit) create its sweet taste. Monk fruit is 150-200 times sweeter than sugar, which means a little goes a long way. And while monk fruit sweetener is still slightly hard to find, you'll see it increasingly used in products like ChocZero. It's very good.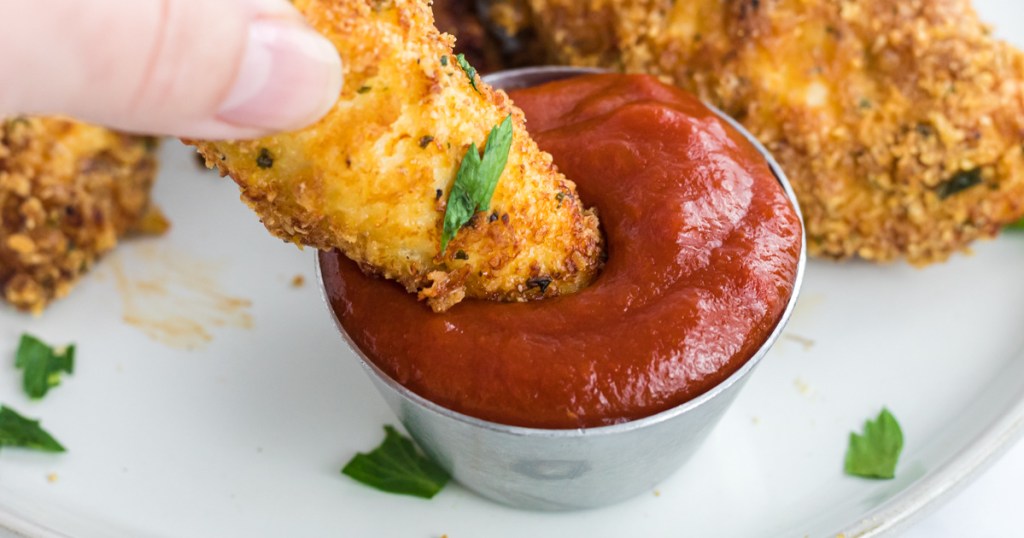 We use monk fruit to sweeten our homemade keto ketchup!
If you're looking to try Monk fruit, we recommend Lakanto, Pure Monk, or Swanson Purelo Lo Han Sweetener.
---
Chicory Root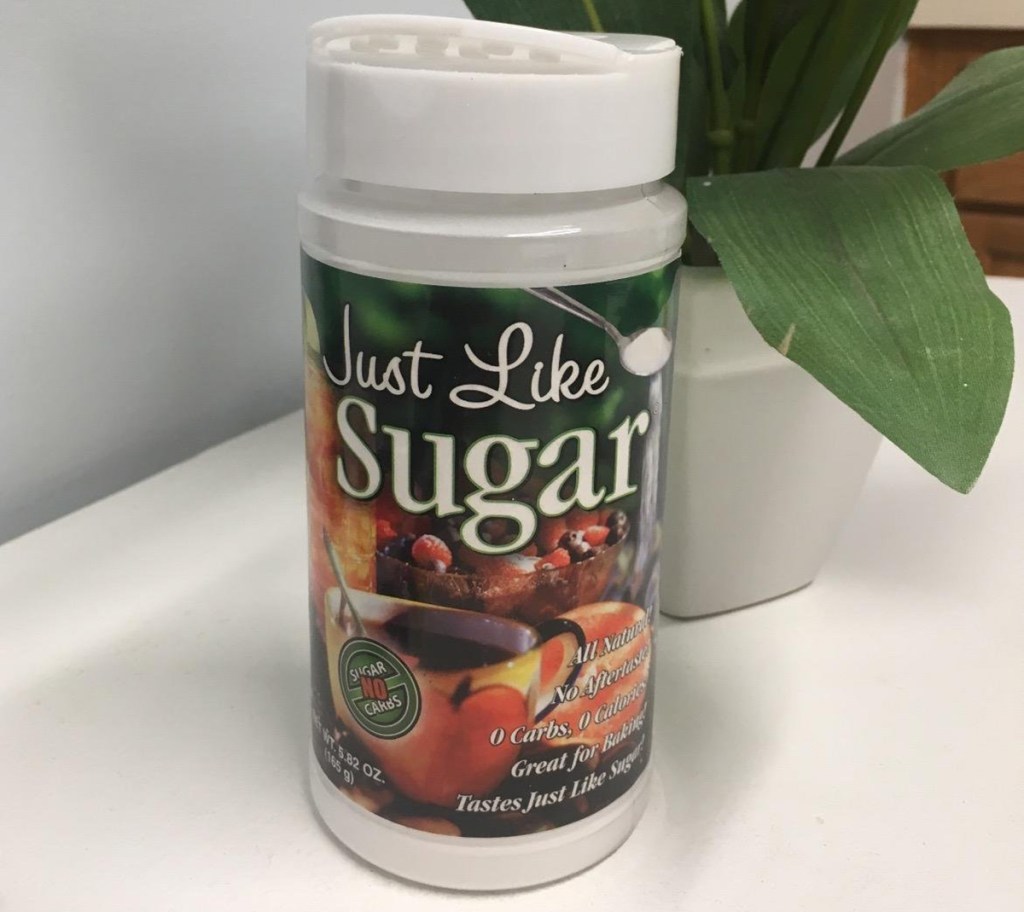 Chicory root is a fiber of a perennial plant that's fairly high in soluble fiber. Studies suggest chicory may prevent constipation since it stabilizes gut health. Before using, be sure to check the label to make sure the sweetener contains just chicory, or if there are other added sugars or alcohols as well. You can either buy it in its natural form and process it, or purchase an easy-to-use granulated version.
In baking, chicory root has a wonderfully warming effect, which offsets the cooling effect of erythritol.
---
Allulose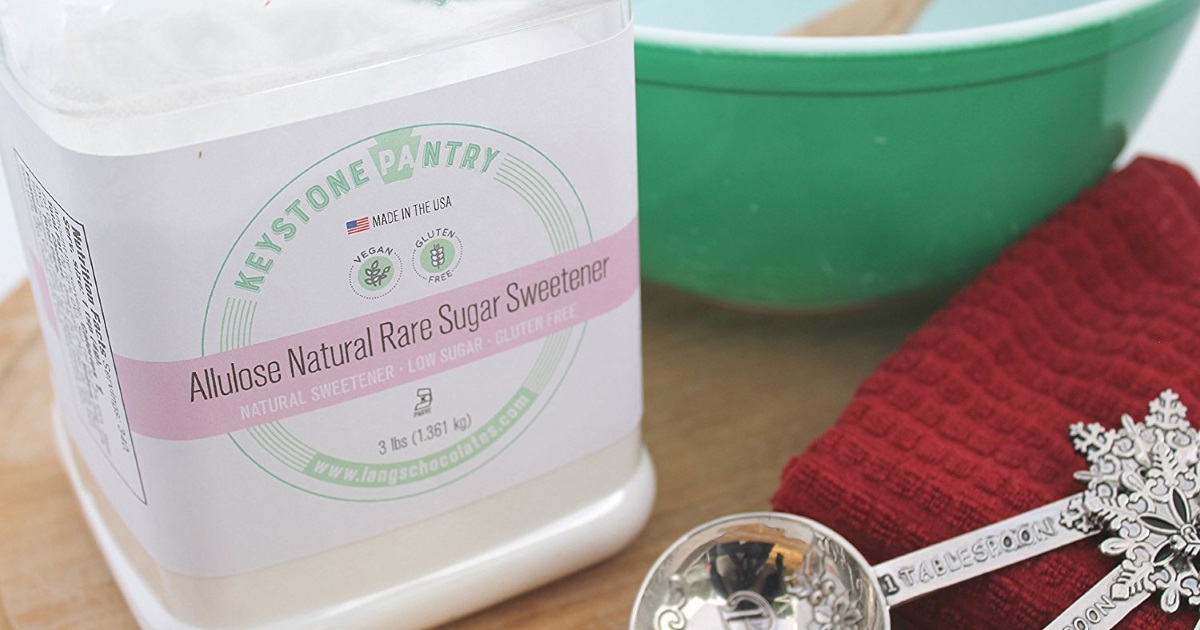 Also known as D-psicose, Allulose is pretty rare since it's only found naturally in wheat, raisins, and figs. Notably, more keto products than ever are using this sweetener, and it's very good.
Since Allulose is roughly only 60-70% as sweet as sugar, in recipes, you'll want to either combine allulose with a more concentrated sweetener (like Stevia) or add 40% more allulose in your recipes (I've converted to account for the 40% more below).
Either way, taste test and be careful to not overdo it… too much of this sweetener can cause stomach discomfort.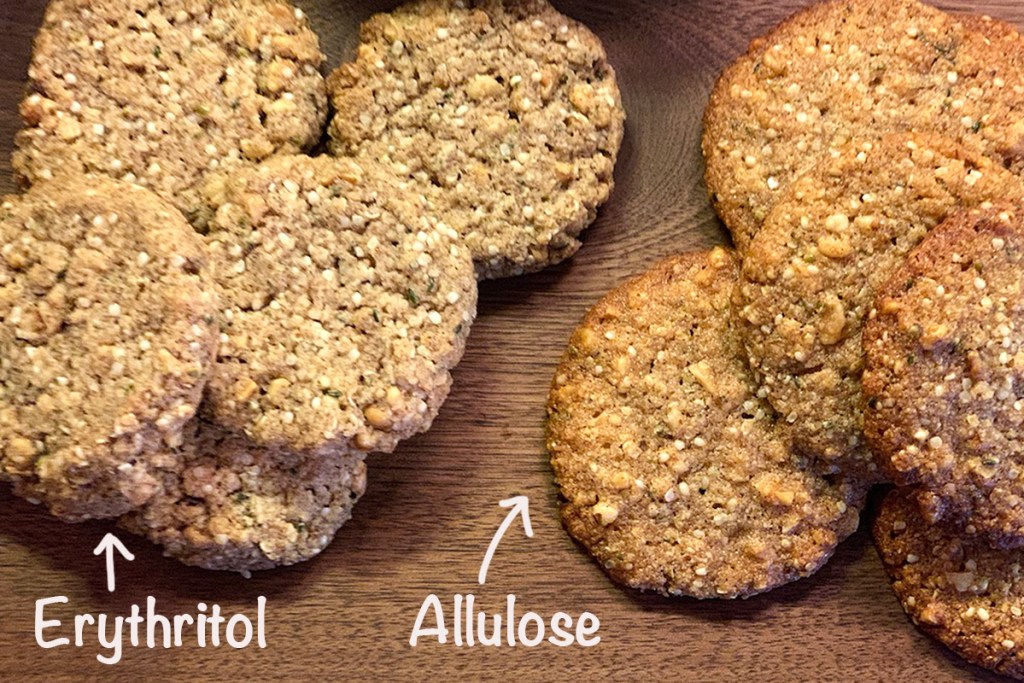 We used Allulose in our "oatmeal" cookies recipe and it made the cookies soft and chewy with caramelized edges. We also tested using erythritol, and it made the cookies crunchy.
Want to give Allulose a try? Check out Whole Earth and Keystone Pantry brands.
---
EZSweetz/Liquid Splenda/Sucralose
Used in sugar-free Davinci and Torani syrups, liquid Splenda (or generic sucralose) is much better than when compared to powdered products (which contain carby fillers for bulking).
This sweetener is considered dirty keto by many.
This really isn't the best sweetener for folks who prefer natural sweeteners, but it can be added to coffee or in very small applications where a potent, single drop often satisfies what a few tablespoons of sugar (or sugar substitute) used to.
And since concentrated sucralose is easily 600 times sweeter than sugar, you need only the smallest amount to make a sweet impact. Grab EZSweetz from Amazon.
---
Hip tips for using these sweetener alternatives:
If you find the taste of Stevia off-putting, try a hybrid sweetener that combines stevia with another sweetener, such as erythritol.
Have pets in your household? Xylitol is toxic to dogs, cats, and other pets. It can even cause stomach discomfort in humans.
Brands like Swerve have a 1:1 ratio to replace sugar in recipes, and come in confectioners, brown,

or

granular form

! We're loving the brown variety – SO good!
Since erythritol doesn't break down as well as other sweeteners, add the amount you need to a food processor and pulse into a powder.
Chicory root may help prevent constipation (yay!), but it's sometimes mixed with other sweeteners (boo!), so check the package label for unwanted additives.
Unlike other sweeteners, Allulose is less sweet than sugar, requiring more in recipes. Be careful to not overdo it to avoid stomach discomfort.
Sucralose, on the other hand, is super concentrated and can be 600 times sweeter than sugar! Use it in recipes where sugar bulk isn't important.
Download our digital keto sweetener substitute chart printable.
---
Get your recipe inspo on with these yummy keto desserts! 😋