How to Roast Turkey with Herb Butter for Your Keto Thanksgiving Dinner
Use these helpful tips to easily roast turkey with herb butter so it will be perfectly tender and juicy.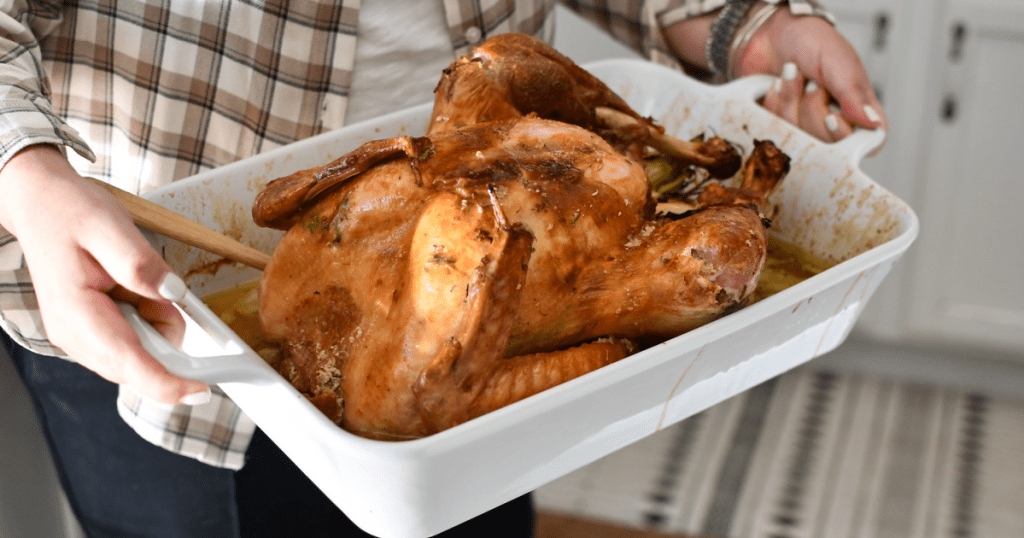 You'll love this keto roast turkey recipe!
Roasted turkey usually has the least amount of carbs in a typical Thanksgiving meal, and this yummy herb butter version may be especially appealing to keto eaters!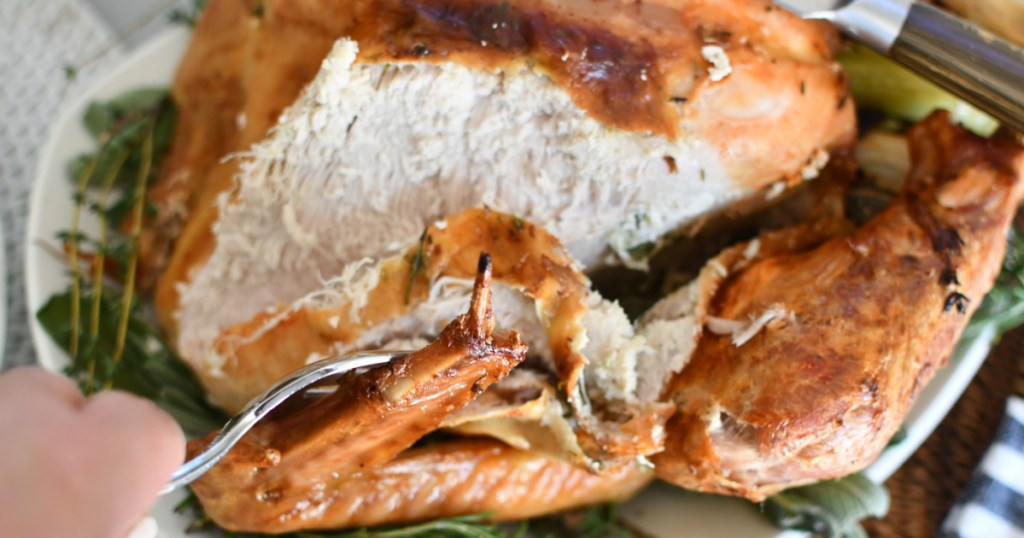 If you're a first-time cook, there's no need to be intimidated by roasting a turkey!
I honestly think roasting a turkey is pretty low fuss compared to cooking a bunch of sides with various ingredients. You'll just mostly need to pay attention to thawing times and oven times according to the size of turkey you end up buying.
I went with a 12-pound bird which can typically feed about 8 people. My family of 4 is usually satisfied with about a day's worth of leftovers, so this is a good size for us!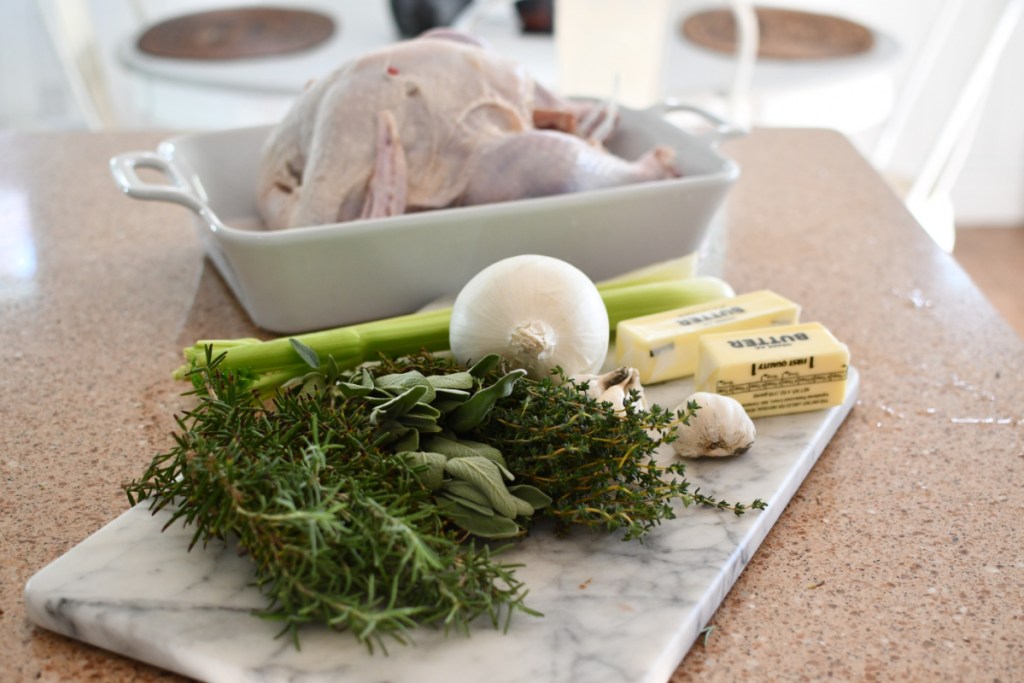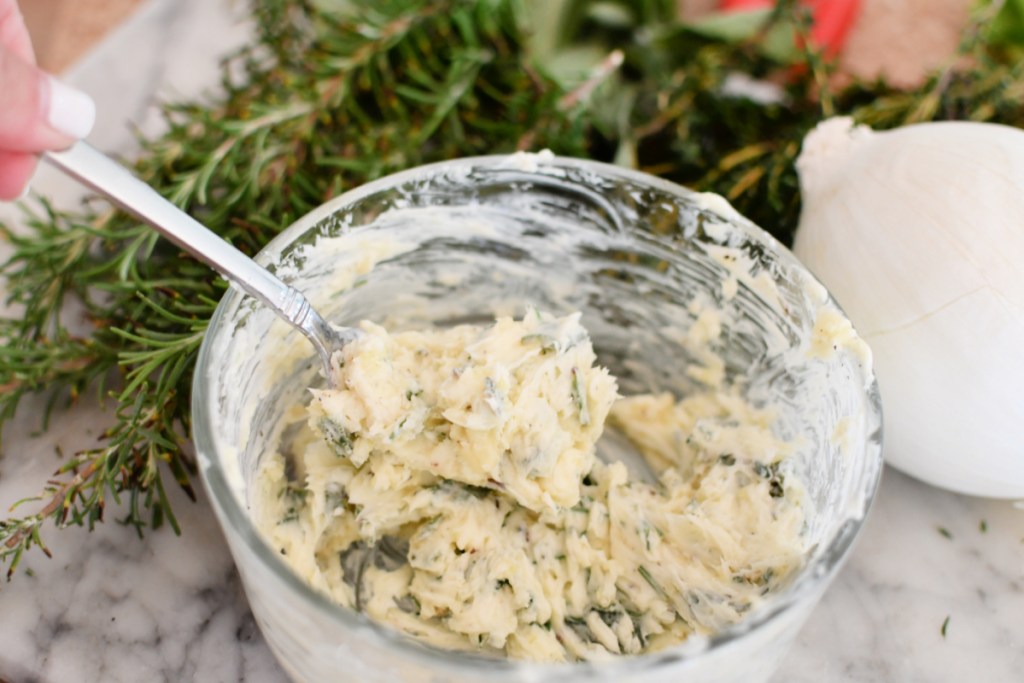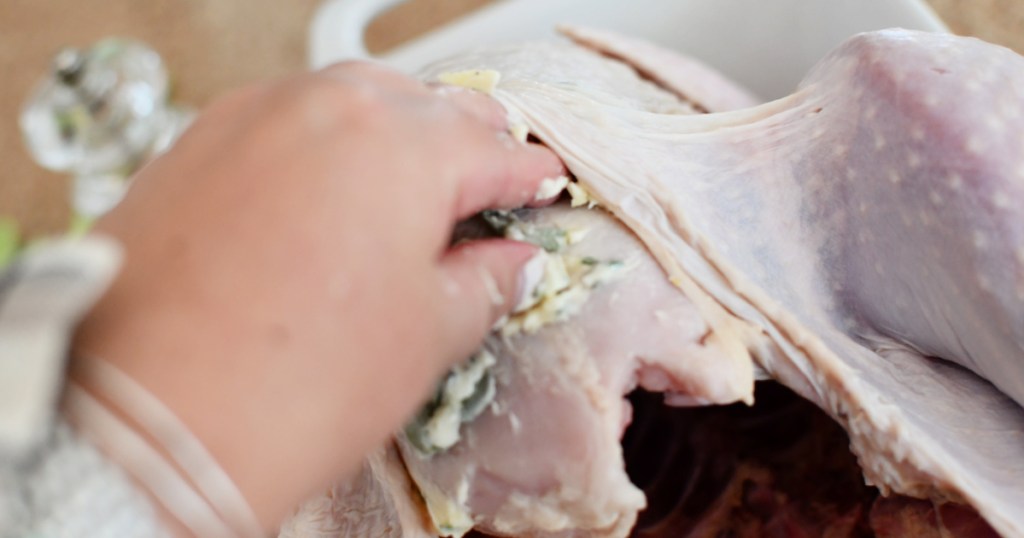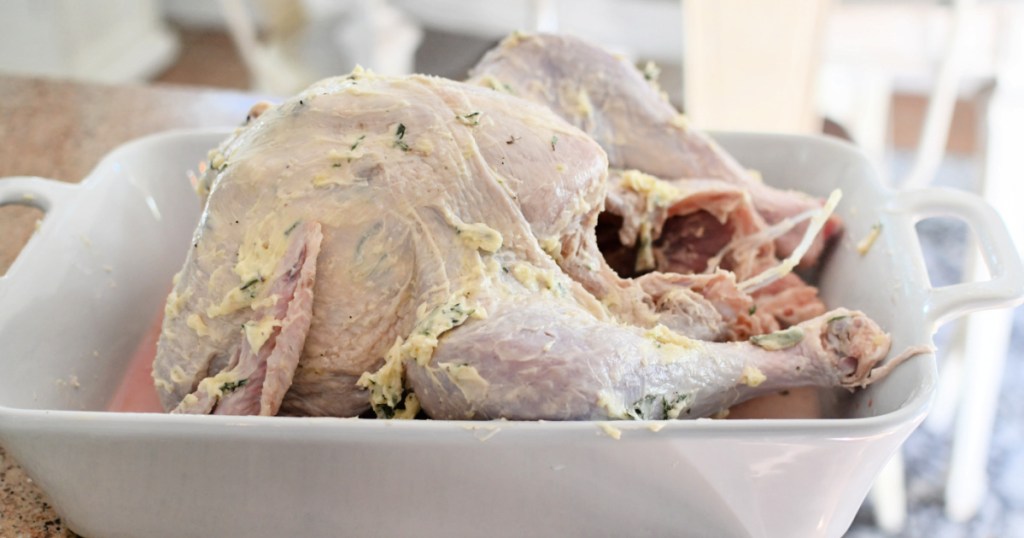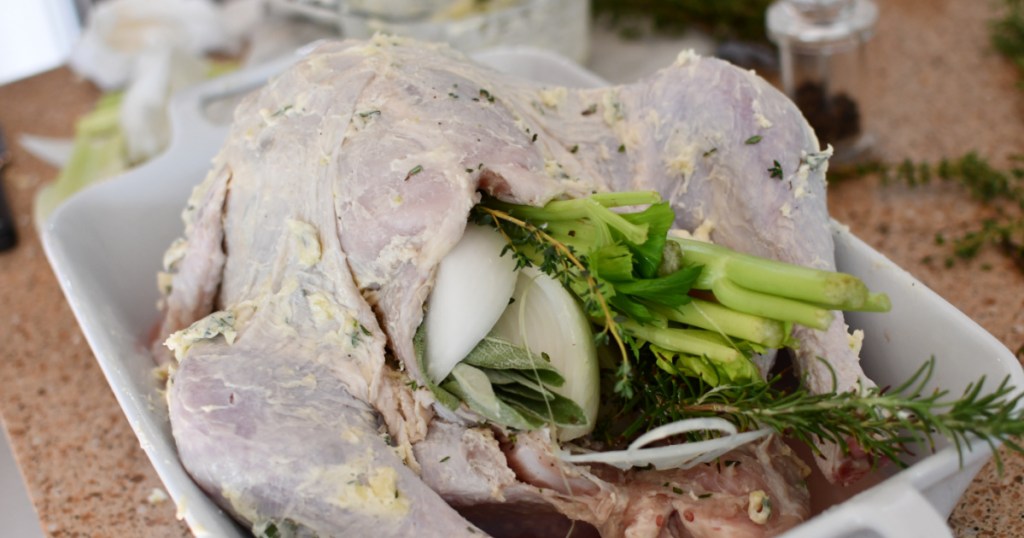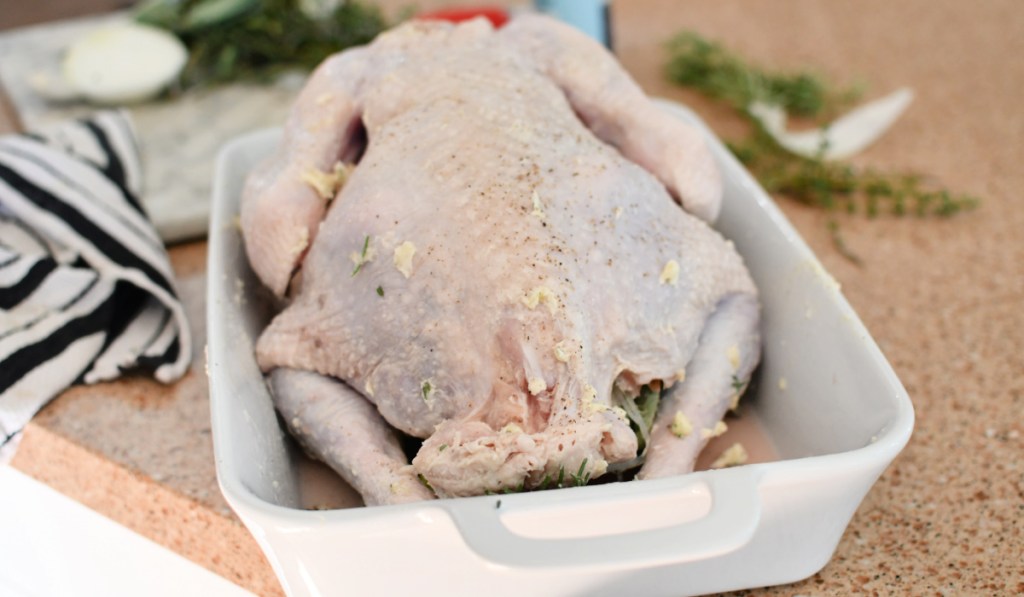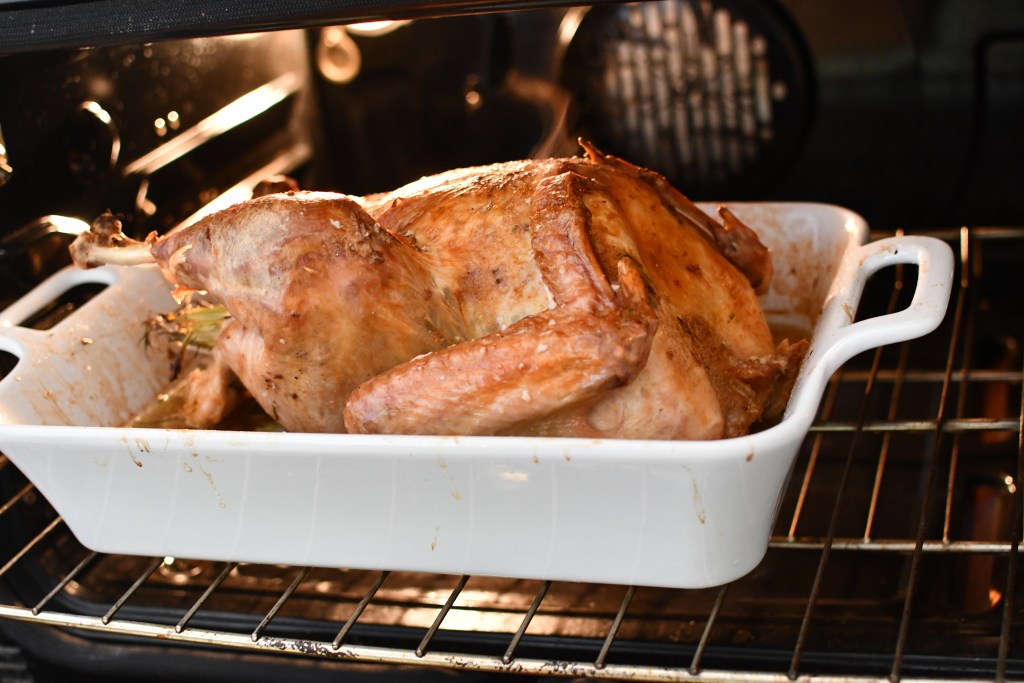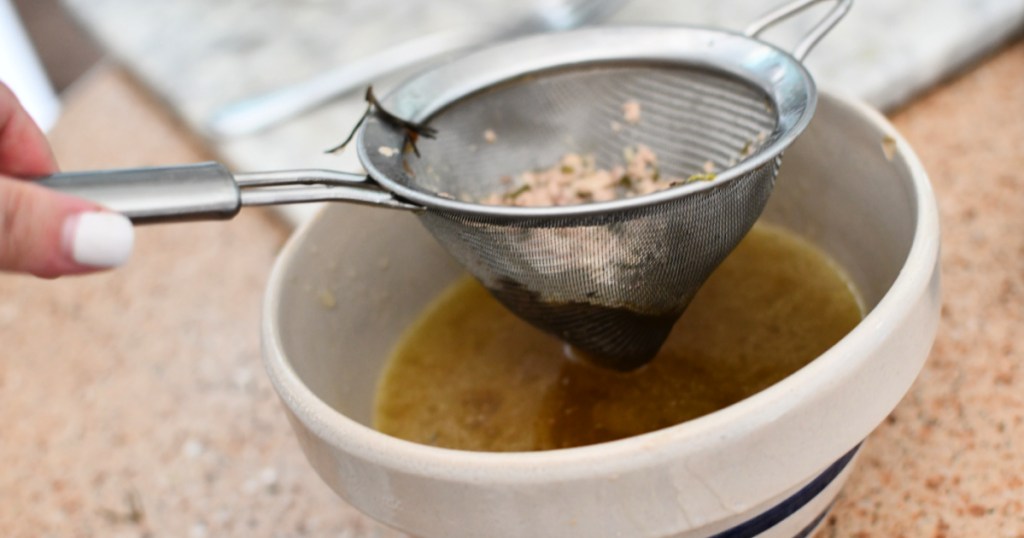 ---
Print
Roast Turkey with Herb Butter
yield: 8 SERVINGS
prep time: 15 MINUTES
cook time: 4 HOURS
total time: 4 HOURS 15 MINUTES
Classic roasted turkey with flavorful garlic herb butter.
Ingredients
For the herb butter:
1 teaspoon salt
1/2 teaspoon pepper
For the turkey:
a few sprigs each of fresh rosemary, sage, and thyme
Directions
1
Move the oven rack down to a lower position to have room for the turkey. Heat oven to 325 degrees.
2
Mix together the softened butter, garlic, salt, pepper, and herbs. Set aside.
3
Prepare the turkey for the oven:
Make sure the giblets and the neck are removed. Loosen the skin by sliding your fingers between the meat and skin from the neck down to the breast carefully without tearing it. Rub herb butter generously under and over the skin of the whole bird.
Note: My turkey had a plastic crimp inside to hold the legs together. The packaging said to leave it on. I took it off after baking. You can use kitchen twine to tie legs together as an alternative. 
4
Stuff the inside of the turkey with onion, celery, and a few springs of rosemary, thyme, and sage. Place the turkey on a large roasting pan breast side down. Cover the pan loosely with foil and place in the oven.
5
Remove the foil after 2 hours of cooking, and carefully flip the turkey over to the breast side up. Put back in the oven without the foil and roast until the turkey is fully cooked to 180 degrees. Use a meat thermometer to verify the 180 temperature in the thigh meat, which is the thickest part of the bird. Baste with the drippings and let stand for 20 minutes.
6
Separate the solid bits from the turkey drippings using a kitchen strainer. Make keto gravy with it if desired, or pour the buttery drippings over your sliced turkey. Store leftover turkey covered in the fridge for up to 3-4 days. Enjoy!
Nutrition Information
Yield: 8 servings, Serving Size: 4-6 oz.
Amount Per Serving: 178 Calories | 9.4g Fat | 0.7g Total Carbs | 0.2g Fiber | 0.2g Sugar | 22.1g Protein | 0.5g Net Carbs
---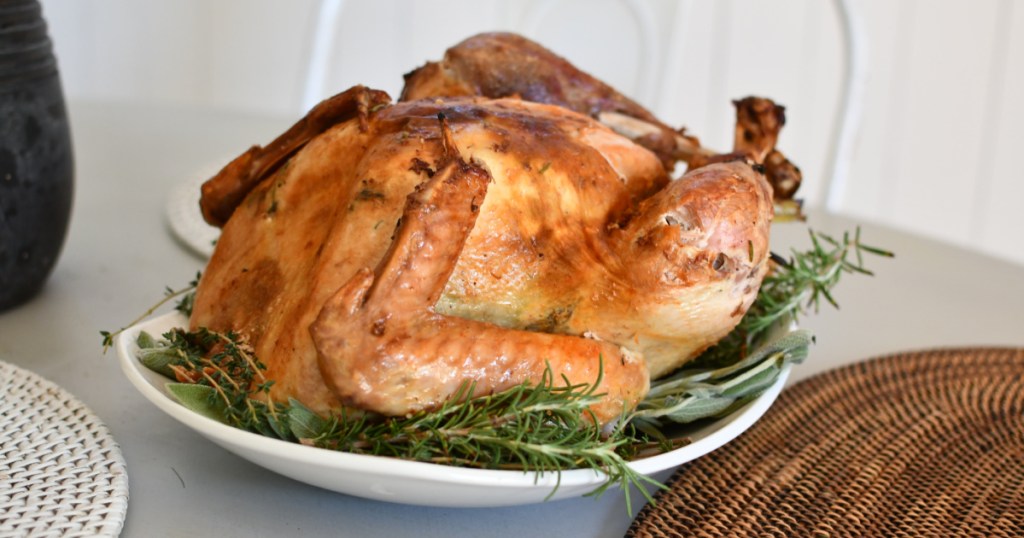 Tips on how to roast turkey with herb butter to perfection:
How do I thaw a turkey? You'll want to thaw your frozen turkey completely before baking it in the oven, preferably in the fridge. According to Butterball.com, allow about 1 day per 4 pounds of frozen turkey to thaw. My turkey is 12 pounds, so I allowed 4 days. Be sure to then cook the turkey within 4 days of thawing.
There's a little bit of prep work for roasting turkey. You'll need to remove the neck and bag of giblets from the inside of the turkey cavity before roasting. The USDA recommends NOT washing your raw turkey as it will splash and likely contaminate your workspace. Instead, pat it dry with paper towels. Also, remove the turkey from the fridge about an hour before it goes in the oven so it can come to room temperature.
How long do I cook a turkey in the oven? For a 12-pound turkey, plan on around 3 or 3.5 hours. Here is a handy online turkey cooking calculator for cook times to refer to!
How do I know when the turkey is done? Use a meat thermometer to check that the breast meat is cooked to 170 degrees in the breast, and 180 degrees in the thigh. Let the turkey rest for 20 minutes before carving.
Breast side down or breast side up? While there are many different opinions on this topic, I don't think there is a wrong or right way as I have had success with both. For this recipe, I chose to roast my turkey breast side down for the first couple hours to preserve the moisture in the breast meat, then flipped it over to brown. It was fantastic!
Make an easy keto gravy to serve over your turkey! Be sure to reserve the drippings from the pan to make gravy afterward using xanthan gum as a thickener. Refer to this easy recipe for keto gravy replacing one of the cups of broth with turkey drippings from the pan.

Roast turkey with herb butter makes your kitchen smell heavenly!
My home smelled AMAZING when this was baking thanks to all the fresh herbs. The skin was crisp and the meat was tender, and it's perfect to serve alongside all the keto side dishes for the holiday season. The leftovers are great too, and of course, some turkey pieces would be great in a keto soup recipe the next day!
Be sure to check out our other keto Thanksgiving recipe ideas:
---
Consider serving this roast turkey with our keto cranberry sauce!