Keto Bacon-Wrapped Green Bean Bundles
Tender green bean bundles wrapped in crispy bacon!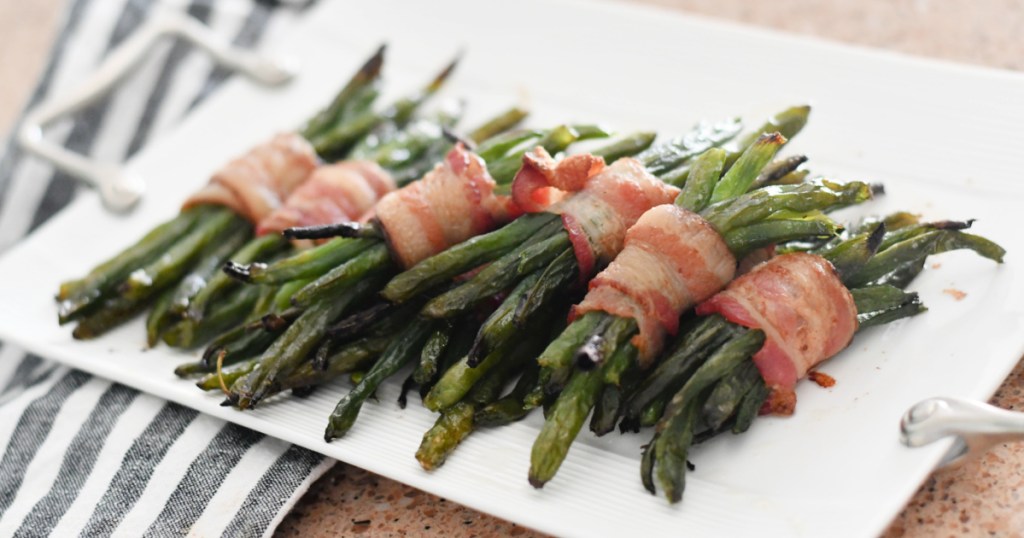 Try serving up these elegant-looking bacon-wrapped green bean bundles! They look super fancy, but they're actually very simple to make, and they'll steal the show if you make them during the holidays. The best part is they are insanely DELISH and keto-friendly!
The result are bundles of caramelized slightly sweetened green beans with the smoky, salty flavor of bacon. I could seriously eat the whole pan, but I was nice and saved some for my family. 😉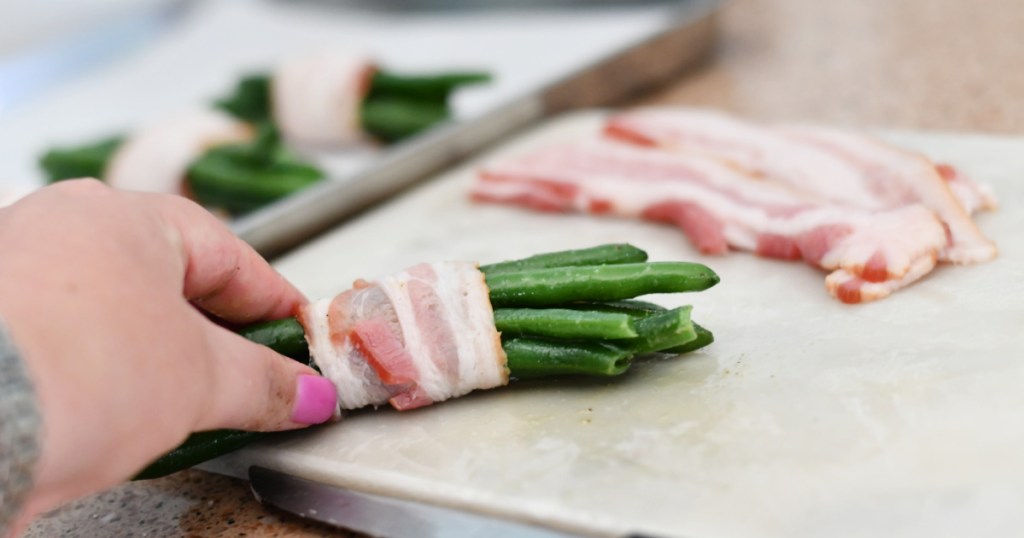 Blanch. Roll. Bake.
The process is super easy for this recipe! The green beans get blanched, dried, and then tossed with a dressing of olive oil, Dijon mustard, and a little Swerve granulated sweetener, or a keto sweetener of your choice. In fact, the Swerve brown sugar substitute works awesome here also!
Then just roll about 6-7 green beans with 1/2 a slice of bacon, and bake everything in the oven to finish!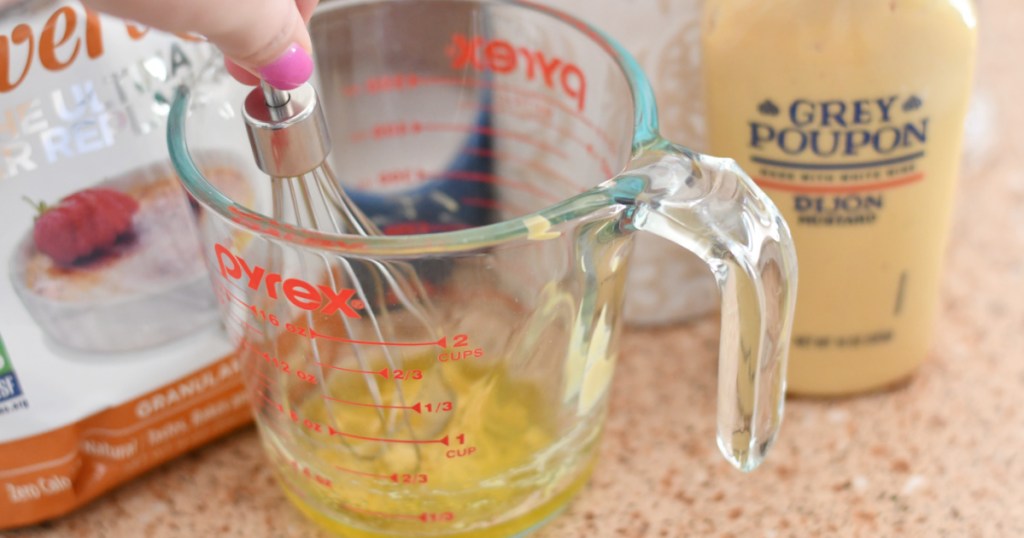 Tips for making the best green bean bundles:
I used a bag of pre-washed and trimmed green beans for convenience — you can use just standard green beans or the very thin ones, it's up to you. If you do use the haricots verts (the thinner French green beans), the blanching time will be a little shorter, and you'll want to use more beans per bundle.
While the beans are boiling, you can use this time to cut your bacon strips or prepare the dressing to make this a super quick recipe to whip up!
For easy cleanup, prep your baking sheet with foil or parchment paper first.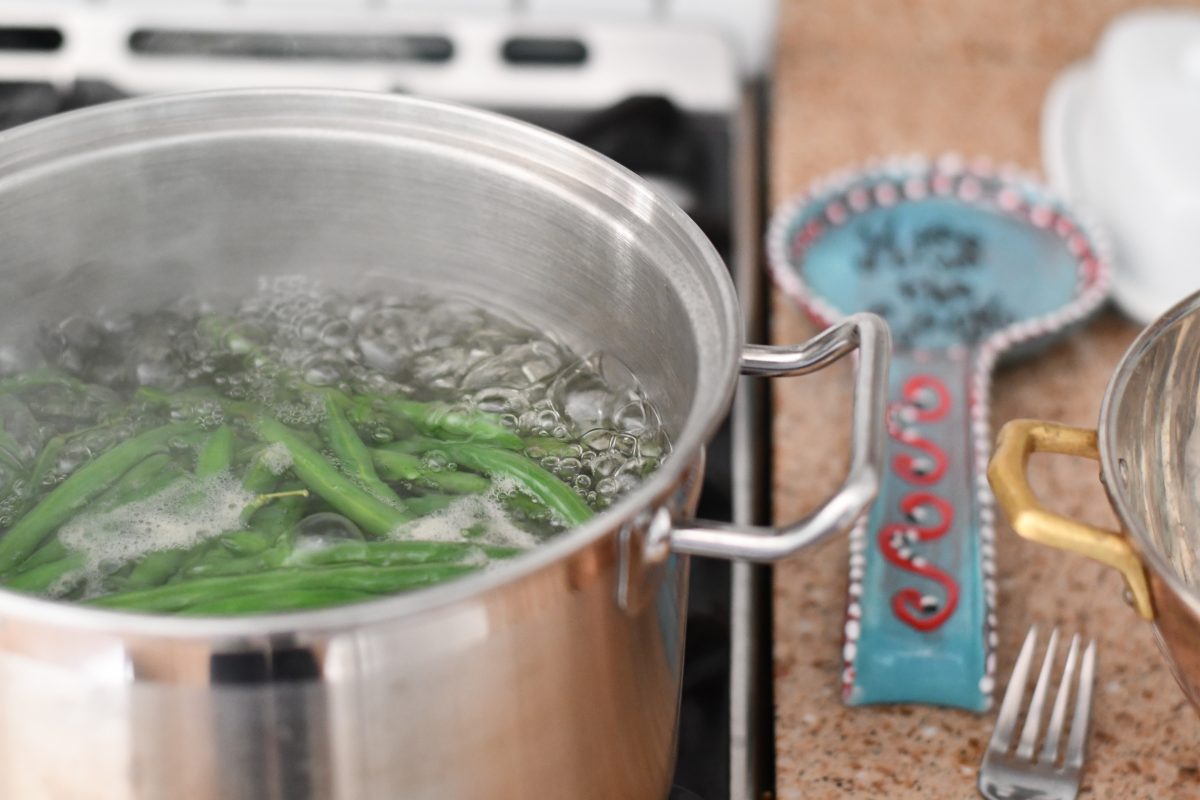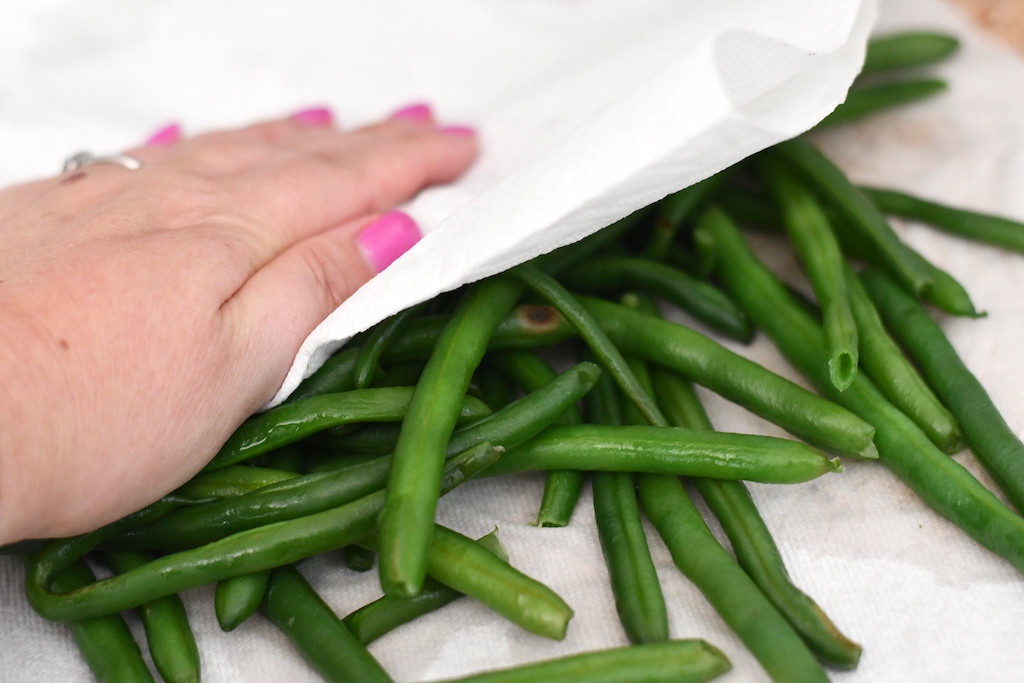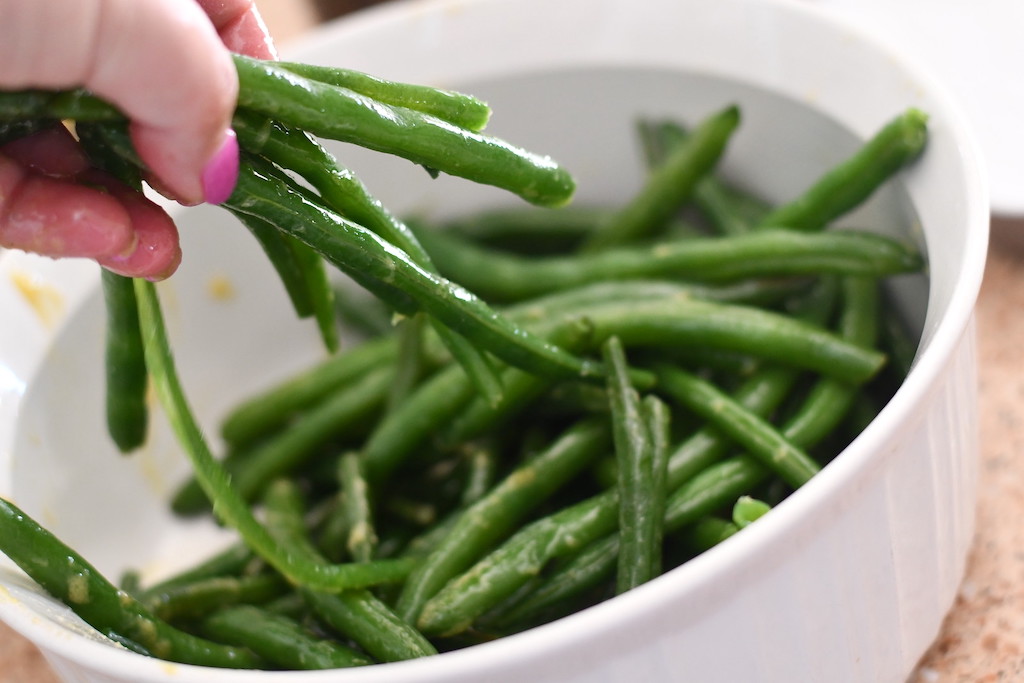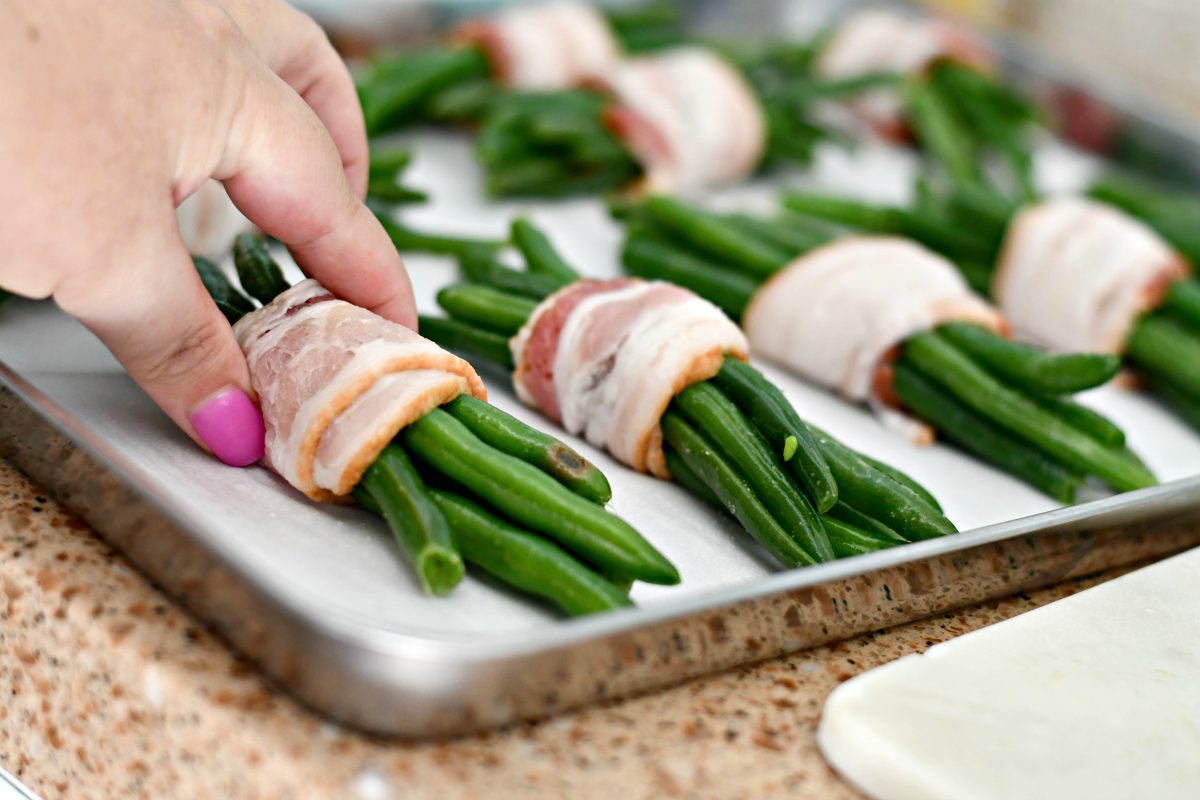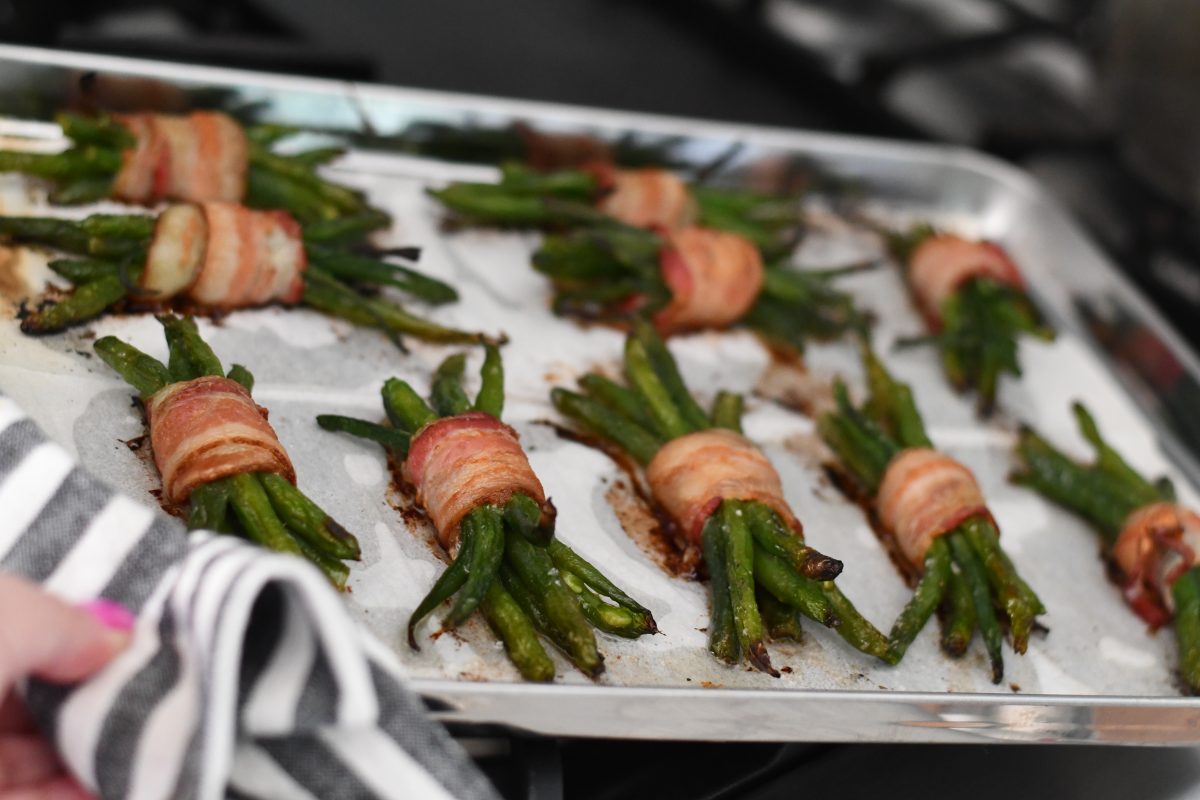 ---
Print
Bacon-Wrapped Green Bean Bundles
yield: 10 SERVINGS
prep time: 15 MINUTES
cook time: 20 MINUTES
total time: 35 MINUTES
Little bundles of tender green beans wrapped in crispy bacon!
Ingredients
1 pound green beans, washed & ends trimmed
3 tablespoons olive oil
1 teaspoon Dijon mustard
1/4 teaspoon salt
1/4 teaspoon pepper
5 pieces bacon, uncooked
Directions
1
Preheat oven to 450°F, and prepare baking sheet with foil or parchment paper.
2
Bring 4 quarts of water to a boil in a large pot. Add green beans, and cook until crisp-tender stirring a couple of times, about 6-8 minutes. Drain beans, rinse with cold water, and add ice to stop the cooking process. Drain the beans, and dry them with paper towels. While waiting, cut bacon slices in half and set aside.
3
In a small dish, whisk together olive oil, mustard, and sweetener. You could also use a handheld stick blender if it's not mixing super well. Toss the green beans in the sweetened oil and mustard dressing, season with salt and pepper, and toss again to evenly distribute the seasoning.
4
Bundle 6-7 green beans, and wrap with 1/2 a piece of bacon. Place seam side down on prepared baking sheet. Continue with remaining green beans.
5
Place baking sheet in oven and bake until bacon is crisp, about 10-13 minutes depending on thickness of bacon. Serve warm. One bundle per serving.
Nutrition Information
Yield: 10 bundles, Serving Size: 1 bundle
Amount Per Serving: 98 Calories | 8.7g Fat | 3.5g Total Carbs | 1.3g Fiber | 1.5g Sugar | .2g Sugar Alcohol | 2.2g Protein | 2.1g Net Carbs
---
Who wouldn't love tender green beans that melt in your mouth, along with delicious and crispy bacon?!
It's the perfect keto side dish, too! I am definitely making these again and especially again over the holiday season. Plus you can even blanch the green beans a day or two ahead of time to prep for the oven, which is convenient for Thanksgiving and Christmas dinner.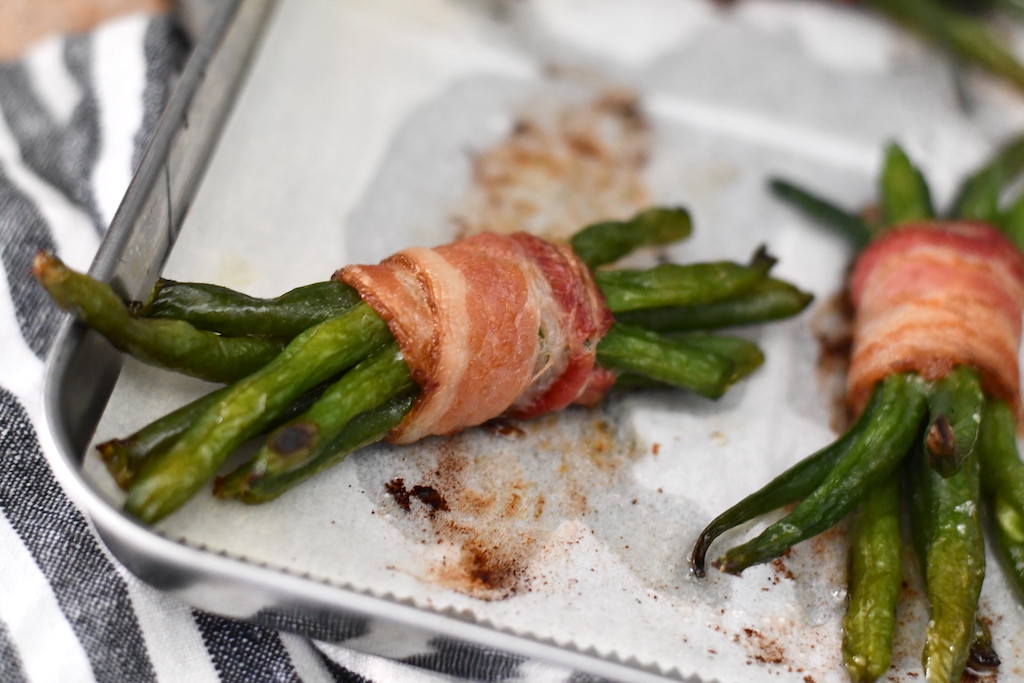 My teammate Shane made these green beans and here's what he had to say:
"This was such a fun and TASTY snack to put together. And as someone who was formerly not a big fan of mustard, I may have to use it in more recipes with how much it complimented the flavor of the green beans and bacon! Not to mention, this was fairly easy to prep, making it a home run for those who may not want to spend too long in the kitchen! "
---