Our Keto Sweet Dinner Rolls Rival King's Hawaiian
Hot, buttery, & sweet keto Hawaiian dinner rolls are the best and totally rival King's Hawaiian.
Buttery rolls that are low-carb? Yes, please!
Who doesn't love those savory and sweet dinner rolls just like the ones you're served at restaurants and like the King's Hawaiian rolls you buy at the store? 😋 Now you can make these at home, and it's actually easier than you'd think.
The best part? These dinner rolls are keto and have just 3g net carbs per roll!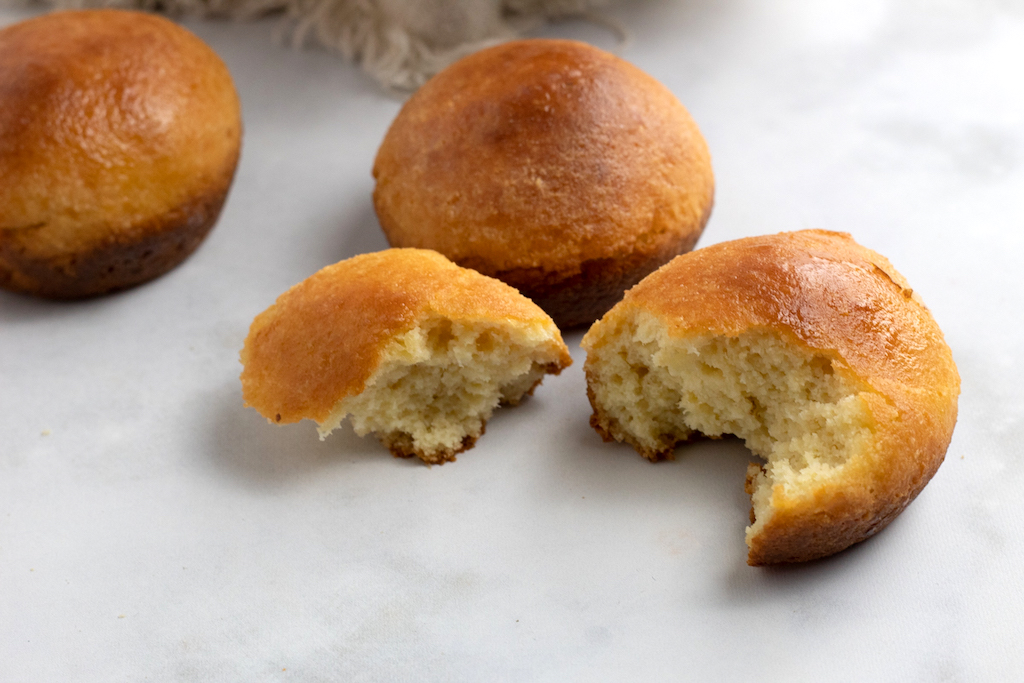 You may see the words "homemade keto Hawaiian rolls" and think this recipe will be confusing and complicated, but I have eliminated many typical steps that come with bread making. As long as you can mix and knead, you can make these delicious dinner rolls for your next gathering and wow your guests in under 30 minutes.
If you're missing bread, you've got to make these!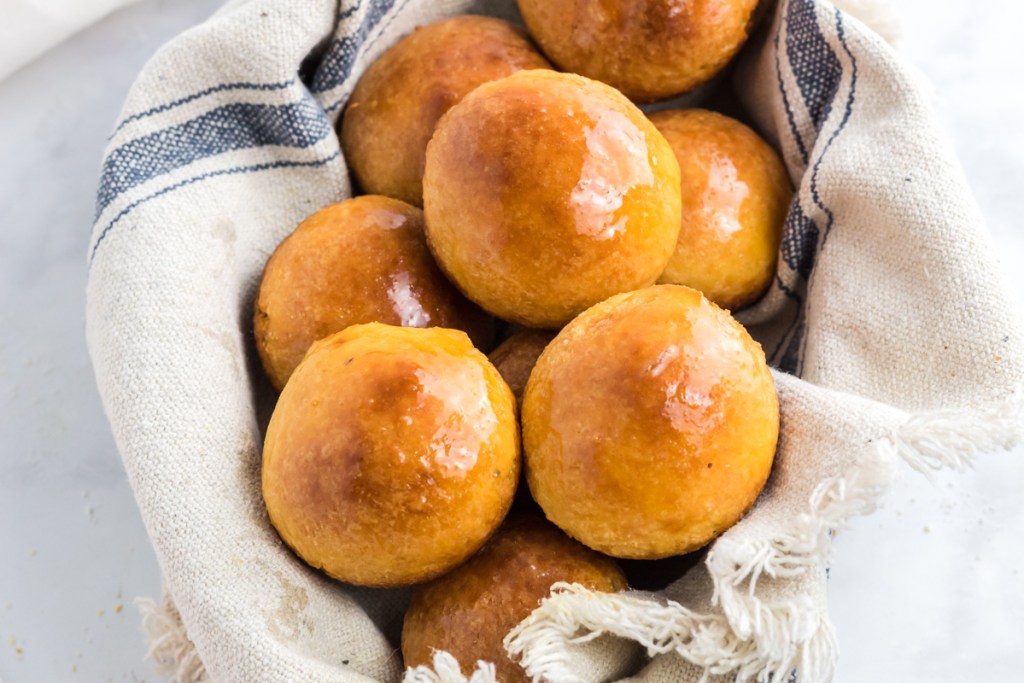 Our best tips for making sweet keto Hawaiian rolls:
After several attempts making these using pineapple oil, I realized that the flavor of cheese and pineapple wasn't the greatest combination. I decided to sweeten the rolls up with 2 teaspoons of monk fruit instead and some good ol' butter.
There's no rise time required for these rolls, so as soon as you mix the ingredients together, you can pop them directly into the oven. So easy!
We recommend using pre-shredded mozzarella cheese, rather than using fresh. The moisture in the fresh mozzarella can cause excess stickiness in the dough.
Rolling the dough balls will be easy, but note that the almond flour dough can get a little sticky so use some oil on your hands to roll into balls.
During holidays or larger gatherings, I often find that all my baking sheets are being used, so I use cupcake pans as my go-to for rolls. The rolls are typically on the smaller side, so they're perfect portions and are easy to pop right out.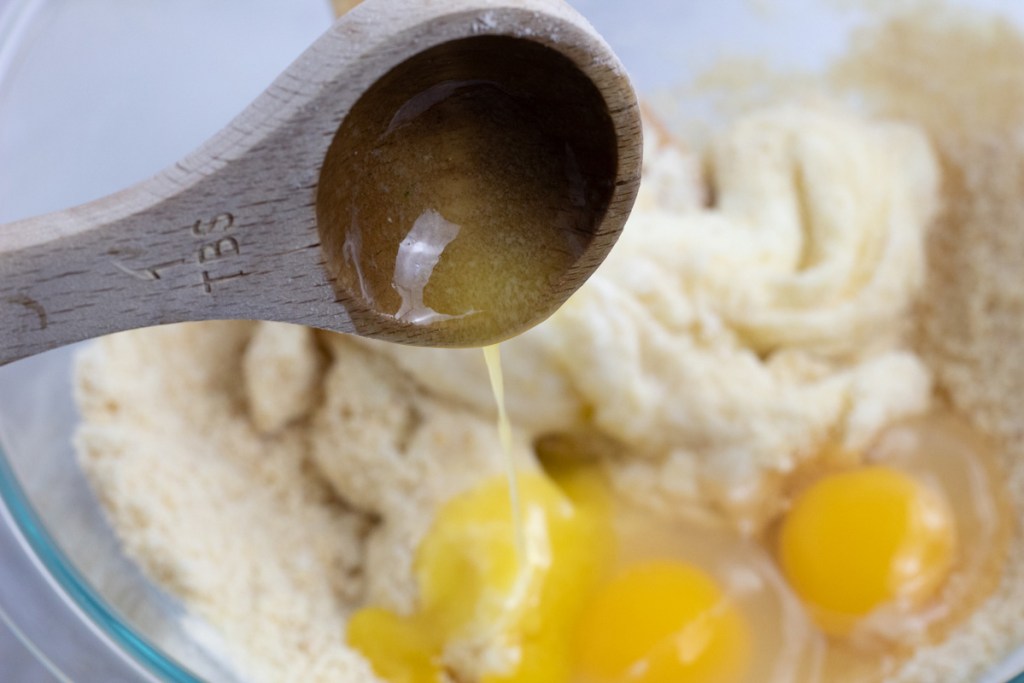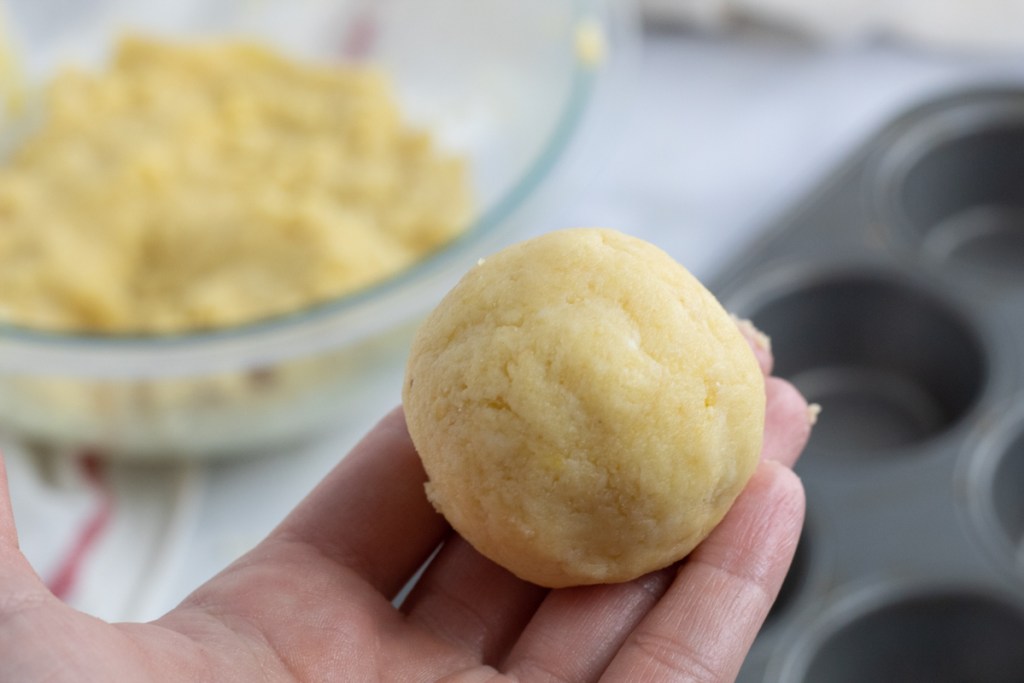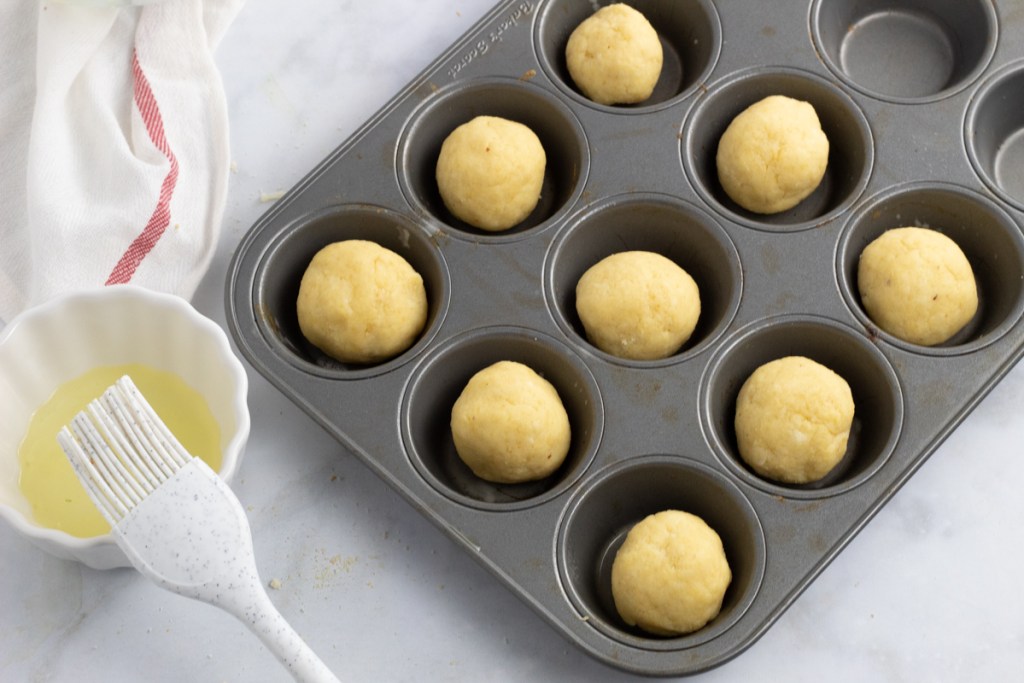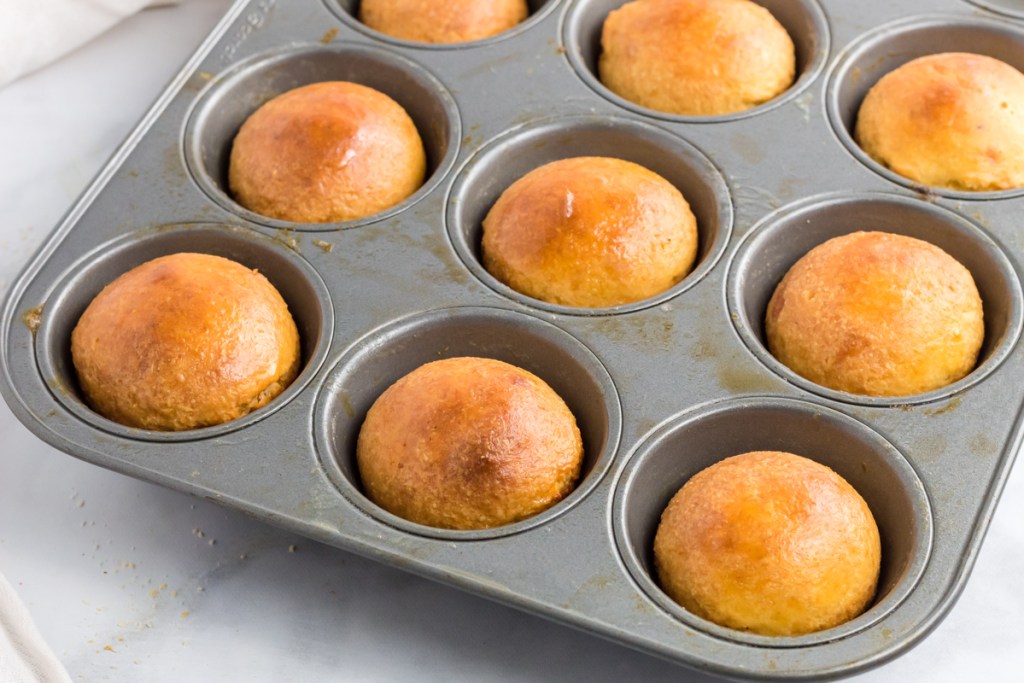 ---
Print
Keto Sweet Dinner Rolls
yield: 9 SERVINGS
prep time: 15 MINUTES
cook time: 22 MINUTES
total time: 37 MINUTES
Perfect low-carb buttery dinner rolls with a touch of sweetness.
Ingredients
1 1/2 cup shredded mozzarella cheese
2 oz. cream cheese
2 tablespoons coconut flour
1 teaspoon baking powder
1/4 cup grated parmesan cheese
3 eggs (1 for egg wash)
2 tablespoons melted butter
Directions
1
Preheat oven to 350 degrees Fahrenheit. Grease cupcake pans to avoid any sticking and set aside.
2
In a medium-size bowl, add almond flour, coconut flour, baking powder, grated parmesan cheese, and monk fruit (or preferred keto sweetener) and mix well. Set aside.
3
In a large microwavable bowl, add in the mozzarella and cream cheese. Microwave in 30-second intervals until cheese is completely melted.
4
Once the cheese is melted, add in the dry ingredients and mix. Then add in 2 eggs and 1 tablespoon of melted butter and knead until the dough is all combined. I found using my hands worked best, and you'll want to avoid over-mixing as this can result in less rise.
5
Scoop out dough with an ice cream scooper (about a 2" ball) and roll until smooth. This size will make a dinner-sized or slider-sized roll. Place the rolls in the cupcake pan until the dough is evenly distributed.
6
Brush rolls with an egg wash (1 egg mixed with some water) to give a nice golden brown color before placing in the oven to bake for about 18-22 minutes. Make sure to check halfway as the cooking time depends on your oven and how big your rolls are.
7
Remove from oven and brush 1 tablespoon of melted butter over freshly baked rolls. Serve and enjoy!
Nutrition Information
Yield: 9 rolls, Serving Size: 1 roll
Amount Per Serving: 221 Calories | 18.4g Fat | 5.2g Total Carbs | 2.2g Fiber | 1.1g Sugar | 0g Sugar Alcohol | 10.6g Protein | 3g Net Carbs
---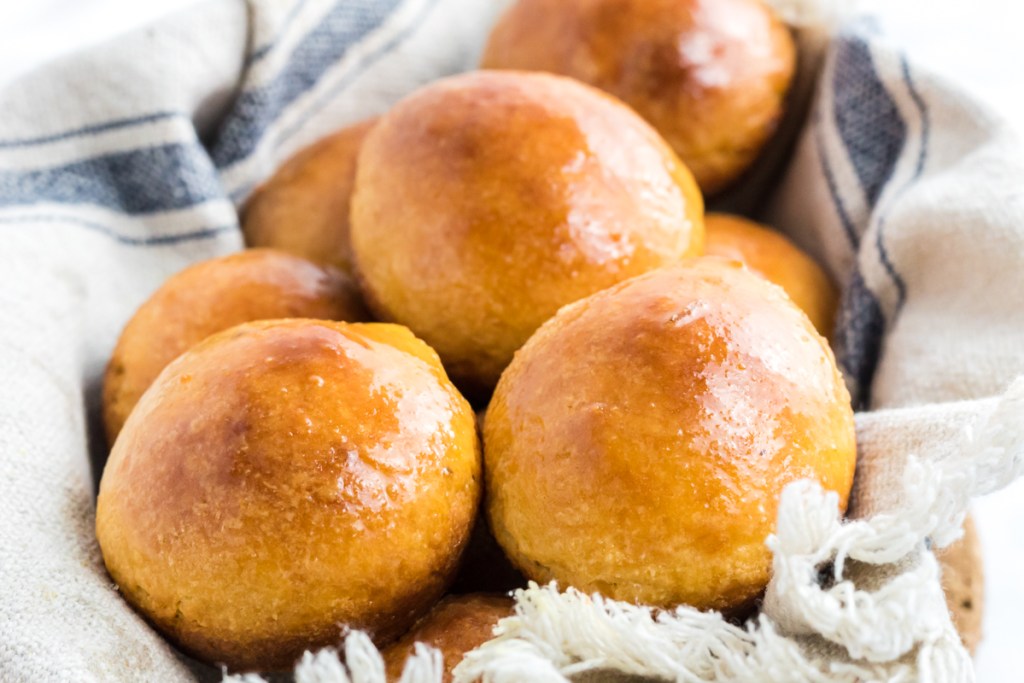 Hot, buttery, and sweet keto Hawaiian rolls are the best—and these ones smell of homemade goodness.
You will have no complaints while serving these up at your next family gathering. Just make sure to make a big batch if you want any for yourself!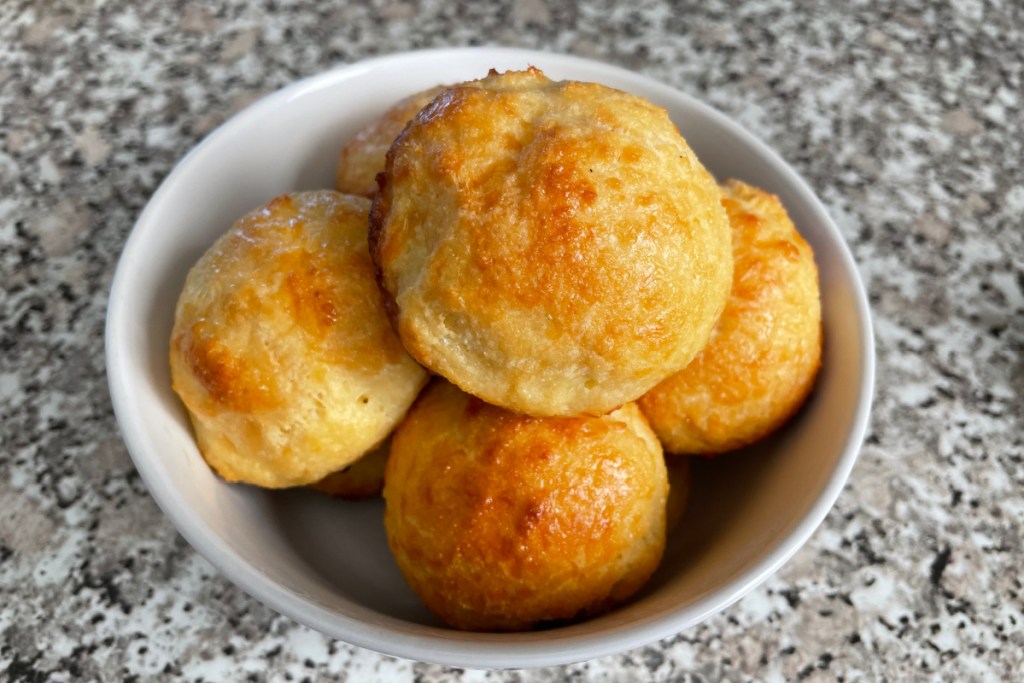 My Hip Sidekick Chelsey also made these keto Hawaiian rolls, and here's what she had to say about them:
"These were delicious! I don't follow a keto diet and was honestly super skeptical that they would be good, but they turned out great. Plus, they are really easy to make. When adding the egg and butter, I thought for sure I had messed them up, but if you just keep mixing they turn out fine.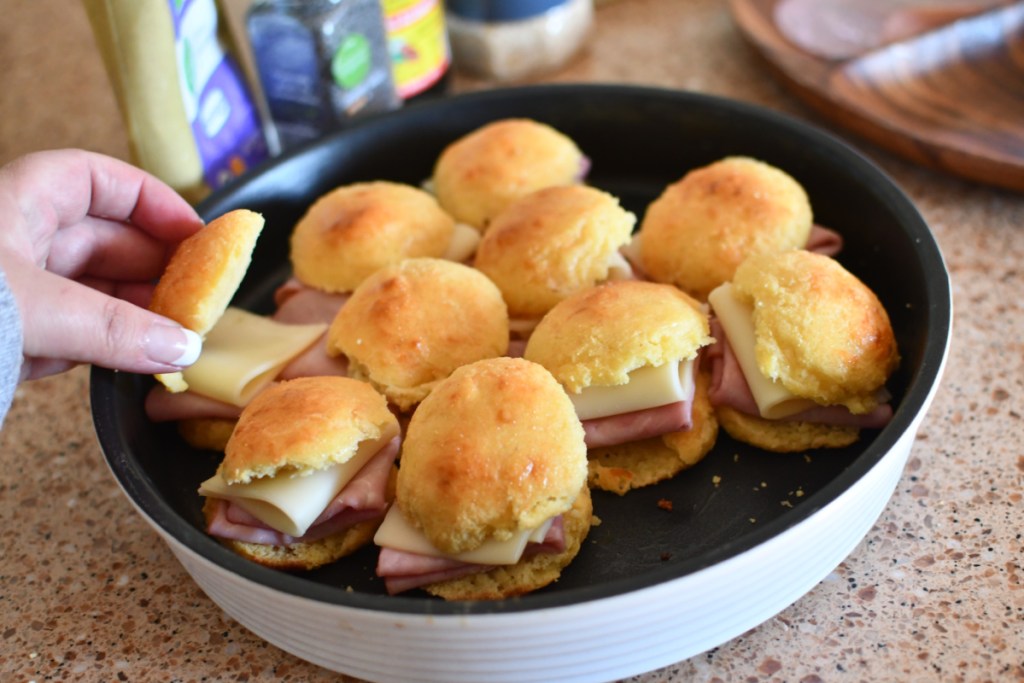 We made them with the Ham & Cheese Sliders recipe, and my husband and I both enjoyed them while also discussing all of the great ways you could use these rolls. We're going to try them out with jam for breakfast, with avocado slices, and to build turkey sandwiches – the uses for them really are endless!"
---
Want something sweeter? Try our keto cinnamon rolls!