Our Keto Green Bean Casserole is a Low- Carb Twist on a Traditional Dish
You can't go wrong with a classic, and our keto green bean casserole is the side dish all will enjoy at the table.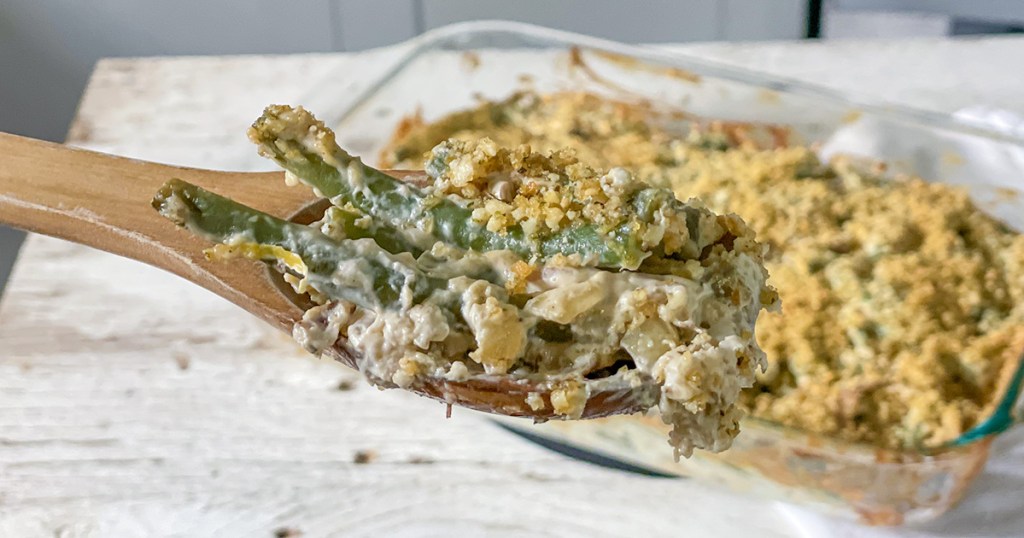 Make new traditions with this keto green bean casserole recipe.
This keto green bean casserole is the side dish that low-carb Thanksgiving tables dream about. I guarantee you'll be saying "fried onion straws who?!" If you feel like you've been missing out on classic holiday side dishes at family gatherings, those days are long gone!
I came up with this keto take on the traditional green bean casserole to help keep you on track over the holidays, and you won't be able to guess the secret ingredient that makes it shine. And even though this is a fan-favorite recipe at Thanksgiving, you can make this tasty side dish any time of the year!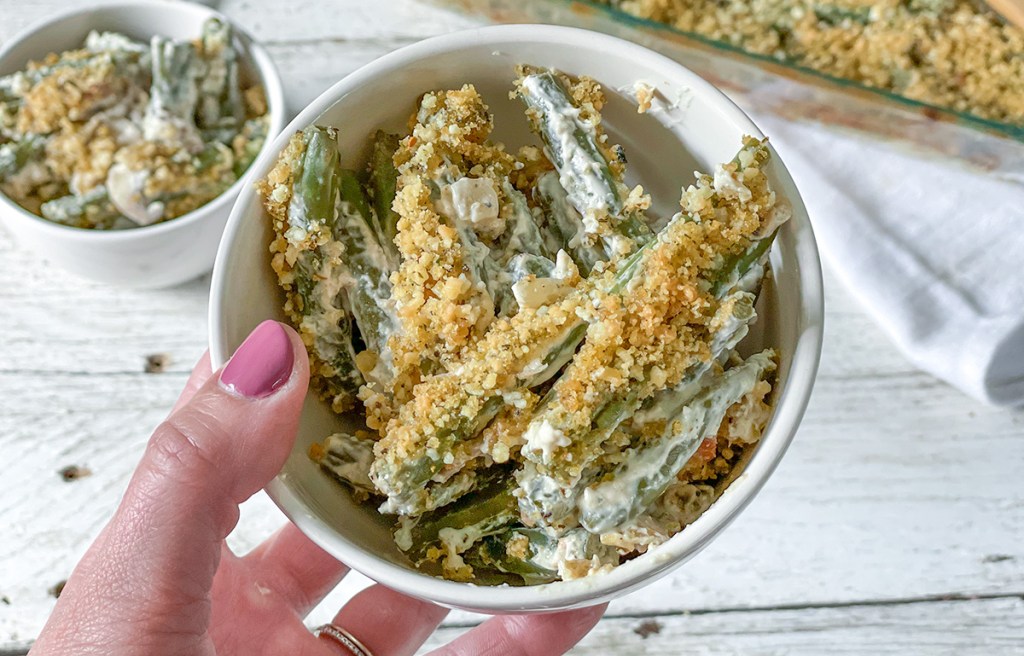 You might even eat this as an entree… it's that good!
While this keto green bean casserole is meant to be eaten as a side dish, I think you could get away with eating it as a main course. I couldn't stop myself from taking bites of this as I was photographing it! 🤤 If you want to make this a one-dish meal, you could just add meat, like ground beef, sausage, or chicken.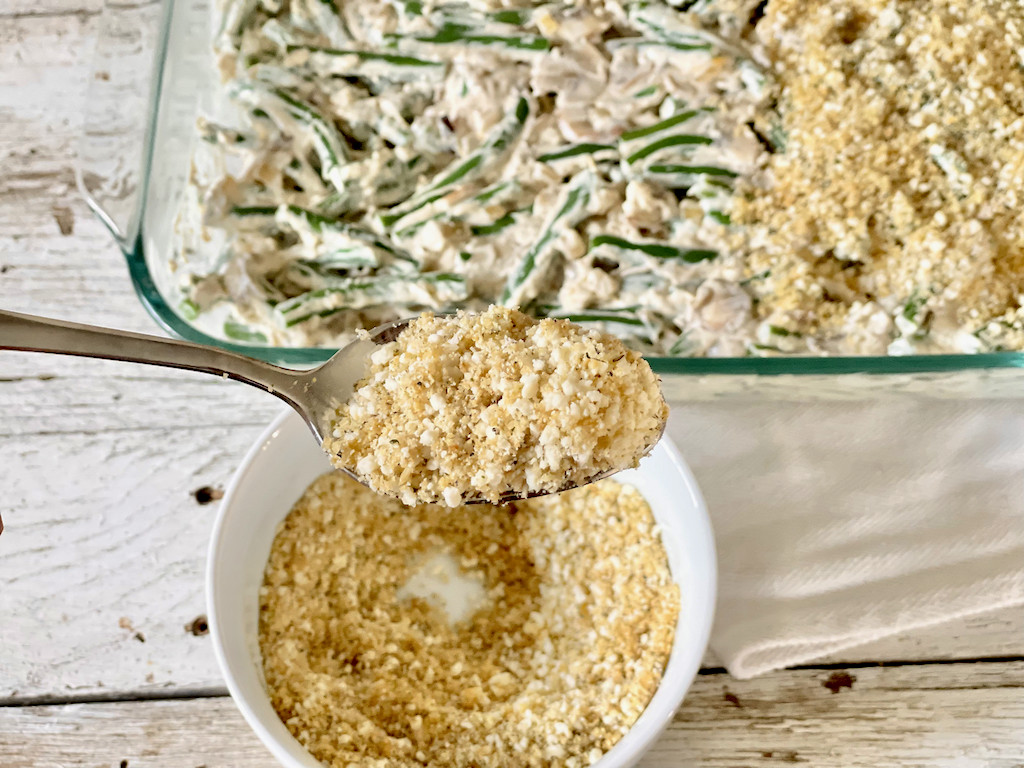 To make this keto, I replaced fried onions with a mixture of grated parmesan and ground pork rinds, and oh my it is so, so good! 😋 I used pre-ground pork rinds that I bought on Amazon, but you could make your own. Our team loves the Pork King Good brand.
I also made my own "keto cream of mushroom soup" for the sauce, which I found to be much tastier and healthier than opening a can. And the secret ingredient to making this really pop is surprisingly… lemon! 🍋 I find a bit of lemon juice just brightens everything and the addition to this dish is simply spectacular.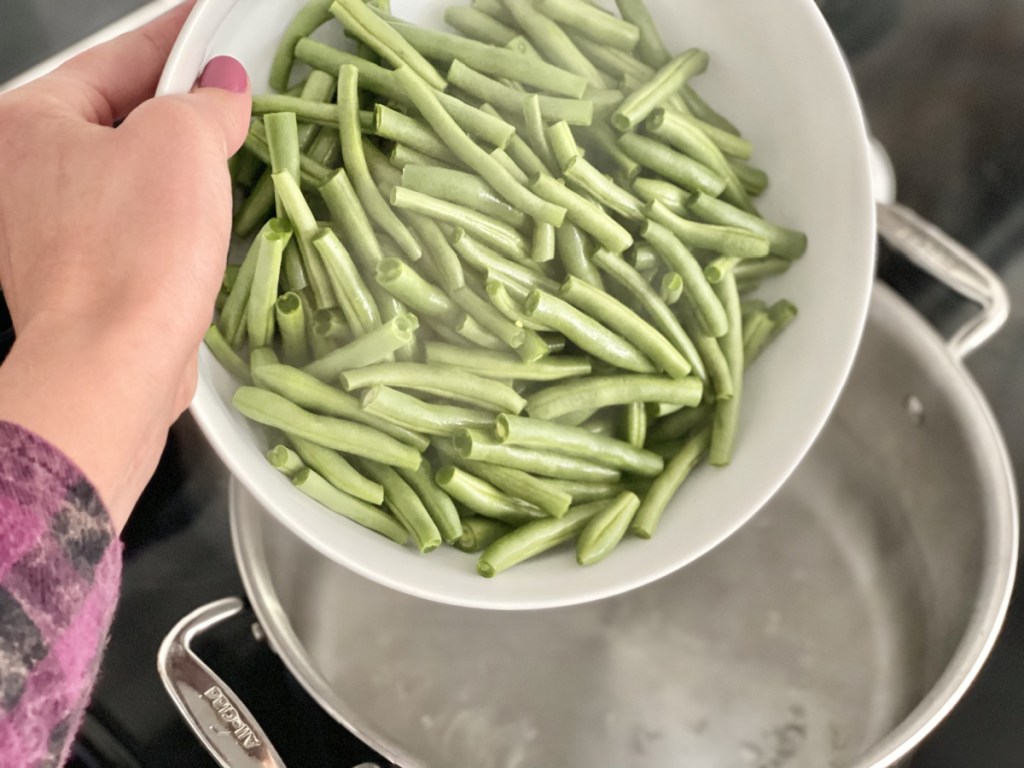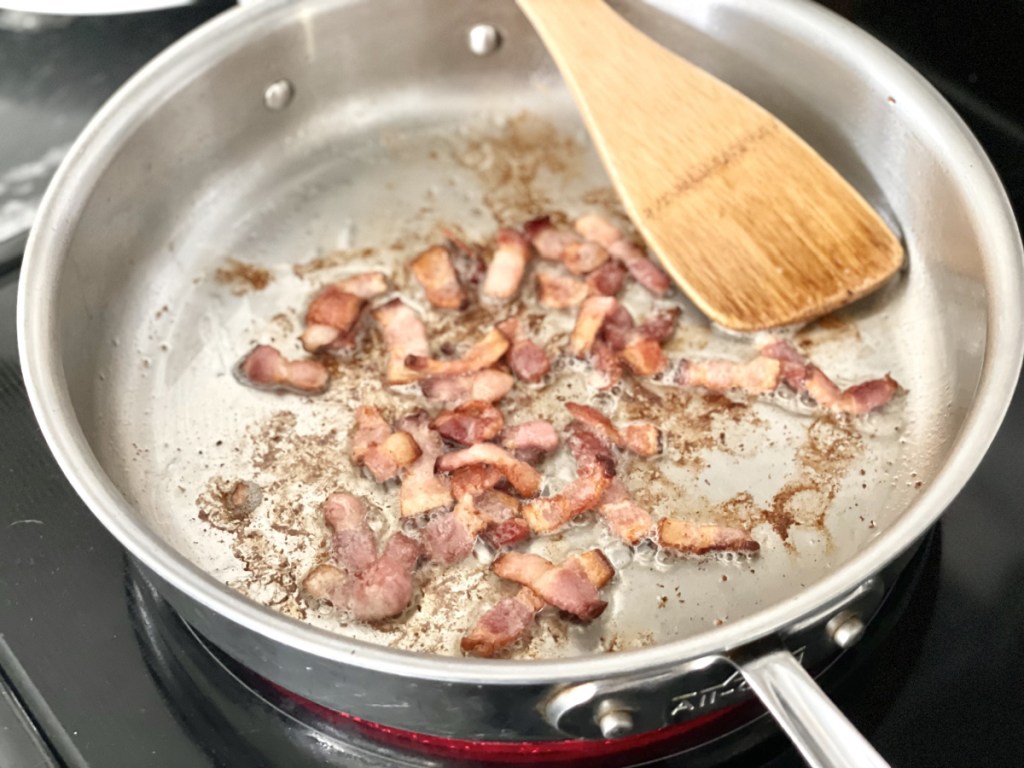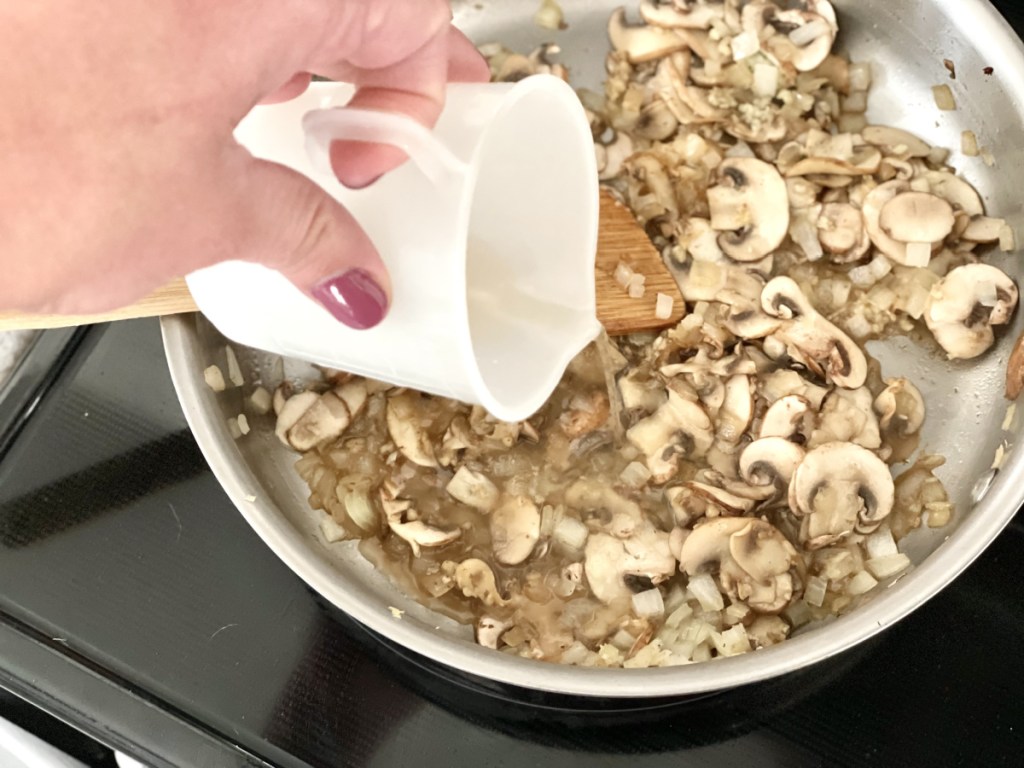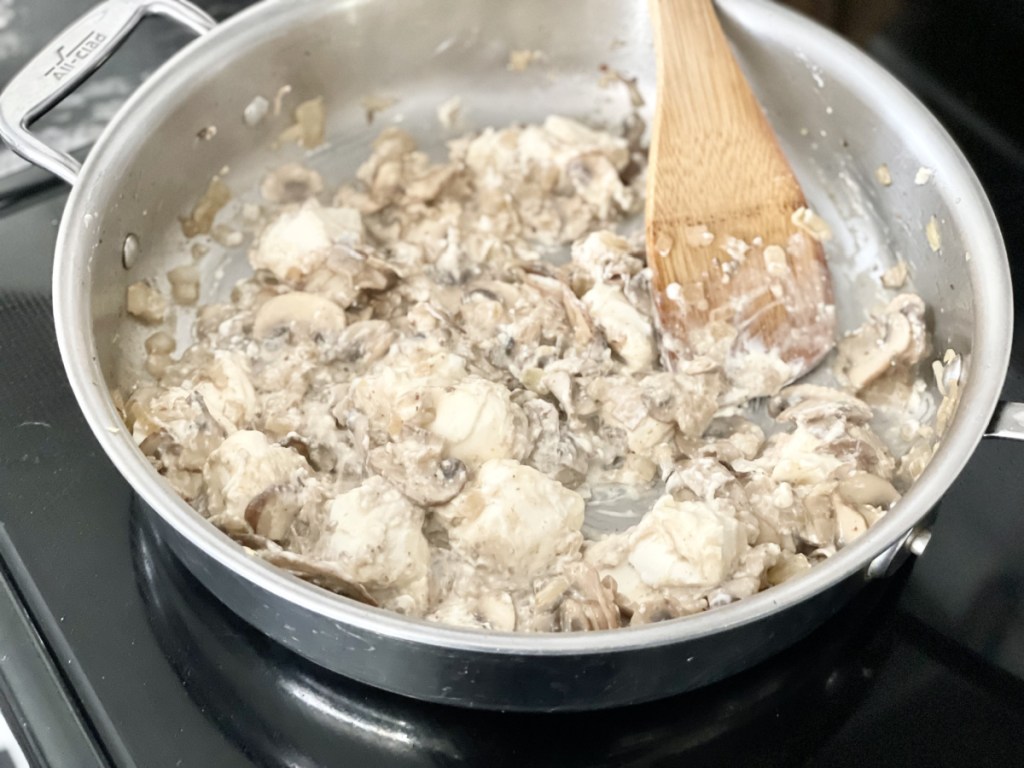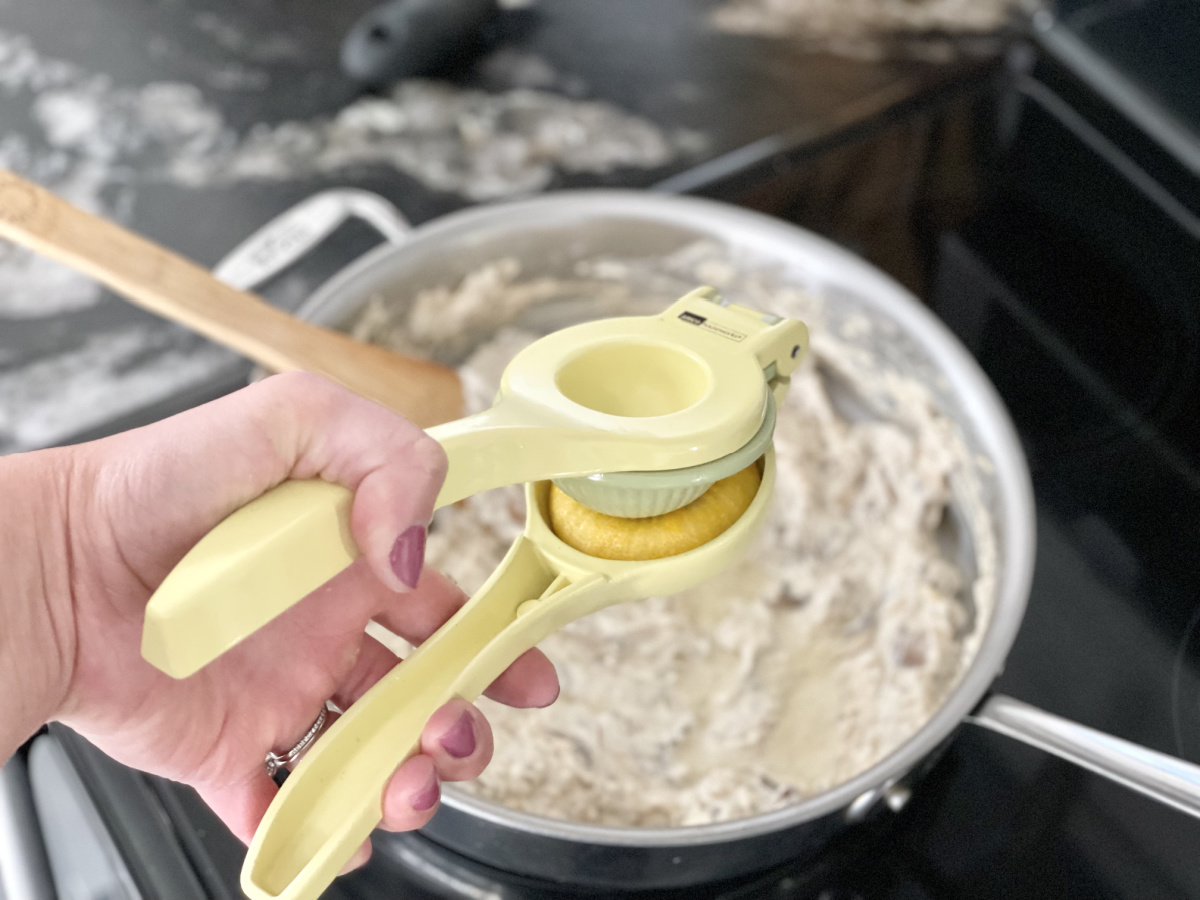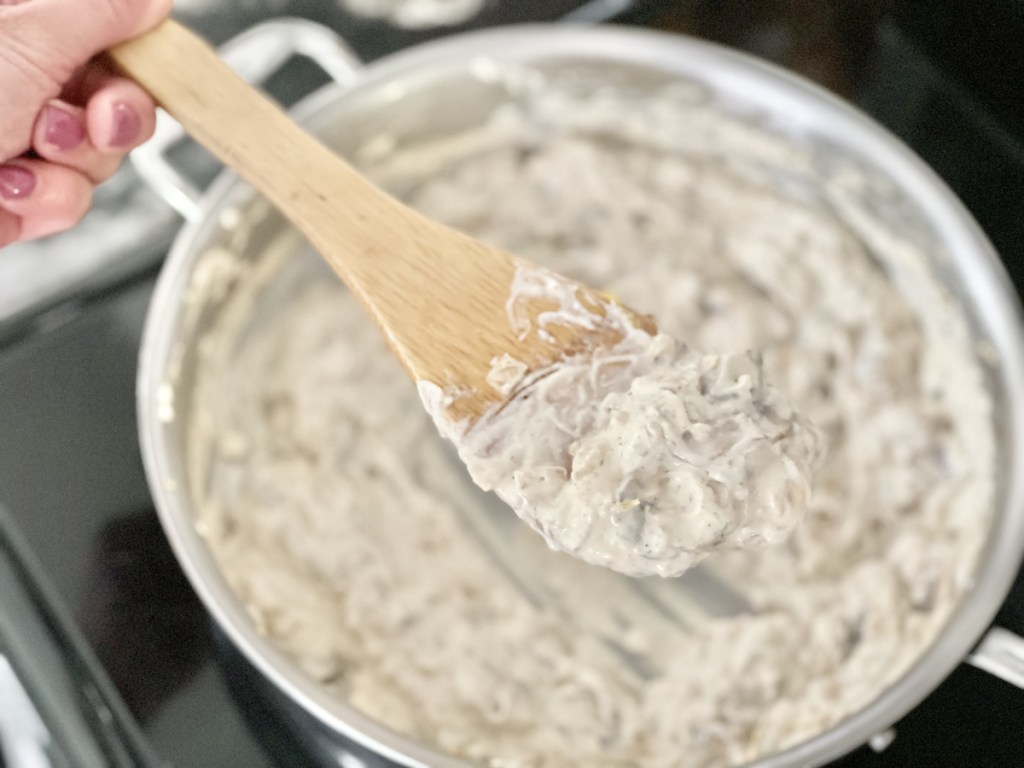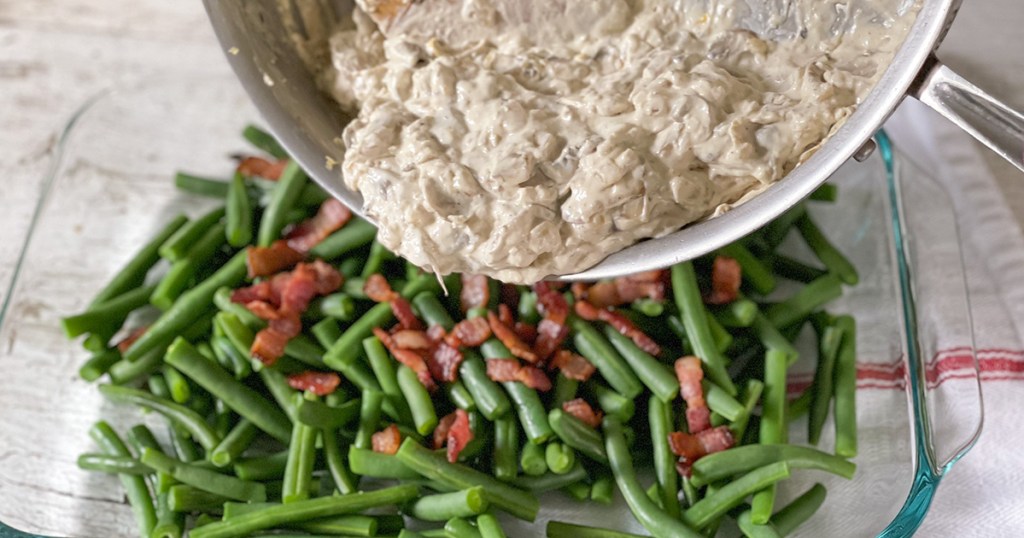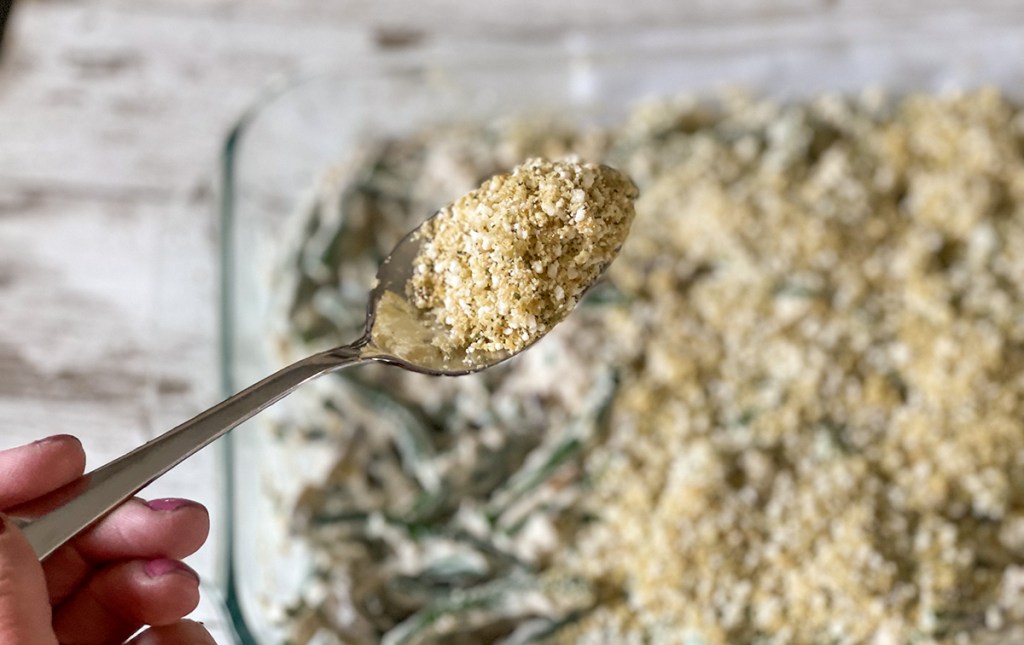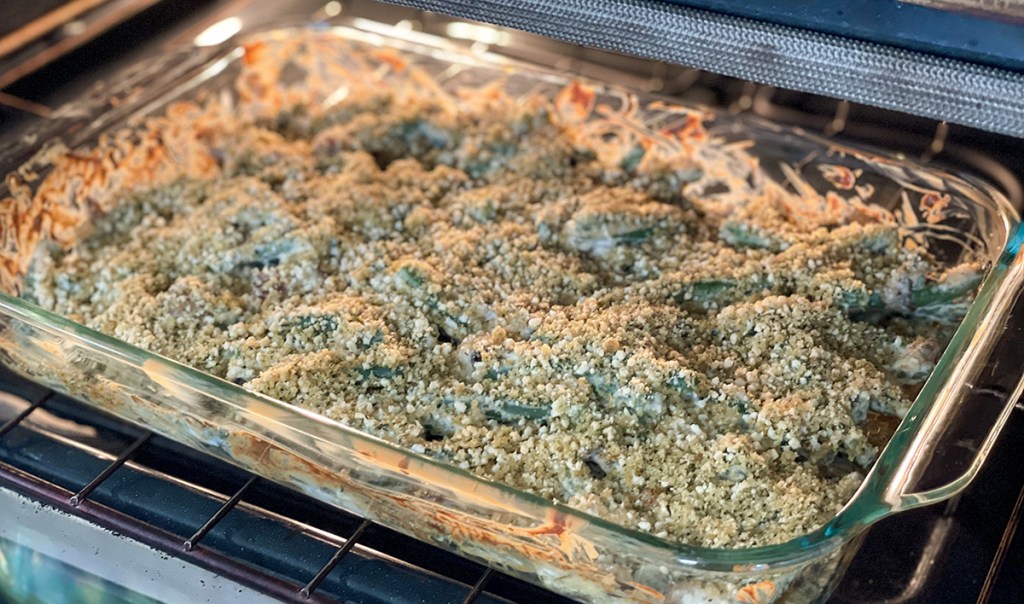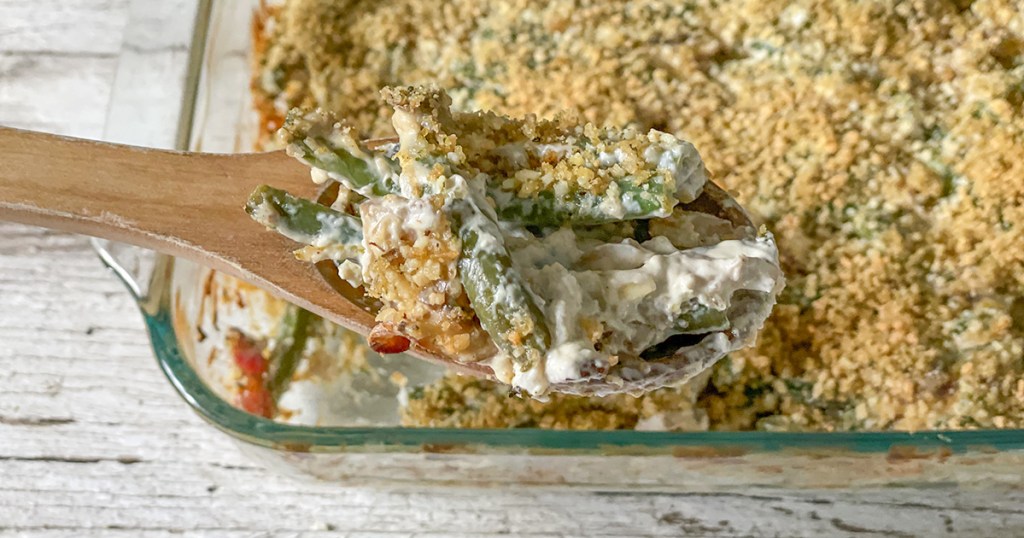 ---
Print
Keto Green Bean Casserole
yield: 12 SERVINGS
prep time: 30 MINUTES
cook time: 30 MINUTES
total time: 60 MINUTES
Made with fresh green beans, a homemade keto cream of mushroom soup, and topped with pork rind crumbs and parmesan.
Ingredients
6 cups (1 1/2 pounds) fresh green beans, untrimmed
2 slices thick-cut bacon, chopped
8 oz. mushrooms, sliced
1 small onion, diced
6 garlic cloves, minced
1/4 cup chicken broth
8 oz. full-fat cream cheese (1 block), cubed
2 tablespoons full-fat sour cream
1/2 teaspoon salt
1/2 teaspoon pepper
1 teaspoon Worcestershire sauce
zest from 1 large lemon
juice from 1 large lemon
1/2 cup grated parmesan cheese
Directions
1
Preheat oven to 350 degrees. Trim the green beans by removing the ends and cutting them in half.
2
Blanch the green beans by bringing a large stockpot filled with 8 to 10 cups of water to boil. Once the water boils, add the green beans and return to a boil for 2 to 3 minutes.
While the green beans are boiling, prepare an ice bath by filling a large bowl with about 2 cups of ice and cold water. Strain the green beans from the boiling water and place them in the water bath for at least 5 minutes. Now strain the green beans and place them in a 9x13 baking dish.
3
Cook the bacon in a large skillet over medium to medium-high heat for about 5 minutes until crispy. Remove the bacon from the skillet and add it to the 9x13 pan with the green beans. Leave the bacon grease in the skillet.
4
Add the mushrooms, onions, and garlic to the skillet with the bacon grease and sauté over medium heat until soft, about 8 minutes, stirring occasionally.
5
Pour the chicken broth into the skillet to deglaze the pan and scrape up any browned pieces.
6
Add in the cubed cream cheese and sour cream. Cook until the cream cheese melts, stirring occasionally.
7
Mix in salt, pepper, Worcestershire sauce, lemon zest, and lemon juice. Simmer for 5 minutes.
8
Pour the cream sauce over the green beans and bacon in the 9x13 pan. Carefully stir to combine.
9
In a small bowl, mix together the ground pork rinds and grated parmesan cheese. Evenly sprinkle the topping over the green beans.
10
Bake at 350 degrees for 30 minutes until lightly browned on top. Enjoy!
Nutrition Information
Yield: 12 servings, Serving Size: 1/2 cup
Amount Per Serving: 152 Calories | 11.3g Fat | 7.4g Total Carbs | 1.9g Fiber | 3.5g Sugar | 6.6g Protein | 5.4g Net Carbs
---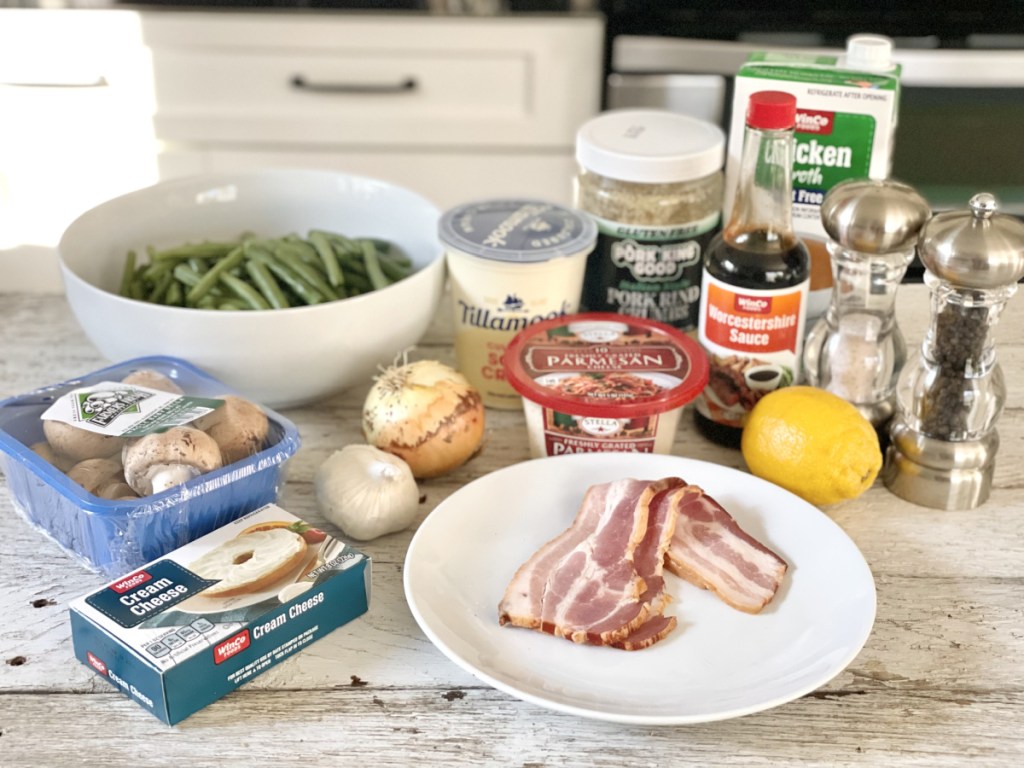 Tips for making the very best keto green bean casserole:
I'll say it a little louder for the people in the back — don't skip the lemon zest and lemon juice! That secret ingredient adds incredible flavor.
I highly recommend pre-cooking the green beans before you bake this dish. I blanched the green beans to help them keep their color, but if you're short on time, you could microwave them or even use canned. And really, you could just cook the dish longer to soften the green beans, they just don't look as pretty in my opinion.
This casserole will keep in the fridge for five days or you can freeze it for up to three months.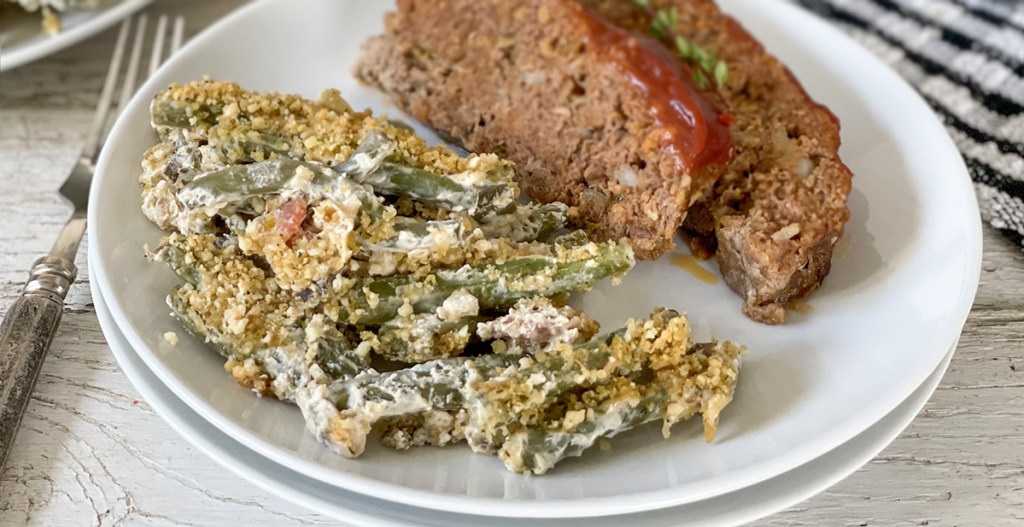 Make room at Thanksgiving for a keto green bean casserole.
This side dish is definitely a crowd-pleaser for the entire fam! And actually, I like it better than the traditional green bean casserole that I grew up eating. 😏 Hope you like it as much as I do!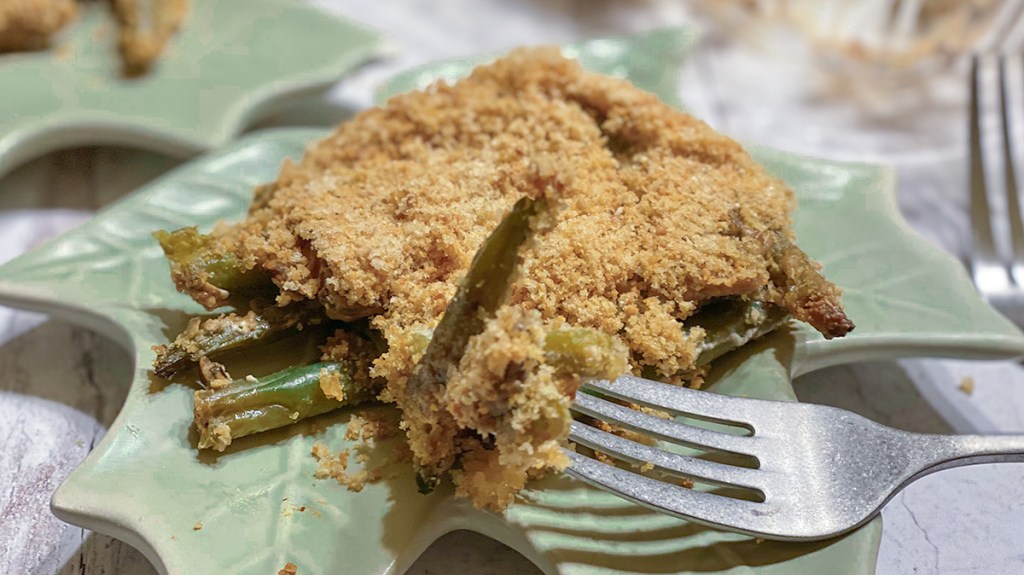 My Hip sidekick Jenna made this keto green bean casserole and here's what she thought:
"This green bean casserole is just awesome. So much flavor and it's so fresh tasting! I'm not going to lie, I was totally unsure of the lemon juice and lemon zest, but that ended up making this that much better. There isn't anything that I don't love about this recipe — the fresh green beans, the sauce, the topping… This is so good!"
---
Find more of our keto-friendly casserole recipes over here!