Keto Thanksgiving Sausage Stuffing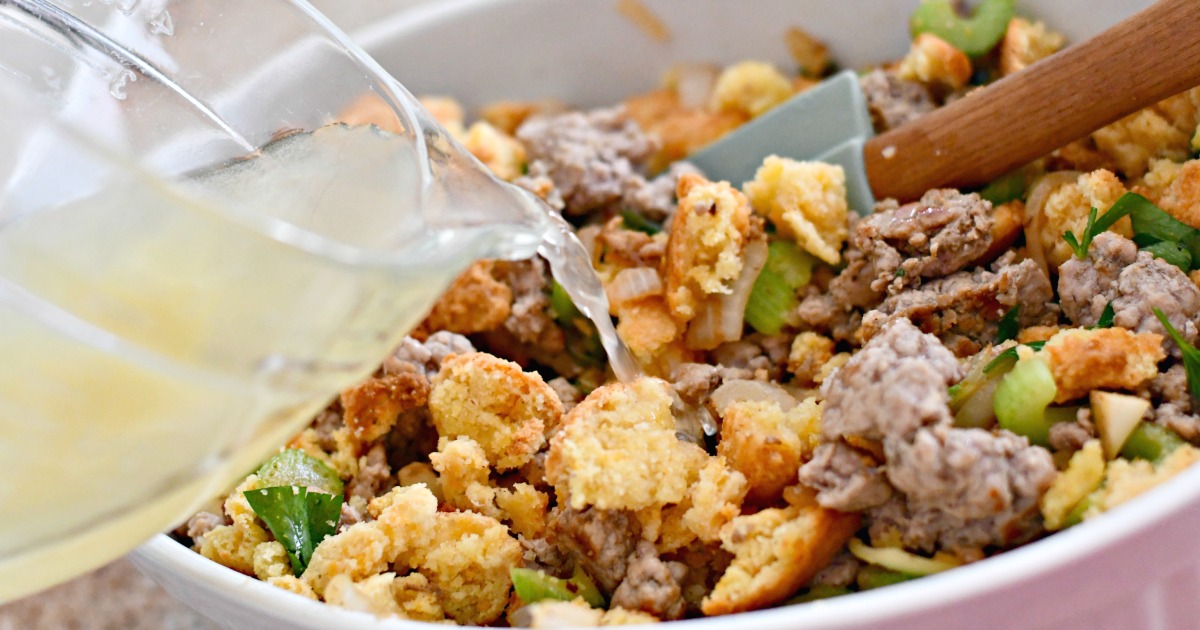 Thinking about your Thanksgiving menu?
Add this outstanding savory, herby keto Thanksgiving sausage stuffing to your Thanksgiving table! Everyone knows the best part of the Thanksgiving meal are the yummy side dishes! My favorite part of turkey day is the stuffing, and I promise no one will even miss the grains or carbs in this flavorful stuffing.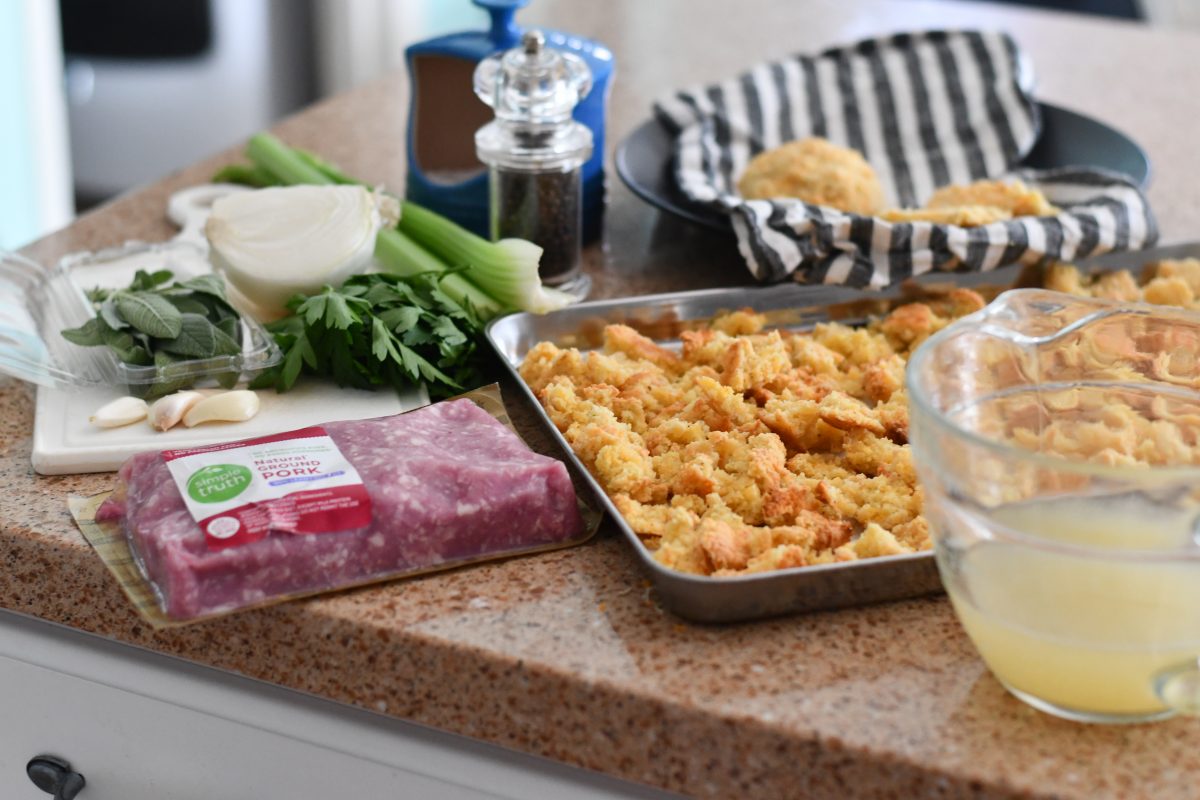 Time to make the biscuits!
The secret to keeping this stuffing low carb is first baking and then crumbling up these homemade keto biscuits using almond flour and cheddar cheese. These biscuits become the base for this recipe. It's a genius idea that makes this stuffing over the top YUMMY!
From there on, the rest of the process is pretty much the same as most sausage stuffing recipes – just use chicken broth and fresh herbs like sage and parsley.
---
Print
Keto Thanksgiving Sausage Stuffing
yield: 8 SERVINGS
prep time: 30 MINUTES
cook time: 30 MINUTES
total time: 60 MINUTES
Use keto biscuits to make an amazingly comforting sausage stuffing, perfect for Thanksgiving.
Ingredients
For the Biscuits:
2 1/4 cups almond flour
1 1/4 teaspoon baking powder
1/4 teaspoon salt
1/4 teaspoon pepper
5 tablespoons butter
3 large eggs
1 1/2 cups shredded cheddar cheese
For the Stuffing:
1 pound ground sausage
1/2 teaspoon dried sage
1/2 cup chopped onion
3 celery stocks, diced
4 cloves garlic, minced
1 cup chicken broth
1 large egg
3 tablespoons fresh sage leaves, chopped
3 tablespoons fresh parsely chopped
3 tablespoons butter, melted
Directions
1
Preheat oven to 350 degrees. Prepare a baking sheet with parchment paper for the biscuits. In a medium-sized bowl, mix almond flour, baking powder, salt, and pepper. Cut in butter with a pastry cutter or masher until the mixture is like sand. Stir in eggs and fold in cheese. Combine until it forms a sticky dough. Use an ice cream scoop to drop 9 biscuits onto a cookie sheet to bake. Bake for 15-20 minutes until cooked and slightly browned. Set aside to cool.
2
On a baking sheet, crumble up all 9 biscuits into large cubes. Bake at 375 degrees for about 5-8 minutes until brown and dried.
3
Heat a skillet on the stove over medium heat. Crumble and cook sausage. Season with dried sage and salt & pepper to taste. Reserve a little of the grease to saute onions and celery.
4
Place baked croutons and cooked sausage in a large casserole dish.
5
In the same skillet that the sausage was cooked in, saute onions, garlic, and celery until translucent and soft, about 5-10 minutes. Place that mixture into the casserole dish as well.
6
In the casserole dish, stir in the egg and fresh herbs. Finally, pour in broth and stir.
7
Cover dish with foil and cook at 350 degrees for 15 minutes. Remove foil, and pour melted butter on top of the stuffing. Cook for another 15 minutes uncovered. Enjoy warm.
Nutrition Information
Yield: 8 servings, Serving Size: 3/4 cup
Amount Per Serving: 534 Calories | 51g Fat | 7g Total Carbs | 4g Fiber | 24g Protein | 3g Net Carbs
---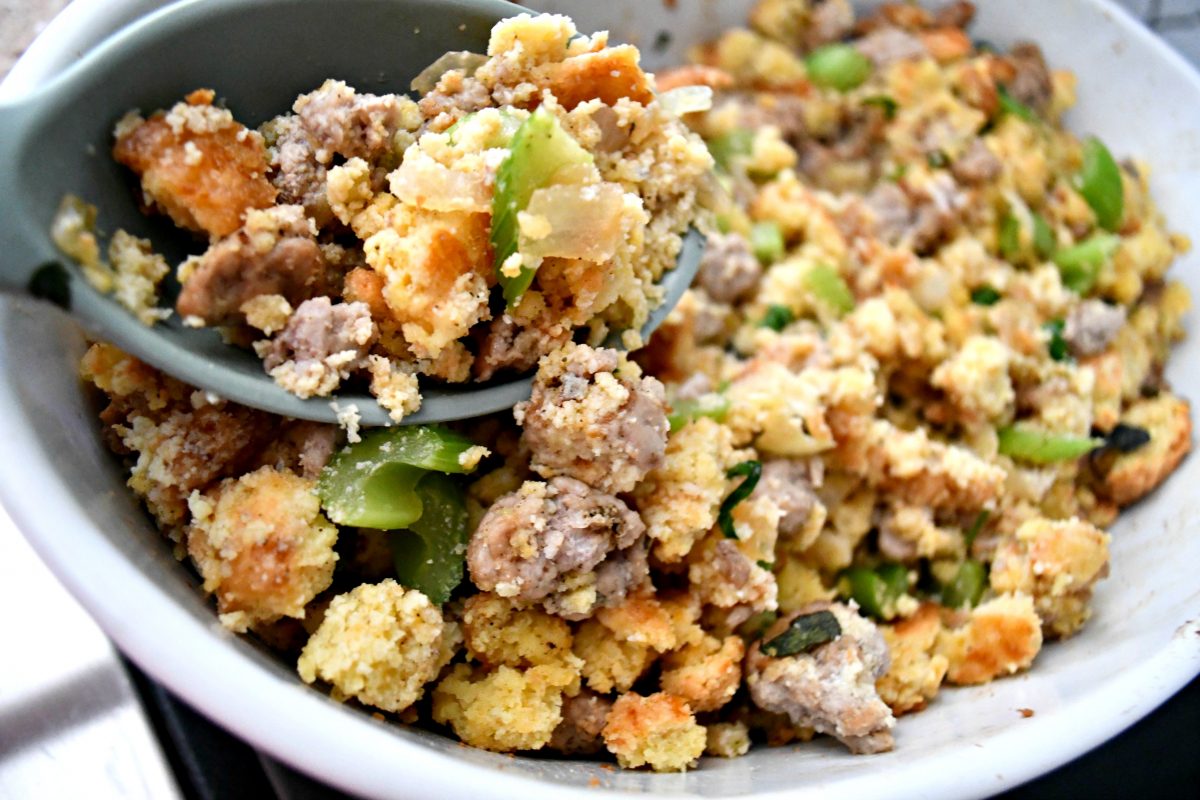 I'm THANKFUL for this yummy keto stuffing!
This is legit DELICIOUS! What a great side dish and compliment to any holiday meal, and it's not difficult to make either. It's every bit as delicious as the traditional stuffing I grew up eating! Hooray!
---