Easy Sugar-Free Keto Maple Syrup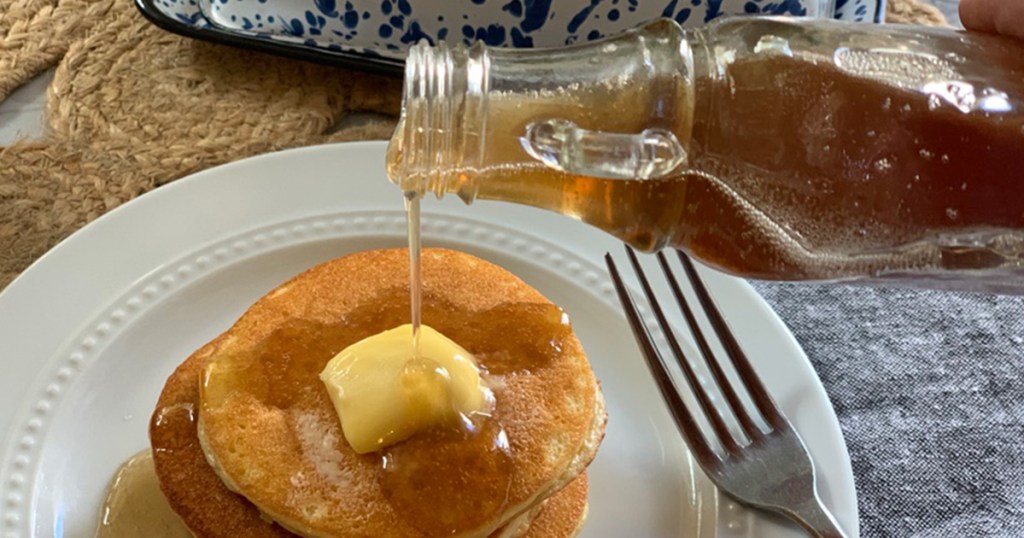 Put a little giddy-up in your morning with this yummy maple syrup!
Kick your pancake breakfast up a notch with this easy and perfectly sweet low-carb keto pancake syrup. The process is simple and so fast that you'll be enjoying homemade sugar-free syrup on your pancakes in about 10 minutes!
Oh, and I should mention… This recipe has ZERO calories and ZERO carbs once sugar alcohols are deducted from the total carbohydrate value. Woohoo!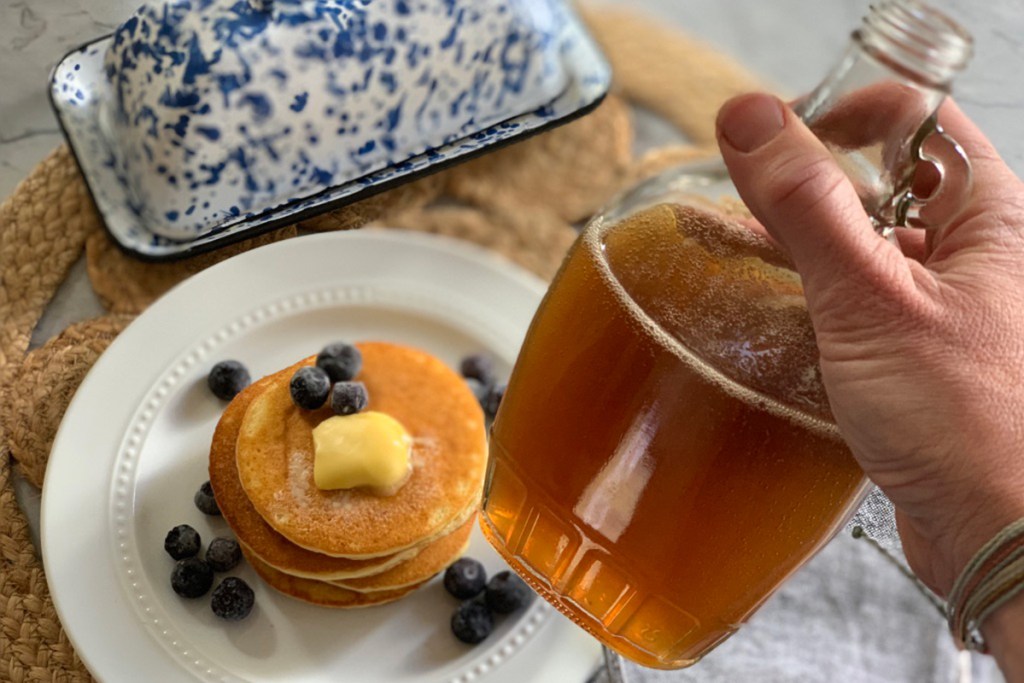 Hip Tips:
Absolutely mix the xanthan gum with the erythritol before you add it to the water. Diluting the xanthan gum in the sweetener helps to keep it from gumming and gooping up when it comes into contact with liquid.
Don't allow your syrup to come above a light simmer, as this can cause the xanthan gum to foam and bubble which can affect the texture and appearance of your perfect pancake syrup.
Use whatever flavored extract you want in your pancake syrup… I like to add vanilla and almond. Yum!
Don't use a blender to combine ingredients. This may cause the xanthan gum to bubble and foam which, in my book, is a syrup catastrophe. 😫
Not all erythritol is created equal. That said, I really love this recipe with Lakanto, Golden (use promo HIP2KETO for 15% off). I also tried it with Anthony's brand erythritol, and it had a funny, somewhat unpleasant aftertaste, so that's one I will avoid using in the future.
When stored, the syrup will likely crystallize over time. Don't sweat it. Simply warm it again in the microwave or on the stovetop until the syrup is clear and smooth.
I repurposed a pure maple syrup glass bottle for my pancake syrup, but you can also buy some cute dispensers on Amazon for around ten bucks!
Cheater's microwave method: Skip the stovetop, and microwave the water for about a minute and a half. Then add the pre-mixed sweetener combo (erythritol, xanthan gum, and salt). Stir gently to combine. Microwave mixture in 20-second intervals, stirring in between until the crystals dissolve and the syrup becomes clear. Add extract if desired. Serve it up!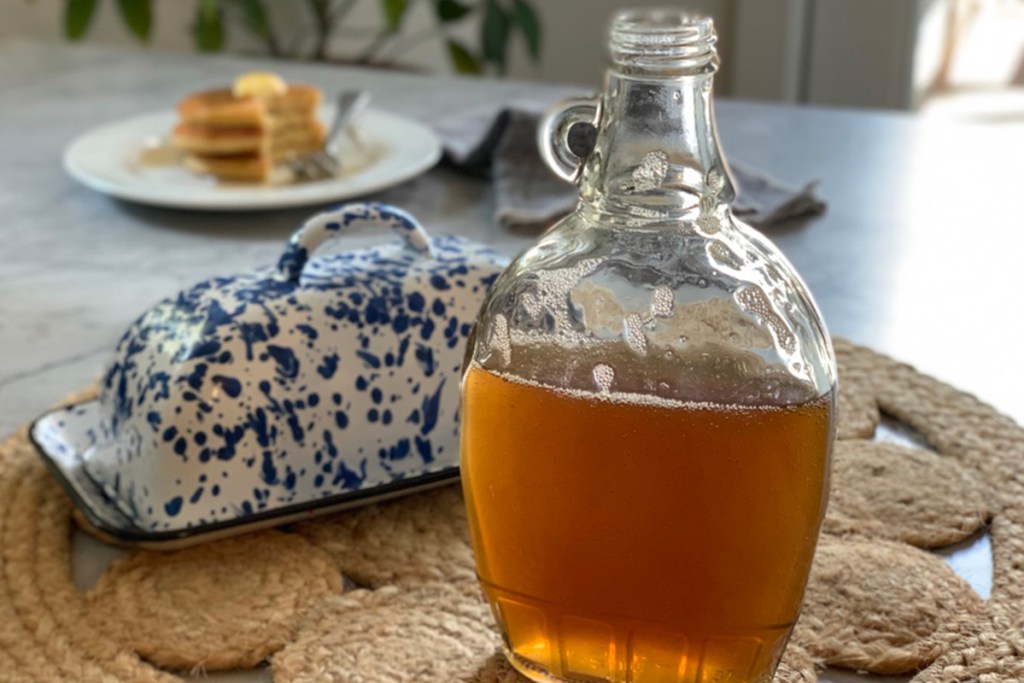 ---
Print
Easy Sugar-Free Keto Maple Syrup
yield: 8 SERVINGS
prep time: 5 MINUTES
cook time: 5 MINUTES
total time: 10 MINUTES
Take your keto pancakes to the next level with this easy & delicious sugar-free syrup recipe.
Ingredients
1/2 teaspoon xanthan gum
1/4 teaspoon sea salt
1 cup water
1/4 teaspoon pure vanilla extract, *optional for flavor & color
1/8 teaspoon Mapleine extract (or better yet, pure maple extract to taste), *optional for flavor and color
Directions
1
In a small bowl, thoroughly mix erythritol with xanthan gum and salt. Bring water to a light simmer over low to medium-low heat. While stirring, gently sprinkle teaspoonful by teaspoonful of sweetener blend into the water. The syrup will thicken as it cooks. Continue simmering over low heat until the erythritol crystals have fully dissolved... about 1 to 3 minutes. (Do not allow the mixture to come above a very light simmer... If the xanthan gum begins to foam or bubble, quickly remove from heat, reduce cooking temp, and stir well before returning to the burner.)
2
Remove from heat. Add flavored extract. Enjoy!
Additional Notes
Store in a sealed container for 1 to 2 months at room temperature, OR store in the refrigerator to extend shelf life. If crystallization occurs, simply reheat until the syrup becomes clear and smooth.
Nutrition Information
Yield: 8 servings, Serving Size: 2 tablespoons
Amount Per Serving: 0 Calories | 0g Fat | 16g Total Carbs | 0g Fiber | 16g Sugar Alcohol | 0g Protein | 0g Net Carbs
---

I like pancakes—But I LOVE pancakes with this keto sugar-free syrup!
Let's face it, pretty much anything is better with sweet and delicious syrup. What else can you use this syrup on besides low-carb pancakes? Some of my personal faves are keto waffles, thick cut bacon, keto biscuits, cinnamon rolls, or use it as a glaze for baked ham. Mmmm… So good!
---
Love breakfast? Try these hearty keto sausage muffins!