Make Hearty Keto Breakfast Sausage Muffins Using Fathead Dough!
Bake a batch of keto breakfast sausage muffins for a filling meat and cheese meal using Fathead dough!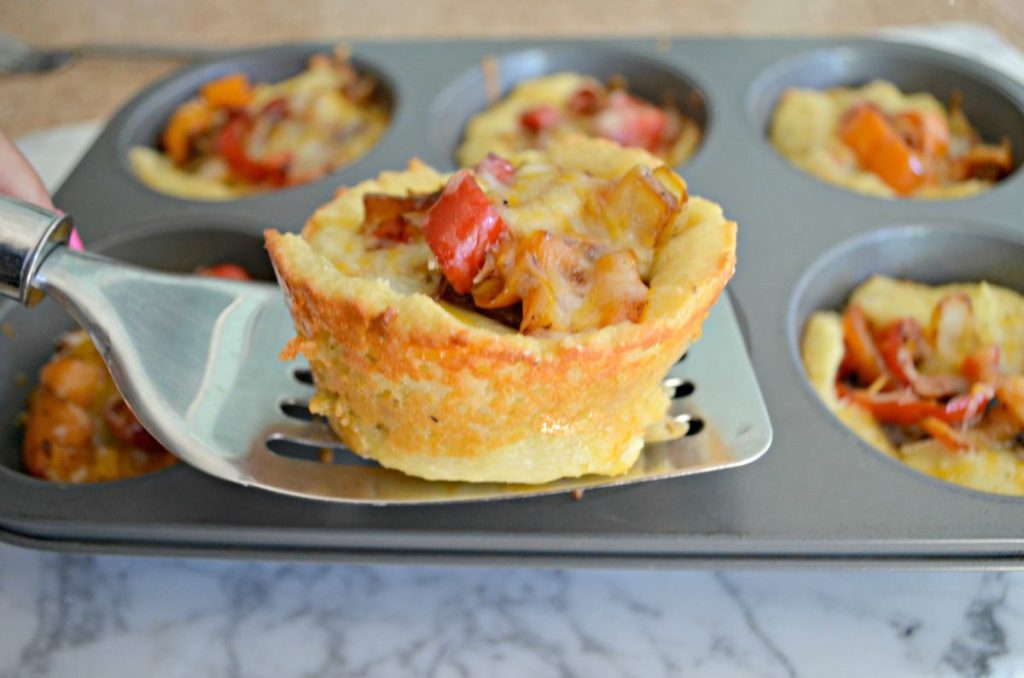 It's the breakfast of champions!
These hearty stuffed keto breakfast sausage muffins are as delicious as they are low-carb! Even better, this recipe uses the insanely easy to make, and popular mozzarella cheese and almond flour "Fathead" dough. These muffins will keep you full all morning long too.
We've featured this keto fathead dough multiple times in various recipes over the years such as in keto lasagna, and keto pigs in a blanket. Today I am excited to share it as a base for making stuffed sausage breakfast muffins.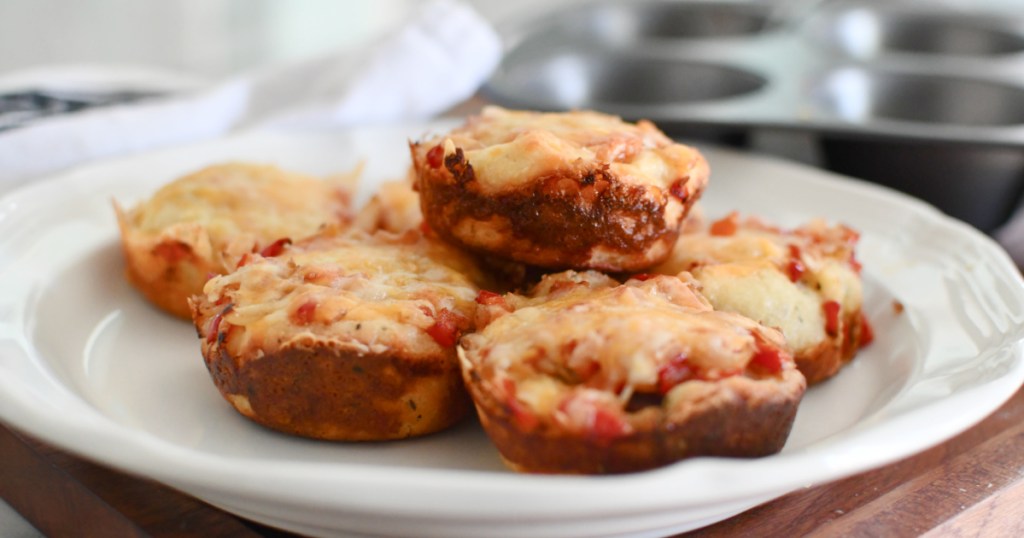 The result is a cheesy puffy muffin with such great flavor from the sausage and veggies. I love this as a make-ahead keto breakfast idea that you can reheat throughout the week. It's honestly so delicious and worth waking up for!
Tips for Making Keto Breakfast Sausage Muffins:
If your dough is sticky, try dusting it with a little extra almond flour and place it in the fridge to firm up. I find the longer you keep stirring, it will eventually dry out into a firm ball that you can then easily manipulate.
You're going to need 6 breakfast sausage patties. Feel free to use the preformed patties from the grocery store, or form your own if buying the tube package of Jimmy Dean breakfast sausage. I have used both before based on what I had on hand at the time.
Cater the veggies to your taste. I sauteed some chopped bell pepper and onion in a skillet and they are delicious paired with the sausage.
You will be placing a sausage patty on top of a flattened piece of dough and then will be setting it inside a large muffin tin. After baking, you get these tasty and satisfying bread-like stuffed muffins! So good.
These will reheat well in the microwave or air fryer and last about 4 days in the fridge stored in a covered container.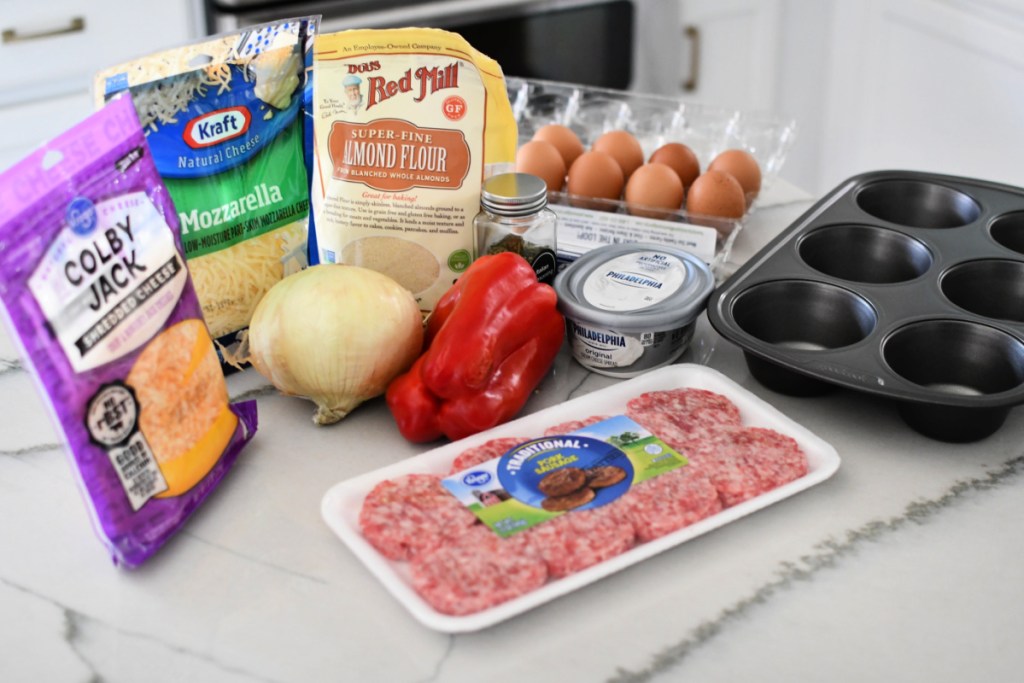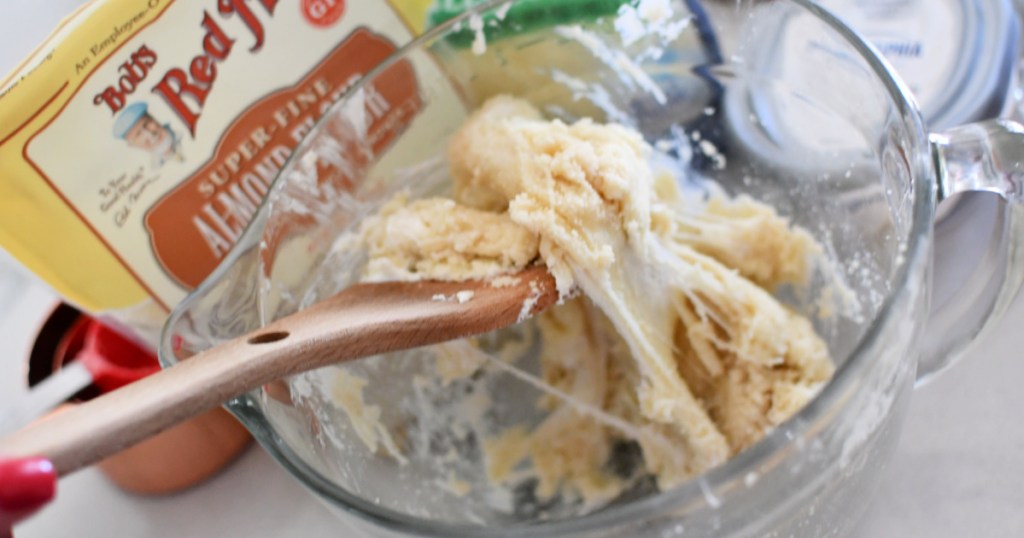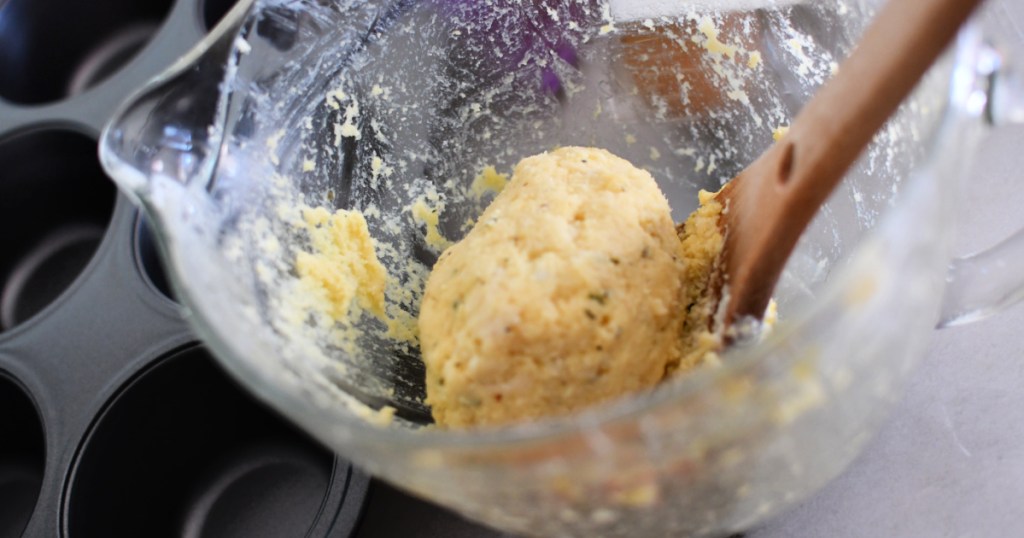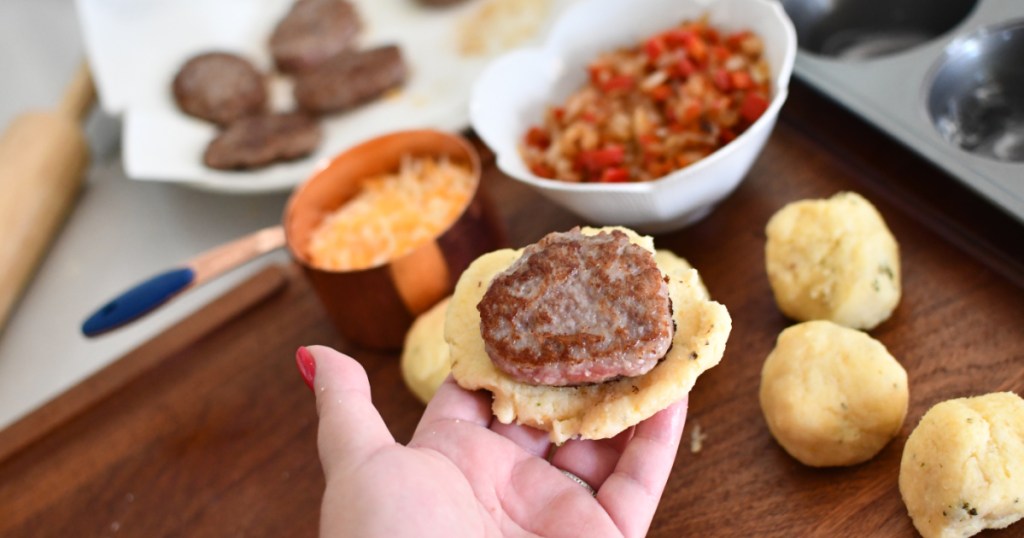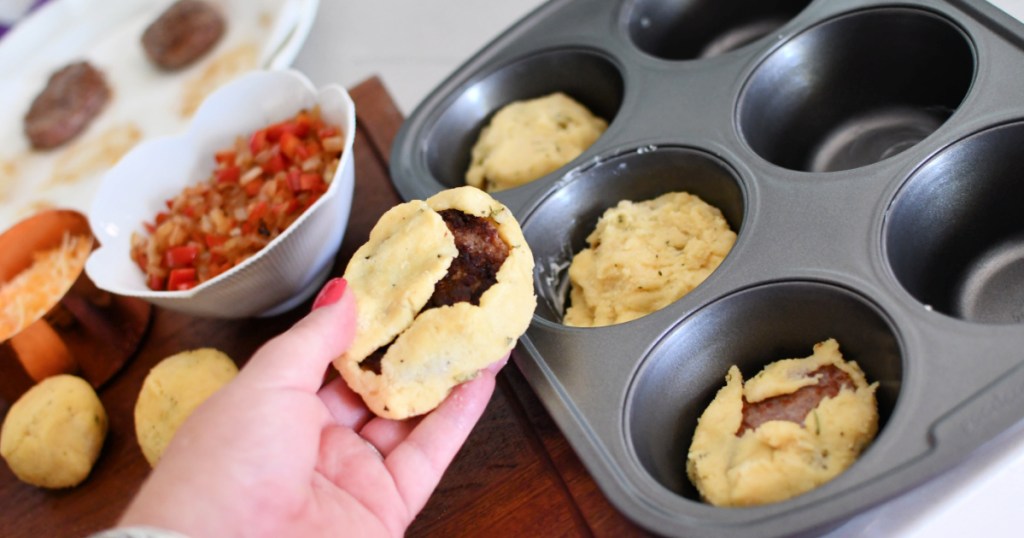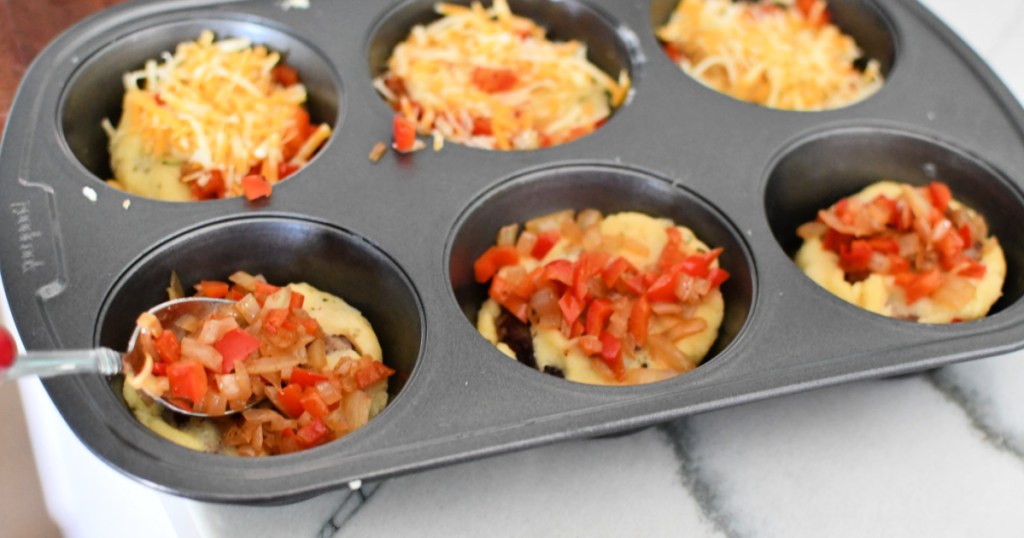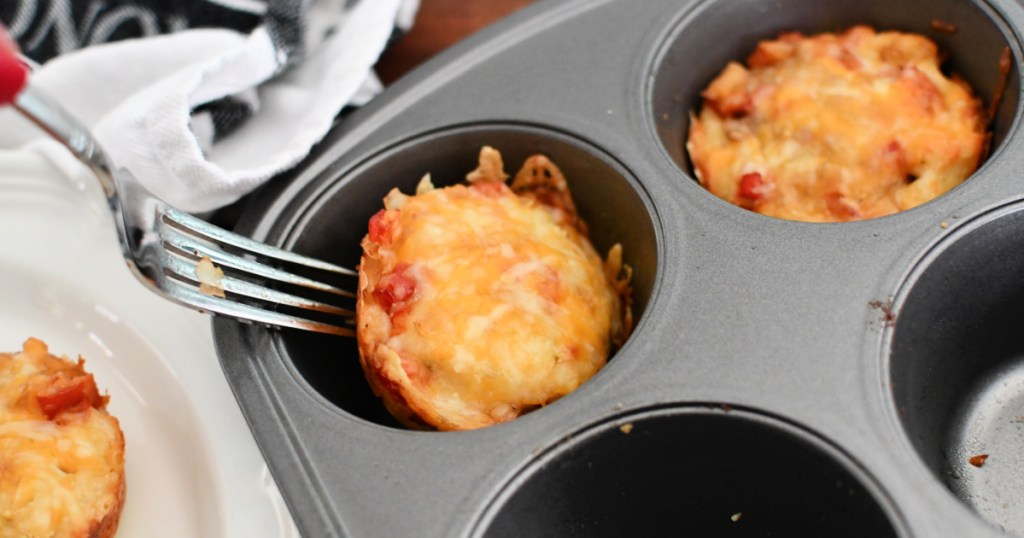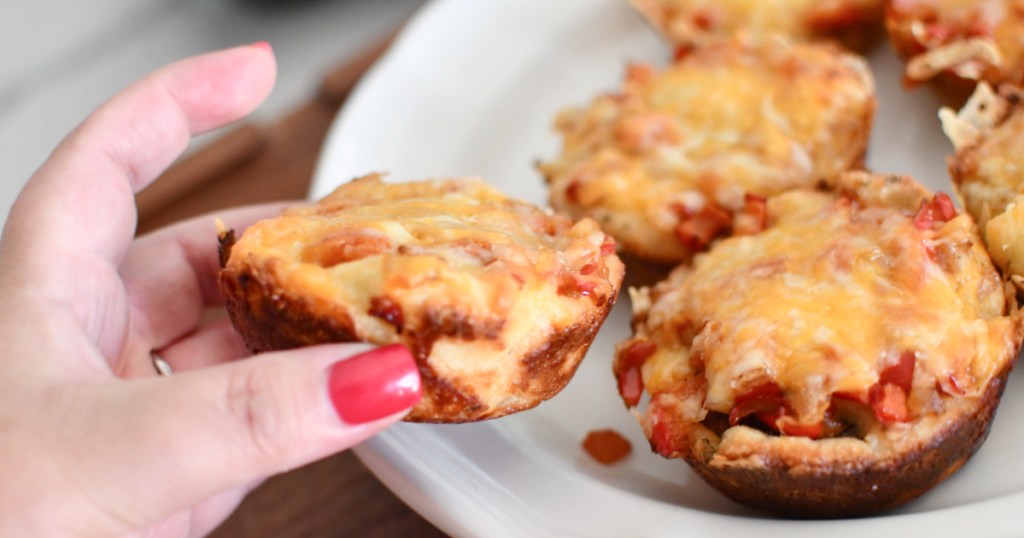 ---
Print
Keto Breakfast Sausage Muffins
yield: 6 SERVINGS
prep time: 25 MINUTES
cook time: 12 MINUTES
total time: 37 MINUTES
Hearty keto muffins using sausage patties and keto fathead dough with cheese.
Ingredients
for the fathead dough:
3/4 cup almond flour
1 3/4 cup mozzarella cheese, grated
2 tablespoons cream cheese
1 egg
1/2 teaspoon Italian seasoning
1/4 teaspoon salt
for the breakfast muffins:
6 breakfast sausage patties, about 10 oz.
1/2 cup bell pepper, diced
1/2 cup onion, diced
Directions
1
Combine almond flour and mozzarella cheese in a microwave safe bowl. Add in cream cheese and cook in the microwave for one minute. Stir and then cook for an additional 30 seconds in the microwave.
2
Mix in the egg, Italian seasoning, and salt. Stir the mixture well to combine. (This will take several minutes.) Shape dough into a ball, and set it aside.
3
Brown the sausage patties on the stove in a skillet until fully cooked, set aside.  Saute diced veggies in the same pan afterward reserving a little of the grease from the sausage.
4
Preheat the oven to 400 degrees F. Grease a large 6 cup muffin pan.
5
Separate dough into 6 balls, and use your hands to flatten each.
6
Place a sausage patty on top of the flattened dough and place both into a muffin tin so that the dough surrounds the sausage patty. Add a teaspoon or so of veggies and additional shredded cheese to the top.
7
Repeat to fill all 6 muffins. Bake for about 12-15 minutes until golden brown.
Nutrition Information
Yield: 6, Serving Size: 1 muffin
Amount Per Serving: 387 Calories | 31.5g Fat | 6.6g Total Carbs | 2.1g Fiber | 2.2g Sugar | 20.8g Protein | 4.4g Net Carbs
---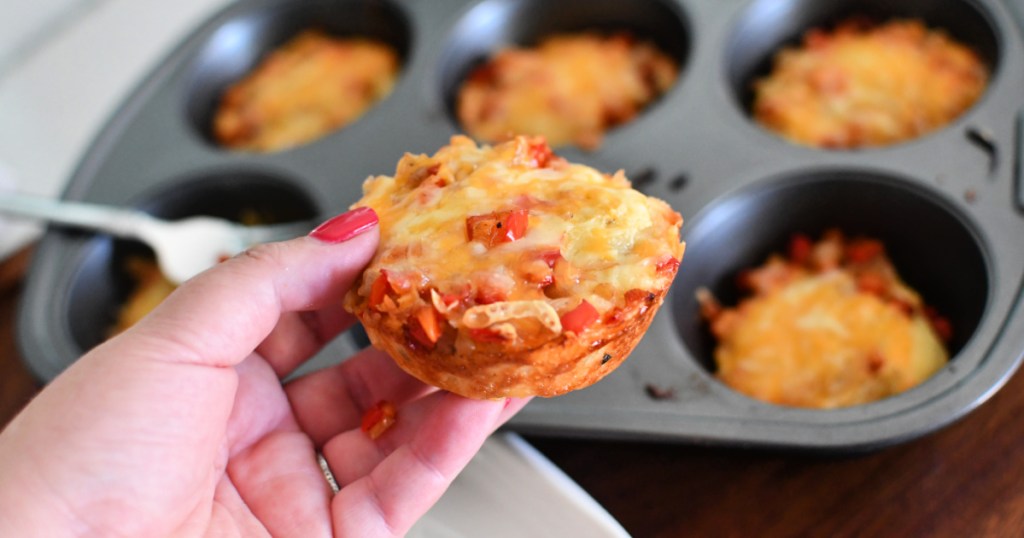 I love this keto breakfast idea!
They bake up a little puffy in the oven and have a great texture and taste. I had one this morning, and they still taste great reheated the next day!
You could probably come up with a bacon version that'd be yummy, too. There are lots of possibilities for you to customize this idea. Enjoy!
---