What's the BEST Keto Pizza Crust? We Compare Fat Head, Chicken, and Cauliflower Pizza

PIZZA IS LIFE! Curious which low carb pizza crust is BEST?
Every night is pizza night with these delicious and easy to prepare keto pizza crusts! We've tested three popular ways to cut the carbs from pizza: namely Fathead crust pizza, cauliflower crust pizza, and chicken crust pizza. Today I'm highlighting the pros and cons of each.
And if you've tried all three of these versions, please let us know your vote in the comments!
---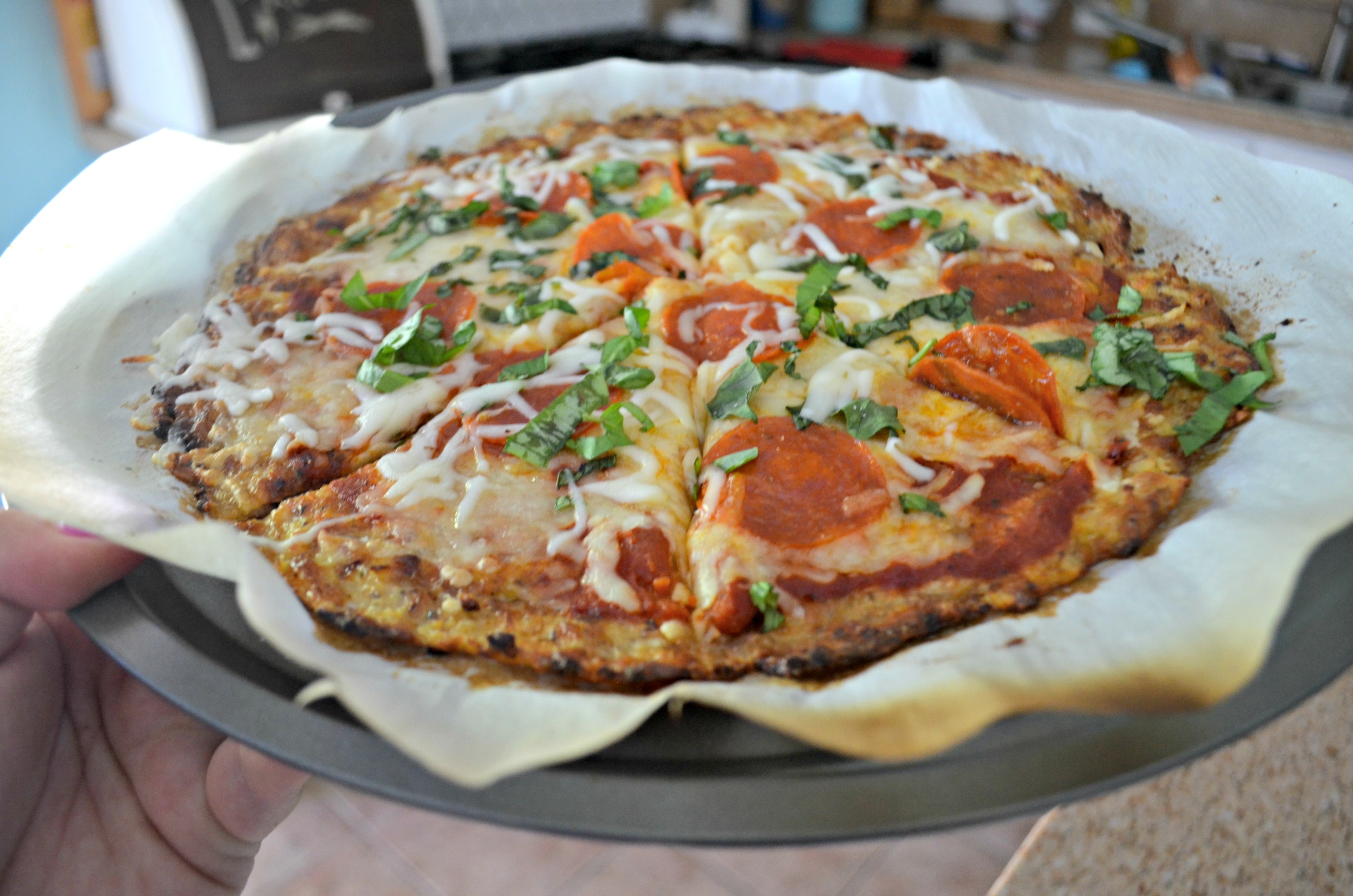 Replacing grains with cauliflower in a pizza crust is such a genius idea! Roasted cauliflower is DELICIOUS, and this pizza crust is a brilliant way to utilize it. This pizza crust is made from a bag of riced cauliflower, an egg, and melted Parmesan cheese! Overall it's a no-fail, classic, tasty, satisfying, and must-try idea!
Pros
Easy process with just 3 main ingredients.
It's a substantial crust you can hold, and also pretty filling as a satisfying meal.
Can hold heavier toppings.
Cons
Still kinda tastes like a vegetable, although not a super-strong cauliflower taste. Not a definite bread-like texture.
This method has the longest oven cook time for a crust at 20 minutes, plus an extra 10 minutes to melt toppings.
Maybe not super kid-friendly. (My picky kids wouldn't eat it – darn!)
---
Our readers have been telling us about making a pizza crust from shredded chicken, and we just had to try! I mean, it's such an interesting concept. My experience was that it was also an easy and tasty pizza crust. Although this one was my family's least favorite of the three crusts tested, I can see how it'd be appealing at just one net carb for the entire crust.
Pros
Contains the least amount of carbs.
Easy to prepare and you can use leftover rotisserie chicken or canned chicken for convenience.
Easy to season for desired flavor.
Cons
It's a little dry and my kids weren't a huge fan of the texture.
It's super thin, although you can maybe roll it out thicker.
This was least like actual pizza dough.
---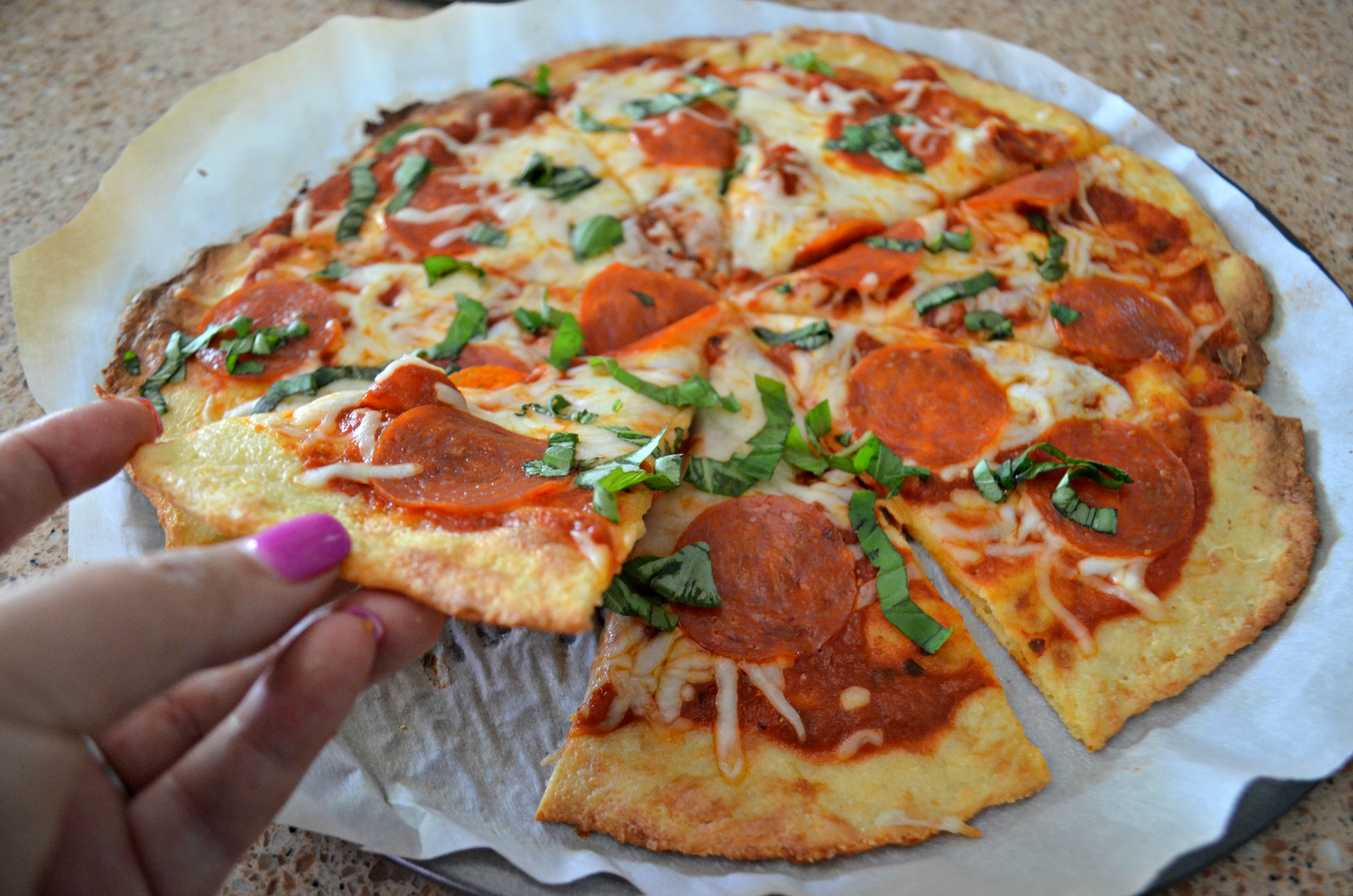 This almond flour and mozzarella cheese dough is a keto GAME CHANGER! It feels and even tastes similar to bread. You can melt ingredients in the microwave, bake the bread-like dough in the oven, and top it with whatever toppings sound great to your family!
In fact, THIS recipe is an absolute favorite for Collin and the Hip2Keto team! Go HERE to watch Collin and team make Fathead pizza on this Facebook live.
Pros
The dough is easy to melt in the microwave and roll out on parchment paper.
This crust has the closest texture to bread and is very filling.
It's the most kid-friendly crust. In fact, my kids weren't really able to tell this wasn't carby pizza. YAY!
Cons
---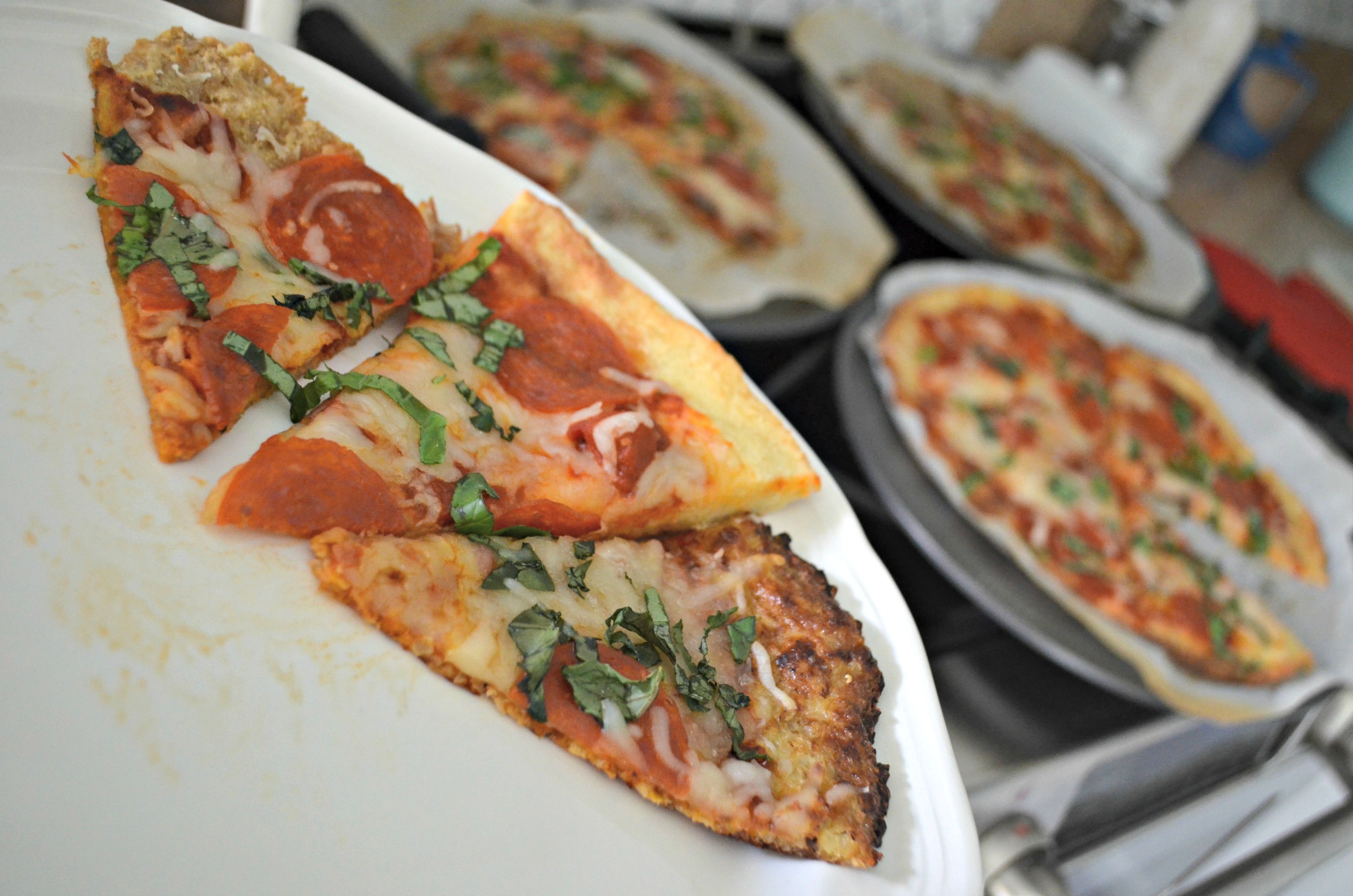 The results are in!
There's no denying that pizza is one of the best foods on the planet, and giving that up completely can feel a little depriving!
These are three SOLID choices that'll keep you and your family happy eating pizza, while also helping to achieve your health goals! My criteria for a winning pizza crust is that it must taste good, be able to hold toppings, and also be easy to make.
With that said, our family definitely has a favorite choice for keto pizza, and that's the Fathead dough. It's sort of magical in the sense that it has a bread-like feel thanks to the almond flour, and it tastes the most similar to a full-carb thin crust pizza!
What's your favorite KETO pizza?
---