What's the BEST Keto Pizza Crust? We Tested Out 7 Different Recipes!
With so many different keto pizza crust options, it's hard to know which one is best, so we tested them all out for you!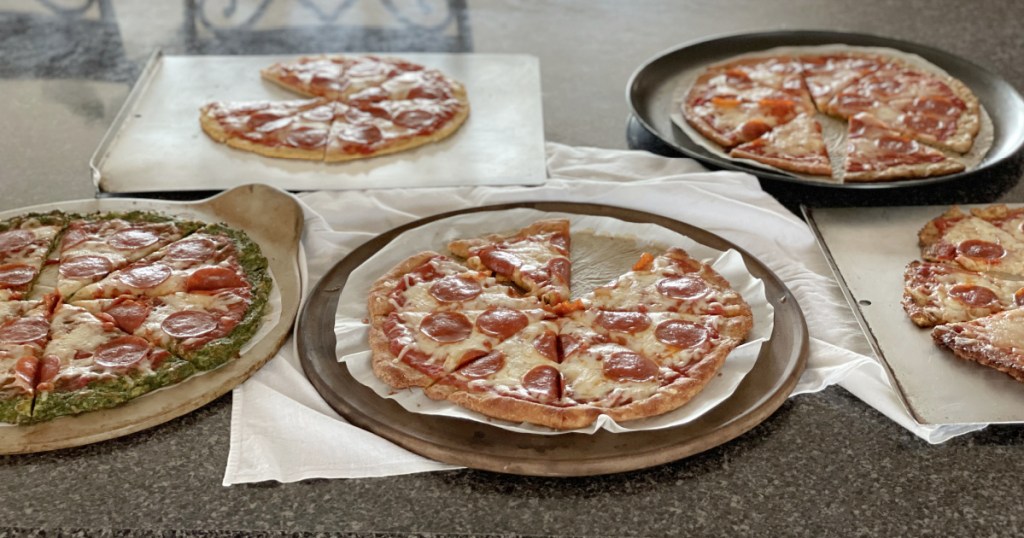 Curious which keto pizza crust is BEST?
PIZZA IS LIFE! 🍕 Every night is pizza night with these delicious and easy-to-prepare keto pizza crusts! We've tested seven popular ways to cut the carbs from pizza.
Here are the keto pizza crust recipes we tested: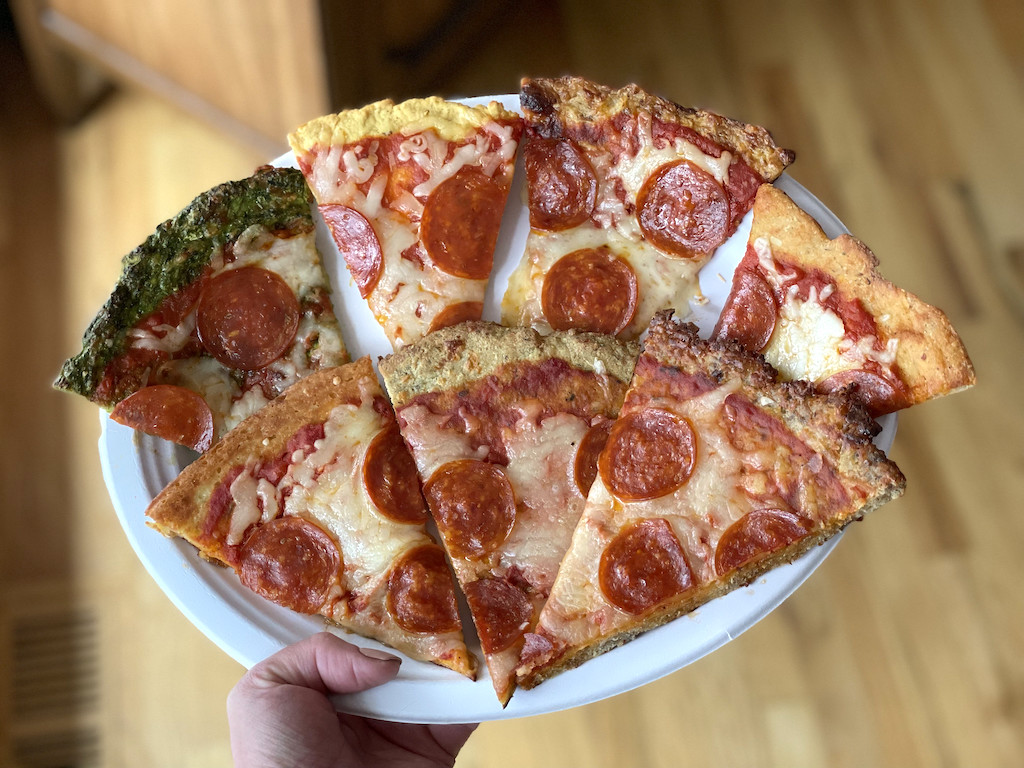 After making all these different keto pizza crusts, we're highlighting the pros and cons of each. Each pizza has the same toppings to make the crust the only variable. The toppings are a 1/2 cup of Rao's marinara, 1 cup of shredded whole milk mozzarella cheese, and pepperoni.
---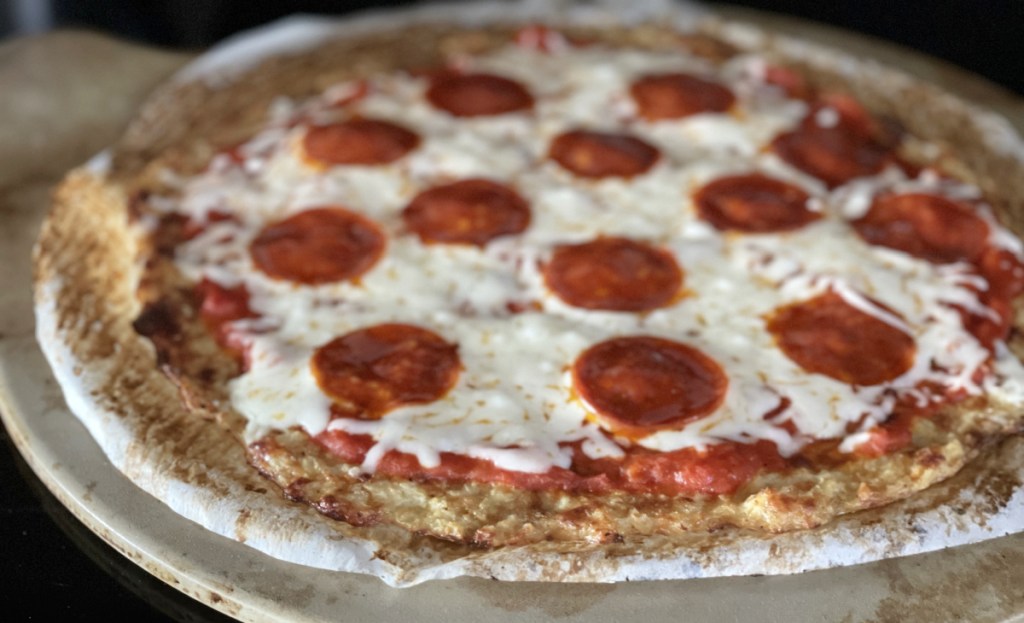 Replacing grains with cauliflower in a pizza crust is such a genius idea! Roasted cauliflower is DELICIOUS, and this pizza crust is a brilliant way to utilize it. This pizza crust is made from a bag of frozen riced cauliflower, an egg, and Parmesan cheese! Overall, with just 3.4 grams of net carbs per serving, it's a no-fail, classic, tasty, satisfying, and must-try!
Pros:
Easy process with just three main ingredients.
Perfect if you want a light crust that's not overly filling.
The crust holds up well if you let the pizza rest for 5 to 10 minutes.
Cons:
Still tastes like a vegetable, although not a super-strong cauliflower taste.
Not a bread-like texture.
This method has the longest oven cook time for a crust at 20 minutes.
Might not be super kid-friendly. (Lina's kids wouldn't eat it – darn!)
---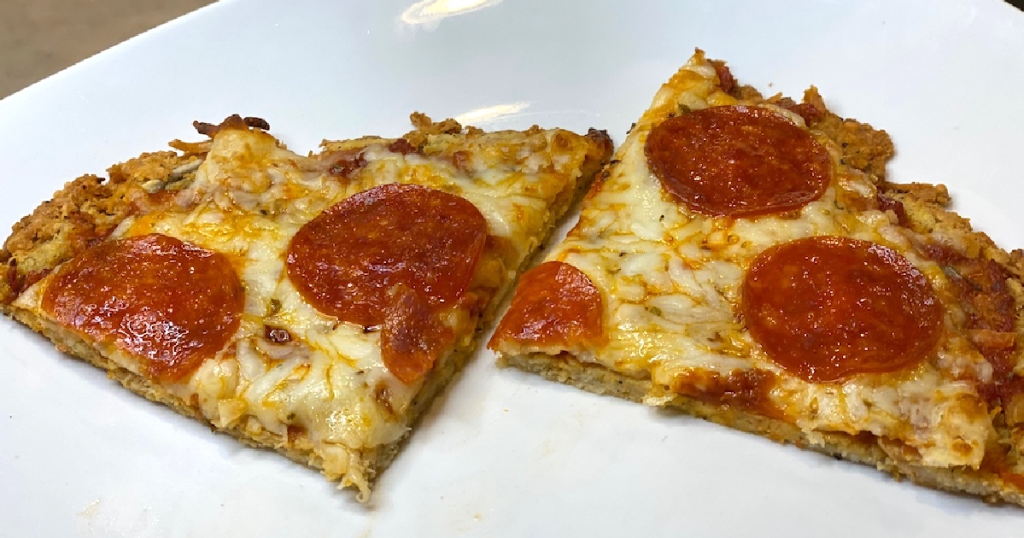 Our readers had been telling us about making a pizza crust from shredded chicken, so we just had to try it! It's such an interesting concept. Turns out it's also an easy and tasty pizza crust. With less than 1 gram of net carbs for the entire crust, it's super appealing as the perfect keto pizza crust.
Pros:
Contains the least amount of carbs.
Easy to prepare.
You can use leftover rotisserie chicken or canned chicken for convenience.
The crust holds up so you can eat it with your hands.
Cons:
It's a little dry and the texture can be a little off-putting.
It's super thin, although you might be able to roll it out thicker.
This was least like actual pizza dough.
---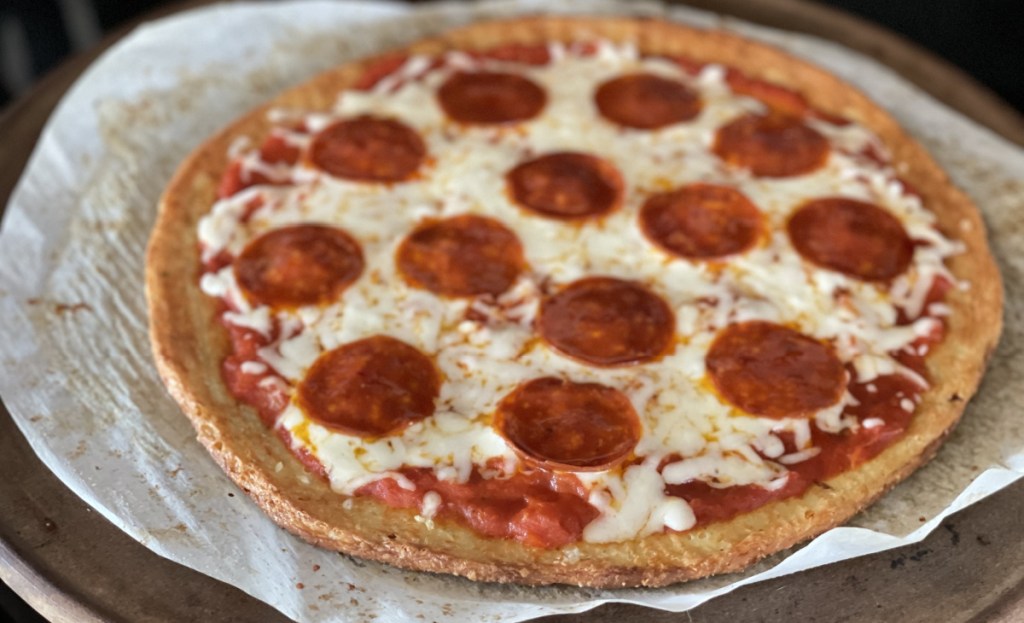 This almond flour and mozzarella cheese dough is a keto GAME CHANGER! It feels and even tastes very similar to bread. You melt the ingredients in the microwave, bake the bread-like dough in the oven, and then top it with whatever sounds great to your family!
In fact, THIS recipe is an absolute favorite for Collin and the Hip2Keto team! Watch Collin and the team make Fathead pizza on this old Facebook live. With 4.4 grams of net carbs per serving, it's definitely a keeper!
Pros:
The dough is easy to make with your microwave.
This crust has the closest texture to bread and is very filling.
You can eat this like regular pizza.
It's the most kid-friendly crust. In fact, kids and adults weren't really able to tell this wasn't carby pizza. YAY!
Cons:
Almond flour can be pricey. Tip: Try buying in bulk at Costco or Sam's Club for the best price!
The dough can be a little difficult to mix together. I like to use my hands and that gets messy!
---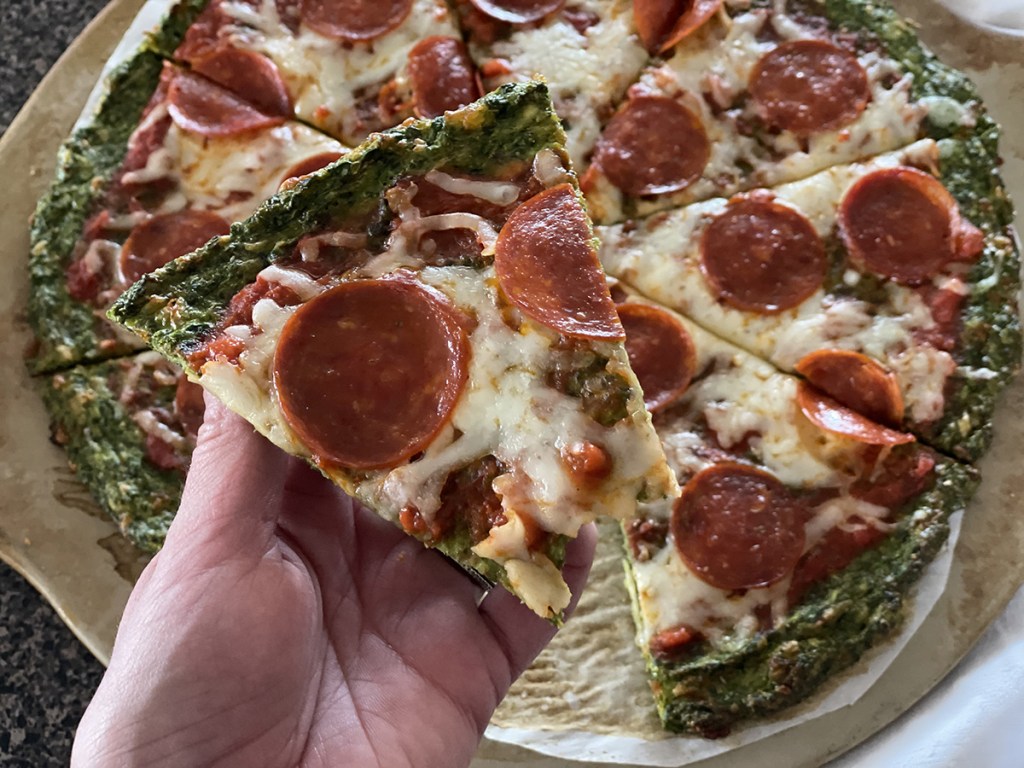 This unique pizza crust is nut-free and gluten-free. Made with broccoli, spinach, avocado, cheese, and eggs, it's a sure way to increase your veggie intake. With just 2.8 grams of net carbs per serving, this pizza crust is a creative way to mix up your keto pizza crusts.
Pros:
Nut-free so perfect if anyone has nut allergies or intolerances.
Packed full of green goodness with broccoli, spinach, and avocado.
Holds up so you can eat it with your hands.
Cons:
This crust does taste like broccoli and because it's green, you can't hide the veggies from your family! 😂
More prep work because you have to chop up the veggies.
The crust can be watery, which means you might need to cook it for longer.
Picky eaters probably won't like this crust.
---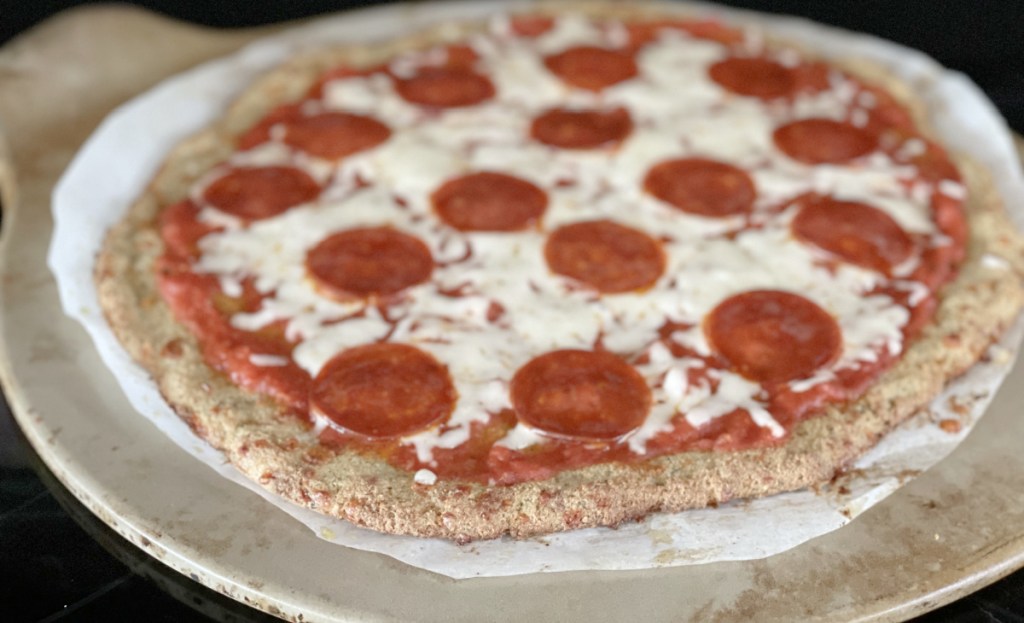 A pizza crust made from just pork rind crumbs, cream cheese, shredded cheese, and eggs. Whoever came up with this idea is brilliant! With just 1.5 grams of net carbs per serving, you can't go wrong with this keto pizza crust. It's become a staple in my house and it's one of Collin's and the Hip2Keto team's favorite ways to make a keto pizza!
Pros:
Easy to make!
Makes a thin crust pizza that you can eat with your hands.
Can handle a lot of toppings.
Cons:
It does taste a little like pork rinds, so if you're not a fan, this might not be for you.
This pizza crust has a bake time of 20 minutes before you top it.
Easy to make if you have pork rind crumbs on hand, otherwise you'll need to make your own in a food processor.
---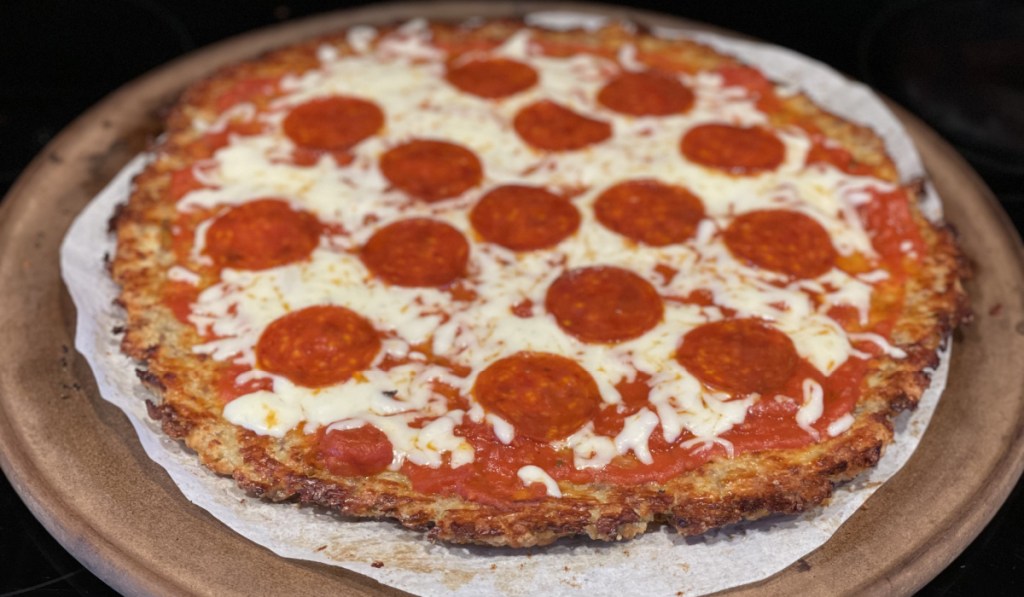 Say hello to heaven on earth with this keto pizza crust. It's basically fathead dough with sausage mixed into it. And you can never go wrong with sausage! This crust is by far my family's favorite. It's made with a half-pound of sausage, almond flour, coconut flour, mozzarella cheese, parmesan cheese, and eggs. And it only has 3.6g net carbs per slice!
Pros:
The most delicious taste because, well, sausage!
A very sturdy crust that can hold a loaded pizza.
Does not taste like a keto crust.
Cons:
This crust requires a little longer cook time and broiling to ensure it gets cooked through all the way and is crispy.
Very, very filling! Not sure if that's actually a con though. 😄
The texture is not exactly like a regular pizza crust.
---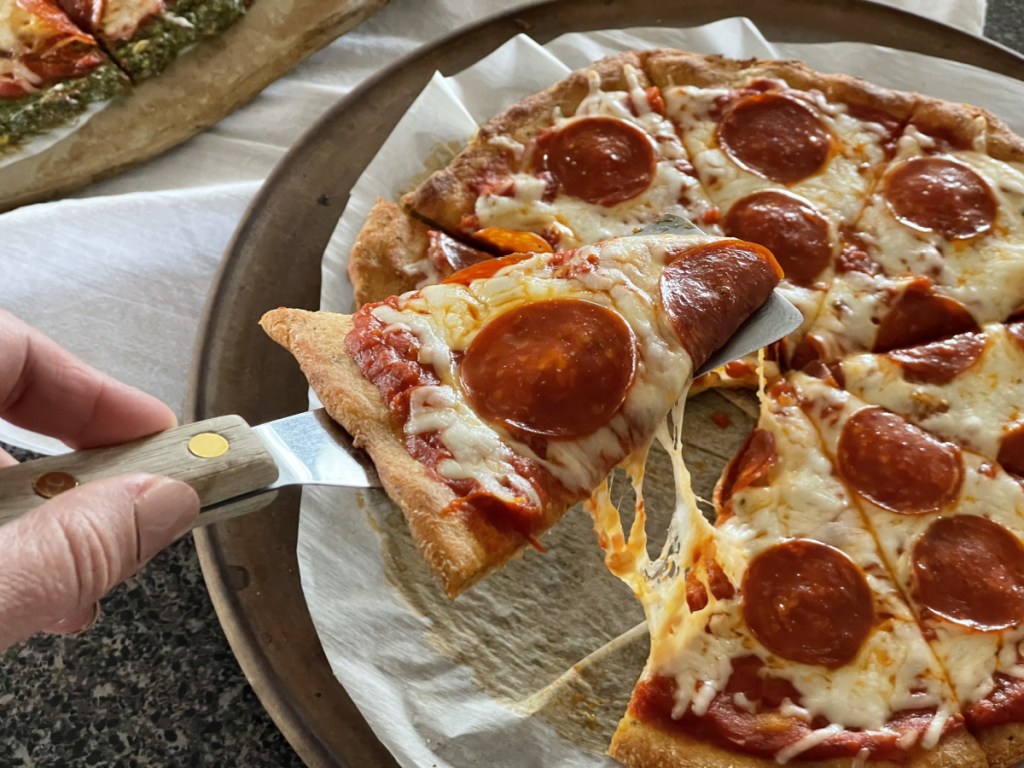 Looking for a twist on fathead dough? You're in luck with our easy keto dough. The addition of psyllium husk, coconut flour, and baking powder make this a great versatile dough that can be used for more than just pizza. Like fathead dough, it still has almond flour, mozzarella, cream cheese, and an egg.
This dough seems to mask the cheesiness of the mozzarella a little more than traditional fathead dough. And it's still a perfect low-carb keto pizza crust with just 2.4 grams of net carbs per serving.
Pros:
Easy to melt the cheese in the microwave and mix in the remaining ingredients.
Great flavor and texture.
A sturdy crust that holds up to loaded pizza toppings.
Cons:
The dough can be a little sticky.
Be careful not to overbake as it can get dried out – makes it more like a flatbread.
---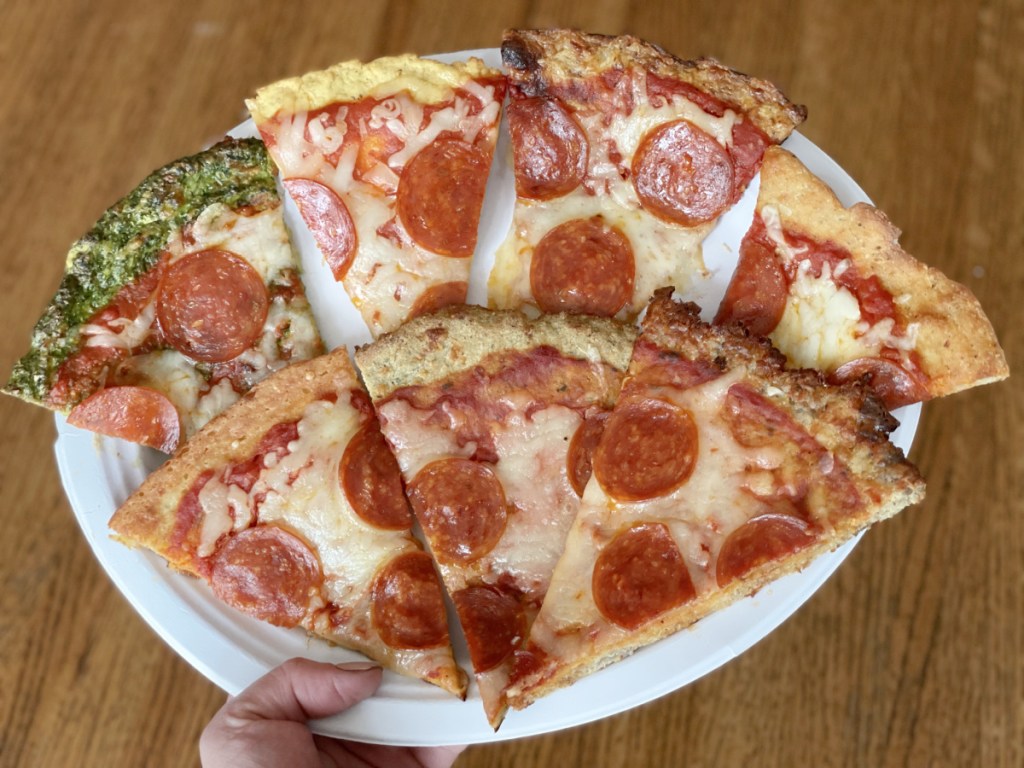 The results are in and the winner is… Fathead Pizza Crust!
There's no denying that pizza is one of the best foods on the planet, and giving it up completely can feel a little depriving! These are seven SOLID keto pizza crust choices that'll keep you and your family happily eating pizza, while also helping to achieve your health goals! Criteria for a winning pizza crust are that it must taste good, be able to hold toppings so you can pick up a slice, and also be easy to make.
With that said, we definitely have a favorite choice for keto pizza, and that's the Fathead dough pizza crust.
It's sort of magical in the sense that it has a bread-like texture thanks to the almond flour. It tastes the most similar to a full-carb thin crust pizza!
Here's why my teammate Jen loves Fathead dough:
"I like Fathead dough pizza crust because it comes together SO fast! It's yummy and you can make several smaller pizzas so everyone can choose their own toppings. Since I eat Keto, I always have the ingredients for this recipe on hand!"
A close second is the Sausage Crust Pizza and the Pork Rind Crust Pizza. But you really can't go wrong with any of these keto pizza crusts, and a lot of it comes down to personal preference.
And if you've tried all of these versions, please let us know your vote in the comments! 🏆
---
What's your favorite KETO pizza?