This 3-Ingredient Chicken Pizza Crust is the Best – Easy, Keto, & Even Carnivore-Friendly!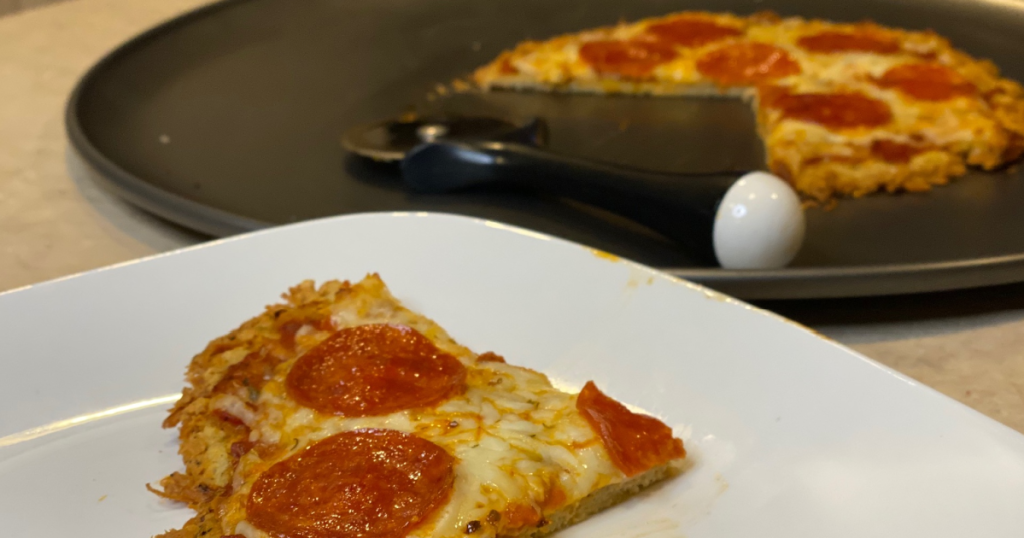 Need a legitimately low-carb, simple pizza crust that tastes delicious?!
There's no need to miss out on pizza night while eating keto or even carnivore! If you're looking for the best keto chicken pizza crust, check out this easy one. I think the idea of using chicken as the basis for a pizza crust is a brilliant, grain-free pizza hack that every keto eater should try because the results are delicious!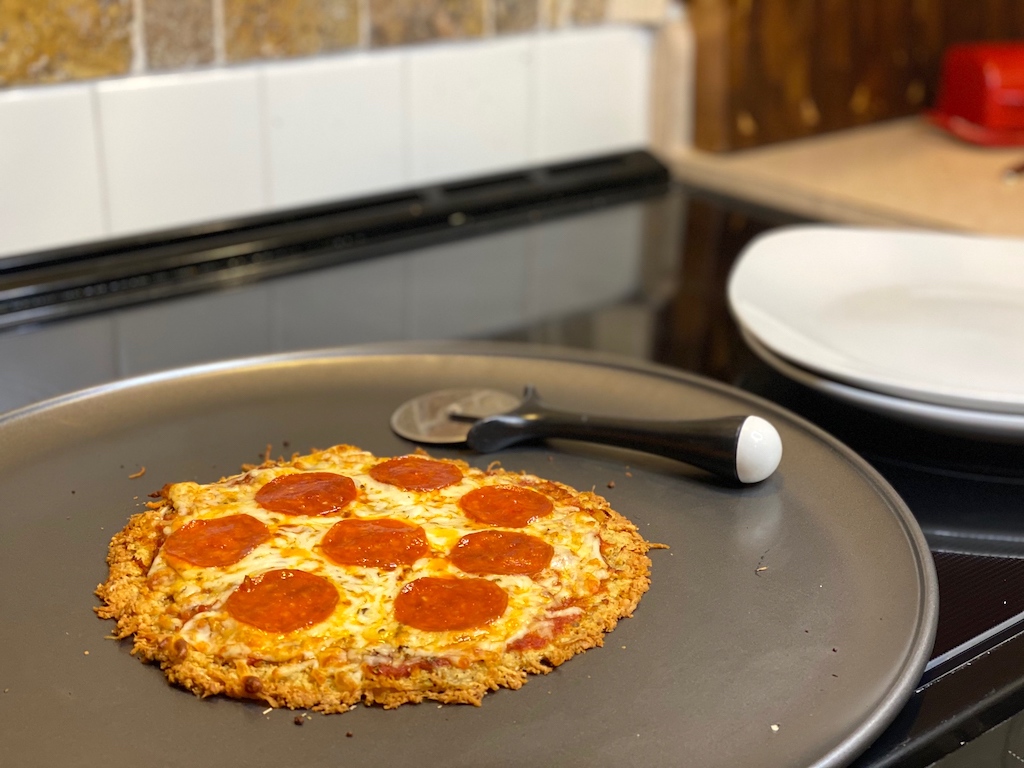 This makes a small 10-inch pizza and comes in at just one carb! For a single personal-sized pizza, that's so awesome!
The best part is this simple crust has just three ingredients: shredded, cooked chicken breasts, eggs, and Parmesan cheese. It doesn't get easier than that!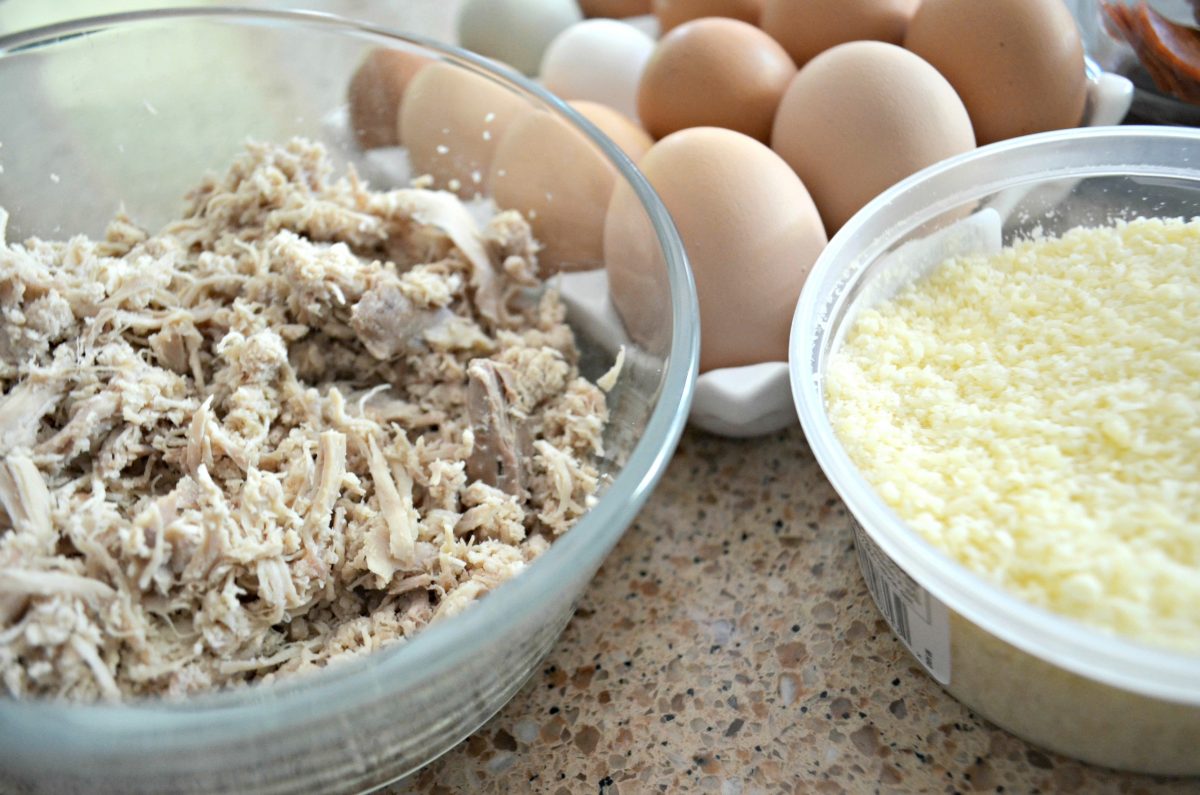 Tips for making the best keto chicken pizza crust:
I prepped this meal by first boiling some chicken on the stovetop. Then I shredded it in my Vitamix blender. This recipe is also perfect for leftover rotisserie chicken you may have in the fridge. In a pinch, you could even use a can of chicken from your pantry!
I recommend baking this either on a silicone baking mat or on a piece of parchment paper so it doesn't stick. I actually baked mine on a 12-inch pizza pan prepped with a piece of parchment paper and it worked great.
This pizza can be catered to your taste by using whichever low carb toppings you'd enjoy! Once the crust is browned, top with your favorite keto-friendly pizza toppings, return the crust to the oven to melt, and you're all set for a delicious, keto-friendly meal!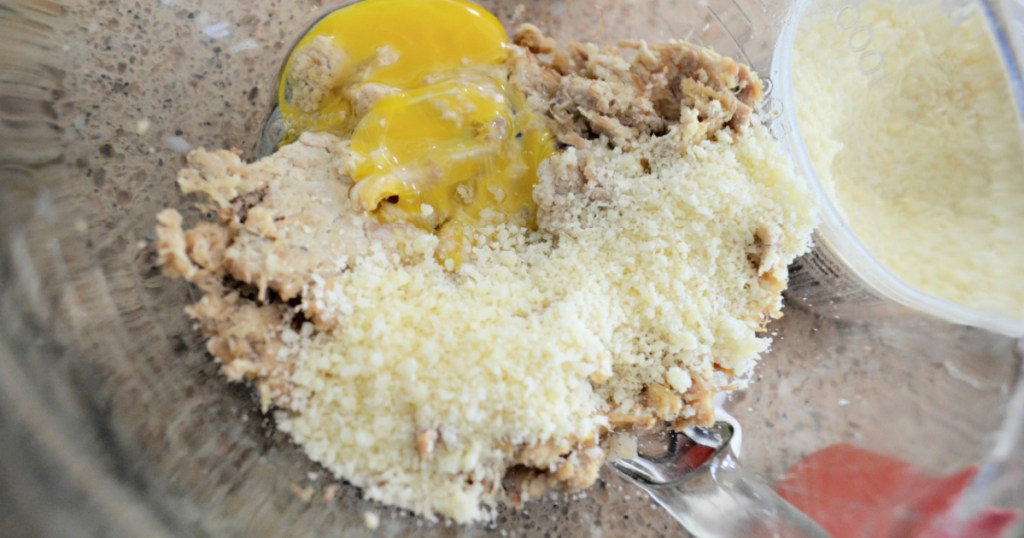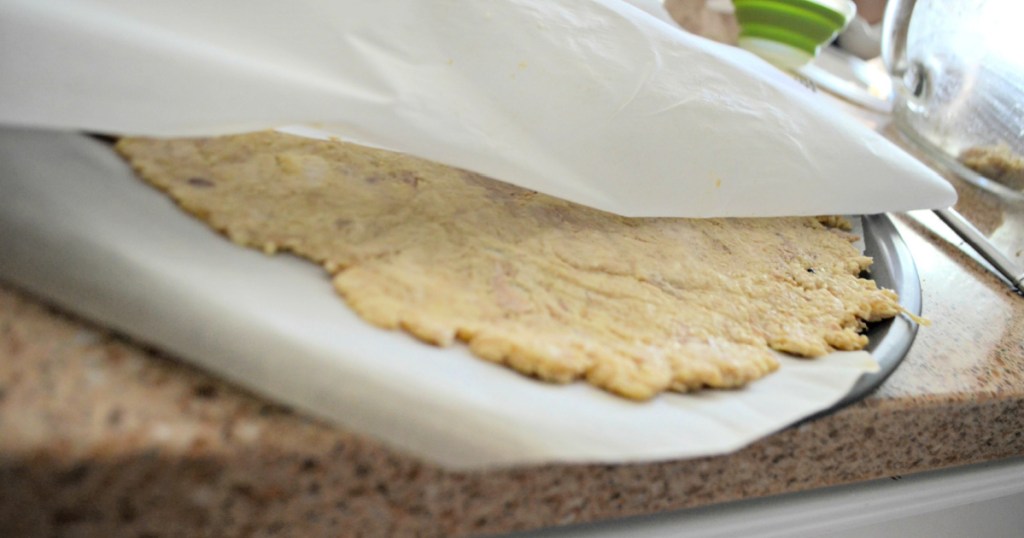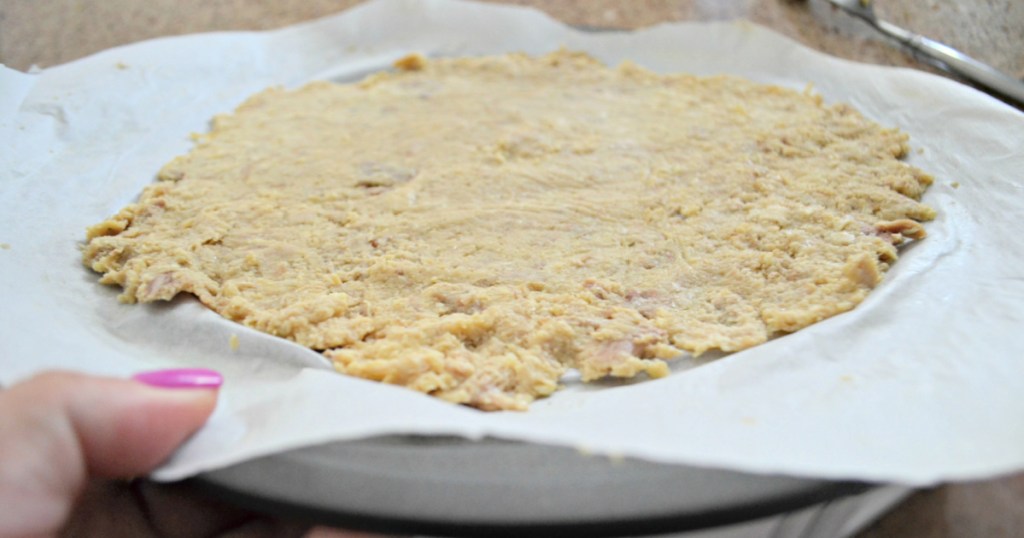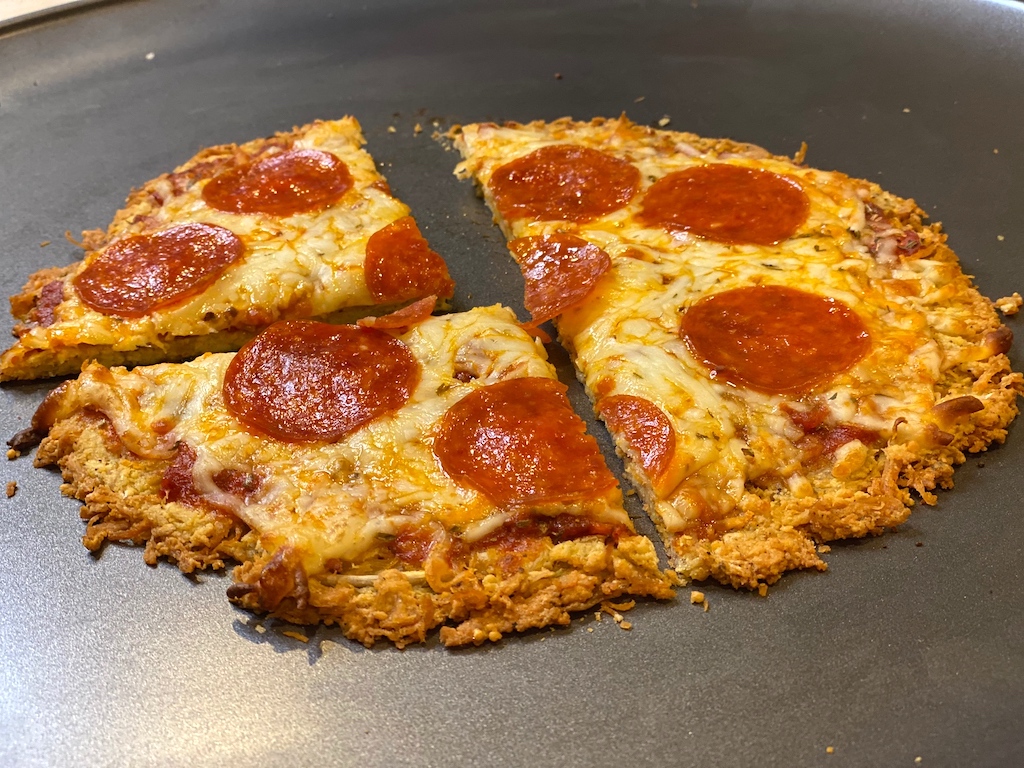 ---
Print
Chicken Pizza Crust
yield: 1 SERVINGS
prep time: 10 MINUTES
cook time: 18 MINUTES
total time: 28 MINUTES
You won't believe this crust is made out of shredded chicken with only 3 ingredients!
Ingredients
2 tablespoons Parmesan cheese, grated
1/2 teaspoon garlic powder
1/4 teaspoon salt
1/4 teaspoon pepper
Directions
1
Preheat oven to 350 degrees.
2
Spread chicken out on a parchment paper-lined baking sheet or pizza pan. Bake the chicken for about 8 minutes to dry the chicken slightly.
3
Remove from the oven and mix the chicken in a bowl with egg and cheese. Add seasonings and mix well. Feel free to season as desired. 
4
Spread the chicken mixture back on the pizza pan. This time, place the second sheet of non-stick parchment paper over the chicken and roll into a thin crust, using a rolling pin or your hands.
5
Bake at 400 degrees for about 10 minutes until golden brown.
6
Place back into the oven with desired toppings and bake for another 10 minutes or until the toppings are melted. Enjoy!
Nutrition Information
Yield: 1 pizza, Serving Size: 1 pizza
Amount Per Serving: 403 Calories | 18.9g Fat | 0.7g Total Carbs | 53.6g Protein | 0.7g Net Carbs
---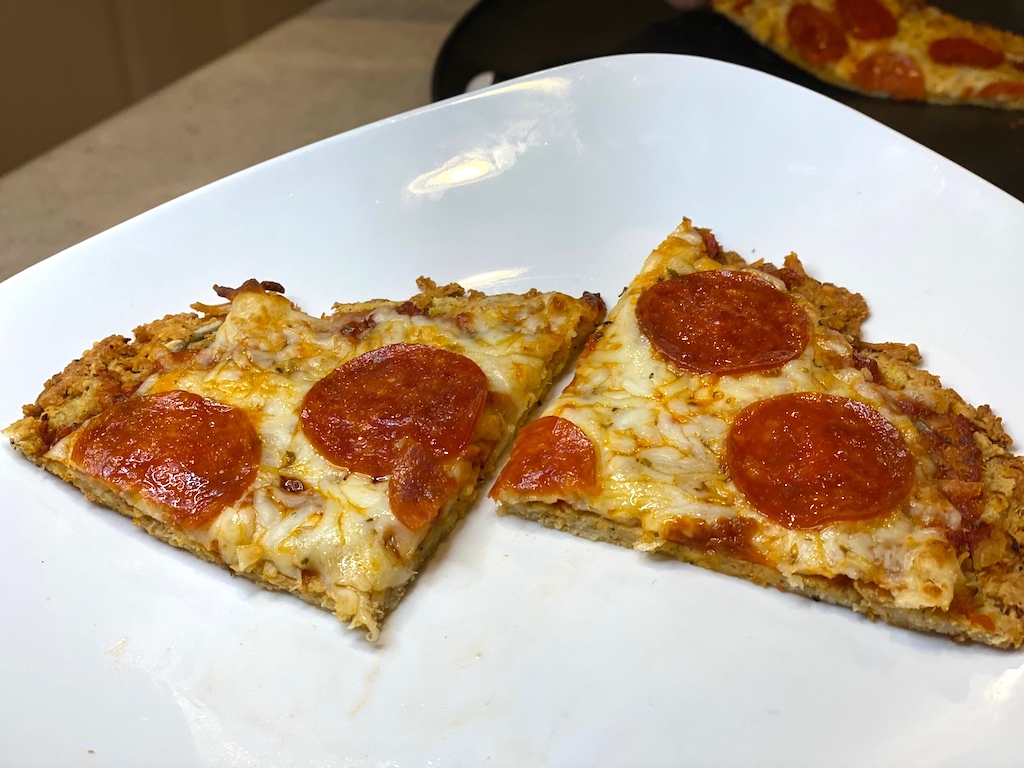 The result is the best keto chicken pizza crust that you can actually pick up and hold!
I can't state that enough. You know how hard it is to find a low carb pizza crust that doesn't flop in your hands.
This recipe is very tasty, and I like how crispy the crust gets. It's also a versatile idea because you can season this crust as desired and top it with lots of different variations. We topped our pizza with mozzarella cheese, pepperoni, and fresh basil, but a fresh pesto sauce would be very delicious on this crust, too! YUM!
My teammate Taylor gave this recipe a try and here's her reaction:
"I honestly wasn't sure how this crust was going to turn out with the minimal ingredients, but it was amazing and held together so well! This is such a great alternative to buying pricier keto crusts at the store and it was so yummy! I seasoned the chicken with salt, pepper, and onion powder and the flavor was perfect! My husband doesn't eat keto and even he was impressed by how tasty it was. We'll definitely be making this again!"
---